Shortcut Shrimp and Grits has Gouda cheese stirred into quick yellow grits (never instant). No roux in this recipe so you'll have dinner on the table in a snap. Heading to the beach but like to cook in the condo? Having a staycation and want to feel like you are at the beach but not spend too much time in the kitchen? My shortcut version recipe is just the ticket!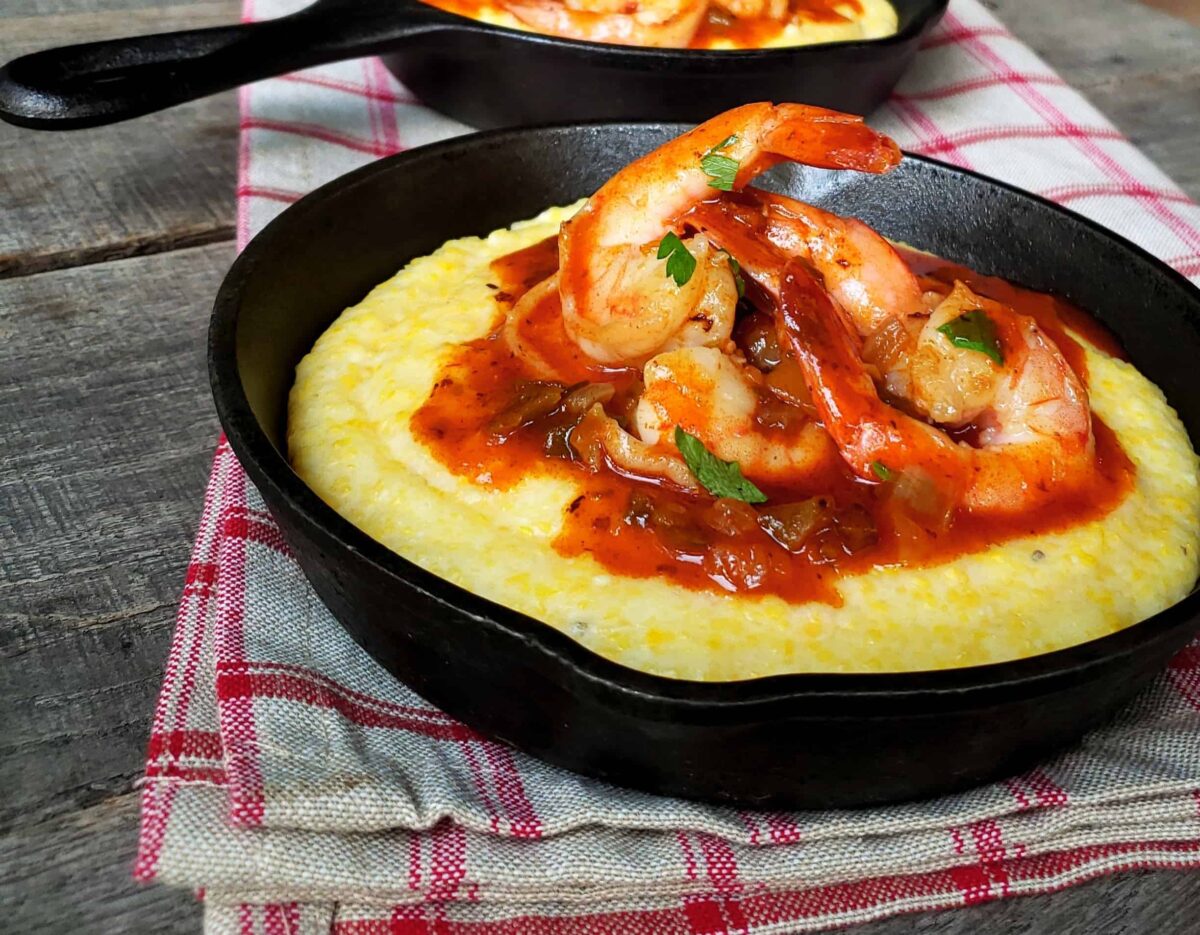 While this recipe may not be "low-calorie", it is certainly MUCH lower in calories and fat than any traditional shrimp and grits recipe that is laden with heavy cream, sausage and bacon.
What's the story behind this recipe?
My shrimp and grits story includes the explanation for the name of my blog, Grits and Gouda. I named my food blog this because my recipes are Southern with shortcuts with a pinch of gourmet, thus the name Grits (Southern) and Gouda (gourmet cheese).
There's actually a story behind any shrimp and grits recipe. Everyone adds their own twist to this popular seafood dish.
There are so many ingredients that can be added, omitted, or swapped for a similar one.
For example green onions or white onion; fresh tomato or canned tomato; cream or no cream; bacon or sausage; green pepper or jalapeno; Worcestershire or hot sauce; dark roux or just flour.
What's the shortcut?
No roux
Quick (not instant) grits
This recipe is a basic shrimp and grits recipe (except for Gouda cheese in the grits) with a shortcut-no roux.
What thickens the shrimp and grits sauce?
I use tomato paste with no tomatoes for a simple and less chunky sauce, no cream so it highlights the bright red color of the sauce, and believe it or not, cornstarch to thicken it rather than flour or a roux. A slurry of cornstarch and water is a quick and easy way to thicken any thin sauce.
If you prefer a creamier sauce just stir in 1/4 cup whipping cream.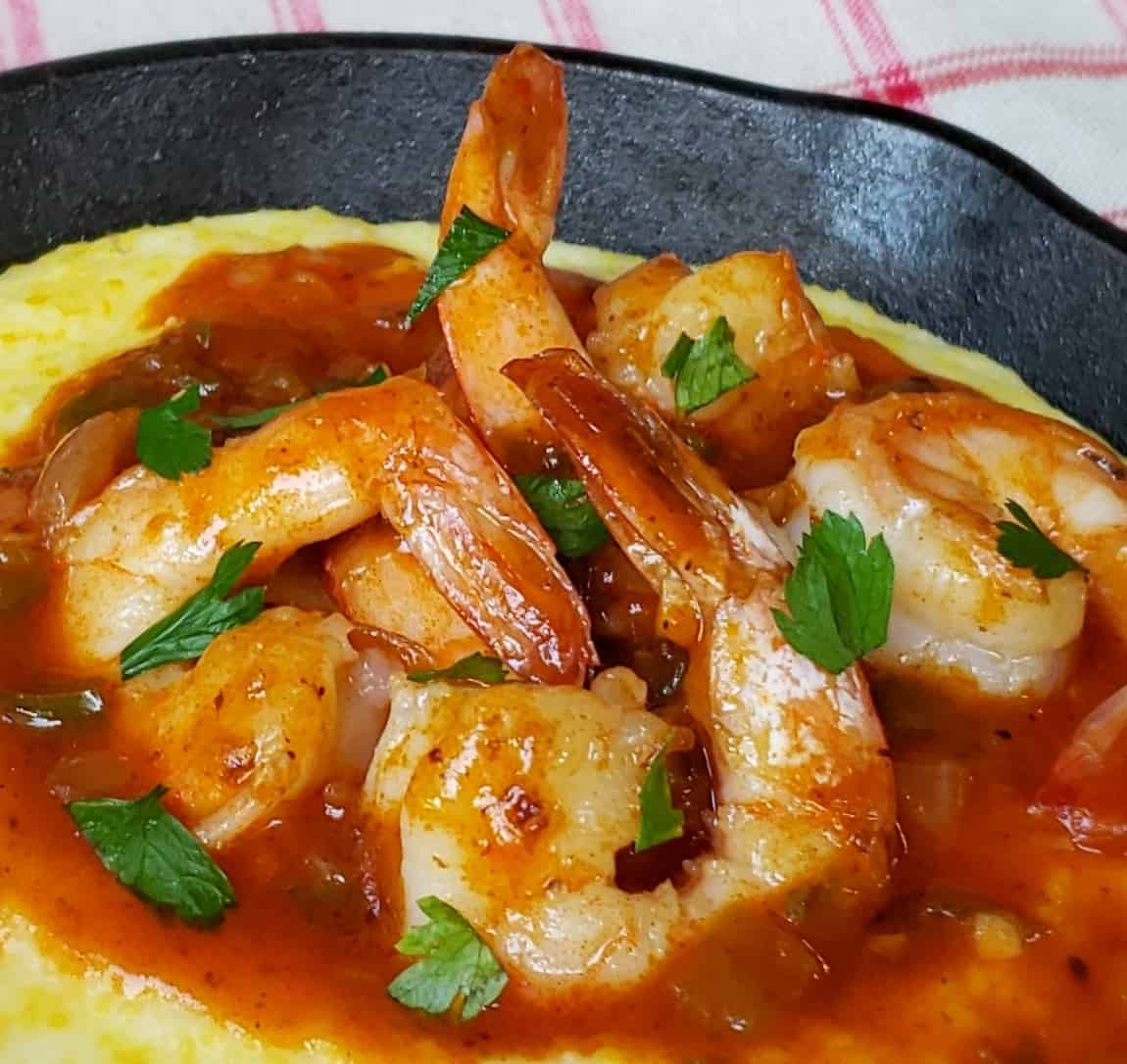 I know, that seems like a shrimp and grits transgression, but flour would give it a matte finish rather than the high gloss finish achieved with cornstarch.
I am all about SHORTCUTS and cornstarch thickens the sauce in seconds rather than a tedious roux that requires me to stand at the stove for a minimum of 30 minutes.
Don't get me wrong, I love, love, love a roux thickened, cream-infused shrimp and grits recipe and I will make it again soon and start with cooking Conecuh sausage and stirring in cream to finish it.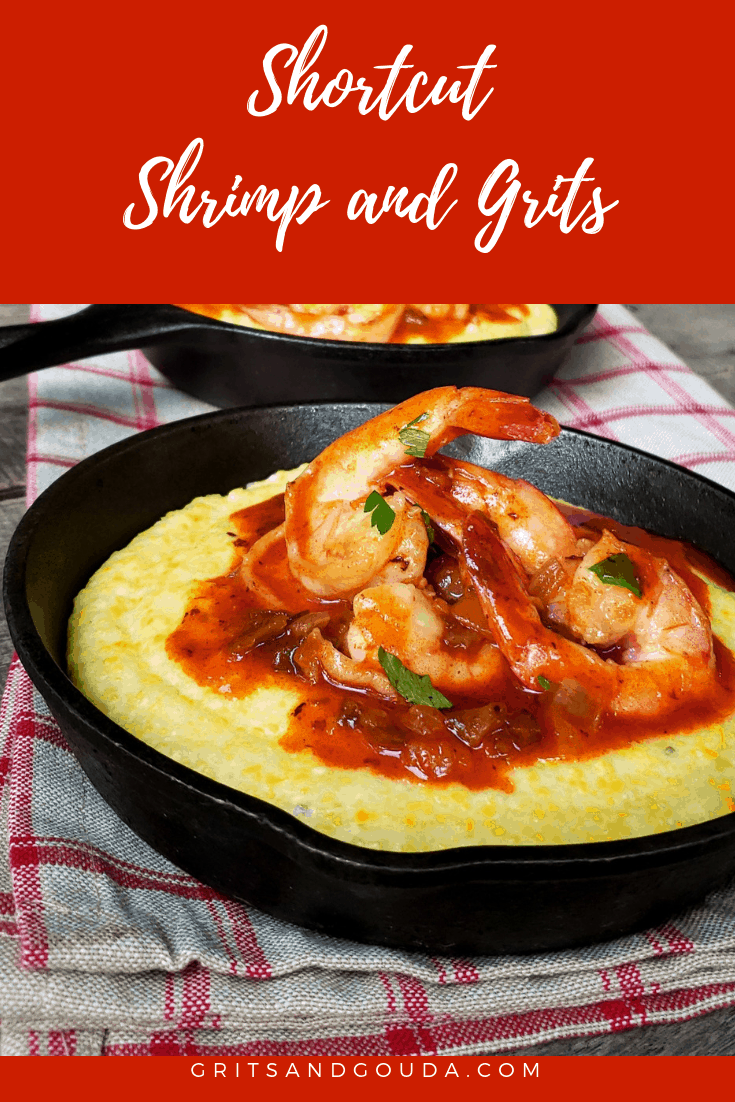 Remember, this is a shortcut recipe so I also used 5 minute regular yellow grits. White grits are fine but I love the contrast of the yellow against the reddish shrimp mixture. I also pretend it's cheesier if it's more yellow because you know we eat with our eyes, too.
Grits: Stone ground vs Quick Grits
I prefer the slightly chewy texture of stone ground grits (see below) and I'm partial to Alabama made McEwen & Sons but they take longer than quick grits. For this shortcut recipe, I used the Dixie Lily yellow corn grits-they are also packaged and sold in Alabama and grown in the United States.
The food stylist in me always leans toward the yellow grits rather than the white, but it's strictly a personal preference.
My least favorite grits (and I actually refuse to eat) are the "instant" grits that come in individual breakfast packets. They have been precooked and dehydrated so you can just add water. No thanks.
I'd rather make stone-ground grits the night before and stir in a little extra milk the next morning to loosen them up-or just whip up these 5 minute quick grits.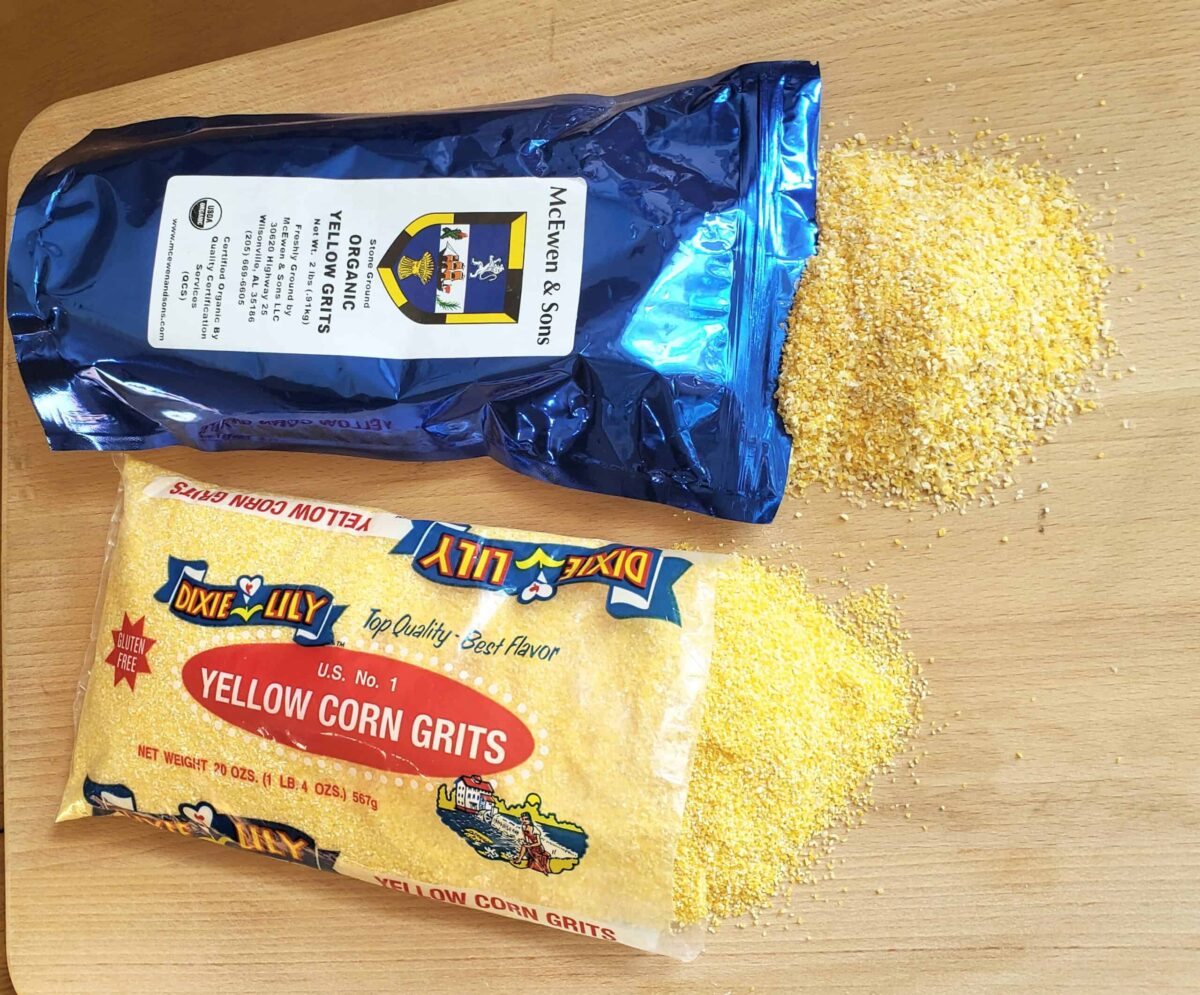 What are grits?
"What's a grit?"
Joe Pesci's funny line from My Cousin Vinny is spot on because so many non-Southerners (and a few Southerners) do not know what grits are made from or how they are made. Not all grits are made from corn.
This may surprise you but I recently saw rice grits on a restaurant menu. I couldn't decide if I should be offended as a Southerner because don't we "own" that word?
It turns out rice that has been broken or fragmented in the milling process can also claim the name "grits". But, any true Southerner knows that "true grits" are made from corn. (See what I did there?)
For a complete breakdown of the different kinds of corn grits, here's a link from my friends over at Southern Living.
What cheese can I stir into my grits?
Cheese! Glorious cheese! Almost any hard or semi-hard shredded cheese can be stirred into grits. My favorite is, of course, Gouda cheese, but other common cheeses are Fontina, Cheddar, Montery Jack, and Gruyere.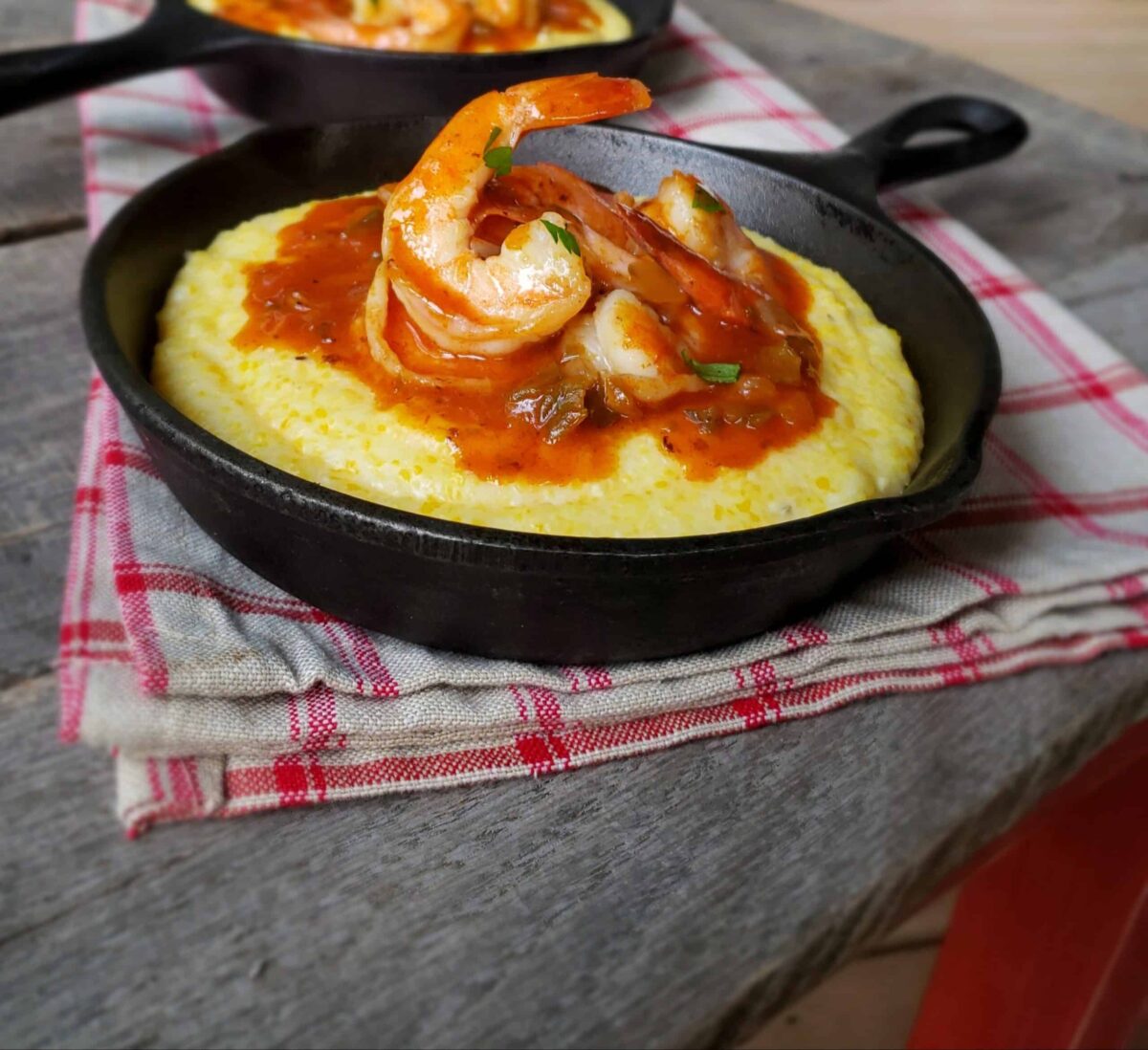 I'd love to hear from you and see pictures of your version of Shrimp and Grits or if you make my shortcut recipe of Shrimp and Gouda Grits. If you don't have Gouda cheese, then Cheddar, Parmesan, Gruyere and Asiago cheese are flavorful substitutes.
Other Shortcut Recipes:
Nectarine Cinnamon-Sugar Cobbler
Shortcut Strawberry Rhubarb Pie
Shortcut Tomato and Bread Soup
Sweet Heat Shortcut Pickles and Vidalia Onions
Follow me on Facebook, Instagram, Pinterest and YouTube. Be social and share, y'all! Don't forget to sign up with your email so you don't miss a single post on my Southern shortcut recipes!
If you make this recipe I'd love to see it! Tag me on social media with #gritsandgouda or @gritsandgouda. Leave a comment below the printable recipe if you have questions or tell me how you liked the recipe. Don't forget to give the recipe a rating of 5 stars if you love it!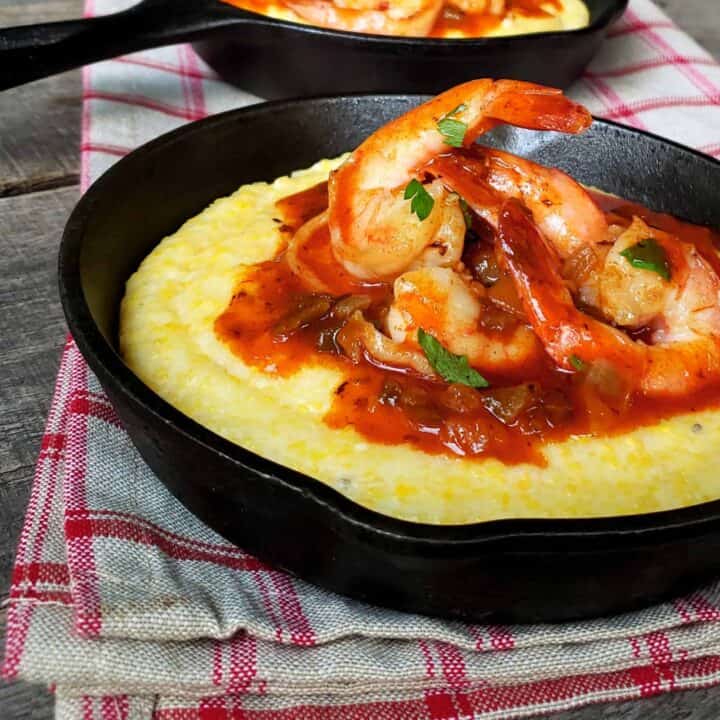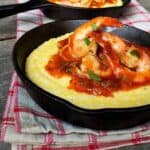 Print Recipe
Shortcut Shrimp and Grits
This is a shortcut recipe for shrimp and grits thickened with cornstarch instead of a roux and using quick-cooking grits. There are many options to add or change like sprinkling with green onions, using stone-ground grits that take at least 25 minutes to cook, and cooking the vegetables in Andouille or smoked sausage drippings and adding the sausage.
Ingredients
1

32-oz carton chicken broth (4 cups)

1

cup

2% or whole milk

1

cup

quick-cooking grits (white or yellow)

cooks in 5 minutes - not instant grits

4

tablespoons

butter

divided

1/2

teaspoon

salt

1

cup

4 oz shredded Gouda or other semi hard cheese

Cheddar, Asiago, Gruyere

1

tablespoon

olive oil

1

small onion, chopped

about 1 cup

1/2

cup

chopped green bell pepper

1

clove

garlic

minced

1

pound

large shrimp

peeled and deveined (with tails left on, if desired)

1

tablespoon

tomato paste

1

teaspoon

Worcestershire sauce

1/4

teaspoon

hot sauce

2

teaspoons

cornstarch

1

tablespoon

chopped fresh parsley
Instructions
Measure out 3 cups of the broth in a 3-quart saucepan and add the milk and salt; bring it to a boil over medium-high heat stirring often. When it comes to a boil whisk in the grits. Whisk with one hand while slowly pouring the grits in with the other.

Reduce the heat to medium-low and cook, stirring often, 5 minutes or until thickened. Remove from heat and stir in 2 tablespoons of the butter, and cheese, stirring until cheese melts.

While broth mixture is coming to a boil, melt remaining 2 tablespoons of butter with the olive oil a large cast iron or nonstick skillet. Add the onion, bell pepper, and garlic; cook, stirring constantly over medium-high heat, 2 minutes or until onion is tender. Add the shrimp and cook 1 minute or just until shrimp turns pink and the end curls toward the tail. Remove the shrimp with tongs and set aside to prevent overcooking.

Measure out 2 tablespoons of the remaining 1 cup of chicken broth and set aside in a very small bowl for the slurry.

Add the remaining chicken broth, tomato paste, Worcestershire sauce and hot sauce to the skillet; bring to a boil over medium heat, stirring occasionally, and cook 3 minutes. Stir in remaining 2 tablespoons of butter until it melts.

Stir together cornstarch and the 2 tablespoons of chicken broth set aside. Stir it into the sauce mixture and stir quickly over medium heat. It should thicken in about 30 seconds. Add the shrimp back to the sauce mixture.

Spoon the cheese grits onto plates. (I served mine in four (5-inch cast iron skillets). If the grits have thickened up too much, stir in a little milk to loosen. Spoon the shrimp mixture over the grits and sprinkle with chopped fresh parsley.
Notes
Note: Be sure to remove the shrimp tails before eating.
Other cheese options include Cheddar, Asiago, and Gruyere.
1/2 cup of whipping cream can be added with the remaining chicken broth if you prefer a creamy sauce.
If you prefer to add smoked sausage, you can cook one pound of sliced sausage first, then omit the butter and oil and cook onion and pepper in the sausage drippings.
Nutrition
Serving:
1
fourth
|
Calories:
462
kcal
Did you make this recipe?
If you love it, share it! Tag me on Instagram @gritsandgouda using #gritsandgouda Comment below before you go!
Nutrition analysis on GritsAndGouda.com recipes are mostly calculated on an online nutrition calculator. I am not a dietitian and nutritional information is an estimate and can vary based on products used.