It really doesn't get any easier than 5 ingredient Instant Pot Teriyaki Chicken Thighs-or yummier! And one of those ingredients is water! The obvious shortcut is the Instant Pot, but another one is using bottled teriyaki sauce instead of making one from scratch.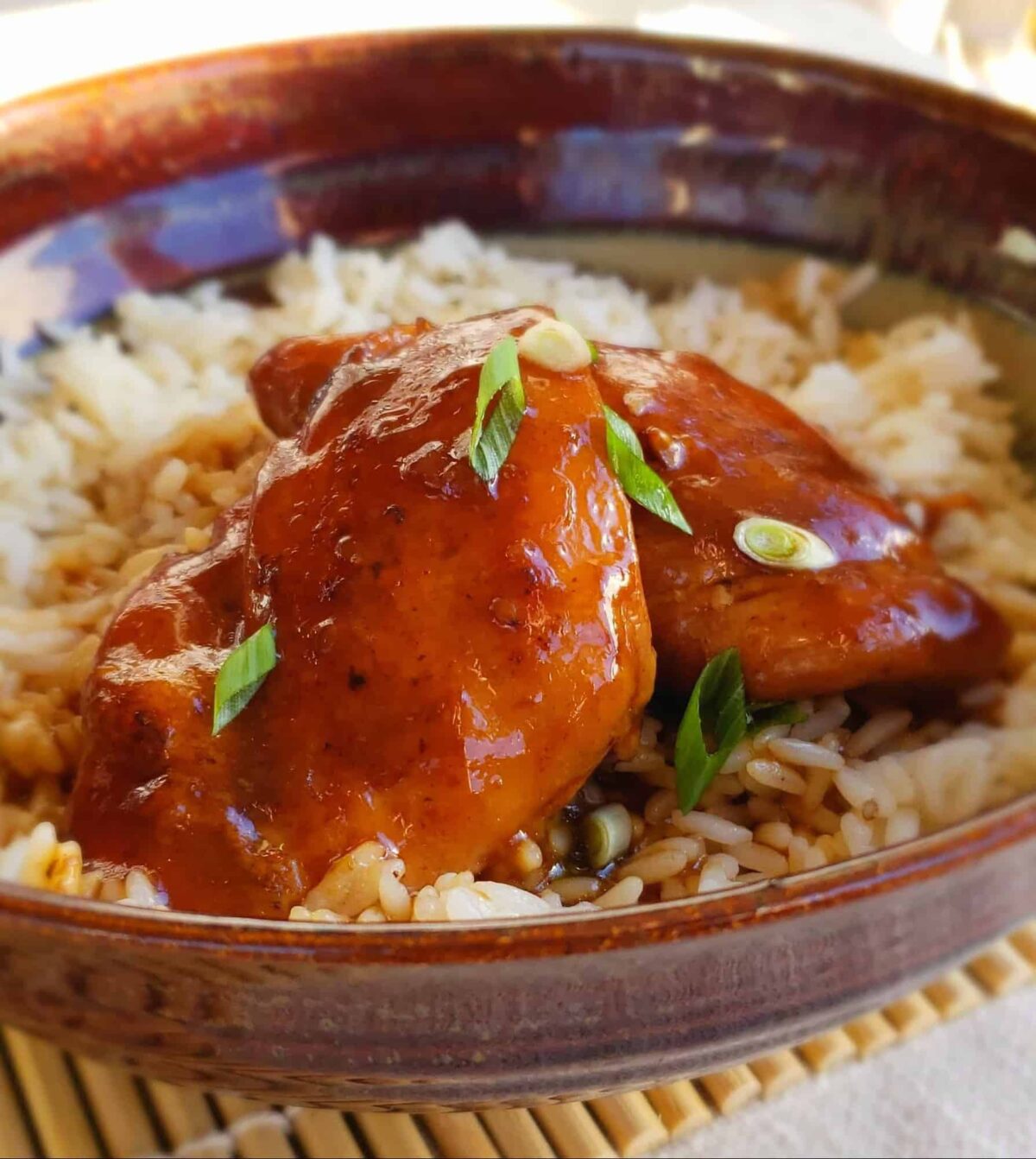 Chicken thighs and chicken legs are my favorite pieces of chicken in the kernels' bucket! I always got the leg when mom would fry chicken because I was the youngest. But I didn't mind because I thought the leg and the thigh had the best tasting meat and it was always so tender.
Now that I am an adult and paying for my own chicken, I also love that chicken thighs are not expensive. I bought these boneless, skinless chicken thighs on sale and stocked up! Scott and I sealed them in our FoodSaver vacuum sealer bags and put them in the deep freeze.
How to make Instant Pot Teriyaki Chicken Thighs
I'm using the 6 quart Duo 7-in-1 Instant Pot.
I had to make my Instant Pot Teriyaki Chicken Thighs twice to get the timing in the Instant Pot just right. I also adjusted the amount of teriyaki marinade to use.
The first time I used 1 1/2 cups of straight marinade. I reduced that amount and added water because it wasn't enough liquid.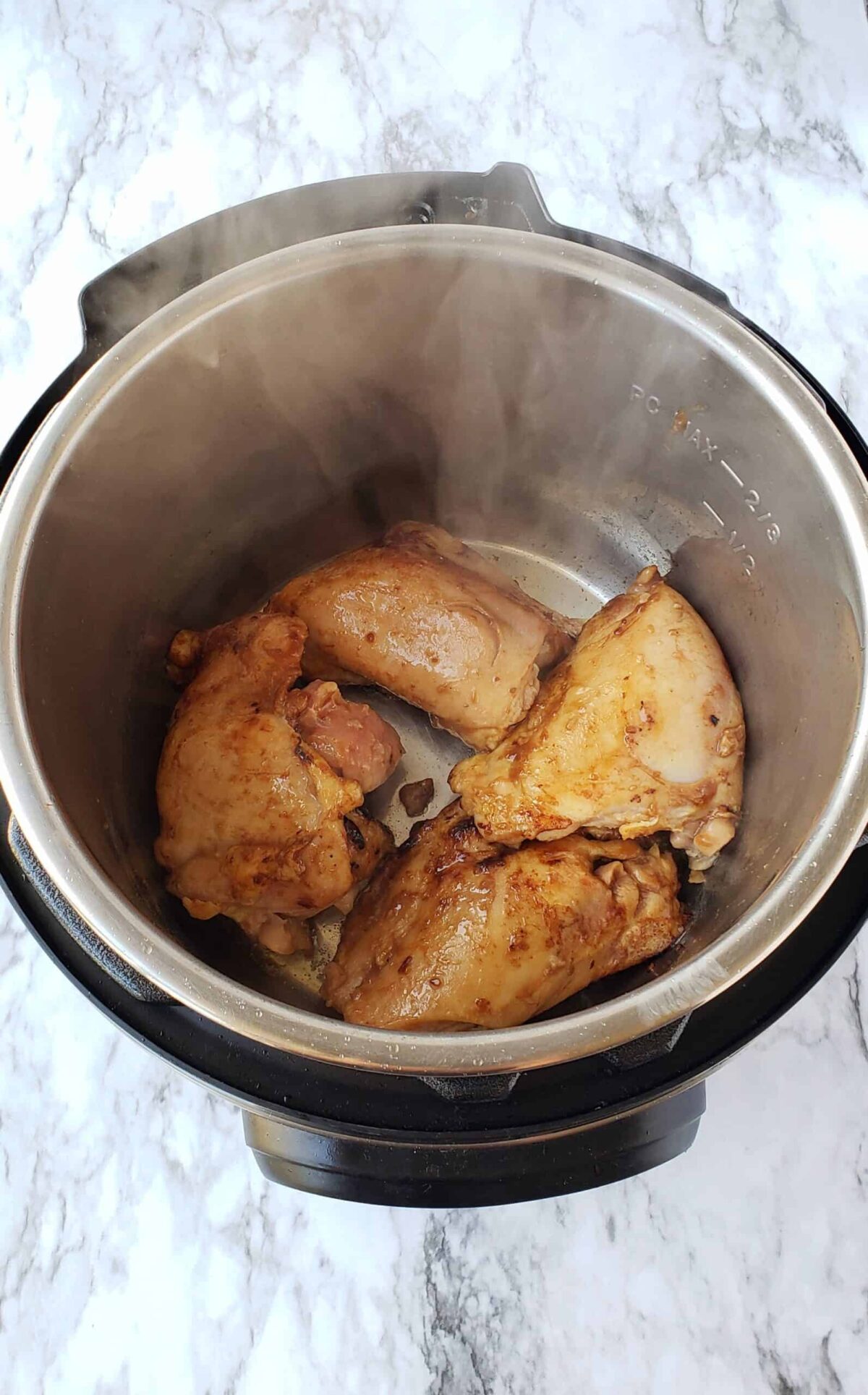 Do I have to marinate the chicken thighs all day?
If you make them on a weeknight and you work away from your home, you might want to marinate them in the morning before you leave. If you make them on the weekend and only have 20 minutes before you need to start making dinner, that works, too!
Actually, even if you don't have time to marinate the chicken at all, they will still taste yummy. Marinating does add extra Teriyaki flavor, though.
I used my 6-quart Duo Instant Pot to make these Teriyaki Chicken Thighs. I marinated the chicken thighs in 1/2 cup Aldi's Sesame Teriyaki wok sauce.
Soy Vay Sesame Teriyaki marinade is also a good choice for 20 minutes before cooking. They tasted just as yummy as when I put them in the marinade all day. You decide which works best for you.
How do I sear chicken thighs in the Instant Pot?
Brown them right in the Instant Pot pan by pushing the Saute button. Wait for it to get hot and add the tablespoon of oil. Brown them about 3 to 4 minutes on both sides.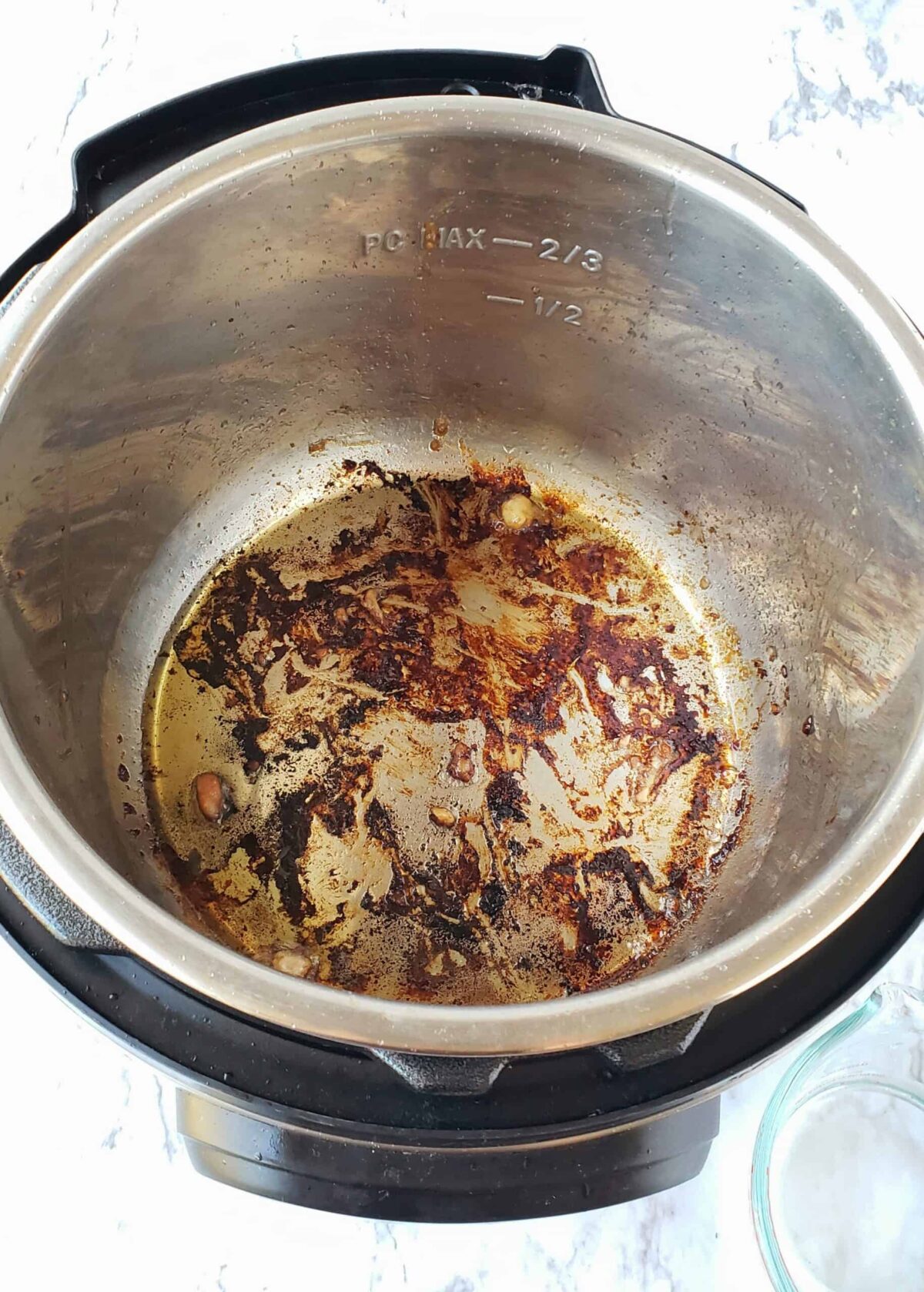 Your Instant Pot pan will look like this after browning the chicken thighs in the pan. To deglaze the pan after removing the chicken thighs, keep the setting on Sautee and add the water.
Use a wooden spoon to scrape up the browned bits. It should come clean easily. DON'T throw this out! This is added flavor for your sauce.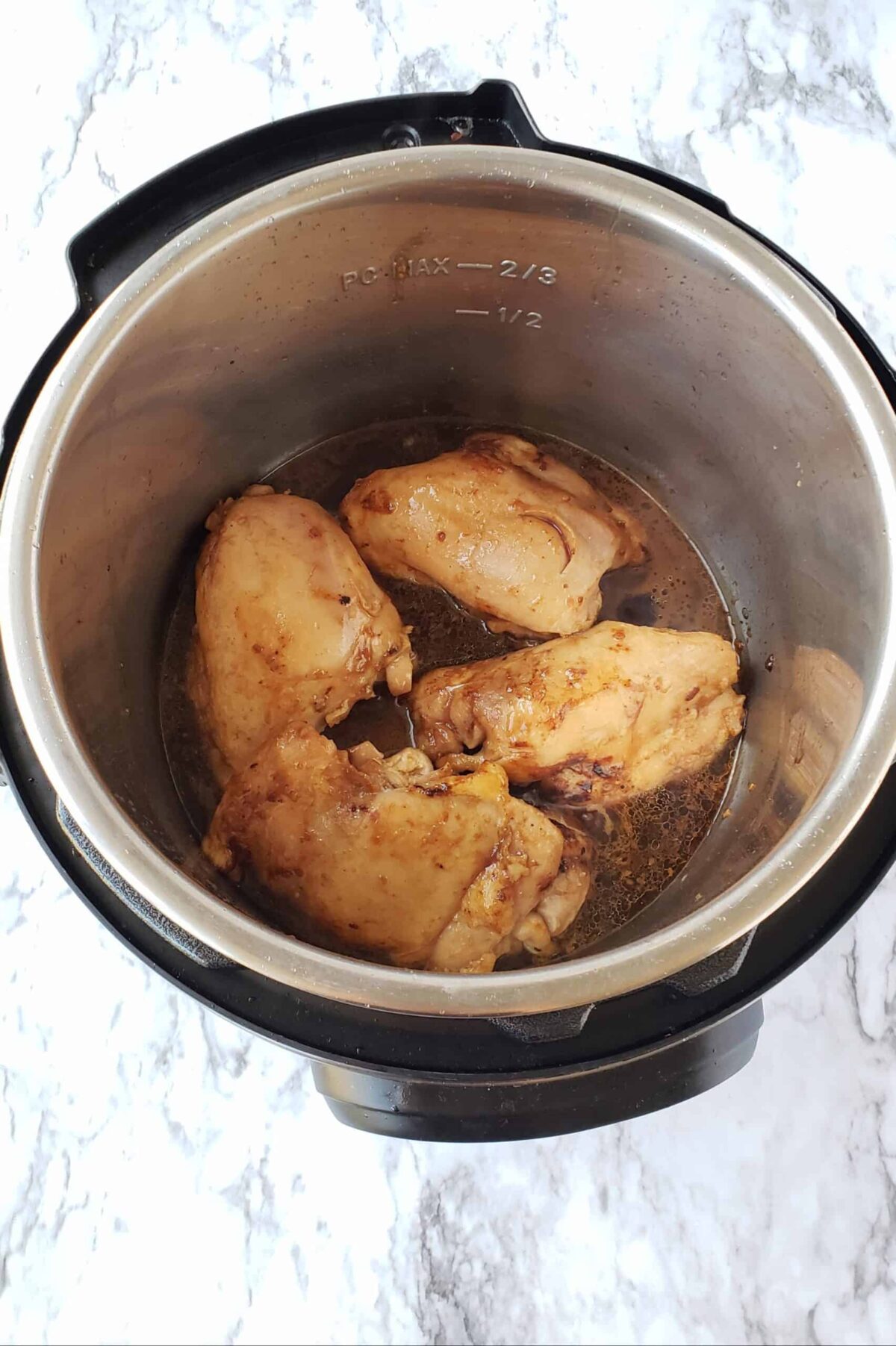 Add the 1 cup teriyaki sauce to the Instant Pot and add the chicken thighs back to the pot. Turn the thighs over a few times to coat them. Cover with the lid and set the pressure valve to Sealing (not Venting).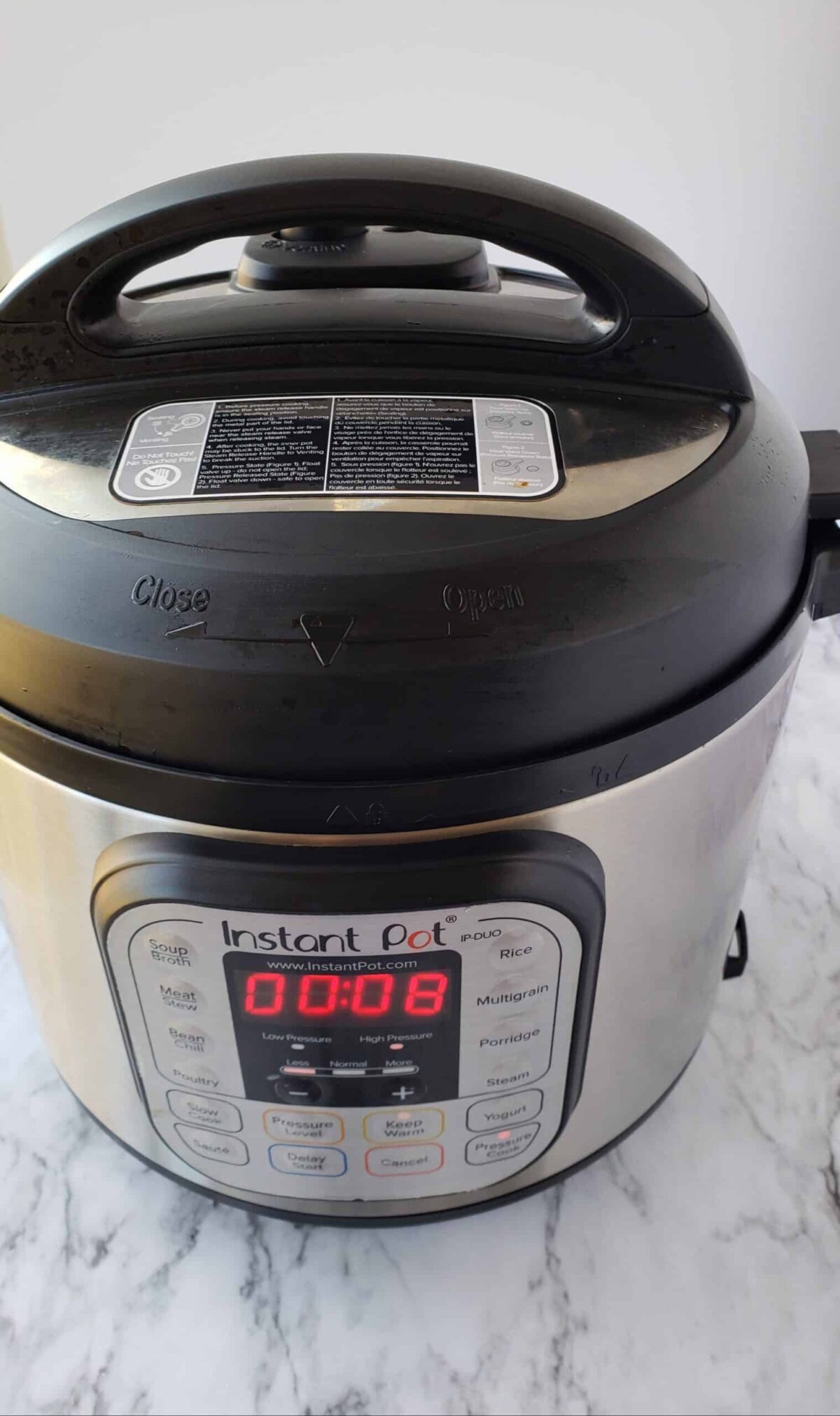 Push the +/- button to reach 8 minutes on the digital window and push the Pressure Cook button.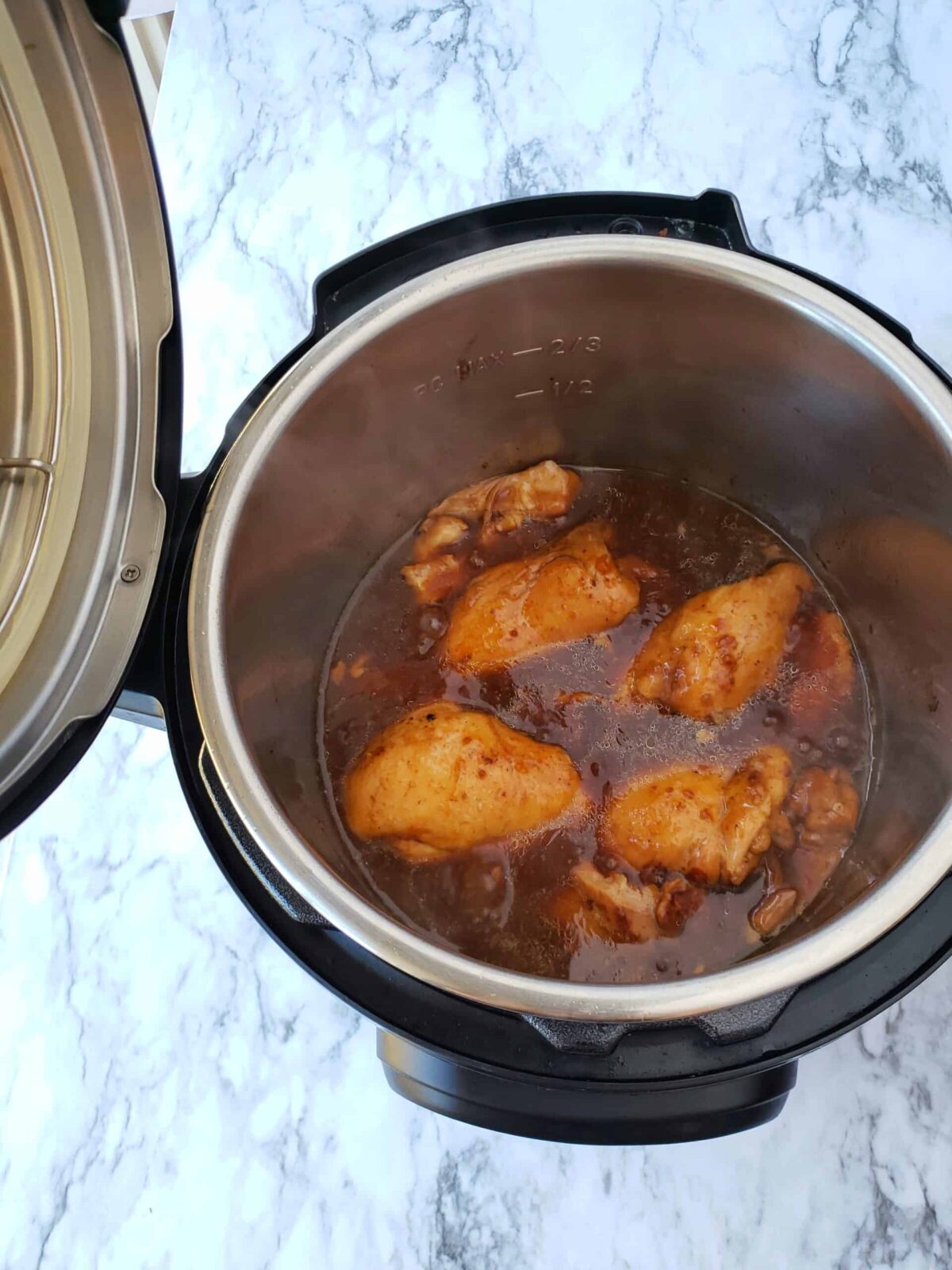 Allow time to come up to pressure, then it counts down 8 minutes to cook.
After a quick pressure release by turning the pressure valve to Venting, place your lid on the slot in the Instant Pot pan after opening it. Push the Saute button again to bring the sauce up to a boil-this will take 30 seconds.
Remove the chicken thighs to a serving platter or on a bed of rice.
Here is a thorough article by Green Healthy Cooking on how to cook the perfect Instant Pot rice.
Stir together cornstarch and 1 tablespoon water and add it to the sauce to thicken it. Just pour the cornstarch mixture right into the sauce liquid and stir immediately. It thickens very quickly.
It makes a rich, dark and flavorful sauce that no one will ever suspect started with a bottle of Teriyaki sauce.
I tried two different brands of marinade and liked both, but I loved the price of Aldi's Fusi Sesame Teriyaki wok sauce. It was half the price of Soy Vay brand.
You can also stir in a little extra sauce before serving, if you like a lot of sauce.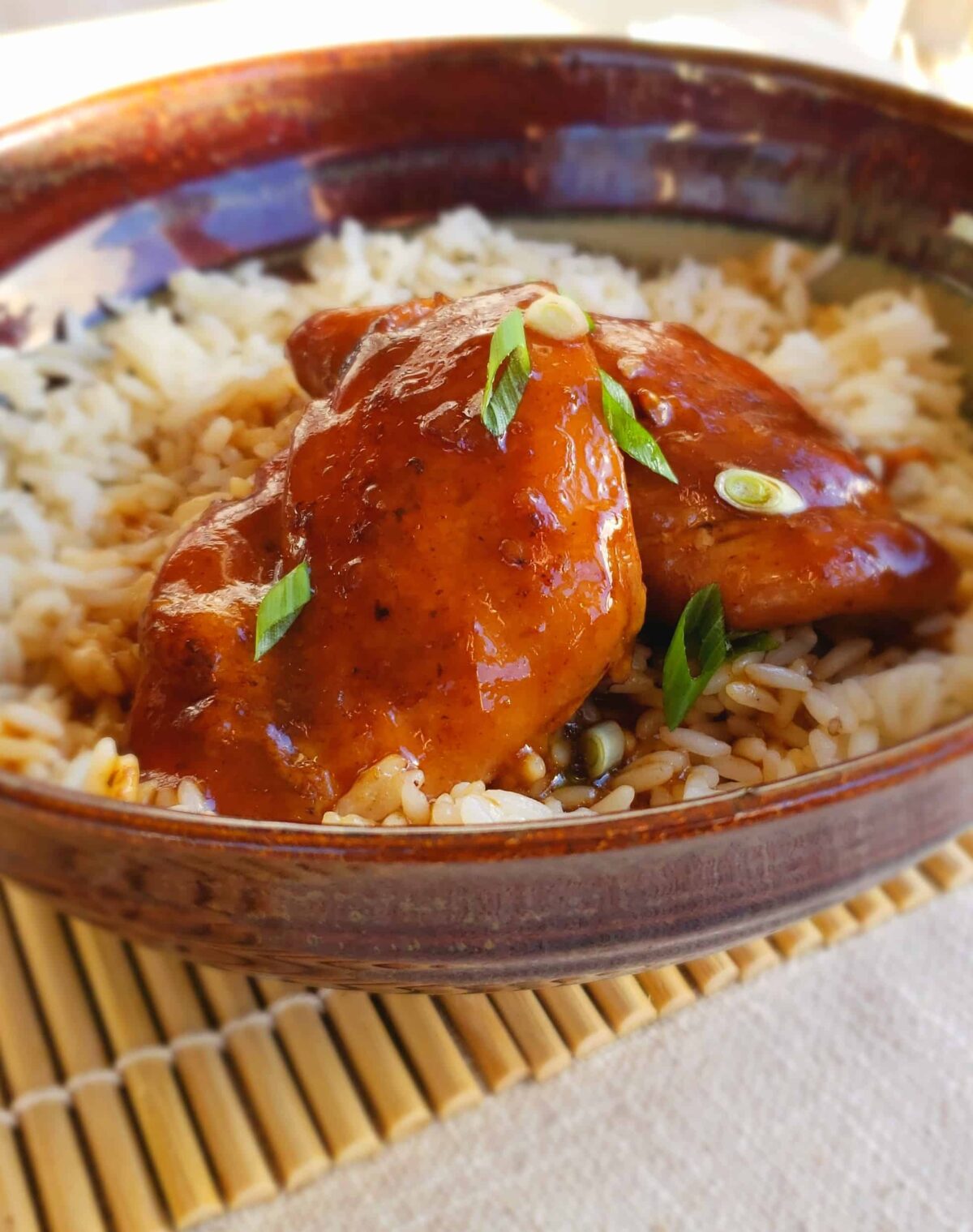 Can I substitute BBQ sauce for Teriyaki sauce?
In this recipe, yes. The consistency is almost the same so it should work fine and be a great way to change up the flavors and use what you have in your pantry.
You can also use bone-in chicken thighs. Just add 2 minutes (10 minutes).
Pin it for later!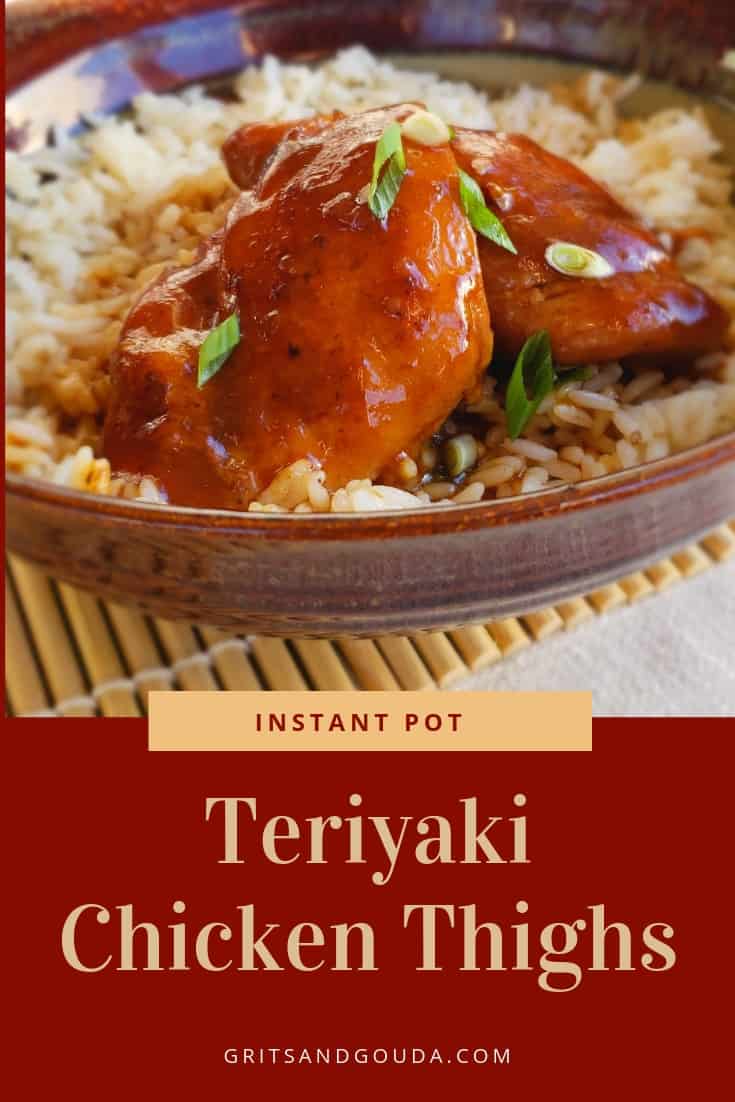 If you make this recipe I'd love to see it! Tag me on social media with #gritsandgouda or @gritsandgouda. Leave a comment below the printable recipe if you have questions or tell me how you liked the recipe. Don't forget to give the recipe a rating of 5 stars if you love it!
Follow me on Facebook, Instagram, Pinterest and YouTube. Be social and share, y'all! Don't forget to sign up with your email so you don't miss a single post on my Southern shortcut recipes!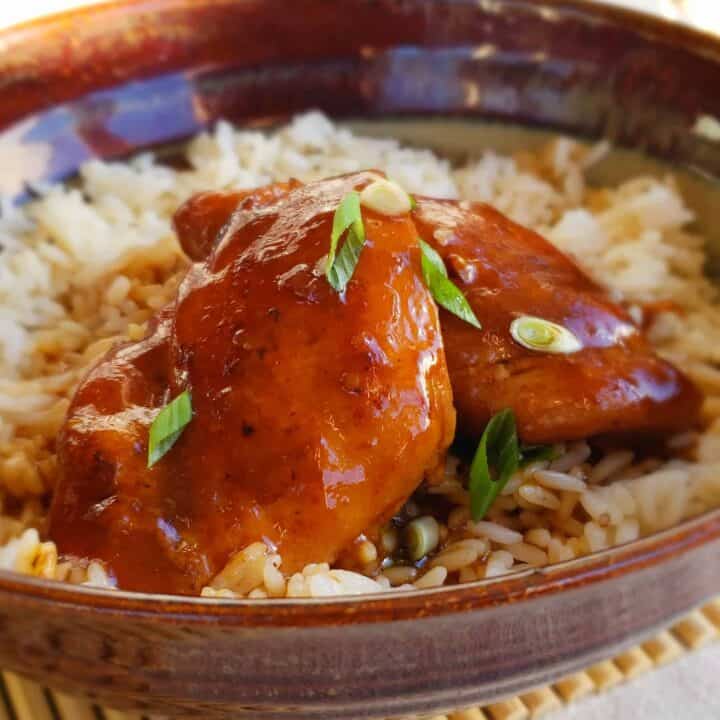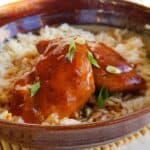 Print Recipe
Instant Pot Teriyaki Chicken Thighs
This 5 ingredient recipe counting water) will be one of the easiest Instant Pot recipes you'll find-and one of the yummiest! Serve it with rice because it's saucy!
Ingredients
1

tablespoon

canola oil

olive oil, or ghee

4

large

boneles skinless chicken thighs

2/3

cup

water plus 1 tablespoon, divided

1

cup

Sesame Teriyaki sauce or 1 (14.5-oz) bottle

I use Aldi brand and Soy Vay

Garnish: sliced green onions (0ptional)

1

tablespoon

cornstarch (optional)
Instructions
Push the "Sauté " button on a 6 or 8 quart Instant Pot multi-function pressure cooker until it sets to "normal" heat. After 3 minutes, the pot should be very hot. Add the oil and wait 1 minute until the oil is very hot. Add the chicken thighs (rolled up, not flat) and cook about 4 minutes on one side or until browned. Turn them over. You can brown the other side for extra flavor but one side is enough to give you some caramelization and flavor.

Add the teriyaki sauce and 2/3 cup water to the pot and to the pot and scrape any browned bits from the bottom of the pan with a wooden spoon, moving the chicken around to mix everything together. This is called deglazing the pan. There is so much flavor in this mixture!

Place the lid on the Instant Pot and turn the pressure valve to "sealing". Make sure the silicone ring is in place inside the lid before sealing.

Push the button Pressure Cook. Push the +/- button until the number reaches 8. (It will cook for 8 minutes.) It will also take about 8 minutes to come up to pressure, then start counting down.

When it has counted down 8 minutes and beeps, push the pressure valve to Venting for a quick release.

You can also let the pressure release naturally. This means do nothing at this time. It will take about 12 minutes for the pressure to release naturally and the pin will drop letting you know you can open the lid.

Quick release will only take a minute to release. If you have very large chicken thighs or bone-in thighs, the natural release is a good idea but I didn't notice much difference. The thighs were tender with both methods.

If serving the pan juices with the chicken, push "Sautee" button again to "More" or HIGH. Stir together 1 tablespoon cornstarch and 1 tablespoon water in a custard cup.

When the sauce mixture is bubbly, pour the cornstarch mixture into the liquid chicken mixture and immediately stir until slightly thickened-about 30 seconds.

If you have any teriyaki sauce left in the bottle, go ahead and pour it in now or drizzle it directly on the cooked chicken thighs over rice.

Arrange the teriyaki chicken thighs on rice and spoon the sauce over rice.

Garnish with green onions, if desired.
Notes
Note: If you use bone-in chicken thighs, add 2 minutes on pressure cook time.
Note: Soy Vay brand teriyaki sauce is concentrated so a little goes a long way. Other brands can easily be substituted. I love the flavor and it has tons of sesame seeds. I found it at Publix. Aldi has a Sesame Teriyaki that is equally yummy. The Teriyaki sauce doesn't have to have sesame in the title. I also substitute General Tso's sauce and sweet and sour sauce.
Nutrition
Did you make this recipe?
If you love it, share it! Tag me on Instagram @gritsandgouda using #gritsandgouda Comment below before you go!