Crockpot Chicken and Dressing is an easy slow cooker chicken casserole perfect for Thanksgiving, Christmas and Easter dinner. This chicken cornbread dressing recipe is made with shortcuts using rotisserie or leftover chicken, Pepperidge Farm stuffing mix, and frozen onion and celery blend.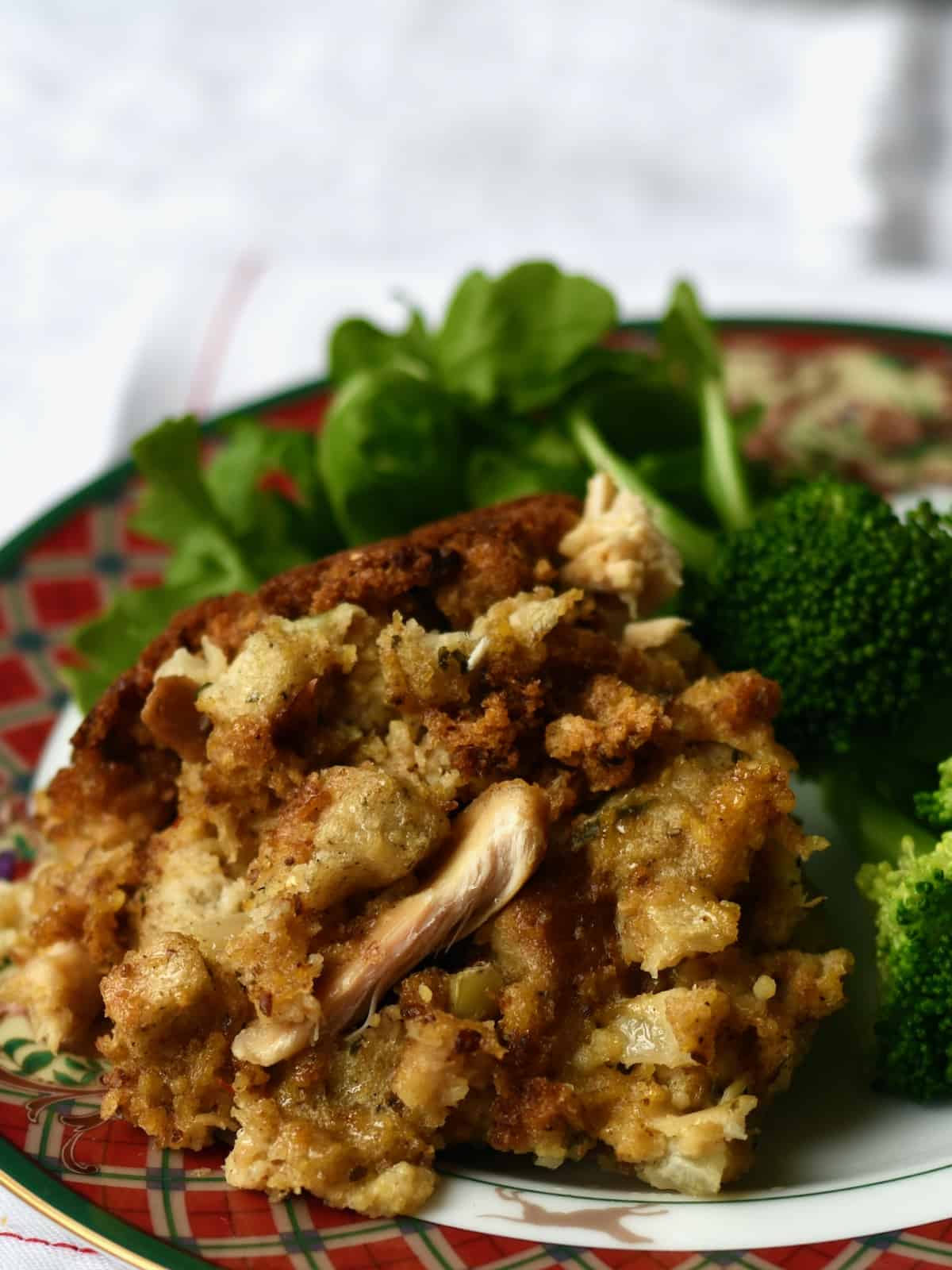 It gets personal when we start talking about folks' holiday dressing recipes.
Dressing vs. stuffing. Sweet cornbread or not. Biscuits vs. torn bread vs. dried cubes.
Amount of sage and eggs. Boiled eggs in dressing?
I'm going to give you a heads up right now. This is NOT your Grandma's old-fashioned, cornbread dressing. It's a shortcut version of a Southern chicken and cornbread dressing casserole that's made in a Crockpot.
Whether you call it chicken and dressing or chicken and stuffing, it's a simple main dish casserole or side dish for any day, but especially for Thanksgiving, Christmas and Easter dinner.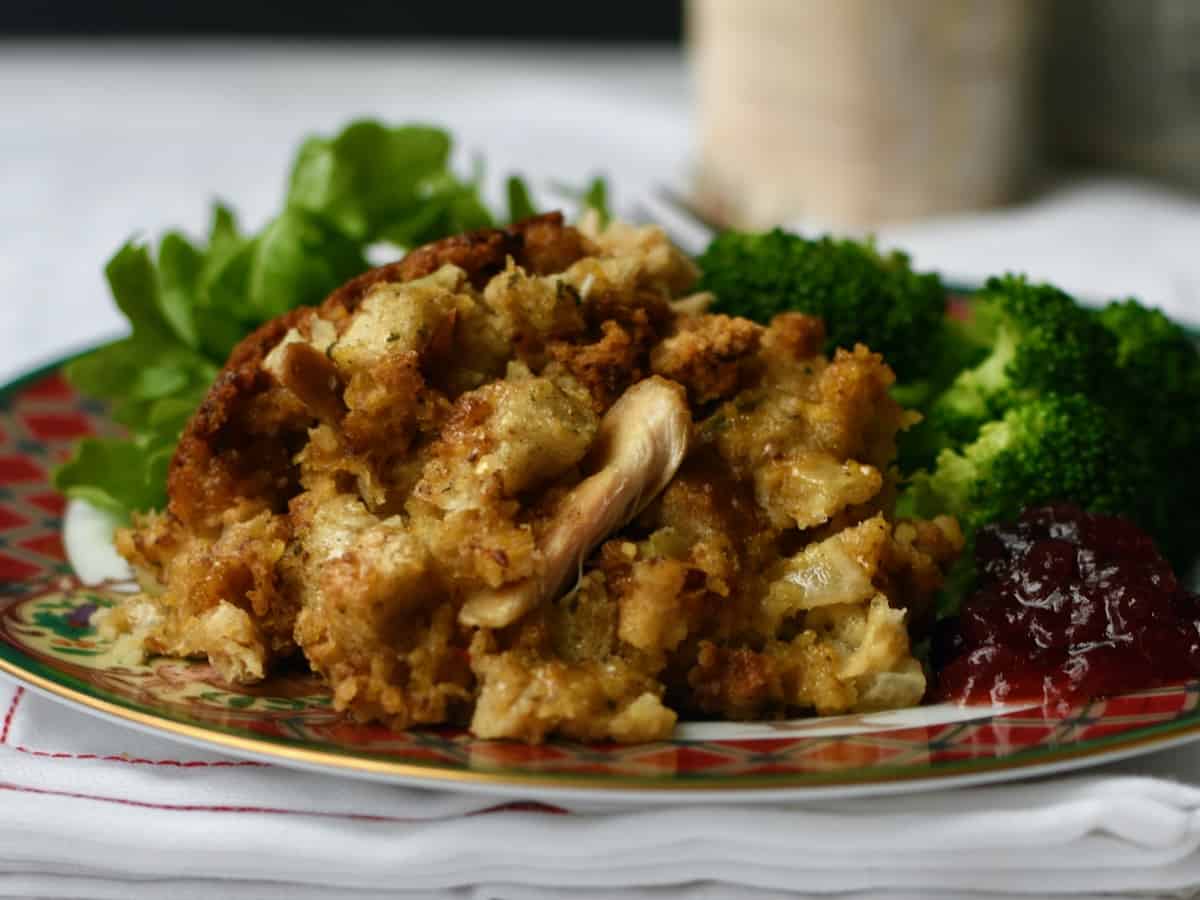 I do give you lot's of substitutions along the way so you can make it as homemade or as shortcut as you like.
Be sure to check out my Sausage and Cornbread Dressing Cups if you want to make a more traditional dressing recipe. You can bake them in muffin pans or in a casserole dish.
Shortcuts
No need to sautee' onions and celery. Using the frozen vegetables eliminates this step.
Cornbread dressing crumbles and cubed stuffing mix saves loads of time from baking, cubing and seasoning cornbread and bread or biscuits.
Rotisserie or leftover chicken and chicken broth avoids having to cook your own chicken and save the broth.
The Crockpot slow cooker is a set-it-and-forget-it kind of cooking method.
Ingredients to make chicken and cornbread dressing
What you will need to make this slow cooker chicken and dressing (or stuffing).
Scroll down to printable recipe for exact ingredient quantities.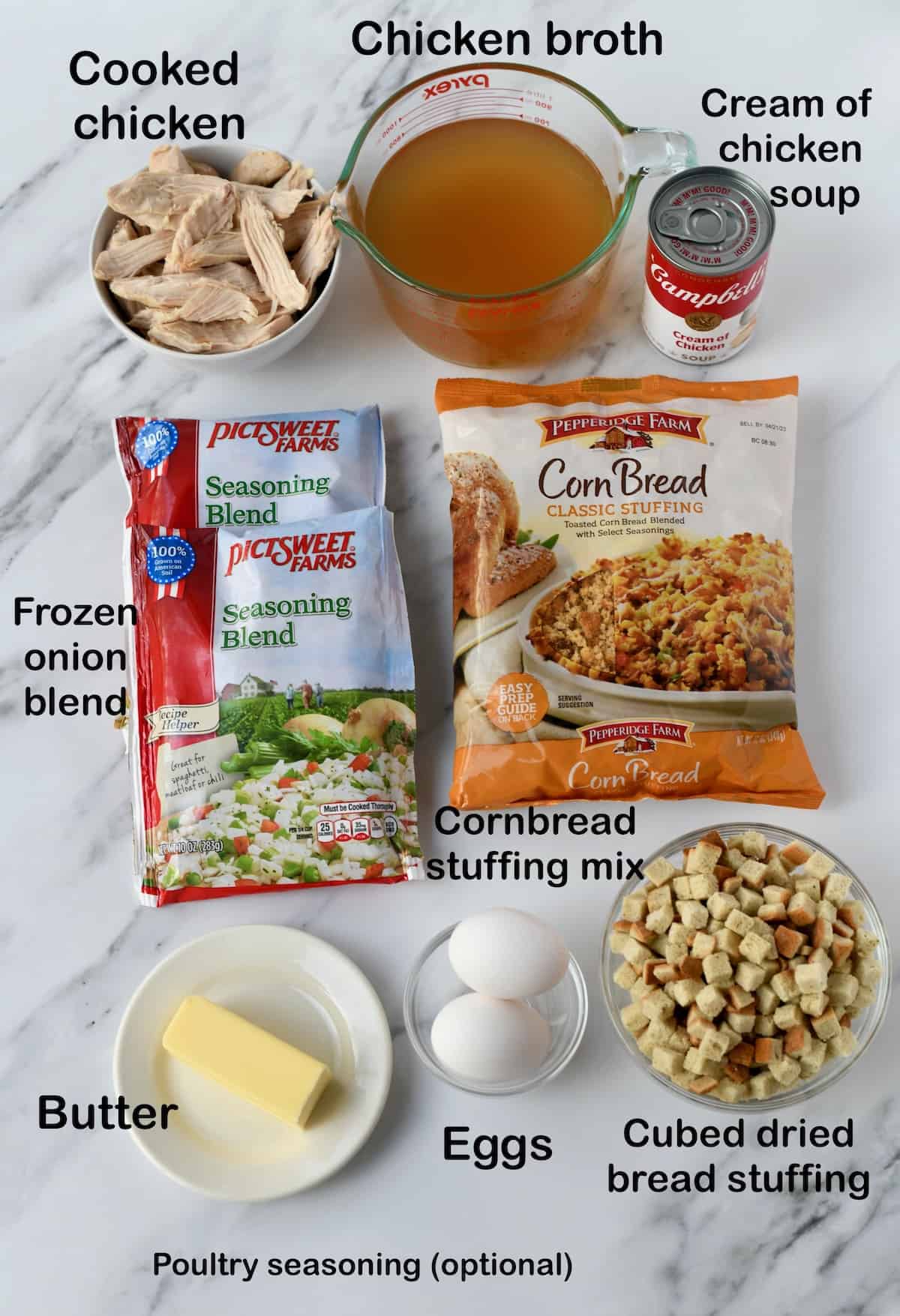 How to make the best Crockpot Chicken and Dressing
Scroll down to the bottom for the printable recipe with detailed instructions.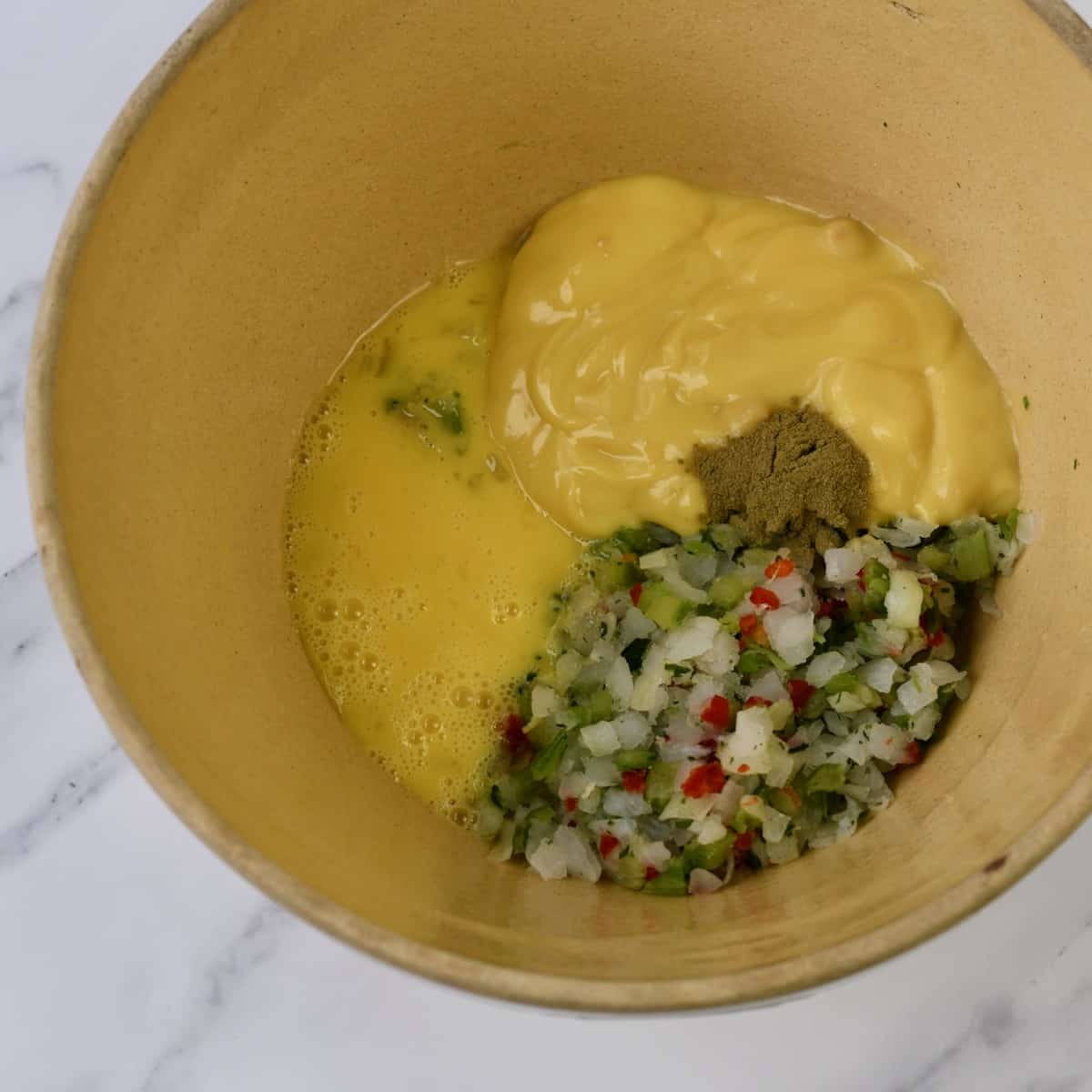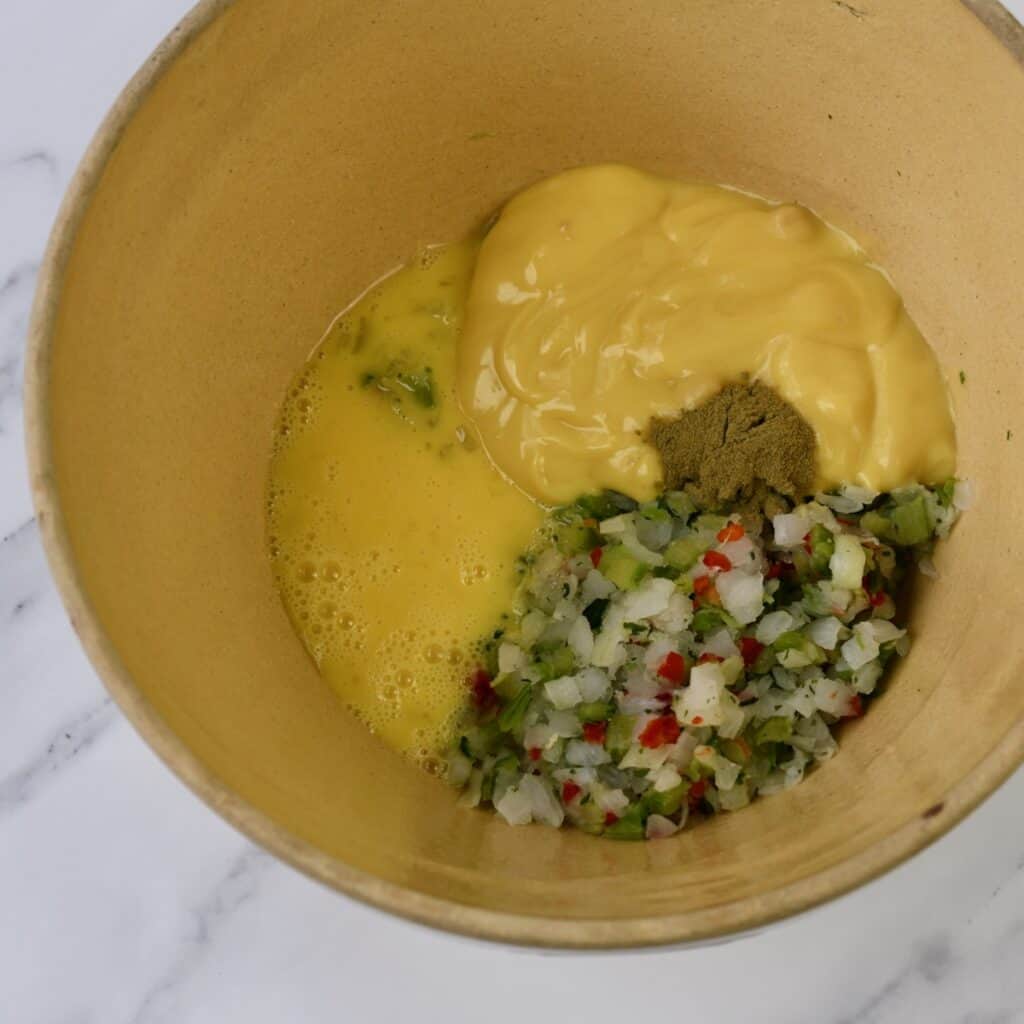 To save washing a dish, melt the butter right in the large bowl you're adding the other ingredients.
Add the frozen onion mixture, cream of chicken soup, and poultry seasoning (if, using).
Gently stir in cornbread stuffing crumbles and cubed herb stuffing then slowly stir in chicken broth.
Pro Tip: Chicken stock often has more flavor than chicken broth.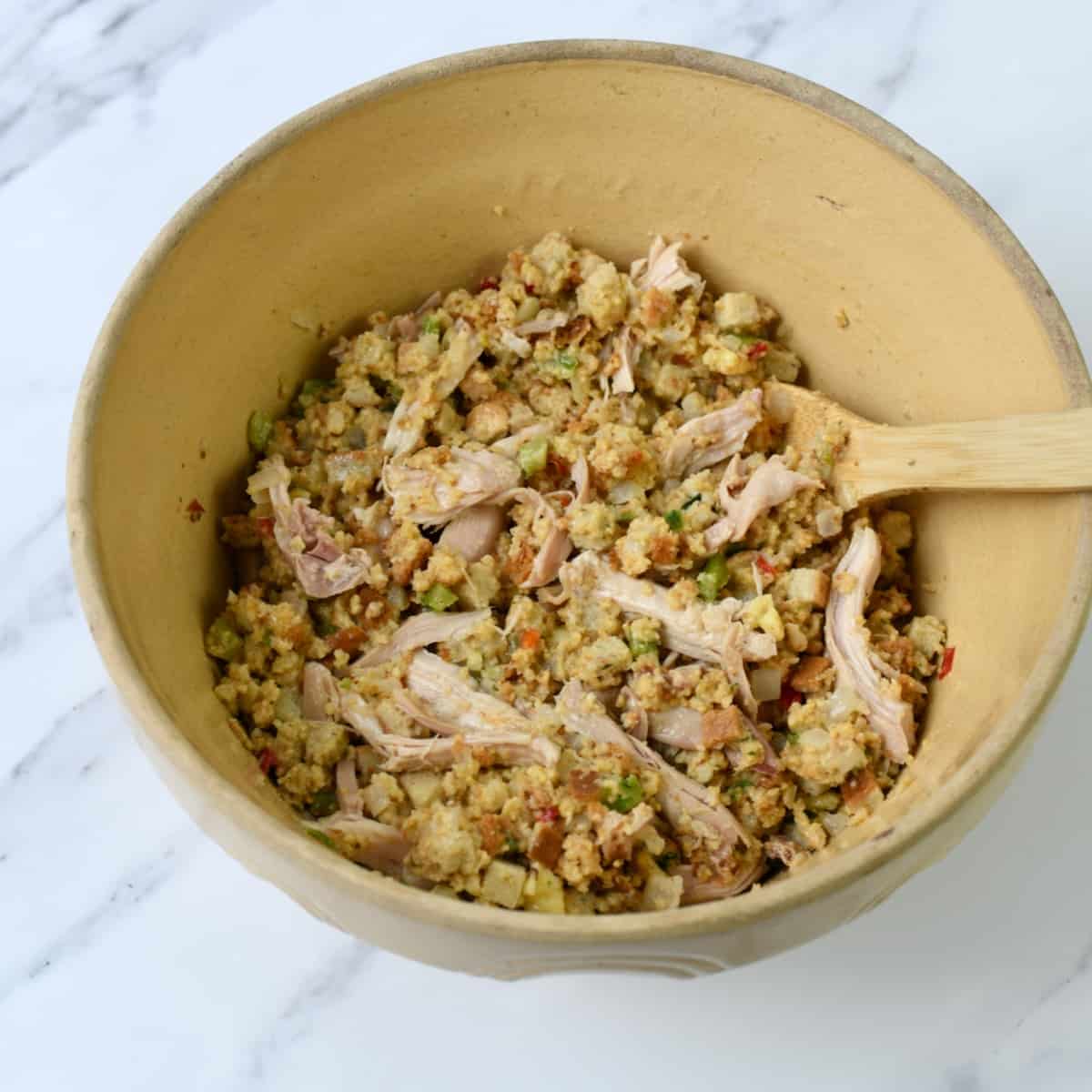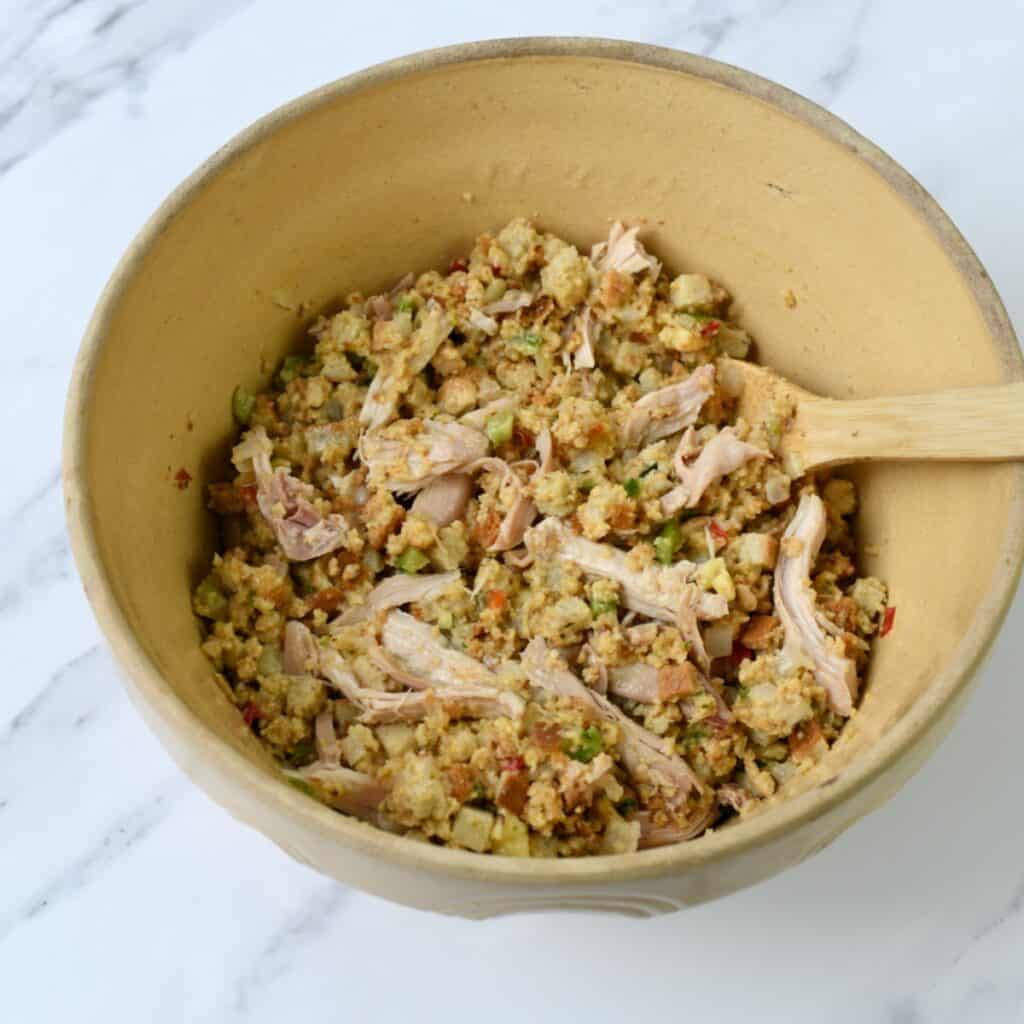 Stir in leftover or rotisserie chicken. You can chop or shred the chicken.
Spoon the dressing mixture into a grease 6 to 8 quart slow cooker.
I prefer an oval-shape because it is wider and provides more surface area. Round slow cookers will also work, but may be a little more wet in the middle or toward the bottom
Pro Tip: Chicken thighs are super flavorful and less expensive than chicken breasts.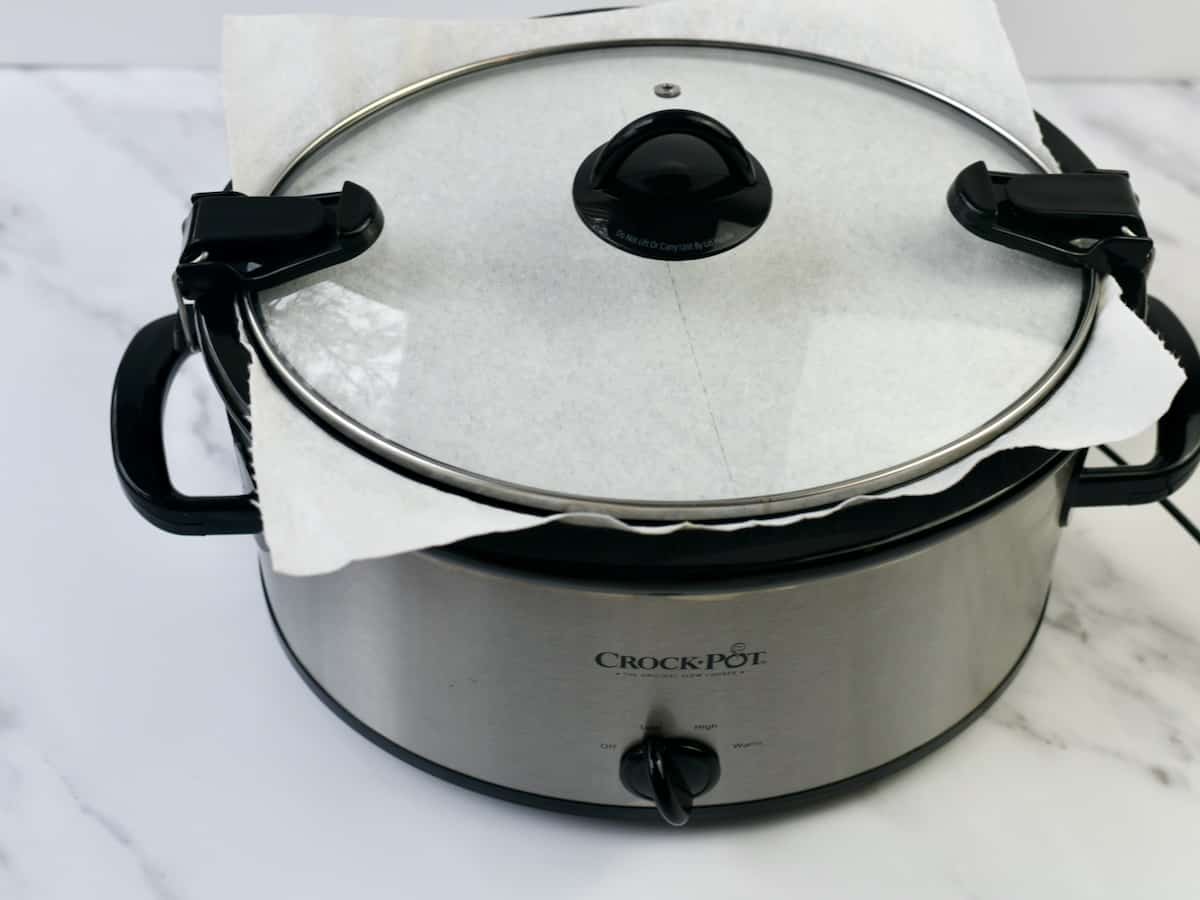 Pro Tip: Placing a paper towel between the lid and the bowl of the slow cooker prevents moisture collecting on the lid and dripping onto the top of the chicken casserole. The paper towel soaks up the moisture, creating a more "oven-baked" texture on the top.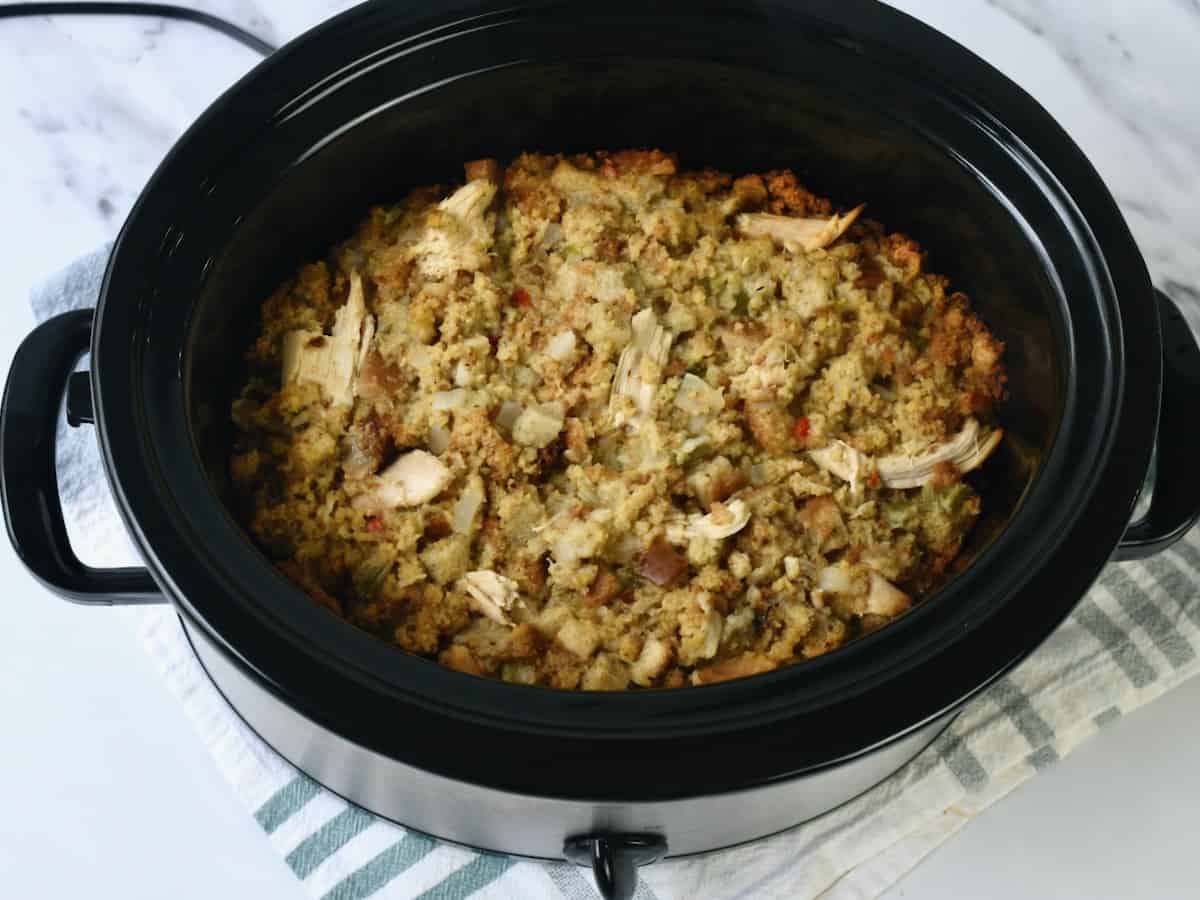 Cook on LOW according to the printable recipe. Scroll down for exact times.
I don't recommend trying to hurry up the chicken casserole by cooking on HIGH. It needs that low and slow temperature to be sure and cook the center without over browning the edges.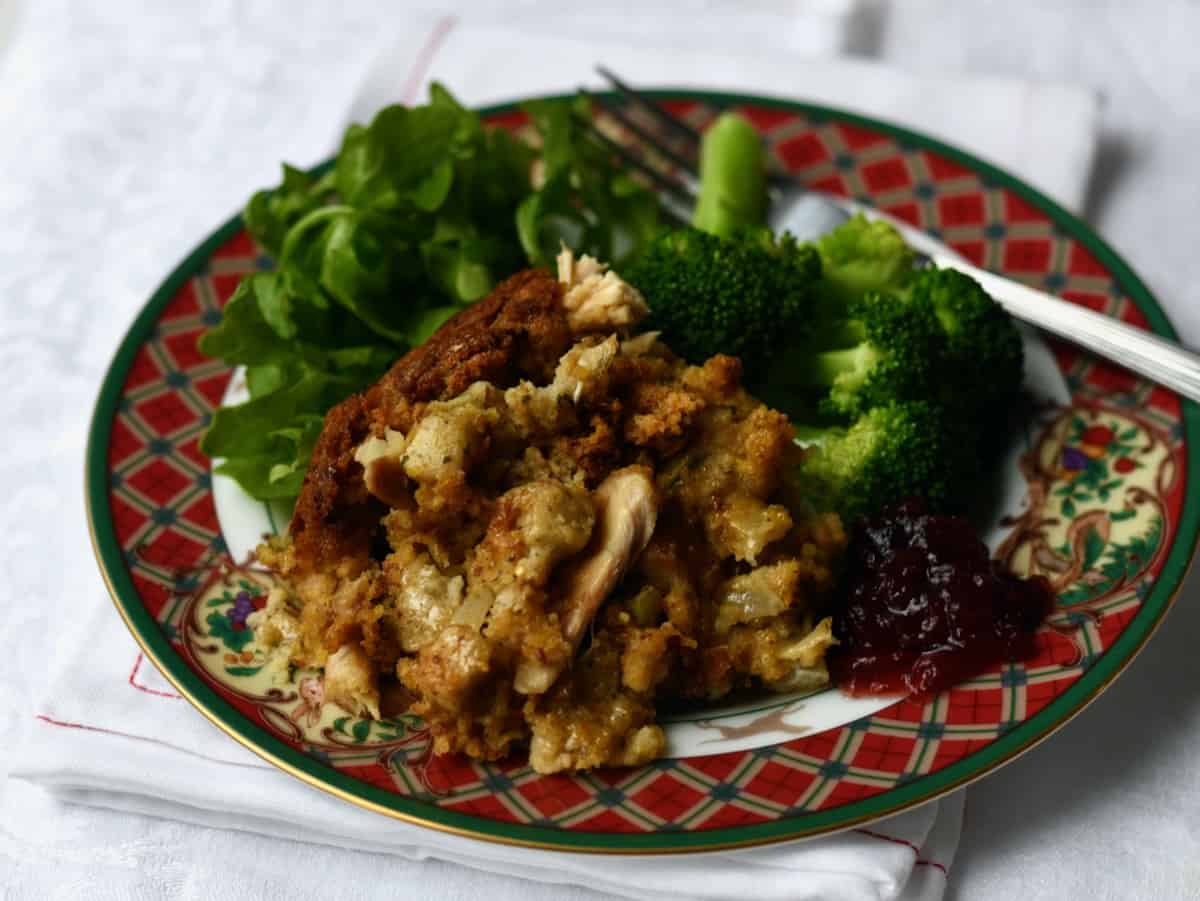 Substitutions & Variations
Trade "this" for "that" in this chicken and dressing casserole recipe.
Make your own cornbread crumbles: One recipe of cornbread from White Lily Buttermilk Cornbread mix using 2 cups cornmeal mix makes 6 cups crumbled cornbread. One (12-ounce) package Pepperidge Farm cornbread stuffing equals about 5 cups of dried cornbread crumbles.
Chicken- Any combination of chicken breasts, thighs, and legs will work. I love to buy a rotisserie chicken or even cook a whole chicken in my Crockpot ahead of time. I also freeze leftover chicken the month before in my FoodSaver.
Poultry seasoning- The stuffing mixes are already seasoned but I like to add a bit more sage which is one of the main ingredient of poultry seasoning.
Cream of Chicken Soup- You can substitute 1 1/2 cups of prepared white or chicken gravy made homemade or from a packaged dry mix or even a jar.
Can I chop my own onion and celery?
If you can't find or don't want to use the packages of seasoning blend (frozen onion, celery and peppers), you can chop your own. Use 2 cups chopped onion, 1 cup finely chopped celery, and 1/2 cup chopped red or green bell pepper. I recommend cooking these fresh vegetables in the 1/3 cup butter for 5 minutes to soften them before adding to the other cornbread dressing ingredients.
Helpful Information
What is the difference in cornbread stuffing and dressing?
Stuffing goes inside of the bird, dressing is baked outside of the bird. Especially in the South, dressing is made with cornbread or a combination of cornbread and some kind of white bread or biscuits.
What to serve with a Crockpot chicken and dressing casserole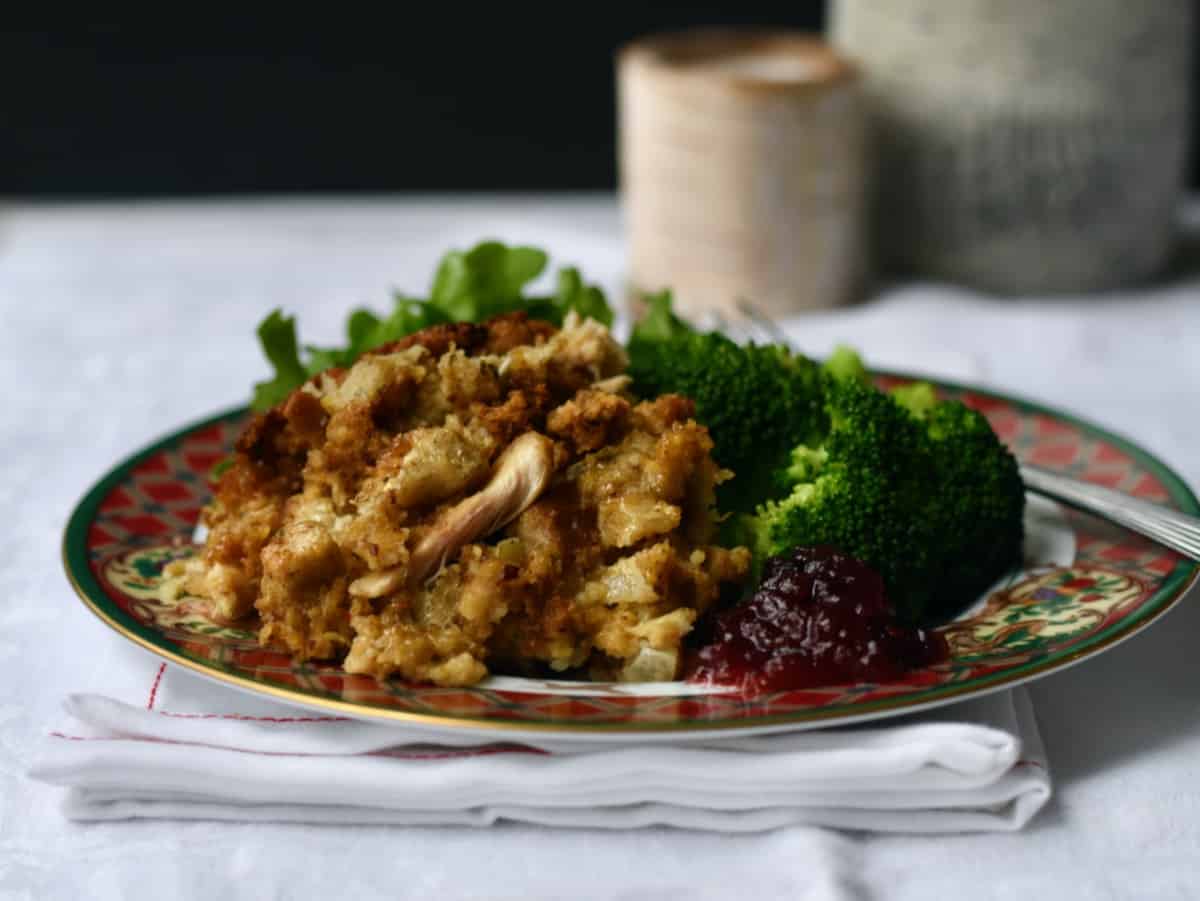 How to store
Refrigerator: Store any leftovers in the refrigerator, covered or in an air tight container. You can refrigerate it right in the slow cooker crock (but not in the base with electric plug).
Freezer: Spoon this casserole into a freezer safe container, cover, and freeze up to 3 months.
Follow me on Facebook, Instagram, Pinterest and YouTube. Be social and share, y'all! Don't forget to sign up with your email so you don't miss a single post on my Southern shortcut recipes!
Want more shortcut holiday recipes?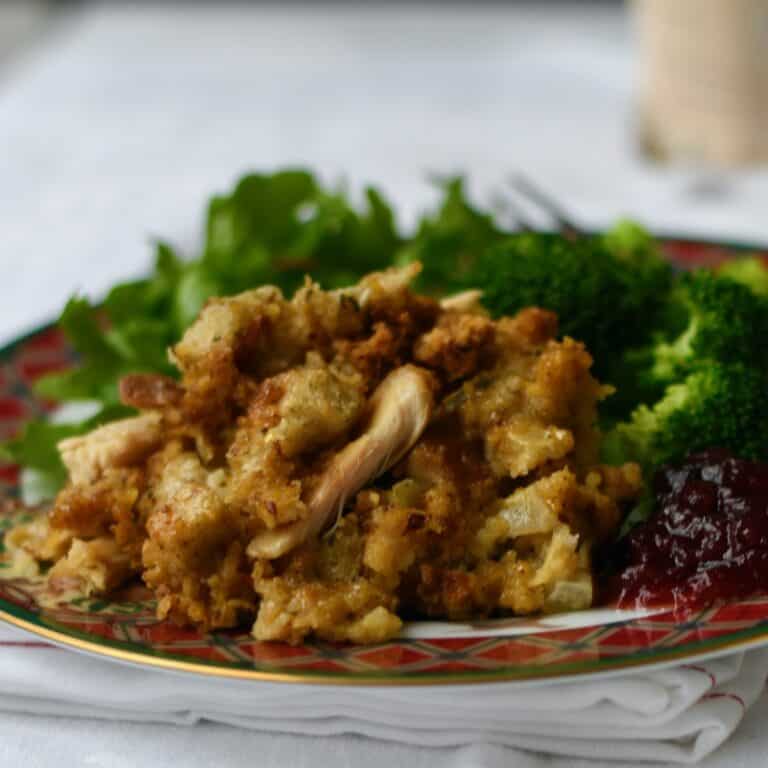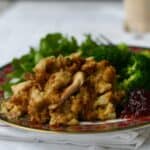 Print Recipe
Crockpot Chicken and Dressing
Crockpot Chicken and Dressing, an easy slow cooker chicken casserole for your Thanksgiving, Christmas or Easter dinner using rotisserie chicken and cornbread stuffing mix.
Ingredients
1/3

cup

butter

2

large eggs

2

10-ounce packages frozen seasoning blend, thawed not drained (onions, bell peppers, celery) (I used Pictsweet)

See NOTES for equivalent amounts of fresh chopped vegetables

1

10.5-ounce can cream of chicken soup

1

teaspoon

poultry seasoning or ground sage

(optional)

1

12-ounce package toasted cornbread classic stuffing (I used Pepperidge Farm)

(or 5 cups crumbled homemade cornbread)

2

cups

from a 12-ounce package herb seasoned dried, cubed stuffing (I used Pepperidge Farm)

(about 3 cups fresh, cubed French bread or biscuits)

3

cups

chicken broth

3

cups

2-inch pieces or chopped, cooked chicken.

(I use rotisserie)
Instructions
Spray a 6- to 8-quart Crockot or slow cooker with cooking oil spray. Oval works best.

Melt butter in a very large microwave-safe bowl. Otherwise, melt it in a small bowl and pour into the very large bowl. It can also be melted in a small saucepan on the stovetop.

Add the onion, celery, bell pepper seasoning blend to the butter. Move this mixture to one side of the bowl. Lightly beat the eggs on the other side of the bowl, then stir it all together. Add the cream of chicken soup, poultry seasoning, and stir well.

Add the package of dried cornbread "stuffing" and the herb seasoned dried cubes of bread to the mixture. Stir just until combined. Pour the chicken broth over everything and stir gently just until combined.

This is when I pull the chicken from the rotisserie so the mixture can sit 5 minutes. Add the pieces of chicken and stir gently just until combined.

Pour the dressing mixture into the greased Crockpot. Cover with lid and cook on LOW for 8 hours. It can be cooked on HIGH for 4 hours but I recommend the lower setting to have time to cook the vegetables and hydrate the dried cornbread and bread cubes and avoid overdone edges.

To speed up the cooking time, you can start the slow cooker on HIGH for the first 2 hours, then reduce it to LOW for 3 hours and that shaves off 3 hours.
Notes
NOTES: Alternative to frozen seasoning blend: Sautee 2 cups chopped onion, 1 cup chopped celery and 1/2 cup chopped bell pepper in the 1/3 cup butter in a skillet until slightly softened.
Crock Pot liners can be used for easy cleanup but won't be attractive on a holiday buffet.
Pro tip: Place a paper towel on top of the slow cooker before adding the lid. As moisture is created, the paper towel absorbs it instead of collecting on the lid and dripping back into the dressing. Works like a charm. Boom!
Nutrition
Serving:
1
eighth
|
Calories:
440
kcal
Did you make this recipe?
If you love it, share it! Tag me on Instagram @gritsandgouda using #gritsandgouda Comment below before you go!
Nutrition analysis on GritsAndGouda.com recipes are mostly calculated on an online nutrition calculator. I am not a dietitian and nutritional information is an estimate and can vary based on products used.