A collection of 17 easy shortcut Southern side dish recipes you'll want to make again and again. From vegetables and fresh salads for summer BBQ and cookouts to squash casserole and cornbread dressing as Southern Thanksgiving side dishes.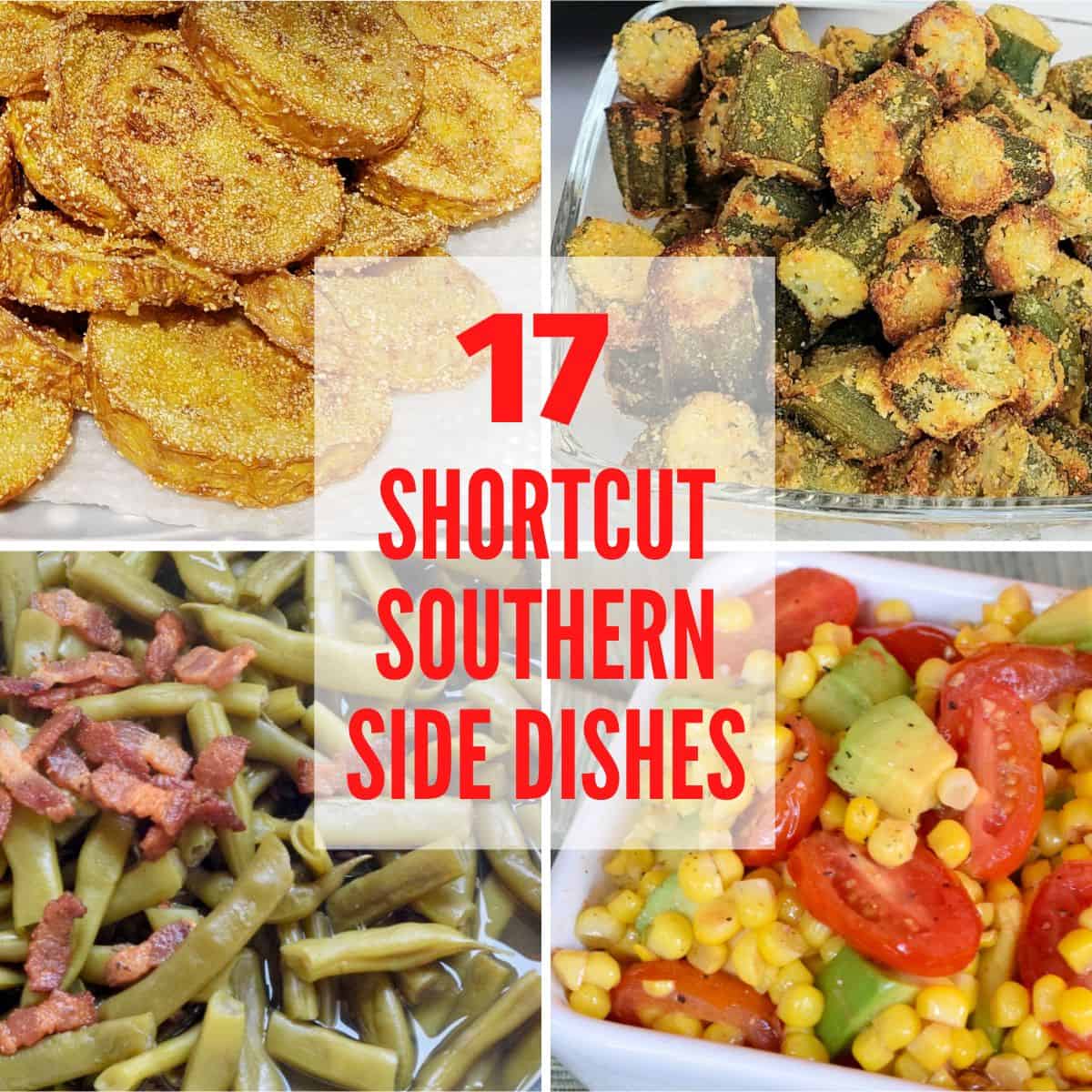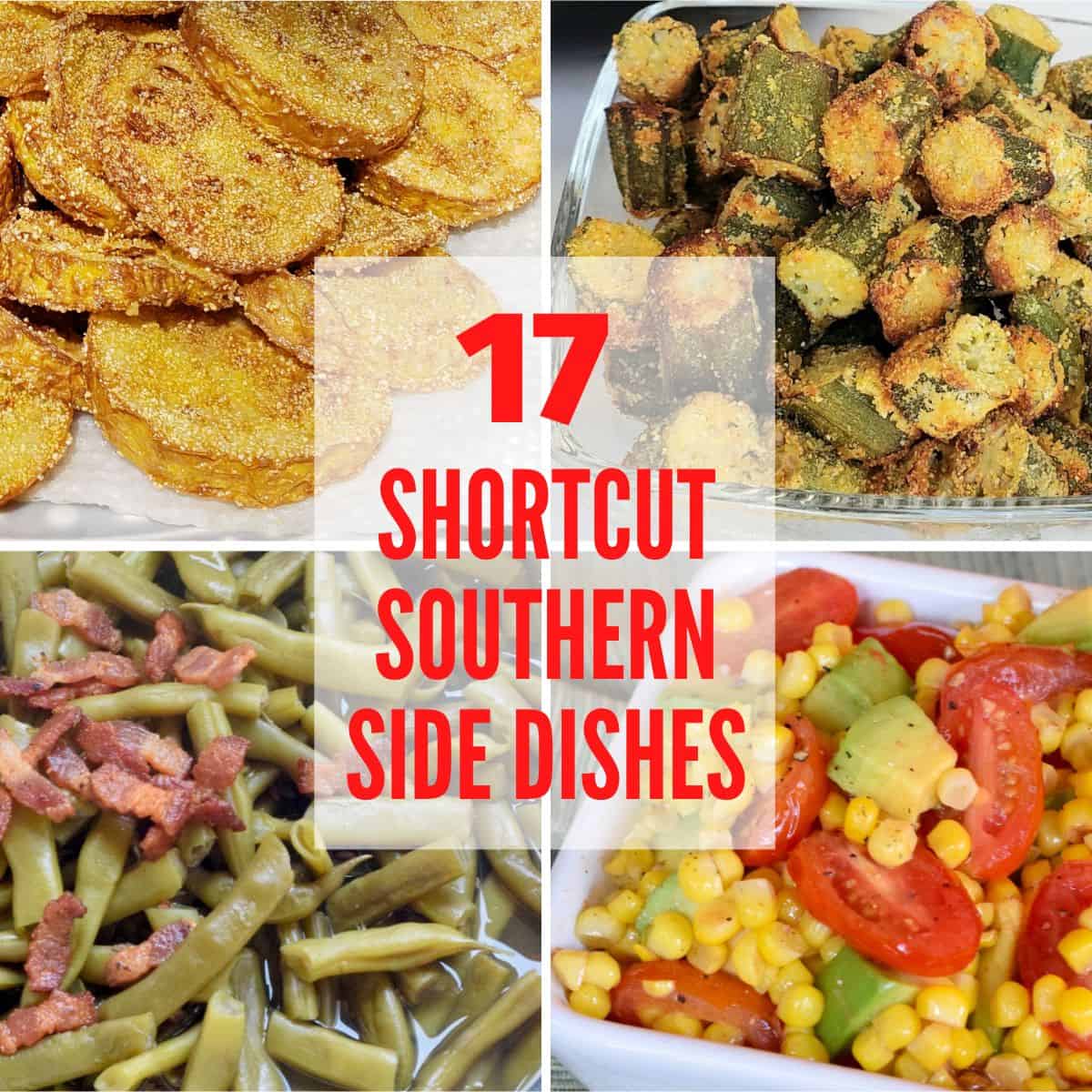 Not all Southern side dishes are fried, although I am partial to Fried Squash and Fried Green Tomatoes.
As a matter of fact, we love our fresh garden vegetables lightly sauteed next to juicy Pan-Seared Pork Chops or simply tossed with an herbed vinaigrette like my Tomato-Basil and Vidalia Salad.
I love cooking all kinds of classic Southern side dishes but what I DON'T love is spending all day in the kitchen to put one meal on the table. So I cook with shortcuts and want to share them with you!
Save this Southern side dish recipe roundup for anytime you are wondering what to serve with your lunch or dinner and are short on time.
Southern Shortcut Side Dishes
Squash
Tomatoes
Potatoes
Beans and Greens
Salads
Holiday side dishes
Shortcuts
Each Southern side dish recipe has at least one shortcut. Here are a few of my shortcuts.
It may be cooking in the Instant Pot and air fryer.
Eliminating ingredients by using one that combines two or more.
Eliminating a step or equipment and replacing it with an easy technique.
The order ingredients are combined to avoid washing extra dishes.
Using convenience products to make it "halfway homemade".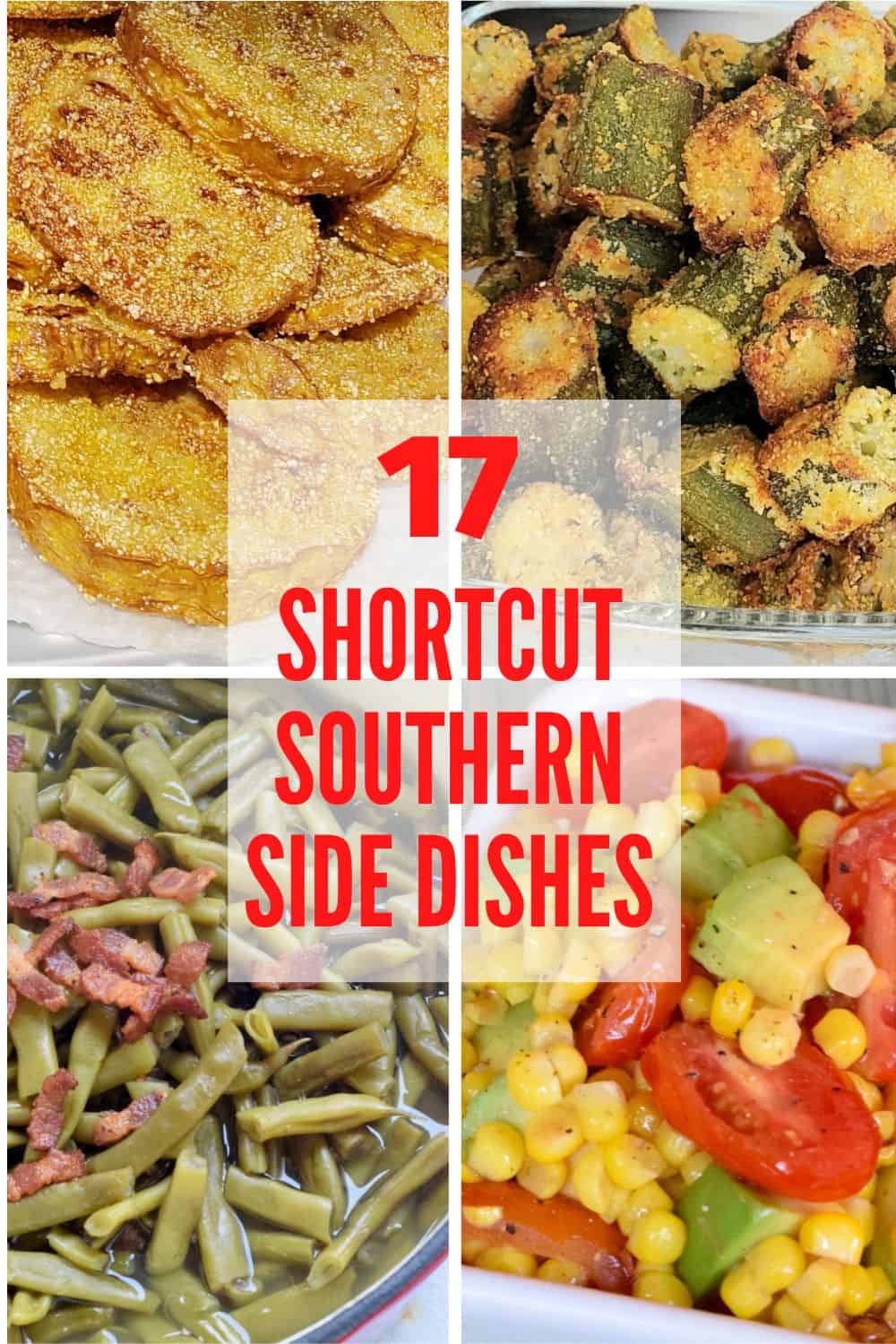 Squash
1. Southern-Fried Squash
Crispy, crunchy cornmeal coating on the outside. Tender and flavorful on the inside. Whether you choose yellow squash or zucchini, this describes Southern-Fried Squash perfectly! You don't have to deep-fry summer squash in a lot of oil. And with my shortcut method, no messy batter needed.
2. Easy Yellow Squash Casserole
This is one of the most simple and easy Southern-style side dishes. Yellow squash and onions with a little bit of cheese in the egg mixture, topped with buttery breadcrumbs.
3. Sausage Summer Squash Casserole
This hearty, savory squash casserole can be eaten as a light meal all by itself. I love to make it with both zucchini and yellow squash for a mixture of color. We always have venison sausage in the freezer, but any sausage will be delicious in it.
Tomatoes
4. Fried Green Tomatoes (Perfect Every Time)
Follow my simple technique to keep all that crunchy coating from sliding off the slick skin of sliced green tomatoes. I like them sliced pretty thick, but it works no matter how you slice 'em.
5. Corn Avocado Tomato Salad
You will love this simple 4 ingredient summer side dish with fresh corn off the cob, tomato, and creamy avocado. Of course, if you love onions like I do, stir in a handful of chopped, sweet or red onions for a little extra crunch.
6. Tomato and Vidalia Onion Pie with Bacon
Now, here's a side dish for my tomato and onion fans! Thick slices of vine-ripe tomatoes and sweet Vidalias layered high between mayonnaise and cheese in a deep dish pie crust. The crust is made with premade pie crust dough. Tomato pie is often eaten as a main dish, too.
Potatoes
7. Sour Cream and Green Onion Potato Salad
Is it really a picnic or a potluck without potato salad? This version is full of flavor where the leftovers are even better the next day... if there are any leftovers!
8. Candied Roasted Sweet Potatoes
Roasting sweet potatoes first, caramelizes the natural sugars in them, adding a rich, deeper flavor before candying them. Roasting them is a "hands off" shortcut because you don't have to babysit a boiling pot on the stovetop.
Beans and Greens
9. Easy Fresh Green Beans with Bacon (Stovetop)
One of the most classic Southern side dish recipes is green beans, right? The shortcut I use to infuse flavor into fresh green beans without cooking them all day with a ham hock is cooking them in chicken broth with bacon.
10. Instant Pot Fresh Green Beans with Bacon
The electric pressure cooker not only cooks food in a fraction of the time with other methods, it also doesn't heat up the kitchen when it's 95 degrees outside and the humidity makes it feel like 100!
11. Instant Pot Collard Greens and Navy Beans
Fresh collard greens and dried beans are perfect examples of the Instant Pot cooking ingredients in a fraction of the time it takes to cook on the stovetop. I also LOVE that the iconic "aroma" from cooking collard greens is contained inside the electric pressure cooker until the cooking is done. Bonus!
12. Air Fryer Brussels Sprouts with Sorghum Molasses & Bacon
Brussels sprouts has become one of the most popular green vegetables here in the South. Although they are not a typical Southern vegetable, they are in the cabbage family and we can grow some pretty nice cabbage, let me tell, ya!
Salads
13. Easy Southern Macaroni Salad
This colorful pasta salad will be welcomed at any summer potluck, family reunion or Sunday church supper. No one has to know it started with a package of precooked elbow macaroni. Cooking the "boiled" eggs in the Instant Pot also saves time because you know they will peel perfectly every single time.
14. Easy Strawberry Pretzel Salad (8x8 pan)
Is it a salad or is it a dessert? Here in the South, we love our sweet salads and that includes Jello salads that double as a dessert. This is a small batch recipe made in an 8x8-inch pan for when you might not be going to a potluck. Easily doubles.
Holiday sides
15. Shortcut Stained Glass Jello Salad
Stained Glass Jello Salad doubles as a holiday side dish and colorful dessert. Change up the colors of the store-bought gelatin cups to match the holiday: Easter, 4th of July, Christmas.
16. Sausage Cornbread Dressing Cups
The idea to serve individual size portion cups of Southern cornbread dressing with sausage came out of our extended family holiday gathering many years ago. We decided to have an appetizer party with all bite-size food instead of the traditional sit-down dinner. There was no plan to include a 13x9 casserole of dressing until I baked them in muffin pans!
You can also bake them in miniature muffin pans and top them with Cranberry-Apple- Jalapeno Salsa.
17. Easy Cheesy Baked Mac and Cheese
This shortcut macaroni and cheese recipe has an unconventional way to thicken the egg mixture without making a homemade sauce! I'll give you a hint: it involves crushed saltine crackers. While mac and cheese is found on Southern dinner tables year round, it is almost always requested as one of our side dishes for Thanksgiving and Christmas.
I hope you found plenty of inspiration to get in the kitchen and cook up some shortcut Southern side dishes to go along with your pork chops and grilled chicken.
Review my list of Shortcuts at the beginning to help you make some of your own family recipes in less time.
More Southern side dish recipes
I add shortcut Southern recipes every week. Check out these salads and side dishes.
Follow me on Facebook, Instagram, Pinterest and YouTube. Be social and share, y'all! Don't forget to sign up with your email so you don't miss a single post on my Southern shortcut recipes!