Instant Pot Collard Greens and Navy Beans (Southern Beans and Greens) takes a fraction of the time it takes to put the traditional stovetop recipe on the table! No presoaking the beans and you don't have to smell collards cooking for hours! A second shortcut is using a bag of pre-washed collard greens.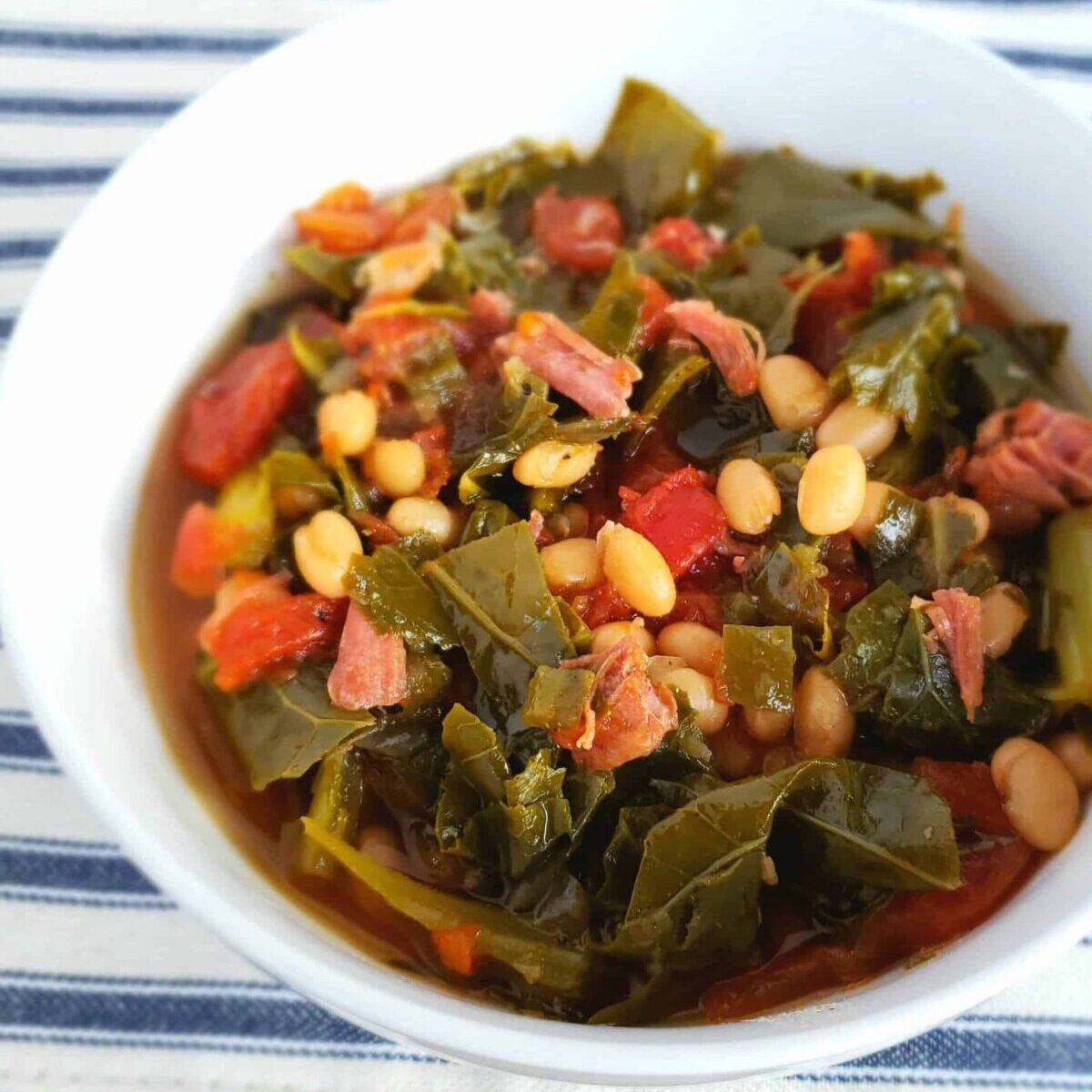 What's a more iconically Southern dish than collard greens flavored with ham hock? Maybe collard greens served with cornbread?
It's also a dish that takes a long time to cook but the Instant Pot and pre-washed and chopped collard greens makes quick work of it.
Don't be afraid of your new Instant Pot!
If you got an Instant Pot 6 quart 7-in-1 or Instant Pot 6 quart 6-in-1 for Christmas or your birthday but it's still in the box- Get. It. Out. Now!
It's soup season and you are missing out on some traditional Southern soups that typically take a long time to cook because you think you don't have time during the week to cook them.
Don't be afraid of your Instant Pot! If you are just starting out, watch this video from the official Instant Pot website.
The video literally starts with taking it out of the box. The difference in the 7-in-1 and the 6-in-1, besides the price is the 7-in-1 has a yogurt making feature. If you never plan to make yogurt, save a little money and get the 6-in-1.
If you want a shortcut beans and greens recipe that is even quicker than this one and doesn't require an Instant Pot, then try my Shortcut Turnip Greens Soup recipe- 4 ingredients and ready in 10 minutes.
Do you love the smell of collards cooking?
Uh, that's a hard no for me. I didn't grow up eating collard greens even though I've lived in the South all my life. We ate plenty of fresh mustard greens and lettuces in Mom's amazing chopped salads but I don't remember her ever cooking it.
I think it had something to do with the smell that filled the house because Southerners tend to cook them all day on the stovetop.
I don't mind the "aroma" of collard greens, now, but what I do mind is having to watch the pot on the stove all day when I have other things to do.
That's where the Instant Pot comes in! It's a shortcut all on its own, but in this recipe, I also use pre-washed collard greens and a can of diced tomatoes. I do, however, chop my own jalapeno peppers and onion.
To eliminate any chopping at all, just substitute Rotel tomatoes and chiles for the jalapenos, onion, and tomatoes.
What you need to make this dish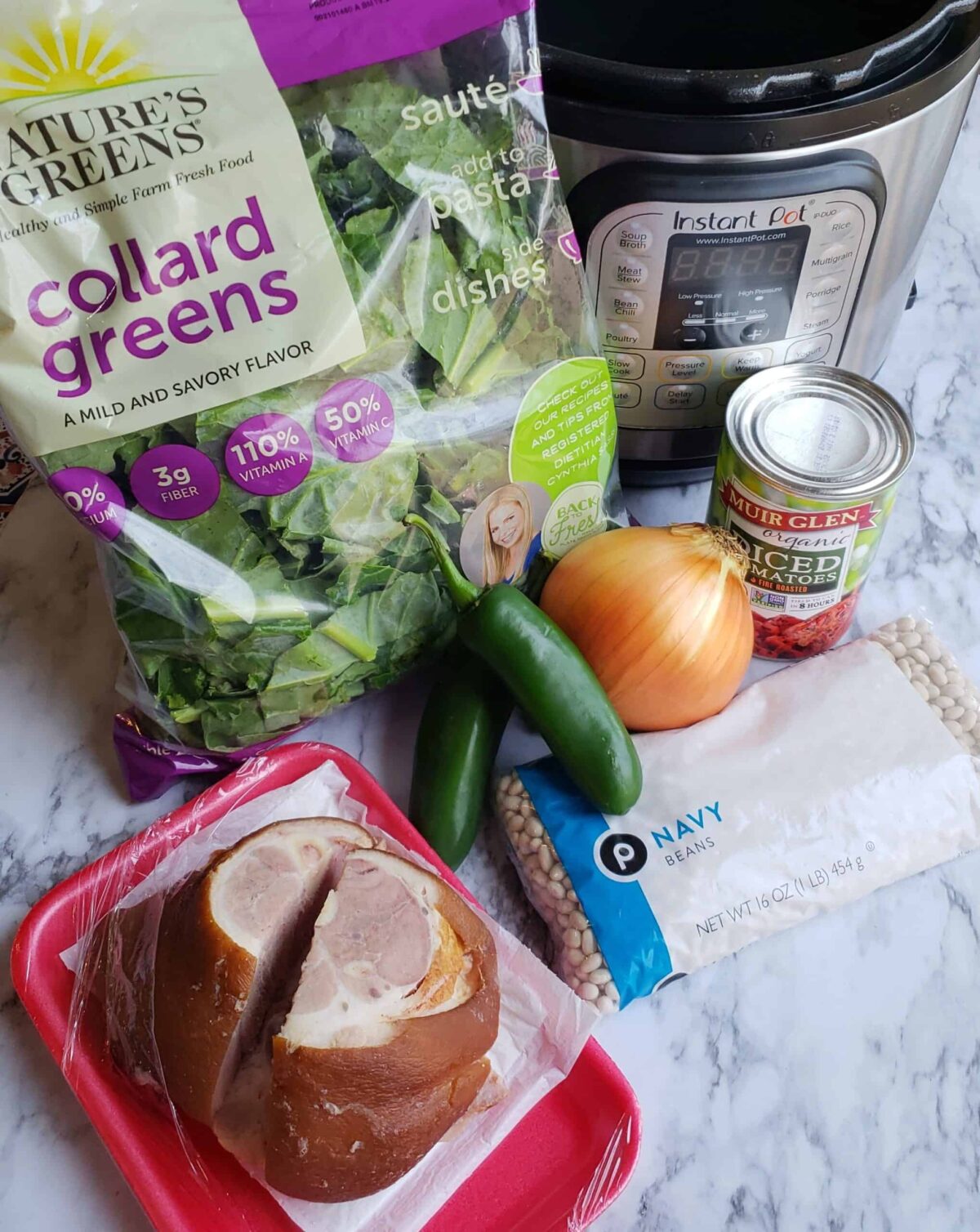 One (16-ounce) bag pre-washed collard greens (about 16 cups)
1 can diced or petite diced tomatoes
1 cup chopped onion
1/3 cup dried navy beans (or black eyed peas)
1/3 cup diced jalapeno pepper
salt
garlic powder
3 cups chicken broth
Ham hock or bacon
You don't have to presoak the dried beans!
One of the amazing things about an Instant Pot is that you don't have to soak dried beans before cooking them!
This is gold! I like to use dried beans in some recipes because this way I am in control of what I'm eating.
Canned beans, most often, have calcium chloride added as a firming agent so the beans don't turn to mush in the can. With dried beans, I know there's one ingredient in the package-beans!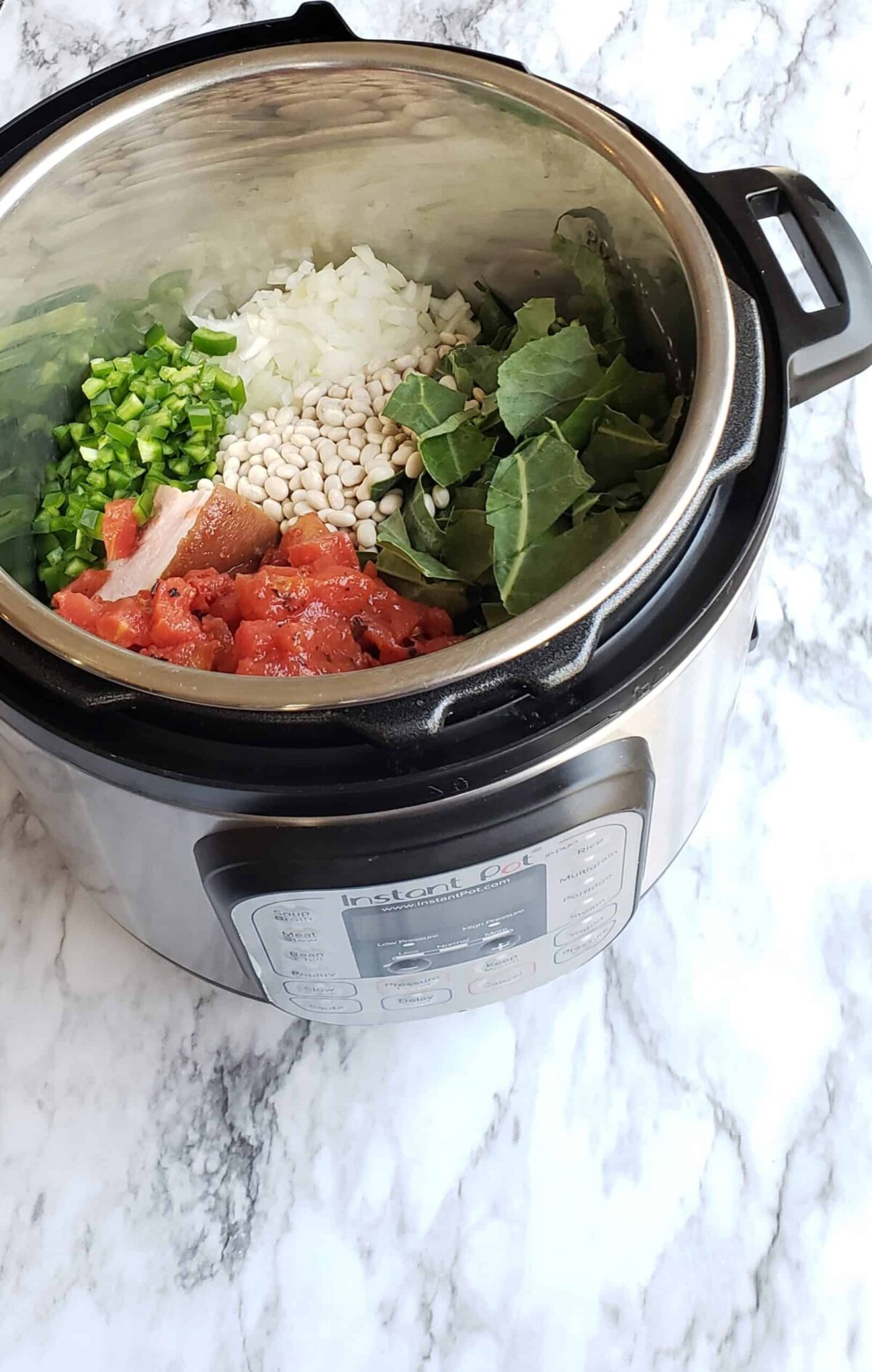 By using chicken broth as the liquid instead of water, you are adding flavor and seasoning.
The Instant Pot or pressure cooker uses the liquid to steam/pressure cook the dried beans. I was amazed that the beans were cooked perfectly.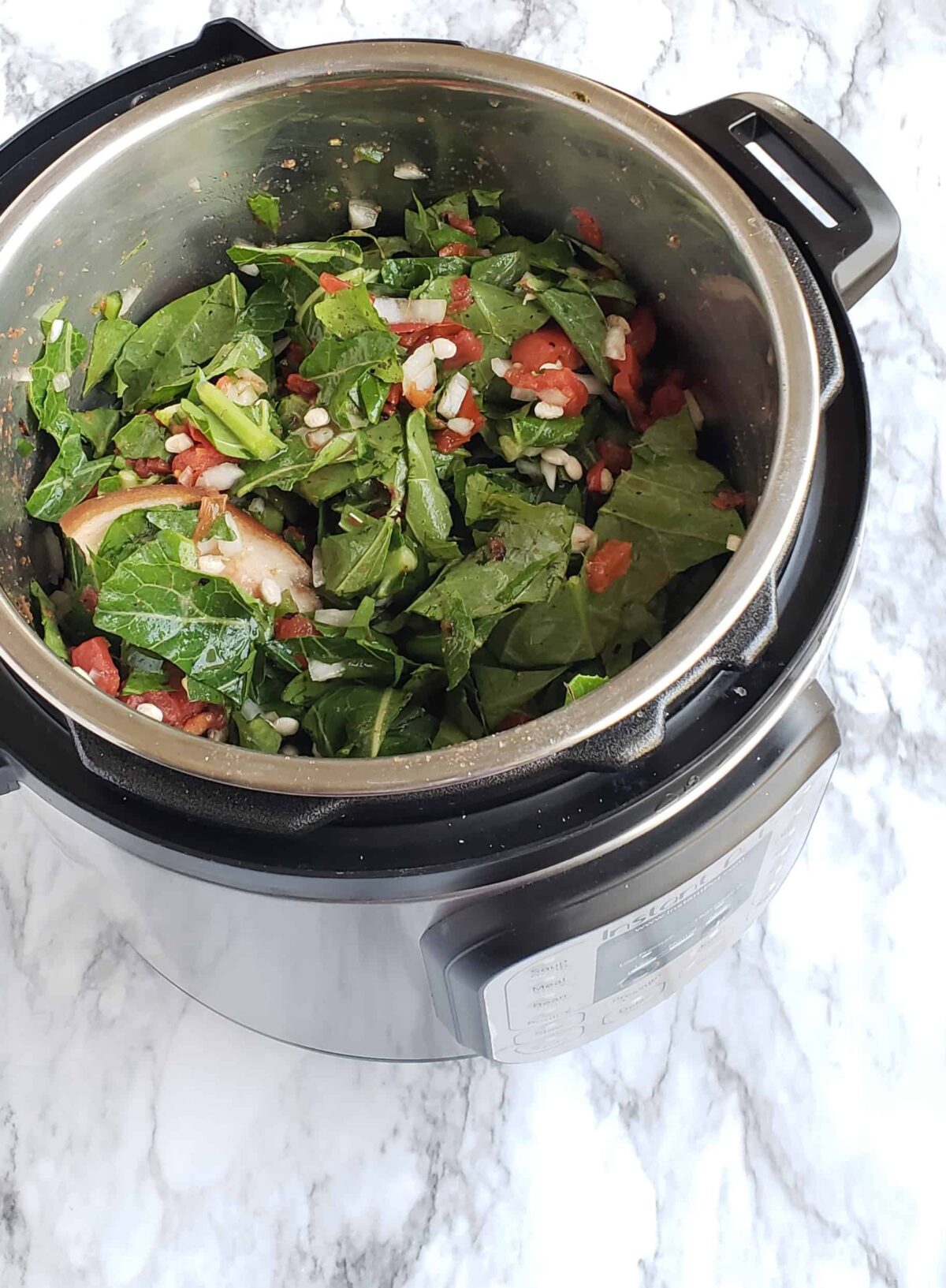 After cooking just 30 minutes in the Instant Pot, what would normally take hours to cook on the stovetop is now ready to enjoy.
Now, don't forget, it does take about 20 minutes for the Instant Pot to come up to pressure, then it cooks 30 minutes, then this recipe uses "natural release" which takes about another 20 minutes.
What does "natural release" mean?
Natural release just means you leave it alone and let the pressure inside naturally escape.
You will know when that happens when the little metal piece to the right of the "release" and "seal" knob drops down. Refer to the video link above for basics of Instant Pot parts.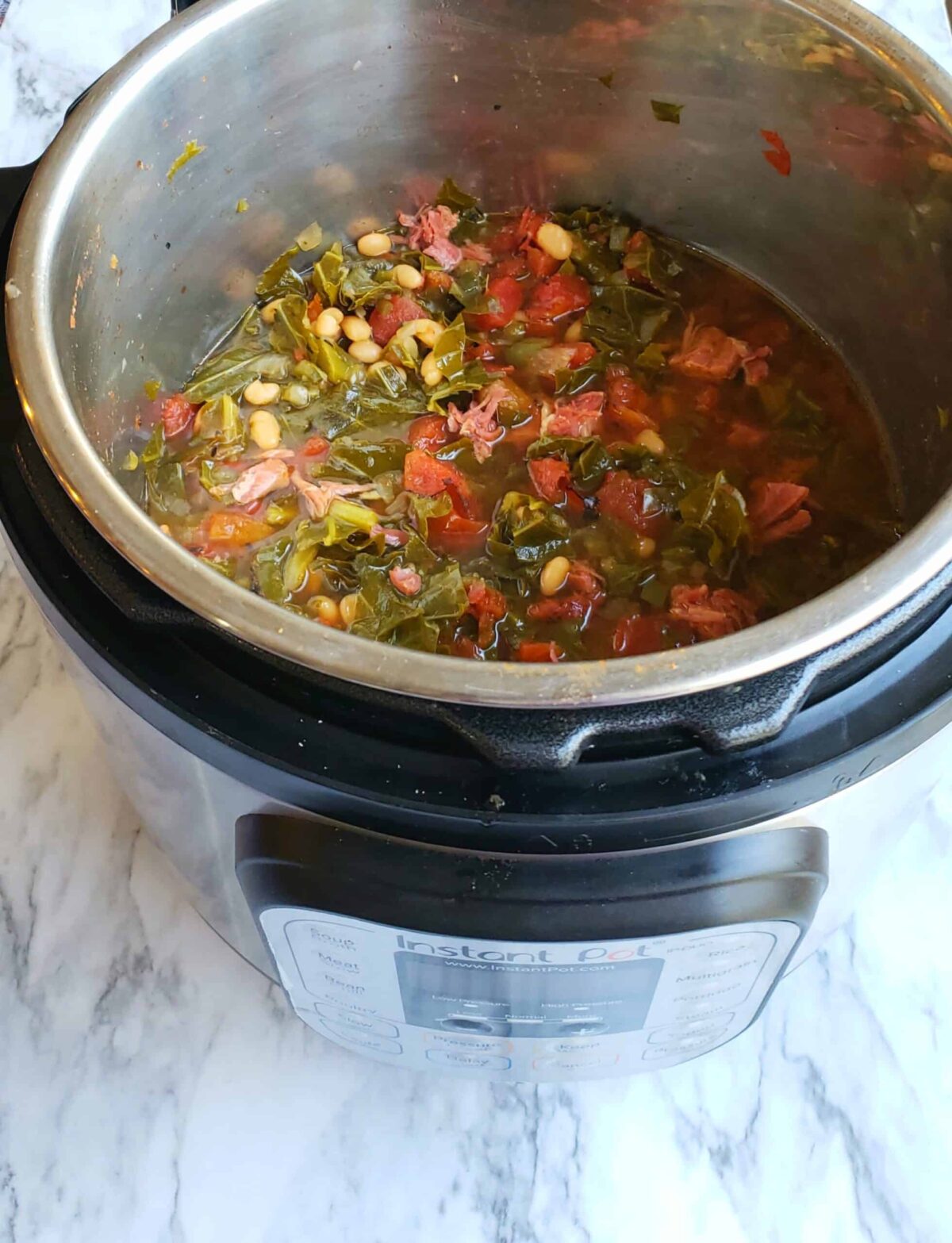 Substitutions
This recipe can be flexible. You can substitute turnip greens for collards, ham or bacon or sausage for ham hock, and Great Northern beans or black eyed peas for Navy Beans.
I prefer the Navy beans because they are much smaller and take less time to cook. I haven't tried it but I bet the Great Northern beans would take an extra 5 minutes to cook.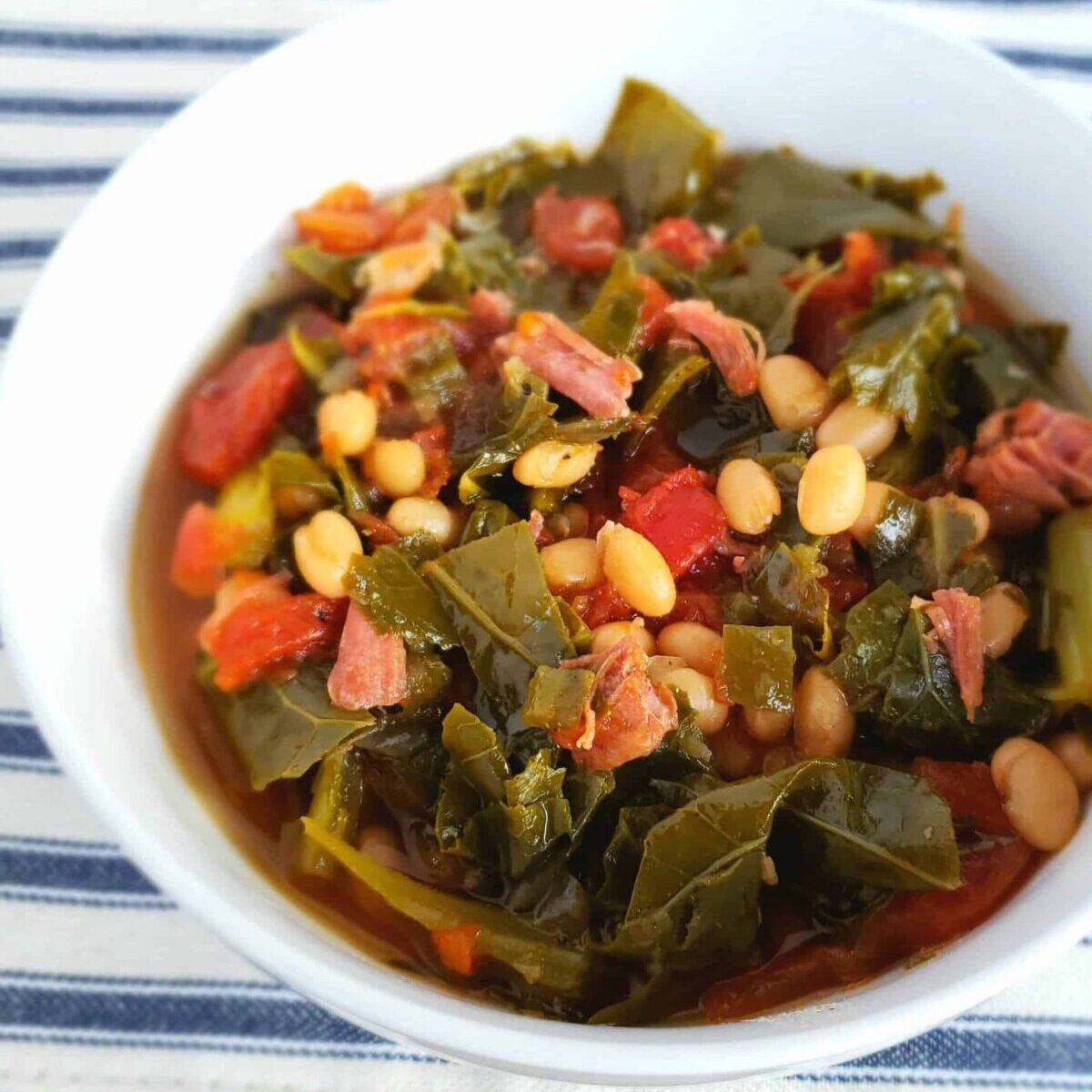 I made this recipe as well as the Shortcut Turnip Greens Soup on WBRC Fox 6's Good Day Alabama here in Birmingham.
The hilarious weather man, Mickey Ferguson, filled his bowl and came back for seconds! I took that as a high compliment to the chef. lol
Watch the video of me making Beans and Greens (Not Swamp Soup)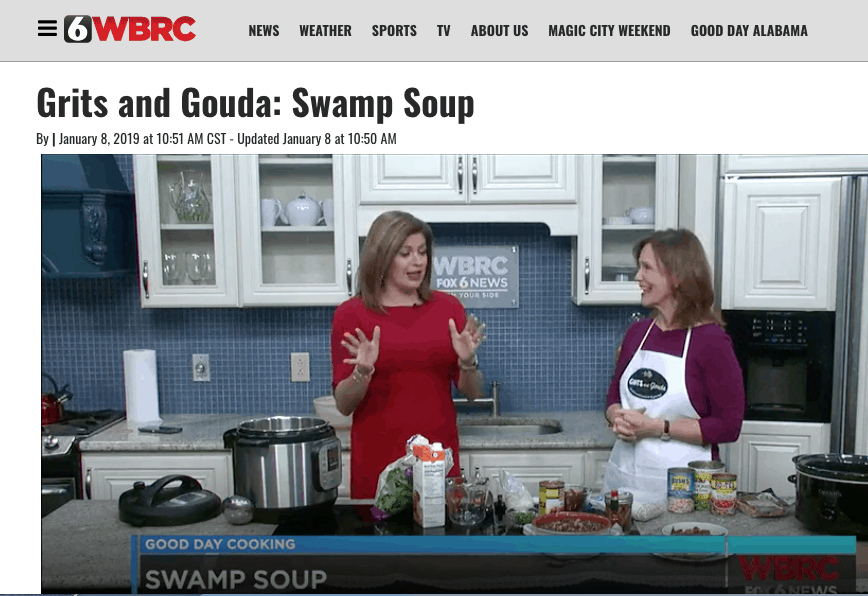 How do I serve Collard Greens and Navy Beans?
Serve both Instant Pot Collard Greens and Navy Beans and Shortcut Turnip Greens Soup (pictured below on the left) at a football party as a soup.
Church potluck and family gathering as a side dish with a slotted spoon.
A New Year's Eve party (using dried black eyed peas) and drained as a chunky dip with corn chip scoops.
Don't forget the hot pepper sauce!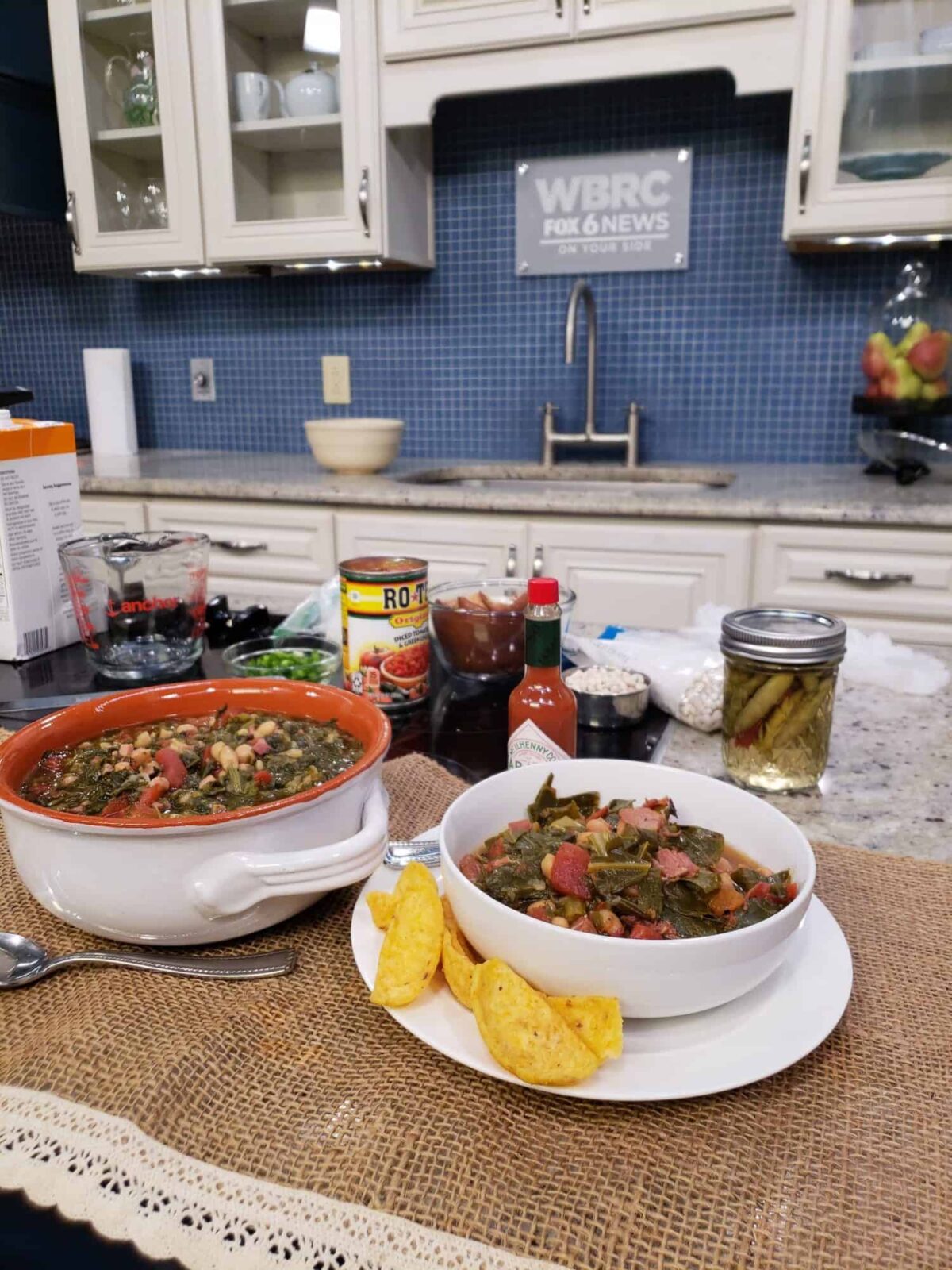 If you like shortcut soups try my Shortcut Turnip Greens Soup and Shortcut White Bean and Chicken Chili.
And of course, all Southern soups go well with cornbread. Check out my Vidalia Onion Cornbread.
Follow me on Facebook, Instagram, and Pinterest. Be social and share, y'all! Don't forget to sign up with your email so you don't miss a single post on my Southern shortcut recipes!
If you make this recipe I'd love to see it! Tag me on social media with #gritsandgouda or @gritsandgouda. Leave a comment below the printable recipe if you have questions or tell me how you liked the recipe. Don't forget to give the recipe a rating of 5 stars if you love it!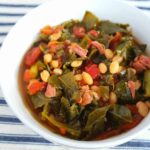 Print Recipe
Instant Pot Collard Greens and Navy Beans
This iconic Southern dish is known for taking hours to slowly cook the ham hock, collard greens, and dried beans on the stovetop. With the Instant Pot, you don't even have to soak the dried beans and they just cook 30 minutes-now that's a shortcut! And you dont smell it cooking!
Ingredients
1

(16-ounce)

bag roughly chopped pre-washed collard greens

(about 16 cups fresh roughly chopped)

1

15.8 oz

can diced tomatoes

1

cup

chopped onion

(about 1 small)

1/3

cup

chopped jalapeno pepper

(about 2 small)

1/3

cup

dried Navy beans

1/2

teaspoon

salt

1/2

teaspoon

garlic powder

(or 2 cloves garlic, minced)

4

cups

chicken broth or stock

(vegetable stock will work)

1

ham

hock

sizes will vary
Instructions
Combine all ingredients in a 6-quart Instant Pot in and toss to coat the collard greens.

Make sure the silicone seal is inserted in the lid. Place the lid on the base and turn to close it. Make sure the pressure release handle is on "seal" not "release" if using the Duo model.

Press the button "pressure cook" , then press the + button until it reaches 30 to cook for 30 minutes. In just a few seconds it will say "ON" and the pressure will start to rise. This will take about 20 minutes, then it will beep and will automatically start to count down the 30 minutes.

When 30 minutes is passed, it will beep and automatically start counting back up. It is starting to naturally release the pressure inside.

In about 20 minutes, the float valve (to the right of the pressure release handle) will drop down, letting you know the lid can be opened.

Serve with hot pepper sauce and cornbread.
Nutrition
Did you make this recipe?
If you love it, share it! Tag me on Instagram @gritsandgouda using #gritsandgouda Comment below before you go!
Nutrition analysis on GritsAndGouda.com recipes are mostly calculated on an online nutrition calculator. I am not a dietitian and nutritional information is an estimate and can vary based on products used.
Pin for Later