These 3 Ingredient Cinnamon Sugar Toasted Pecans are the best easy recipe for how to make sweet roasted pecans. The shortcut is not having to use a candy thermometer or use the stovetop.
Prep takes less than 2 minutes, then it bakes for that slow-roasted flavor you get at festivals. The results are crunchy, cinnamon sugar-coated toasted pecans ready for Christmas gift giving, office party snacks, road trips or treat bags for all your friends!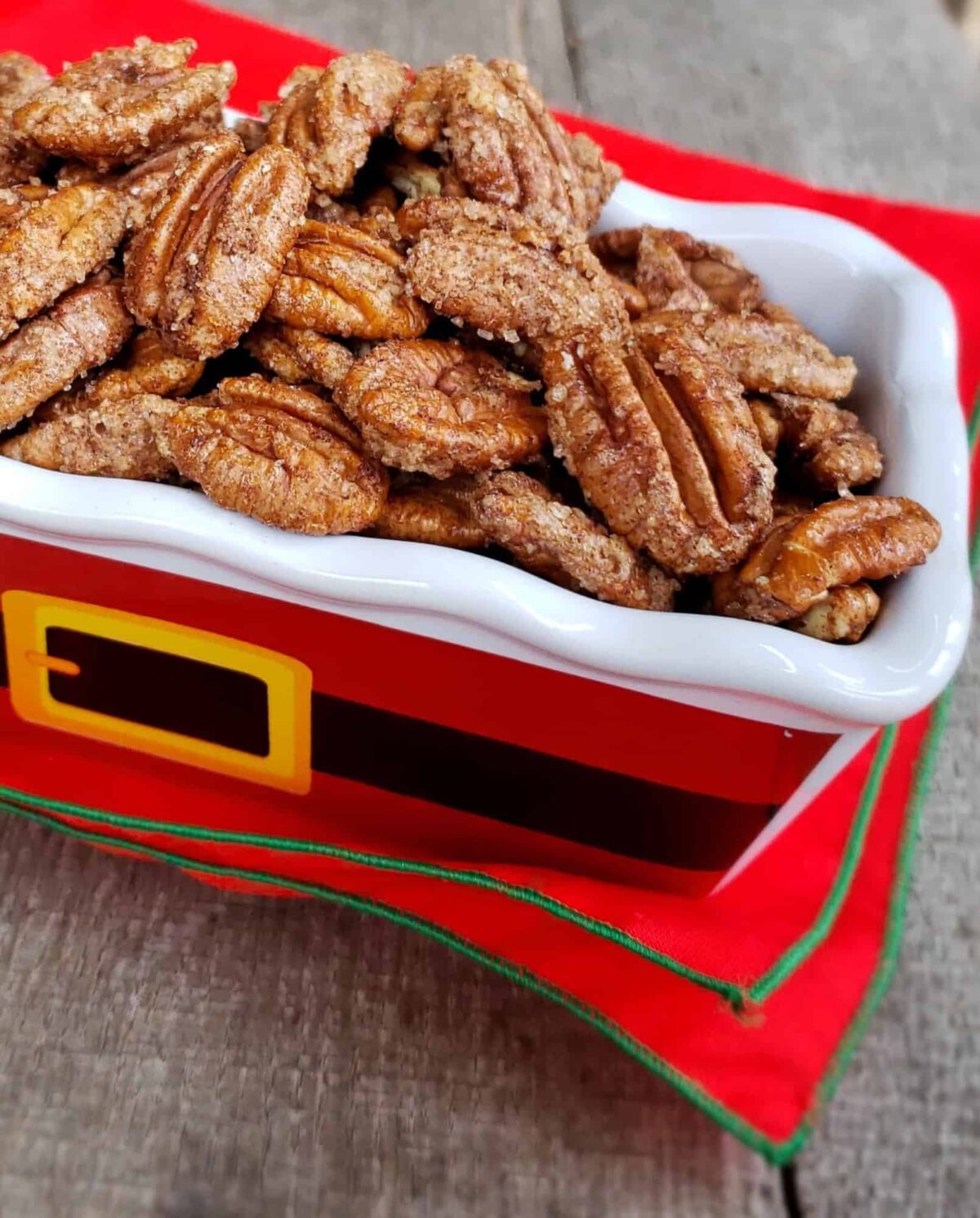 This is one of my favorite Southern snacks and are perfect for snacking while watching the big football game, too!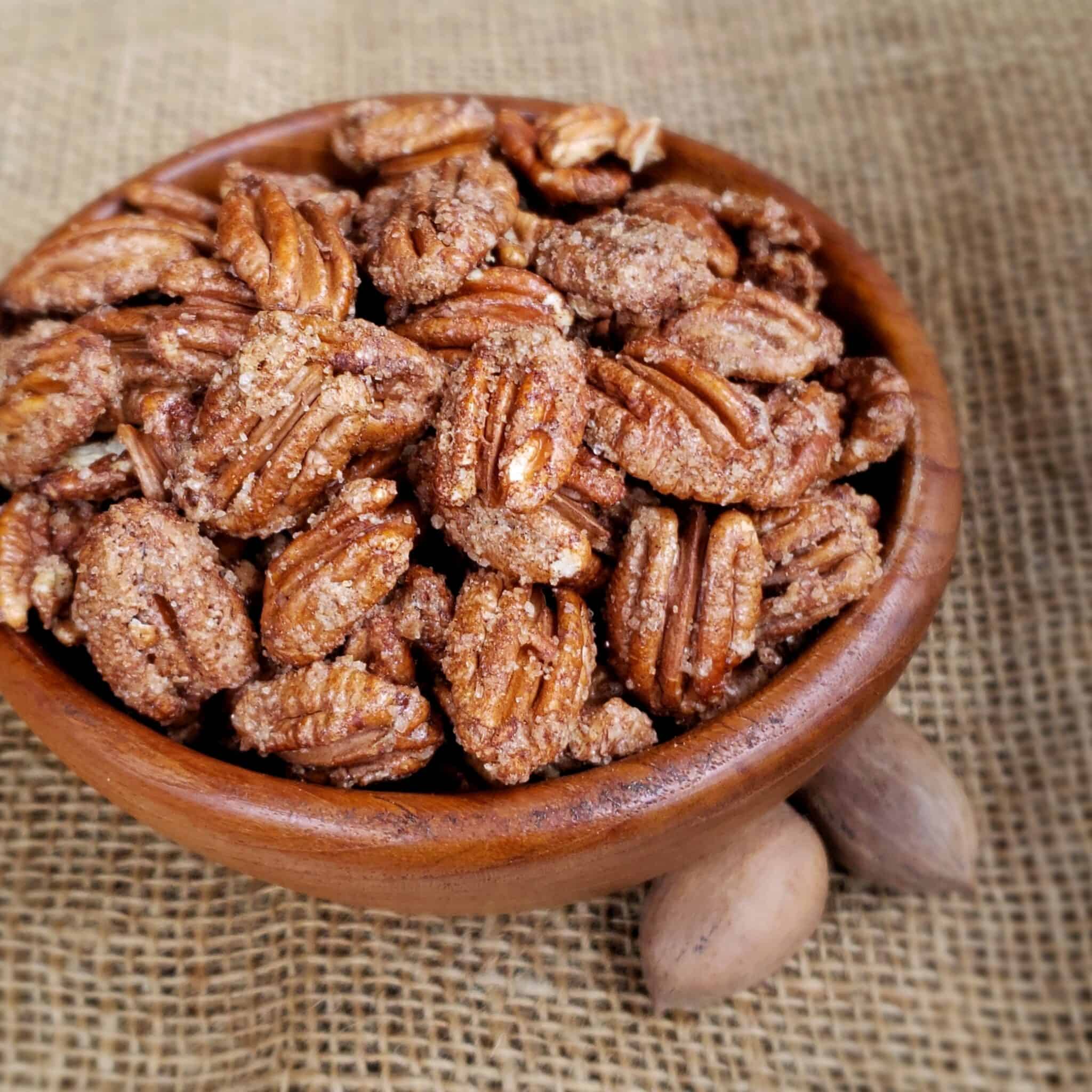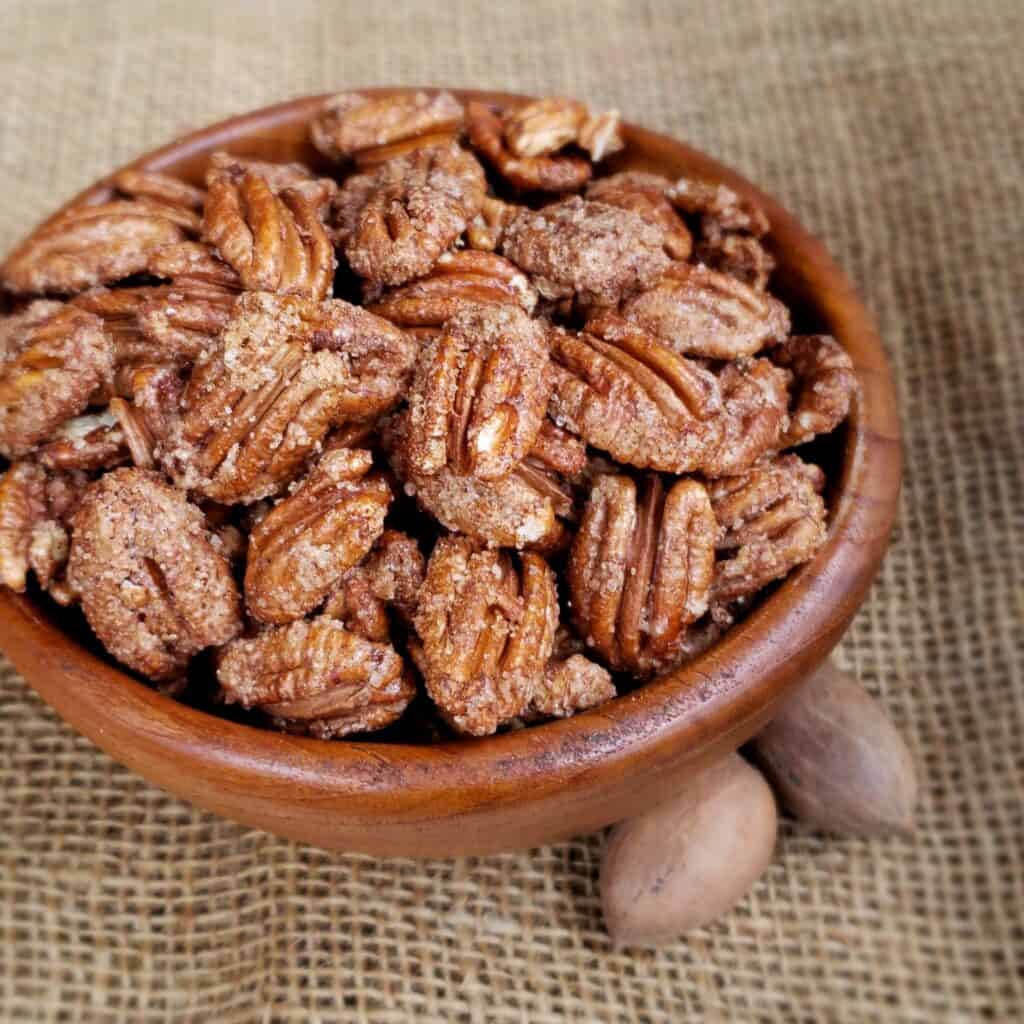 I made these on the ABC 33/40's Talk of Alabama morning show. This picture is straight from the tv set!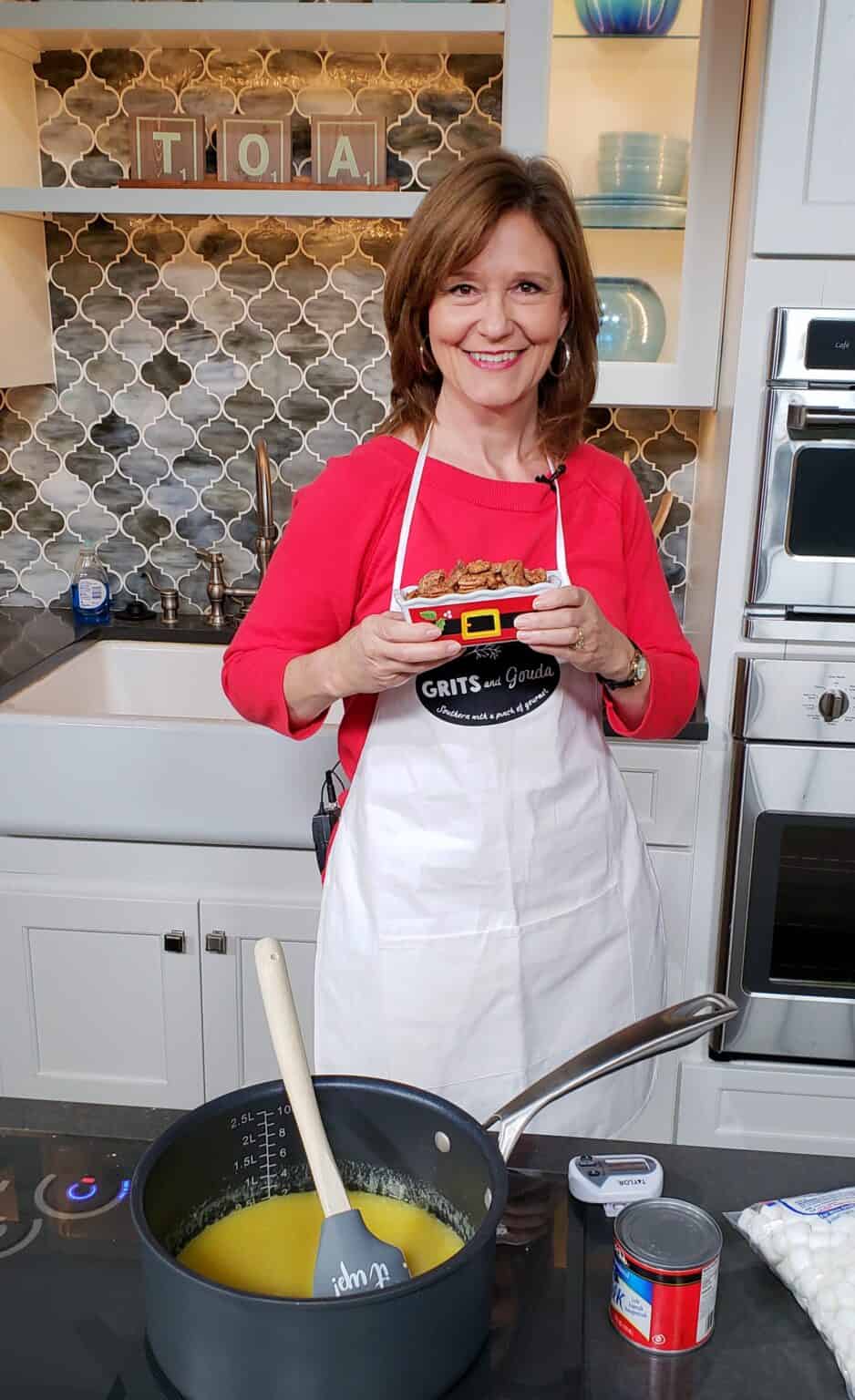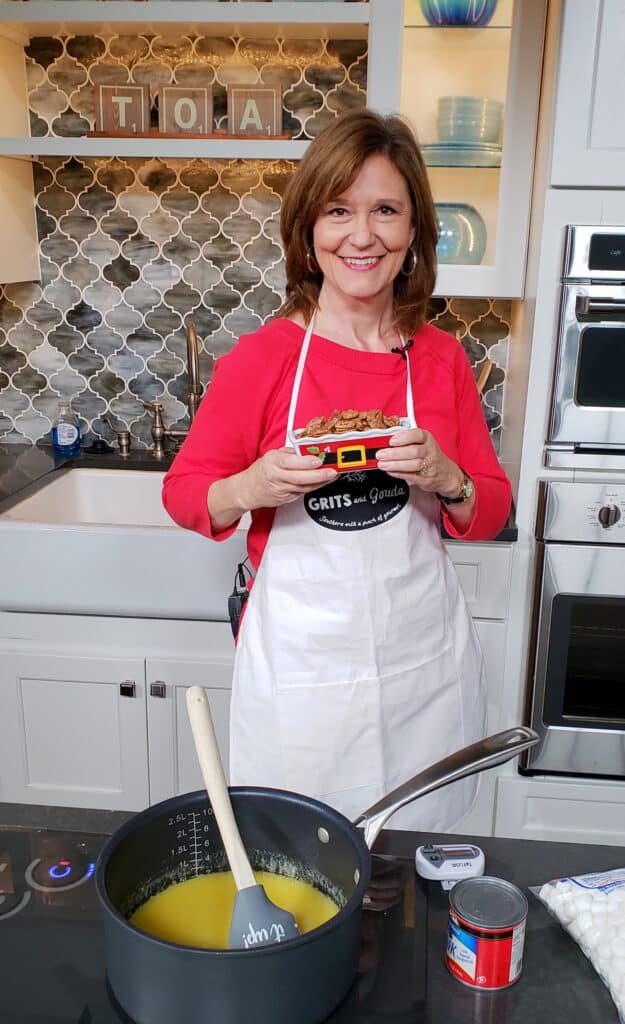 The mixture you see in front of me on the stovetop is the beginnings of Cookies n Cream White Chocolate Fudge. My shortcut version is yummy and makes great Christmas gifts, too!
How to make Cinnamon Sugar Toasted Pecans
Preheat the oven to 300F degrees.
Beat one egg white in a large bowl with a fork until frothy. Dump in 1 pound or 4 cups of pecan halves.
The beaten egg white coats the pecans which gives the cinnamon sugar something to cling to on the pecans. This is what gives these pecans that crunch.
The last step is to stir in the cinnamon sugar until all the pecans are coated. Spread them out in a single layer on parchment paper, aluminum foil, or silicone baking mats in a baking sheet.
Bake them in the oven for 15 minutes. Then, stir them with a thin metal spatula (so you don't break up the pecans). Then, bake another 10 minutes or until nice and toasted. Let them cool until warm. They are HOT right out of the oven.
You will be amazed at how crunchy and irresistible they are. You will be eating them by the handfuls.
Pro Tip: You can buy pecans at a grocery store already shelled and that's very convenient. I also like to buy them in the shell in bulk. They are cheaper that way.
My husband's job during the holidays when he's in front of the tv is to pick out pecan meats. Multitasking!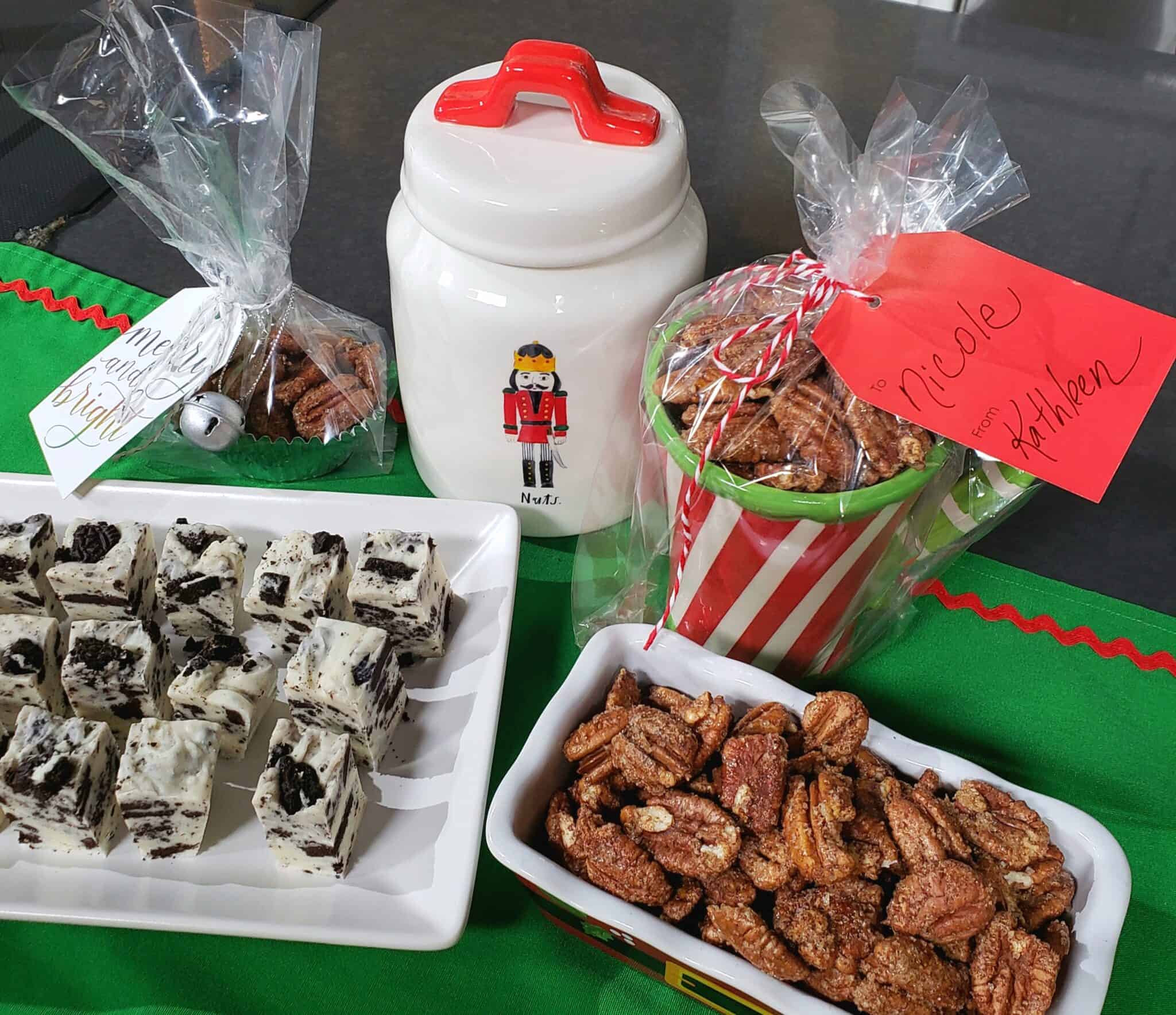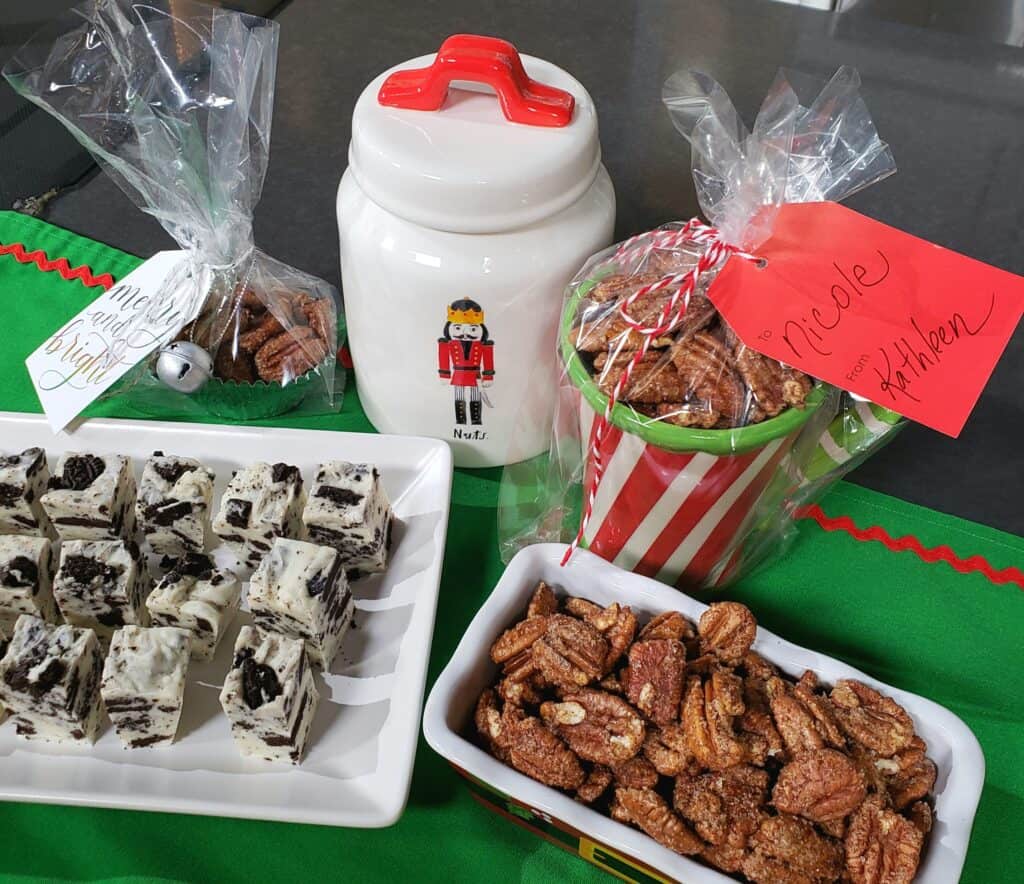 How to give 3 Ingredient Cinnamon Sugar Pecans as gifts
Pile them into a festive Christmas cup and wrap the whole thing in a cellophane bag with ribbon and a gift tag.
Fill a foil cupcake liner with cinnamon sugar pecans and then place in a small cellophane bag (I keep these on hand in all sizes). I tied a silver bell ornament to a gift tag and tied the bow.
The container in the middle is a Rae Dunn ceramic container I bought at TJ Maxx with a Nutcracker soldier on it. I filled it almost to the top with these homemade sugared nuts....This holds a lot of pecans, so you gotta like the person you give this one to a lot!
My Cookies 'n Cream White Chocolate Fudge is on the platter to the left. They also make delicious sweet treats as gifts.
Where can I buy Cinnamon Sugar
I usually keep a mixture of cinnamon sugar made up in a container in my pantry. I found a container of cinnamon sugar already combined at the Dollar Tree in the spice section! Score!
How can I make my own Cinnamon Sugar
When I make Cinnamon Sugar myself, I use the ratio of 1/2 teaspoon ground cinnamon to 1/3 cup granulated sugar.
Whether you are serving these roasted Cinnamon Sugar Pecans at a Christmas party or gifting them to teachers or neighbors, make sure you make enough for snacking- you will thank me for that tip!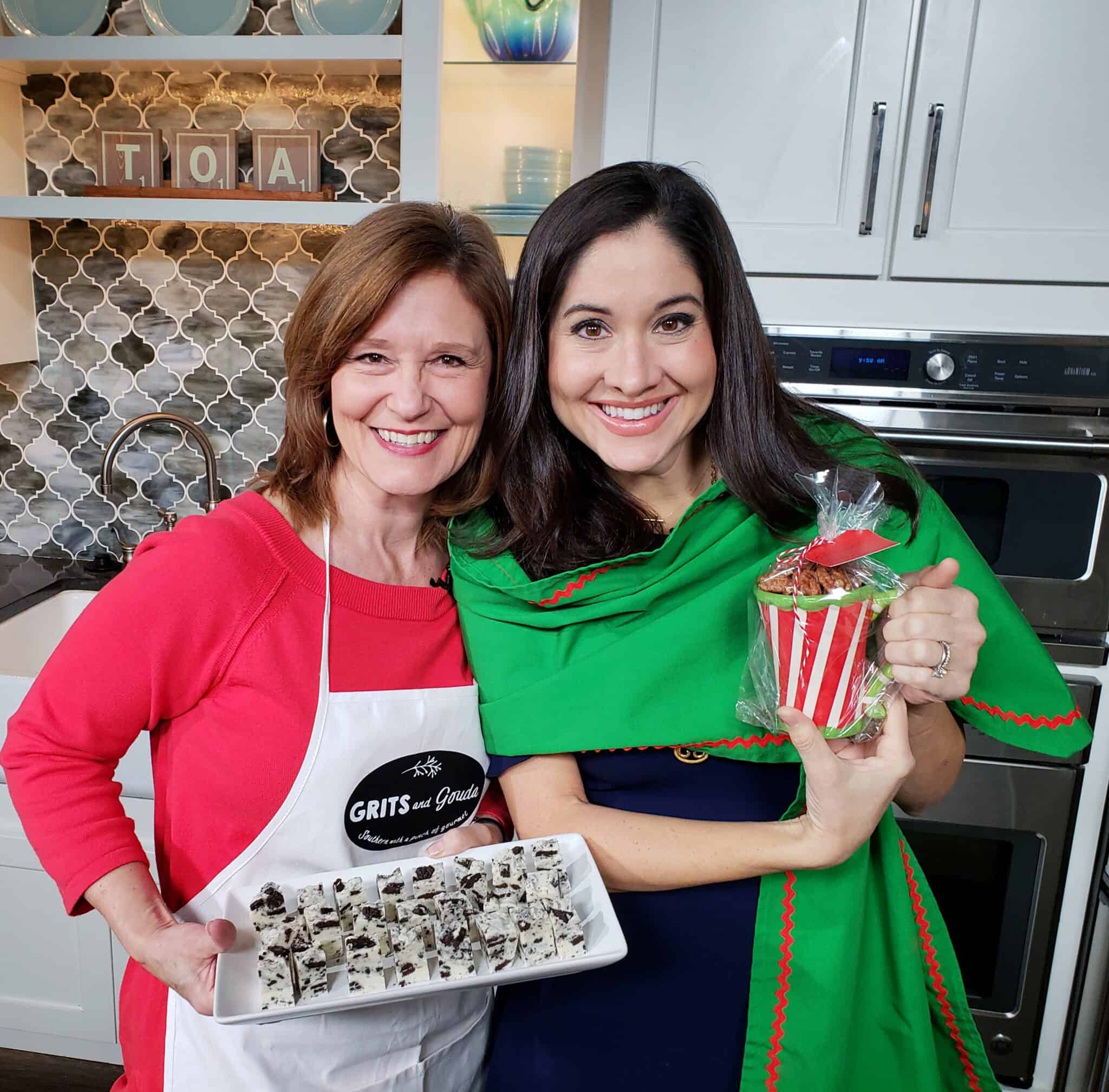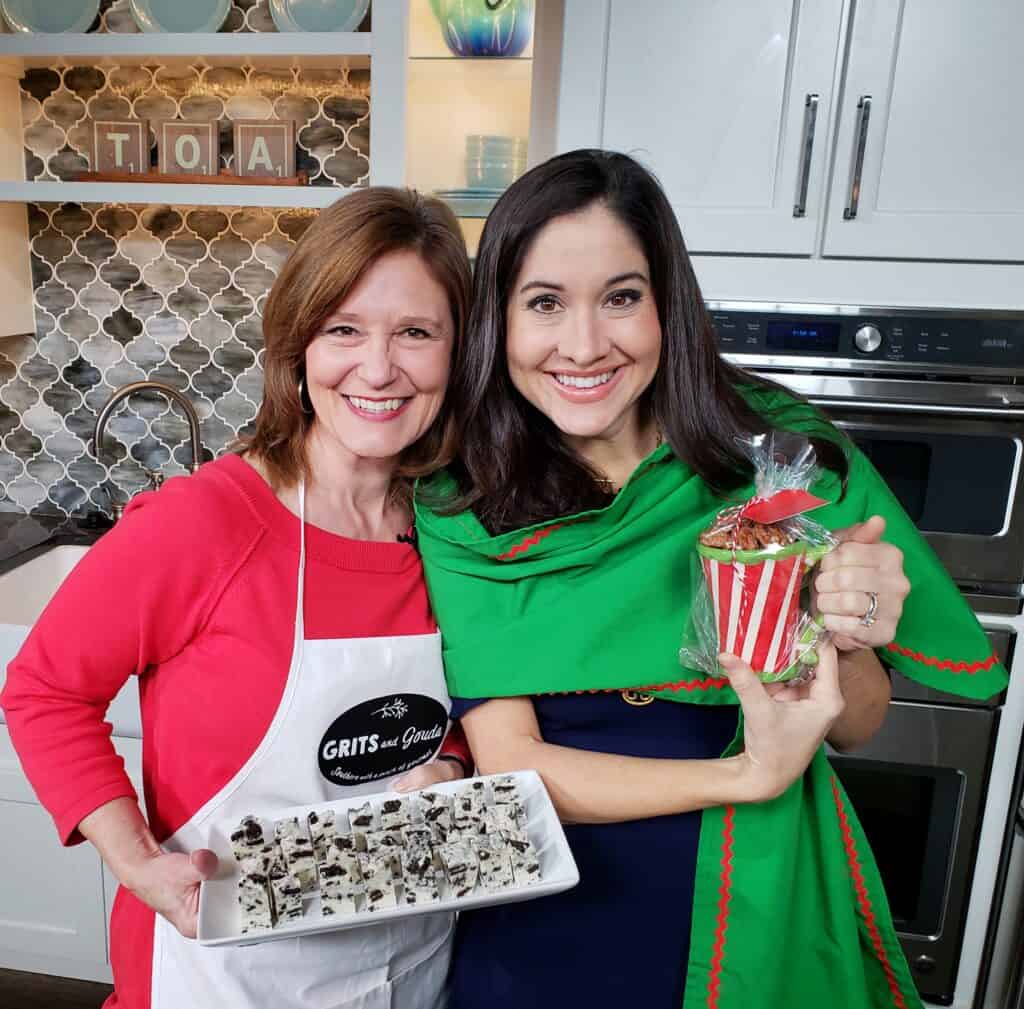 Watch my video segment below from ABC 33/40's Talk of Alabama on how to make 3 Ingredient Cinnamon Sugar Pecans. Click the image below to watch.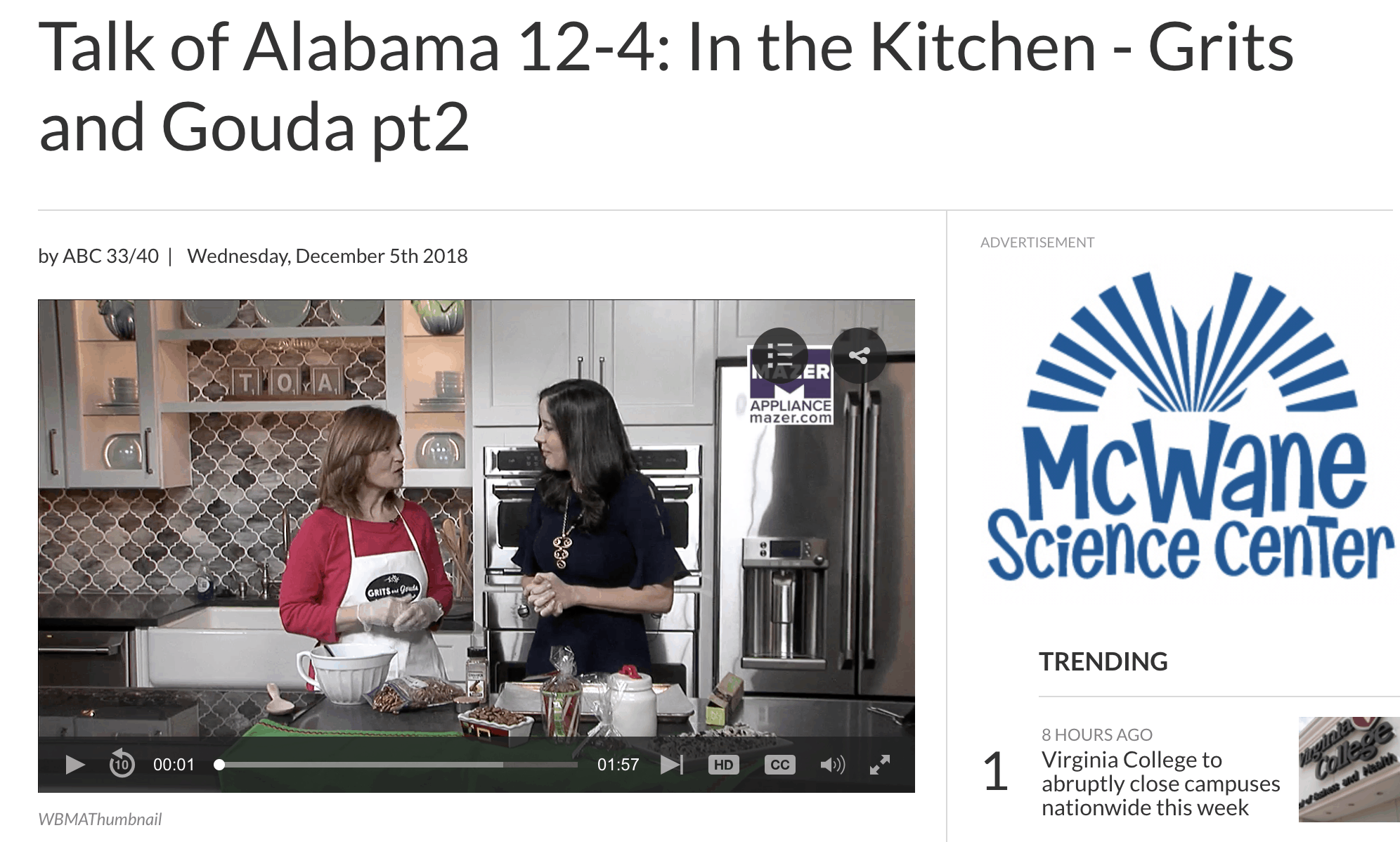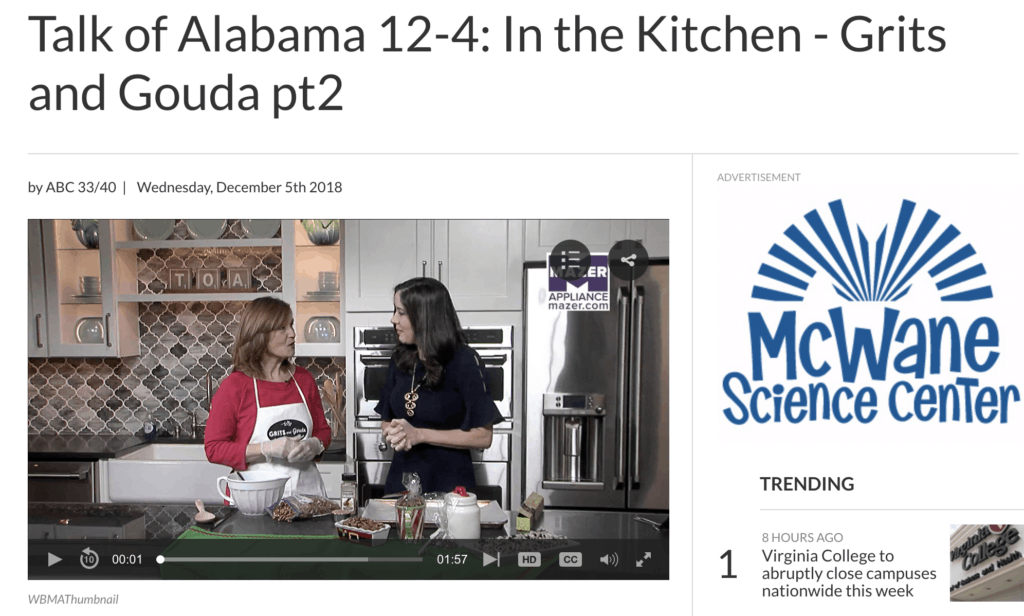 Want more food gift recipes?
If you make this recipe I'd love to see it! Tag me on social media with #gritsandgouda or @gritsandgouda. Leave a comment below the printable recipe if you have questions or tell me how you liked the recipe. Don't forget to give the recipe a rating of 5 stars if you love it!
Follow me on Facebook, Instagram, Pinterest and YouTube. Be social and share, y'all! Don't forget to sign up with your email so you don't miss a single post on my Southern shortcut recipes!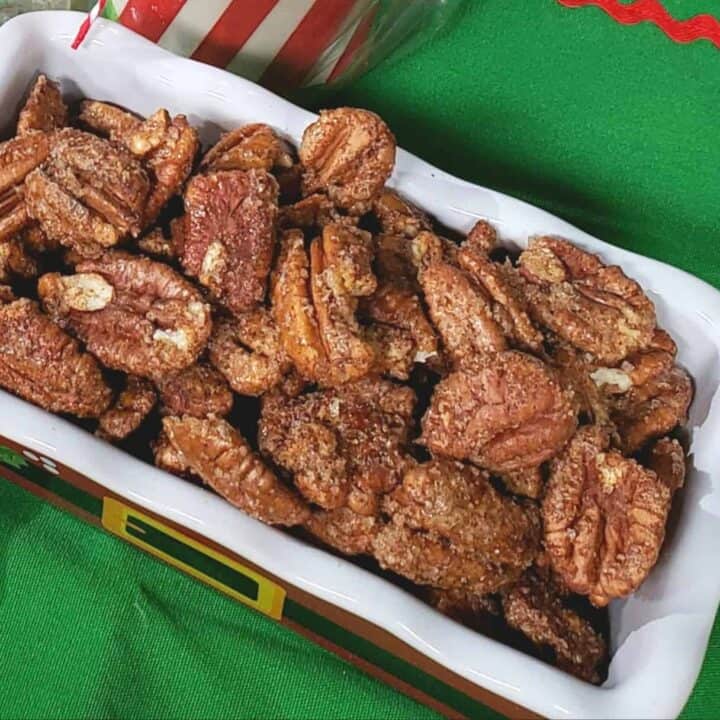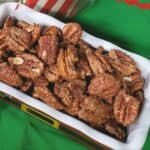 Print Recipe
3 Ingredient Cinnamon Sugar Toasted Pecans
These are super easy to make and only a few minutes to prep before putting them in the oven. Be warned! They are addictive! Great for Christmas gift giving.
Ingredients
1

large egg white

1/3

cup

cinnamon sugar

See note to make your own

1

pound

pecan halves

4 cups
Instructions
Preheat the oven to 300 degrees.

Whisk the egg white in a large bowl with a whisk or a fork until frothy; add pecans and sugar mixture. Stir until the pecans are well coated.

Pour the coated pecans onto a large baking sheet lined with parchment paper or silicone baking mat or aluminum foil. If using aluminum foil, coat it with cooking spray. Bake for 15 minutes. Carefully stir with a thin spatula. Bake an additional 10 minutes or until the egg white and sugar creates a crunchy coating and the pecans are toasted.
Notes
Note: To make your own Cinnamon Sugar, combine 1/3 cup granulated sugar and 1/2 teaspoon ground cinnamon.
Note: Other nuts may be substituted such as peanuts, almonds, and cashews.
Nutrition
Did you make this recipe?
If you love it, share it! Tag me on Instagram @gritsandgouda using #gritsandgouda Comment below before you go!
Nutrition analysis on GritsAndGouda.com recipes are mostly calculated on an online nutrition calculator. I am not a dietitian and nutritional information is an estimate and can vary based on products used.
Updated on 2/13/22 with valuable information