This easy Boiled Peanut Hummus recipe is made with canned boiled peanuts or peanuts you boil yourself in the Instant Pot or on the stovetop. A Southern-style savory dip easily scooped up with pita chips or vegetables.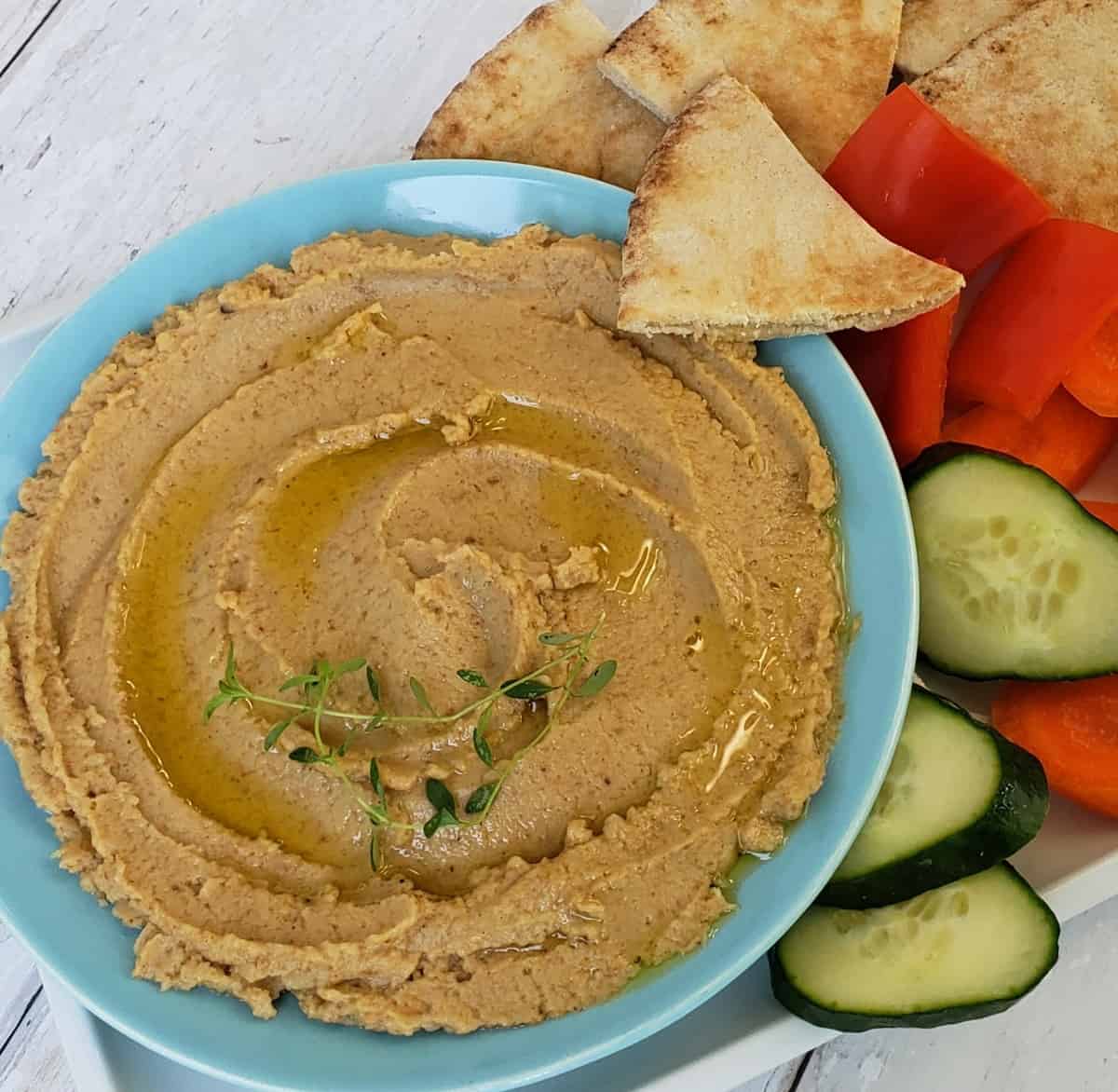 This savory spread is an Alabama twist on the traditional Middle Eastern hummus typically made with chickpeas and tahini (sesame seed paste).
This version is made with boiled peanuts, a Southern staple snack, and toasted sesame seeds. Tahini is not available at every grocery store and is expensive, especially when you only need a tablespoon or two for one recipe.
Peanuts and peanut butter are often used in savory dishes like Thai Noodles. So, this is my Southern version of a common Mediterranean dip.
Did you know peanuts are actually legumes and not tree nuts? Once you know this, it's easier to make the mental swap of chickpeas (garbanzo beans), typically used in making hummus, to cooked peanuts.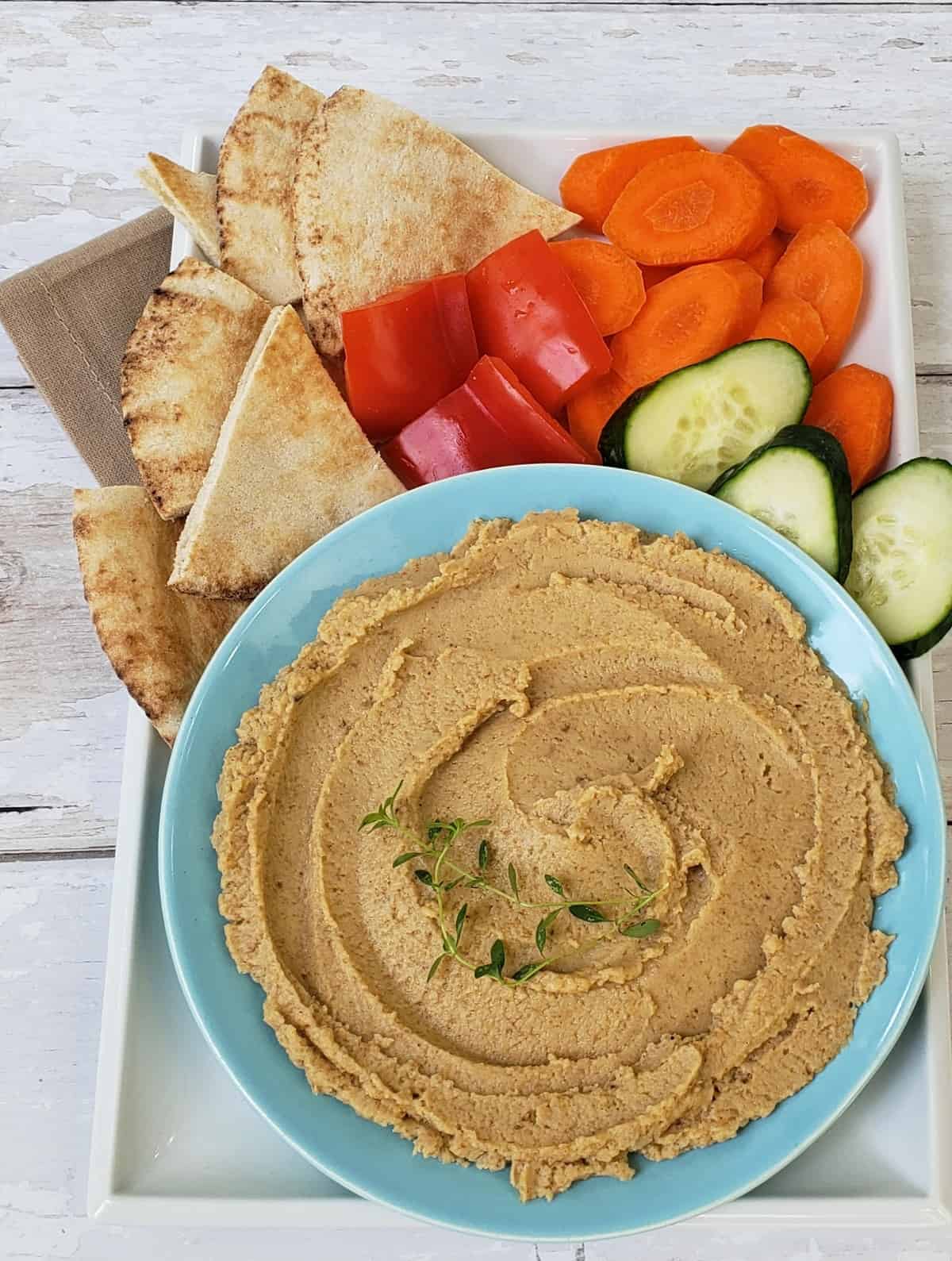 Boiled chickpeas and boiled peanuts have a similar creamy texture and carry the flavors of toasted sesame seeds and garlic, classic to hummus.
If you're wondering what to do with leftover boiled peanuts from game day, this is a simple Southern appetizer recipe for that dilemma.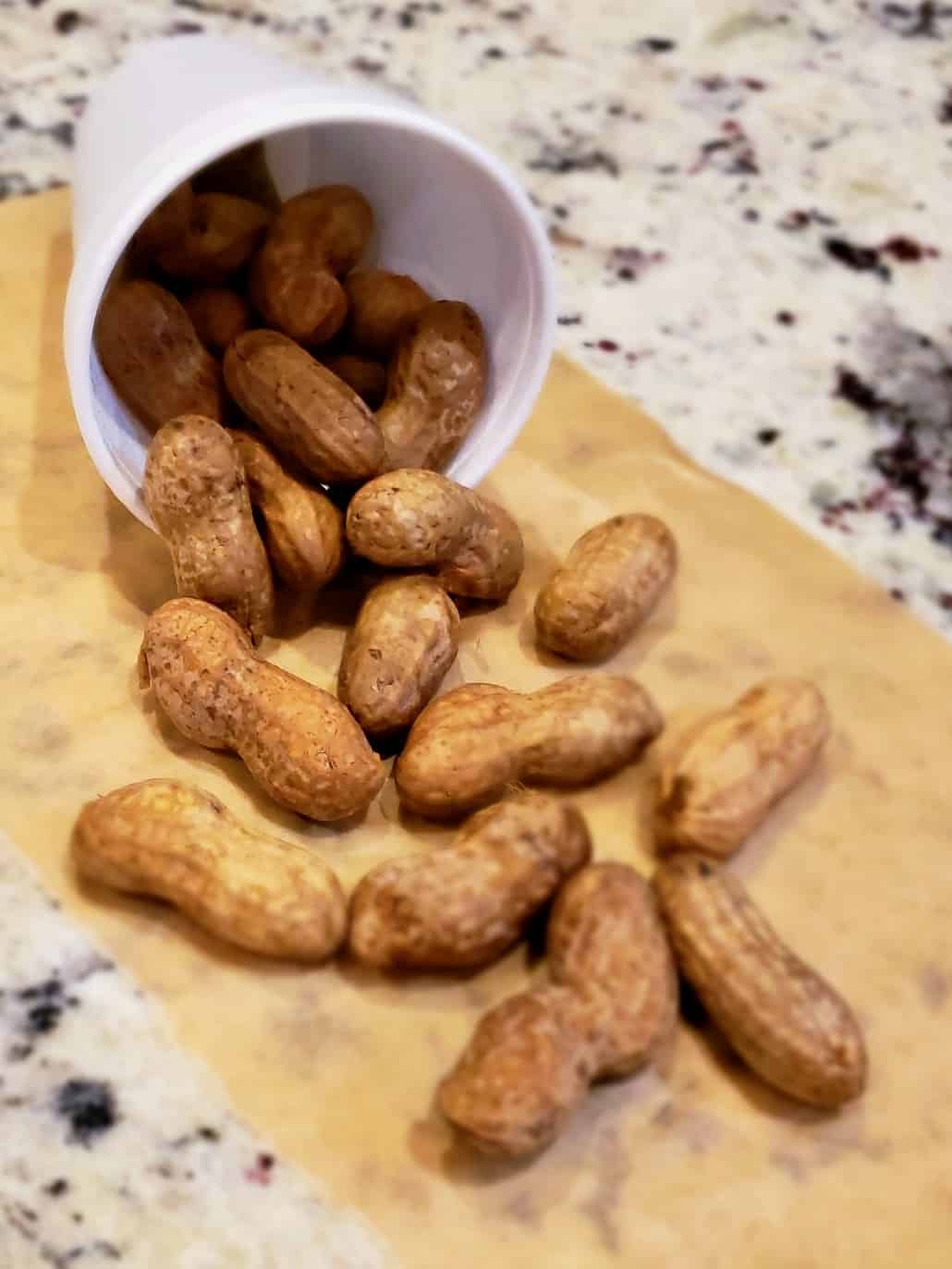 Where can I get boiled peanuts?
My boiled peanut recipe for Instant Pot Boiled Peanuts have them ready in less than half the time of boiling peanuts on the stovetop, which take hours and hours.
This is how I boil peanuts to make this easy peanut spread. On that same recipe post, it also gives you instructions how to boil them on the stovetop.
You can also purchase cans of boiled peanuts at grocery stores and online at Amazon. In the South, you can also find them at local gas stations piping hot in a Crockpot and at roadside stands in a large black kettle.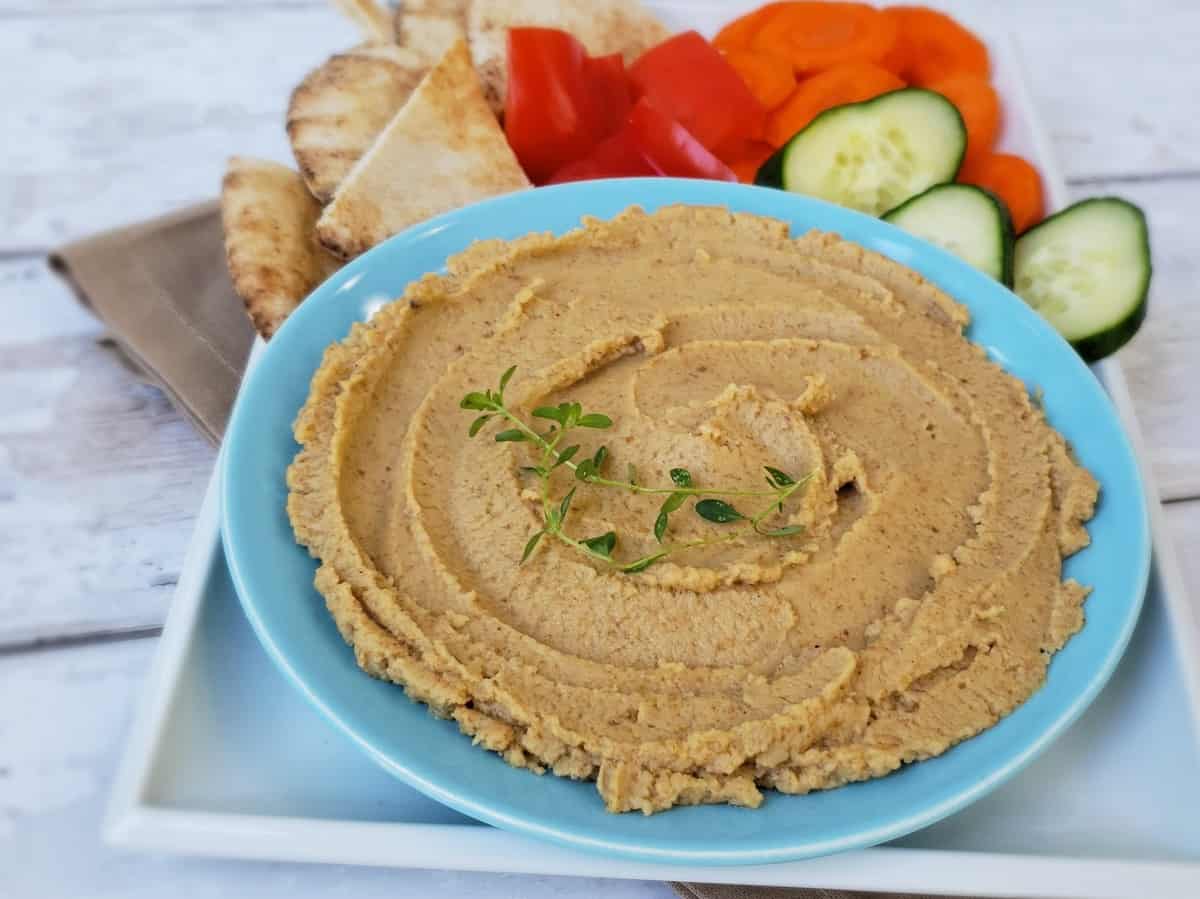 Shortcuts
Just using canned boiled peanuts makes this healthy snack recipe a shortcut but here are a few more.
Using canned boiled peanuts is a HUGE shortcut considering it takes hours to boil peanuts on the stovetop.
Toasted sesame seeds replaces expensive Tahini. Tahini is simply toasted sesame seed paste typically used in Middle Eastern cooking. It's expensive and used in small amounts for hummus. Instead, I used toasted sesame seeds and add a tiny bit more oil to this savory dip.
The food processor makes quick work of blending up those softened goobers! A heavy duty blender will also work.
Garlic paste. This handy ingredient is found in the produce section and sometimes in the spice aisle of your grocery store. You can also use 2 cloves of fresh garlic. It all gets pureed in the end.
Why is this the BEST boiled peanut hummus recipe?
No water in this creamy dip! There's no water in traditional chickpea hummus. Adding healthy olive oil to reach the right spreading consistency is best.
No waste. Saves money. Without having to buy expensive tahini paste you may only use once, toasting sesame seeds gives you the same flavor. You're going to grind them up anyway, which is what tahini is...toasted sesame seed paste.
I'm a fan of peanuts served any way you hand them to me. I participated in the Peanut Harvest Tour in Dothan, Alabama presented by the Alabama Peanut Producers Association a few years ago. You haven't really had peanut butter til you've tasted it right off the assembly line at a peanut butter factory! Read about my experience on the peanut tour.
Ingredients
Scroll down to printable recipe for ingredient quantities.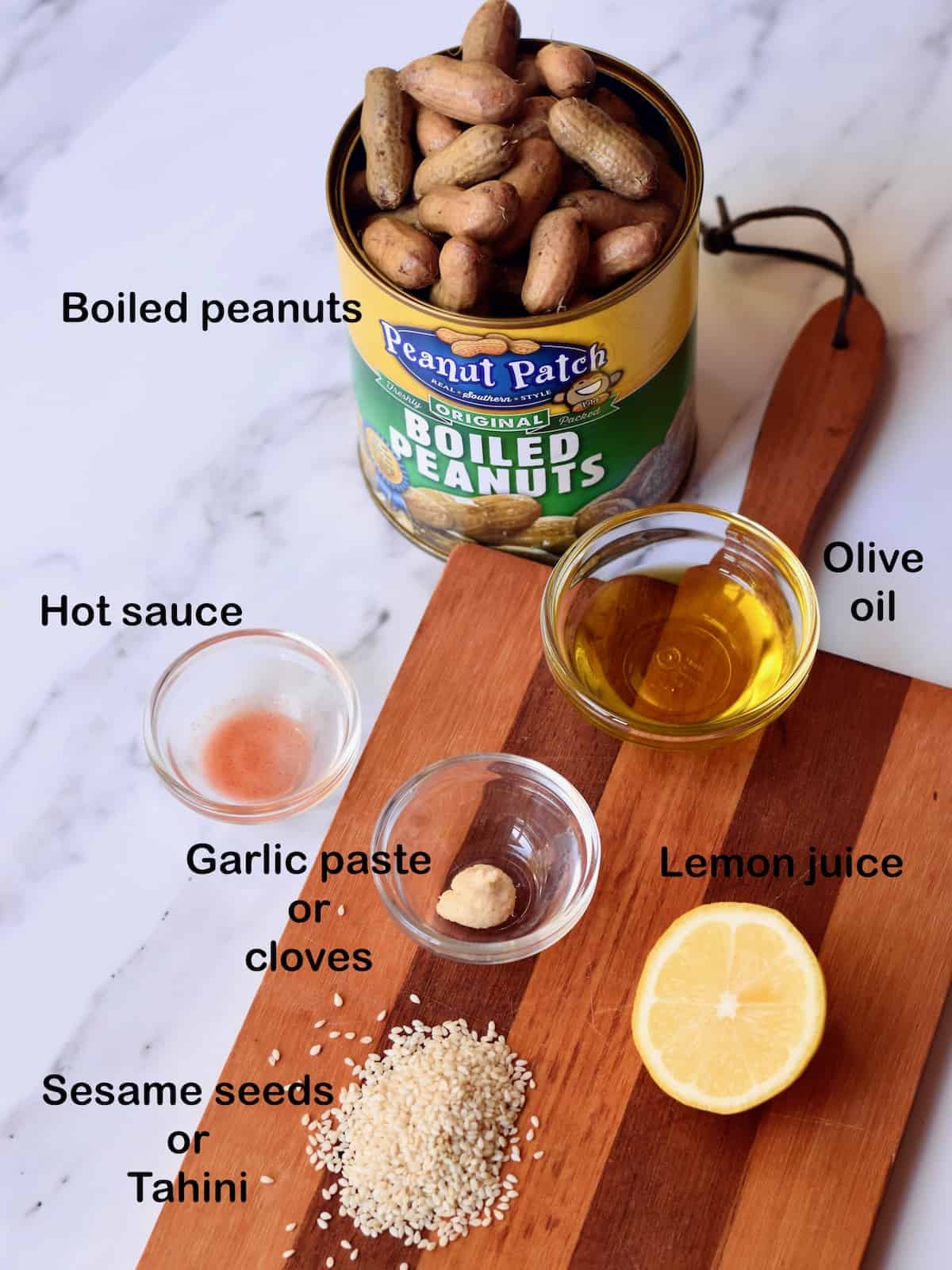 Ingredients you will need to make this protein packed spread.
Sesame seeds
Boiled peanuts
Lemon juice
Hot sauce
Olive oil
How to make boiled peanut hummus
Scroll down to the bottom for the printable recipe with detailed instructions.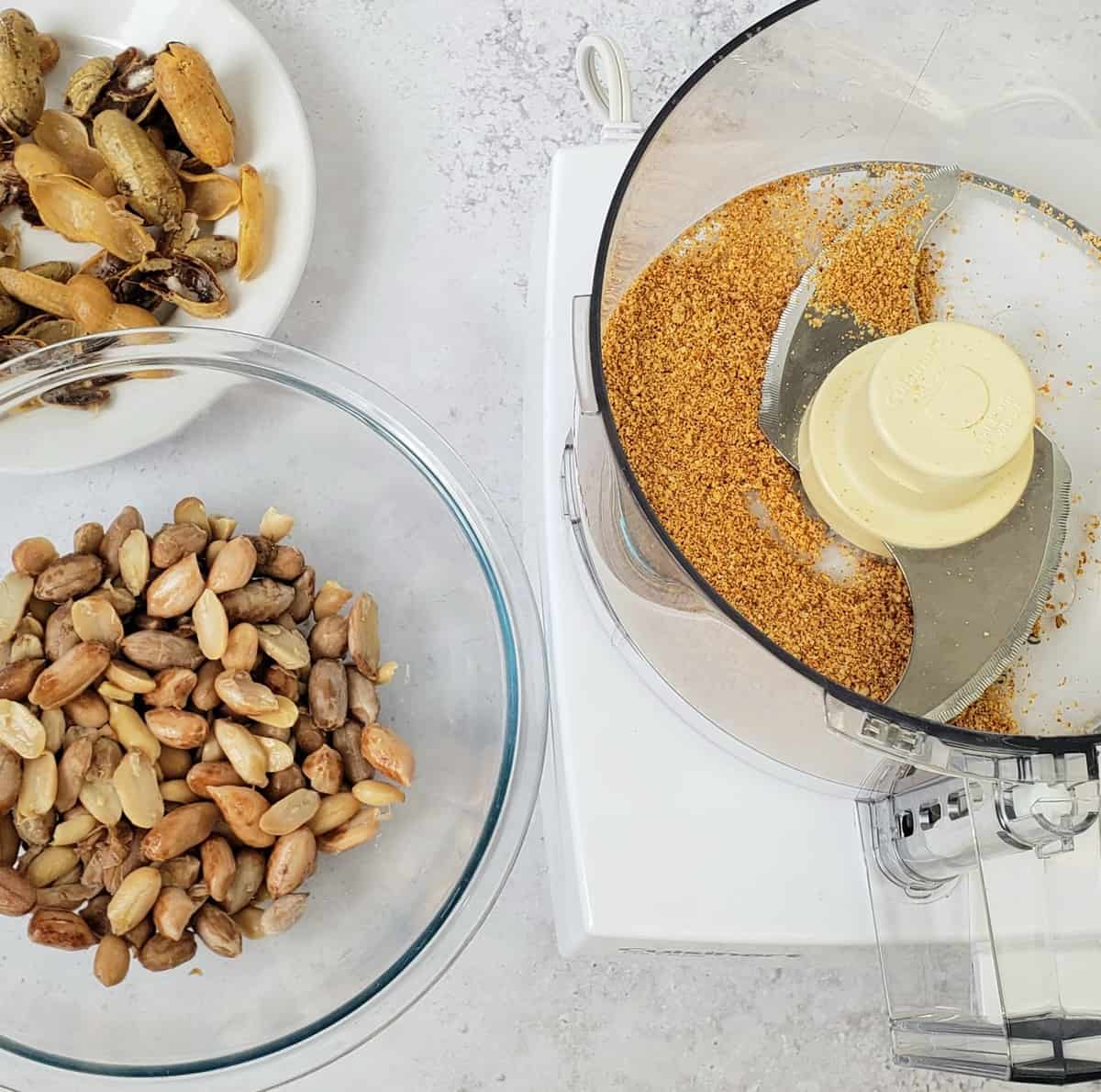 Toast sesame seeds in a skillet. Grind them in a food processor.
Puree shelled, boiled peanuts, lemon juice, garlic and hot sauce in the food processor.
Add olive oil through the food chute until completely blended and creamy.
Tip: Let the flavors in the boiled peanut hummus meld together at least one hour before serving.
Drizzle additional olive oil or peanut oil over the boiled peanut spread, if you like. I like! To add a splash of color, garnish it with a sprig of fresh herbs, chives, or green onion. I had fresh thyme growing, so that's what I used this time.
Substitutions & Variations
Trade out "this" for "that" in this peanut hummus recipe.
Hot sauce - Replace hot sauce with 1/8 teaspoon ground cayenne pepper or 1/2 teaspoon Cajun seasoning for an extra kick of heat.
Flavored boiled peanuts- Canned boiled peanuts come in different flavors such as spicy Cajun.
Garlic paste- Replace garlic paste with 2 cloves of fresh garlic or 1/2 teaspoon garlic powder. Garlic may be too salty since boiled peanuts are already salty.
Oil- Olive oil and extra virgin olive oil is traditionally use for making hummus. For this recipe, it makes since to substitute peanut oil if you have it on hand. Light sesame oil, vegetable oil, and avocado oil will also work.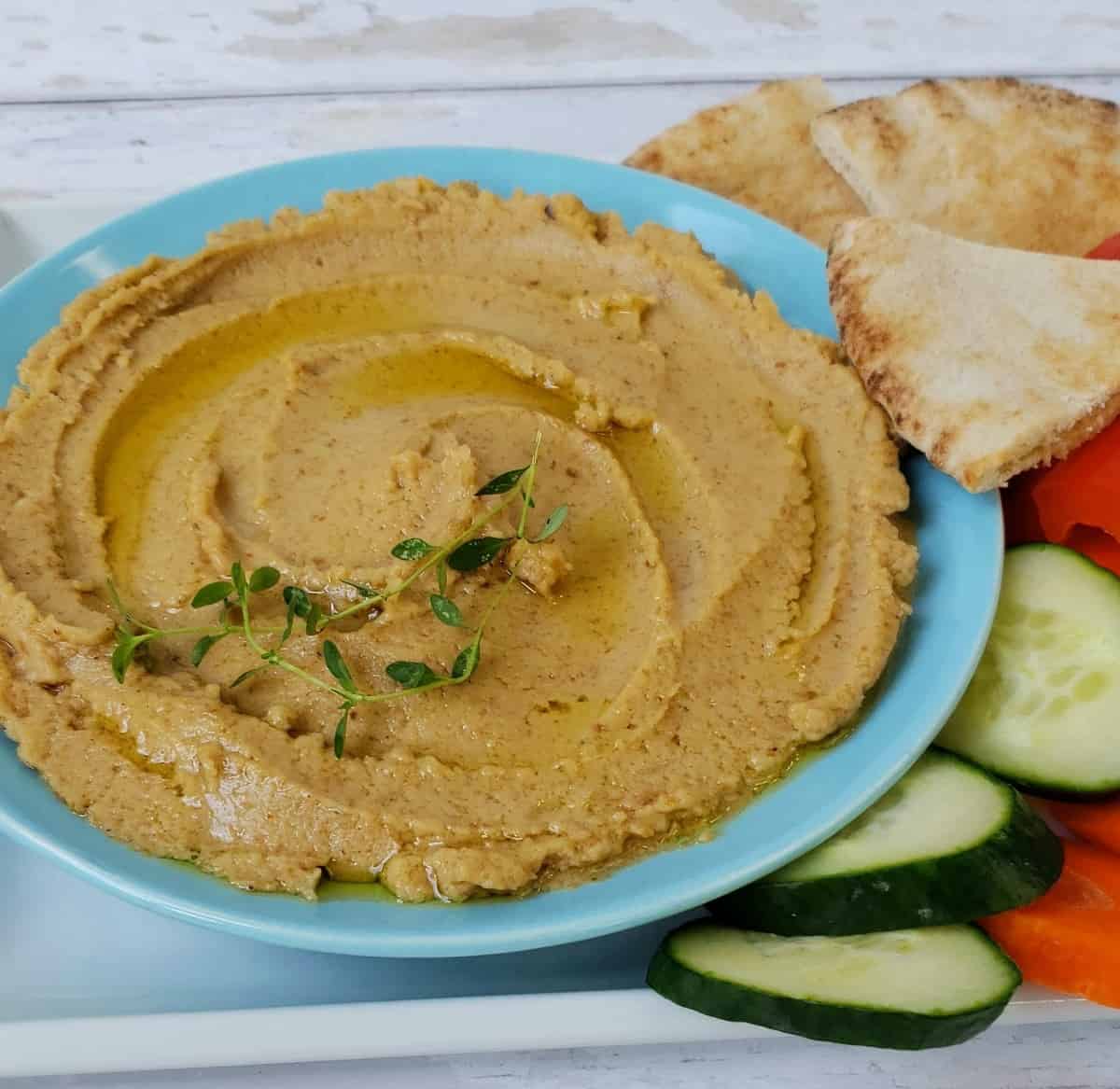 Helpful Information
What are some brands of boiled peanuts?
Margaret Holmes' Peanut Patch is the most common brand for cans of boiled peanuts sold in grocery stores and online. Fresh boiled peanuts can be bought along roadside stands in the fall in the South. Alabama Peanut Company sells dozens of flavors of boiled peanuts in Birmingham, Alabama.
What to serve with this boiled peanut spread
Serve Boiled Peanut Hummus warm, cold, or at room temperature with pita chips, fresh pita bread wedges, sweet potato chips, carrot slices, bell pepper cubes, or cucumber slices.
How to store
Store any leftovers in the refrigerator, covered, in an air tight container for up to one week.
You can freeze Boiled Peanut Hummus, but it does change the texture a bit. It becomes a little grainy, but just whisk it back together.
If you make this recipe I'd love to see it! Tag me on social media with #gritsandgouda or @gritsandgouda. Leave a comment below the printable recipe if you have questions or tell me how you liked the recipe. Don't forget to rate it 5 stars if you love it!
Follow me on Facebook, Instagram, and Pinterest. Be social and share, y'all! Don't forget to sign up with your email so you don't miss a single post on my Southern shortcut recipes!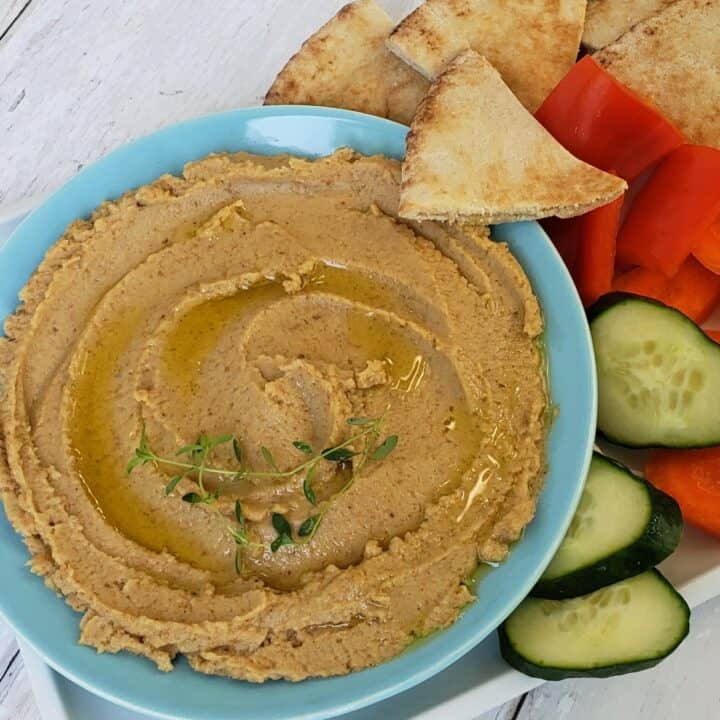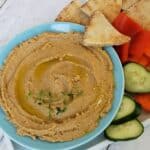 Print Recipe
Boiled Peanut Hummus
This easy Boiled Peanut Hummus recipe made with either canned boiled peanuts or peanuts you boil yourself in the Instant Pot or on the stovetop. A savory spread easily scooped up with pita chips. Made with toasted sesame seeds instead of costly tahini.
Ingredients
1

tablespoon

sesame seeds

2

13.5-ounce cans or 1 (25-ounce) can boiled peanuts

(about 1 cup shelled boiled peanuts)

1

tablespoon

fresh lemon juice

1/2

teaspoon

garlic paste or 2 cloves fresh garlic

1/4

teaspoon

hot sauce

(optional)

1/4 to 1/3

cup

olive oil or extra virgin olive oil,

plus more for serving
Instructions
Place sesame seeds in a small skillet. Turn the heat on medium and toast 2 to 3 minutes, stirring or shaking the skillet often, until the seeds are golden brown. Watch closely because they toast quickly.

Add the warm toasted seeds to a food processor, or heavy duty blender, cover with the lid and process 30 seconds or until the seeds are finely ground.

Shell the boiled peanuts, discarding the shells. Add the shelled peanuts, lemon juice, garlic, and hot sauce. Cover with the lid and process until the peanut mixture is pureed, stopping to scrape down sides as needed.

Pour the oil in a thin stream through the top food chute while processor is running, stopping to scrape down sides.

Spoon hummus into a shallow bowl or rimmed plate; cover and let rest one hour, or chill in fridge if longer, to let flavors meld together.

Drizzle additional olive oil over hummus before serving, if you like.
Notes
Serve warm, cold, or at room temperature with pita chips, fresh pita bread wedges, carrot slices, bell pepper cubes, or cucumber slices.
Nutrition
Serving:
1
tablespoon
|
Calories:
63
kcal
Did you make this recipe?
If you love it, share it! Tag me on Instagram @gritsandgouda using #gritsandgouda Comment below before you go!
Nutrition analysis on GritsAndGouda.com recipes are mostly calculated on an online nutrition calculator. I am not a dietitian and nutritional information is an estimate and can vary based on products used.