Easy Mini Chicken and Waffles is served with hot honey or maple syrup. This shortcut version of mini chicken and waffle bites is perfect for game day and a last minute appetizer for any party!
This 3-ingredient, 15-minute party recipe starts with frozen chicken nuggets and frozen waffles you may already have in your freezer.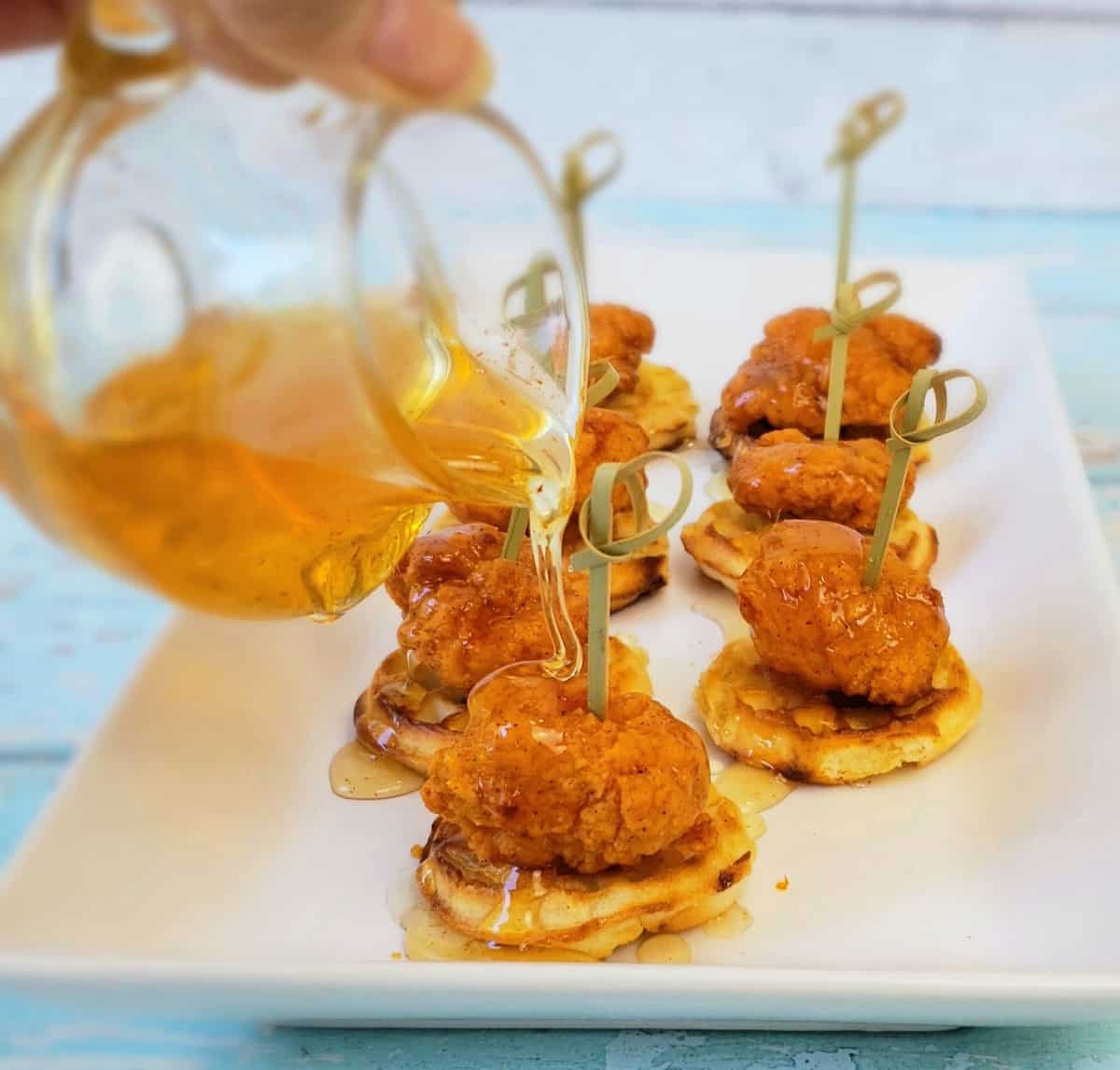 Crispy fried chicken and waffles is an iconic Southern dish served for breakfast, brunch, and supper, typically drizzled with maple syrup or honey.
This creative, sweet and savory appetizer will appeal to all ages. Kids can help assemble them although they may prefer pancake breakfast syrup to the hot honey.
Homemade Hot Honey is easy to make yourself, but the shortcut version is now sold at larger grocery stores. Mike's is the brand I've seen the most. It's fun to drizzle the slightly spicy honey over the chicken right in front of your guests for the "Wow" effect!
Tip: If you can't find mini frozen waffles, you can make your own or purchase regular size waffles. Cut each square into 4 squares and they are the perfect size.
Can I make my own mini waffles?
Yes. You don't need a mini waffle iron. To make your own round, mini waffles, prepare waffle or pancake mix according to package directions. Spoon batter by about 1 tablespoonfuls or so onto a hot waffle iron. Close the lid and cook just until browned.
How to make Mini Chicken and Waffles
Scroll down to the bottom of this post for the detailed, printable recipe. Pictures below will help guide you as you read the recipe.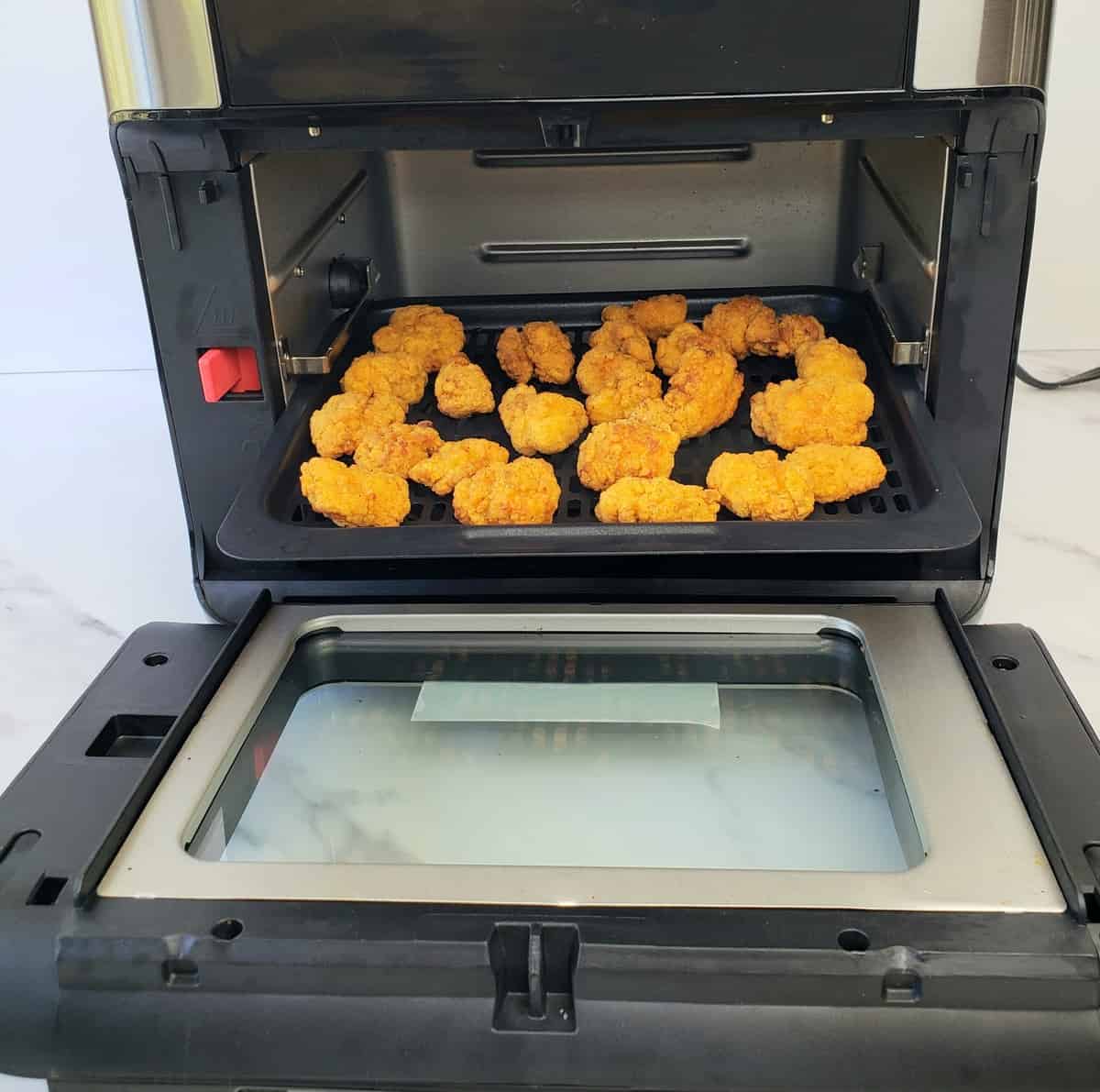 Cook chicken nuggets in an air fryer, oven, or toaster oven.
Toast the frozen waffles in a toaster, toaster oven, or air fryer if it has a toasting feature.
Place chicken nuggets on the waffles and secure with a wooden pick or decorative party pick.
Drizzle with my Shortcut Hot Honey, honey, or maple syrup.
Making mini waffles and chicken is really that simple! Easiest appetizer ever!
You'll impress your family and friends with very little effort on your part!
Hint: Assemble right before serving to keep chicken warm.
Stop by your local fast food restaurant and order a tray of chicken nuggets to-go and skip heating up the frozen chicken nuggets.
Equipment
I use my air fryers every day. For this recipe, I used Instant brand Vortex Pro 10-Quart Air Fryer Oven. It has two racks to cook all 24 nuggets at one time.
If you use the basket style air fryer, just cook the chicken in batches.
Make Ahead
Assemble mini chicken and waffles and keep warm in a low oven about 170F. Drizzle with honey right before serving.
What to serve with mini chicken and waffle appetizer
To make your own Homemade Hot Honey in less than 20 minutes, check out my shortcut recipe. I even have a shortcut to the shortcut which only takes 1 minute!
Whether it's game day, backyard BBQ, or holiday party time, this simple finger food goes with so many other quick-fix recipes. Here are a few of my favorites.
Follow me on Facebook, Instagram, Pinterest and YouTube. Be social and share, y'all! Don't forget to sign up with your email so you don't miss a single post on my Southern shortcut recipes!
Nutrition analysis on GritsAndGouda.com recipes are mostly calculated on an online nutrition calculator. I am not a dietitian and nutritional information is an estimate and can vary based on products used.
Pin for later