Walking Banana Pudding? Fun name. Fun to eat dessert snack. Individual servings of banana pudding served up in mini vanilla wafer cookie bags is the dessert version of Walking Tacos! Easy, hand-held sweet treat is perfect for concession stands, pool parties, birthday parties, backyard BBQ's, tailgating, and summer picnics.
So easy, even kids can make this Walking Banana Pudding recipe.
Make and take this 5 ingredient recipe straight to your guests or make the day ahead so you can enjoy the gathering, too.
It's absolutely one of the most creative ways to serve banana pudding using instant pudding!
Make and take this 5 ingredient banana snack and take straight to your guests or make the day ahead so you can enjoy the gathering, too.
Who doesn't love good ol' Southern banana pudding? That's right. Almost everyone! It may not be homemade banana pudding but it's such a unique dessert to serve at parties everyone will love.
Sometimes you need a dessert that isn't made in one great big ginormous bowl and can be eaten while walking and talking.... especially during a time when everyone is more mindful of the number of touches on the serving spoon.
Calling all soccer, softball and football moms! These simple and clever sweet treats are a fantastic concession stand idea and can be sold to benefit your booster club!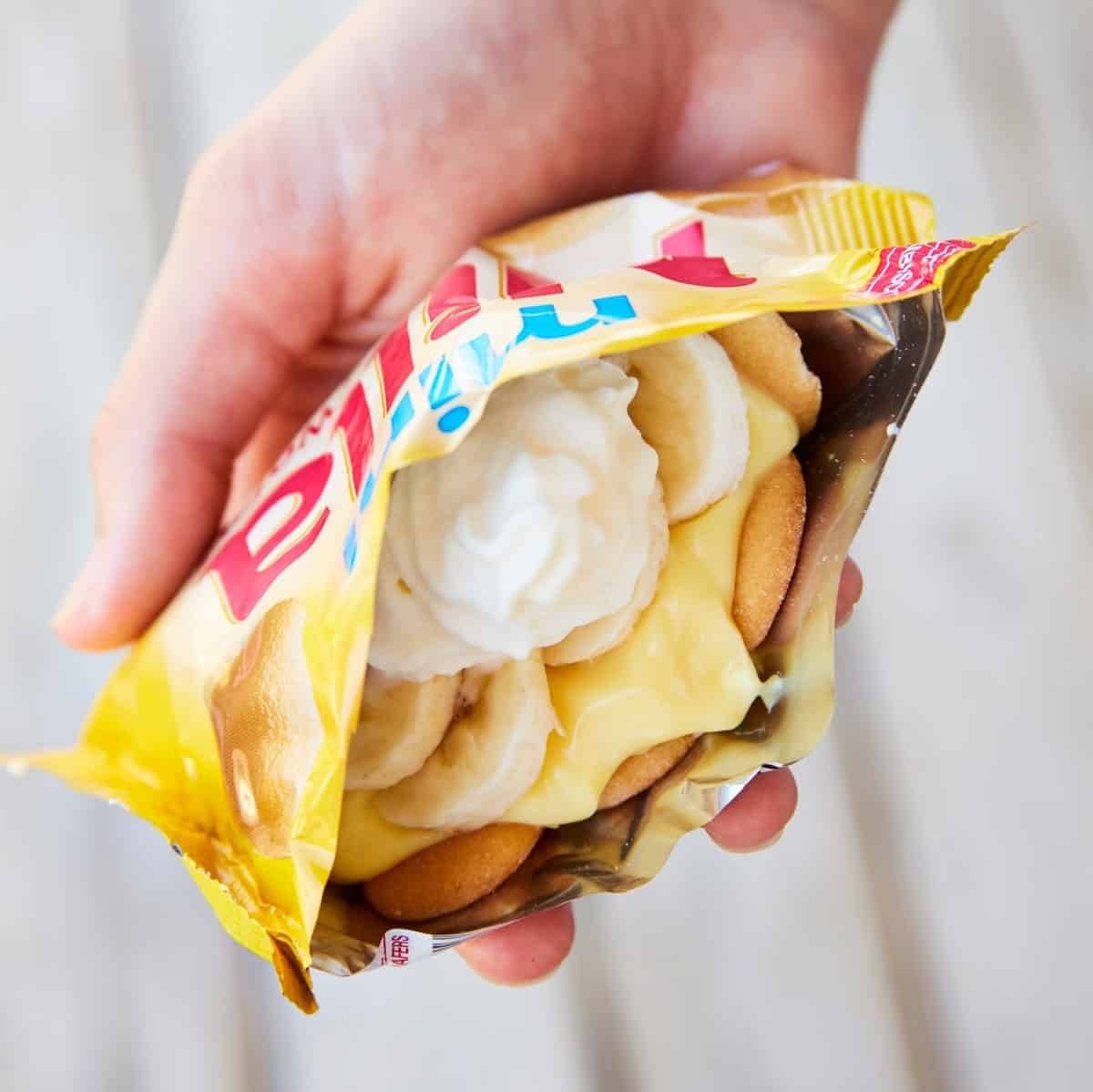 The prep is minimal (It starts with instant pudding mix) and can be made ahead and stored in a fridge or placed on a tub of ice since the packages are foil-lined!
Personally, I love how making banana pudding ahead of time softens the vanilla wafer cookies. But you could make these on site, assembly line fashion in a concession stand or have your party guests make their own.
What's a Walking Taco?
If you've never heard of Walking Tacos before, they are portable Frito pies you build in a mini bag of corn chips or Doritos. Start with opening the bag and adding taco meat on top of the chips, then shredded cheese.
Those are the most basic ingredients in Walking Tacos but you can add as many toppings as you like. For example Picky Palate has a huge list of toppings for "tacos in a bag".
Ingredients
This call this banana pudding recipe easy because it's semi-homemade, right?
Instant vanilla pudding mix + 2 cups milk to prepare it
Individual serving packages of mini vanilla wafers
Bananas, sliced
Reddi Wip to spray or Cool Whip to dollop
How to Make Walking Banana Pudding
It's super simple to assemble the banana pudding layers once you prepare the instant pudding mix and slice the bananas. Here are the steps:
Prepare instant pudding according to package directions.
Cut open the sides of the cookie packages.
Slice the bananas and place on top of cookies.
Spoon pudding on top of bananas. (Or reverse this order for softer cookies.)
Top with a squirt of Reddi Wip whipped cream or dollop of Cool Whip.
Done. It's that easy.
Now, I do like to store mine in the fridge for a couple of hours before serving. Like any good Southern hostess, I like my vanilla wafers in banana pudding soft. But if you are in a hurry or cranking out desserts at a concession stand, the cookies are still yummy when crunchy!
You can easily make banana pudding for one, two, or a crowd by assembling only the number you need at a time.
How do I store these?
It can be a bit tricky since the stuffed bags tend to want to lay flat. So, I overlap mine on a baking sheet, large rectangle Rubbermaid container, or in a 13x9 baking pan so they are propped up at the open end. Cover loosely with plastic wrap in the refrigerator if your container doesn't have a lid.
How can I transport this fun dessert?
Place the Walking Banana Puddings in two large Rubbermaid containers or baking dishes with lids. You can also place them in baking pans and wrap the top with plastic wrap or aluminum foil.
Place the containers in a cooler of ice or in casserole travel carrier with cold packs.
How can I serve Walking Banana Pudding dessert?
If you are serving them immediately from the fridge, place them on a platter or in a flat basket.
If serving outside at a pool party, backyard BBQ or tailgating event, arrange the cookie bags of banana pudding on a tub of ice cubes to keep them cold.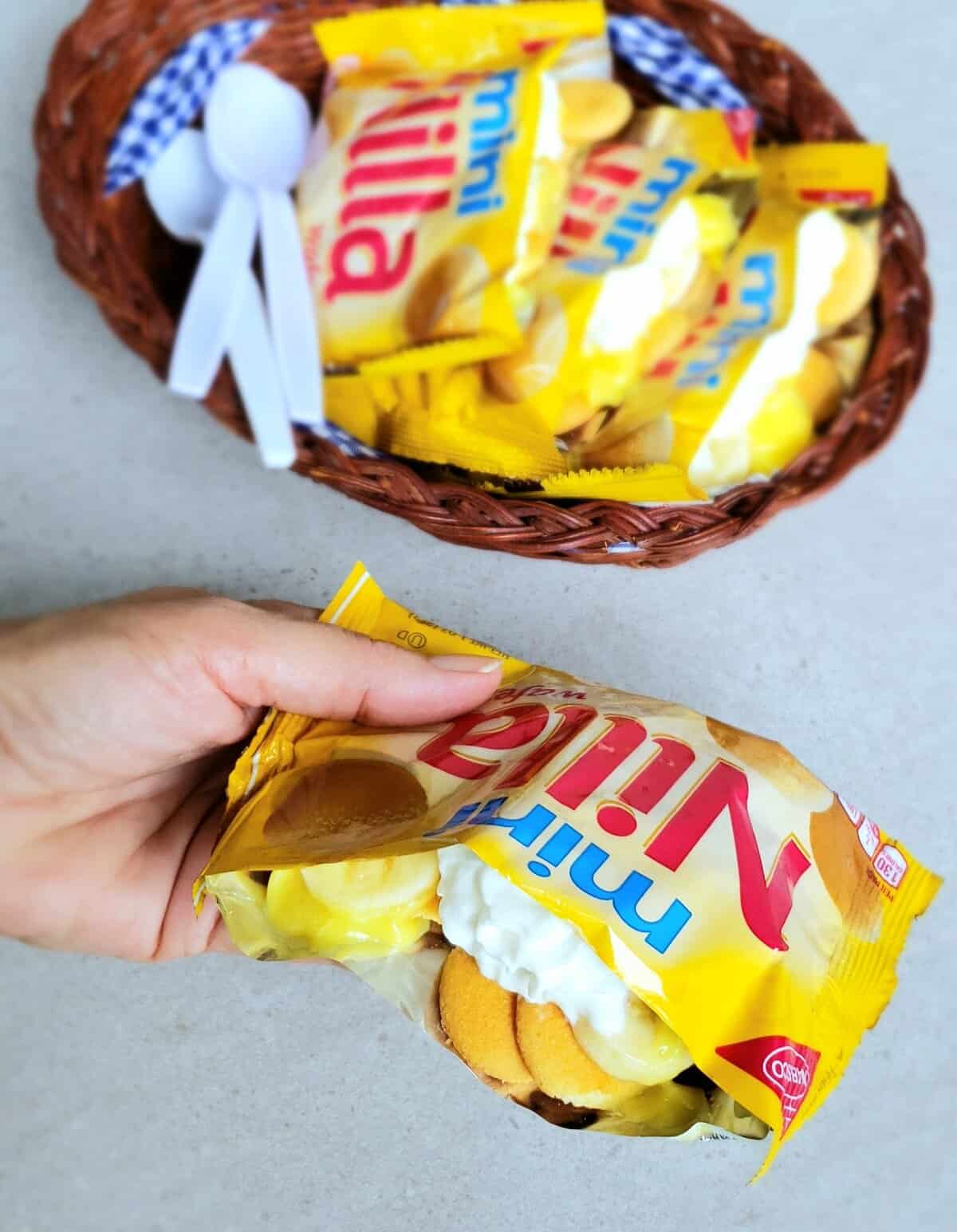 Where can I buy multi packs of mini vanilla wafers?
First, I always try to catch them on sale at my Publix. They go on BOGO (Buy One Get One) about every 6 weeks.
Tip: You don't have to buy two at Publix-that basically means they are half off if you just buy one! (Florida requires buying both.) This is a perfect time to stock up if you are planning to make these for a large crowd.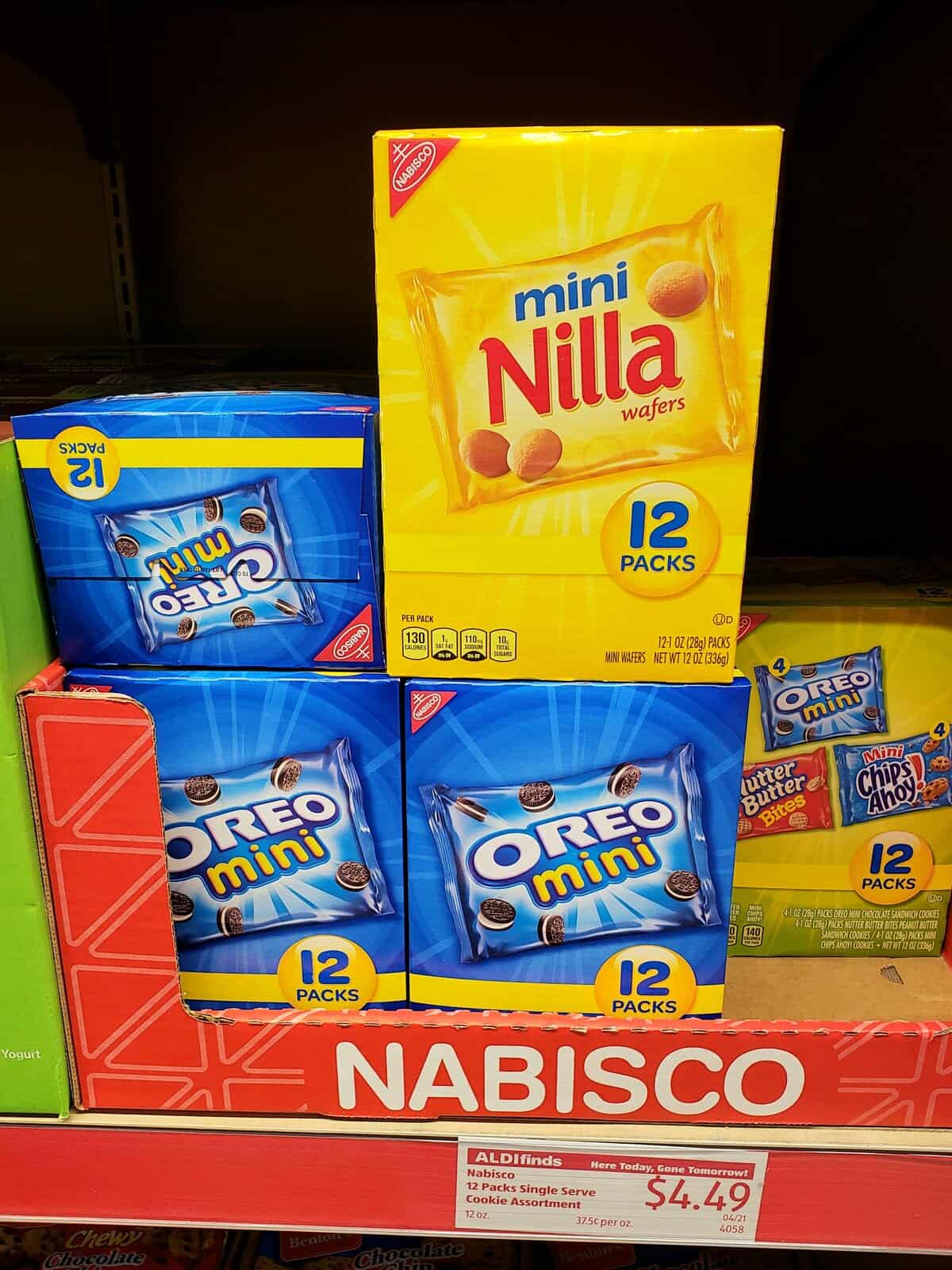 I also scored the 12-packs at my local Aldi store for $4.49. That's an awesome banana pudding buy, right there!
Amazon sells them in a box of four 12 multi packs. I have Amazon Prime so this is a super convenient option to have them delivered to your door without having to shop around but are a bit more pricey.
Lastly, Sam's Wholesale and Costco should carry the multi packs of mini vanilla wafers.
Variations and Substitutions
Banana pudding no bananas- Do you like the cookies and pudding but not a banana-lover? Just leave out the bananas, no problem.
Substitute another pudding flavor- Banana cream pudding mix and cheesecake pudding mix will also work perfectly in this recipe.
Make your own bags of cookies- Can't find or don't want to spend the money on individual bags of vanilla wafers? Use snack-size or sandwich-size zip-top bags and fill them with cookies from a box of vanilla wafers. You'll save a little money and it will still be delicious.
Banana Pudding Cookie Cups- Layer the banana pudding, Nilla wafers, bananas, and Redi Wip in clear plastic, disposable cups or coffee mugs instead of the cookie bags.
How do you keep banana slices from turning brown?
To prevent bananas that have been cut from turning brown, lightly brush lemon juice on them. Bananas turn brown when exposed to oxygen. For this recipe, avoid tossing them in too much lemon juice because they can become "soupy" and change this sweet dessert to a tangy dessert.
A reader suggested brushing pineapple juice on them. That's a tasty idea!
Can I use my own homemade vanilla pudding?
Sure! My recipes typically focus on Southern shortcut recipes so I used instant vanilla pudding mix. If you don't have a recipe for scratch pudding, My Baking Addiction has a yummy homemade vanilla pudding recipe that looks pretty easy.
Follow me on Facebook, Instagram, Pinterest and YouTube. Be social and share, y'all! Don't forget to sign up with your email so you don't miss a single post on my Southern shortcut recipes!
If you make this recipe I'd love to see it! Tag me on social media with #gritsandgouda or @gritsandgouda. Leave a comment below the printable recipe if you have questions or tell me how you liked the recipe. Don't forget to give the recipe a rating of 5 stars if you love it!
Other shortcut desserts you will love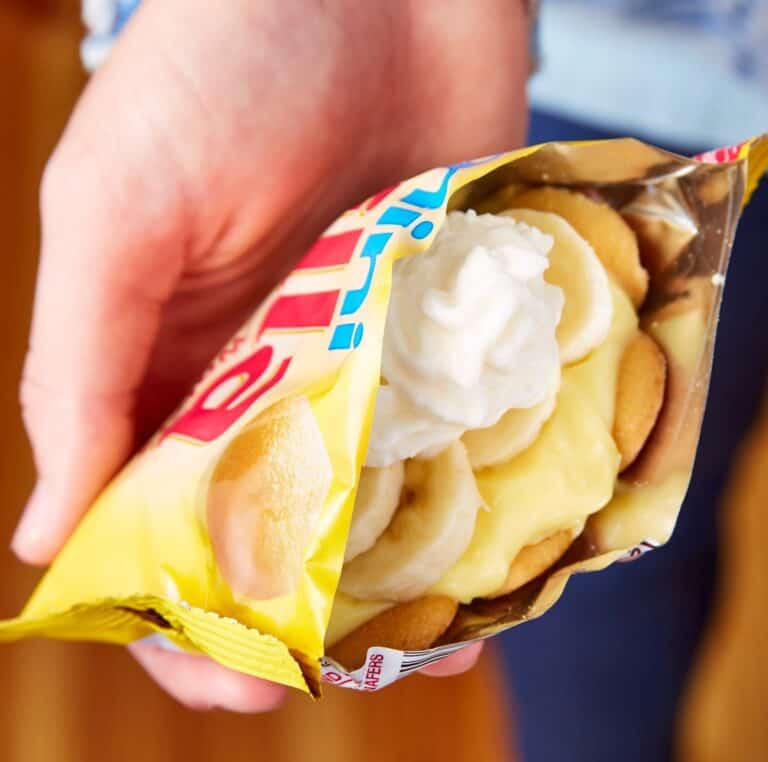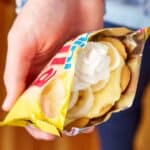 Print Recipe
Walking Banana Pudding | Dessert Version of Walking Tacos
Individual servings of Banana Pudding served up in mini cookie bags. It's the dessert version of Walking Tacos! This fun, hand-held party & ballgame concession sweet treat is perfect for pool parties, casual wedding rehearsal dinners, birthday parties, backyard BBQ's, tailgating, summer picnics.
Ingredients
1

3.4 ounce

package instant vanilla pudding mix

(or 2 cups prepared vanilla pudding)

2

cups

2% or whole milk

12

1-ounce

packs or bags mini vanilla wafer cookies

3 to 4

small to medium

ripe bananas

Reddi Wip or Cool Whip or sweetened whipped cream
Instructions
Prepare the vanilla pudding according to package directions using the milk. Cover and let chill 15 minutes to set up.

Cut the cookie bags open on the side with a pair of scissors.

Slice the bananas and evenly distribute bananas on top of cookies.

Spoon about 2 1/2 tablespoons pudding on top of the bananas. For softer cookies, spoon pudding directly on cookies first.

Squirt Reddi Wip or dollop Cool Whip on top of pudding.

Arrange the bags of Walking Banana Pudding in a plastic container, baking pan or baking sheet, overlapping them so they are slightly propped up and will not spill out. Cover and refrigerate until ready to serve. The longer they chill, the softer the cookies will be.
Notes
Tip: To prevent the banana slices from turning brown, lightly brush the slices with lemon juice or pineapple.
Where to buy multi packs of mini vanilla wafers: I watch for them to go on sale at Publix but they can also be found at Walmart, Sams Wholesale and Aldi.
Nutrition
Did you make this recipe?
If you love it, share it! Tag me on Instagram @gritsandgouda using #gritsandgouda Comment below before you go!
Nutrition analysis on GritsAndGouda.com recipes are mostly calculated on an online nutrition calculator. I am not a dietitian and nutritional information is an estimate and can vary based on products used.