Little Debbie Christmas Tree Dip is a fun Christmas dessert dip recipe made with snack cakes, cream cheese, and Cool Whip. Only 3 ingredients and ready in 5 minutes to make this wildly popular holiday dessert.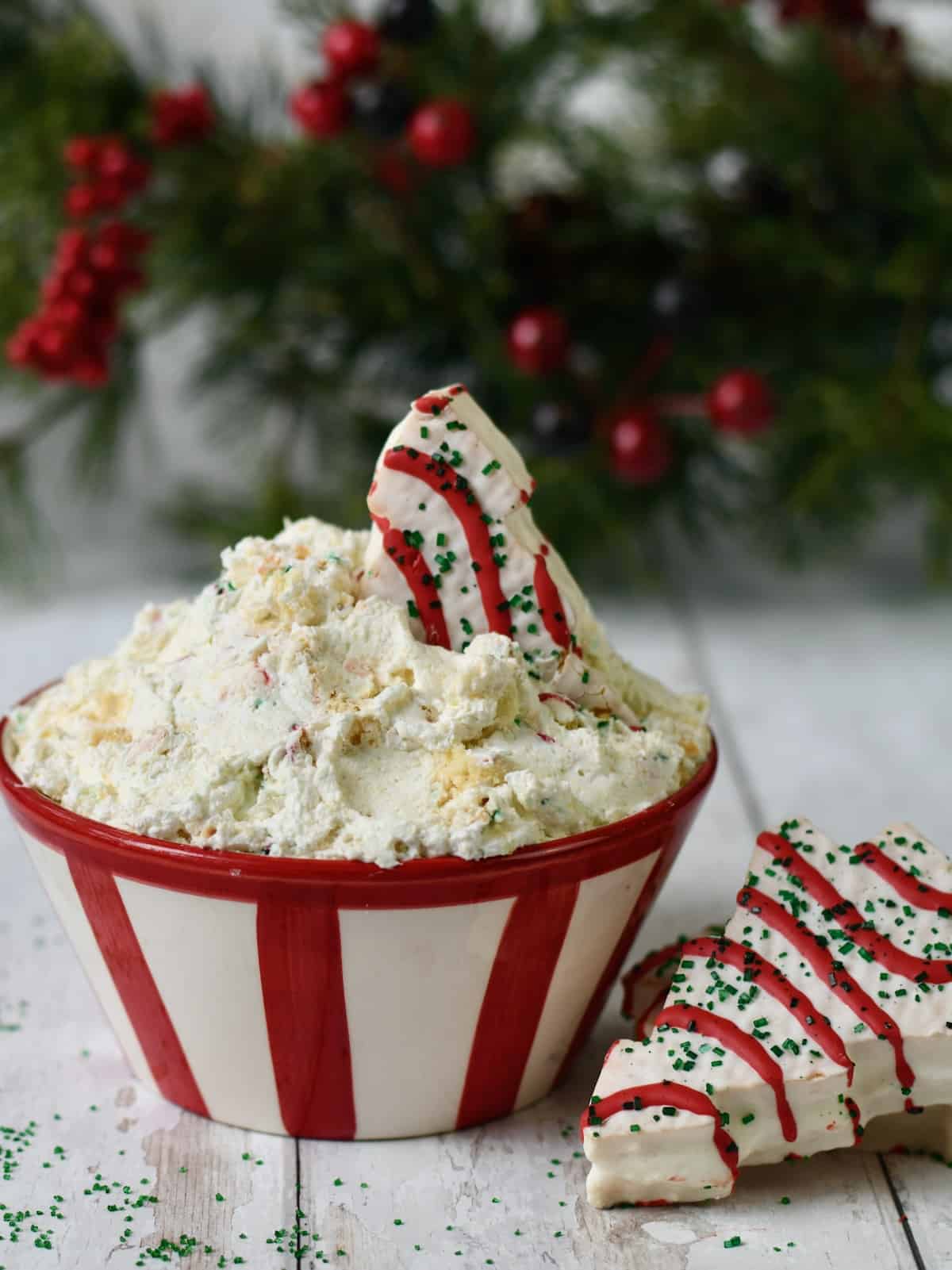 This Christmas tree cake dip is perfect to add to your Christmas dessert platters or dessert board. It's quick. It's easy. It's just down right fun to eat.
Are you looking for a last minute dessert dip for a Christmas party? Look no further!
This will be THE easy Christmas dessert recipe your friends will be asking you to bring again and again to all your holiday parties.
I made this Little Debbie Christmas cake dip for a girls night at my house then again for my Holiday Cooking Show. It was a huge hit both times!
If you're looking for more Christmas party dessert ideas, try Shortcut Mint Oreo Cookie Truffle Balls.
Why is this the best Little Debbie Christmas Tree Dip?
I've seen plenty of variations of this easy holiday dessert dip including the original recipe on the Little Debbie website. This is why you will love this recipe:
It's not pureed and liquidy. You can still see pieces of the delicious cake and get bits of the coveted frosting in every bite. If you like it a bit softer, add a tablespoon or two of milk.
Only 3 ingredients and 5 minutes to make.
There are shortcuts! Check out my list of them next.
Shortcuts
This is one of the easiest Christmas dessert dips you'll ever make but I've made it even easier for you!
Don't wait around for the cream cheese to come to room temperature. Who has time for that? Microwave it right in the microwave safe mixing bowl for 20 seconds. Done.
Less dish washing. No need to dirty up a knife. Just crumble the Christmas tree cakes right in the bowl. This is also therapeutic and fun!
Avoid the mixer. You don't even have to use a hand mixer if you make sure the cream cheese is very soft and take your time blending in the whipped topping before adding the cake pieces.
Ingredients
What you will need to make this Christmas tree cake dip:
Scroll down to printable recipe for exact ingredient quantities.
Cream cheese
Cool Whip (store brand is fine)
Christmas sprinkles (optional)
Red cake decorating writing gel or frosting in a tube (optional)
How to make this Christmas dessert dip
Check out my list of shortcuts above before starting recipe.
Scroll down to the bottom for the printable recipe with detailed instructions.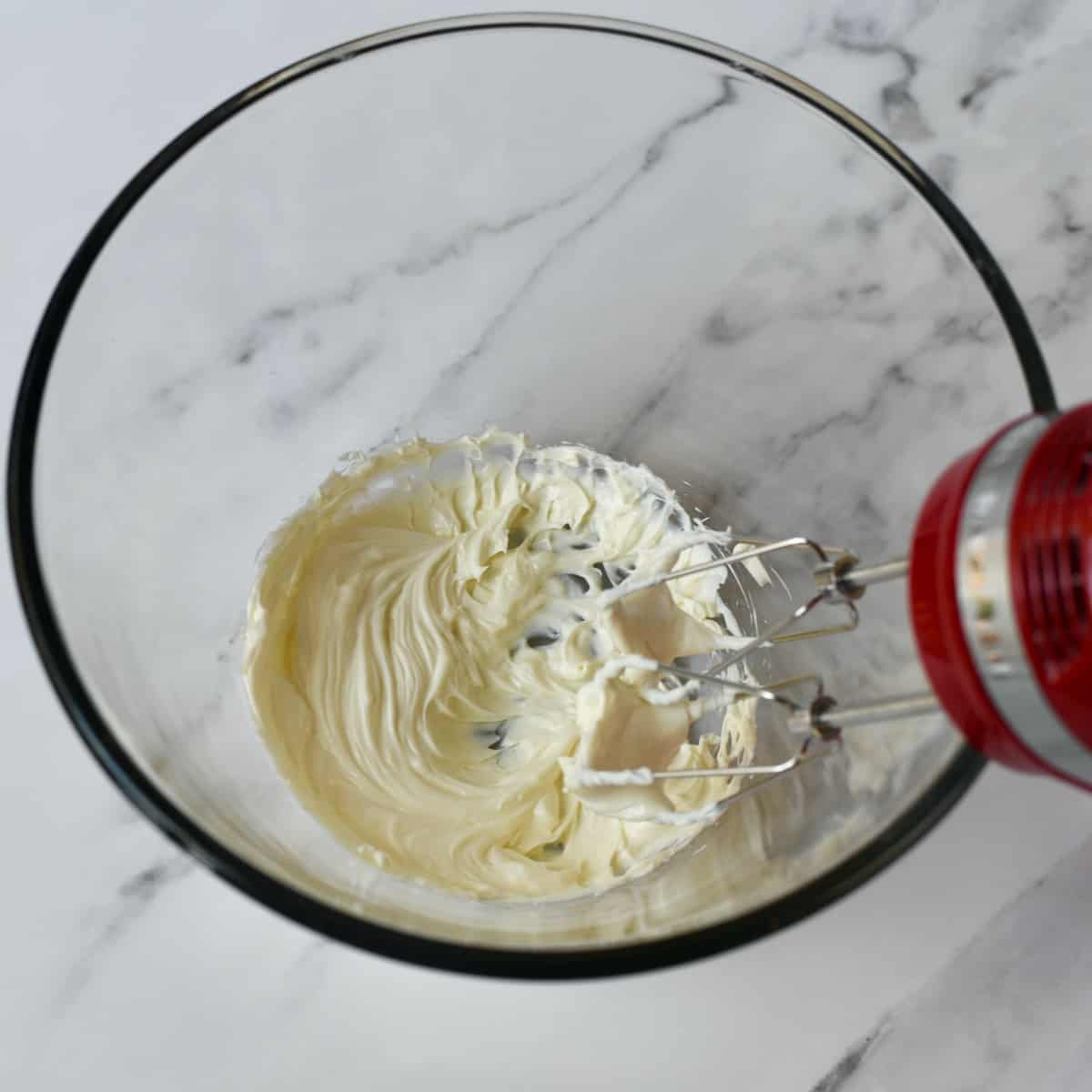 Stir or mix softened cream cheese in a large bowl.
Fold in or mix in whipped topping.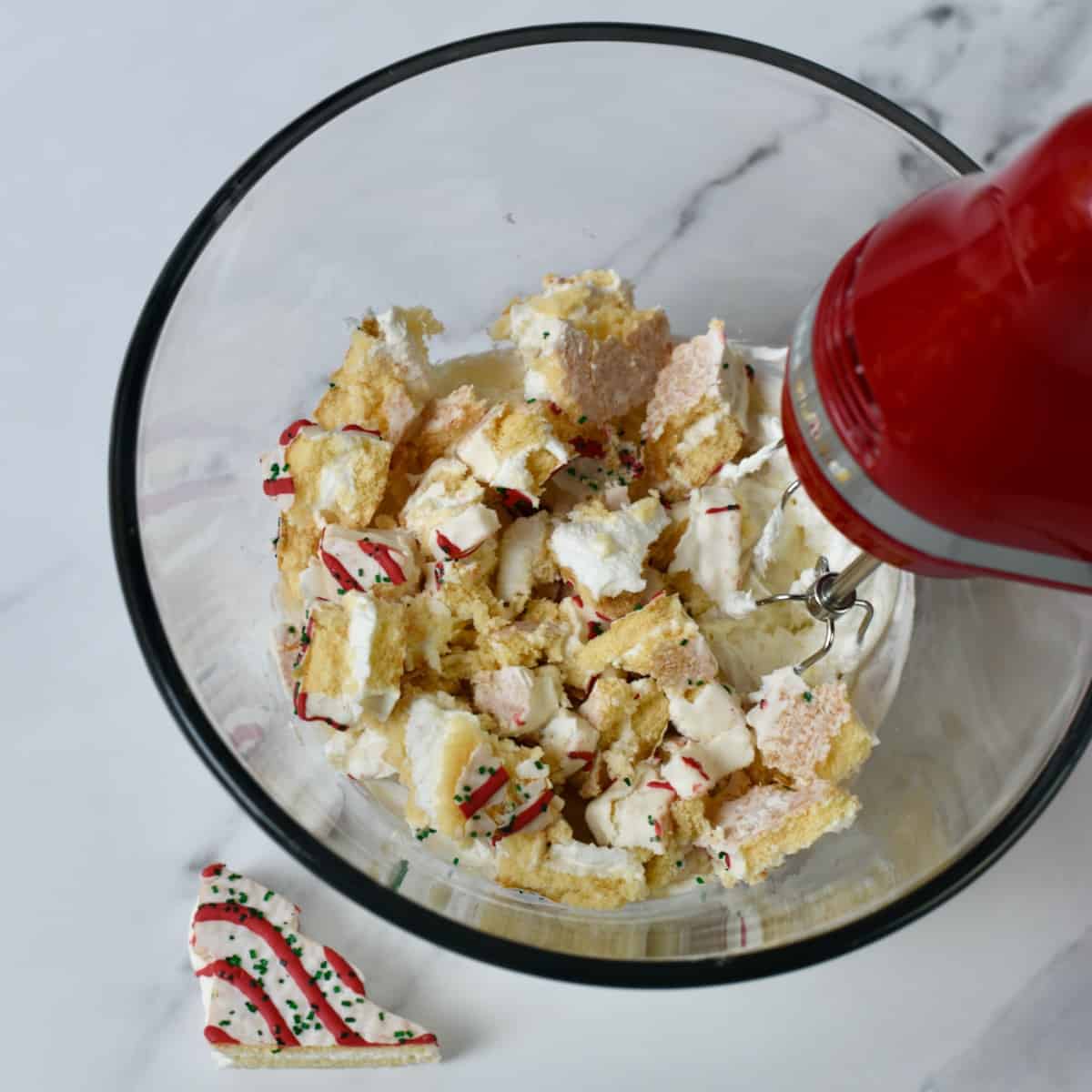 Have fun breaking up the tree-shaped snack cakes into the bowl. (Hold back half of one Little Debbie Christmas tree cake for garnish.)
This is where the mixer does its work. The more you mix, the less you see of the actual cakes, so I stop short of pureeing it!
Tip: If you prefer the consistency of the dip a little thinner, just add a little milk.
Spoon the dessert dip into one of your favorite Christmas dessert bowls. Press the reserved half of a tree cake into the top for garnish.
If you like, you can also sprinkle with red and/or green sprinkles or sanding sugar.
Another optional garnish is to drizzle red stripes across the top of the dip to mimic the stripes on the actual Little Debbie Christmas tree cakes. (Scroll down for that pic.)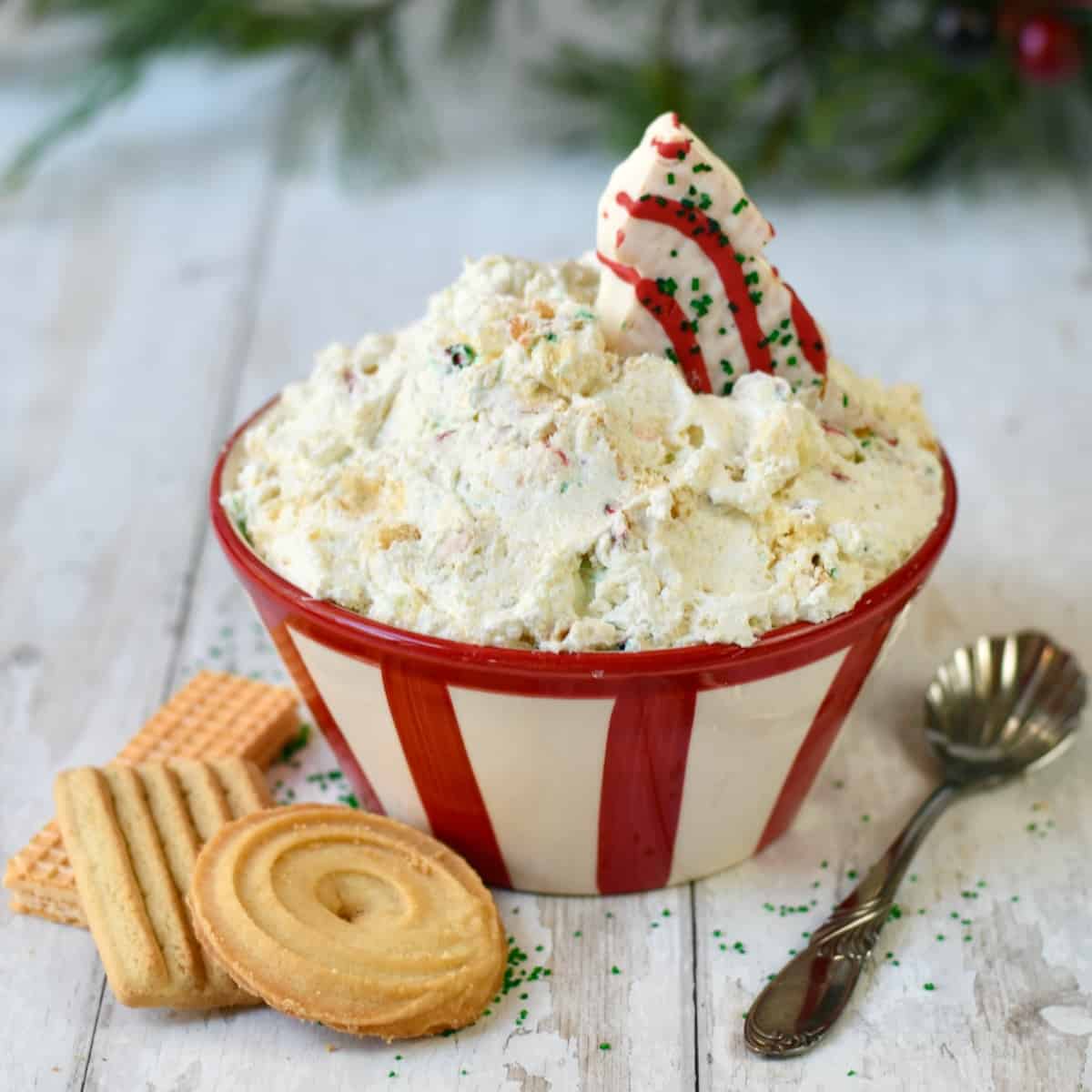 Serve with cookies and pretzels for dippers.
Helpful Tip: Add the sprinkles and red frosting stripes right before serving. The color in the sprinkles tend to melt into the dip if stored overnight in the fridge.
Ideas for desert dip dippers to serve with
Butter cookies
Wafer cookies
Animal cookies
Vanilla wafers
Ginger snaps
Pretzel rods
Flat pretzel crisps
Chocolate-coated pretzel twists
Graham crackers
Christmas dessert board ideas
Gild the lily when serving this fun party dessert dip by serving it as part of a Christmas dessert platter or board.
Simply place the bowl of Little Debbie Christmas dip in the middle of the board and arrange small amounts of cookie dippers around it.
Other dessert board ideas to add:
Red and green M&M's
Christmas sprinkles
Mini marshmallows
Candy canes
White chocolate dipped pretzel rods
Frosted animal crackers
Specialty sprinkles on candy melts-coated wafer cookies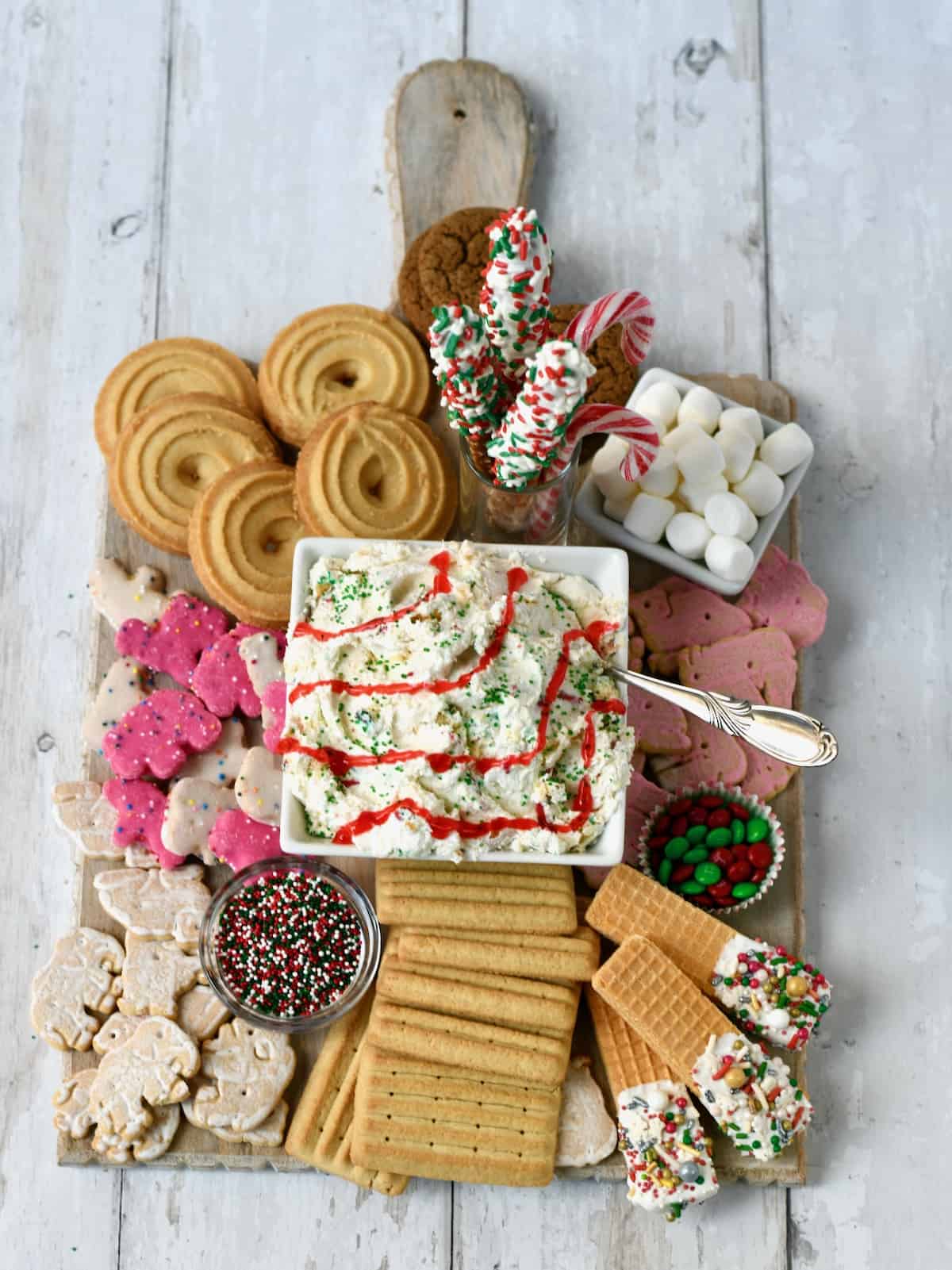 Substitutions & Variations
Trade "this" for "that" in this no-bake, easy Christmas dessert recipe.
Chocolate Christmas tree cakes- For my chocolate lovers, Little Debbie also makes these same tree-shaped snack cakes in chocolate!
Other Little Debbie Cakes: Make this dip all year round with Zebra Cakes, Swiss Rolls, Birthday Cakes, Fancy Cakes, and Strawberry Shortcake Rolls.
Cream cheese- Neufchatel is often sold right next to cream cheese. It is already softer than cream cheese. If you want to save a few calories, it's also 1/3 less fat.
Cool Whip- This nondairy whipped topping can be swapped for 3 cups of sweetened real whipped cream. To make sweetened whipped cream: With an electric mixer beat together 1 1/2 cups whipping cream or heavy whipping cream plus 3 tablespoons sugar or powdered sugar until stiff peaks form.
Vanilla- I didn't add vanilla extract because the snack cakes are already vanilla-flavored, but feel free to add a few drops, if you like.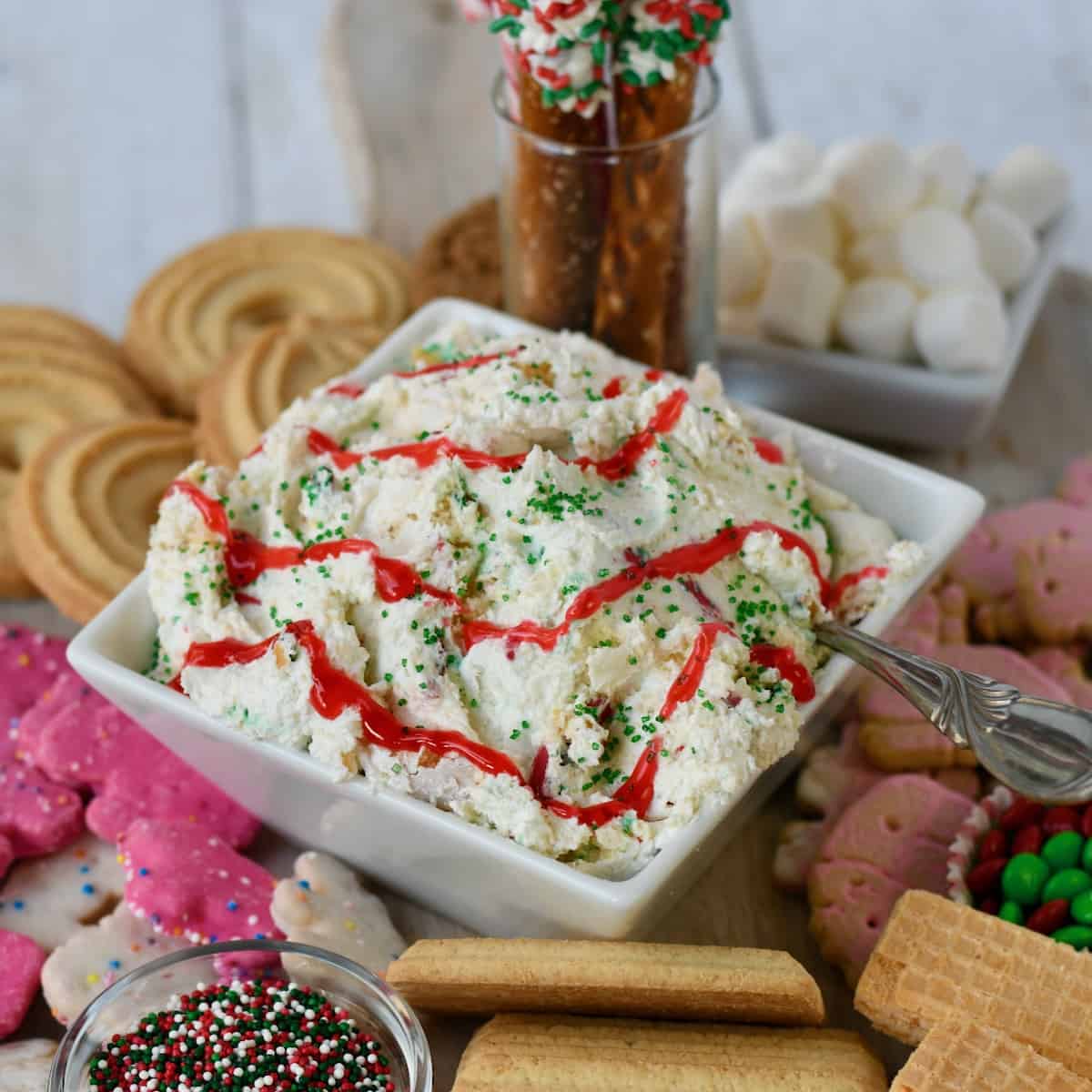 Fun Fact: I have nick named this dessert dip "Fryar Fluff".
The drummer for the country music band, Zac Brown Band, lives in our small town. Chris Fryar is known by fans and band members as Sweets and Little Debbie snack cakes are his favorite sweet treat. He and his wife attend my Holiday Cooking show every year. This was one of the recipes at the show this year, so in his honor, I called him out and named it "Fryar Fluff".
Helpful Information
Can I double this recipe?
Yes. All three ingredients are easily doubled.
Can I freeze Little Debbie Cakes?
Yes. Freeze them in the original wrapping they come in or place the wrapped cakes in a zip-top bag. I recommend thawing them on the counter or in the fridge, unwrapped to avoid moisture condensation dripping on the cakes.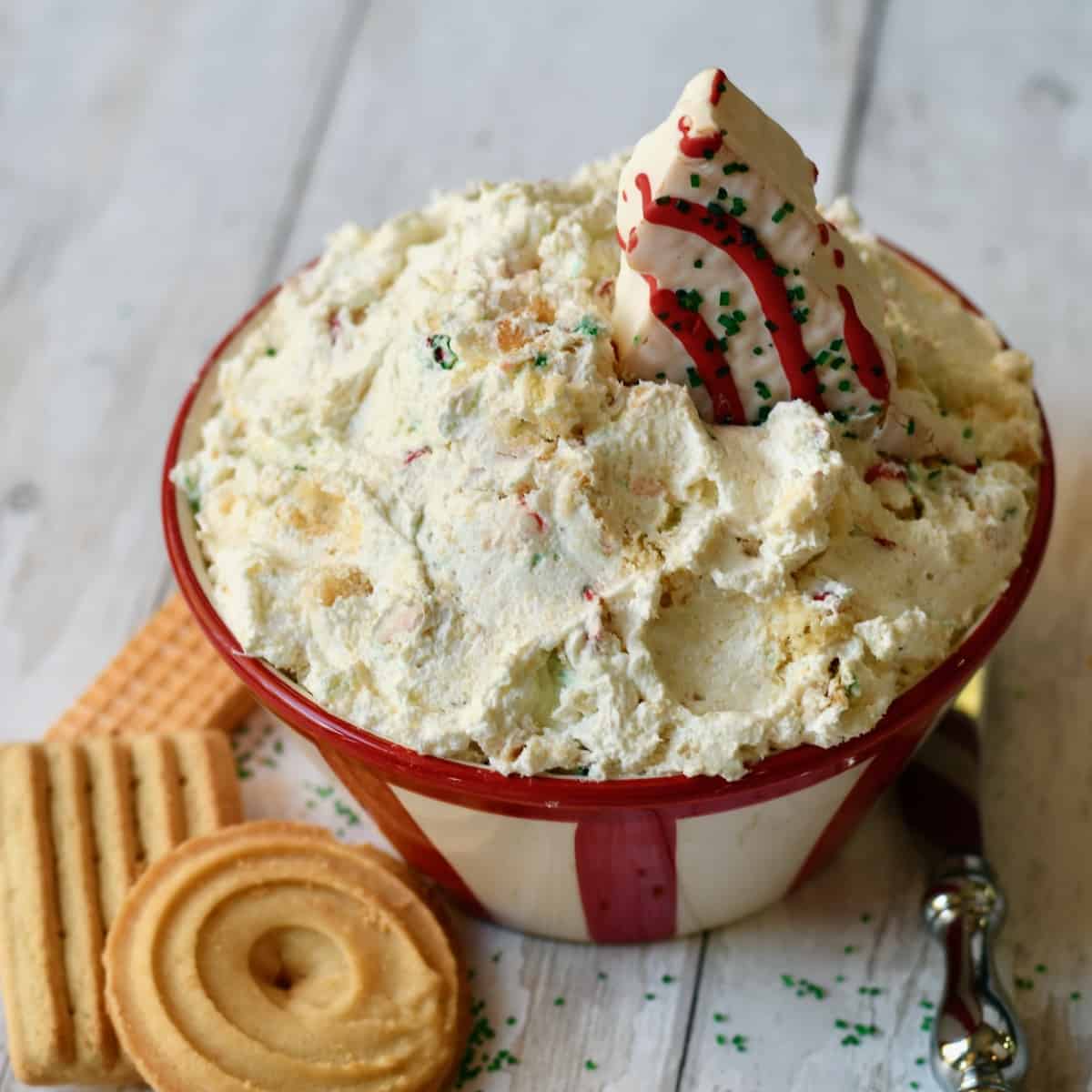 How to store Christmas tree cake dip
Refrigerator: Store in the refrigerator up to 5 days. Note: It does firms up the longer it is chilled. Store any leftovers in the refrigerator, covered or in an air tight container.
Freezer: I don't recommend freezing this dip but you can freeze the individual cakes ahead of time and thaw before using.
Follow me on Facebook, Instagram, and Pinterest. Be social and share, y'all! Don't forget to sign up with your email so you don't miss a single post on my Southern shortcut recipes!
If you make this recipe I'd love to see it! Tag me on social media with #gritsandgouda or @gritsandgouda. Leave a comment below the printable recipe if you have questions or tell me how you liked the recipe. Don't forget to rate it 5 stars if you love it!
Want more easy Christmas dessert recipes?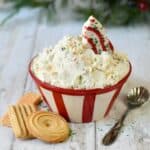 Print Recipe
Little Debbie Christmas Tree Dip
Little Debbie Christmas Tree Dip is a fun Christmas dessert dip recipe made with snack cakes, cream cheese, and whipped topping. Only 3 ingredients and ready in 5 minutes to make wildly popular holiday dessert.
Ingredients
4

ounces

cream cheese

(Half of an 8-oz block)

1

8-oz container Cool Whip nondairy whipped topping

(or 3 cups sweetened whipped cream-not Redi Wip aerosol)

1

8.62-oz pkg Little Debbie Christmas Tree Cakes (5 in a pkg)

Christmas sprinkles

(optional)

Tube of red cake decorating writing gel or frosting

optional

Dippers: Butter cookies, animal crackers, vanilla wafers, pretzel rods

butter cookies, wafer cookies, pretzels
Instructions
Microwave the cream cheese on HIGH for 20 seconds to soften it quickly. Otherwise, set out to become room temperature at least 30 minutes ahead of time.

Beat cream cheese in a large bowl with an electric hand mixer until creamy. Or, stir with a spoon or spatula until creamy. Stir or beat in the Cool Whip.

Cut one Christmas tree cake in half diagonally and set aside for a garnish.

Break up the remaining tree cakes into the bowl. Combine the cakes with the cream cheese mixture with the mixer beaters on medium speed just until blended. Or, stir vigorously with a spoon.

I like to still see pieces of cake in the dip, but feel free to blend it all up.

Spoon the dip into a serving bowl and place the reserved tree cake half on top. If you want to, you can sprinkle with Christmas sprinkles and pipe the red frosting across the top to mimic the design on the tree cakes right before serving.

Serve with your choice of cookies as dippers.

This fun dip makes a great centerpiece for Christmas dessert platters or boards.
Notes
Tip: If you prefer a softer dip, add up to 1/4 cup whole milk or whipping cream to thin it out.
Do not use Redi Wip aerosol in this recipe. Although, it may be real cream, it deflates quickly leaving you with a soupy texture in the dip. It's fine to garnish it with a spray of it on top, though.
This is an easy make ahead Christmas dip. I recommend storing it in a covered container in the refrigerator until ready to serve. Transfer the dip into a serving bowl. If it's a little firm, just stir in a little milk.
Frugal Tip: Buy red sprinkles on sale after Valentines Day and green sprinkles after St. Patricks Day. Combine them for inexpensive Christmas sprinkles.
Nutrition
Serving:
2
Tablespoons
|
Calories:
80
kcal
Did you make this recipe?
If you love it, share it! Tag me on Instagram @gritsandgouda using #gritsandgouda Comment below before you go!
Nutrition analysis on GritsAndGouda.com recipes are mostly calculated on an online nutrition calculator. I am not a dietitian and nutritional information is an estimate and can vary based on products used.