These easy Shortcut Frosted Mini Brownie Cups start with a box of brownie mix and tub of frosting! Make bite-size party desserts in paper candy liners or individual desserts in paper muffin liners. Dress them up with elegant sprinkles or enjoy them warm, unfrosted with a scoop of ice cream.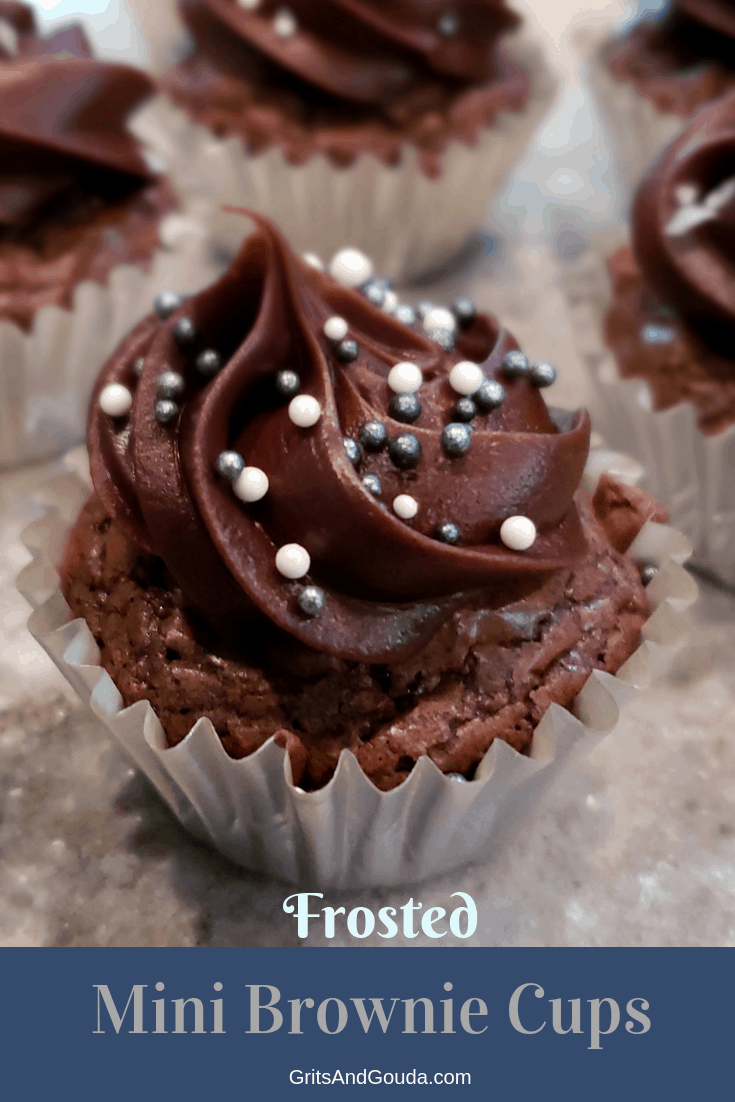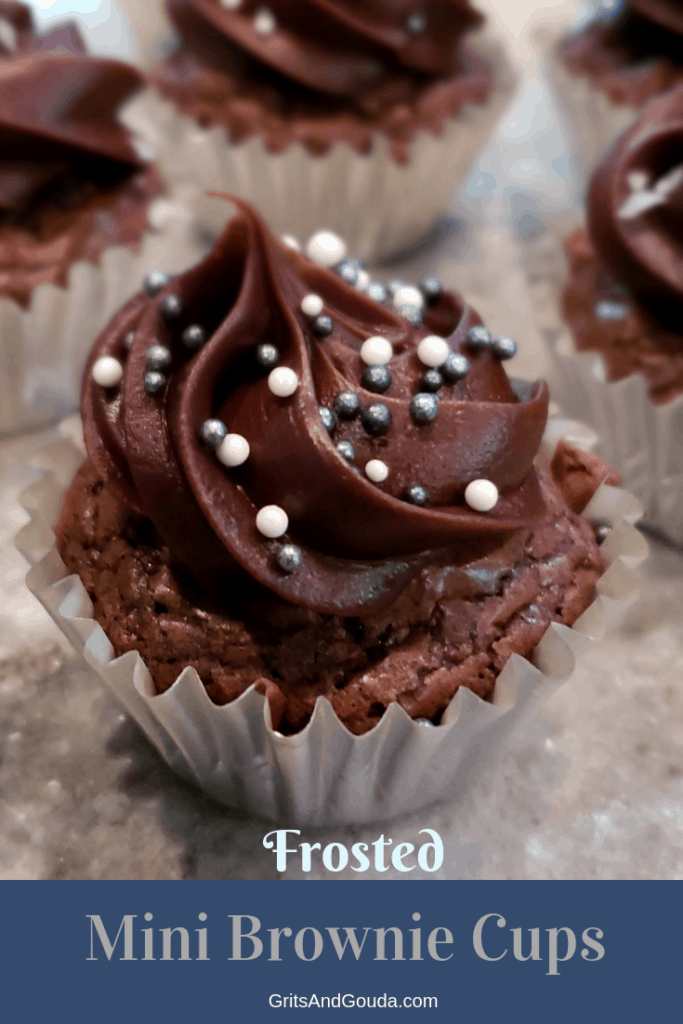 These look so fancy but you won't believe the shortcut in this recipe!
You can make these year 'round and in many sizes to match the occasion and your appetite!
This little bite is a double chocolate brownie topped with a luxurious dollop of chocolate frosting and sprinkled with silver and white round sprinkles-perfect for a white Christmas. Who am I kidding? I live in Alabama!
I've been making these for way over 10 years. If I need a box of bite-size treats for a Christmas or birthday gift, I make them in the candy-size, mini muffin liners.
If I want small, desserts to serve on a dessert buffet at a party or to send to Scott's office, I make them in regular muffin size paper liners. Sometimes I leave unadorned and let the chocolate be the star. If I add sprinkles, the occasion determines what kind of sprinkles.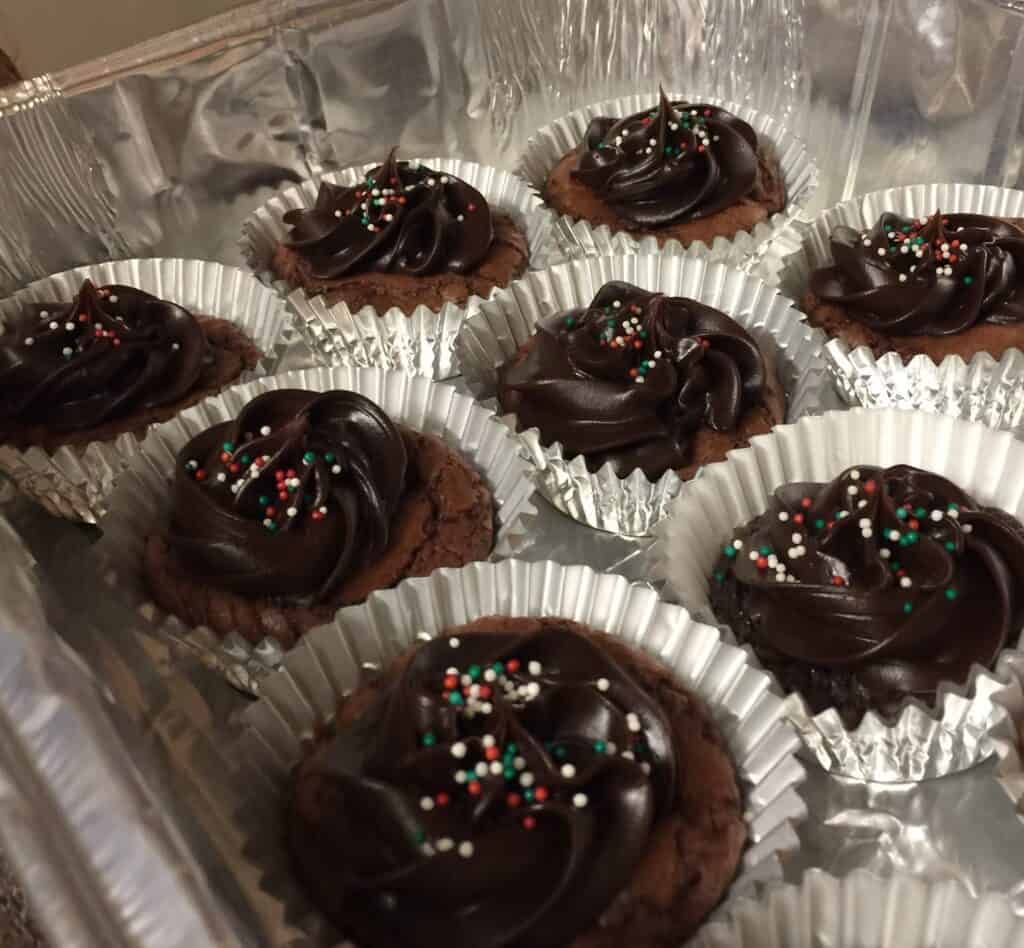 My sweet friend, Jodie, made 100 of these gems in foil-lined muffin cup liners for my 2018 Grits and Gouda Holiday Cooking Show for everyone to sample. She used Christmas sprinkles for most of them and made them in small muffin cups. Thank you Jodie!
Did I mention I have about 50 containers of sprinkles in my stash?
In my defense, the frugal part of me justifies the collection because I buy many of them the day after Valentines Day, Halloween, and Christmas.
The white and silver pearls on the brownie cups are my new favorite sprinkles- Wilton Pearlized Silver Mix. They can easily be used for Christmas, New Years, a wedding or a silver anniversary.
What's the shortcut in this recipe?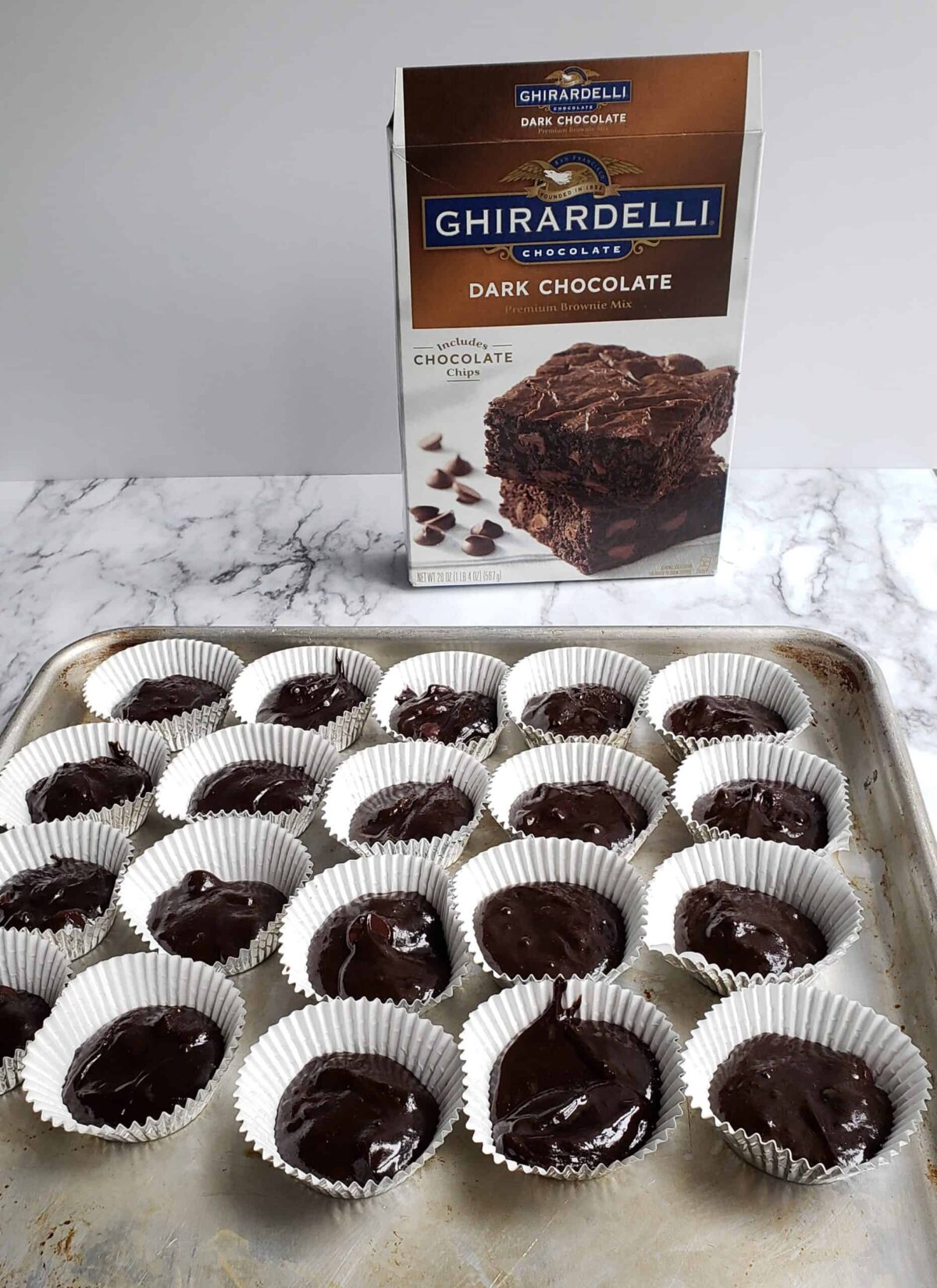 Yep! Did you guess a box of brownie mix?
Not just any brownie mix-not all boxes of brownies are the same! Ghirardelli dark chocolate brownie mix not only looks decadent because of its Dutch processed cocoa but it also includes chocolate chips....in every bite.
You can buy Ghirardelli brownies at Aldi, Publix, and Walmart.
Use tub frosting-No shaming here
I also used a tub of chocolate icing -yes, I know, I know. I can hear gasping and the naysayers, now. lol
Do you follow the directions on the brownie box?
No. Don't miss this! For the most moist (yes I said it) brownies, I don't follow the directions on the back of the box. I reduce the water, increase the oil, add an egg, and slightly under-bake them.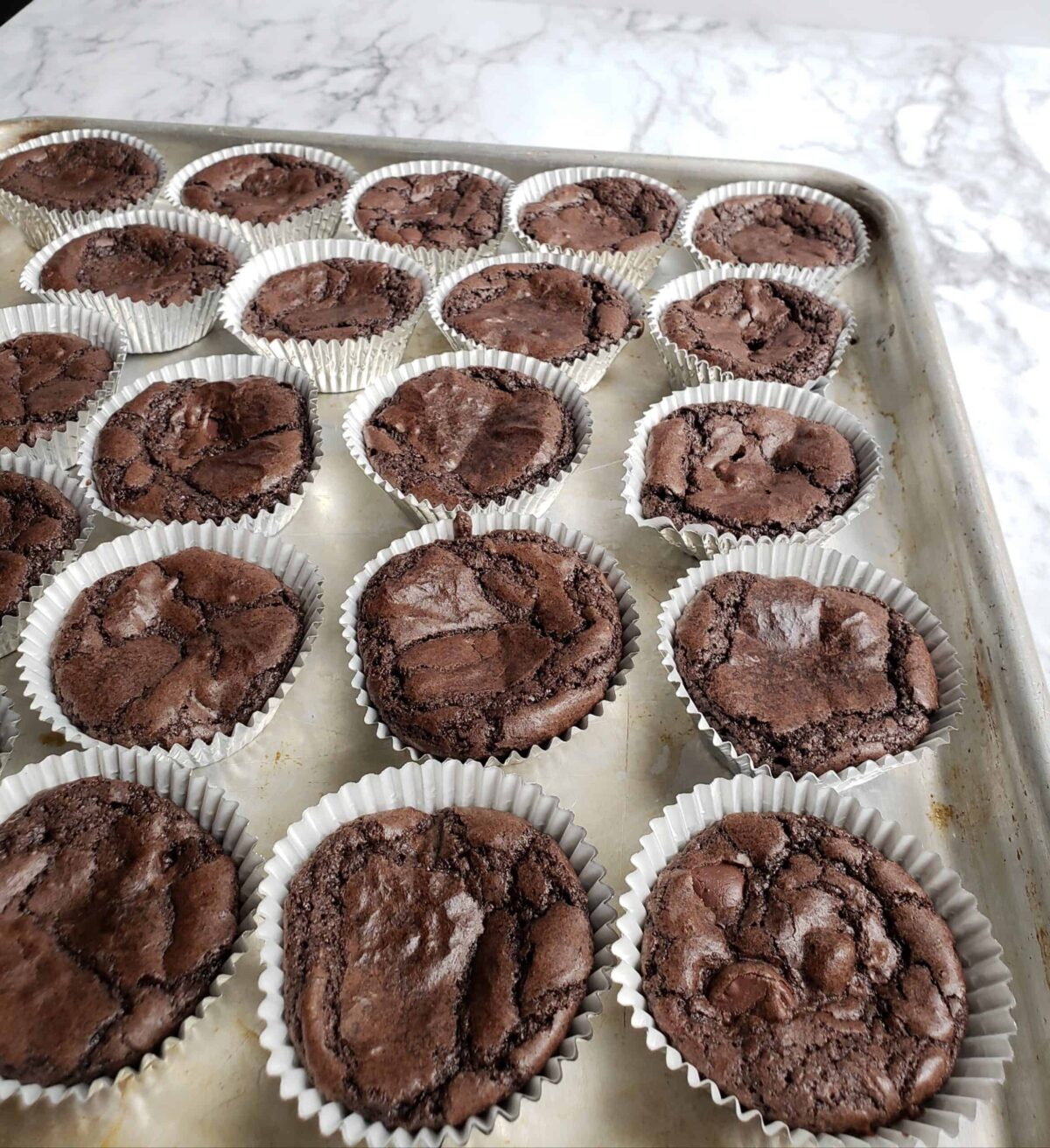 Bake the brownie cups about 13 minutes for candy size liners. They will sink a tiny bit because they are slightly under baked but the frosting will cover it. If you use the foil-lined paper liners, you don't have to bake them in a mini muffin pan.
The foil keeps the paper liner from spreading. Just place them where they are barely touching. If they are crammed in there, they will bake in that shape.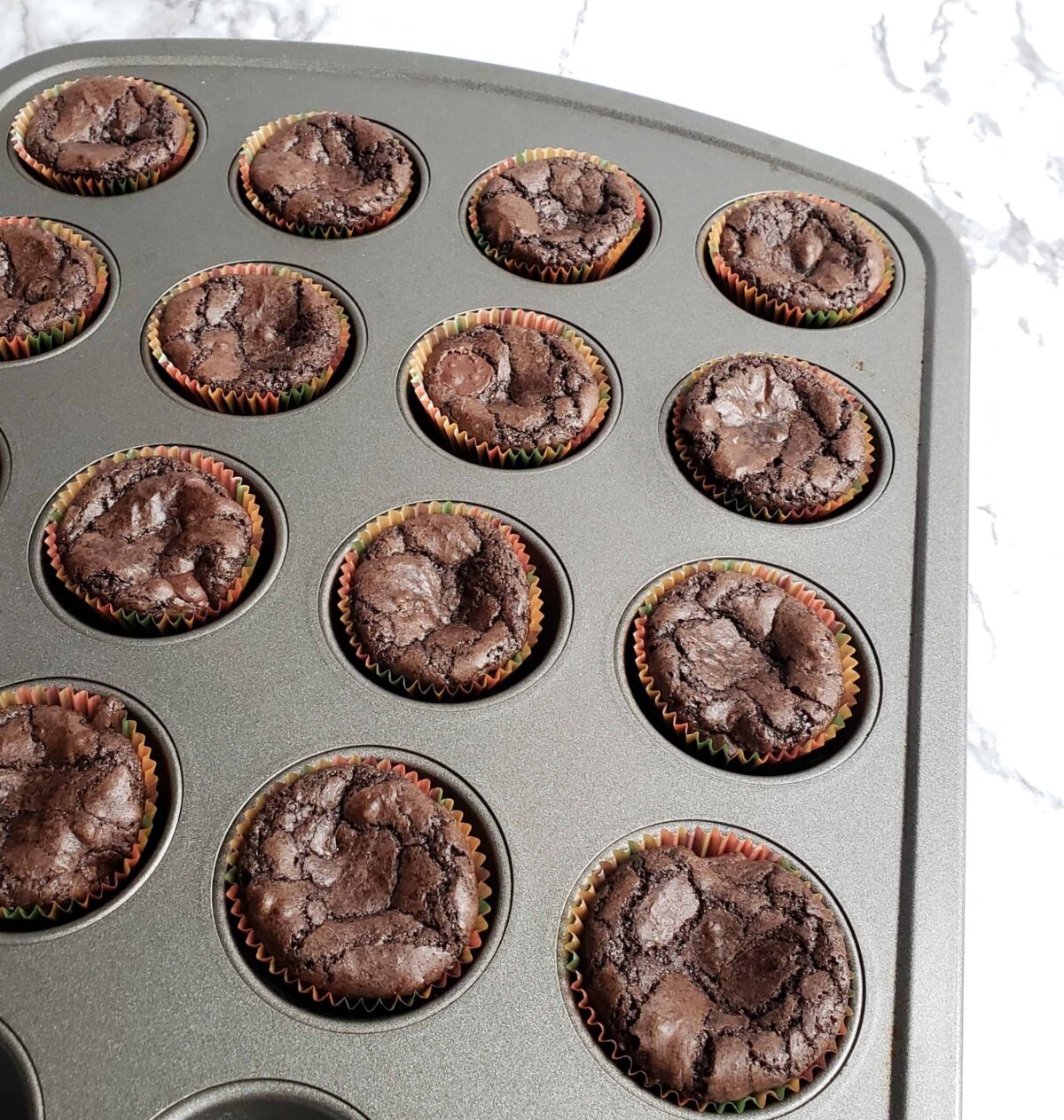 If you have paper liners just pop them in the mini muffin pans and bake the same amount of time. You can let them cool in the pans without transferring to wire racks. Spoon the icing in a disposable plastic pastry bag fitted with a large 1M open star tip and pipe a swirl dollop on top of the cooled brownie cups.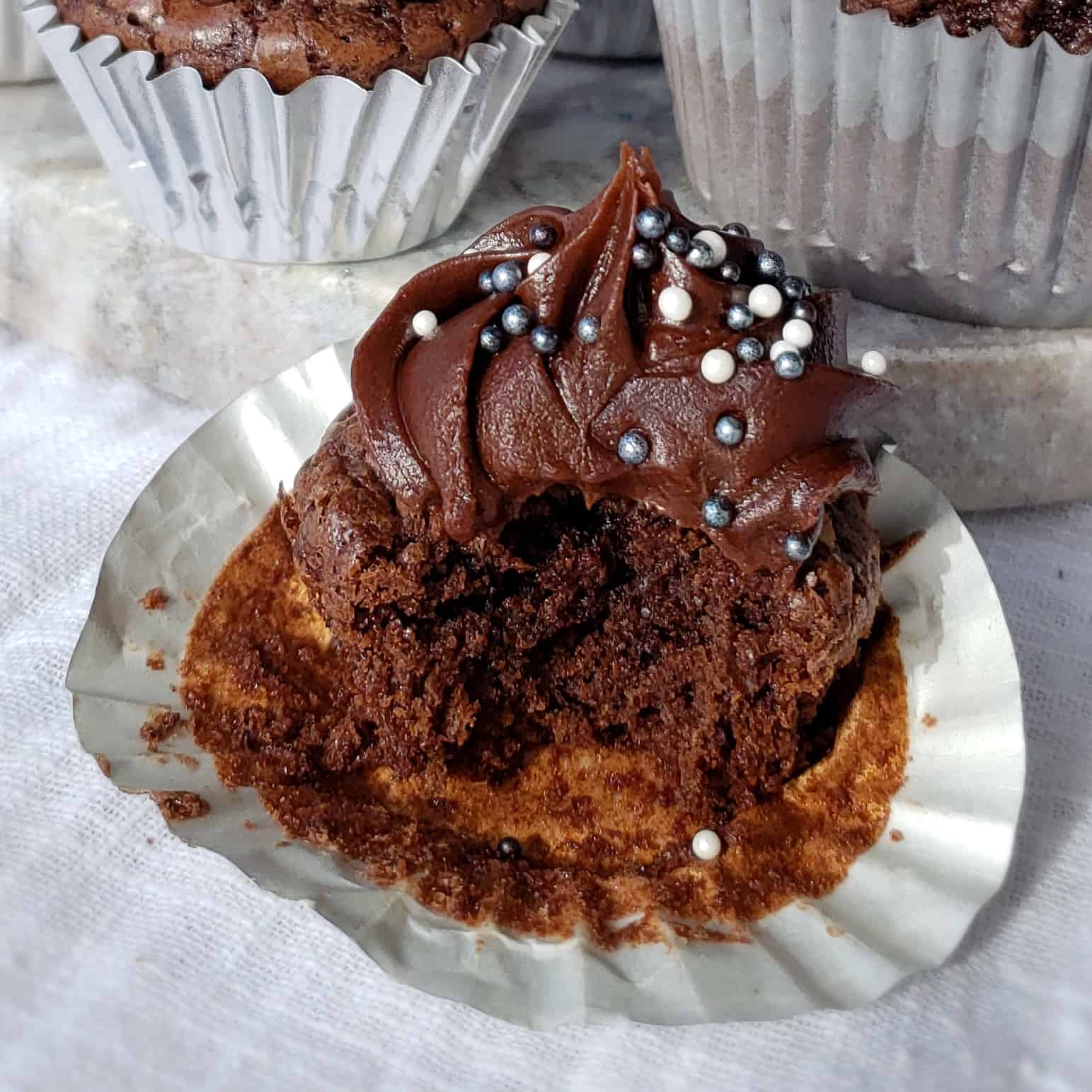 I made both sizes in this batch-some to give away, some to send to an office party....and um... maybe one to eat!
For more Southern shortcut recipes be sure to follow me on Facebook, Instagram, Pinterest and Twitter and don't forget to send me your email address here so you don't miss a single post!
Other desserts you will love
Double Chocolate Pudding Cookies
Toffee Blonde Brownies with Cheater Caramel Icing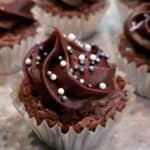 Print Recipe
Shortcut Frosted Mini Brownie Cups
You can make these year 'round and in two sizes to match the occasion and your appetite! This shortcut recipe starts with a brownie mix and a tub of frosting!
Servings:
35
mini muffin-size cups
Ingredients
2

large

eggs

1/2

cup

vegetable oil

2

tablespoons

water

1

20-oz

box Ghirardelli dark chocolate premium brownie mix with chocolate chips

1

16-oz

tub chocolate frosting

(Baker's Corner-Aldi)
Instructions
Preheat the oven to 350 degrees.

Whisk together eggs, oil, and water in a medium-size bowl with a fork or whisk. Add the brownie mix and stir briskly with a spoon about 40 times.

Spoon the batter into candy-size or mini muffin size paper liners that have been placed in mini muffin pans about 2/3 full. (If you have the foil-lined liners, you can place them directly on a baking sheet) Bake 12 minutes for mini muffin cups and 15 to 16 minutes for regular size muffin cups or until center is almost set.

Remove the brownie cups from the oven and let them cool in the pan. If you don't have enough pans for the whole batch at one time, remove the brownies cups from the pan and let them cool on wire racks to bake a second round.

Meanwhile, open the tub of icing and stir well to loosen it up. If it seems too stiff to pipe, microwave it on HIGH for 7 seconds. I don't recommend the whipped icing in a tub. If you do use it don't microwave it-it will be too soft.

Spoon the icing in a disposable plastic pastry bag fitted with a large star tip. When the brownie cups are cool, pipe the icing on top with a swirl dollop. Add sprinkles if you like.
Notes
The brownie cups can be stored in a covered plastic container for several days at room temperature.
Nutrition
Serving:
1
thirty fifth
|
Calories:
153
kcal
Did you make this recipe?
If you love it, share it! Tag me on Instagram @gritsandgouda using #gritsandgouda Comment below before you go!