Fried Apple Rings with Cinnamon Sugar taste like a cross between an apple fritter and apple cider donuts with the bonus of having a slice of apple in the middle! This easy fall fruit recipe is made even easier when made with pancake batter!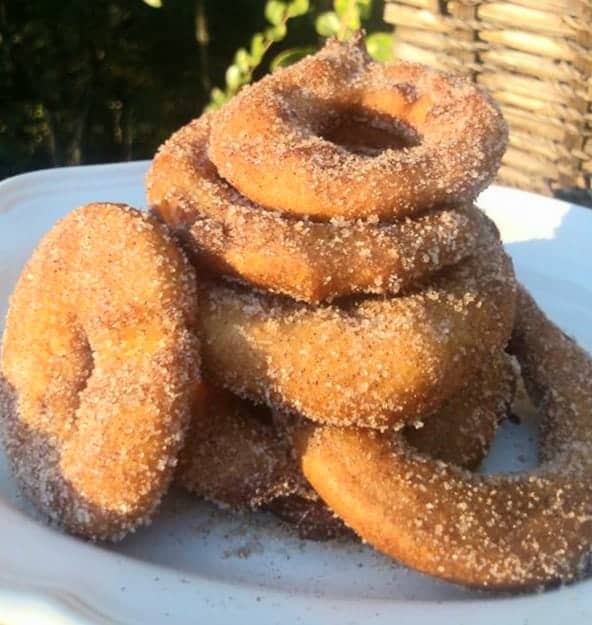 Fried Apple Rings with Cinnamon-Sugar are dipped in a thin batter and fried in a small amount of oil, then coated in yummy cinnamon sugar.
I love to make them on a Saturday or Sunday morning for breakfast.
This Cinnamon-Sugar Fried Apple Rings recipe is perfect to eat on the way out the door on the way to work on Monday. Just warm them in the air fryer or toaster.
What's the shortcut?
Batter fried Apple Rings with Cinnamon-Sugar are so easy to make and to make them even easier, you can use store-bought pancake mix instead of the homemade batter in the recipe.
The batter needs to be on the medium to thinner side of thickness so you may have to add a little water or milk to the directions on the package if yours looks too thick to easily coat the apple rings.
In the printable recipe below, I show you how to make it all in one bowl which is a shortcut in itself because you have fewer dishes to wash!
Lastly, you can purchase a cinnamon-sugar mixture at the grocery store or Dollar Tree.
How can I make my own Cinnamon Sugar?
To save money, make your own Cinnamon Sugar! A good ratio of sugar to cinnamon is 1/3 cup granulated sugar and 1 teaspoon ground cinnamon. I've also lucked out and found a pretty nice size bottle of Cinnamon Sugar at the Dollar Tree!
What else can I make with Cinnamon Sugar?
I make Cinnamon Sugar 1 cup at a time and store it in an airtight container to have it handy to sprinkle on baked sweet potatoes, muffins, and French toast. Homemade Cinnamon Sugar Tortilla Chips is one of my favorite quick snacks to make with Cinnamon Sugar. Serve it with my Cranberry Apple Jalapeno Salsa.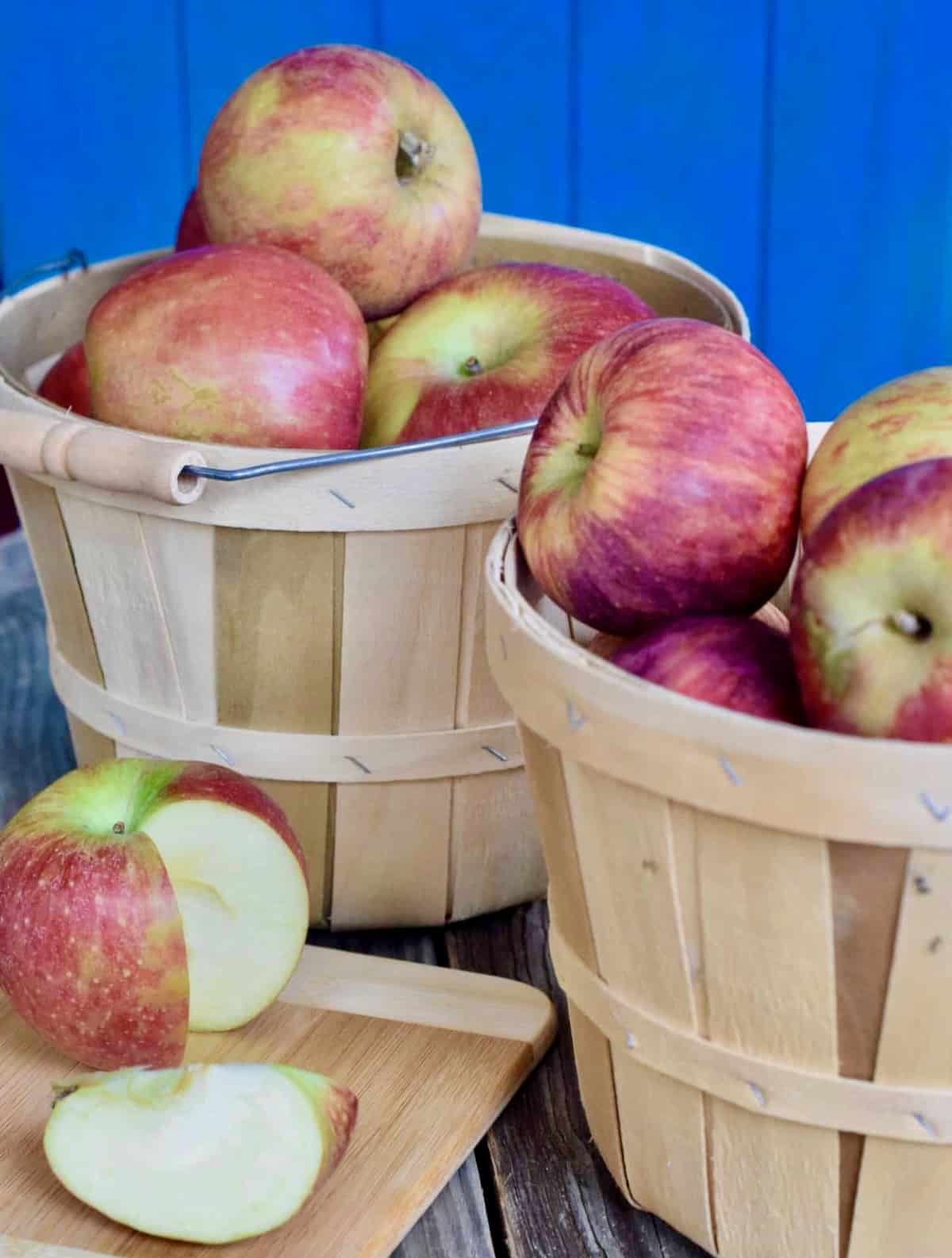 Cooking apples vs. eating apples
The short answer is cooking apples. The best apples to use when cooking, frying, or baking apples are called cooking or all-purpose apples. These apples hold their texture when heat is applied in the cooking process.
Some of my favorite cooking apples are Granny Smith, Golden Delicious, Jonathan or Jonagold, Braeburn and Honeycrisp. You may be surprised that Honeycrisp is on this list but it is an excellent all-purpose apple. It's crisp and juicy for snacking but actually holds it's shape well during baking.
Although cooking apples are the best apples to use to make Cinnamon-Sugar Fried Apple Rings, I would absolutely use some all-purpose apples that double as tasty snacking apples. For example, I'd recommend are Cortland, Empire, Fuji, and Gala.
Below is a handy chart of apples. I took a quick snapshot of it at the Red Apple Barn in Ellijay, GA.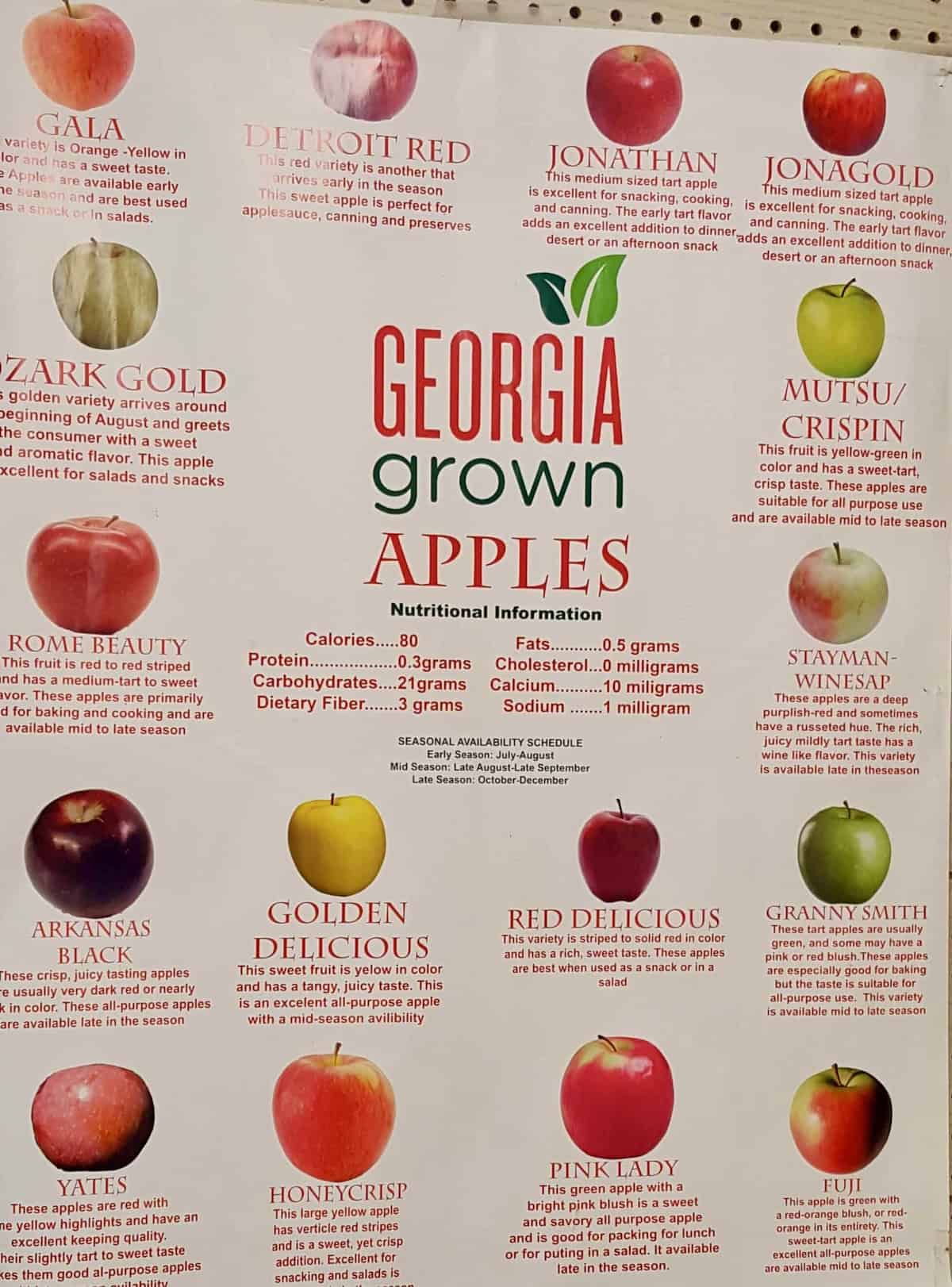 Do I have to use a lot of oil to fry apple rings?
No. Pour vegetable oil or coconut oil in a large cast iron skillet or heavy saucepan to a depth of 1 inch. Heat the oil to 365° over medium-high heat. On the other hand, if you use a saucepan, you can use less oil to reach the 1-inch depth. You'll just fry fewer at a time.
For a no-mess alternative to the old-fashioned candy thermometer, try a digital infrared non-contact thermometer since the oil is only 1 inch deep, I think it's more accurate, and it never needs recalibrating like a traditional candy thermometer.
Keep in mind, these digital thermometers are meant for surface temps only but I've found them to be pretty accurate for low levels of hot oil even though that is not their original use.
They cost about the same and there's no oil to clean off the thermometer!
Can I reheat leftover Fried Apple Rings?
Absolutely! If you happen to have any leftover battered fried apple rings-I doubt you will, save them in a zip-top plastic bag or container in the fridge to heat in your air fryer or microwave the next morning for breakfast! When reheating one at a time, just 15 seconds on HIGH in the microwave ought to do it. For an air fryer, preheat it for 3 minutes, then cook on "air fry" for about 2 minutes.
Find an apple festival near you and go!
Scott and I recently visited Rome and Ellijay, Georgia and brought back these yummy apples below. We can't wait to go back to the Apple Festival. Other than just biting right into the apples and enjoying them on the way home, the first thing I made with them is my Cinnamon-Sugar Fried Apple Rings.
I indulged in all things APPLE while in Georgia recently: Apple Slushies. Apple Doughnuts. Apple Cider. Apple Pie. Fresh apples dipped in caramel. Caramel Apples. I highly recommend putting the Apple Festival on your fall bucket list.
I brought these apples back from our recent apple picking vacation. On the right are the showy Cortlands with their deep red color and distinct stripes.
The texture inside reminds me of a Rome apple: sweet and juicy but not as crisp as a snacking apple. They hold their shape well in a pie but I have apple butter plans for these guys.
The apple on the cutting board and in the basket to the left is a Stayman Winesap. You can hear the crunch across the room when you bite into them!
These are perfect to go in my husband and son's lunches... and in Cinnamon-Sugar Fried Apple Rings.
More apple recipes to enjoy!
Follow me on Facebook, Instagram, Pinterest and YouTube. Be social and share, y'all! Don't forget to sign up with your email so you don't miss a single post on my Southern shortcut recipes!
If you make this recipe I'd love to see it! Tag me on social media with #gritsandgouda or @gritsandgouda. Leave a comment below the printable recipe if you have questions or tell me how you liked the recipe. Don't forget to give the recipe a rating of 5 stars if you love it!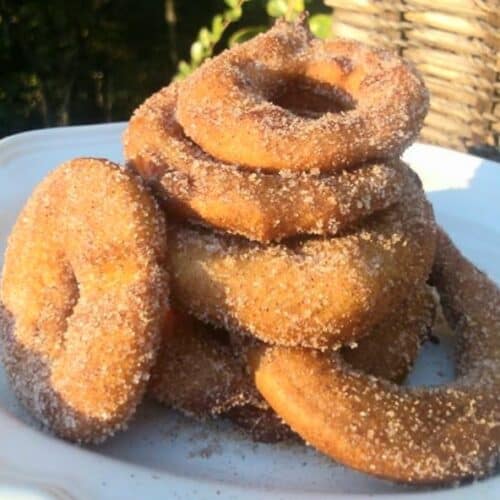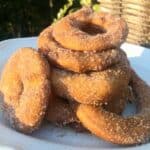 Print Recipe
Fried Apple Rings with Cinnamon Sugar
These Cinnamon-Sugar Fried Apple Rings taste similar to apple fritters and apple cider donuts with a bonus of a whole slice of apple in the middle! You don't need a lot of oil in the pan to fry these yummy apple rings.
Ingredients
Vegetable oil or coconut oil

4

medium-size apples

(Such as Granny Smith, Gala, Golden Delicious)

1/2

cup

sugar plus 2 tablespoons

divided

1

teaspoon

ground cinnamon plus 1/4 teaspoon

divided

1

large egg

1/2

teaspoon

vanilla

optional-but I always opt in

3/4

cup

2% or whole milk

1

cup

all-purpose flour plus 2 tablespoons

1 1/2

teaspoons

baking powder

1/2

teaspoon

salt
Instructions
Pour oil in a large cast iron skillet or heavy saucepan to a depth of at least 1 inch. Heat to 365° over medium-high heat. If you use a saucepan, you can use less oil to reach the 1-inch depth. You'll just fry fewer at a time.

Meanwhile, slice apples crosswise into 1/4-inch thick slices. Using a small circle cookie cutter remove center of apple so there's about 3/8-inch apple remaining. You can also carve out the center with a knife or apple corer. You can toss the seeds and core but don't throw away the apple in the centers! Chop them up in chicken salad or eat as a healthy snack (tomorrow after you've eaten the fried apples today!)

In a small bowl, combine 1/3 cup sugar and 1 teaspoon cinnamon to make Cinnamon-Sugar for coating apple rings.

In a medium bowl, whisk egg lightly; gradually add milk. Add flour; top with 2 tablespoons sugar, baking powder and salt. Whisk dry ingredients together lightly on top of milk, then dig in and whisk all together. I just saved you a bowl so you don't have to mix dry ingredients together separately.

Check your oil to see if it's 365°. I like to use a digital thermometer. Using tongs, dip apple rings in batter, allowing excess to drip back in bowl. Fry 3 or four at a time 1 to 2 minutes or just until golden. Let drain on paper towels 1 minute; dredge them in then cinnamon sugar mixture while they are still warm and turn over with tongs to coat well. Eat warm and save any leftovers to warm them in the microwave the next day for breakfast.
Notes
Shortcuts: Dip them in pancake batter made from a box (Krusteaz is my fave). Purchase cinnamon sugar from the spice section of a grocery store or Dollar Tree. Make the batter slightly thinner than directions by adding additional milk or water 1 tablespoon at a time.
Best apples to use: baking apples such as Granny Smith, Gala, Golden Delicious, Johnathon, Rome
Nutrition
Did you make this recipe?
If you love it, share it! Tag me on Instagram @gritsandgouda using #gritsandgouda Comment below before you go!
Nutrition analysis on GritsAndGouda.com recipes are mostly calculated on an online nutrition calculator. I am not a dietitian and nutritional information is an estimate and can vary based on products used.