Honey Bread Pudding with Raisins is a simple bread pudding recipe made with pieces of French bread, soaked in custard and baked to perfection. Serve with an easy vanilla sauce made just for bread pudding. A New Orleans-style dessert, so easy and inexpensive to make using leftover bread you may have in your pantry.
I also give you a variation of Cranberry White Chocolate Bread Pudding!

I've been asked for years if I will share my catering recipe for bread pudding. The secret is out! Keep reading.
What is the best bread to make bread pudding?
French bread is my top choice for this bread pudding but not the super crusty kind. Italian bread can also be used. Believe it or not, hoagie rolls work well, too. Avoid sliced white bread. It's too soft and will not soak up the milk and egg mixture and end up gummy.
Day old bakery or left over French bread is perfect. I always look on the day old cart at Walmart for French bread. It'a already just a dollar but it goes down to 50 cents typically on Mondays after the weekend.
Can I freeze a loaf of French bread?
Yes! Buy it when it is on sale on the "day old" rack or if you just want to stock up and have it on hand. If it won't fit in a ziplock bag, cut it in half or several pieces. If you're freezing it to make bread pudding, you're going to cube or tear it into pieces anyway.
You could also go ahead and tear it in pieces and place it in the bag. Be sure to press out as much air from the bag as possible. You might want to double bag it or use a FoodSaver vacuum sealer. I love mine!
Why do you tear the bread instead of cube it?
My recipes are all about shortcuts. It' a lot faster to pull and tear pieces from a loaf than to slice them into cubes with a knife, especially if you don't have a serrated bread knife. I cube my Panetone in my recipe for Panetone Bread Pudding.
Plus, I prefer the finished look of the torn pieces of bread when it bakes to the perfect cubes.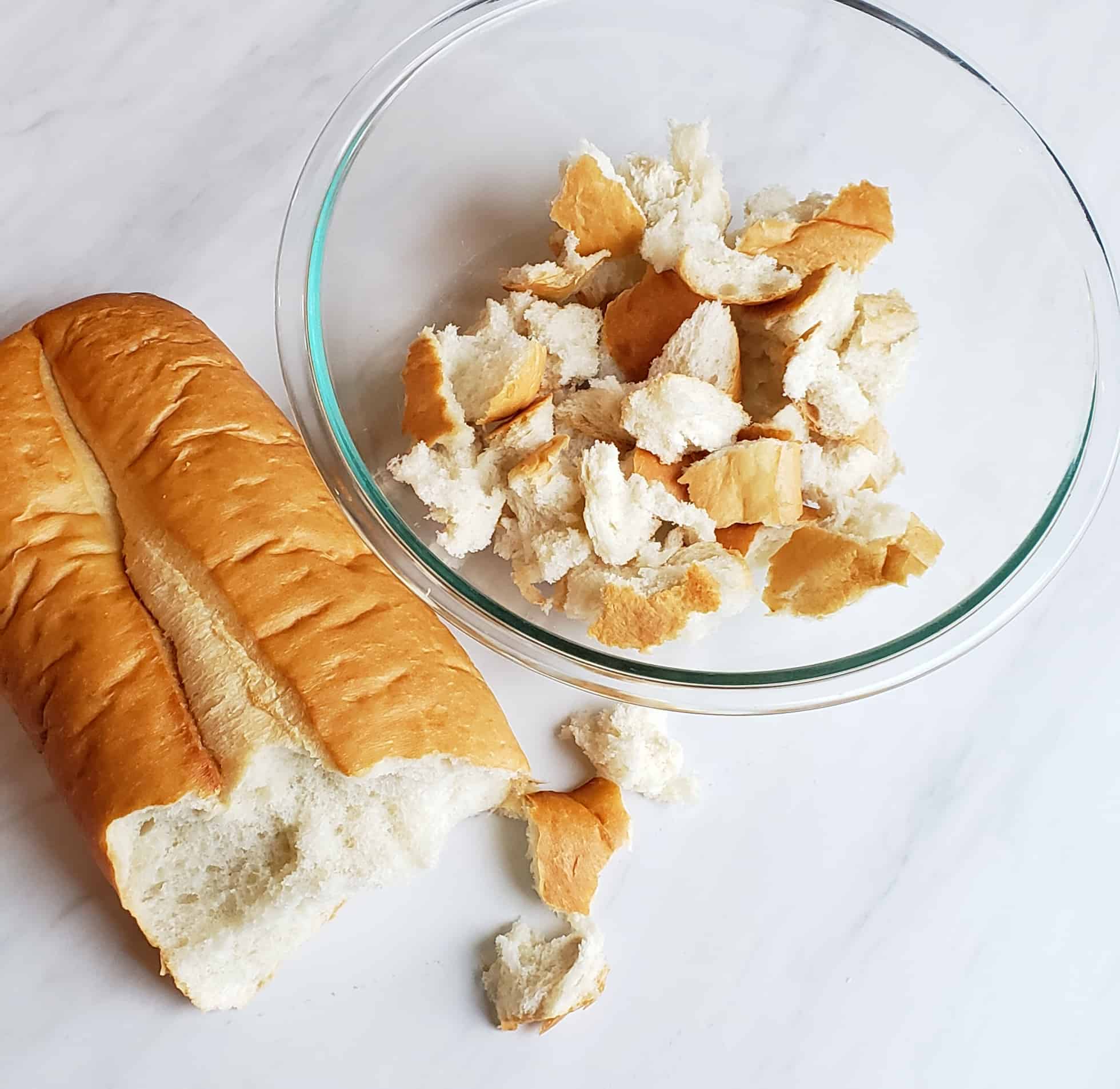 What's the secret to this bread pudding?
Melt butter and add honey to drizzle over the top of the custard-soaked French bread pieces! This gives it that heavenly honey flavor, perfectly browned edges with a glossy sweet sheen.
What can I use instead of raisins?
Dried cranberries are my favorite substitute for raisins. You can toss in some white chocolate chips and call it Cranberry and White Chocolate Bread Pudding.
Golden raisins, cherry-infused dried cranberries, chopped dried figs, and chopped apricots are also great substitutes for raisins.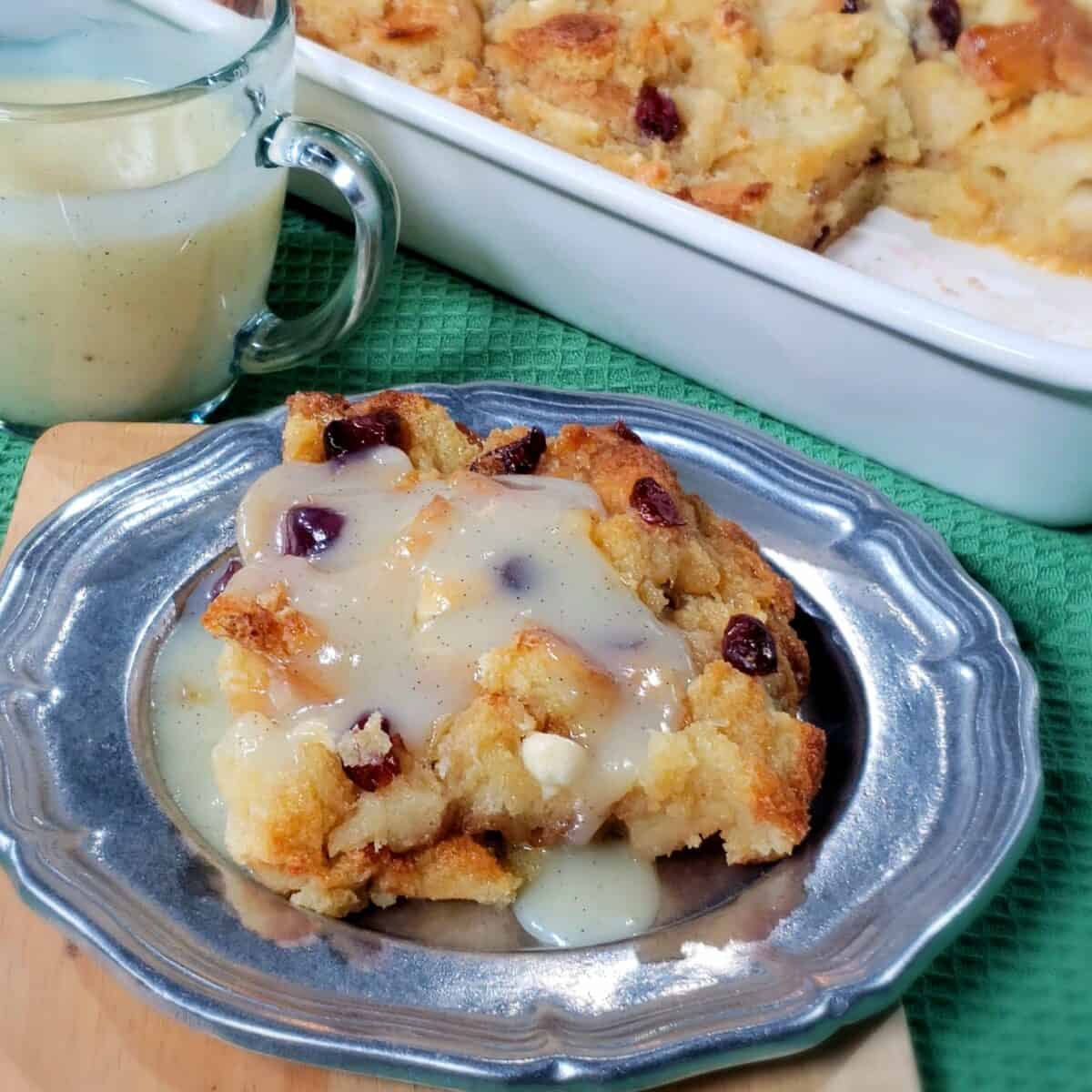 Easy Vanilla Sauce for bread pudding
This easy bread pudding sauce is made with vanilla extract or vanilla beans. For a hard sauce, stir in a little bourbon.
Melt 1/2 cup butter in a medium saucepan over medium heat. Add 1 cup sugar and 1 cup whole milk and stir until the sugar melts and the mixture starts to boil, stirring often.
Stir together 2 tablespoons cornstarch and 3 tablespoons water in a custard cup-size bowl; stir it into the boiling mixture and stir constantly for about 1 minute or until the sauce is slightly thickened.
Cut a vanilla bean in half crosswise, then cut a slit down the middle of it, to but not through the other side. Use a table knife to scrape out the seeds and stir them into the sauce. You may have to press them up against the side of the pan to get them to separate in the beginning.
You can also omit the vanilla bean and use 2 teaspoons vanilla extract.
For a traditional bread pudding Bourbon Sauce, omit the vanilla bean and stir in 3 tablespoons bourbon.
Other dessert recipes you may love
Coffee and Dark Chocolate Chip Cookies
Nectarine Cinnamon-Sugar Cobbler
Watch the WBRC video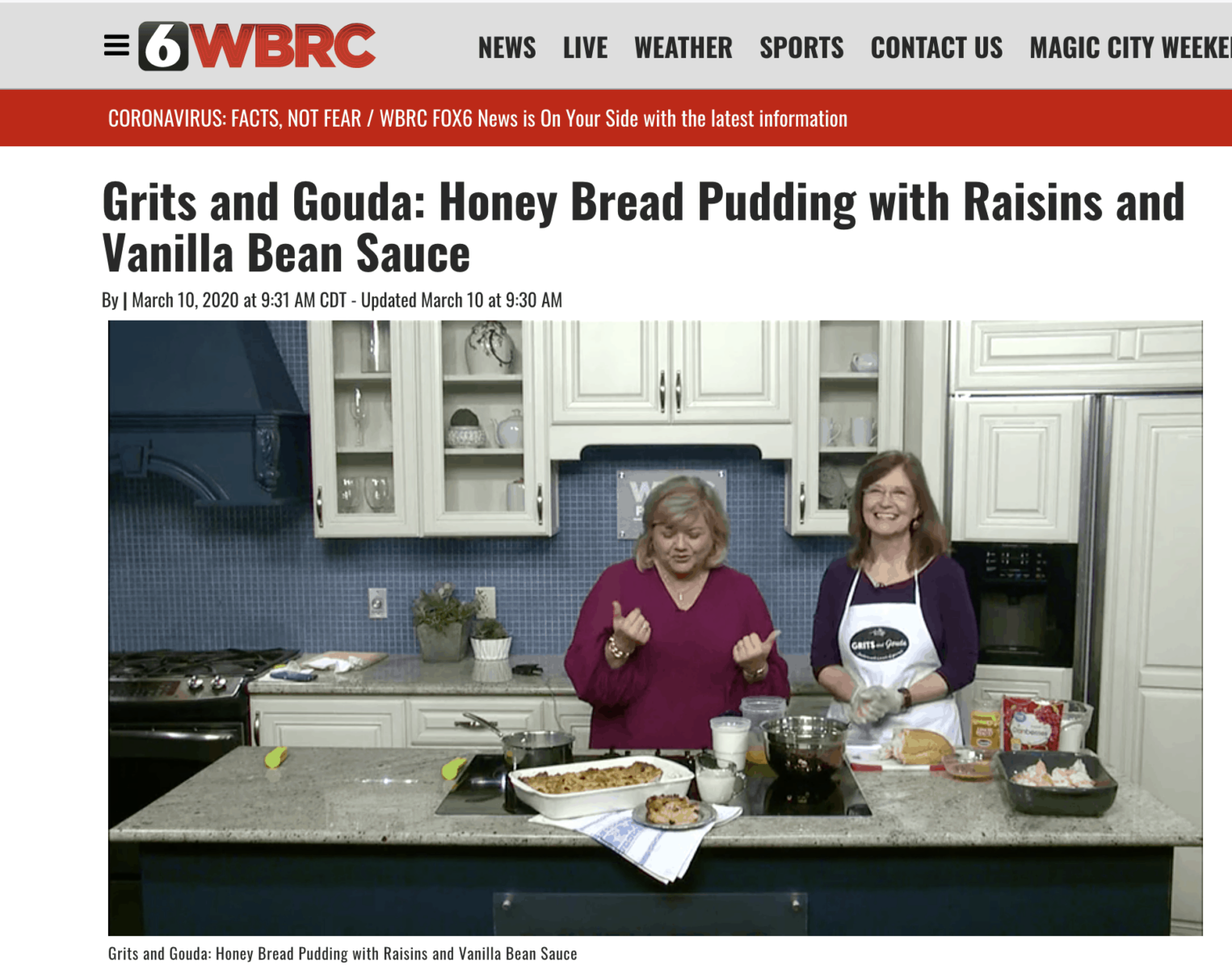 Watch the Talk of Alabama Video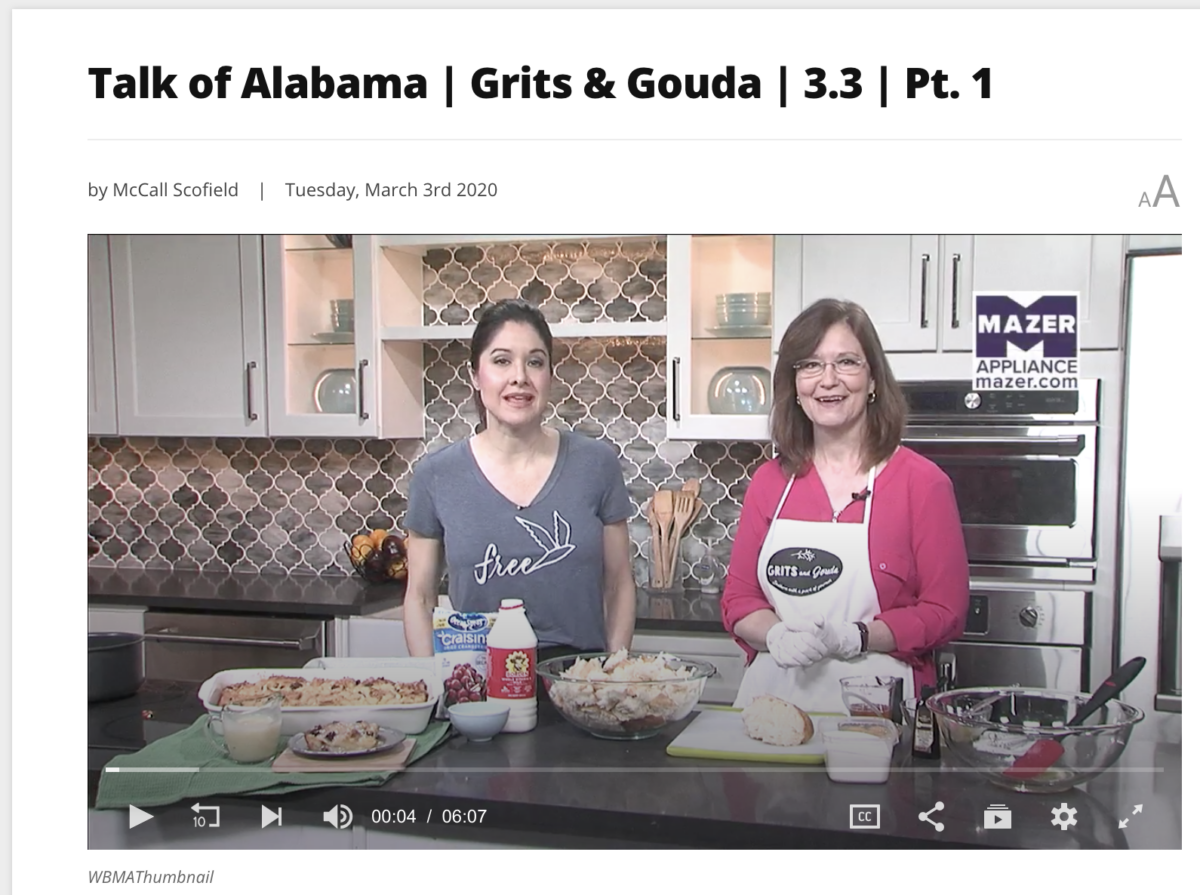 Follow me on Facebook, Instagram, Pinterest and YouTube. Be social and share, y'all! Don't forget to sign up with your email so you don't miss a single post on my Southern shortcut recipes!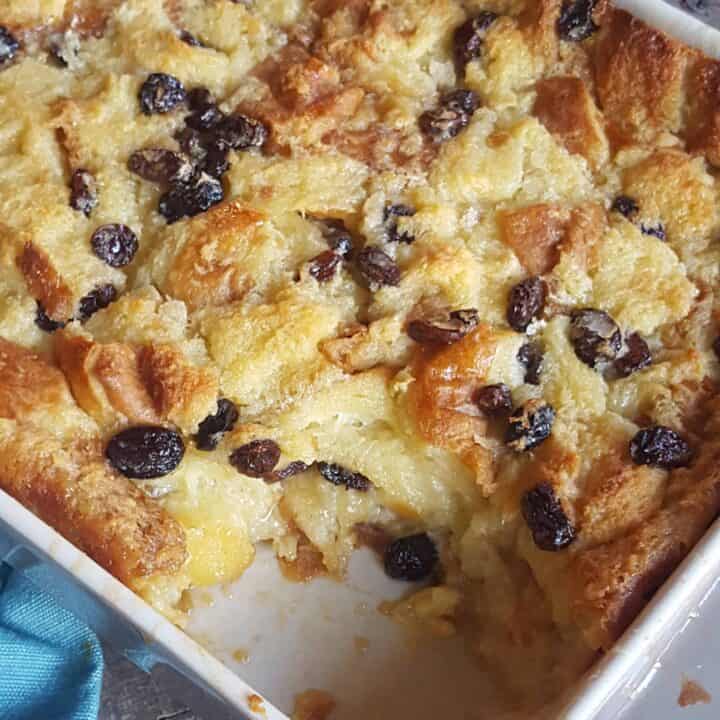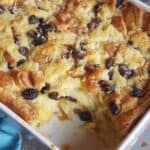 Print Recipe
Honey Bread Pudding with Raisins and Vanilla Sauce
The secret to the sticky sweet, distinct taste and perfectly browned edges in this easy bread pudding is honey and butter drizzled over the top of custard soaked French bread.
Ingredients
1

16-oz

loaf French bread, torn into 1-inch pieces

3 1/2

cups

whole milk

3

large

eggs

2

cups

sugar

3/4

cup

raisins

1/3

cup

melted butter

1

teaspoon

vanilla extract

1/3

cup

honey
Vanilla Sauce
1/2

cup

butter

1

cup

granulated sugar

1

cup

whole milk or half and half

1

2 teaspoons vanilla extract or 1 vanilla bean, split lengthwise

1

tablespoon

cornstarch

1

tablespoon

water
Instructions
Place pieces of bread in a large bowl and pour milk over bread. Give it a gentle stir and let stand 10 minutes.

Whisk eggs in a medium size bowl; add sugar, raisins, 3 tablespoons butter, and vanilla and stir well. Pour egg mixture over soaked bread as you stir gently. You want the pieces of bread to hold their shape.

Pour mixture into a buttered 13 x 9-inch baking dish or sprayed with cooking spray. Stir together honey and remaining melted butter; drizzle over bread pudding. Bake at 350° for 40 to 45 minutes or until edges are browned and mixture is bubbly. Serve warm or chilled with or without optional sauce.
Vanilla Sauce OPTIONAL
Melt butter in a medium saucepan over medium heat, stirring often. Add sugar and milk. Cook over medium heat until it comes to a boil, stirring often. Meanwhile, stir together cornstarch and water to make a slurry.

When mixture comes to a boil, stir in cornstarch slurry and vanilla. Cook over medium heat 1 minute, stirring constantly, or until slightly thickened.
Notes
Bread Pudding variations: Trade dried cranberries for raisins and add 1/2 cup white chocolate chips. Use chocolate milk for whole milk and add 1/2 cup chocolate chips.
Vanilla Sauce Variation:

Instead of vanilla extract, split one vanilla bean in half, to but not through the other side and scrape out the vanilla beans and add it along with the milk. Remove the vanilla bean before serving. I usually place the split vanilla bean on a small plate and hold one end with a fork and scrape the beans out with a knife and place them back in the sauce. You can also just scrape the beans out first and not add the pod. This way you can save the pod for other uses.
Nutrition
Did you make this recipe?
If you love it, share it! Tag me on Instagram @gritsandgouda using #gritsandgouda Comment below before you go!