Coffee and Dark Chocolate Chip Cookies
Chocolate chip cookies are a favorite with kids and the kids at heart. What makes these soft and chewy Coffee and Dark Chocolate Chip Cookies a grown up version? There's actually coffee IN the cookies, not just served with them! Dark chocolate chips may not be what kids prefer but it's at the top of my list of faves!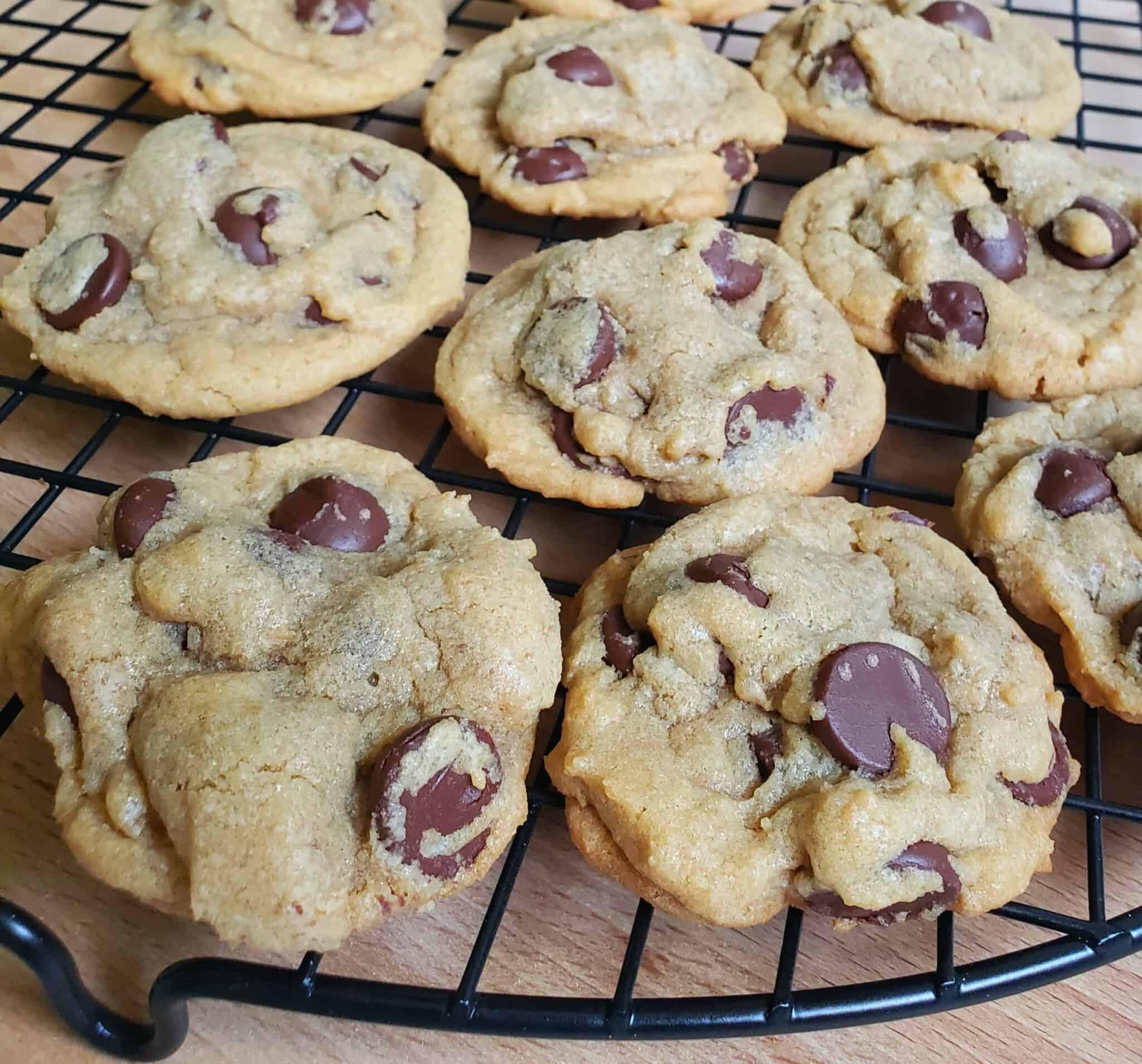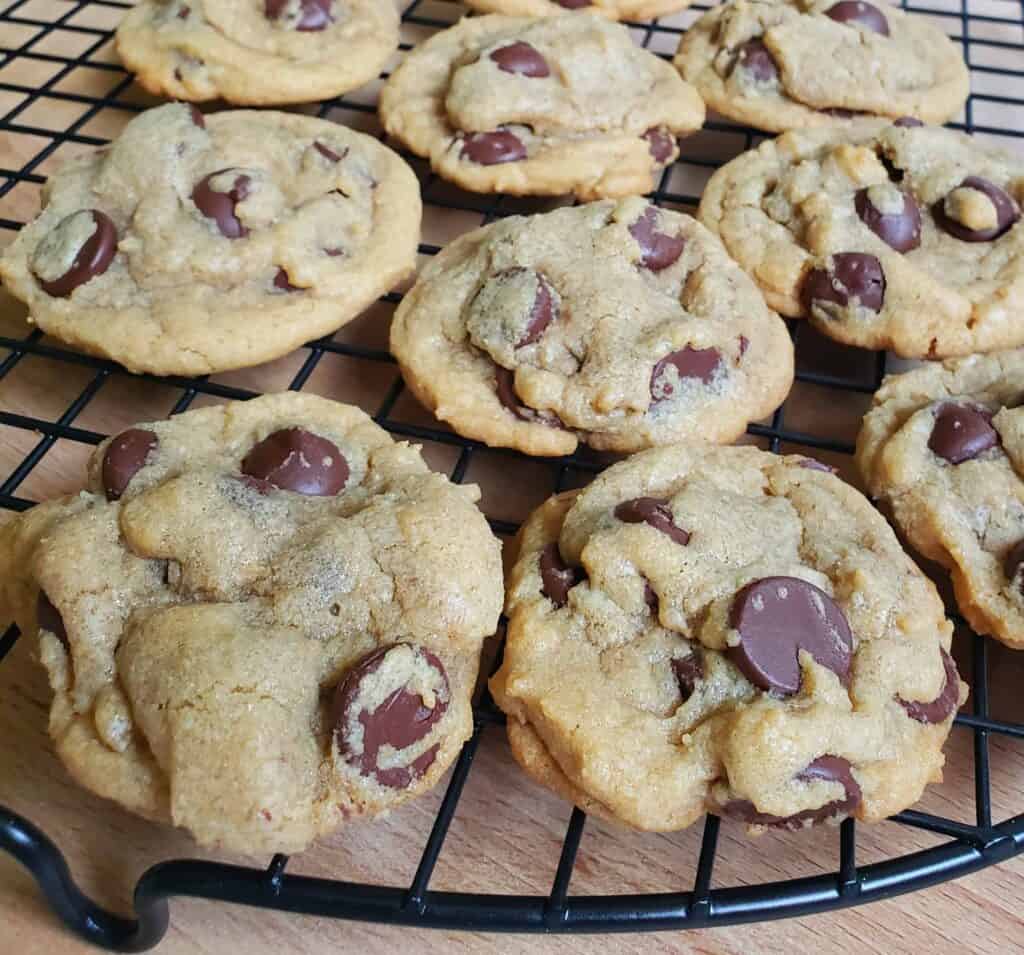 Cookies for breakfast are justified if they have coffee in them, right? Yasss! Best way to get my coffee fix ever!
Coffee and Dark Chocolate Chip Cookies are the grown up version of a chocolate chip cookie.
Coffee and chocolate are two of my favorite things! So, when I can have both of them at the same time...and in a cookie... it's happy dance time! The only thing that would make these soft and chewy cookies better is to drink them with a cup of coffee. I know milk and cookies is the thing, but with as much milk as I add to my coffee, it's very, very close to coffee-flavored milk.
I made these cookies with espresso powder but if you have trouble finding it or want to use what you have, just double the amount to 4 teaspoons and use instant coffee granules. They will still dissolve in 1 teaspoon of water. Espresso powder is much easier to find these days. I buy Cafe Bustelo brand at Publix in the individual packets and you can find them on Amazon here. Each packet has about 1 1/2 teaspoons in it. Walmart also has it in the jar here.
I don't drink espresso but I keep the powder on hand for baking. Did you know coffee enhances the flavor of anything chocolate? I added it to my Salted Dark Chocolate Magic Cake recipe in my cookbook Magic Cakes. Try adding just a teaspoon of instant coffee granules dissolved in 1/2 teaspoon warm water to the batter the next time you make a chocolate cake....even if it's from a box..and see if it doesn't make it taste better.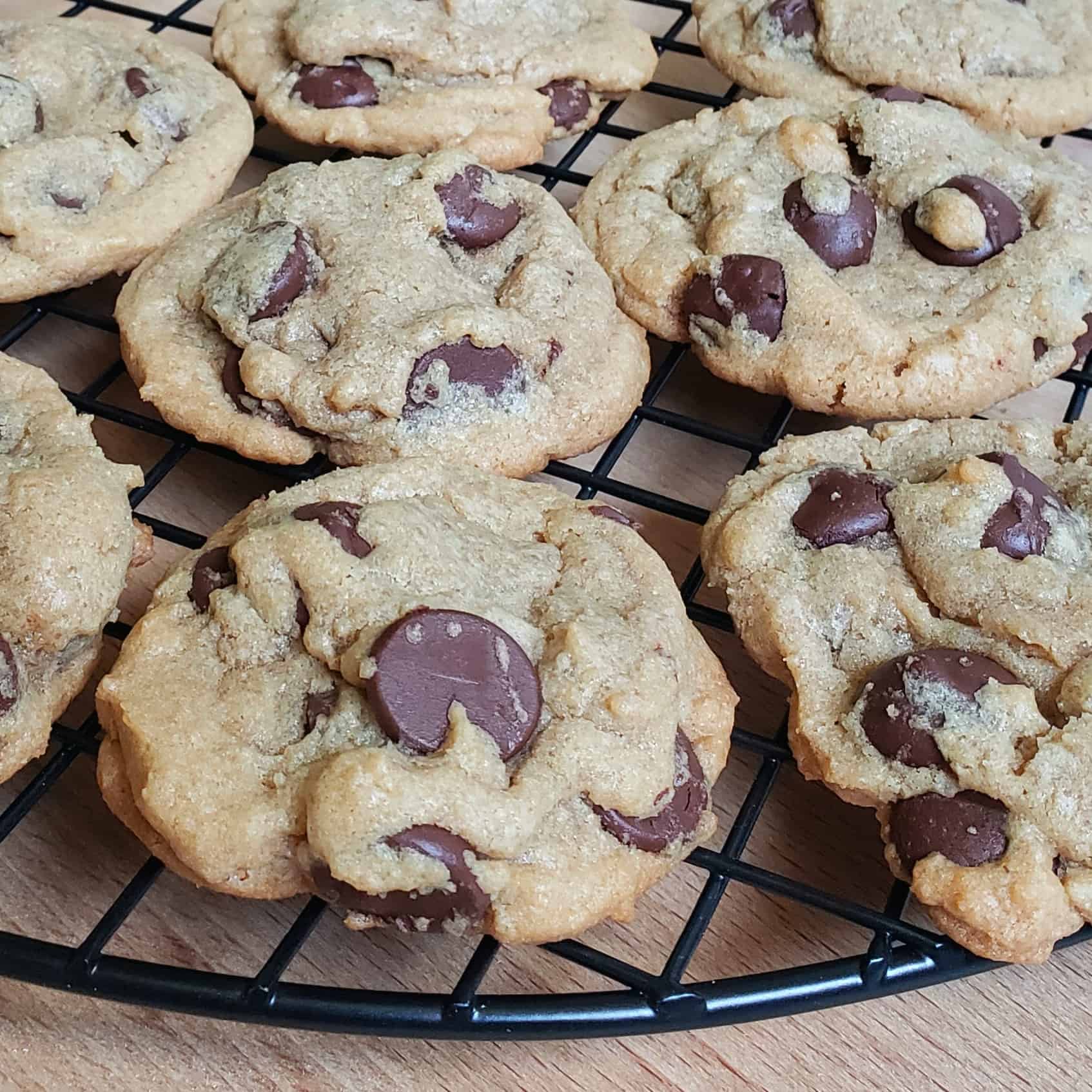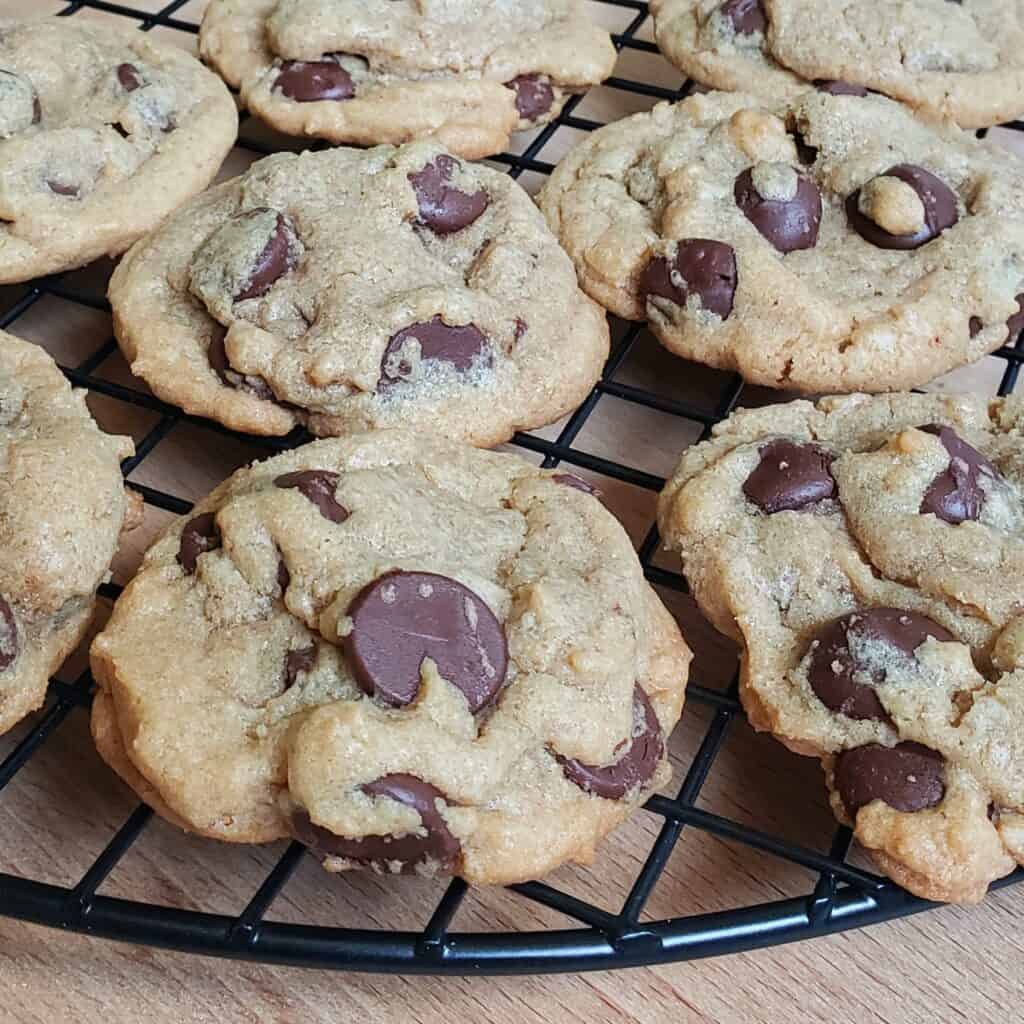 As you know, most of my recipes are Southern with shortcuts. The shortcut here is using melted butter. Many chocolate chip cookies beat the butter and sugar up to 5 minutes to incorporate air into the dough. With these soft and chewy cookies, I don't want them to "puff up". I want them to be dense and chewy...a totally different texture than other cookies. I love the way Serious Eats visually illustrates how air whipped into the butter and sugar mixture changes the color and texture of cookie dough. Go here to read about it.
If you prefer soft and chewy cookies like me, this is the recipe you need to save for future cookie baking, too. For kid-friendly, soft and chewy chocolate chip cookies, trade out vanilla extract for the dissolved espresso powder and substitute milk chocolate or semi-sweet chocolate chips for the dark chocolate chips.
What's the secret to the soft and chewiness in Coffee and Dark Chocolate Chip Cookies? Using melted butter is a huge factor but not over baking them is the easiest tip I can give you. If you can at all, test your oven's temperature for accuracy with an inexpensive oven thermometer. Then, check the cookies starting at 8 minutes depending on your actual oven temperature. Don't be tempted to bake the cookies until the center is firm. For soft and chewy cookies, the center will still be lighter than the outside edges and will be very soft in the center. Let them cool on the pans 2 minutes so they will be firm enough to transfer to the wire racks.
For a soft and chewy chocolate, chocolate chip cookie, try my Double Chocolate Pudding Cookies.
Be sure to follow me on Facebook, Instagram, Pinterest and Twitter and don't leave before you send me your email address here so you don't miss a single post on my Southern shortcut recipes!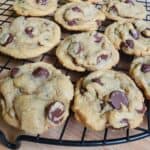 Print Recipe
Coffee and Dark Chocolate Chip Cookies
Cookies for breakfast are justified when they have coffee in them, right? These soft and chewy cookies are loaded with dark chocolate chips and the coffee flavor is infused in the cookies with espresso powder.
Ingredients
2

cups

all-purpose flour

1/2

teaspoon

baking soda

1/4

teaspoon

salt

2

teaspoons

instant espresso powder

I used Café Bustelo

3/4

cup

salted butter

cut into 3 pieces

1

cup

light brown sugar

1/2

cup

granulated sugar

1

large egg

1

large egg yolk

1

10-oz package dark chocolate chips
Instructions
1. Preheat oven to 350°.

2. Combine flour, baking soda, and salt in a bowl or on a large paper plate.

3. Dissolve espresso powder in 1 teaspoon warm water in a custard cup.

4. To melt butter in the microwave, place the butter in a microwave-safe bowl and microwave (1100 watts) on HIGH for 35 seconds. This will melt almost all the butter with the center not completely melted. Stir the butter until completely melted. This will prevent the butter from being too hot when the eggs are added. You can also melt the butter in a saucepan on medium-low heat just until melted.

5. Combine butter and sugars in a large mixing bowl. I use a stand mixer. Beat at medium speed of an electric mixer until blended. Add egg, egg yolk, and dissolved espresso powder and beat just until combined.

6. Add flour mixture to the mixing bowl; beat just until flour is incorporated. Add chocolate chips and beat just until incorporated or stir them in by hand.

7. Spoon cookie dough onto a lightly greased baking sheet or a baking sheet lined with parchment paper. I like to use a very small ice cream scoop so I get the same amount of dough every time and it makes perfectly round scoops. Bake 9 to 10 minutes at 350°. The center will still be slightly doughy but the cookies will firm up when cooled. If you over bake these cookies, they will lose their soft, and chewy texture.

Let cookies cool 2 minutes on the baking sheet then transfer to cooling racks to cool completely.