Persimmon Spice Sheet Cake with Maple Frosting says "Move over pumpkin!" Persimmon is the new pumpkin this fall! The pulp from a ripe persimmons can be used in breads, pies, and cakes interchangeably with pumpkin puree.
But not all persimmons are alike!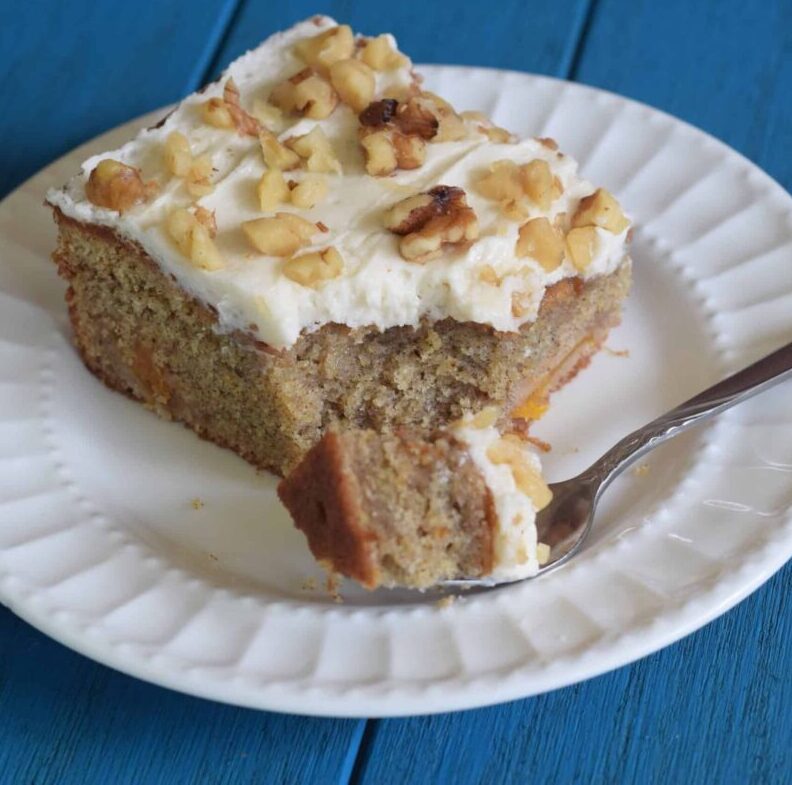 I love how you can see little bits of persimmon in this sheet cake. The walnuts are optional if they are not your thing. You can substitute vanilla extract for the maple syrup if you prefer. Simple goodness.
This is the perfect time of year to try persimmons and remember, persimmons are the new pumpkin so feel free to try them in all your pumpkin recipes and let me know how you like them.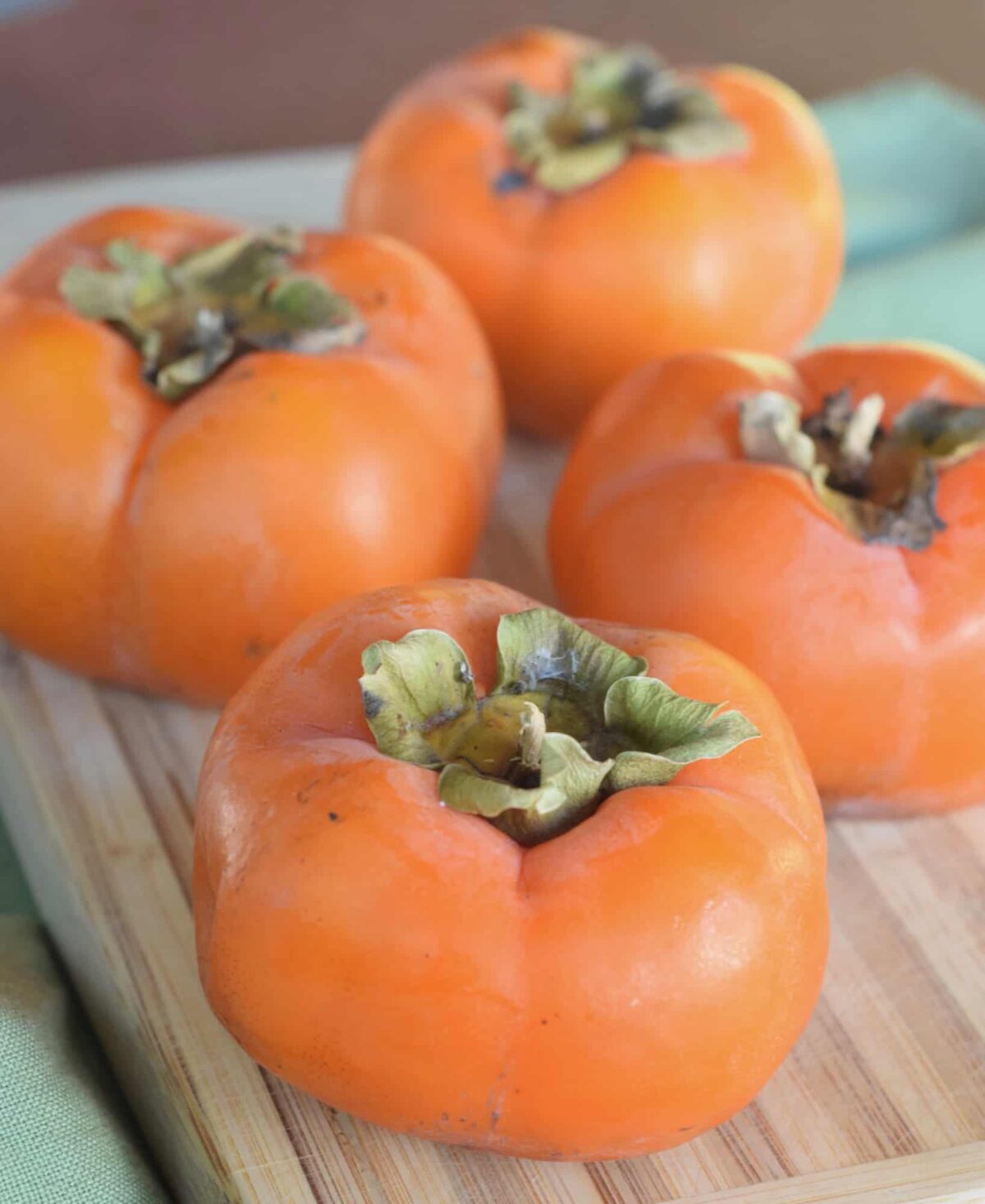 Scroll down to go straight to the recipe!
What's the difference in Fuyu and Hachiya persimmons?
Wild persimmons like the ones I grew up picking in the Arkansas woods and the larger Hachiya variety can only be eaten when very ripe and soft. Otherwise, you will pucker up more than you ever have sucking on a lemon wedges. It is astringent and bitter more than it is sour. The Hachiya persimmons are not short and squatty like the Fuyu. They are elongated and have a slight blunt-ended tip on them. Here's a quick pic of a Hachiya persimmon.
Fuyu persimmons (above) can actually be eaten like an apple when they are firm. They also become soft like an apricot. This is how I like them when using them in recipes like my Persimmon Spice Sheet Cake with Maple Frosting.
You can see little bits of the peel in the cake and I loved it! The texture reminded me of apricots.
I want to thank Rebecca Shew for sharing these persimmons she picked from her tree in her yard. They were huge! These persimmons were so ripe and yummy, it was hard to separate the pulp from the peel so I just threw that in, too, and blended it in.
If you know me, you know I like to barter so I traded a bag of chocolate chip shortbread bars for her bag of persimmons. She had her granddaughter with her the day we made the swap, so I think it was a win-win for both of us!
Pucker up: Funny persimmon story
I have to tell a funny story about persimmons and my friends, years ago, in the Southern Progress/Oxmoor House test kitchens. None of my test kitchen friends had ever tasted or even seen a persimmon about 20+ years ago. This was before the global market exploded in Birmingham.
I brought back a few of the smaller, wild ones I picked from a tree near my parents barn when I visited that weekend. They were beautiful, as orange as a pumpkin, only richer in color! Oh, and they were firm like an apple. (Insert wicked grin emoji here.)
I introduced my friends to the gorgeous fruit and went on and on about how yummy they were. I passed them out one by one and asked that they wait until everyone had one before they bit into it.......... If you've ever eaten an unripe persimmon, you know what happened next! Everyone spit and sputtered diving for the trash cans and I'm laughing so hard I was crying.
They thought it was funny years later when someone brought up the practical joke but at that moment.....not so much. I know Jan Smith and Elizabeth Tyler Austin were among my victims. Maybe Vanessa Pruett?
That's my funny story!
What's the shortcut?
Sheet cakes are simple to make with all the flavor and yumminess of a three layer cake and completed in much less time and with less effort.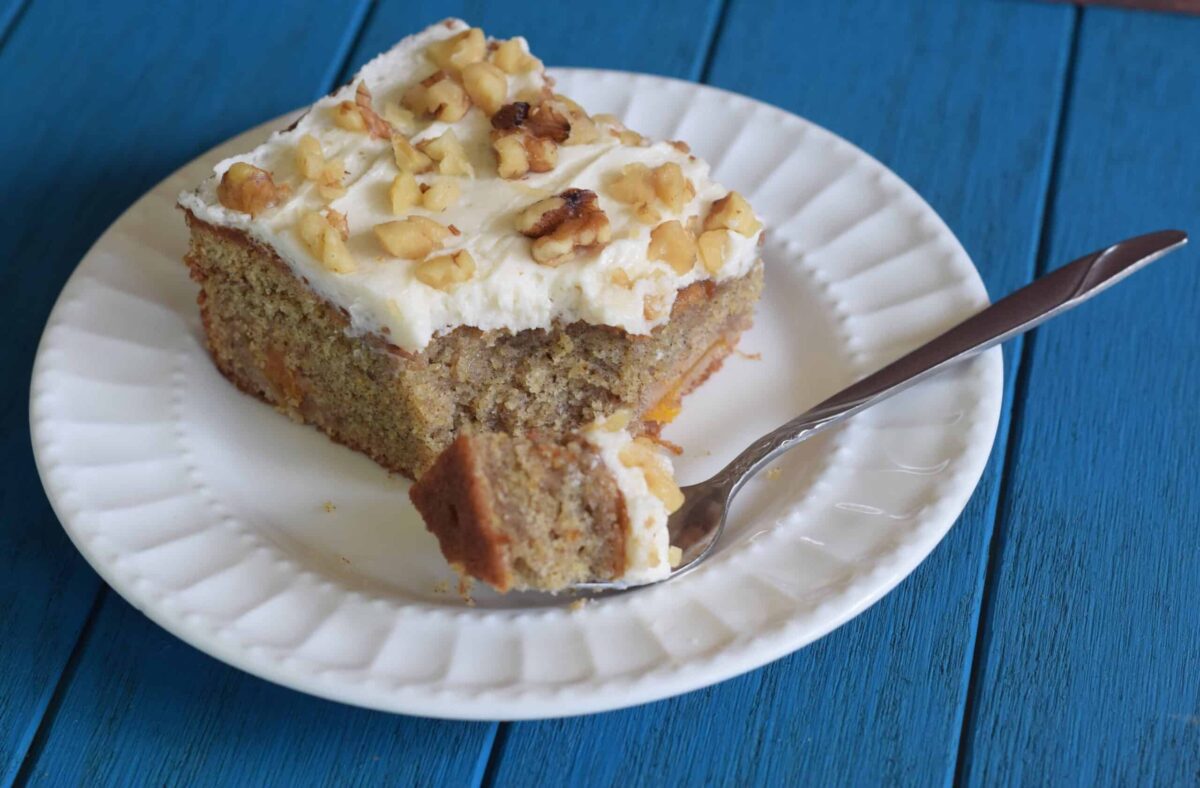 And if you're looking for a good Halloween party practical joke, try putting a few unripe Hachiya or wild persimmons in the fruit bowl and get ready to watch your guests pucker up!
Other fall recipes you will love
Fig Jam Cake with Maple Buttercream Frosting
Cinnamon Sugar Fried Apple Rings
Shortcut Caramel Apple Pie (Galette)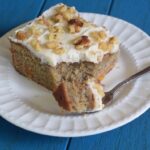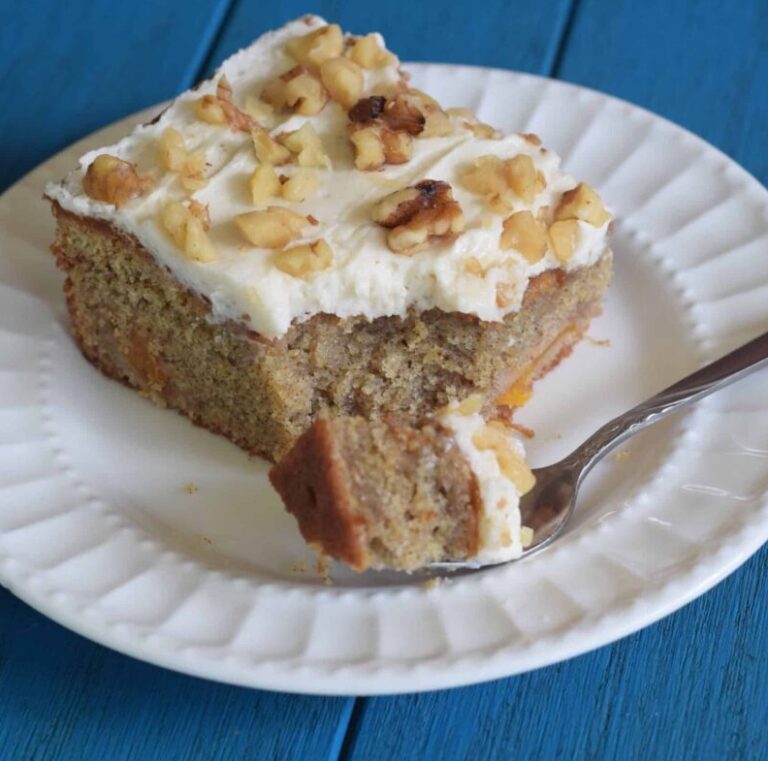 Print Recipe
Persimmon Spice Sheet Cake with Maple Frosting
Move over pumpkin! Persimmon is the new pumpkin! The pulp from ripe persimmons can be used in breads, pies, and cakes interchangeably with pumpkin puree. Make sure to use soft, RIPE persimmons. Fuyu persimmons can be eaten like an apple when firm, but Hachiya and wild persimmons need to be soft or they will make you pucker up!
Ingredients
1

cup

salted butter

softened

2

cups

granulated sugar

4

large eggs

1 1/2

cups

ripe persimmon pulp

about 4 large Hachiya or Fuyu (or pumpkin puree)

1

teaspoon

vanilla extract

3

cups

all-purpose flour

2

teaspoons

pumpkin pie spice

1

teaspoon

baking powder

1/2

teaspoon

baking soda

1/2

teaspoon

salt

1/2

cup

milk
Maple Frosting
1/2

cup

butter

1 stick

1

16-oz box powdered sugar (4 cups)

2

tablespoons

maple syrup or 1/2 teaspoon maple flavoring

2 to 3

tablespoons

milk

1/2

cup

chopped walnuts or pecans

toasted
Instructions
Preheat oven to 350°.

Beat butter and sugar in a large mixing bowl with an electric mixer on medium-high speed until light and fluffy (about 3 minutes). Add eggs on medium-low speed, one at a time, beating just until combined. Stir in persimmon pulp and vanilla.

Combine flour, pumpkin pie spice, baking powder, baking soda and salt in a bowl or large paper plate. Gradually add flour mixture to mixing bowl, alternately with milk, beating on low speed.

Spoon batter into a greased 13x9-inch baking pan. Bake for 35 minutes or until a toothpick inserted in center comes out clean. Let cool completely in pan on a wire rack. Let cool completely in pan on a wire rack.
Maple Frosting:
To soften butter: Microwave butter in wrapper on HIGH 10 seconds; flip it over and microwave 8 more seconds. This is the perfect softness for this recipe. Place butter in a large mixing bowl and add powdered sugar. Beat on low speed until the butter is in little pieces. Add maple syrup, beating well. Add milk, one tablespoon at a time until frosting spreads easily in the bowl when tested with a table knife.

Spread maple frosting over cake and sprinkle with walnuts, if desired.