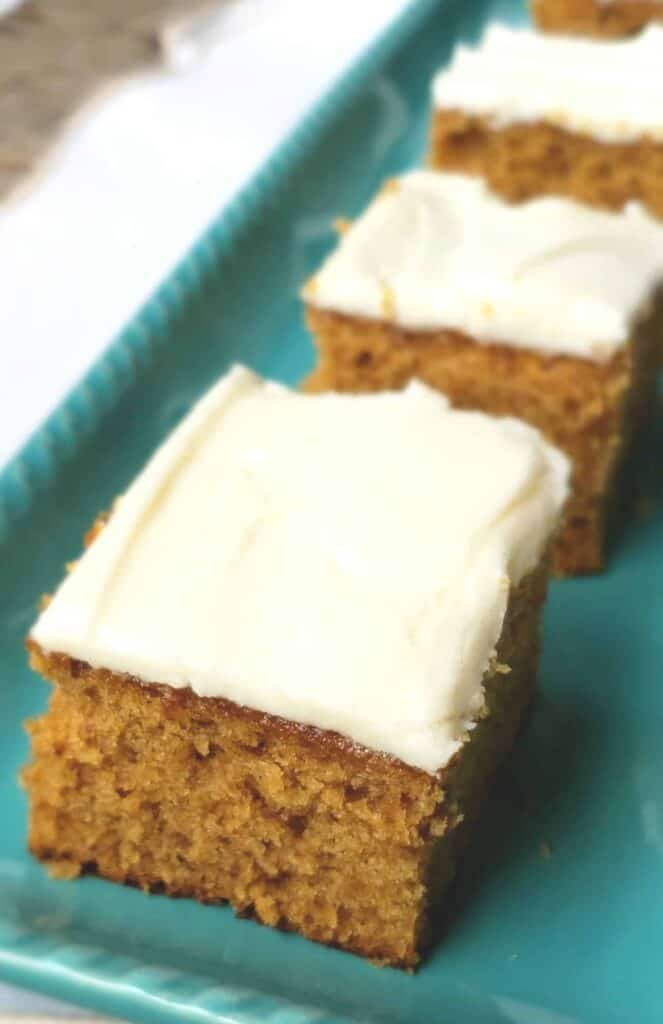 It's Fig season y'all so bring me some figgy puding! …or better, yet, Maple-Frosted Fig Jam Cake, Slow Cooker Fig Jam, or Fig and Lemon Preserves!
Frost the basic Fig Jam Cake with Maple Buttercream Frosting or dress it up with whipped cream, Fig and Lemon Preserves, and a fresh fig half. I also love it warm, almost right out of the oven, sprinkled with powdered sugar as a snack cake.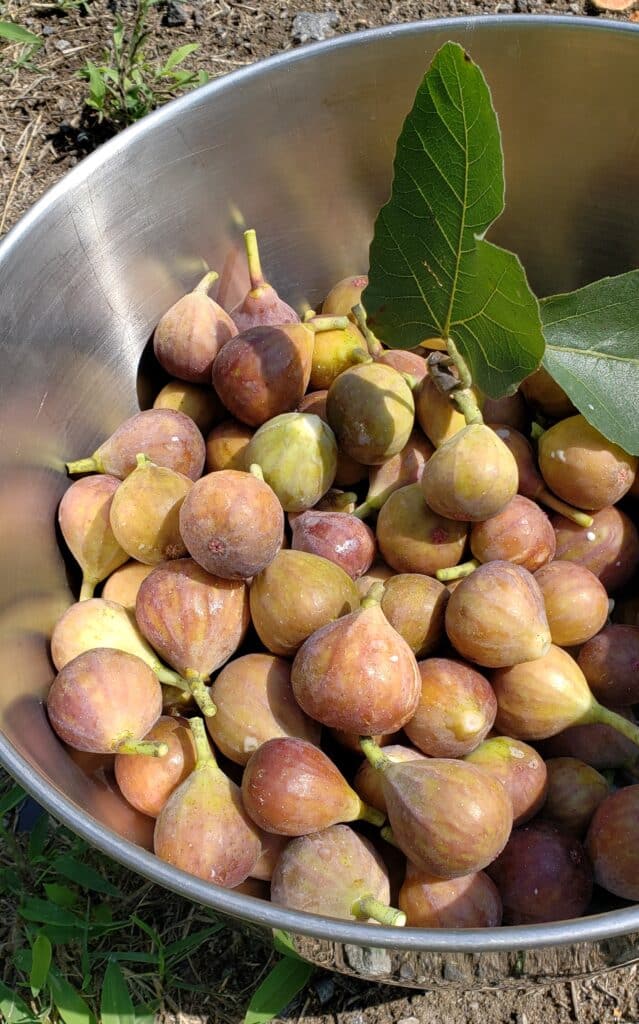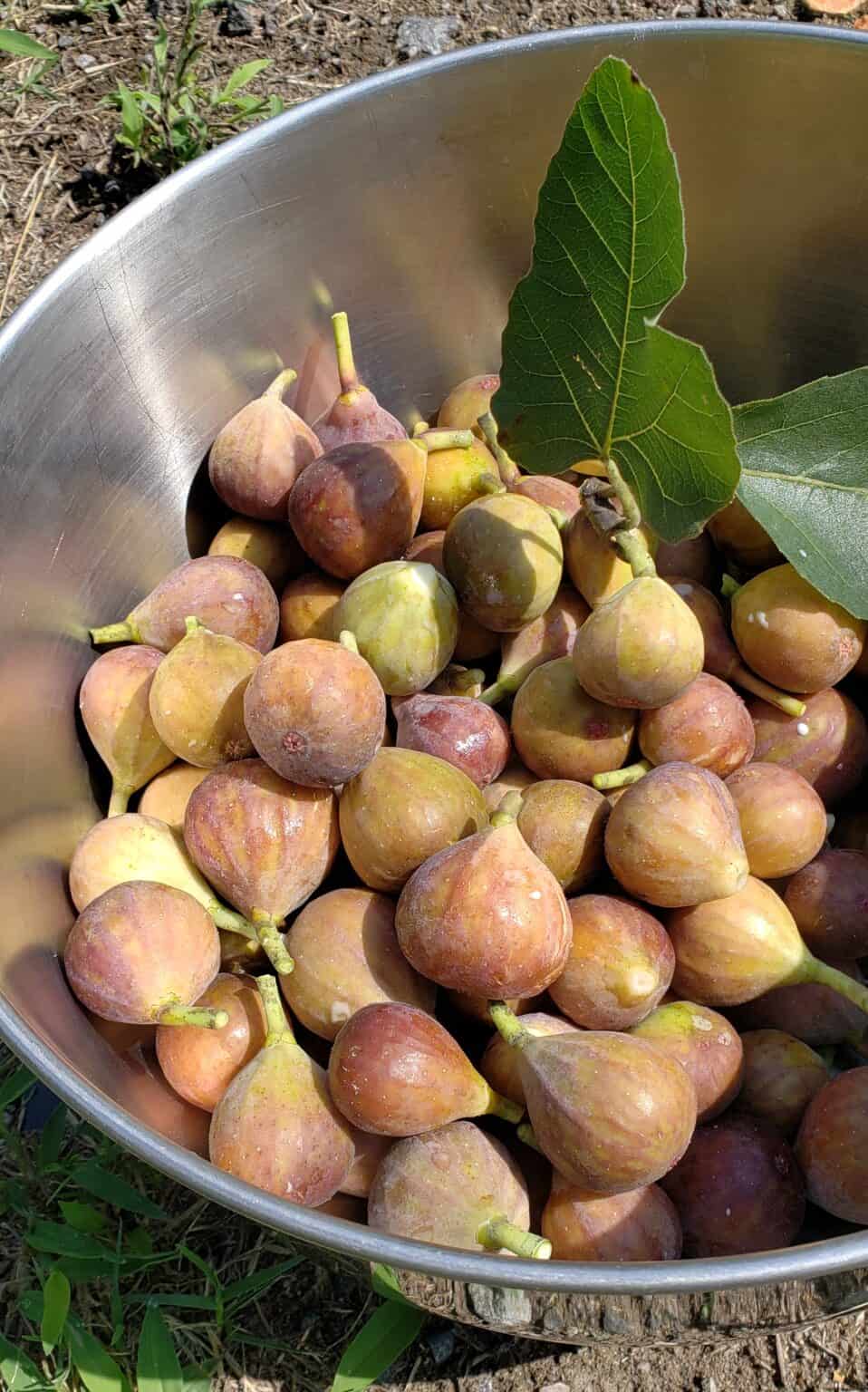 So, funny story. These figs are not from my tree. My mission fig tree is only one year old and boasts a grand total of two figs. If you know me, you know I never meet a stranger and am passionate about eating and cooking with seasonal fruits and veggies. Well, a few weeks ago, I was at a yard sale (another passion-bargain hunting) in a neighborhood not too far from my house and noticed the biggest fig tree I'd ever seen right across the road.
Yes, you guessed it. I sauntered (yes sauntered) across the road and walked up to their door and knocked politely. A nice young man came to the door and I explained that I was a food blogger and couldn't help but notice the huge fig tree and would it be ok if I came back in a few weeks when they were ripe to pick some if I promised to bring him Fig Jam Cake. He said, "Sure!". He added that it was his grandmothers house and tree and he knew she would be fine with it.
Now, if you are reading this and not from the South, you may be thinking I've lost my mind to knock on a strangers door. You have to understand, that in my small town, Gardendale, Alabama, it's not strange at all and remember, there were plenty of people milling around across the street at the yard sale. By the way, I also bought some gorgeous yellow teardrop tomatoes from a little girl sitting at a table at the yard sale selling the vegetables she grew in her garden. I cut them in half and marinated them in a bottled vinaigrette. But back to the figs!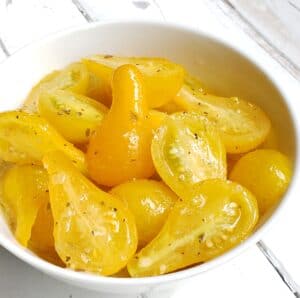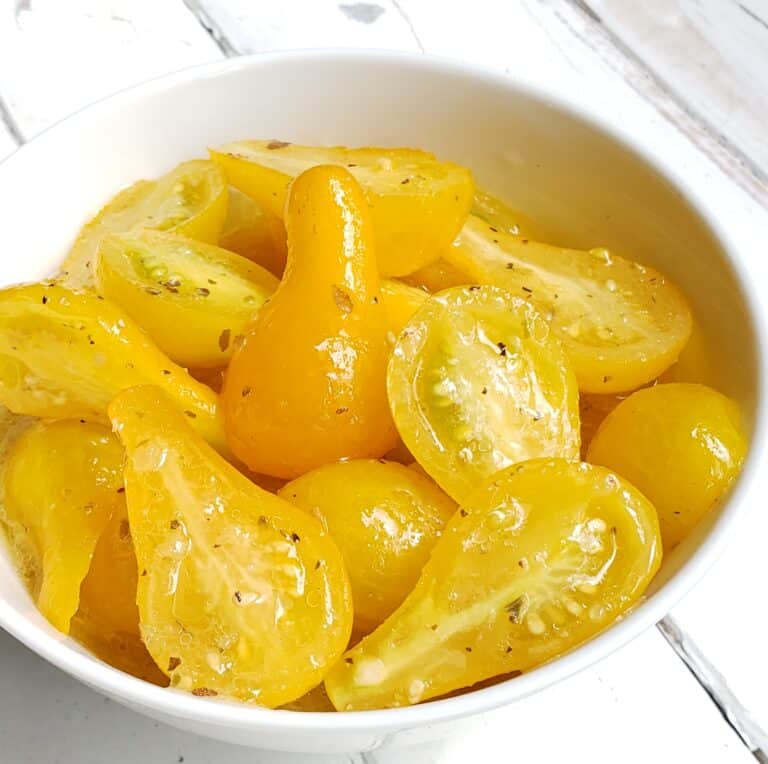 I came back to the house with the enormous fig tree three weeks later with my wooden kitchen stool in tow-I wasn't going to pass up the fruit at the top. You know what they say about low-hanging fruit? It may be easily acquired with little effort but the best fruit is at the top and worth a little effort. I gave the man a hearty wave and a big, "Thank you!" with promises to return soon with fig cake in hand.  I scurried (yes scurried) to my van (aka momma mobile) with my bountiful fig harvest.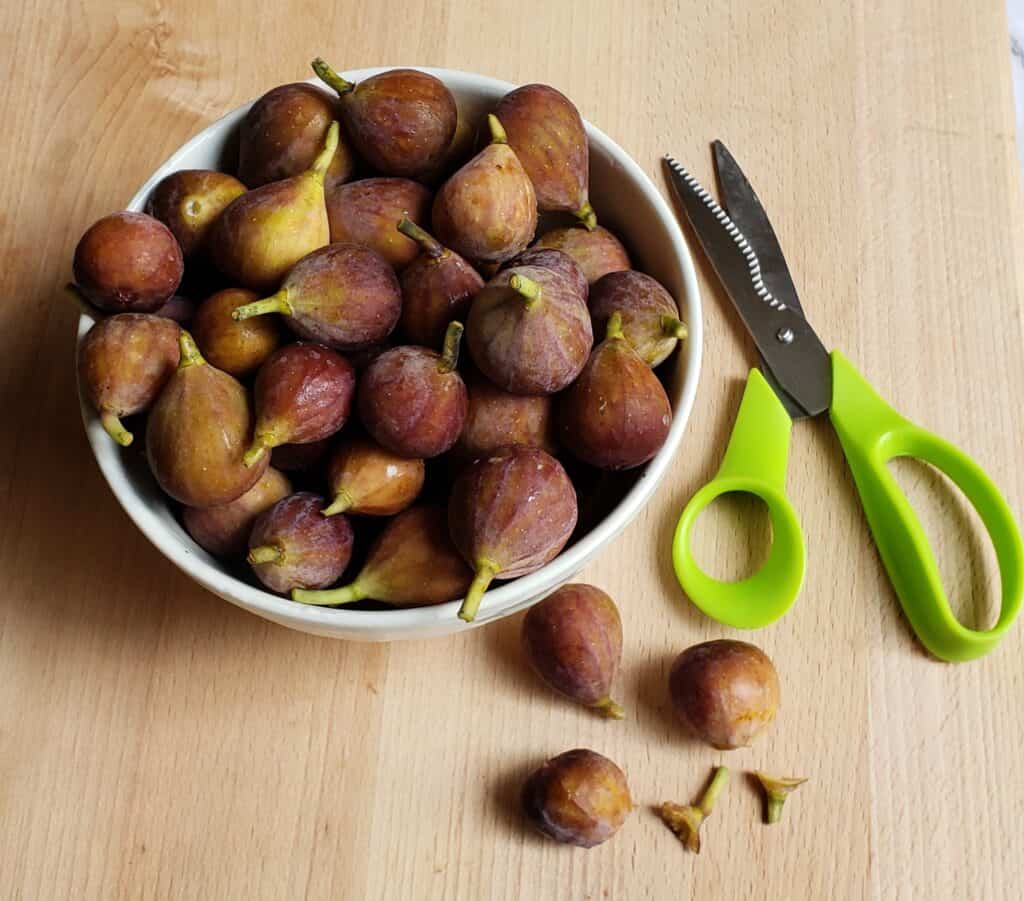 Before I can make the Fig Jam Cake, I have to make the Slow Cooker Fig Jam. Click here for the step by step recipe.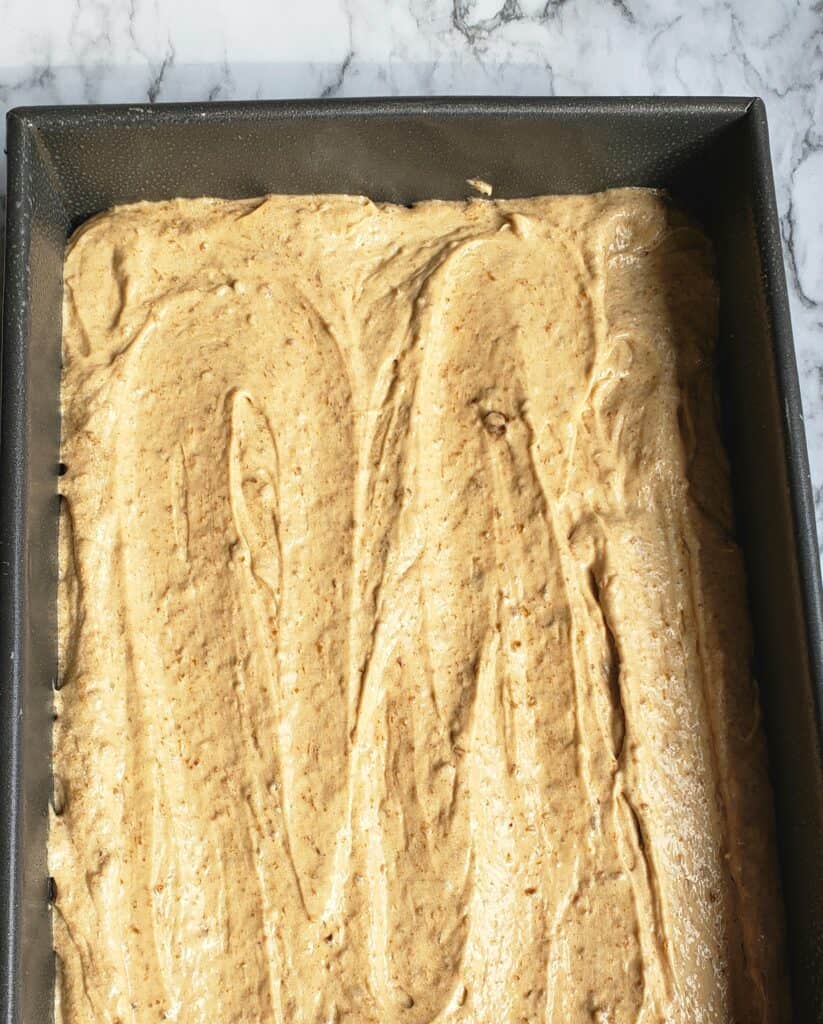 The color of the Fig Jam Cake batter reminds be of the amber waves of grain with little flecks of pureed figs from the jam. And yes, I licked the beaters!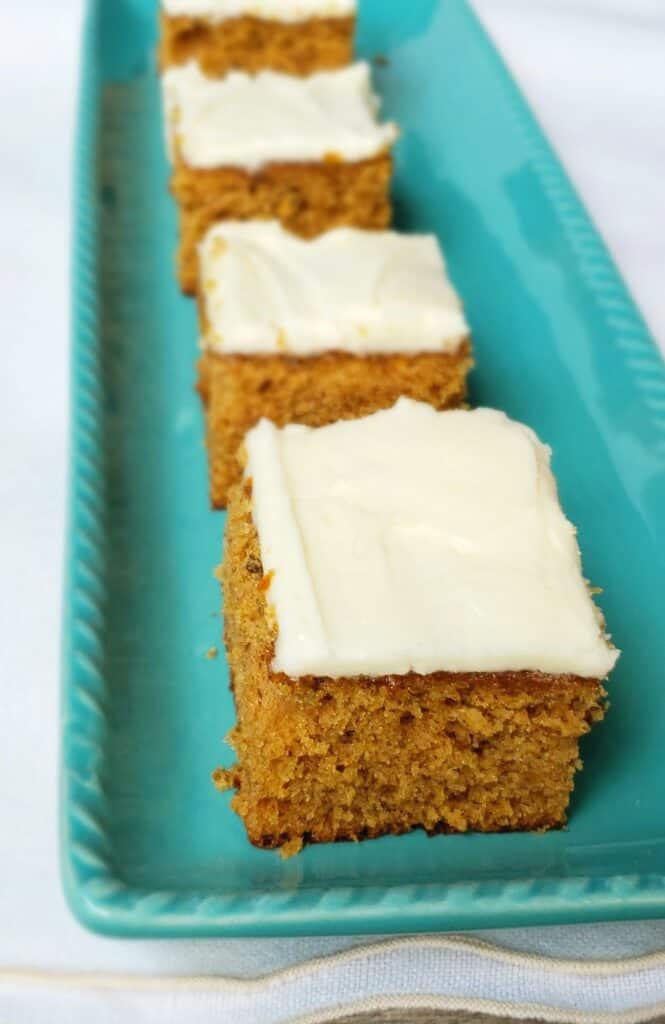 I cut these into small pieces as I mentioned so I could them at a church devo. I cut them into 30 pieces but you could easily cut them into 15 pieces for a full-sized serving of cake. Again, these are a fantastic fall treat as an after school snack or lunchbox cake without the frosting and simply sprinkled with powdered sugar.
I prefer pure maple syrup in the frosting but I am not above using good ol' pancake sryup if I don't happen to have any on hand. What I can't substitute is margarine for real butter. There is no substitution! Buy it in bulk at Sam's Wholesale, on sale at the grocery store or make your own with my Homemade Butter in a Jar recipe.
Story Time
Now, I know you are wondering if I made it back to the house with the "big fig" tree with a sampling of Maple Frosted Fig Jam Cake. Yep! I held back several pieces of cake before serving it at the devo Friday night and arrived at the house Saturday afternoon with cake in tow.
This time the gentleman was in his car about to go somewhere and told me his Grandma was in the house and to go on up on the porch and knock. I was so excited to get to thank the owner of the fig tree for sharing with me…and I adore Southern Grandmas. She answered the door with a wide grin like she was expecting an old friend to stop by. We chatted for a few minutes, then I presented her with the Tupperware container (actually it was a no-name brand from the Dollar Tree but here in the South we call all plastic containers Tupperware like we call all soda Coke) full of frosted fig cake.
I left the fig house feeling happy in my heart because she invited me to come back anytime and pick from her tree. She was sharing what she had with a "stranger" but here in the South, I don't consider her a stranger, I'll just call her a "distant neighbor".
I want to encourage everyone to get to know your "neighbors" and share what you have with them. Sometimes sharing a smile is enough. Won't you be my neighbor?
Try all my fig recipes! Slow Cooker Fig Jam, Fig Jam Cake, Fig and Lemon Preserves and below is the recipe for Maple Buttercream-Frosted Fig Jam Cake.