Easy Easter Candy Bark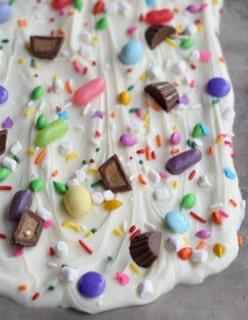 School Easter parties. Church Easter parties. Neighborhood Easter egg hunts. And that all happens BEFORE Easter Sunday! Besides eating it by the handfuls, what can you do with all that candy?
Easter Candy Bark is easy and you don't have to run to the store to buy anything if you have a package of white chocolate chips or candy melts in the pantry.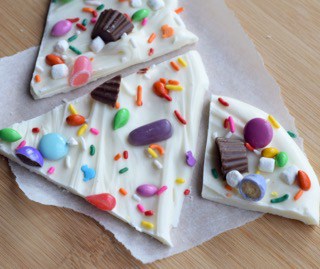 This is a fun snack to take to the Easter Sunday family gathering or Easter Egg hunt. It's also a good way to use up all that candy your kids have been bringing home for a week from school and church!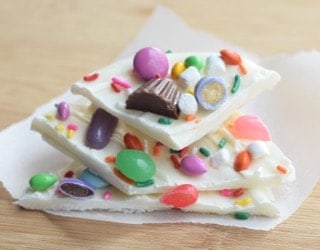 If you have to start from scratch, the dollar stores have tons of candy to choose from so you don't have to buy large bags. One of my favorites is the miniature Reese Cups. On this batch of candy bark, I also used Mike 'n Ikes, candy-coated chocolate candies from a plastic tube with a bunny on top, jelly beans, candy-coated sunflower seeds, tiny marshmallows (held over from my hot chocolate stash), sprinkles and the miniature Reese Cups.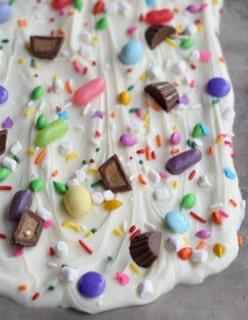 I'm thinking about making an adult version of this candy bark using melted semi-sweet chocolate chips topped with the Dove peanut butter-filled chocolates, chopped dark chocolate covered almonds, chocolate covered coffee beans, and Russel Stover coconut mini's. Hmmm.... that is, if I have any of these candies left! Kids aren't the only ones that love Easter candy.... we just kick it up a notch.
I'd love to see what candy combos you come up with using your Easter candy.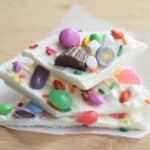 Print Recipe
Easter Candy Bark
Perfect for your Easter egg hunt or Easter party. Just raid the kid's Easter basket and sprinkle with sprinkles!
Ingredients
1

12 oz

package white chocolate chips

1

cup

mixture of small candies

Mini Reese cups, jelly beans, Mike n Ikes, M & M's, sprinkles, tiny marshmallows
Instructions
1. Melt white chocolate chips in a microwave safe bowl in microwave (1100 watts) at HIGH for 30 seconds. Stir well. Microwave an additional 30 seconds, then stir until smooth.

2. Spread melted chocolate on a large piece of parchment paper on a baking sheet. You can spread it directly on the baking sheet but sometimes it is hard to remove.

3. Immediately sprinkle candies on the chocolate and gently press down with your fingers. It's that simple. Let it stand 10 minutes or until firm. Break into pieces.
Notes
If you don't have small pieces of candy or miniatures, just roughly chop larger candies like full size Reese Cups and chocolate bunnies.