Make Blueberry Peach Cobbler with Oatmeal Cookie Streusel when you can't decide between the two cobblers! The simple oatmeal streusel topping tastes just like an oatmeal cookie! Perfect for summer gatherings like Memorial Day and 4th of July but can be made in the winter with frozen fruit.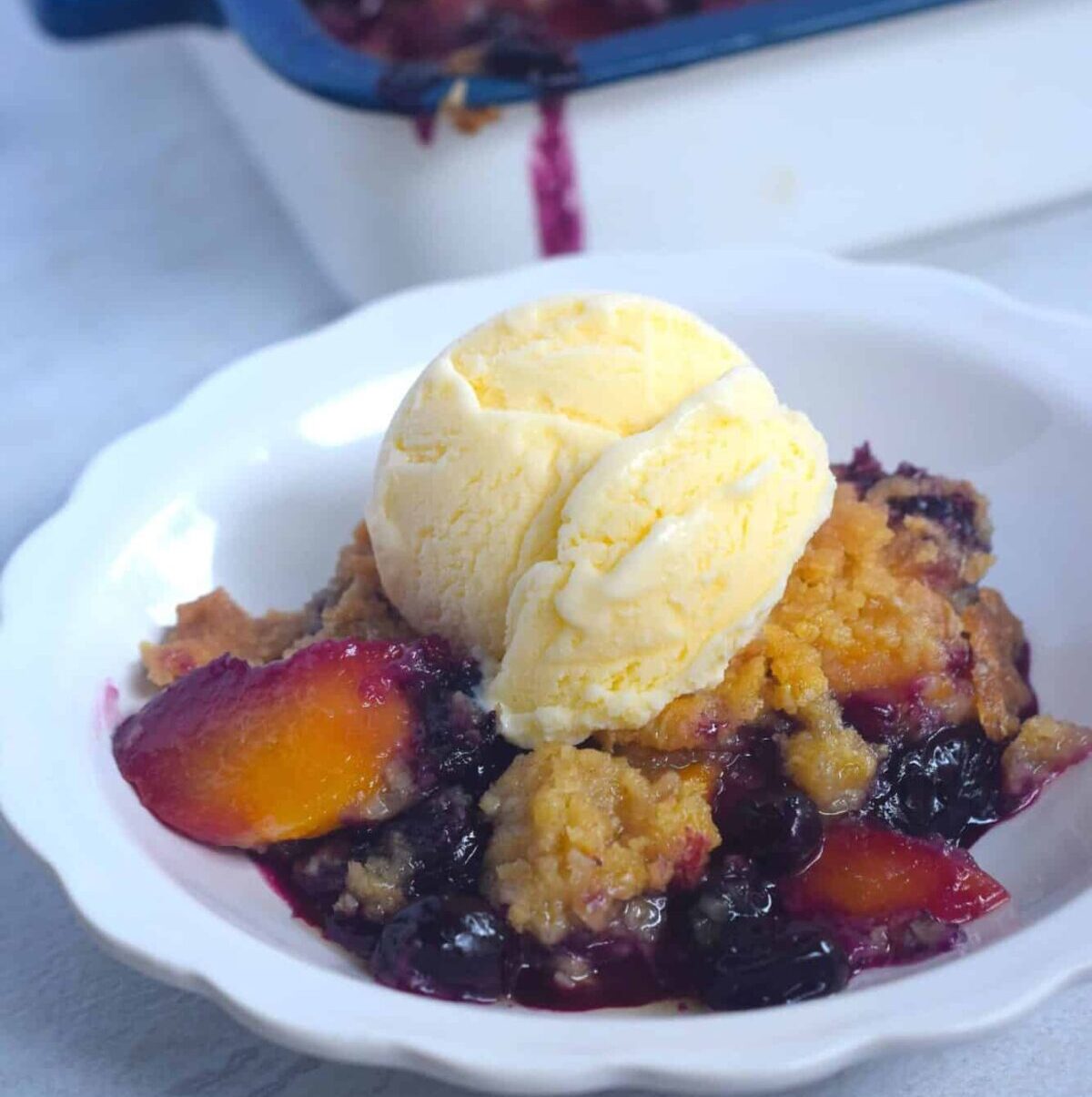 This fruit cobbler recipe is super easy and addicting. Cobblers are one of those desserts that you can whip up on the spur of the moment.
Blueberries are on sale at every grocery store or maybe you are lucky enough to have a U-Pick farm in your neck of the woods. I'm partial to Clanton, Alabama peaches. They really know how to grow them sweet and juicy down here in the South.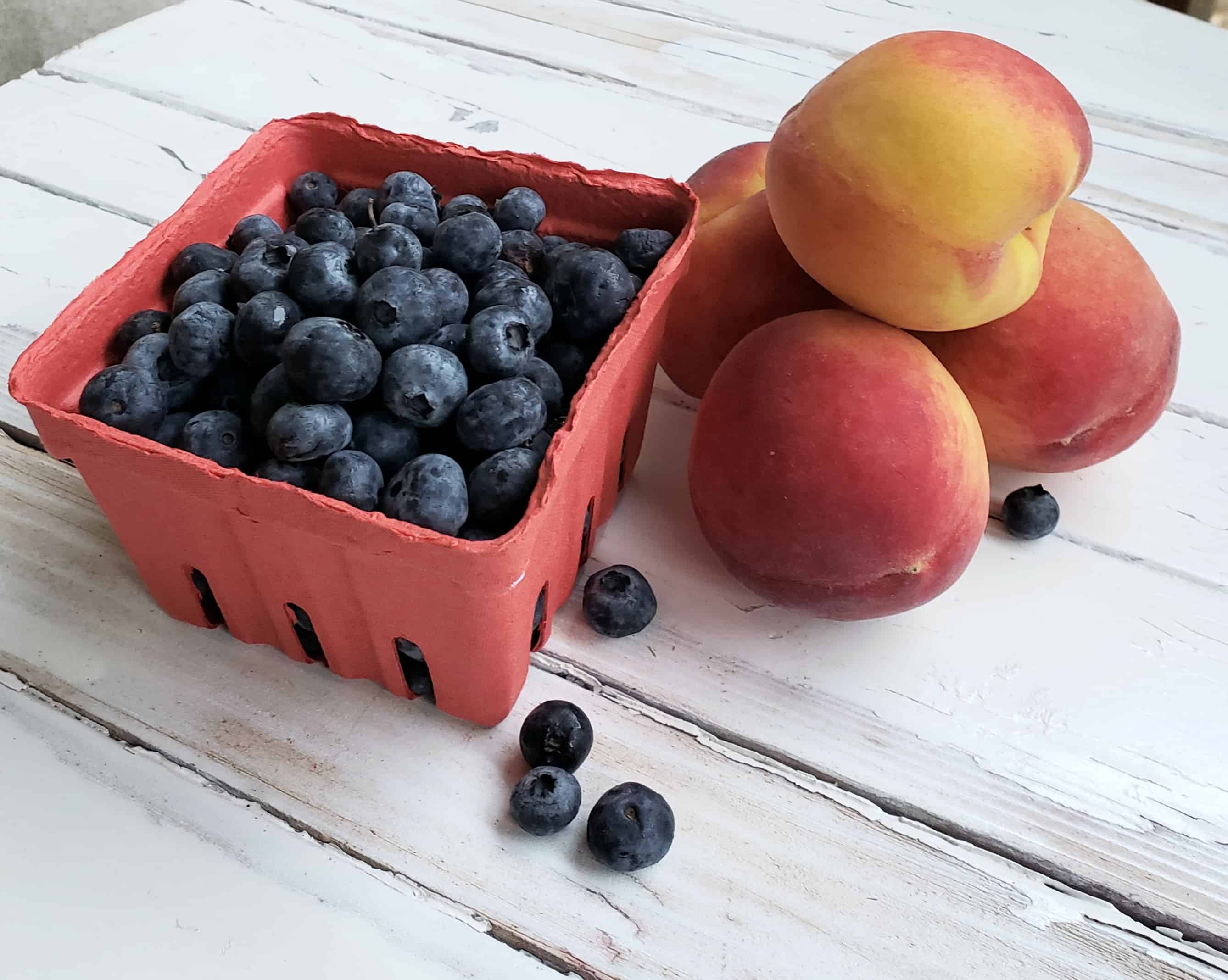 This is one of my favorite cobblers because of the oatmeal cookie-like topping. It's crunchy on the top with oats stirred in and soft and brown sugary in the center.
Does the topping have oatmeal cookies in it?
No, it is made with rolled (old fashioned oats) and brown sugar which makes the streusel topping taste like an oatmeal cookie.
Can I use quick oats instead of old-fashioned rolled oats?
Yes. I like the rolled oats best because they hold their shape during baking but quick oats will absolutely work.
A la mode, anyone?
And a serving of cobbler is not complete until you top it off with a scoop of homemade vanilla ice cream. Since I'm all about shortcuts in the kitchen, if I don't have time to make my own ice cream, I use a high quality store bought vanilla ice cream because I always have a stash in the freezer.
Can I use frozen peaches?
Yes. If you are making this in the winter with frozen fruit, you might want to add a tablespoon more sugar but when they are at their peak in the summer they are super sweet on their own.
Nectarines can easily be substituted for peaches in this cobbler and no need to peel them. I also have a Nectarine Cinnamon-Sugar Cobbler recipe and peaches can easily be substituted.
What's the shortcut?
Blanching peaches to quickly peel them is the shortcut! If you are peeling a large amount of peaches, it can take a long time. Plus, it is easy to accidentally peel away part of this juicy fruit with a paring knife.
How to peel peaches quickly & easily: blanching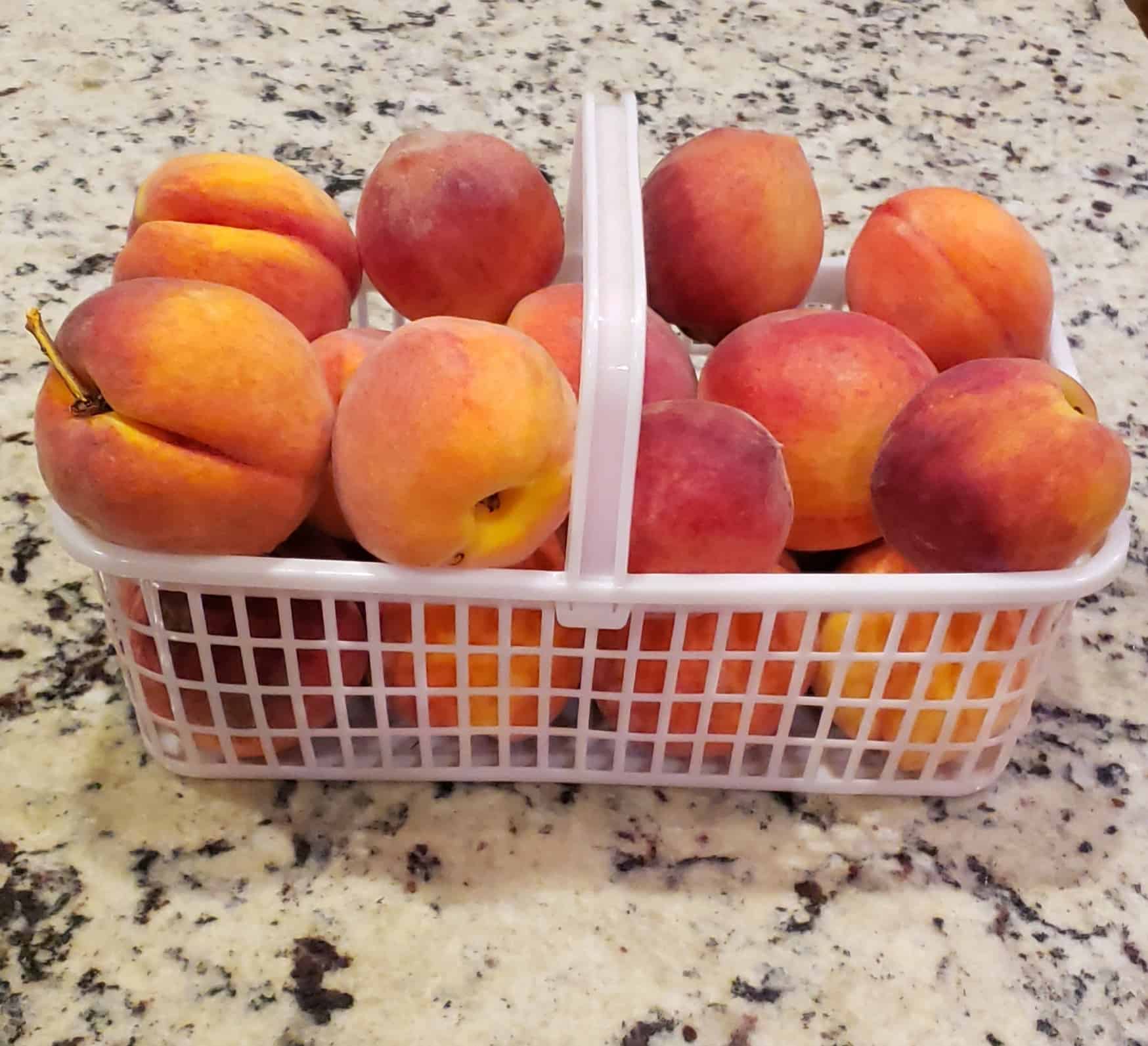 Don't let a little peach fuzz stop you from making the peach recipes you love. If you have more than one peach to peel, try blanching them. You won't lose any of that delicious, juicy peach like you will with a paring knife-unless you have fantastic knife skills-or a grandma.
Lower 4 or 5 peaches at a time down into a pot of boiling water for 30 seconds.
Gently lift them out with a slotted spoon and place them in a bowl of ice water.
Wait 5 minutes. With a small knife, start at the top and the peel should easily pull right off. This method works best with ripe peaches.
The peaches below are white peaches. So juicy and flavorful, all you want to lose is the skin when peeling them.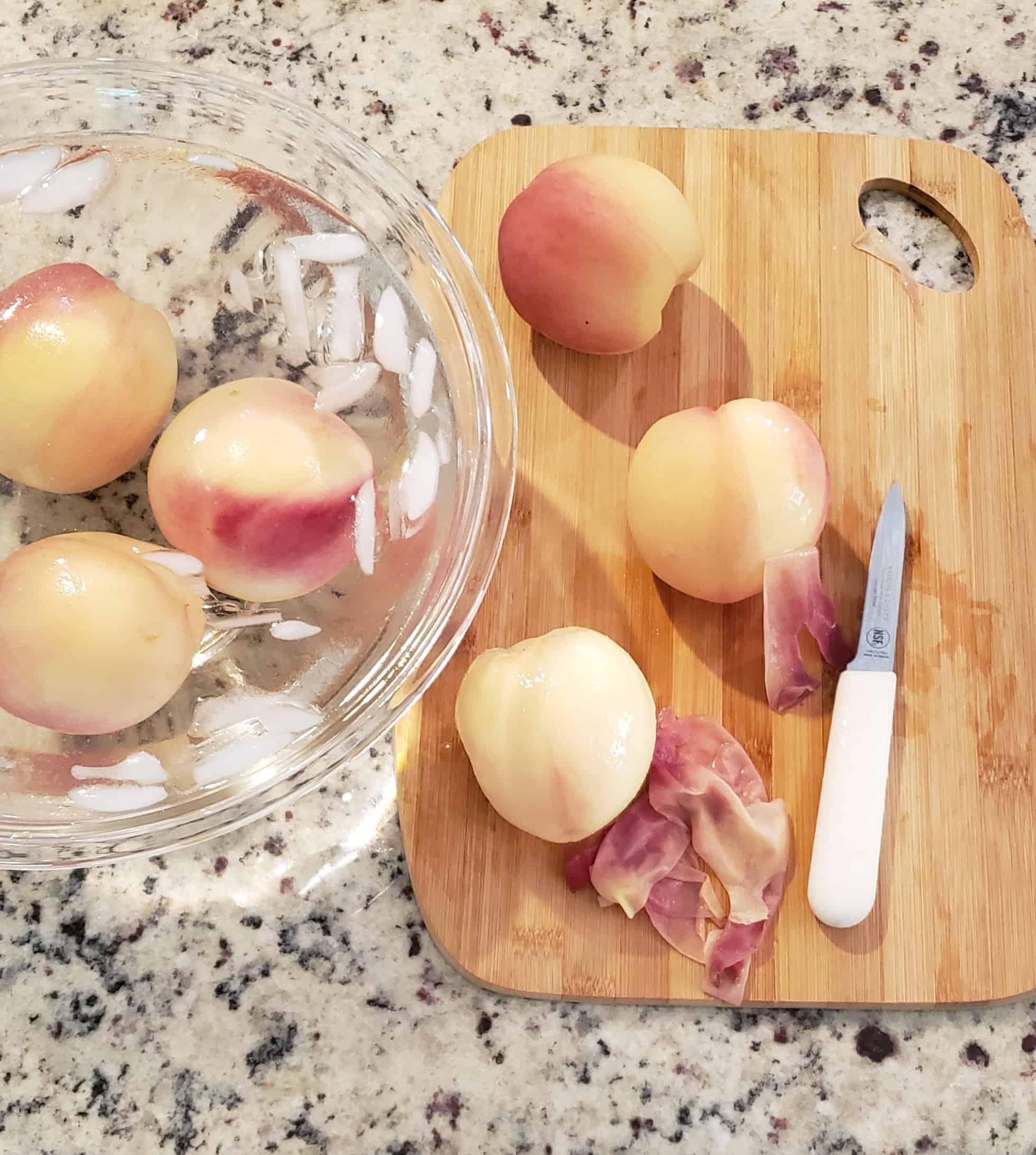 Stop by your local farmer's market this weekend and pick up a basket of fresh peaches! Try my Freezer Peach Marmalade. Be sure to make plenty for the Winter months, too.
I can't resist topping it off with a scoop of vanilla ice cream just to gild the lily, so to speak.
Click to Pin to your Pinterest boards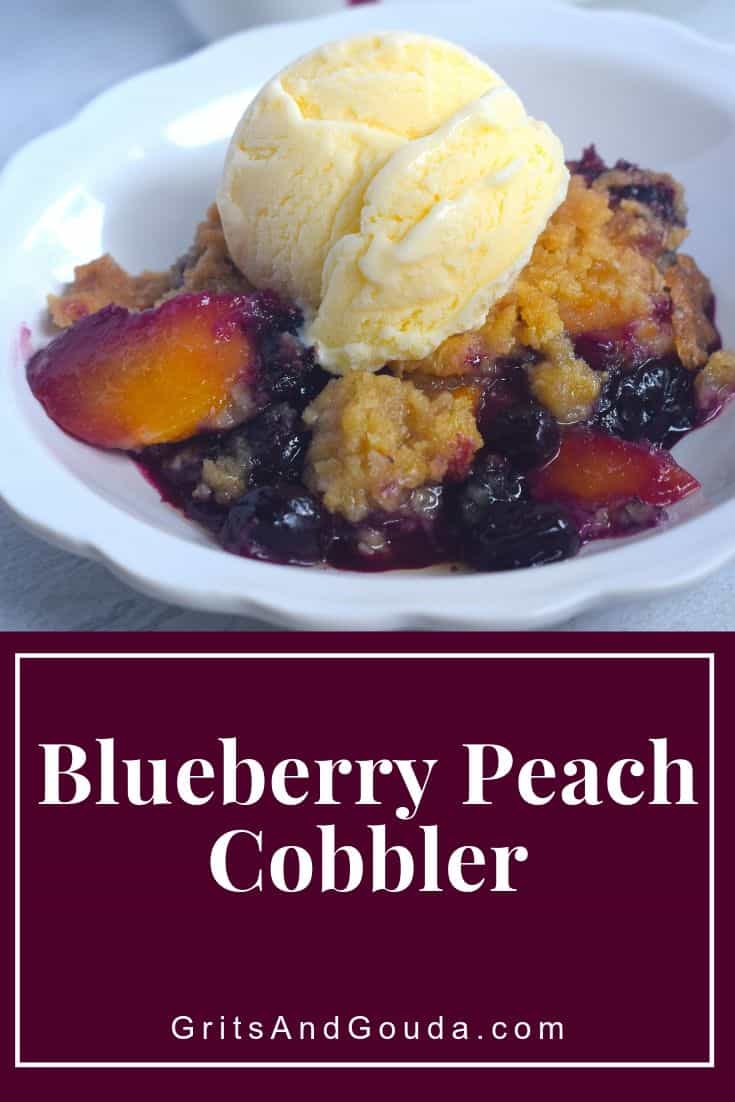 Video from ABC 33/40's Talk of Alabama making Blueberry Peach Cobbler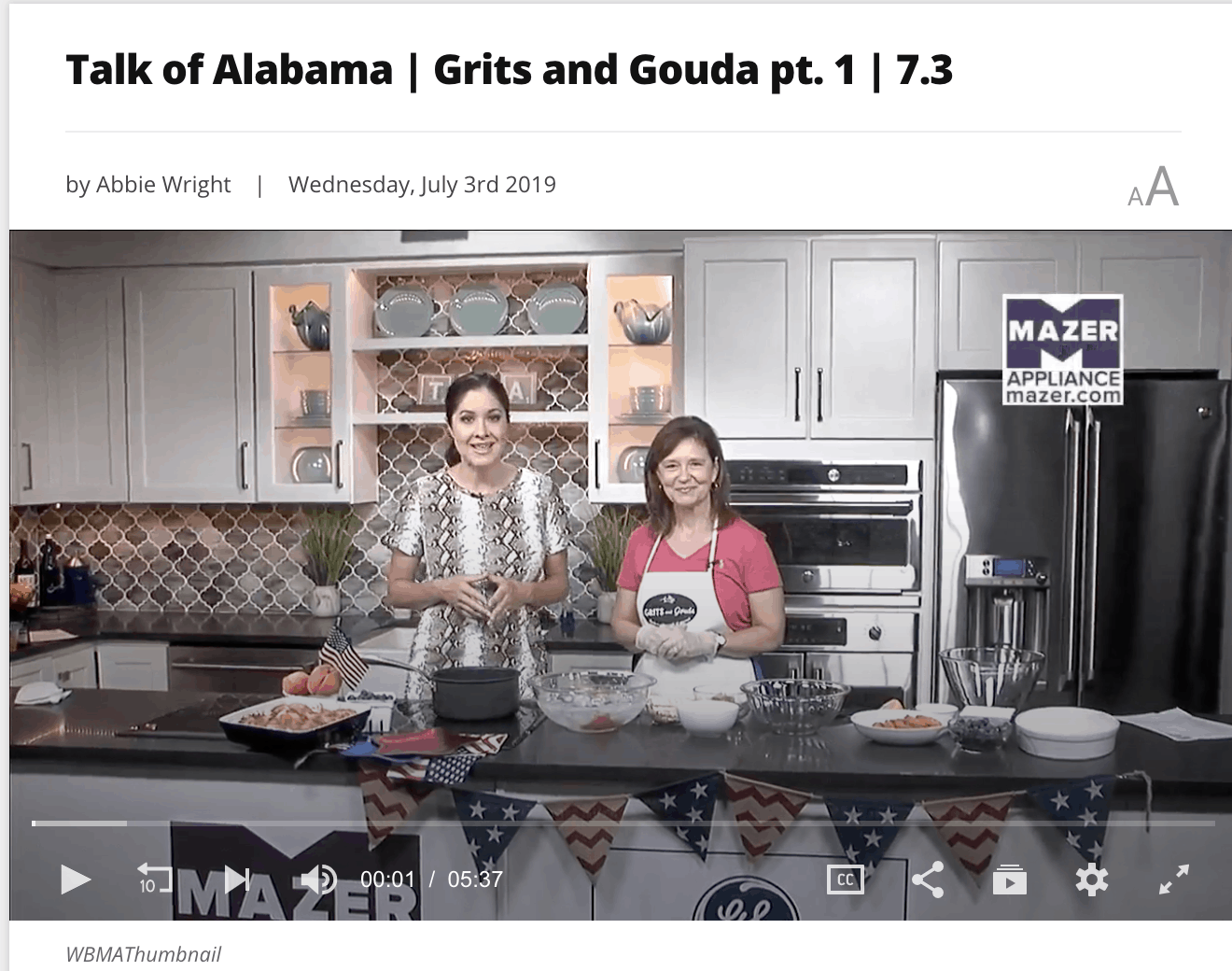 Video from WBRC's Good Day Alabama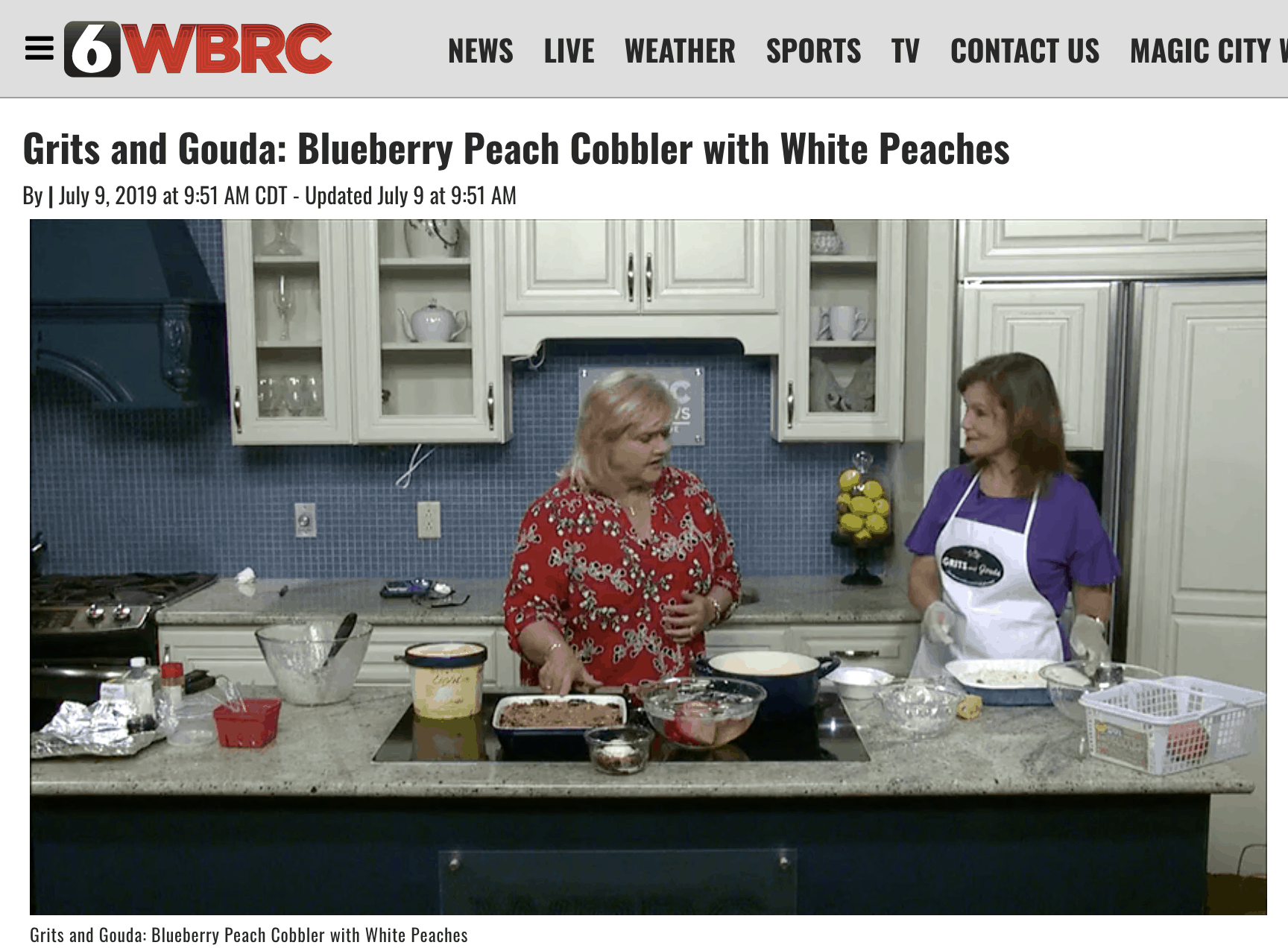 Follow me on Facebook, Instagram, and Pinterest. Be social and share, y'all! Don't forget to sign up with your email so you don't miss a single post on my Southern shortcut recipes!
If you make this recipe I'd love to see it! Tag me on social media with #gritsandgouda or @gritsandgouda. Leave a comment below the printable recipe if you have questions or tell me how you liked the recipe. Don't forget to rate it 5 stars if you love it!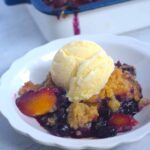 Print Recipe
Blueberry Peach Cobbler
When you can't decide between blueberry cobbler and peach cobbler combine them and have the best of both worlds with my Blueberry Peach Cobbler with Oatmeal Cookie Streusel!
Ingredients
Oatmeal Cookie Streusel:
1

cup

all-purpose flour

1/2

cup

granulated sugar

1/2

cup

light brown sugar

1

teaspoon

ground cinnamon

1/2

cup

salted butter

cut in 8 slices

1/2

cup

old-fashioned oats or quick cooking oats
Fruit Filling:
2

cups

fresh blueberries

2

cups

peeled and sliced fresh peaches

about 4 medium

1/4

cup

granulated sugar

3

tablespoons

cornstarch

1/8

teaspoon

salt

1

teaspoon

lemon juice

1

teaspoon

vanilla extract
Instructions
Preheat oven to 350°F.

Combine flour, sugars, and cinnamon in a bowl; cut in the butter with a pastry blender/cutter until butter is the size of small peas. This can also be done by pulsing in a food processor or using your fingers to press the butter into the flour until the mixture is crumbly. I like to use my fingers because the warmth of your fingers soften the butter just enough to bring the mixture together somewhere between a ball of dough and dry and crumbly. (I don't add the oats until after this step because it cuts the oats into tiny bits.)

Stir in oats. I used quick cooking oats in this photo because I had it on hand but I prefer the look and texture of old-fashioned oats.

Combine all the ingredients for filling in a large bowl and stir gently to coat the fruit. Frozen fruit can also be used but be sure to pat dry with paper towels to remove water when they thaw.

Spoon filling into a greased 9-inch square baking dish or 2-quart casserole. Spoon, sprinkle, or dollop the topping mixture onto the filling and bake at 350° for 45 minutes or until the topping is golden brown and the filling is bubbly.
Nutrition
Did you make this recipe?
If you love it, share it! Tag me on Instagram @gritsandgouda using #gritsandgouda Comment below before you go!