Purple Sweet Potato Magic Cake is made from one thin batter and magically creates a 3 layer dessert. The magic happens in the oven! Make it with purple sweet potatoes or ube powder (purple yams)-or even regular ol' orange sweet potatoes. This stunning, yet easy dessert will be a show stopper at your Easter, Thanksgiving or Christmas dinner!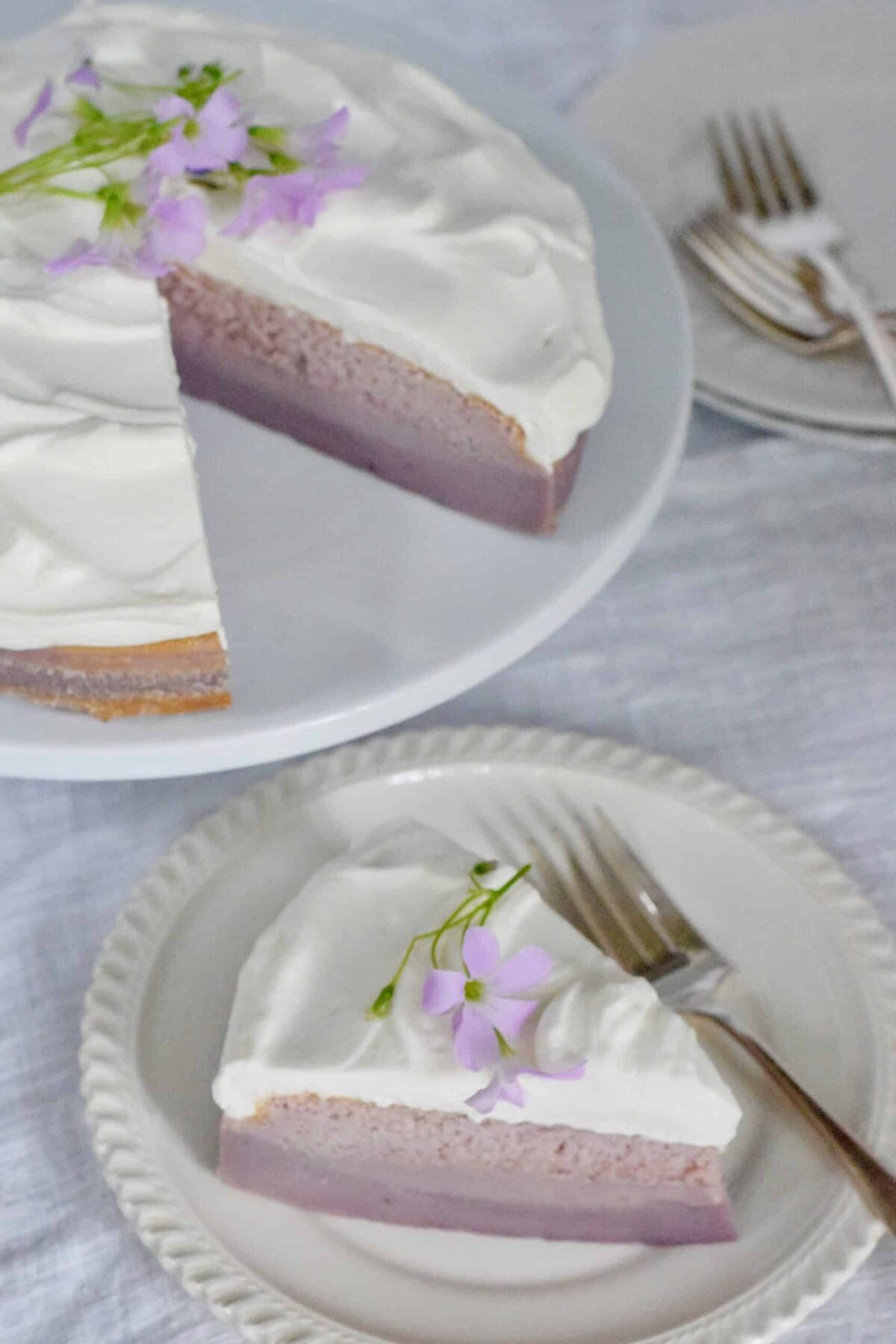 No food coloring here! Just fresh purple sweet potatoes from California. Purple sweet potatoes are in season fall through early spring.
What are purple sweet potatoes?
Purple sweet potatoes are grown near San Fransisco, CA. Stokes purple sweet potatoes got their name from the county in North Carolina where they were originally grown. They are in season late fall through the winter. Read more about them here at Frieda's specialty produce.
Where can I buy purple sweet potatoes?
September is peak season for them and I spotted them at Publix!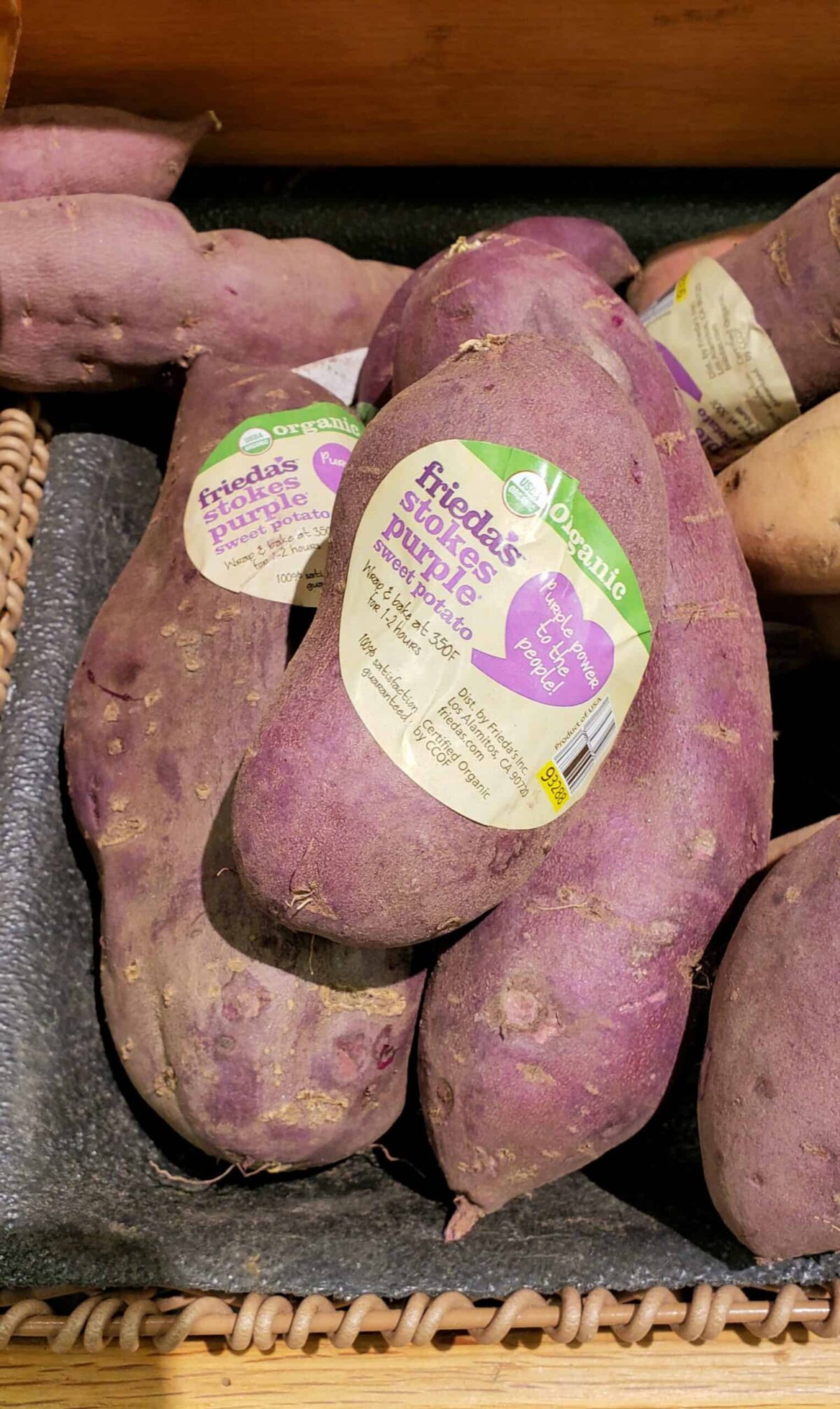 If you prefer a darker, more intense purple, the recipe for Purple Velvet Magic Cake in my cookbook Magic Cakes uses ube powder (purple yam powder) and purple gel cake food color. I substituted 3/4 cup pureed purple sweet potato for the rehydrated ube powder for this version.
Ube powder is readily available online at Amazon.com for about $8 but you will find it much cheaper- $4.59- at Filstop.com and other sites. I bought it at my local Asian market for about $5.00 and had enough for two cakes.
What is ube?
It is a Filipino purple yam-not to be confused with the Stokes Purple Sweet Potato. Read more about ube here at Huffpost's article on the natural ingredient that turns food perfectly purple.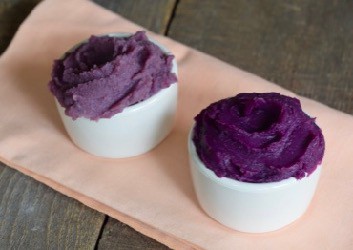 The puree on the left is ube powder rehydrated with water and on the right is purple sweet potato puree. Both are obviously purple but you can see the that the purple sweet potato is the most vibrant.
The Purple Velvet Magic Cake is made with 2 cups of milk so it tones down the hue to more of a lavendar. In my Magic Cakes cookbook, I made it with ube powder and food coloring to enhance the color but the photos in this post using purple sweet potato does not have any food coloring-that's all natural color!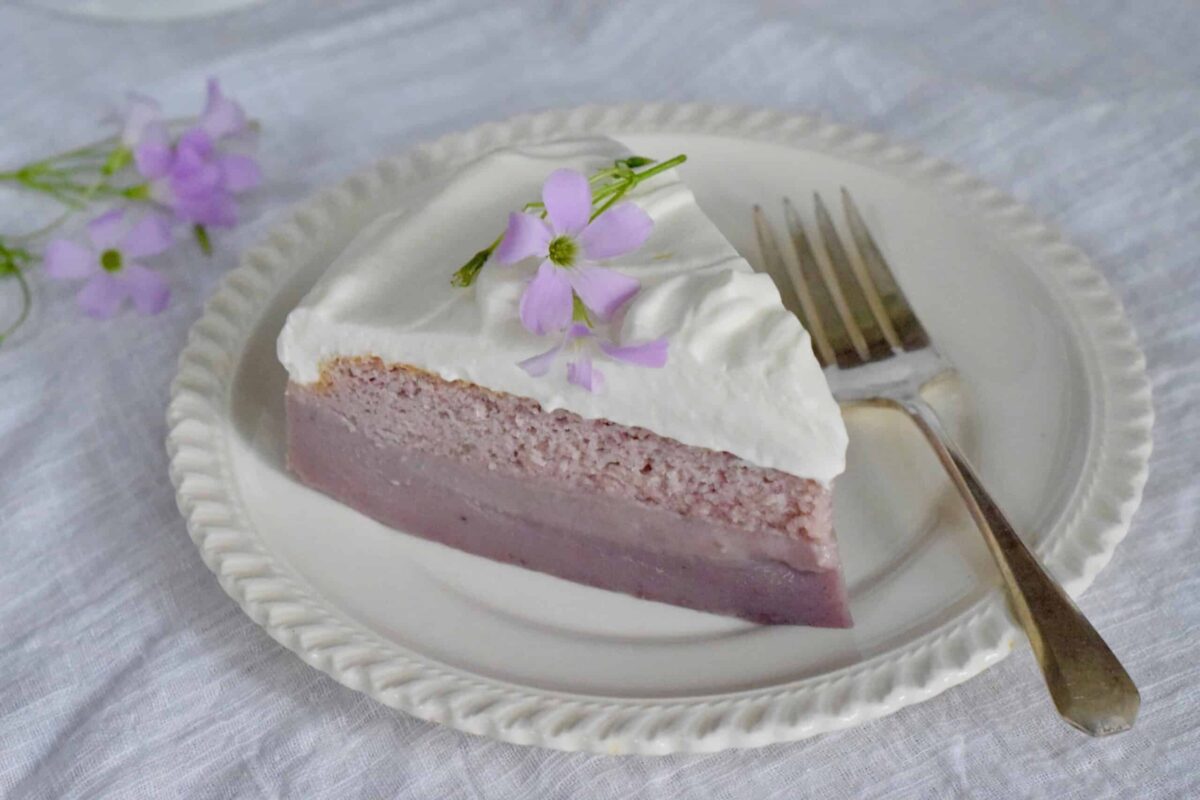 The delicate flower is Oxalis (purple Shamrock) from my flower bed. Mine was still blooming here in Gardendale, Alabama in December. Oxalis and sorrel are edible flowers so enjoy the whole thing!
You can purchase my cookbook, Magic Cakes for more than 30 magic cake recipes!
Follow me on Facebook, Instagram, and Pinterest. Be social and share, y'all! Don't forget to sign up so you don't miss a single post on my Southern shortcut recipes!
If you make this recipe I'd love to see it! Tag me on social media with #gritsandgouda or @gritsandgouda. Leave a comment below the printable recipe if you have questions or tell me how you liked the recipe. Don't forget to rate it 5 stars if you love it!
More purple food recipes you may love:
Broccoli-Raisin and Purple Cauliflower Salad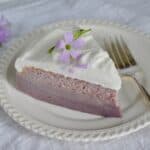 Print Recipe
Purple Sweet Potato Magic Cake
Purple Sweet Potato Magic Cake is a version of Purple Velvet Magic Cake in my cookbook, Magic Cakes. The Purple Velvet Magic Cake in my cookbook is made with ube powder (made from purple yams from Philippines). Purple Sweet Potato Magic Cake is made with fresh purple sweet potatoes (from California). The taste is similar but the color from the sweet potatoes is more vibrant than the ube powder and didn't need any food coloring.
Ingredients
1

medium

purple sweet potato

or enough ube powder reconstituted to make 3/4 cup

4

large eggs

at room temperature

3/4

cup

granulated sugar

1/2

cup

1 stick salted butter, melted

1

teaspoon

vanilla extract

2/3

cup

all-purpose flour

2

cups

lukewarm whole milk

1/2

teaspoon

cream of tartar

2

cups

whipping cream

1

tablespoon

sugar
Instructions
Preheat the oven to 400°F. Place sweet potato on a foil lined pan. Bake for 45 minutes or until tender when tested with a fork. Let it cool to room temperature. Remove the peel and mash the sweet potato. You should have 3/4 cup potato puree.

Coat an 8-inch springform pan with baking spray or line an 8-inch cake pan with aluminum foil or parchment paper, if desired, and coat with baking spray.

Reduce oven to 325 degrees.

Separate the eggs; place the egg yolks in a mixing bowl with the sugar and beat on high speed with an electric mixer for 2 minutes, or until lemon-colored. On low speed, gradually add the melted butter, mashed sweet potato, and vanilla, scraping down the sides as needed. Add the flour and mix just until flour is combined. Gradually add the milk, beating just until combined.

If using the same mixer and beaters to beat the egg whites, wash the beaters thoroughly; place the egg whites in a separate mixing bowl. Beat on medium speed until foamy; add the cream of tartar. Increase the speed to high and beat until the egg whites form stiff peaks, about 2 minutes. Gently whisk about one-third of the egg whites into the thin batter; gently fold the remaining egg whites in with a silicone spatula. Pour the batter in the prepared cake pan. Bake at 325 degrees for 38 minutes, or until the center jiggles slightly when gently shaken.

Let cool completely on a wire rack, about 1 hour. Cover and refrigerate at least 2 hours to chill. Remove sides and bottom of springform pan and transfer cake to a serving plate.

Beat whipping cream and 1 tablespoon sugar in a mixing bowl at medium-high speed until stiff peaks form; spread it on top of cake. Garnish with edible flowers such as Oxalis or shamrock blooms.
Notes
Regular sweet potatoes can be used for this recipe to make a perfect Fall cake. Add 1/2 teaspoon pumpkin pie spice to the flour mixture for a sweet potato pie flavored-cake.
You can also cook the sweet potato in the air fryer for about 40 minutes depending on the size of your potato. Make sure it is very tender.