Nectarine Cinnamon-Sugar Cobbler recipe is as easy as pouring the batter over the fruit without stirring and bake! Nectarines are a shortcut in themselves since you don't have to peel them. Perfect simple summer dessert for your bbq, potluck or cookout.
Why should peaches get all the attention this summer? In the South, we love our peaches, don't get me wrong, but I love that I can just bite right into a nectarine without the peach fuzz. Peaches also work in this cobbler.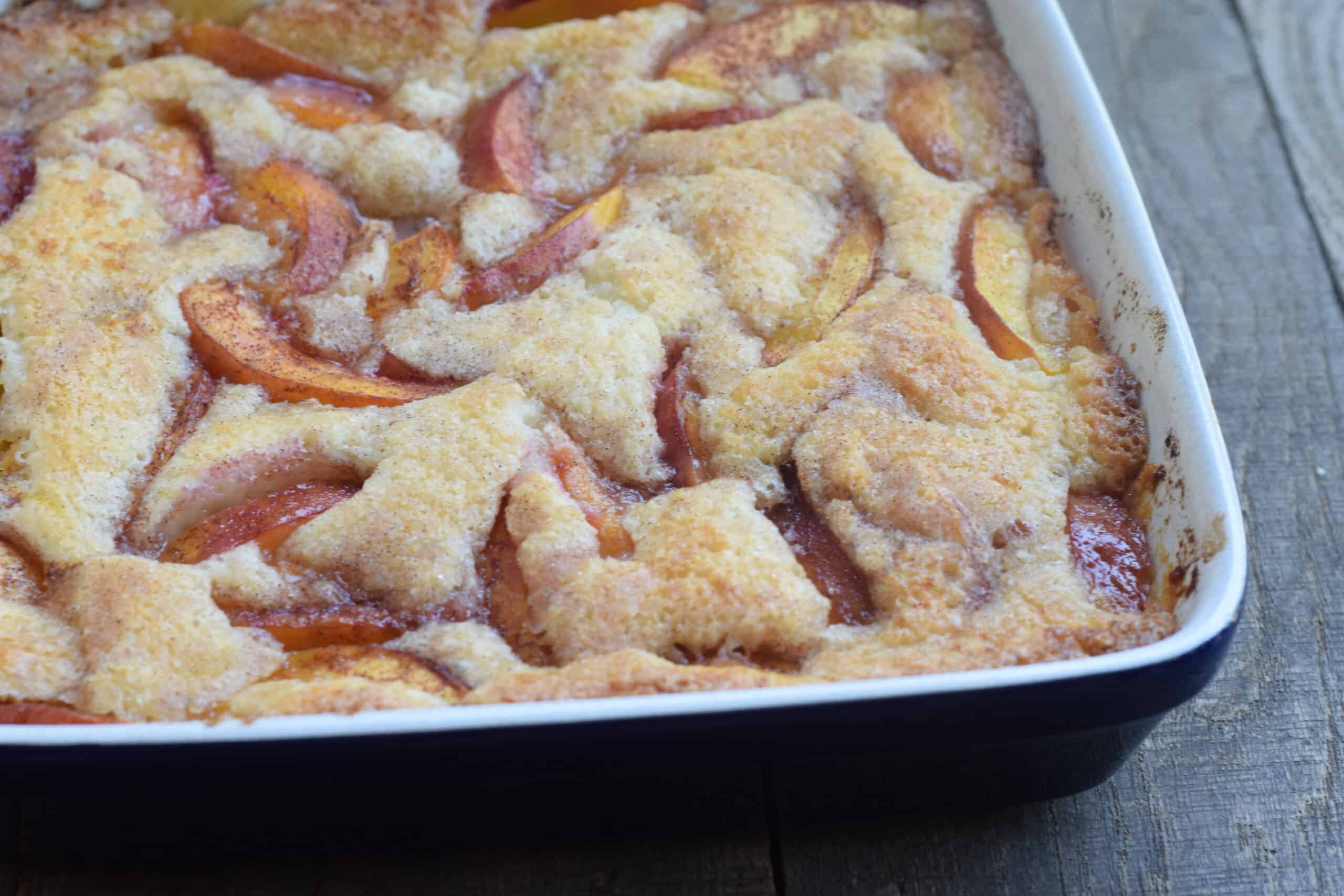 Peach skin is perfectly edible, full of anti-oxidants and is one of the best cancer-fighting foods but I still prefer to peel it for cobbler.
Not having to peel the nectarines for this cobbler not only gets the cobbler in the oven quicker but the nectarine skins are chock full of fiber and vitamin C.
This is absolutely my go-to cobbler recipe for any fruit. What I love most about it is you don't have to cook the filling before baking and you don't have to cut in the butter into the topping batter. You just pour the batter over the fruit and butter and the buttery crust rises to the top as it bakes!
How do I make nectarine cobbler?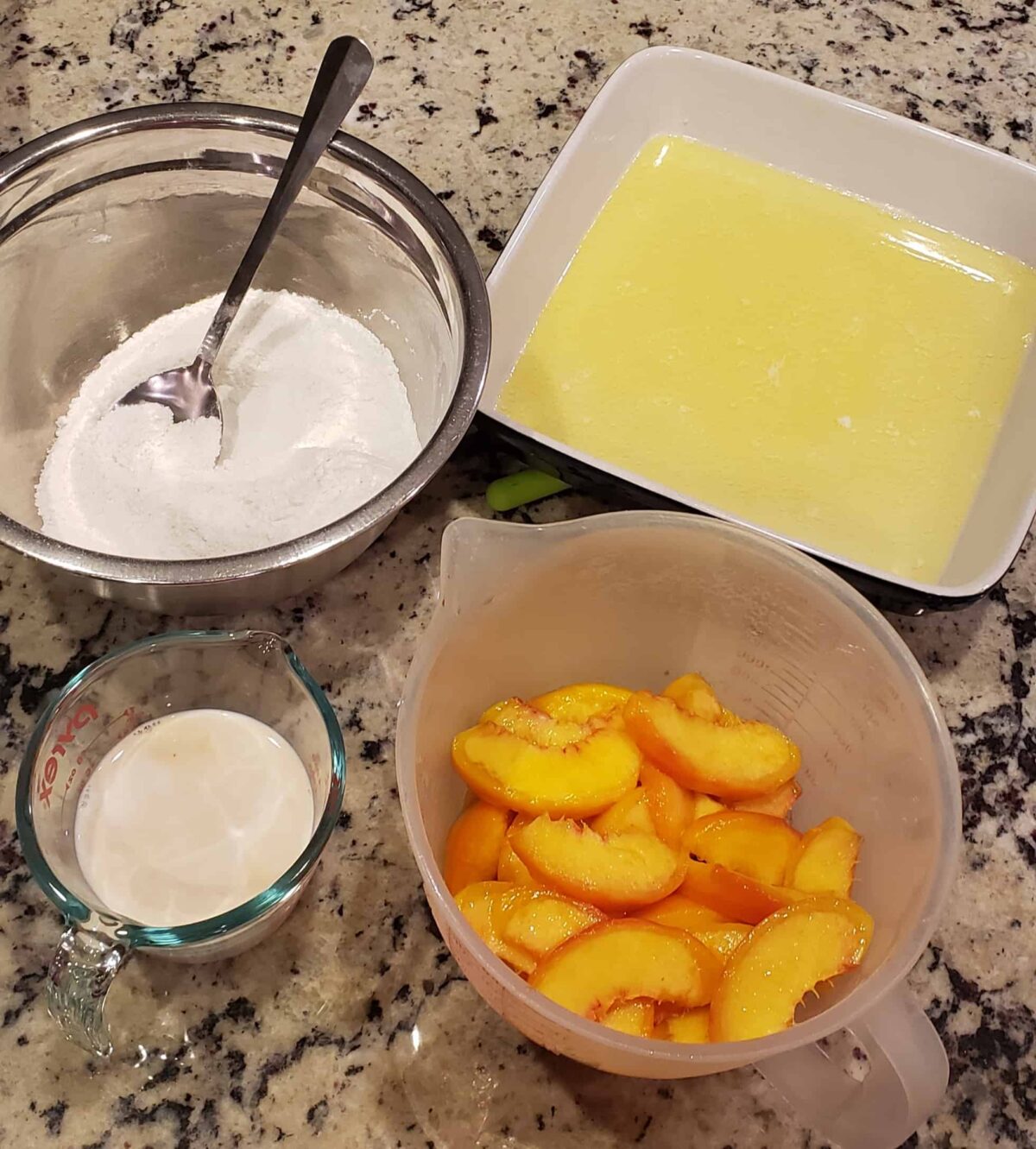 If using peaches, I've got step by step directions on how to blanche peaches to easily peel the skin off.
Melt butter in the oven. Measure flour and sugar, then, milk, and vanilla. Slice the nectarines or peaches (I use peaches, too) and toss with flour and sugar mixture.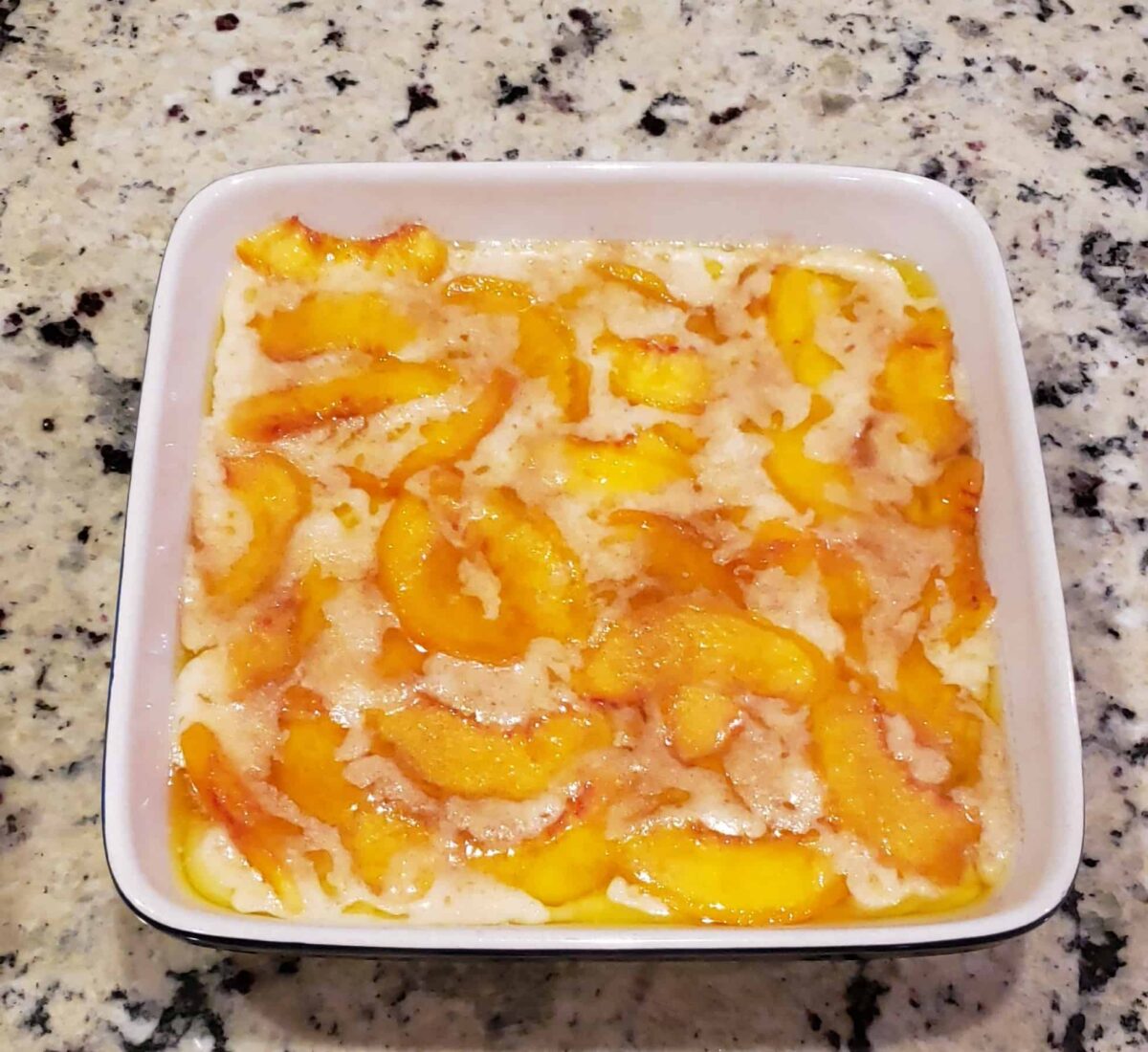 Pour the thin batter over the melted butter and fruit in the baking pan or casserole dish. DO NOT STIR. Arrange peaches or nectarines over the batter. DO NOT STIR.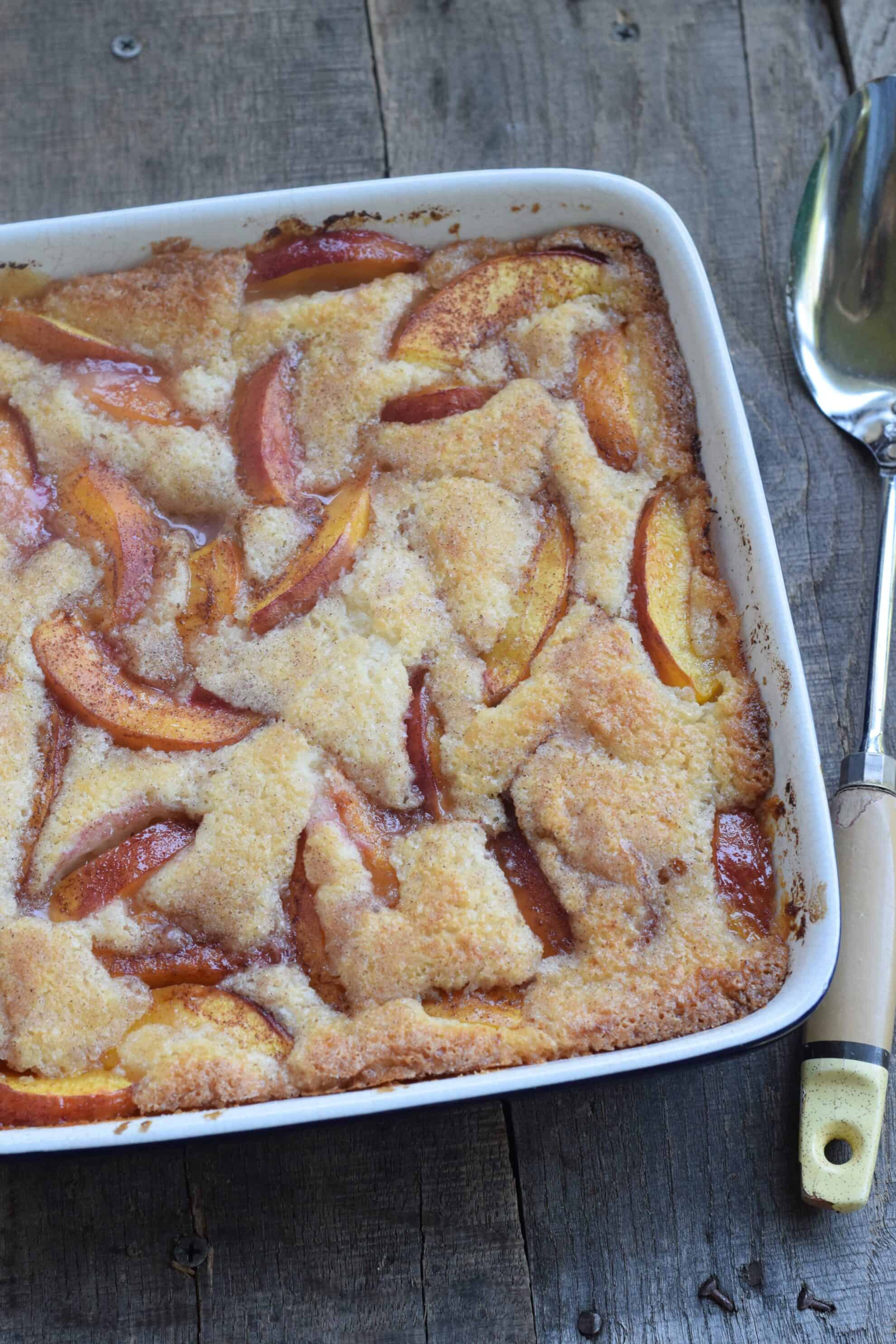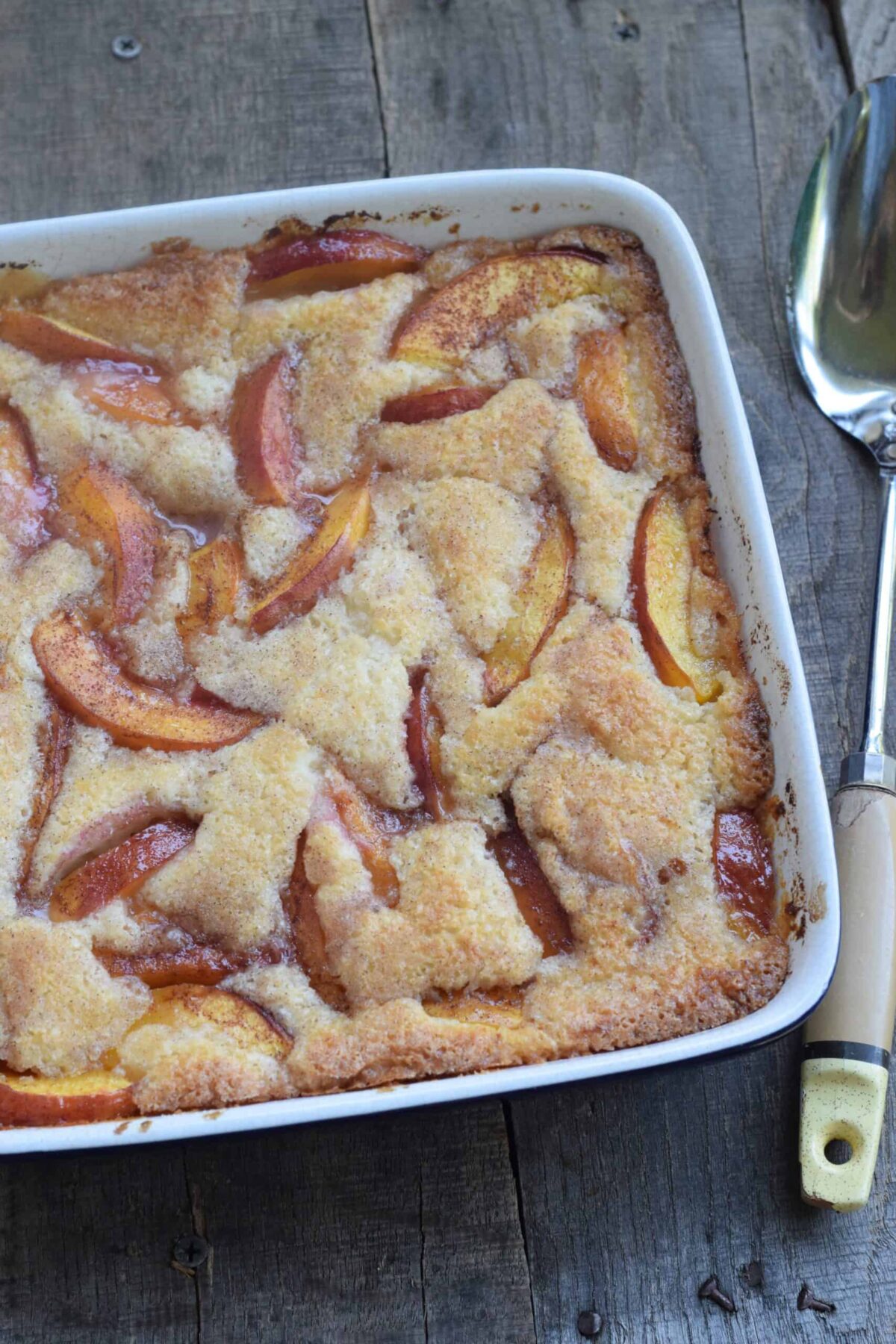 Bake the cobbler on the middle rack of the oven at 350 degrees for 40 minutes or until the crust is lightly browned and the fruit mixture is bubbly. the texture of this cobbler is cake-like. For a peach cobbler with an oatmeal cookie crumble topping try Blueberry Peach Cobbler. (You can always omit the blueberries and use 4 cups of peaches or nectarines.)
Enjoy this quick and easy fruit cobbler with nectarines, peaches, plums, bing/Ranier cherries, or apricots. In the Winter, you can use drained canned peaches or frozen, thawed peaches.
What's the Shortcut?
Self-rising flour has the leavening already in it.
You can purchase cinnamon-sugar already combined.
Nectarines are basically peaches you don't have to peel.
You can make it with frozen, thawed or canned fruit.
More fruit recipes you will love
Peach Cobbler Version on ABC 33/40's Talk of Alabama
Follow me on Facebook, Instagram, and Pinterest. Be social and share, y'all! Don't forget to sign up with your email so you don't miss a single post on my Southern shortcut recipes!
If you make this recipe I'd love to see it! Tag me on social media with #gritsandgouda or @gritsandgouda. Leave a comment below the printable recipe if you have questions or tell me how you liked the recipe. Don't forget to rate it 5 stars if you love it!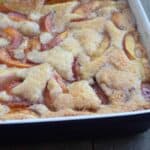 Print Recipe
Nectarine Cinnamon-Sugar Cobbler
Nectarine Cinnamon-Sugar Cobbler. Nectarines can be used anywhere a peach is called for in a recipe-without having to peel it.
Ingredients
5

nectarines

1/2

cup

salted butter

cut into pieces

1

cup

self-rising flour

or 1 cup all-purpose plus 2 teaspoons baking powder

1

cup

granulated sugar

3/4

cup

whole or 2 % milk

1

teaspoon

vanilla extract
Cinnamon Sugar:
2

tablespoons

granulated sugar

1/4

teaspoon

ground cinnamon
Instructions
Preheat oven to 350°

Place butter pieces in a 1 1/2 to 2 -quart casserole dish or 9x9-inch baking dish or pan. Place the dish in the oven to melt the butter while you slice nectarines and prepare the batter.

(About 8 minutes or until melted and bubbly.) If you are still slicing fruit when it ready, just remove from oven.

Meanwhile slice nectarines about 1/2-inch thick. (about 3 cups sliced)

Stir together flour and sugar. Add milk and vanilla and stir until smooth.

Pour batter over melted butter. DO NOT STIR. Arrange sliced nectarines in a single layer over batter. DO NOT STIR. Sprinkle with Cinnamon Sugar. Bake for 40 minutes or until golden brown and bubbly around the edges.
Notes
Shortcuts: You can purchase cinnamon-sugar already combined at the grocery store and even the Dollar Tree.
You can make it with frozen, thawed or canned fruit
Nutrition
Did you make this recipe?
If you love it, share it! Tag me on Instagram @gritsandgouda using #gritsandgouda Comment below before you go!