Mulled Sweet Tea Apple Cider
I have been bursting at the seams to share this Mulled Sweet Tea Apple Cider recipe with you and to introduce you to Southern Breeze Sweet Tea, if you haven't already discovered their iced sweet tea. The shortcut is that the tea bags are pre-sweetened! And I promise, Mulled Sweet Tea Apple Cider smells as good as it tastes!
Thank you to Southern Breeze Sweet Tea for sponsoring this post. This post does contain affiliate links but as always, I only promote products and services I love and opinions are my own.
Southern Breeze cold brew sweet tea is calorie free and guilt free so it can be enjoyed glass after glass....and in this recipe, mug after mug. The only calories in Mulled Sweet Tea Apple Cider come from 1/4 cup cold-pressed 100% apple juice (cider) and that's a grand total of 27.5 calories and less than 7 grams of carbohydrates per serving! That fits in with my healthy lifestyle perfectly.
Before I go any further, let me tell you how you can get FREE SHIPPING on your 1st online order of Southern Breeze sweet iced tea because I know you will want to have some on hand this fall. Use promo code SOUTHERN BREEZE and click the image below to order. You can also purchase Southern Breeze at many Walmart stores. Click here to find the store near you and print a $1 OFF coupon.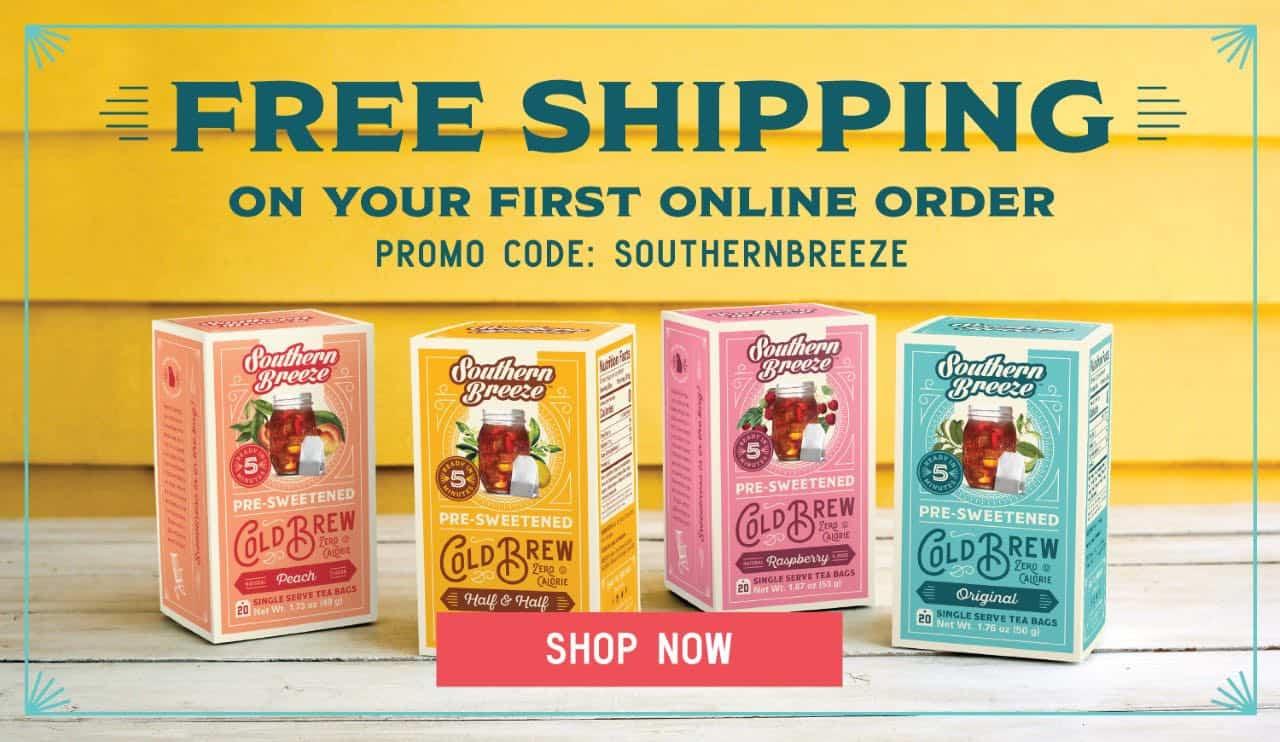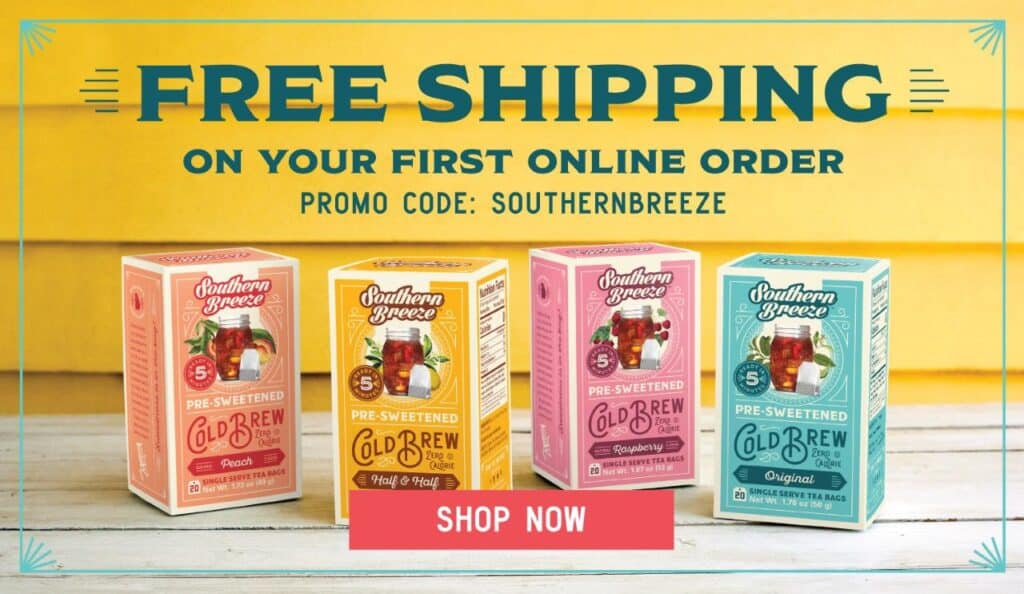 If you follow me, you know I love to spend quiet time in my "happy place" all alone. My happy place is a papasan chair with a lime green cushion on my back deck with canvas curtains (drop cloths) pulled back with black leather tassels. We live on the end of a cul-de-sac and my back deck faces my garden and nothing else but the woods. And yes, birds chirp in the morning. It's so peaceful....until the cicadas start squawking at night so I gotta get out there before dark. lol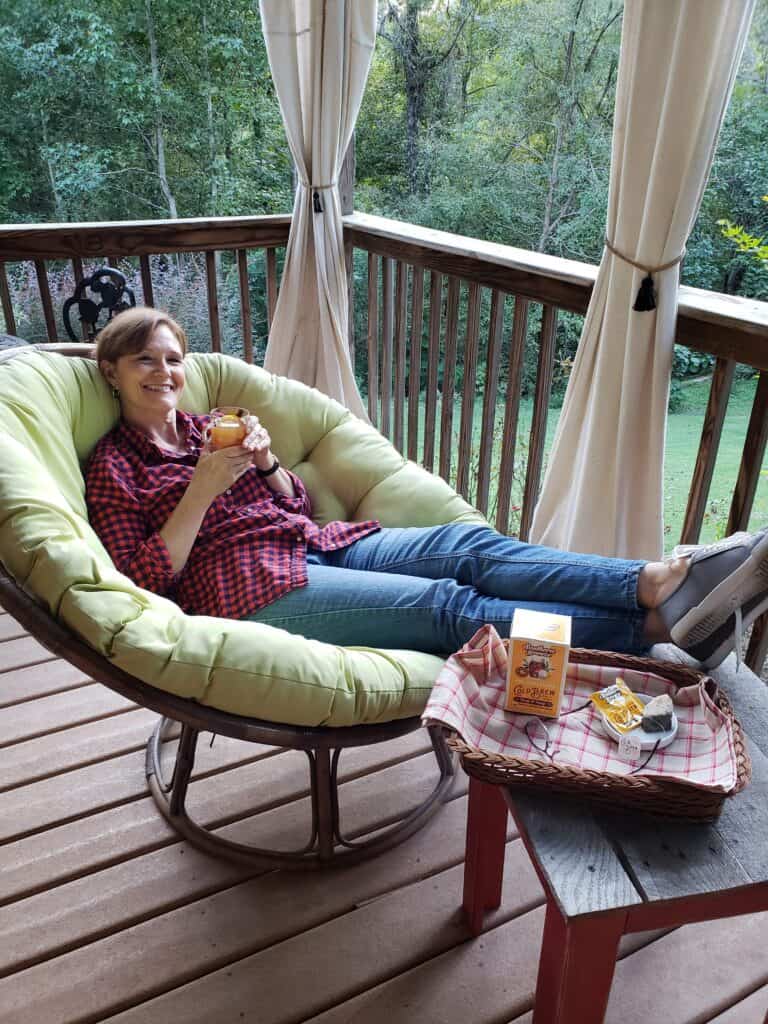 We have been remodeling our kitchen and doing a lot of the work ourselves, so I have found that making Mulled Sweet Tea Apple Cider by the cupful and sipping it silently in my happy place is the perfect way to take away the stress of choosing paint colors, learning that oil-based paint doesn't come out of clothing, and discovering my granite wasn't sealed before getting Boston butt grease on it. Yep...
Here in Alabama, our leaves are just beginning to turn colors but plenty of them are falling and the weatherman promises our first crisp morning this weekend! Yes! I've been so busy (as we all are) lately, it has been nice to be able to make this sweet tea cider one cup at a time with the Southern Breeze half and half tea bags and relax a bit.
Southern Breeze has many pre-sweetened flavors like peach, raspberry, and original but the half and half is half sweet tea, half lemonade, so the lemony flavor is perfect for the cider because I add slices of apple, orange, and lemon to each mug. I love the pre-sweetened part-that's a shortcut for sure!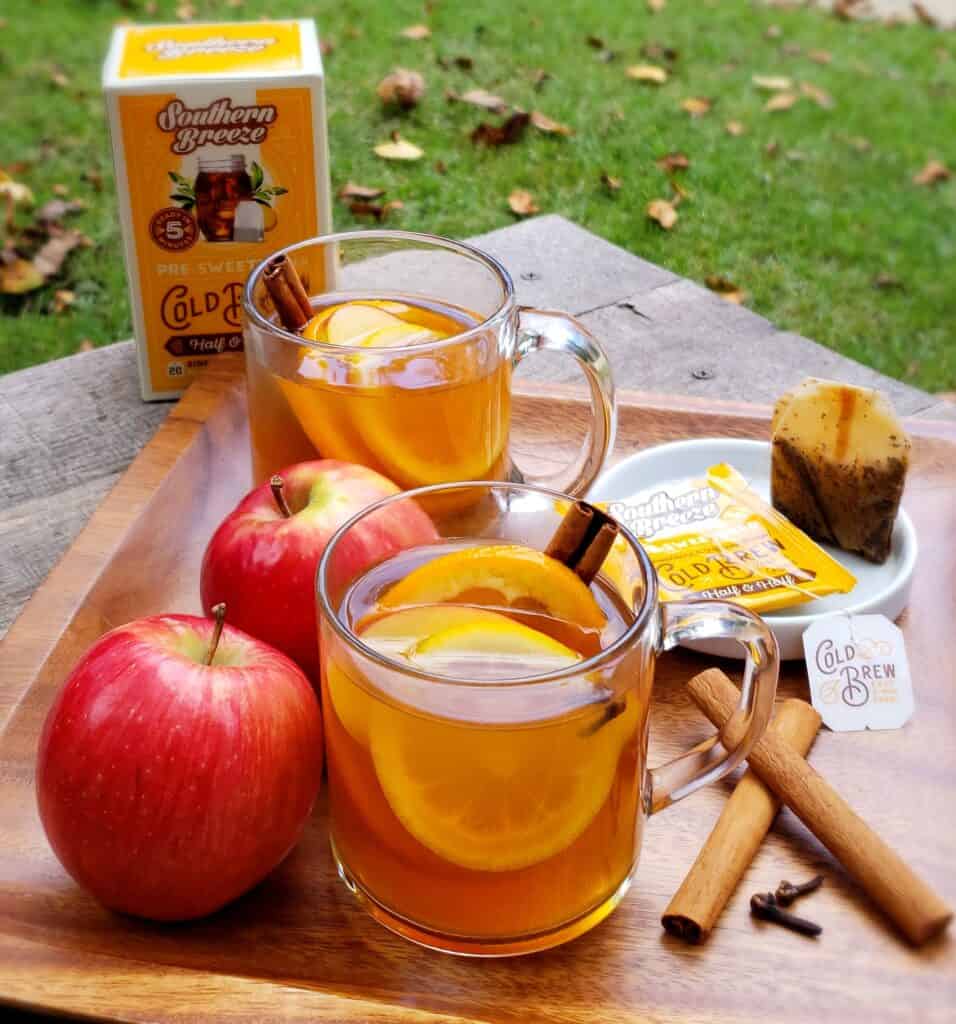 The label on the apple cider I used in this recipe reads, "pure pressed, not from concentrate". It only adds a few calories and is pure apple-no water, sugar, or corn syrup added.
You may be wondering what is the difference between apple cider and apple juice. For some companies, not a lot. One manufacturer admits on their website their juice and cider have different labels but are the exact same thing but both are 100% juice, it is probably filtered, though. Most apple juice that is not labeled 100% juice has added water , sugar, and is filtered which makes it almost translucent. True apple cider (often called cold pressed or 100% unfiltered juice) will be a little murky (opaque or cloudy probably sounds better) because when the apples are boiled, then pressed, it still contains the fine particles from the peel and apple itself. This is a good thing!
Apple cider (100% juice) should not contain any added sugar. Most mulled apple cider recipes have quite a bit of added brown sugar and sometimes maple syrup added which elevates the calories and carbs quickly. By starting with Southern Breeze Half and Half Sweet Tea to make this mulled apple cider, I have the best of both worlds! I'm adding zero calories to the cider and I am combining two of my favorite drinks-sweet tea and apple cider.
It's super easy to whip up a cup of Mulled Sweet Tea Apple Cider. Place one bag of Southern Breeze Half and Half Sweet Tea in a microwave-safe mug or coffee cup. Since their tea bags are pre-sweetened and are formulated to use cold water, just pour 1 cup cold water over the tea bag and drop in 1 whole clove and 1 cinnamon stick and let it steep for 5 minutes.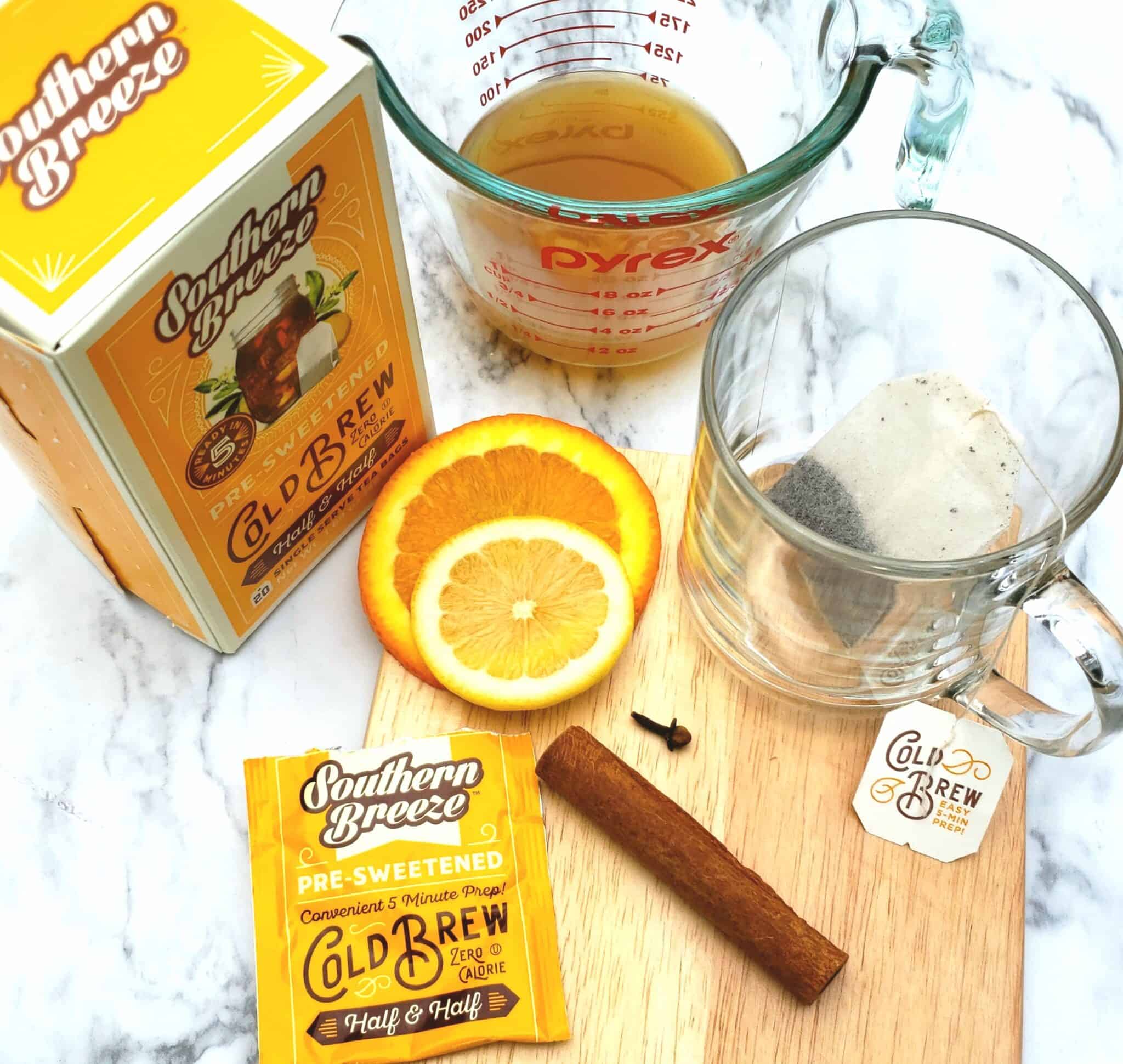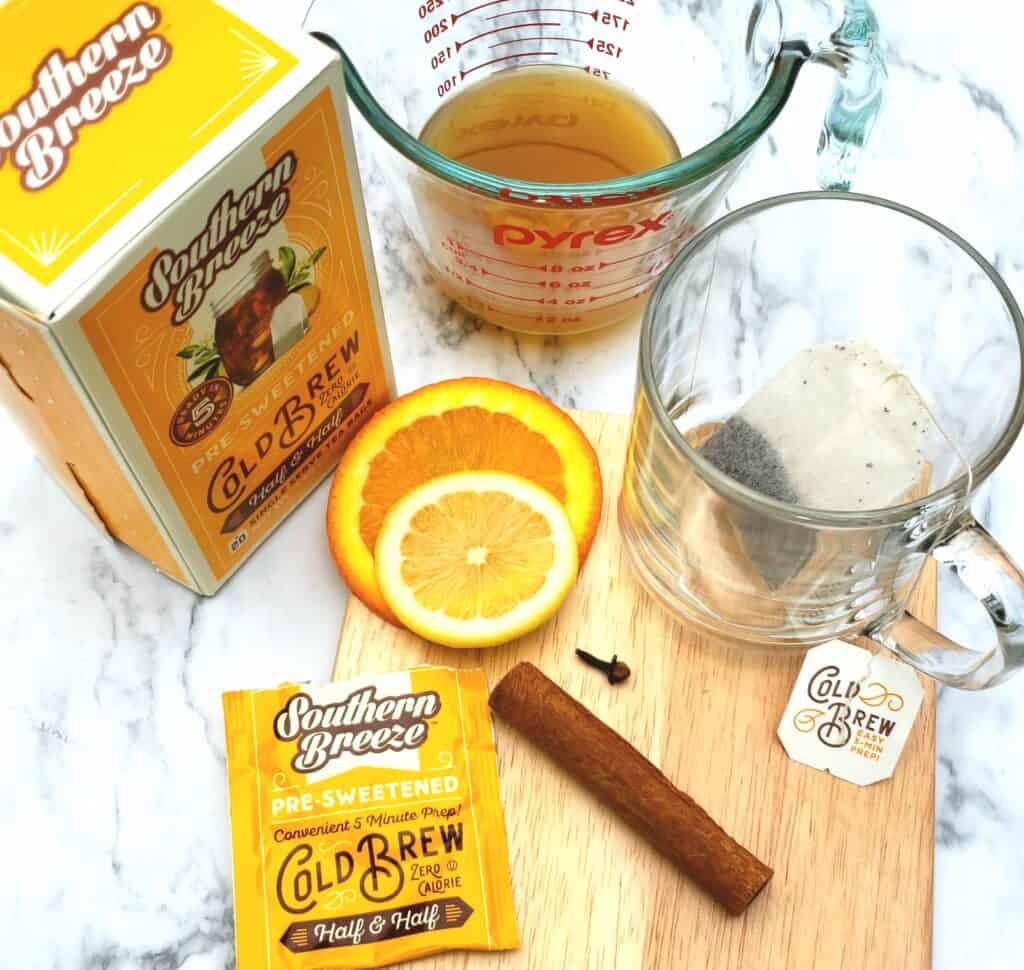 After the tea has steeped 5 minutes, remove the tea bag but keep the clove and cinnamon in the cup and add 1/4 cup apple cider. Microwave at HIGH for 1 minute. Slide in slices of lemon, orange and apple and, voila! You have Mulled Sweet Tea Apple Cider. You will be surprised at how much flavor the clove and cinnamon stick imparts so quickly.
Southern Breeze cold brew is easy to make: pour 8oz of water over 1 tea bag, toss out the tea bag and pour over ice!
Now, as we get deeper into fall, I know I'm gonna want to have my whole house smelling like Mulled Sweet Tea Apple Cider and I'll absolutely want to invite my girlfriend squad over and enjoy some cider sippin' with them. So, here's how make it in a slow cooker, every woman's kitchen friend, that will let me do both!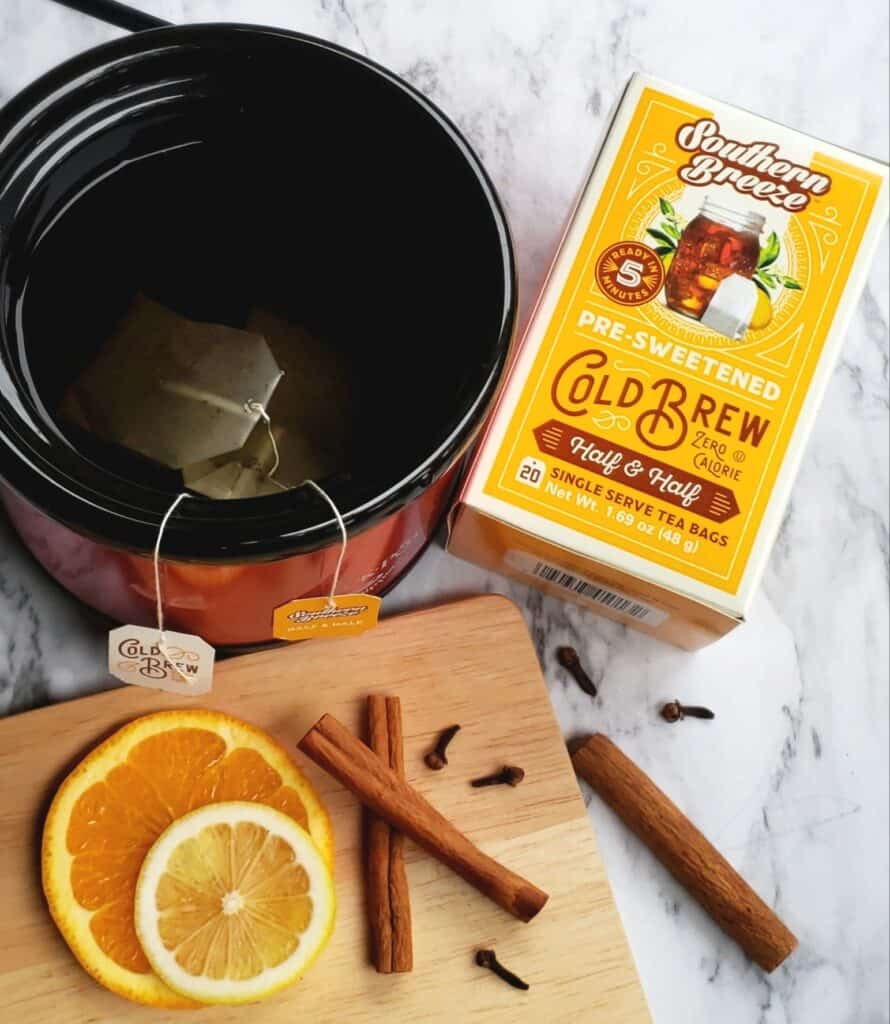 Depending on the size of your slow cooker, for every cup of cold water add one Southern Breeze Half and Half Sweet Tea bag, 1 whole clove, and 1 cinnamon stick. Toss the tea bags after 5 minutes of steeping (leave in a little longer for stronger tea flavor). Add 1/4 cup apple cider for every cup of water. Float several slices of orange and lemon on top (I leave the apple slices out of this version) and plug in the slow cooker.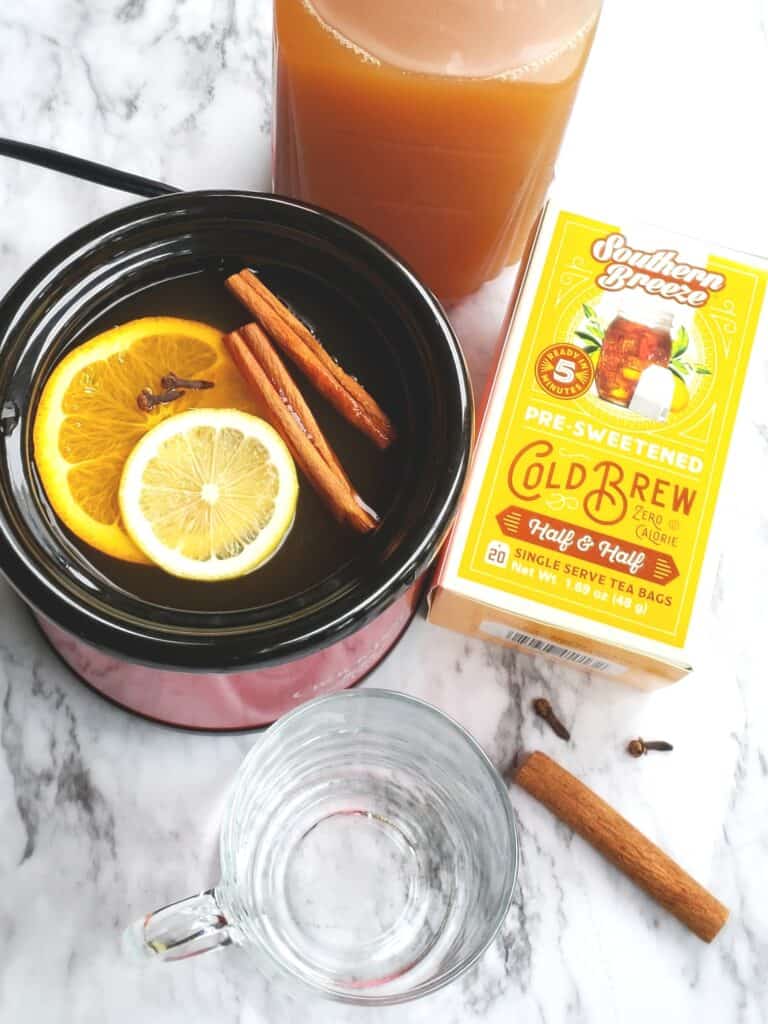 This is so much better than a spiced candle, y'all!
Even if it's 80 degrees outside in Alabama this fall, I'm turning up the air conditioner, reaching for the fur throw by the couch, and snuggling up to a cup o' this cider. On the other hand, it is also delicious served over ice!
Bring on the frosty mornings and crisp evenings. Did I mention this packs well in a thermos for your next tailgate party, family camping trip, or bonfire? If you make this, leave a comment below and let me know how you like it.
Follow me on Facebook, Instagram, Pinterest, and Twitter. Leave me your email address so you won't miss another one of my Southern shortcut recipes.
All of the zero calorie Southern Breeze products (cold brew and family size tea bags) are available on: https://southernbreezesweettea.com/collections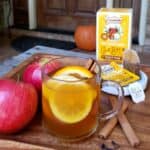 Print Recipe
Mulled Sweet Tea Apple Cider
It's so convenient to make Mulled Sweet Tea Apple Cider by the cupful with Southern Breeze sweet tea single serve bags. I used the Half and Half flavor (half tea, half lemonade) but you can also make it with the original flavor. If you are expecting company or just want your house to smell like Autumn, I also tell you how to make it in a larger batch in the slow cooker.
Ingredients
1

Southern Breeze Half and Half Sweet Tea bag

1

cup

cold water

1

whole clove

1

cinnamon stick

1/4

cup

apple cider or unfiltered 100% apple juice

slices of orange, lemon, and apple
Instructions
Place the Southern Breeze cold brew tea bag in a microwave-safe mug or coffee cup. Make sure it holds 1 1/4 cups of liquid. Pour in the cold water and drop in the whole clove and cinnamon stick. Let this steep for 5 minutes. (You can go a little longer if you want a stronger tea flavor).

Add the apple cider and microwave it uncovered at HIGH (I used 1100 watts) for 1 minute. Let it stand 5 minutes.

Carefully add the slices of orange, lemon and apple and enjoy!
Notes
Tip: Mulled Sweet Tea Apple Cider is also refreshing chilled, then served over ice! As warm as it is here in Alabama in the fall, this is great news!
.
Slow Cooker Version: For every 1 cup of water you use, add 1 tea bag, 1/4 cup apple cider, 1 whole clove, and 1 cinnamon stick. Combine all these ingredients in a slow cooker. Let the tea bags steep for 5 minutes then toss them. Float a few slices of orange and lemon on the top. I left out the apple for this version because it turns brown after awhile but feel free to add it if you like. Turn the slow cooker on low or high for 2 hours or until the sweet tea cider is hot or depending on how long you want to enjoy the smell of Autumn wafting through your house. lol
Nutrition