This shortcut King Cake Pancakes recipe starts with pancake mix and bananas! You don't have to wait for Mardi Gras or Fat Tuesday (also known as Pancake Day) to enjoy these for breakfast or brunch. Drizzle simple icing over a short stack of these light and fluffy pancakes, sprinkle gold, purple and green sanding sugar over the top.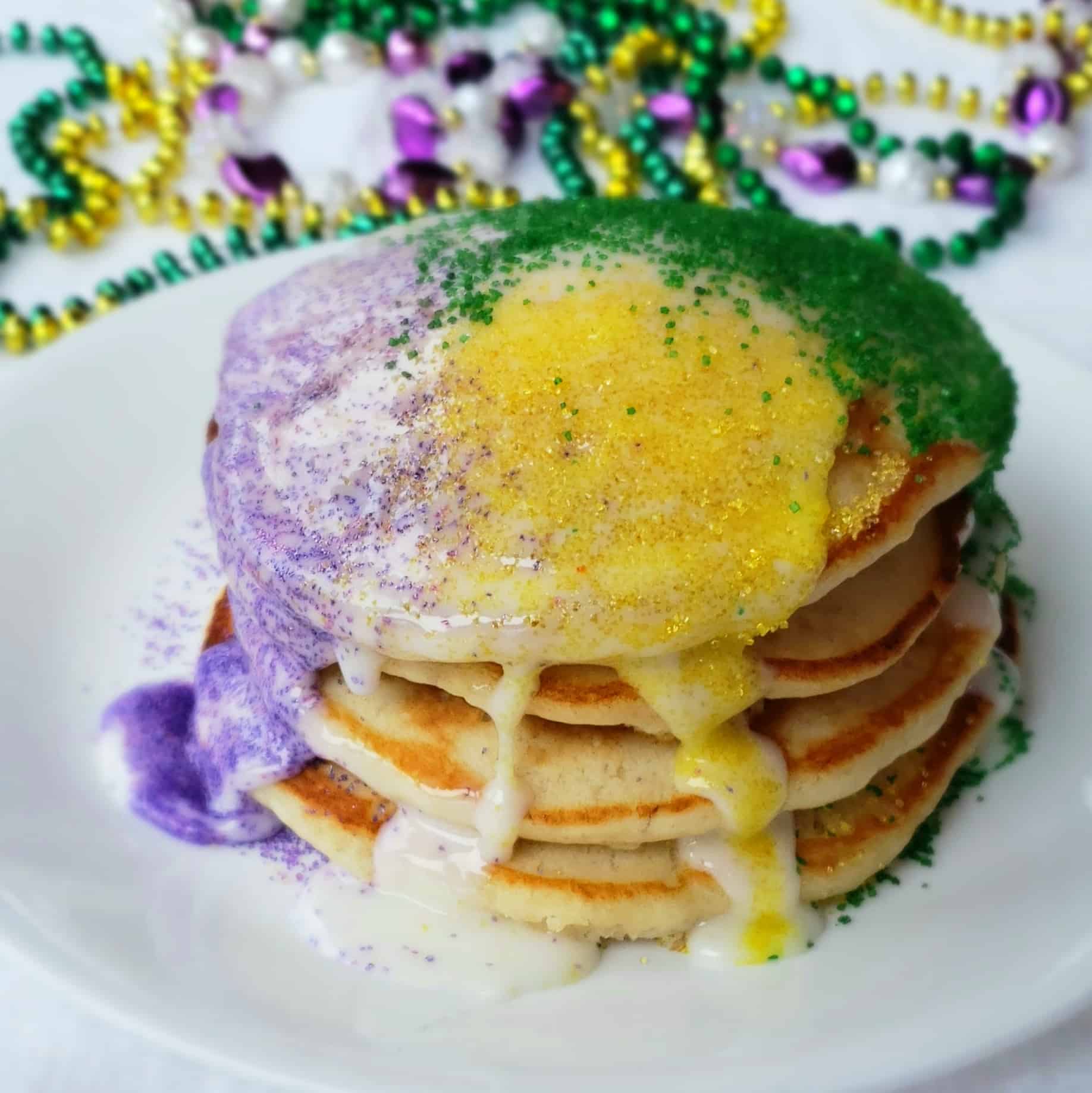 What is Mardi Gras?
This post was updated February 15, 2021 with important information.
Personally, I cannot get into Mardi Gras revelry but I can get into a tall stack of these banana pancakes with icing and sprinkles!
Mardi Gras is French for "Fat Tuesday", reflecting the ritual of the last night of eating rich, fatty foods before the ritual of fasting during the Lenten season. Many religious groups, such as Roman Catholics and Methodists, observe Lent.
Can I make the pancakes for Valentines Day?
You can make these easy pancakes for any holiday!
For Valentines Day, sprinkle with red sanding sugar or sprinkles and for St. Patricks Day use green sugar! I can also see different pastel colored sugars for Easter, red/white/blue for 4th of July.... You get the picture!
Can I really put icing on pancakes?
Without hesitation, YES! Who says syrup is the only thing you can drizzle on pancakes for breakfast-or brinner? Think about it. You eat icing and sprinkles on your fried or baked donut, don't you? Well...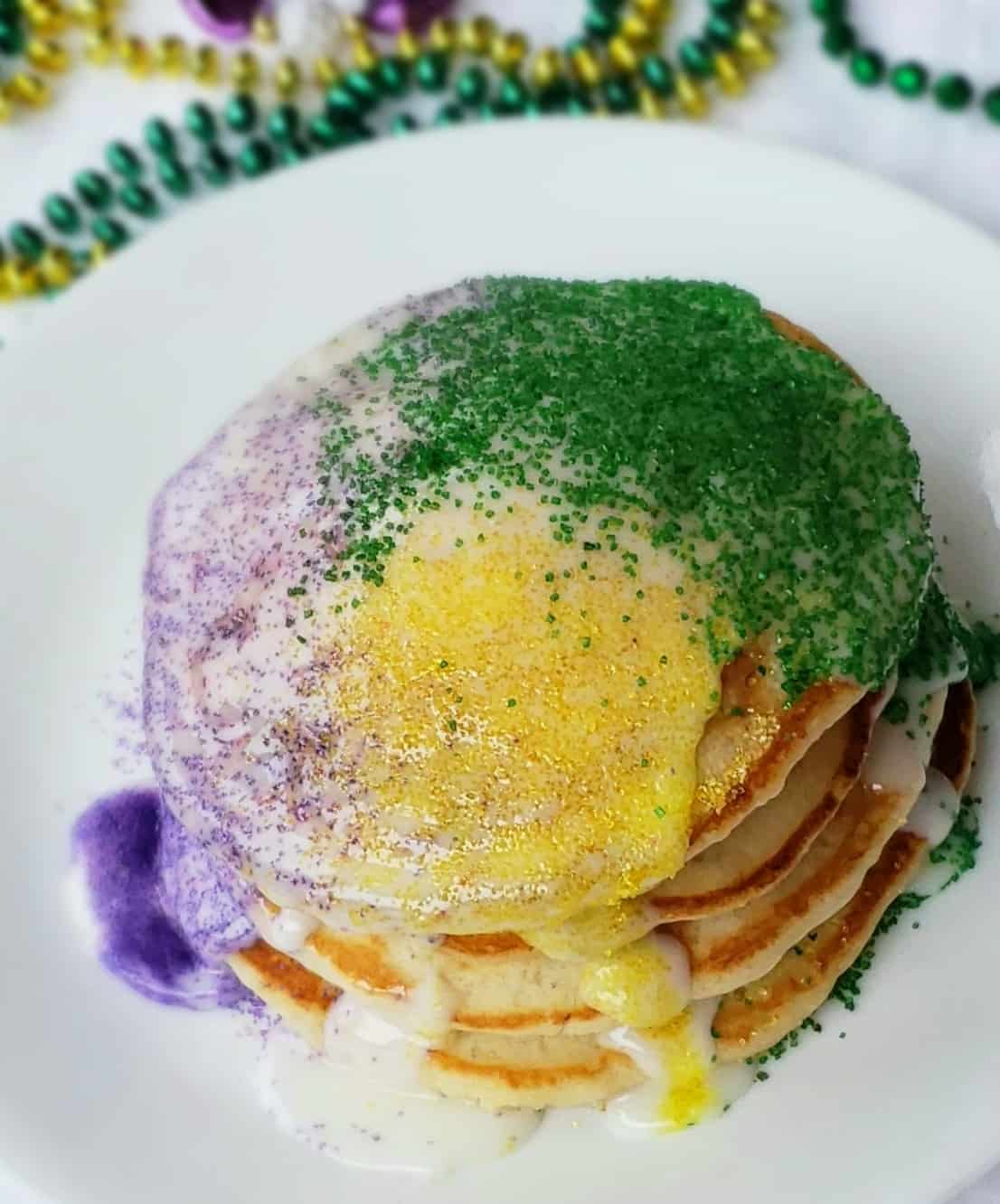 What are King Cake Pancakes and King Cake?
Southern Living describes exactly what is a King Cake here: Their take on it is a king cake is made of a rich, brioche dough and a wide array of fillings, such as cinnamon, chocolate, and cream cheese. Iced with a glaze and sprinkles, which are usually gold, green, and purple.
What do the Mardi Gras colors mean?
Even the colors of the icing (royal colors of Mardi Gras) have a deeper meaning. Gold represents power, green is associated with faith, and purple illustrates justice. Sometimes a tiny plastic baby is baked in the King Cake. Long ago-before plastic- a nut like an almond was placed in the cake. Tradition has it that whoever finds the baby in the cake is king or queen of the ball or if it's found at an office party, they are obligated to bring the cake next year. I like the first meaning better!
How did you come up with this recipe?
In 2011, I developed a lower calorie cinnamon swirl pancake for a Weight Watchers cookbook and drizzled a small amount of icing on the pancakes instead of syrup.
Again, I thought if I put icing on my donut, why not on my pancakes? Most of my recipes on the blog have a shortcut in them and the pancake mix is the shortcut here.
This was my idea behind King Cake Pancakes. Go easy on the icing at first, a little may go a long way with all that sugar for the kids if you're making them before school.
Brinner (breakfast for dinner) may be a better dinner option served with some protein like turkey sausage.
How to make King Cake Pancakes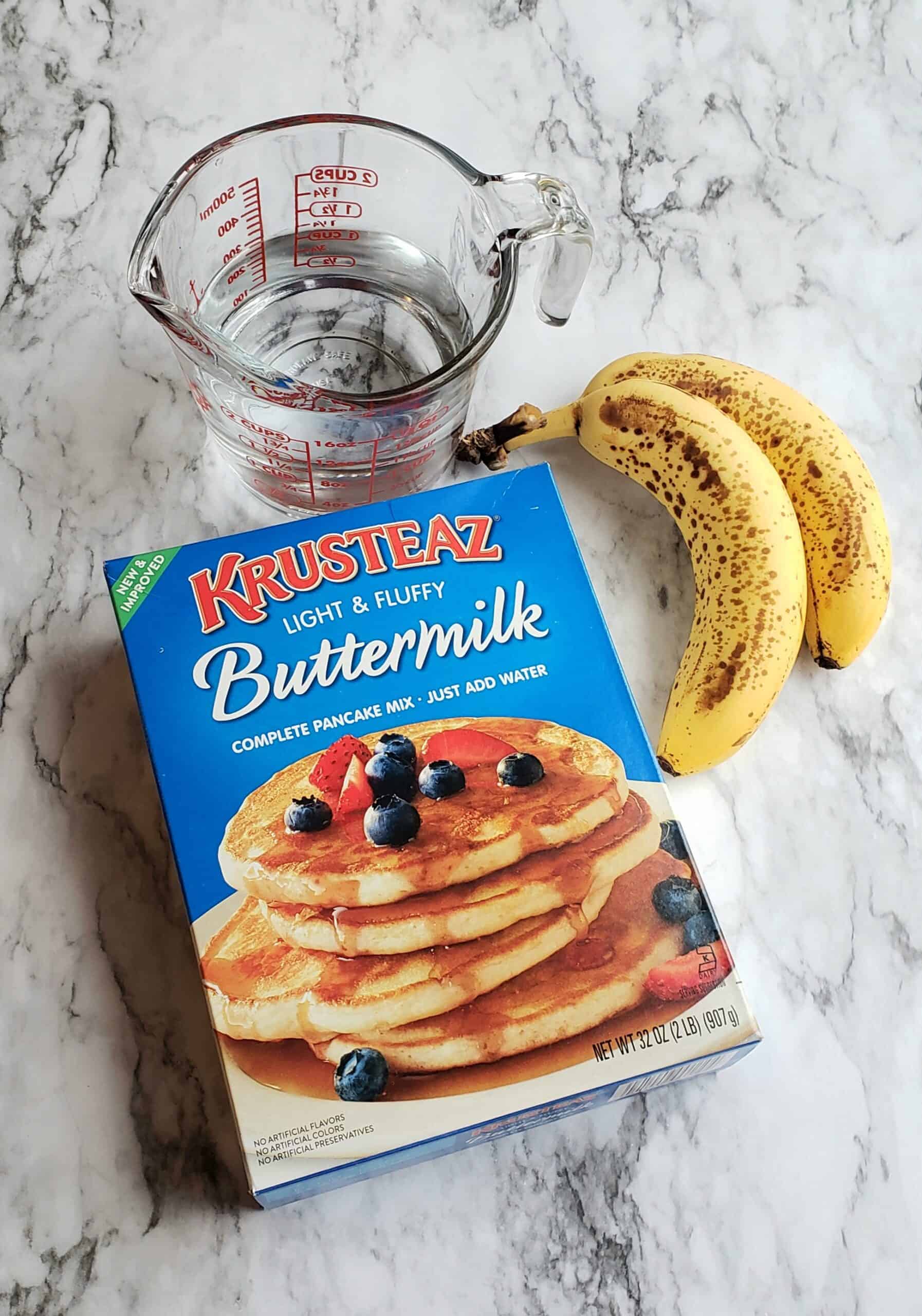 While I do have a homemade pancake recipe I use regularly, I also can't resist Krusteaz pancake mixes when they are Buy One Get One Free at Publix! I've tried many brands over the years and none come out as light and fluffy as these.
Mashed bananas add yummy flavor but also acts as a fat substitute similar to applesauce. So, they turn out moist...yes, I said it....AND light and fluffy. What more could you want in a pancake?
Icing? Maybe Icing and sprinkles? Yes please!
If you are among the millions of people that celebrate Fat Tuesday, you might want icing and sprinkles or sanding sugar on your stack o' pancakes.
If you aren't celebrating Fat Tuesday- I'll admit it's not my thang- you still might want icing and "sprinkles" on your pancakes on National Pancake Day!
(Be sure to read the recipe below for my UNICORN version!)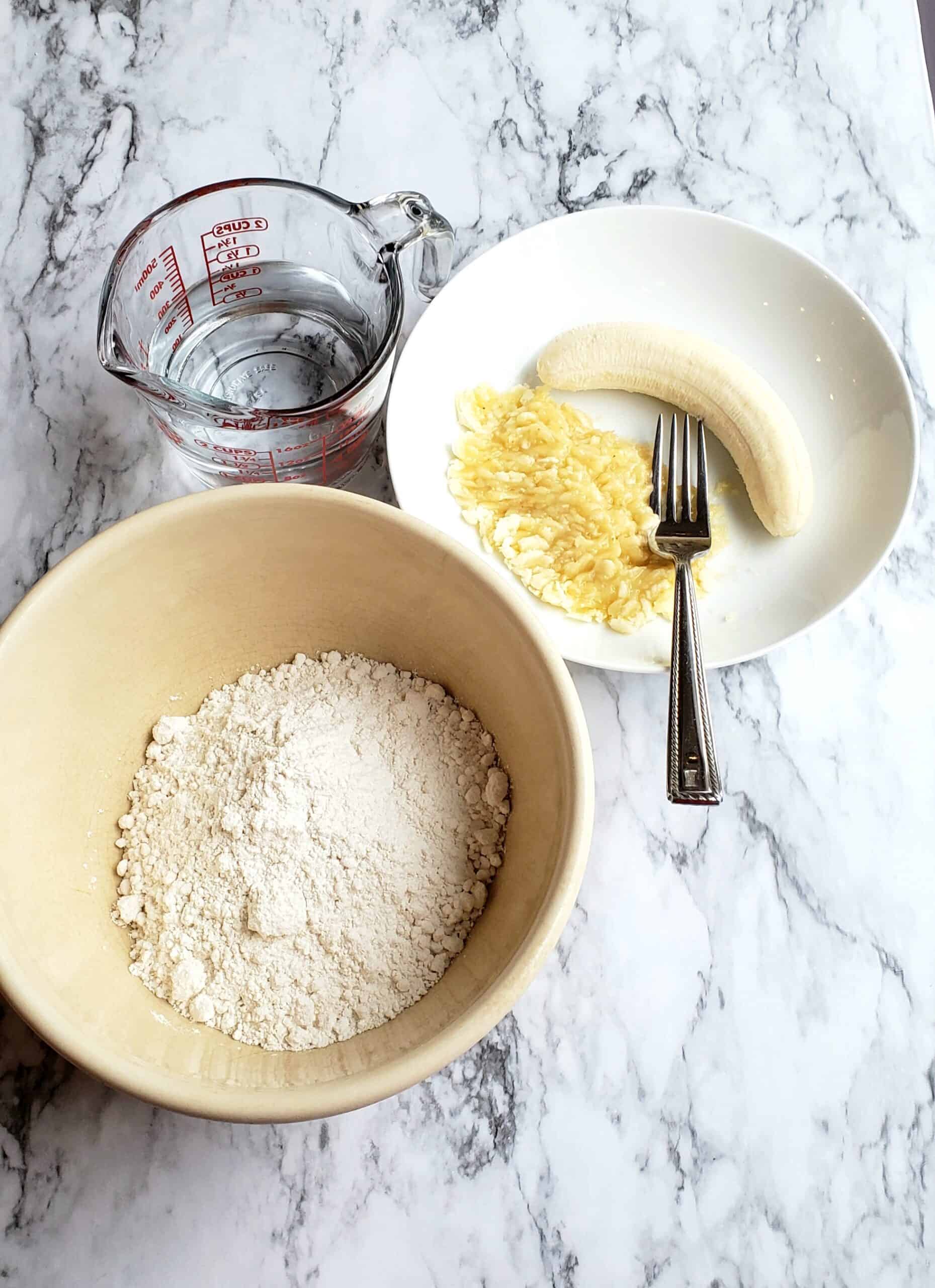 Mash the ripe banana with a fork. If you are having trouble pressing down on the banana with a fork its not ripe enough. Use one small banana for every cup of pancake mix. (about 3/4 cup for 2 cups mix).
Use a combination melted butter and vegetable oil or coconut oil to brush on your griddle, nonstick skillet, or cast iron skillet. Set your griddle at 350 degrees.
I prefer an electric griddle for pancakes. It is so much quicker and I'm usually scrambling eggs in the skillet on the stove at the same time.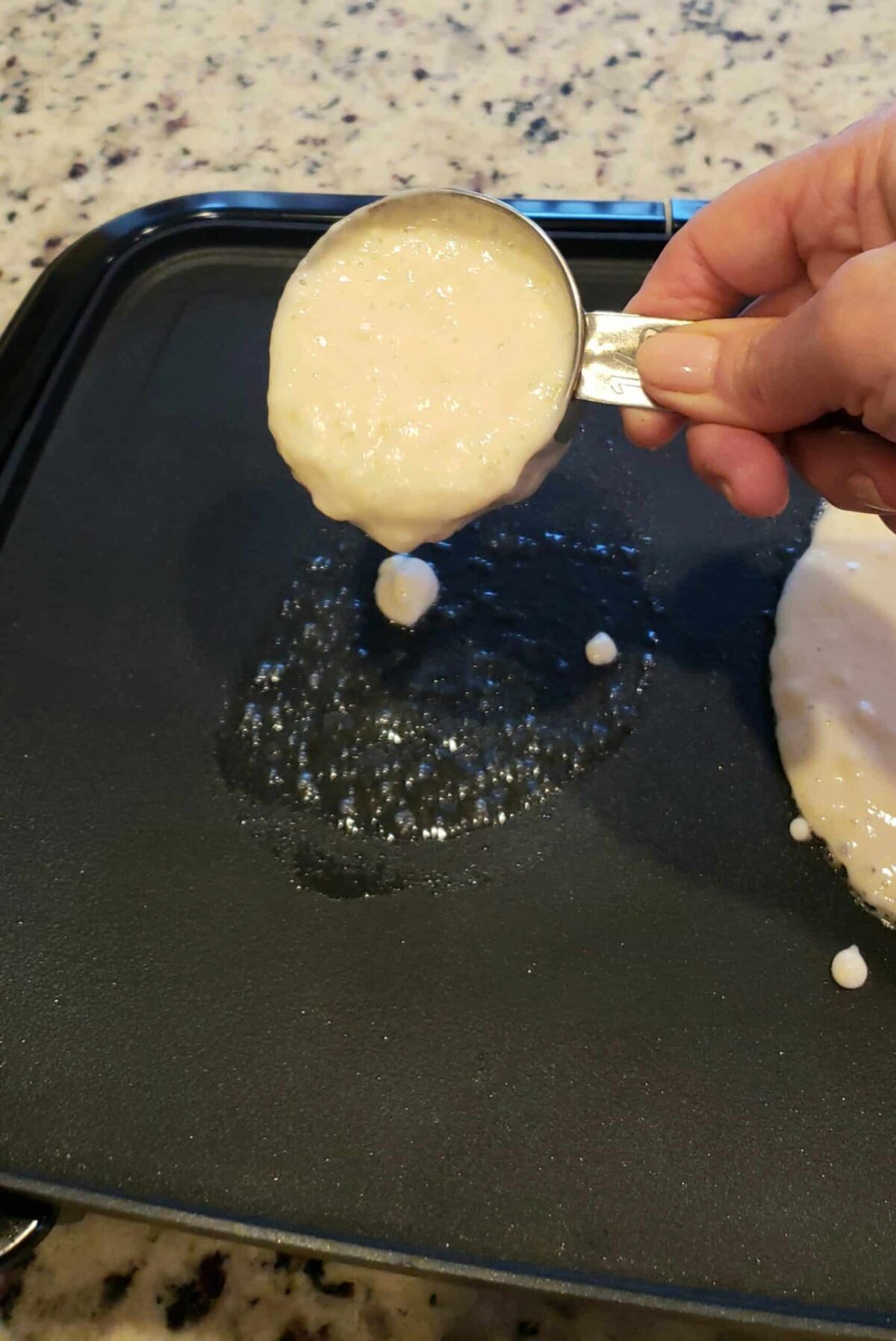 Pouring the pancake batter onto the griddle with a dry measuring cup is a great way to avoid dragging a spoon back and forth. That gets messy. This method makes sure they come out perfectly round-or closer to it!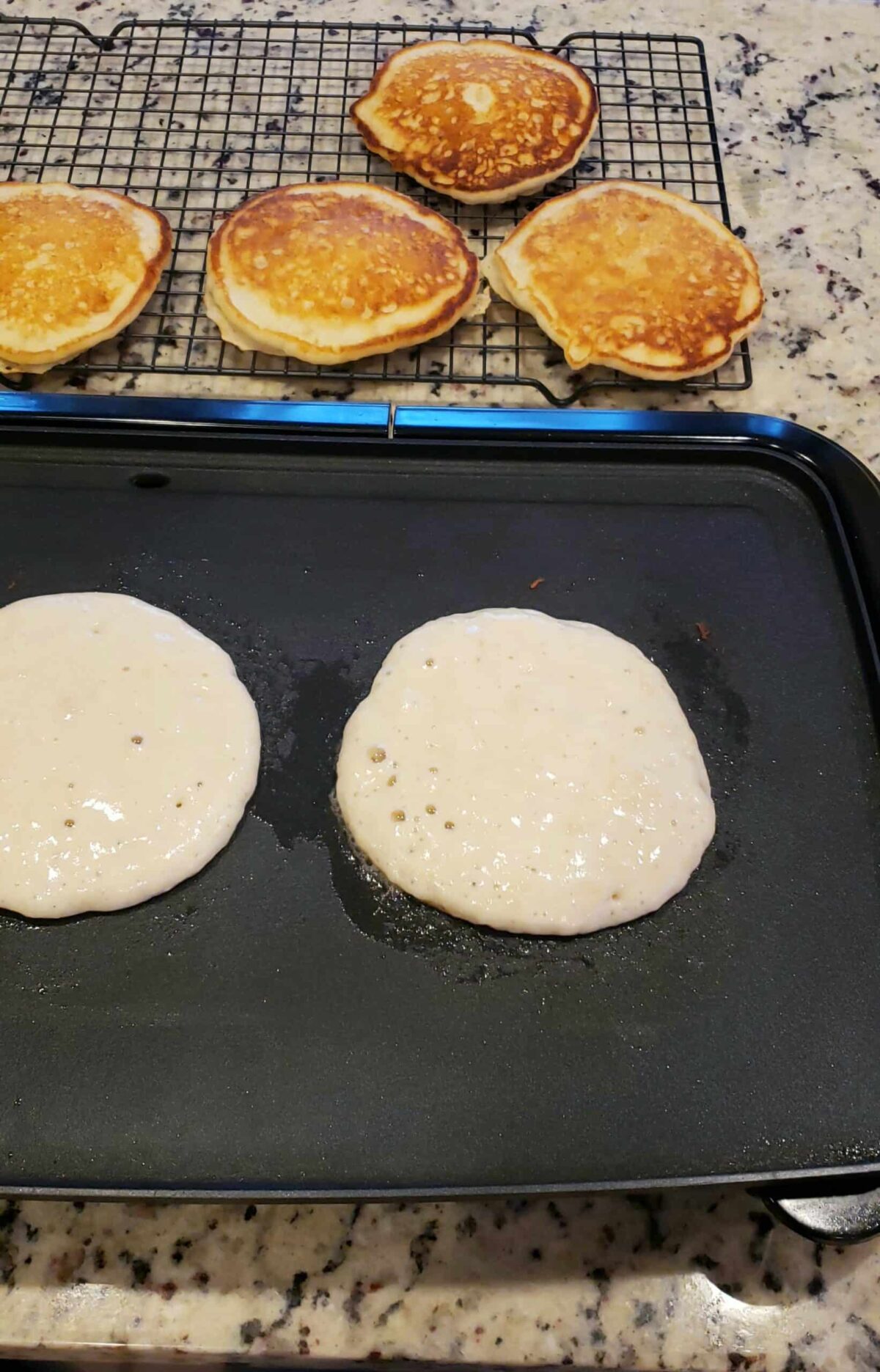 Don't be tempted to turn the pancakes too soon! Wait until you see lots of popped bubbles on the top. You can gently raise the bottom up with a flat spatula to see if they are lightly browned on the bottom.
If they are very brown on the bottom with very few bubbles on top, your heat is too hot.
Tip: To avoid soggy pancakes, don't stack them immediately. Place them on a wire rack just a couple of minutes, then go ahead and stack away.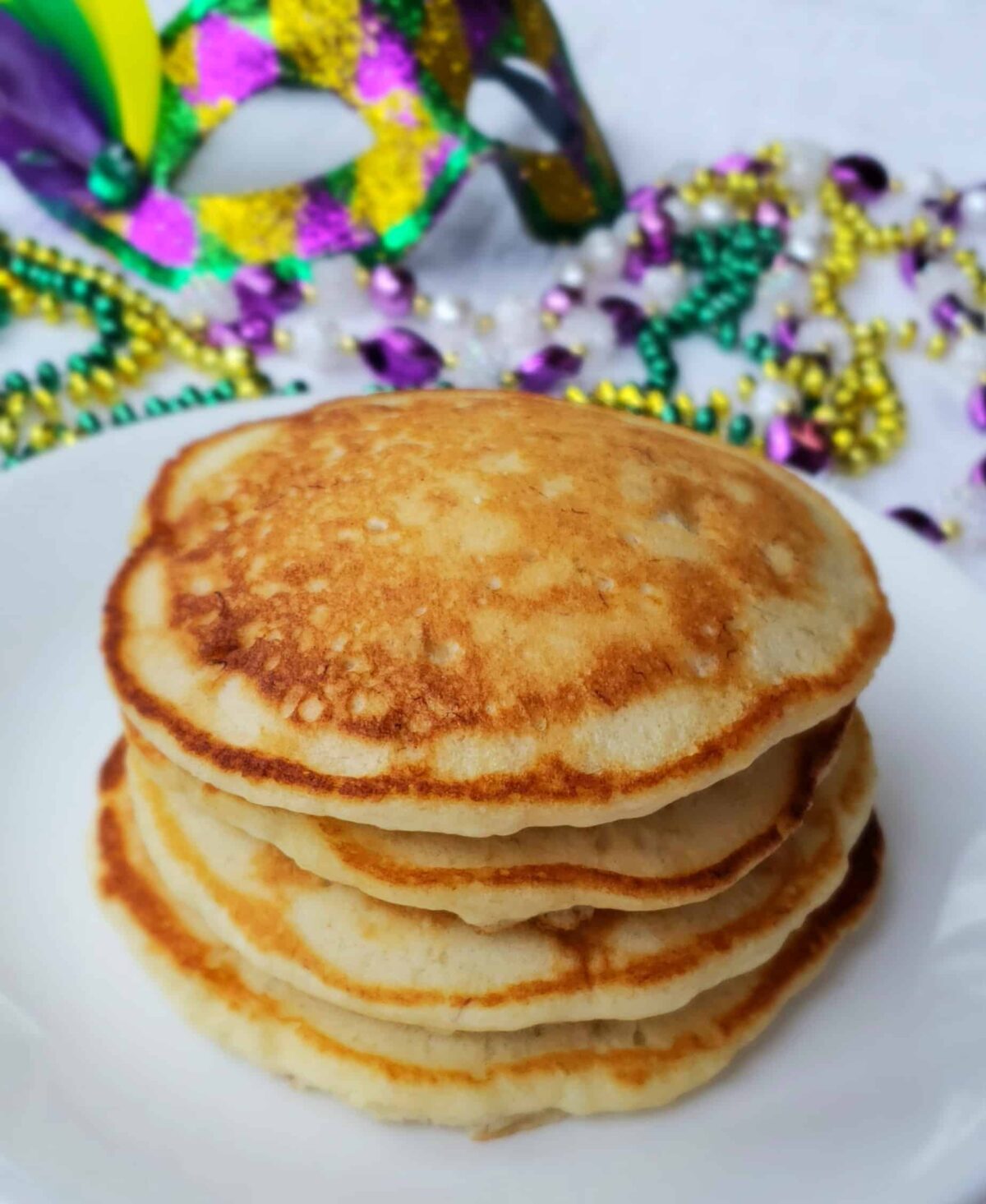 These are ready to eat right now! Oh, I can just pick up these banana pancakes and eat them on the run like they are! They are that good.
Banana Bread Pancakes
If you want to add 1/2 teaspoon ground cinnamon or 1 tablespoon cinnamon-sugar to the batter, you have Banana Bread Pancakes!
Actually, you could add the cinnamon to these King Cake Pancakes because cinnamon is baked into a King Cake.
How to gild the lily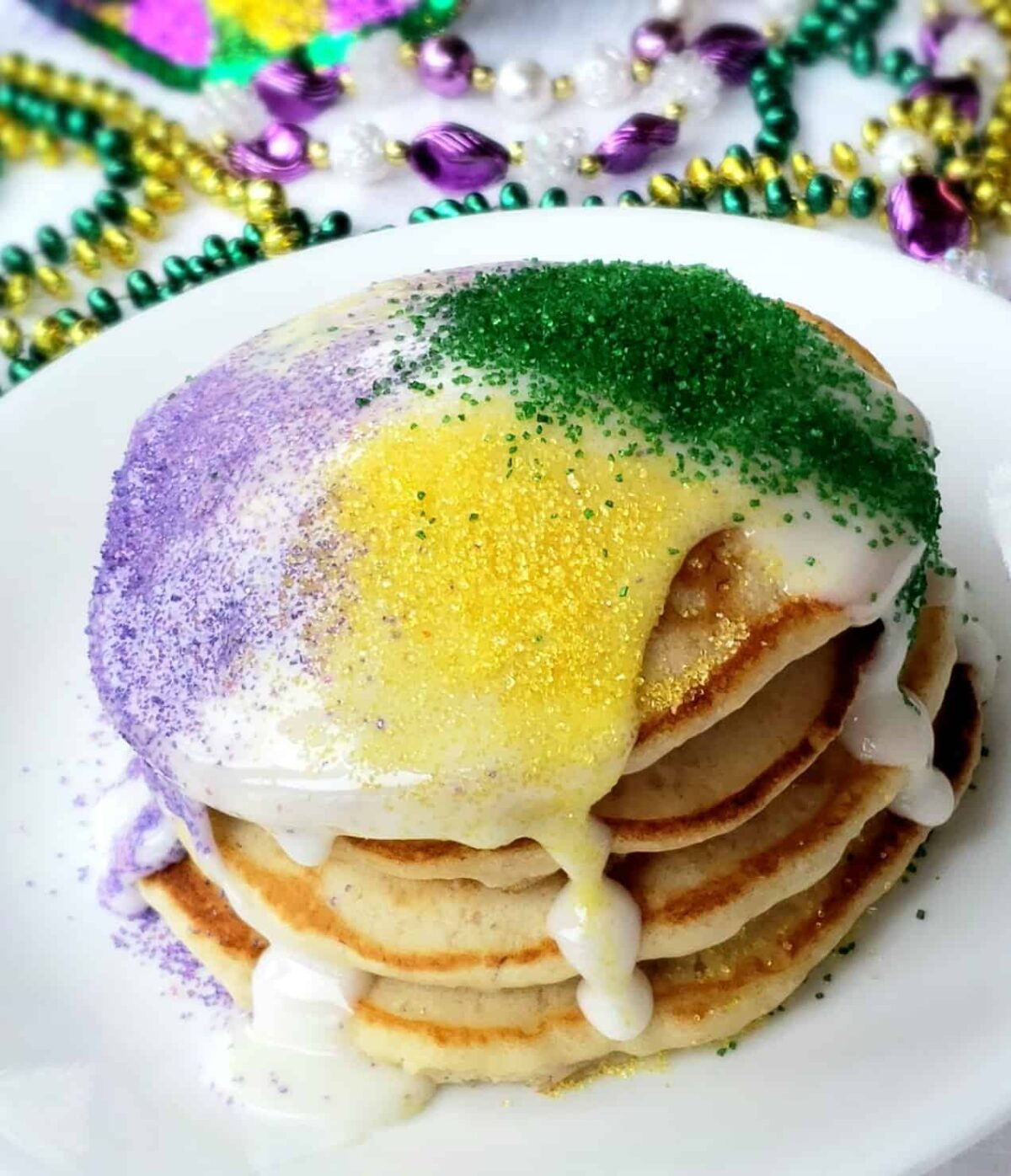 To gild the lily, drizzle the easy icing made of half and half (or milk) and powdered sugar over the top and quickly sprinkle gold, green, and purple sanding sugars over the top....
That's what these King Cake Pancakes are... over the top!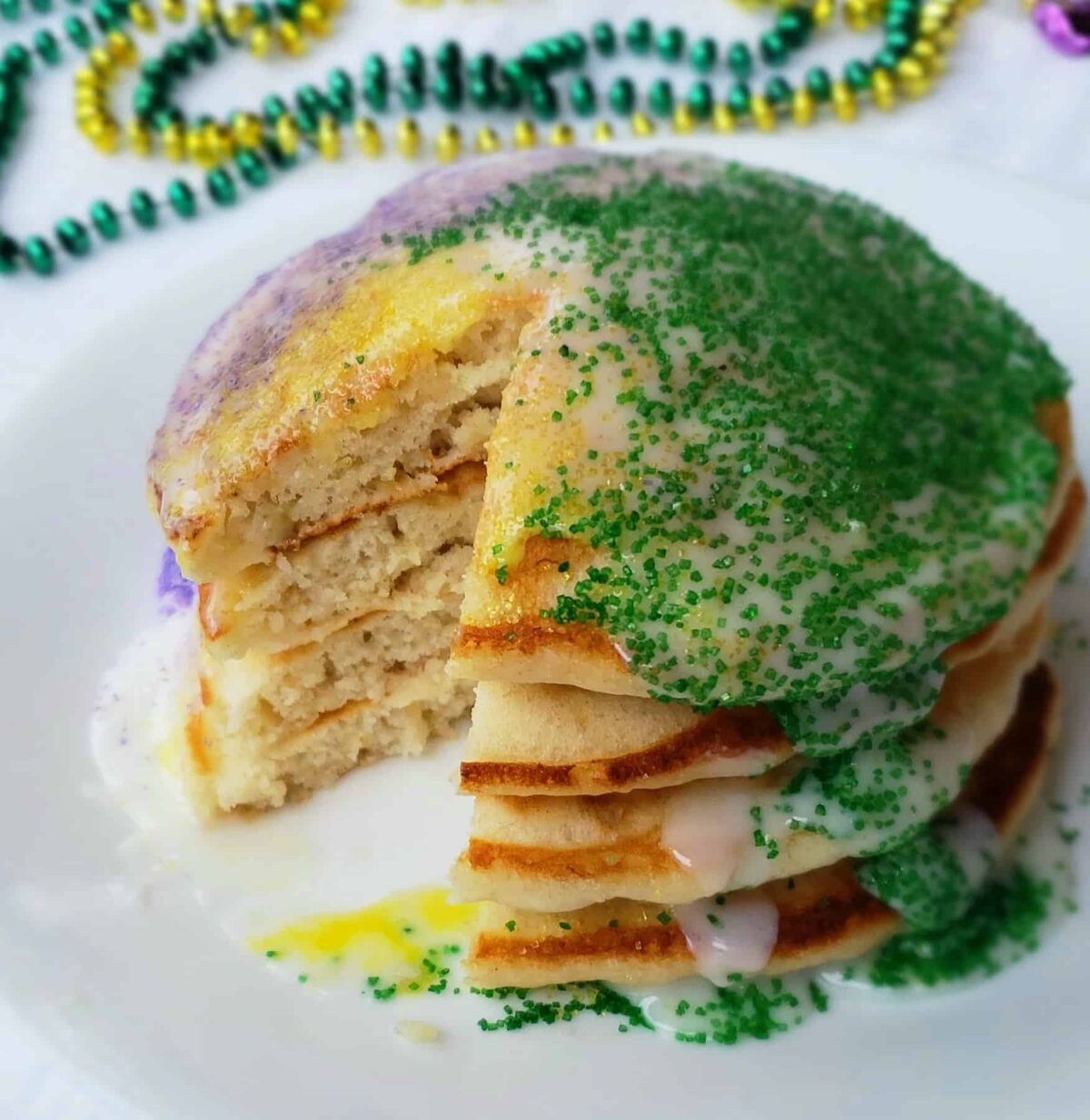 Do I have to add mashed banana to my pancake batter?
No. You can always leave out the banana and add the amount of water on the box if you aren't a banana fan. They will still be yummy buttermilk pancakes.
Watch the video from ABC 33/40's morning show
You can watch the video below where I make King Cake Pancakes with Nicole Allshouse on ABC 33/40's Talk of Alabama on Fat Tuesday. Just click on the pic.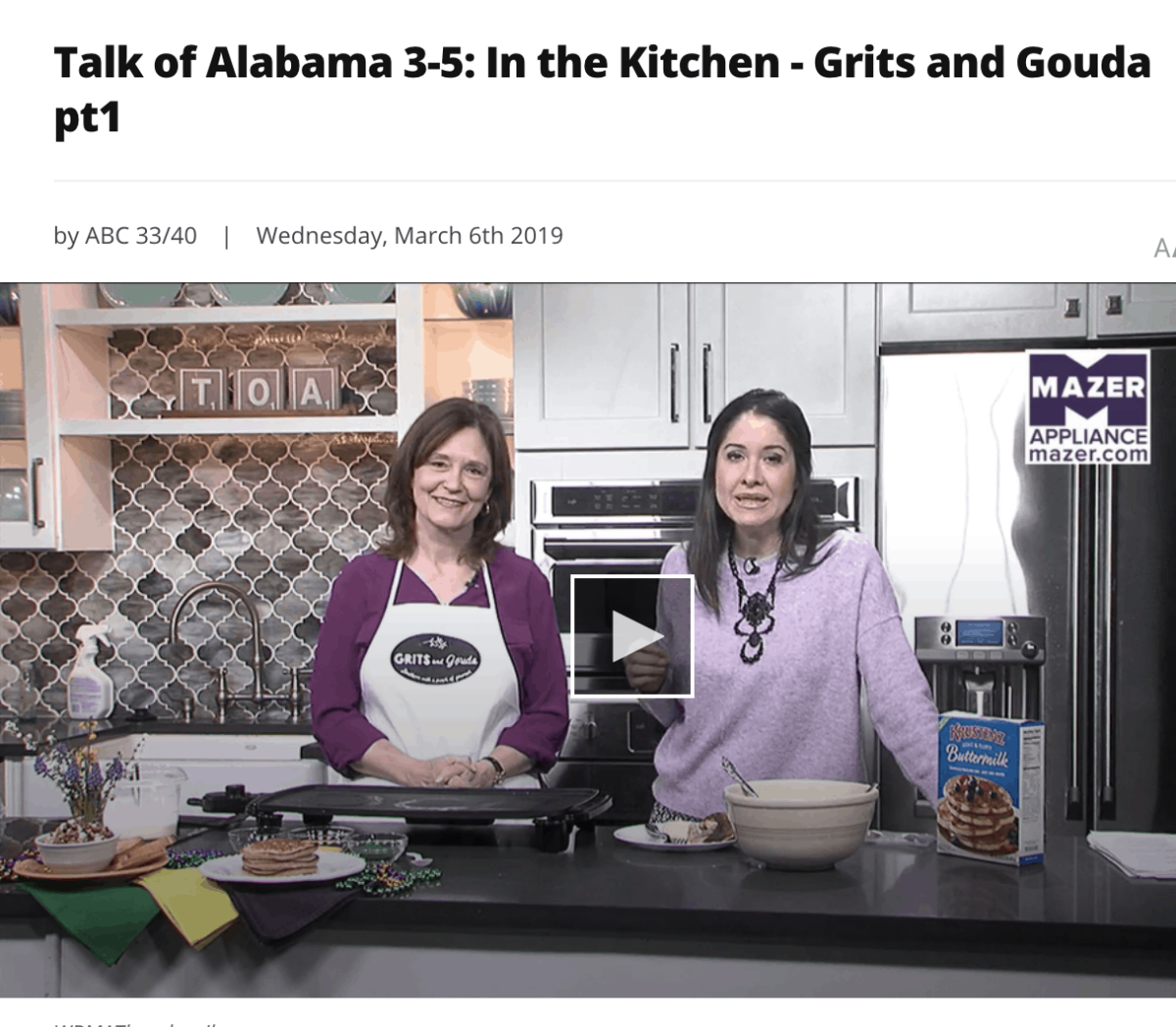 Comment below if you make these and let me know how they turned out!
Other Breakfast recipes to try
If you love Brinner as much as I do, check out a few of my other breakfast recipes.
Bacon-Wrapped Cheesy Tater Tots
Follow me on Facebook, Instagram, Pinterest and YouTube. Be social and share, y'all! Don't forget to sign up with your email so you don't miss a single post on my Southern shortcut recipes!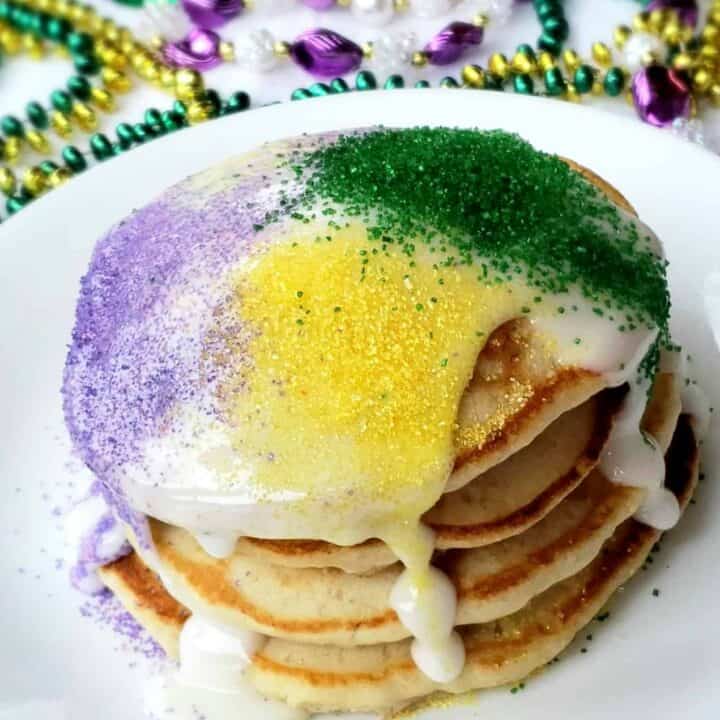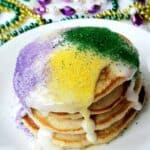 Print Recipe
King Cake Pancakes for Mardi Gras and Fat Tuesday
These shortcut banana pancakes are slathered in a simple icing and sprinkled with gold, green and purple sanding sugars. These King Cake Pancakes will remind you of the famous King Cakes eaten on Fat Tuesday for Mardi Gras. You put icing and sprinkles on donuts don't you? Why not on pancakes?
Ingredients
2

cups

buttermilk complete pancake mix

(I used Krusteaz)

1/2

teaspoon

ground cinnamon (optional) *

(Or, 1 tablespoon cinnamon-sugar)

1

cup

water

2

small ripe bananas

mashed with a fork (about ¾ cup)

1

tablespoon

melted butter

1

tablespoon

vegetable oil

2

cups

powdered sugar

3

tablespoons

half-n-half, whole milk, or 2 % milk

(or half whipping cream and half water)

Purple, gold, and green sanding sugars
Instructions
Preheat an electric griddle to 350 degrees or heat a large cast iron or nonstick skillet over medium heat.

Combine pancake mix, (cinnamon, if using) water, and mashed bananas in a large bowl, stirring just until moistened.

Melt butter in a very small bowl in the microwave for 30 seconds. Add the vegetable oil and stir well. Brush a little of this mixture in a circle on the griddle for each pancake.

Pour about 1/4 cup batter per pancake onto the greased circles in the skillet. I use a 1/4 cup dry measuring cup.

Cook 2 to 3 minutes or until tops are covered with bubbles and edges look cooked when lifted with a spatula. If the edges look brown before the tops are bubbly, your heat is too hot.

Carefully turn pancakes over with a spatula that won't scratch the nonstick surface; cook about 1 minute more or until bottoms are lightly browned.

While pancakes cook, whisk together powdered sugar and milk. (Add additional milk if icing is not able to "drizzle" to your liking.

Stack 2, 3, or 4 pancakes on a plate (depending on your appetite) and drizzle with icing. (2 pancakes is a typical serving)

OPTIONAL: In keeping with the King Cake tradition, you can place a tiny plastic baby between the layers of pancakes for someone to find. Or, a whole almond or other nut can be used. Tradition has it that whoever finds the prize inside was pronounced King or Queen. More recently, the tradition is that person is responsible for bringing a King Cake next year.

Sprinkle with purple, gold, and green sanding sugars-found with the sprinkles on the cake decorating aisle.

Pancake syrup can also be used.

This recipe makes 9 (4-inch) pancakes using a 1/4-cup measuring cup to spoon out the batter.
Notes
Note: These pancakes are amazing any day of the year with any color sanding sugar! Unicorn Variation: Unicorn Pancakes Use blue, pink, and purple sanding sugars and place a pointed sugar cone on the stack of pancakes. Using Wilton or Betty Crocker's black cake decorating icing, draw two black eye lashes on the cake.
Traditional King Cake has cinnamon in the cake, so it is an option to stir in 1/2 teaspoon ground cinnamon or 1 tablespoon cinnamon-sugar mixture.
Tip:

Combining butter and vegetable oil to grease the skillet is an excellent mixture to fry pancakes because the butter adds flavor and the vegetable oil has a higher smoke point and won't burn the pancakes.
Nutrition
Serving:
2.25
pancakes
|
Calories:
448
kcal
Did you make this recipe?
If you love it, share it! Tag me on Instagram @gritsandgouda using #gritsandgouda Comment below before you go!