My homemade Double-Stuffed Cinnamon Rolls are stuffed with TWICE the average amount of brown-sugar and cinnamon gooey goodness! Warm cinnamon rolls slathered with vanilla icing are classic comfort food. I'm sharing all my shortcut and pro tips with you for these soft, pillowy layers of sweet rolls.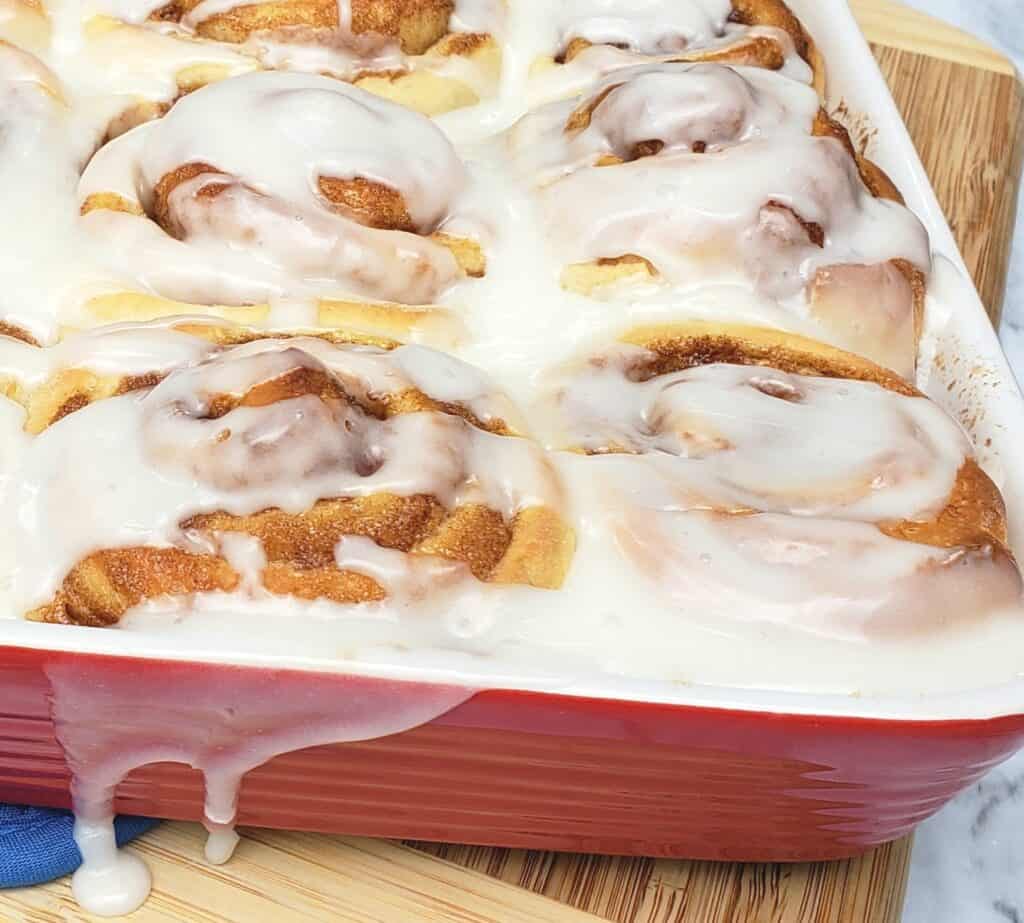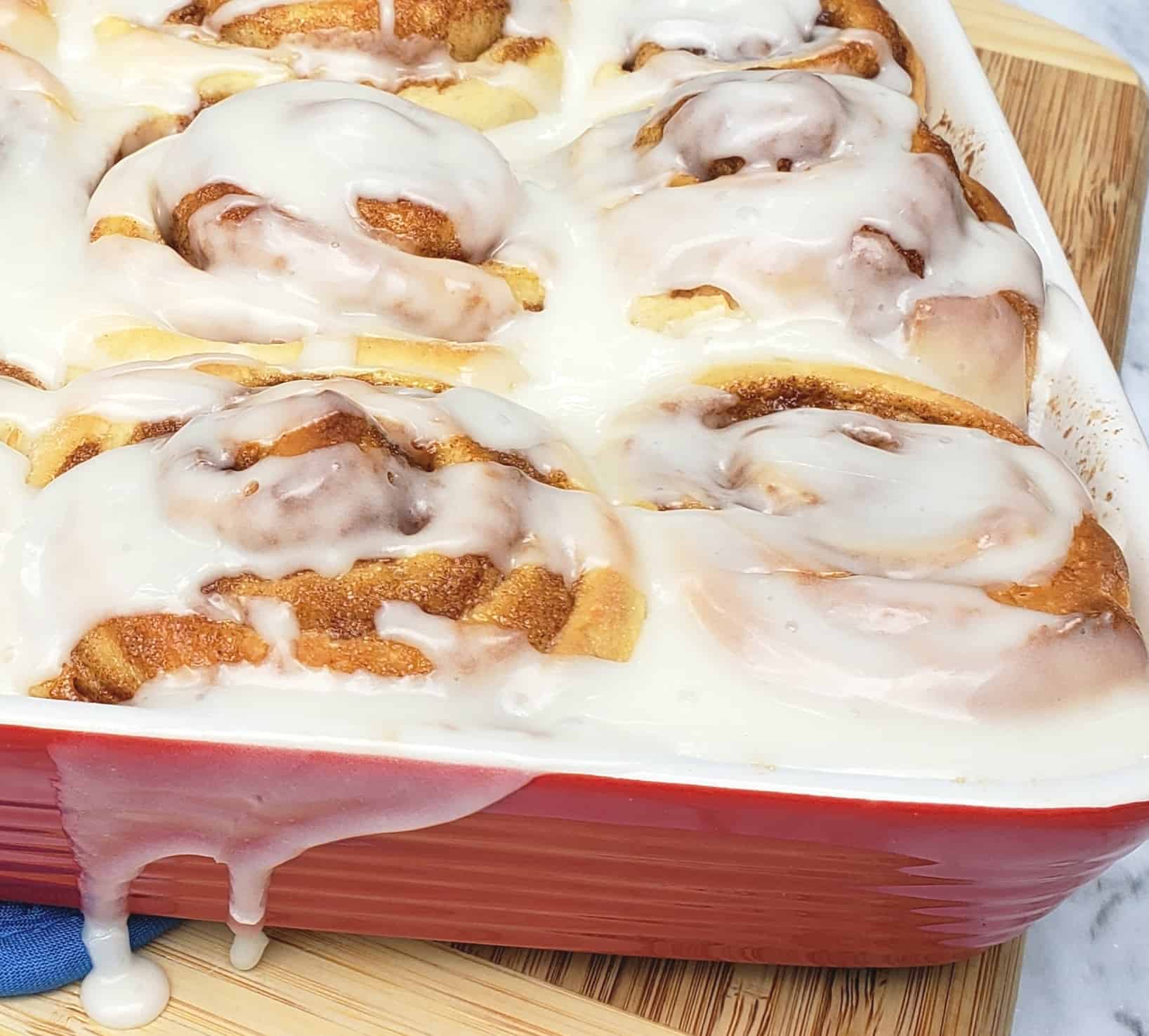 As if the enticing smell of sweet yeast rolls baking, mixed with the persuasive aroma of cinnamon-sugar-butter combination isn't enough, then there's the mounds of vanilla icing poured generously over the clouds of soft, pillowy baked layers of dough......Are you hungry yet?
Our reaction to these sights and smells of baked cinnamon rolls is exactly why places like Cinnabon bakeries in malls are huge successes. They are irresistible and the bigger the better!
Shortcuts
I'll go ahead and tell you upfront, this is not one of my quick shortcut recipes but I still have shortcuts to share!
Shortcut to rising dough in almost half the time (keep reading).
Also, the dough only rises once. Often the dough/rolls will rise twice.
I'm also using fast-rising yeast which speeds things up a bit!
This is a full-blown, from-scratch recipe but I do promise to give you all of my tips expert tips along the way to make it as easy as possible to make because they are soooo worth a little extra time to make.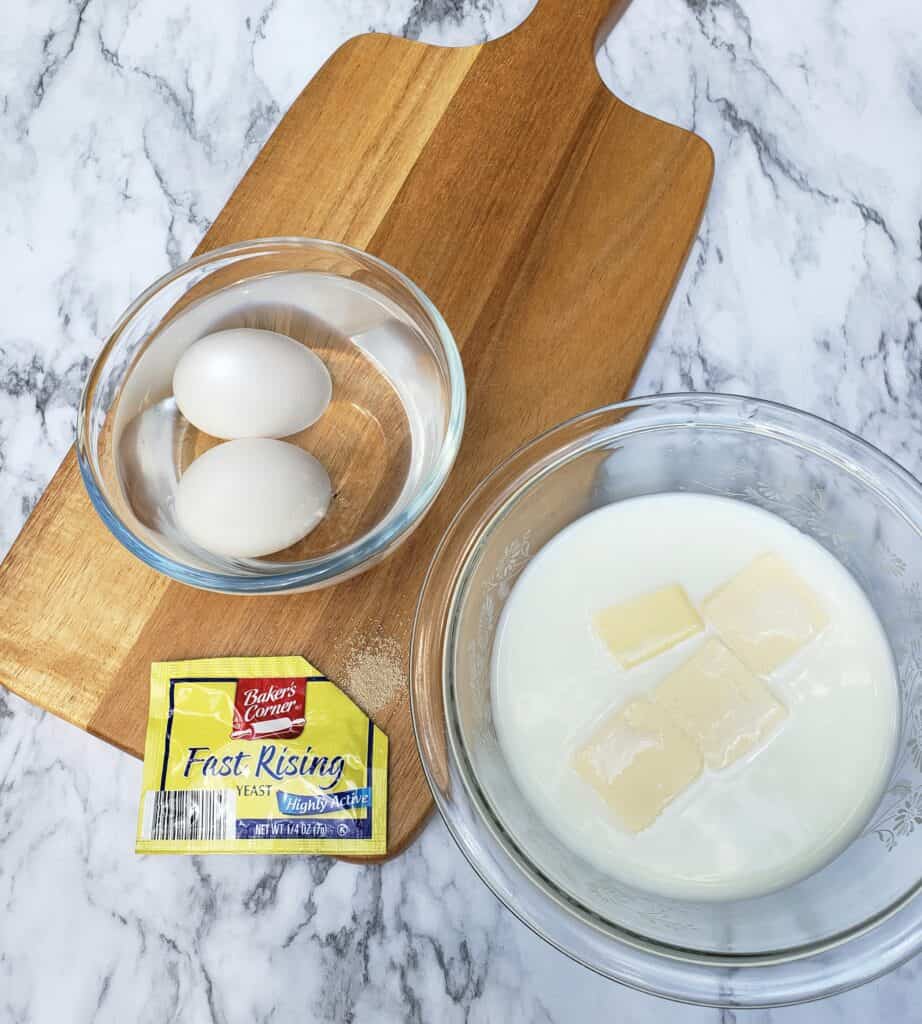 How to make eggs room temperature in 5 minutes
To bring the eggs to room temperature without waiting 30 minutes is to place them in a small bowl of very warm (not boiling) tap water for 5 minutes.
Room temperature eggs really will make a difference in the texture of your dough which affects the end result.
How to make the dough
Unless I am working with a yeast dough that is going to rise overnight in the fridge (like my No-Knead Yeast Rolls), I like to use instant yeast, also known as Rapid Rise or fast-rising yeast. Why not?
The only difference is that the active dry yeast takes a little longer to rise and I don't want to wait any longer than I have to before I sink my teeth in these babies.
It's common to dissolve the active dry yeast in warm water, then add it to the rest of the ingredients. I developed this recipe to stir the fast rising yeast into the dry ingredients, then just stir in the hot milk mixture and beat on medium-low to dissolve the yeast to save a step.
The milk mixture needs to be hotter (125 degrees to 130 degrees) rather than (105 degrees to 115 degrees) where you dissolve the yeast directly into the liquid.
Pro tip:
The milk mixture is hotter because the temperature will immediately reduce and it needs to be still be hot enough to dissolve and activate the yeast. You can use an instant read thermometer .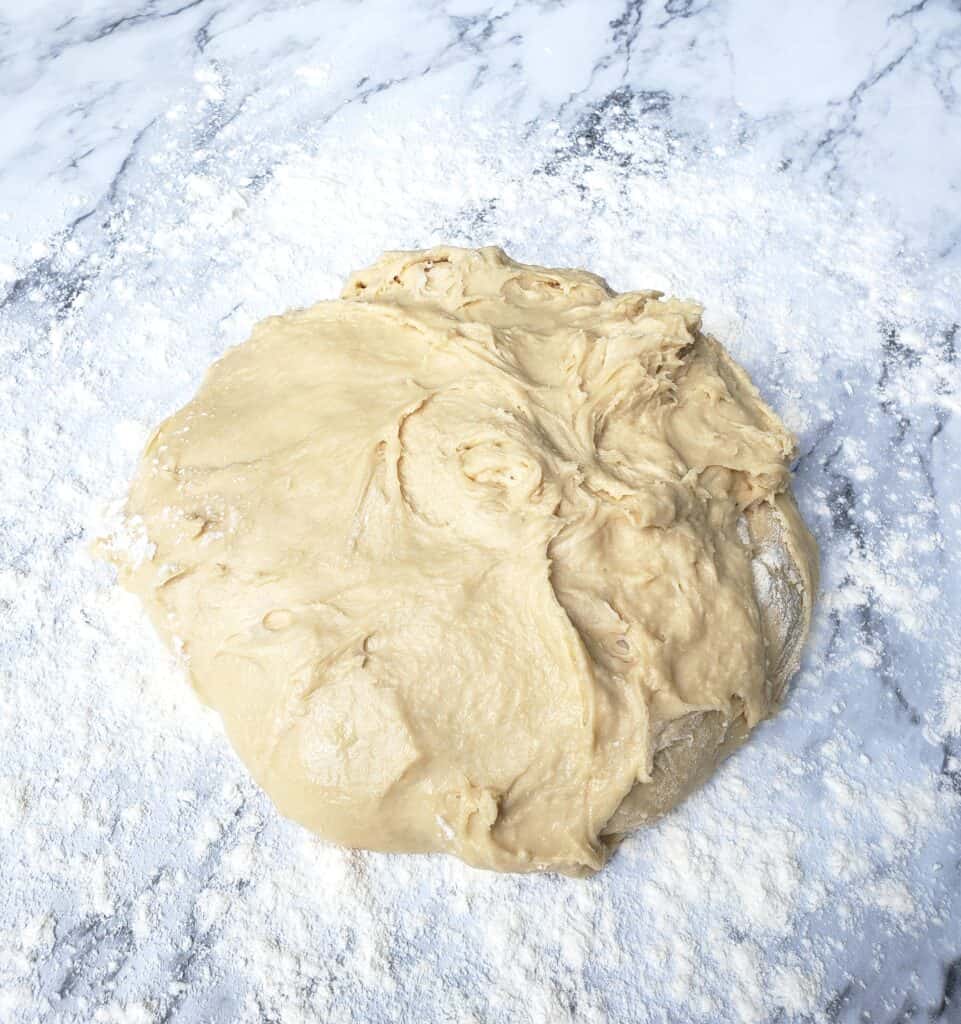 Pro tip:
Use a heavy-duty stand mixer with a dough hook. If you don't have the dough hook, it's ok to use the regular paddle for this recipe because the dough is not as stiff as, say, a loaf of bread.
The stand mixer will allow you to mix the dough longer without adding unnecessary flour needed to turn it out and knead it. Too much flour makes the end result dry and crumbly.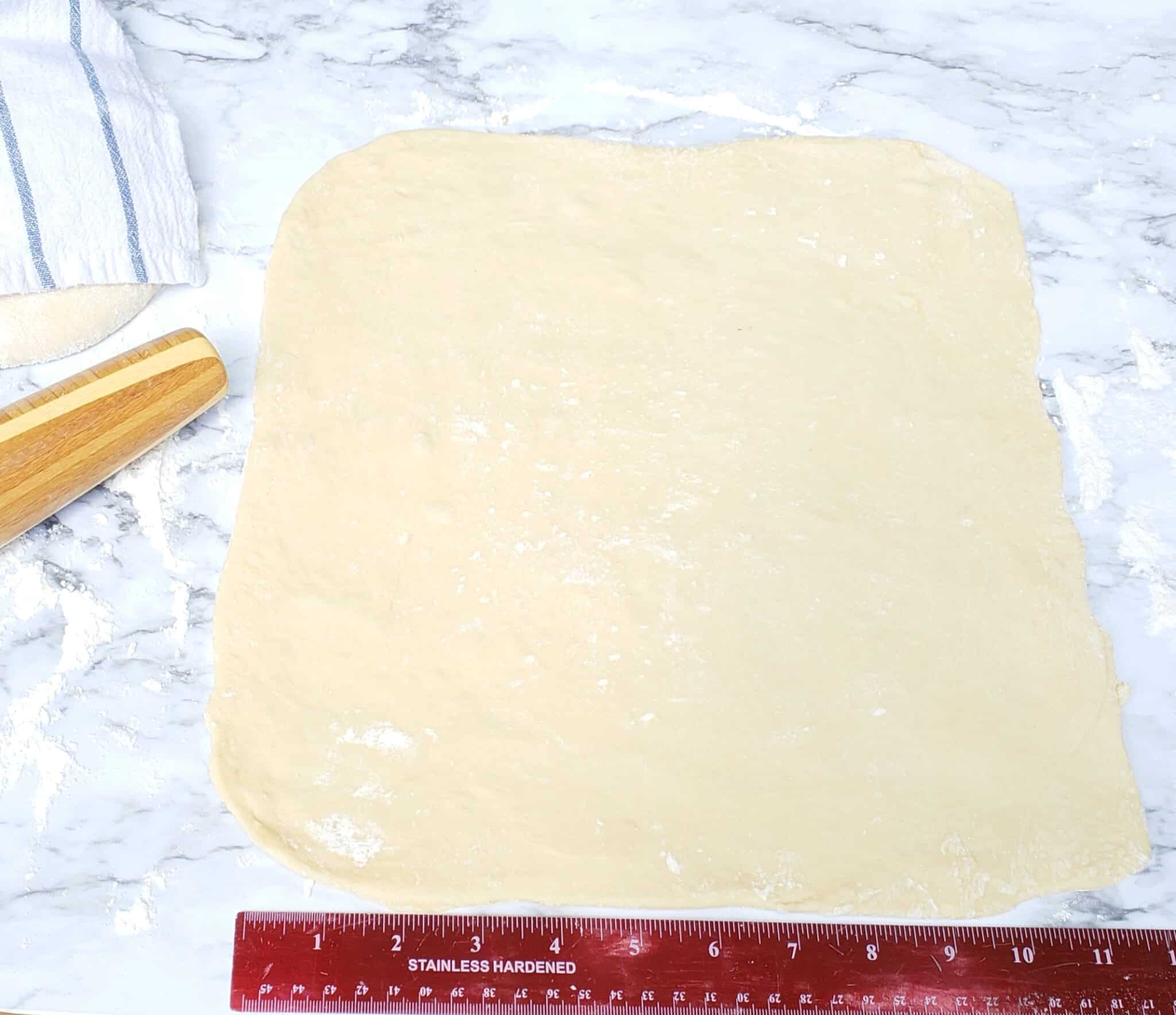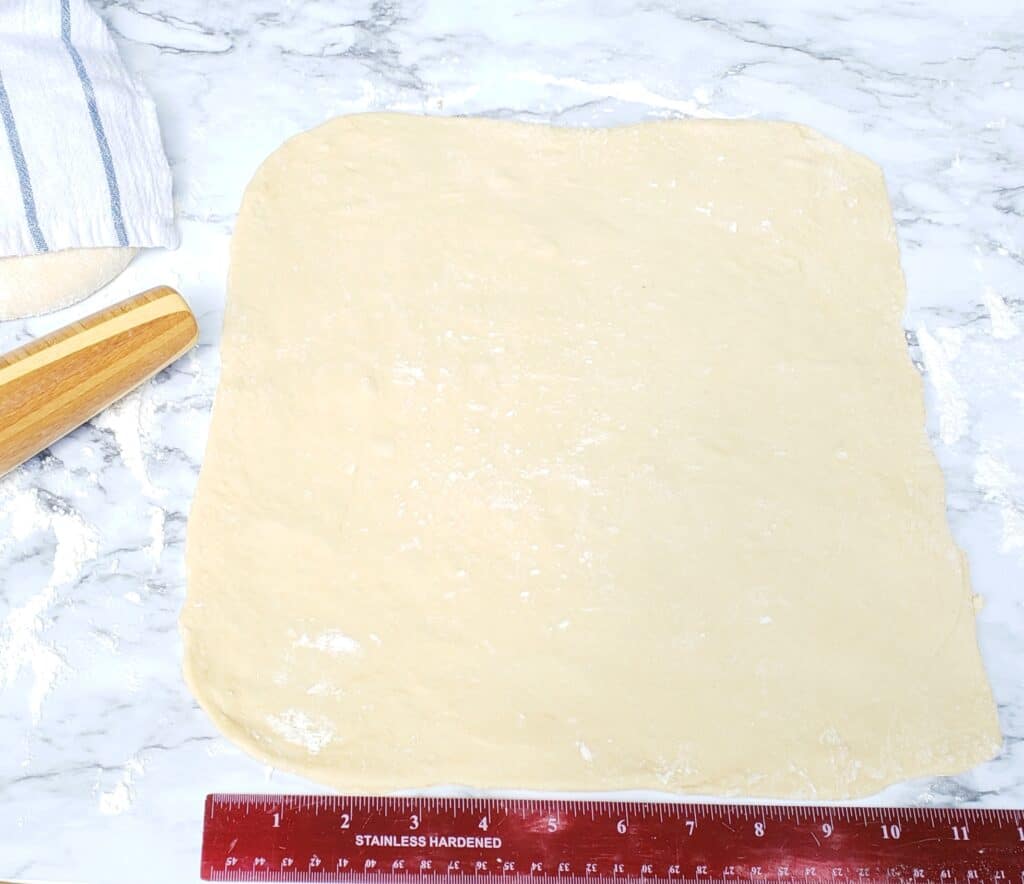 Divide the dough in half on a lightly floured surface. Keep the remaining half under a kitchen towel to prevent it from drying out. Roll out the dough to a 14"x12" rectangle. The dough should be tender and not stretchy.
How to make the filling
Here's where we slather on the brown sugar/cinnamon/butter mixture-twice the amount of most cinnamon roll recipes!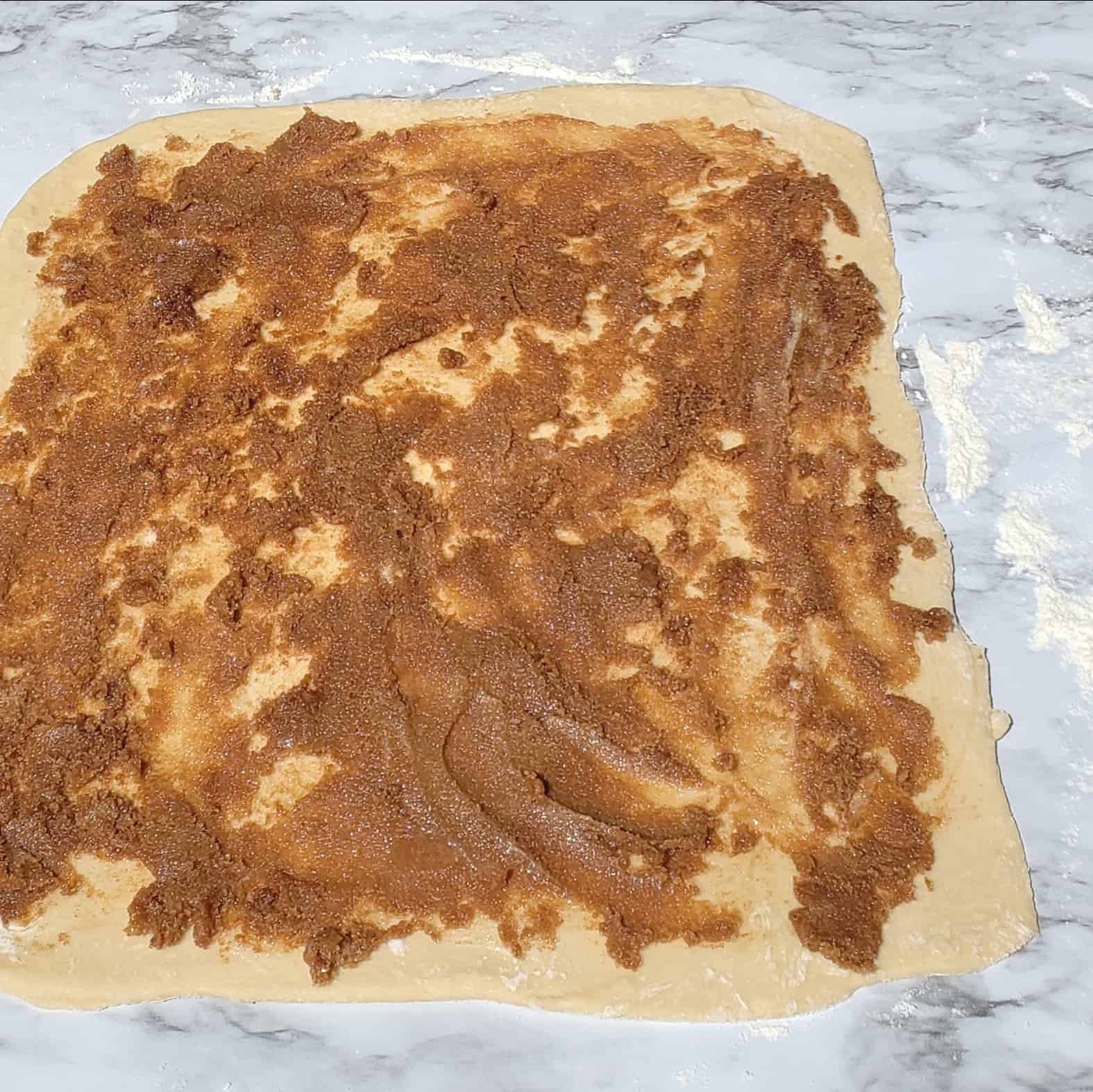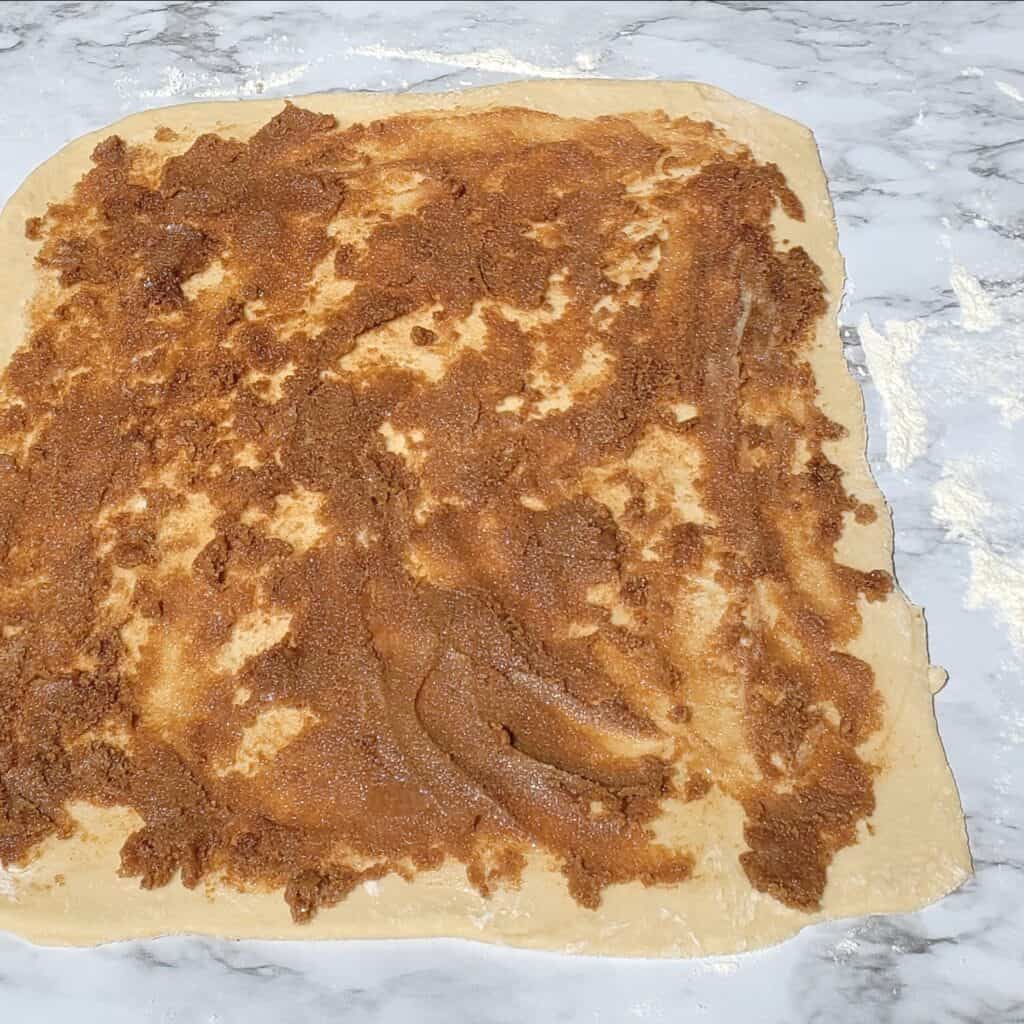 I've tested a lot (and I mean a lot) of cinnamon roll recipes over the past 30 years either in the Oxmoor House test kitchen, Coastal Living/Cooking Light, and TIFS (Time Inc Food Studios-now owned by Meredith) or just for my own baking pleasure.
I created this version to satisfy my craving for MORE sweet goodness on the inside of the soft pillowy rolls.
Starting at the short end, roll the dough up into a log.
In the test kitchen, we used to edit this method "jellyroll fashion" but these days, I'm not sure how many people are making jellyroll cakes. Pinch the edges together to form a seam, then roll the log so that seam is on the bottom.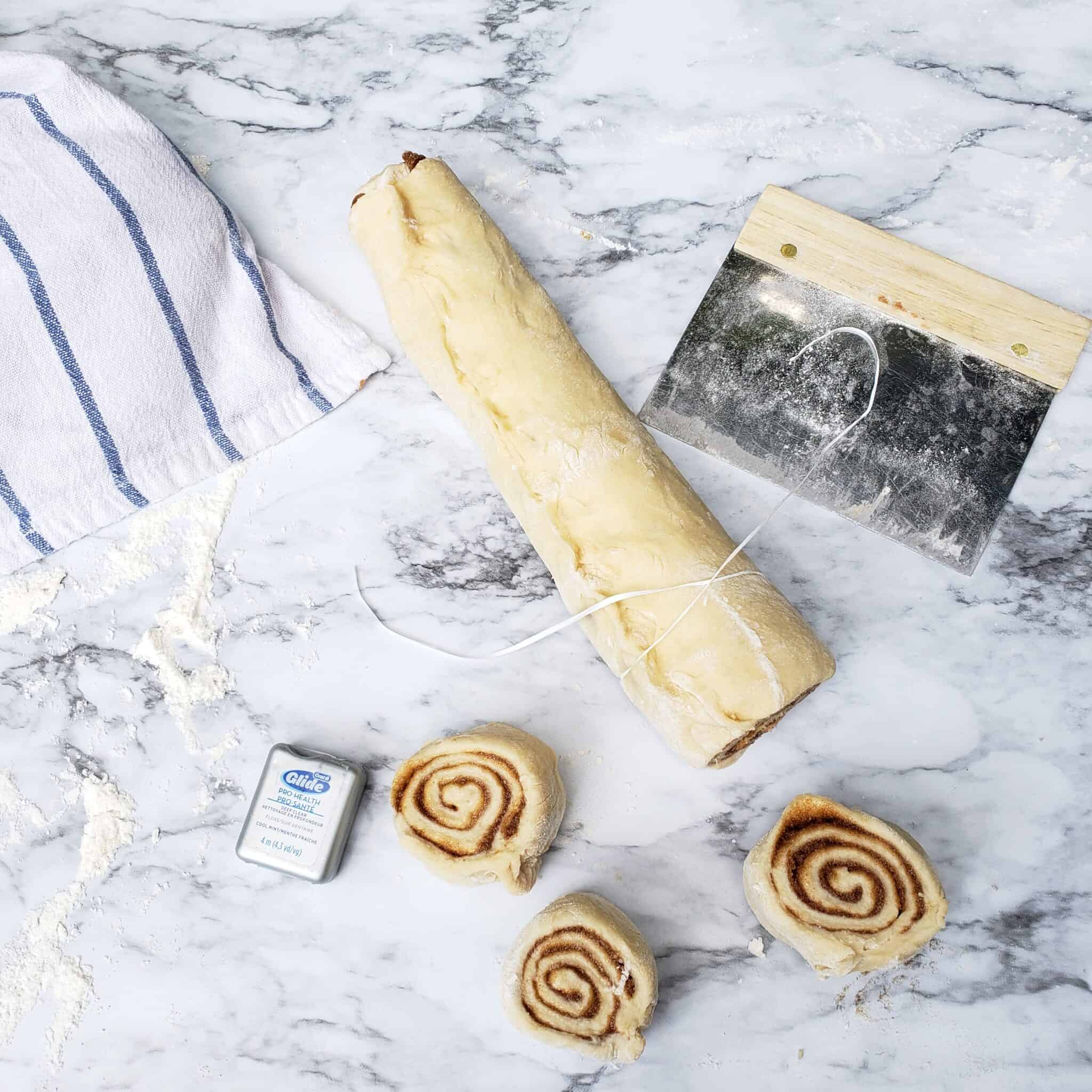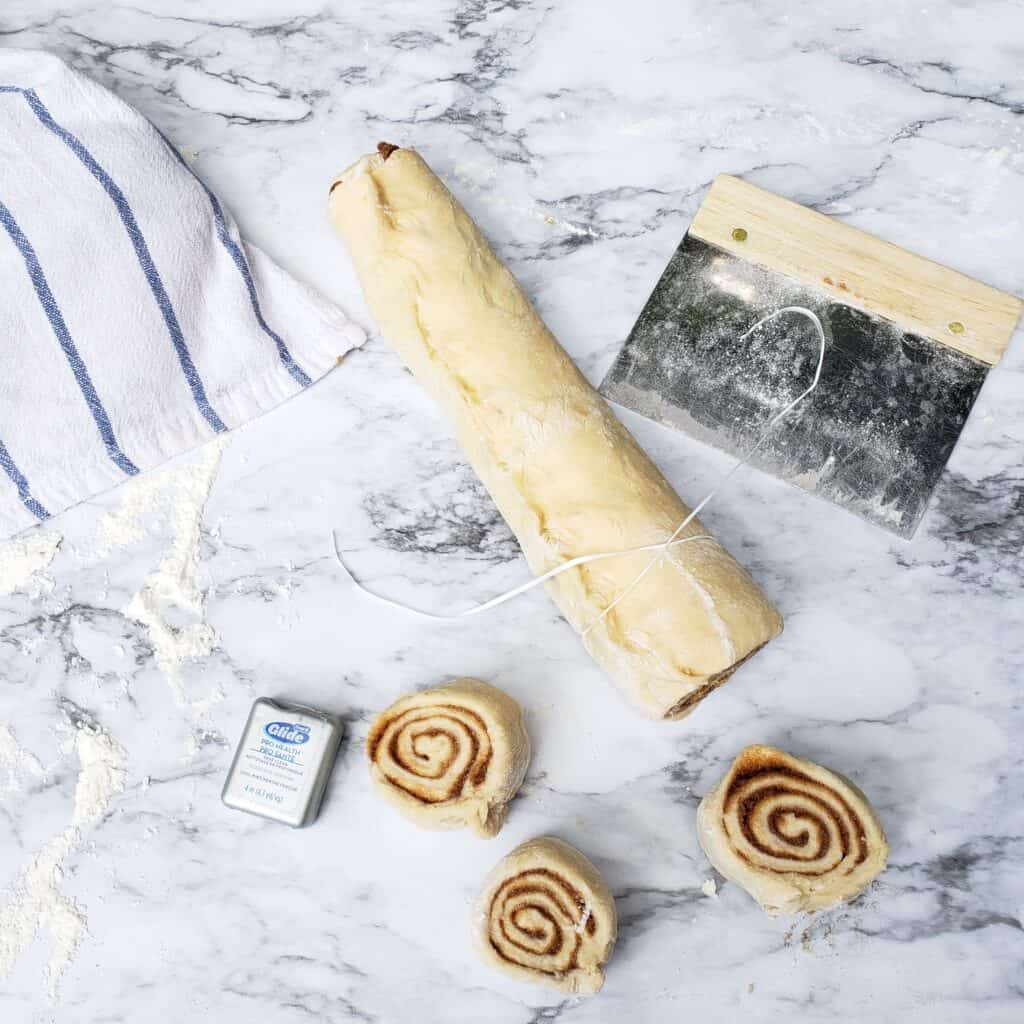 Trick to slicing perfect cinnamon roll dough:
Here is my best tip for slicing this tender, chock-full-of-filling cinnamon roll log.
Dental floss is the key.
If you have a super sharp knife, you might be able to slice through the dough without mashing it but if you are a good dental patient, you will have some dental floss in a drawer somewhere!
I won't tell on you if it is the free sample the dentist gives you and it is still unopened. As you can see, that's what I use.
Simply slip the dental floss under the log, crisscross the floss (no need to tie it off). Pull the floss in opposite directions and it makes a perfect slice without making a misshaped, mashed slice. Repeat with the other log.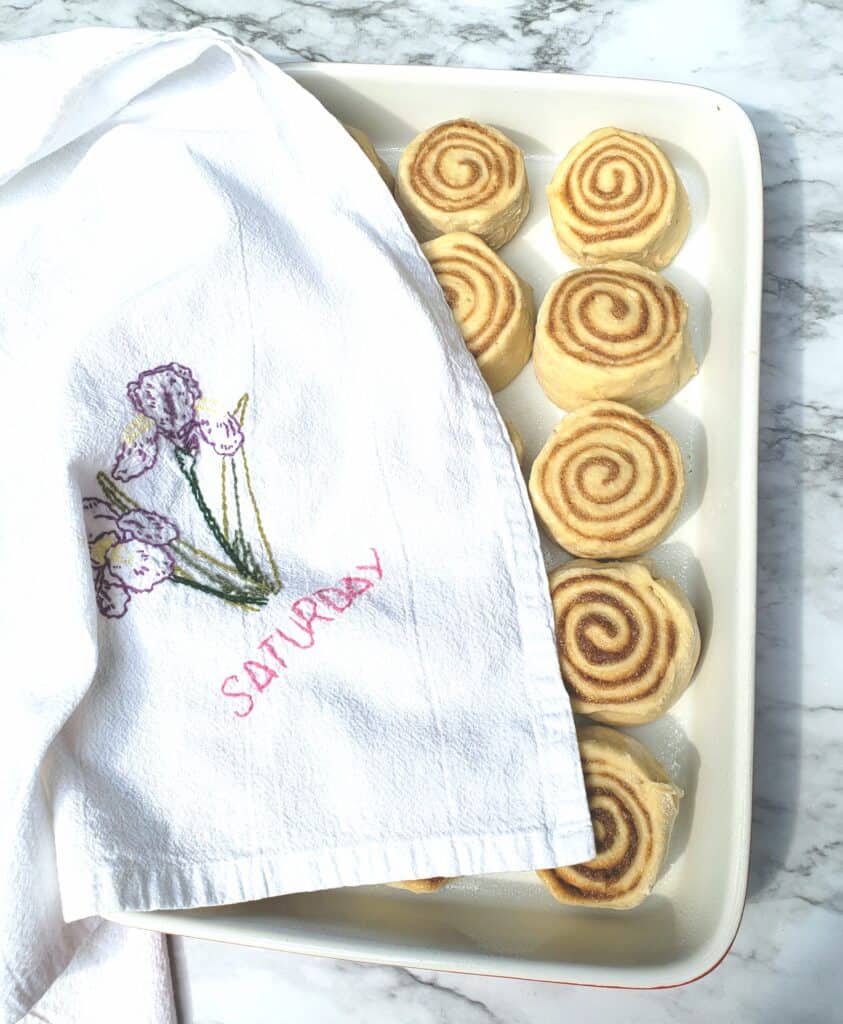 Place 15 of the cinnamon rolls close together in a 13x9 inch baking pan or dish. If you like the outside edges of your cinnamon rolls to have more of a firm edge/crust, then space them further apart.
I like to cut mine about 1 1/4" wide to make tall, impressive-sized rolls which yields almost 20 rolls.
If you want to make an even 2 dozen, just make 12 (1-inch) slices on each log and place them in rows of 3x4 in two 8-inch baking pans or dishes and bake them slightly less. Cover them with a kitchen towel and let them rise until double their original size.
Shortcut: Creating a proofing oven.
That's right! A proofing oven cuts the rising time significantly, but how many of you have a proofing oven?
Typically, it takes yeast dough 45 minutes to 1 hour to rise to double in size, if left on the counter, and even more if you like your A/C on the colder side.
To create the perfect dough-rising environment (which is 85 degrees, free from drafts and slightly humid) turn your oven into a proofing box or "drawer". (Note: Some ovens have this setting on them, now)
Adjust top oven rack to the middle position and the bottom rack on the bottom.
Simply turn your oven on 350 degree for 30 SECONDS-set a timer.
Turn oven off. You now have a proofing oven ready to rise the dough.
Place the cut cinnamon rolls, uncovered, on the middle rack.
While oven heats up, place a 2-cup glass measuring cup or microwave-safe bowl with 1 cup water in it in the microwave. Microwave on HIGH for 2 minutes. Place the measuring cup to the right or on the rack underneath the pan of rolls, but to the far side so it doesn't create heat directly under the pan. You're just trying to create a little bit of humidity. Too much steam may melt the butter in the filling.
Do all the cinnamon rolls fit in one pan?
Now, you may be thinking I did my math wrong, but I realize I have about 5 rolls without a home to bake in at 1 1/4" slices.
I actually like this set up because this allows me to bake the remaining rolls in a small disposable pan I buy at the Dollar Tree.
I keep these pans on hand so I can gift them to others like church members, friends, neighbors. My husband is always wanting to take goodies to the office, too.
Can I freeze unbaked cinnamon rolls?
Yes. You can freeze these extra rolls individually on a baking sheet before proofing/rising.
Then, once frozen, place them in a freezer plastic bag or air tight container. Freeze up to 3 months.
How do I bake frozen rolls?
Let them thaw and rise on the counter for several hours until doubled in bulk. Keep them covered with a kitchen towel.
Once risen, bake according to the printable recipe below.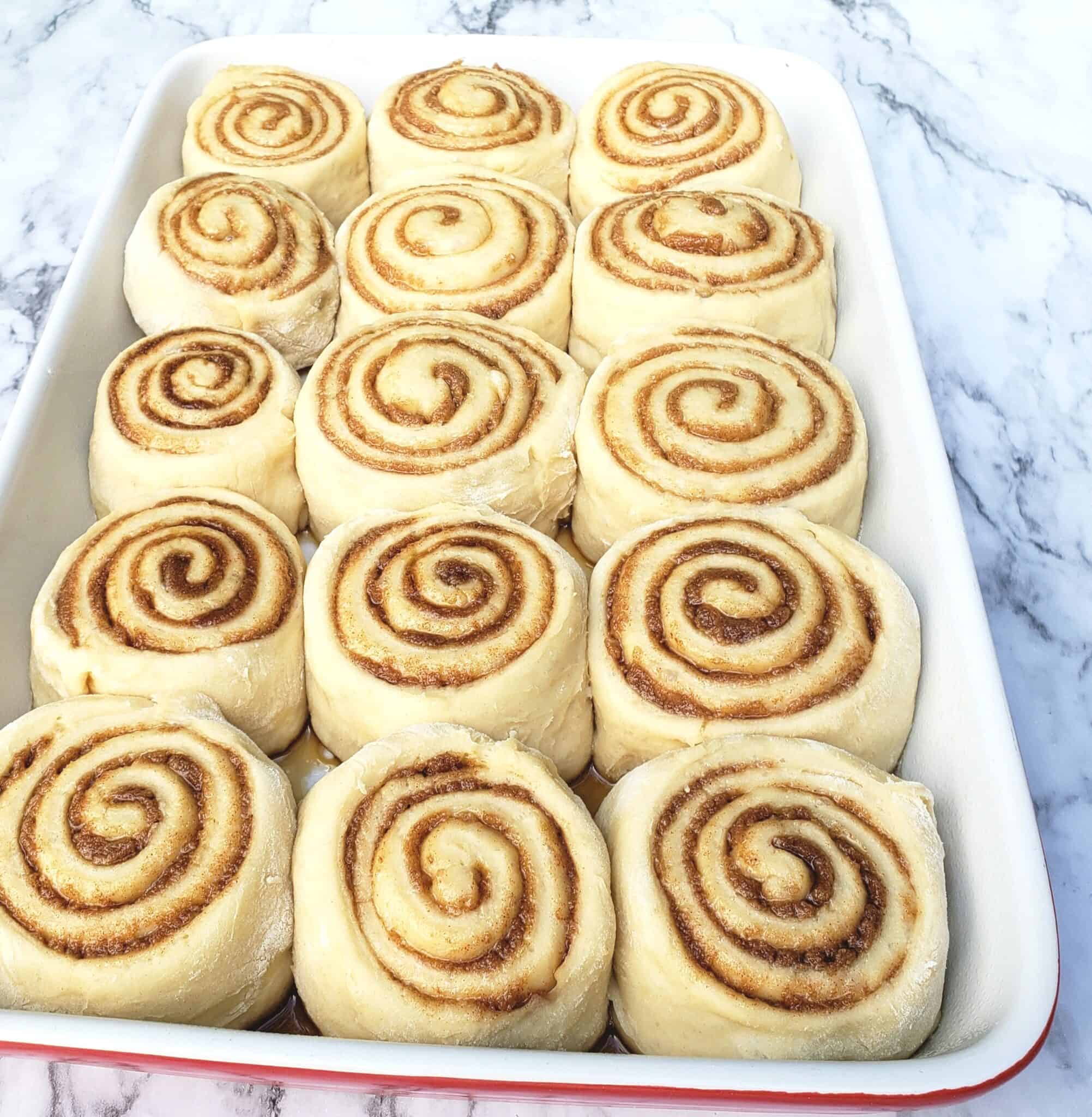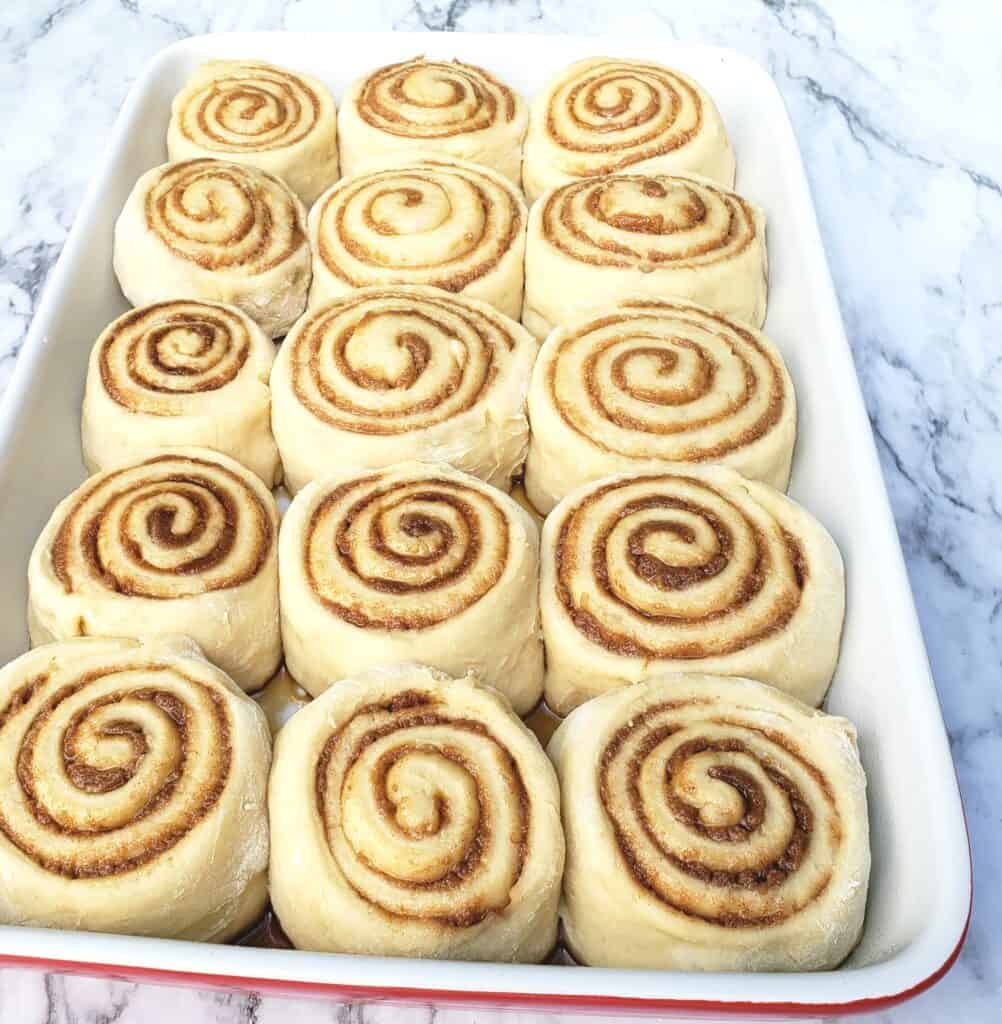 Just look at those big beautiful cinnamon rolls! The dough bakes up into pillowy soft rolls.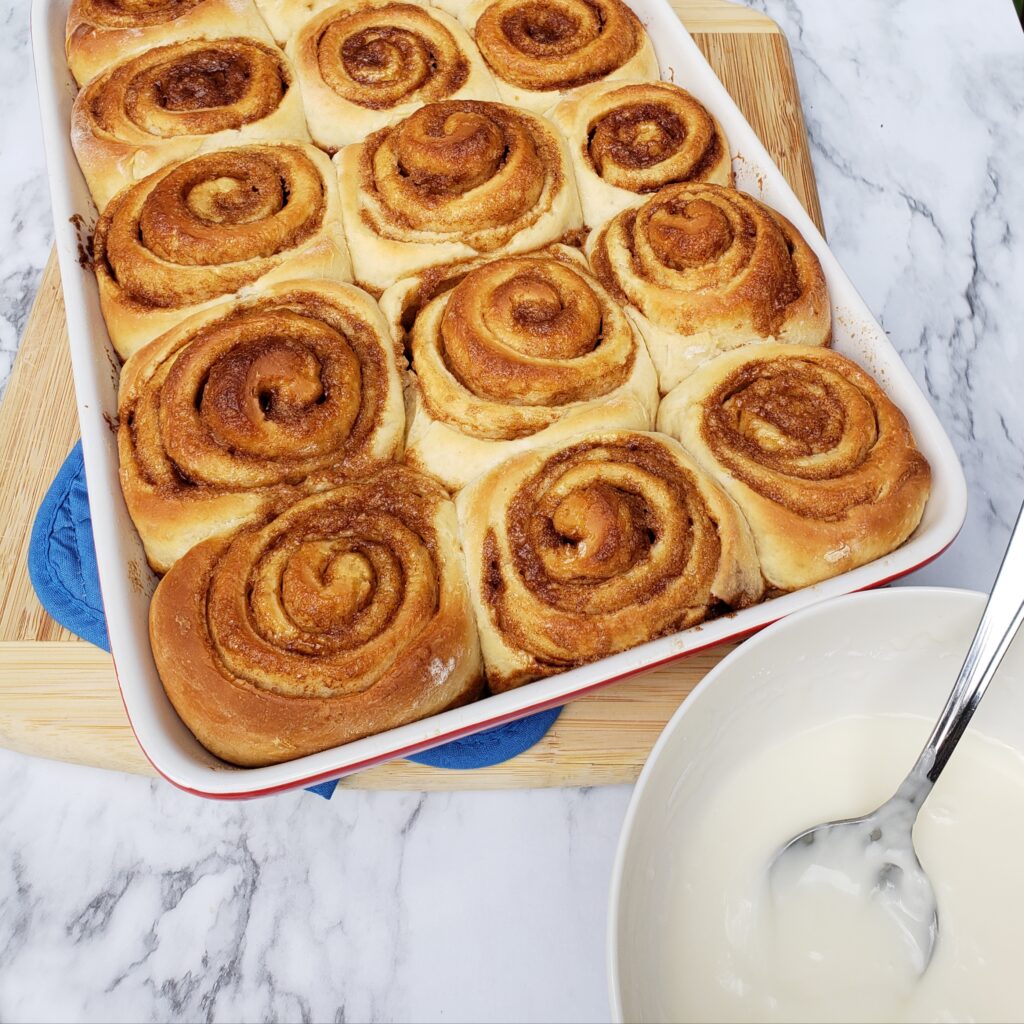 How to make the icing
This is the most fun part of making these Double Stuffed Cinnamon Rolls!
Don't hold back on the icing and make more if you feel the need! Better yet, make a second batch of icing just for extra dipping!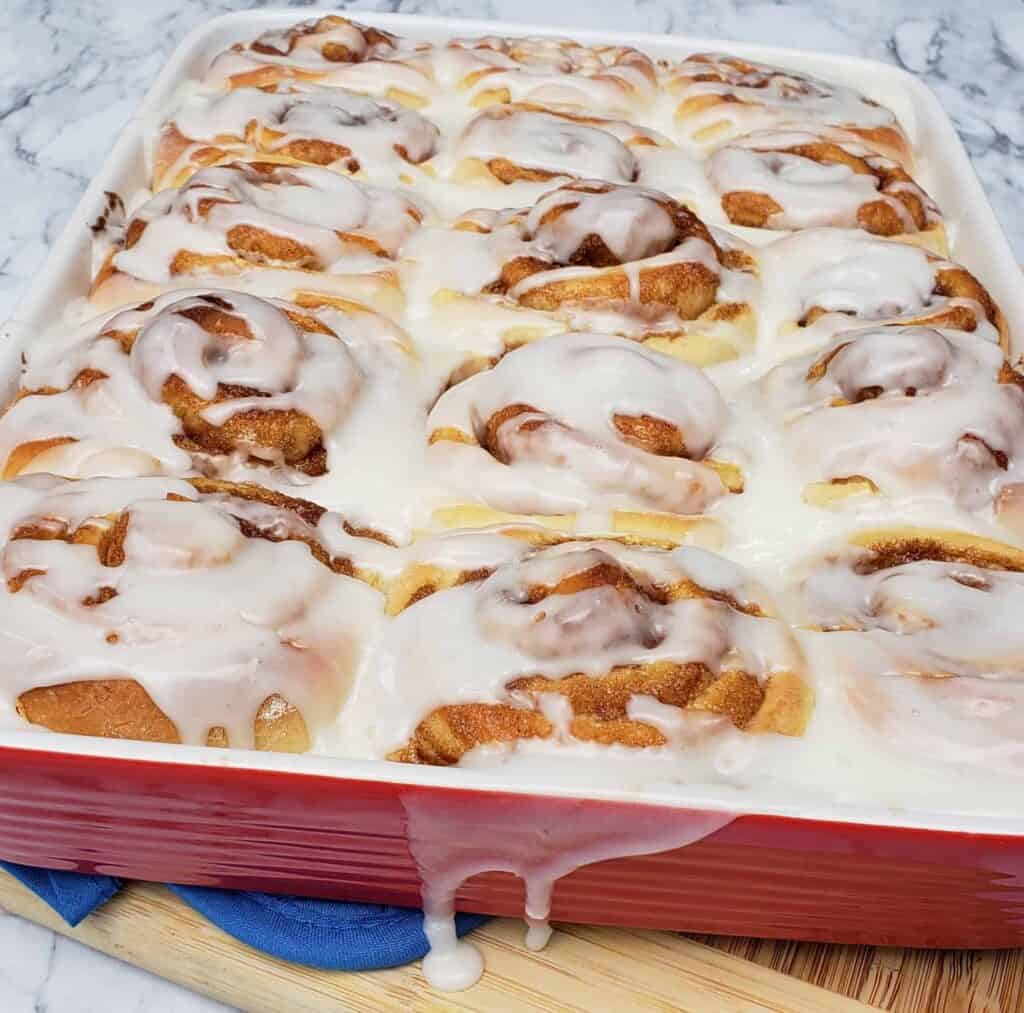 I guarantee these Double-Stuffed Cinnamon Rolls will not be around long. They are irresistible warm, still yummy at room temperature, and tasty the next day warmed in the microwave.
Make these this weekend and make some friends!
Can Double-Stuffed Cinnamon Rolls be made ahead?
I made these again when my daughter came home from college to visit.
Make the dough the night before and refrigerated it covered.
Turn it out onto the counter and let it stand for 30 minutes-covered with a towel.
Roll it out and proceed with the recipe.
Let the risen rolls stand at room temperature for 30 minutes or until doubled in size before baking.
Note: I feel sure I could go through the process of cutting the rounds and placing in the dish and let them rise in the fridge overnight but haven't tried it. They might need to set on the counter for awhile to continue to rise if they are not doubled in bulk straight from the fridge.
Other breakfast or brunch recipes you may enjoy
Homemade Copycat Krispy Kreme Donuts
If you make this recipe I'd love to see it! Tag me on social media with #gritsandgouda or @gritsandgouda. Leave a comment below the printable recipe if you have questions or tell me how you liked the recipe. Don't forget to give the recipe a rating of 5 stars if you love it!
Follow me on Facebook, Instagram, Pinterest and YouTube. Be social and share, y'all! Don't forget to sign up with your email so you don't miss a single post on my Southern shortcut recipes!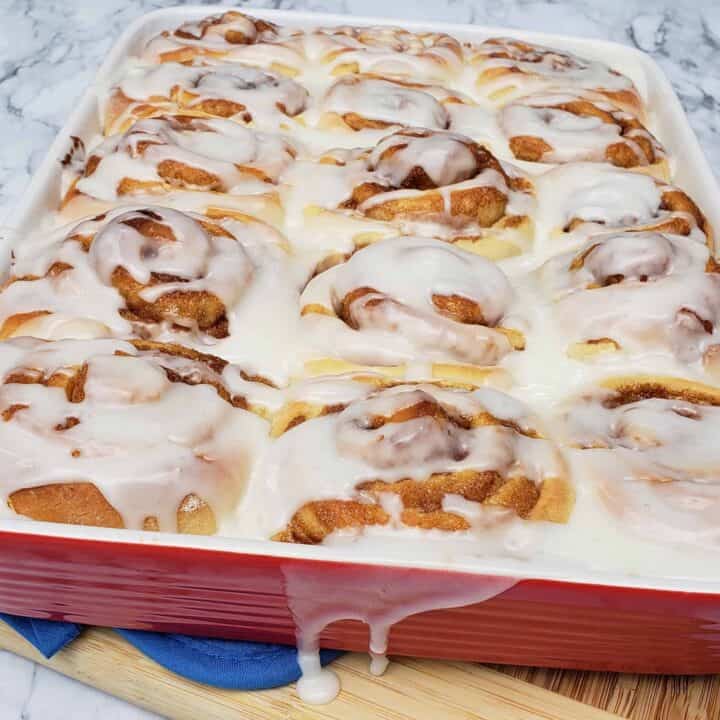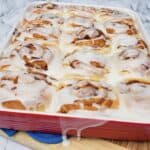 Print Recipe
Double-Stuffed Cinnamon Rolls
Twice the amount of brown sugar/cinnamon/butter mixture in the middle as regular cinnamon rolls. Made from scratch and worth every minute.
Ingredients
1

cup

2% milk

1/3

cup

salted or unsalted butter

cut into 4 pieces

3 1/2

cups

all-purpose or bread flour, divided

3/4

teaspoon

salt

1

(1/4-ounce)

package fast rising or Rapid Rise yeast

(also called instant)

2

large

eggs

1/4

cup

firmly packed light brown sugar
Filling
1 1/2

cups

firmly packed light brown sugar

3/4

cup

salted or unsalted butter, very soft

Not tub margarine or spread

1

tablespoon

ground cinnamon
Vanilla Icing
2 1/4

cups

powdered sugar

2

tablespoons

whole milk or half and half

(adjust for icing thickness)

1/2

teaspoon

vanilla extract
Instructions
Pour the milk in a small microwave-safe bowl and add the pieces of butter. Microwave at HIGH for 45 seconds. Stir, and microwave an additional 20 to 25 seconds or until butter melts and instant read or digital thermometer reaches 125 to 130 degrees. You can also do this on the stovetop in a small saucepan.

Beat eggs on medium-low in a heavy-duty stand mixer just until lightly beaten.

Combine 2 cups of the flour, yeast, and salt on a paper plate or bowl.

Add brown sugar, flour mixture, then hot milk mixture to the eggs in the mixer (in that order) and beat on medium-low until combined. Increase speed to medium and beat 2 minutes.

If you have a dough hook for the mixer, put it in now. If not, proceed with regular paddle. Add remaining 1 1/2 cups flour and beat at medium speed 3 minutes. The dough will be soft and sticky.

Turn the dough out onto a lightly floured surface (countertop). Cover it with a kitchen towel and let it rest 10 minutes. Now is a great time to make the filling.
Filling
Combine brown sugar, softened butter, and cinnamon. The butter needs to be very soft or it will be hard to spread on the dough.

Divide dough in half. Cover half of the dough with a kitchen towel. Working with half of the dough at a time, roll the first half into a 14"x12" rectangle. Spread half of the filling on the rectangle to within 1/2 inch of the edges.

Starting at the short end, roll up the dough into a log and pinch the edges to seal them closed. Place the log so the seam is on the bottom. Use dental floss or a sharp knife to cut the log into about 1 1/4' slices. (This will give you 10 slices). Or cut into twelve (1") slices. Repeat with remaining dough and filling.

Place 15 of the 1 1/4" slices in a 13x9" baking pan or dish. Place remaining 5 rolls in an 8" baking pan, 9x5" loaf pan, or small disposable baking pan.

Or, place 24 (1-inch) slices in two 8-inch baking pans or dishes.

Cover with a kitchen towel and let rise in a warm place (about 85 degrees) 30 to 45 minutes or until doubled its original size. See NOTES for creating your own proofing box. If the temperature is any hotter, the buttery filling will melt and disappear to the bottom of the pan. A little is yummy. A lot missing from the middle is sad and sticky on the bottom.

Preheat oven to 375 degrees.

Uncover and bake the cinnamon rolls at 375 degrees for 20 minutes or until golden on the tops and do not spring back when touched in the middle. I would rather slightly under bake mine than over bake them if I'm in doubt of doneness. Overbaked rolls equals dry and crumbly.
Vanilla Icing
While the rolls bake, combine powdered sugar, milk, and vanilla in a medium-size bowl. If you powdered sugar has lumps in it, run it through a wire mesh strainer by pressing it with a spoon.

Remove the cinnamon rolls from the oven and let rest 5 to 8 minutes. This will be a LONG 5 minutes because the cinnamon aroma will be tempting you. Generously pour the icing over the rolls. Wait another 5 minutes if you can, then enjoy!
Notes
Create your own proofing box in your oven! If you place yeast dough on your kitchen counter and wait for it to double in size, you might be waiting for up to 1 1/2 hours, depending on how cold you keep your air conditioning. When you use the proofing setting on some ovens or create your own, this dough will double in size in about 30 to 45 minutes!
Turn your oven on the lowest setting for 1 minute (usually about 270F degrees). Set a timer! Immediately turn oven off. This should bring your oven up to 85 to 90F degrees, the perfect temperature for dough rising, free from drafts.
I also like to place a cup of hot water to the side of the dough in the oven to create a slightly moist atmosphere to prevent the dough from drying out on the top and eliminating the need to cover it with a towel.
Did you make this recipe?
If you love it, share it! Tag me on Instagram @gritsandgouda using #gritsandgouda Comment below before you go!