It's easy to cook a whole pumpkin in an Instant Pot or pressure cooker! Are you ready to bake all the fall pumpkin spice recipes but can't find canned pumpkin on the store shelves? Did you grow your own pie pumpkins and just want to make your own pumpkin puree? I'll show you step-by-step ... no mixer or blender needed.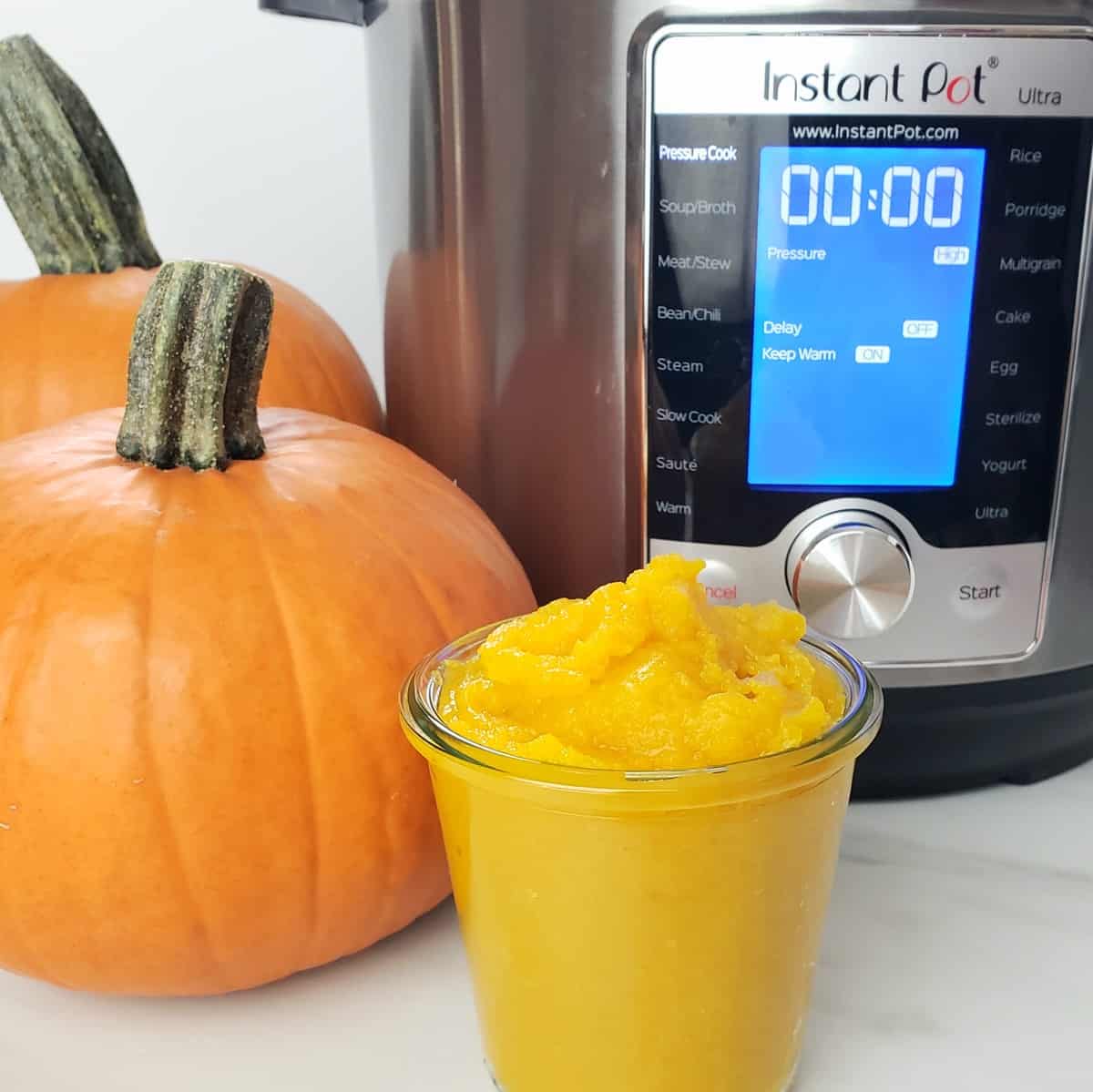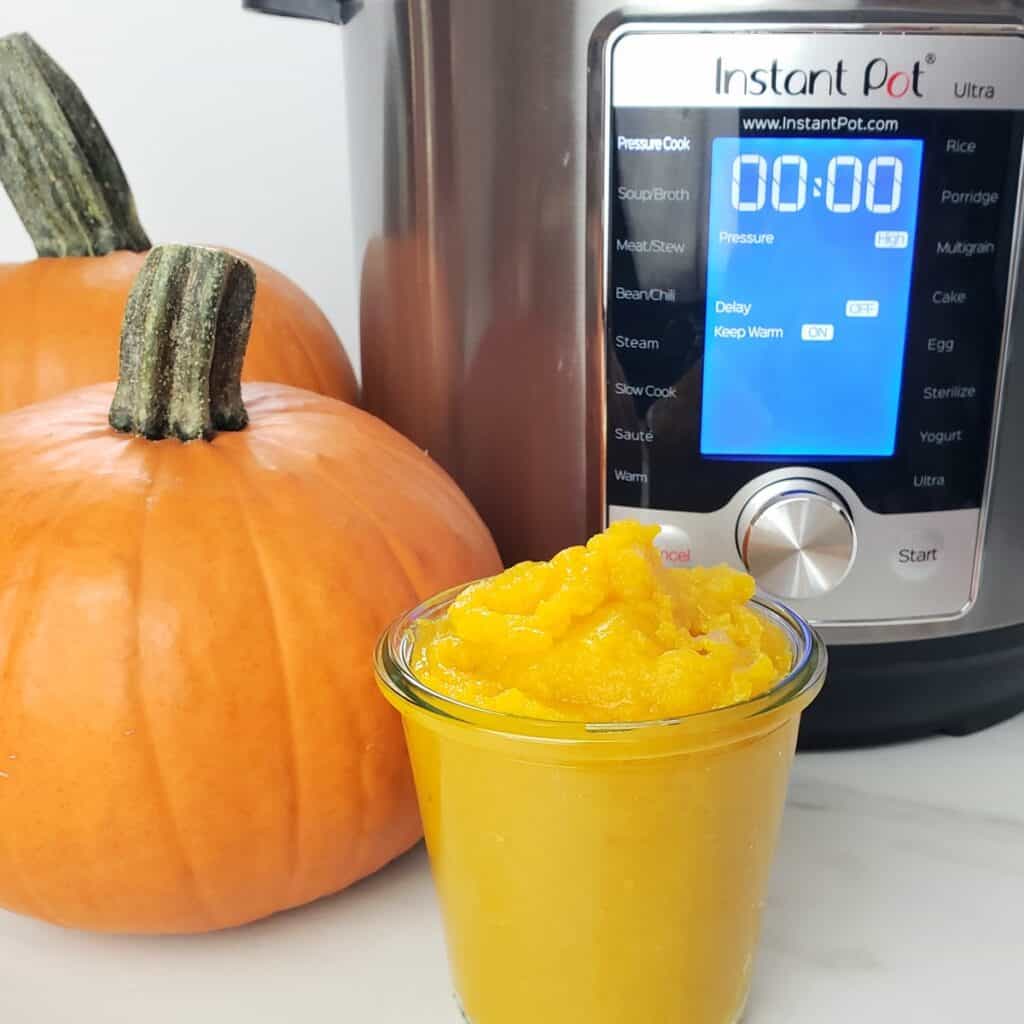 Y'all, this Instant Pot recipe cannot be any easier! It would even be a great "first time" Instant Pot recipe for beginners. It's literally one pumpkin and a cup of water and hands-off cooking.
Can I cook any kind of pumpkin for puree?
Any small (one to 3 pound) pumpkin can be cooked in a 6 quart Instant Pot but not all pumpkins are created equal-not all are best for cooking.
A few years ago, I wrote an article for Christian Woman magazine called There's More to Pumpkin Than Pie. I explained that although all pumpkins are in the cucumber/gourd family they are not all the same.
There are pie pumpkins (also called sugar pumpkins) to cook with and then there are carving pumpkins to decorate the porch (also called jack-o'-lantern pumpkins).
A pie pumpkin has a smoother, less stringy texture, much lighter in color, and is sweeter than the deep orange, giant pumpkin you have probably carved or painted. Pie pumpkins will most often be sold in the produce section of a grocery store or farmers market and will be labeled pie pumpkin.
How to cook a pumpkin in an Instant Pot to make puree
Scroll down to the bottom for the printable recipe with detailed instructions.
Remove the stem from a 2 to 3 pound pie pumpkin and place on the trivet in the Instant Pot insert pot.
Cook on Manual or Pressure Cook for 23 to 25 minutes (see recipe); Natural Release pressure.
Carefully remove the pumpkin using the trivet to transfer it to a bowl.
Using a large spoon cut away the pumpkin rind. It will be very soft.
Slice pumpkin in half and gently remove the seeds and pulp.
The pumpkin will be soft enough to simply mash with a fork or potato masher.
I like to drain the pumpkin for about 15 minutes, if necessary, in a sieve to remove any liquid.
If you want to replace a 15-ounce can of pumpkin with your fresh pumpkin puree, measure 1 1/2 cups plus 1 1/2 tablespoons.
You can also weigh out 15 ounces on a kitchen scale.
Store your pumpkin puree in an airtight container in the fridge or freezer.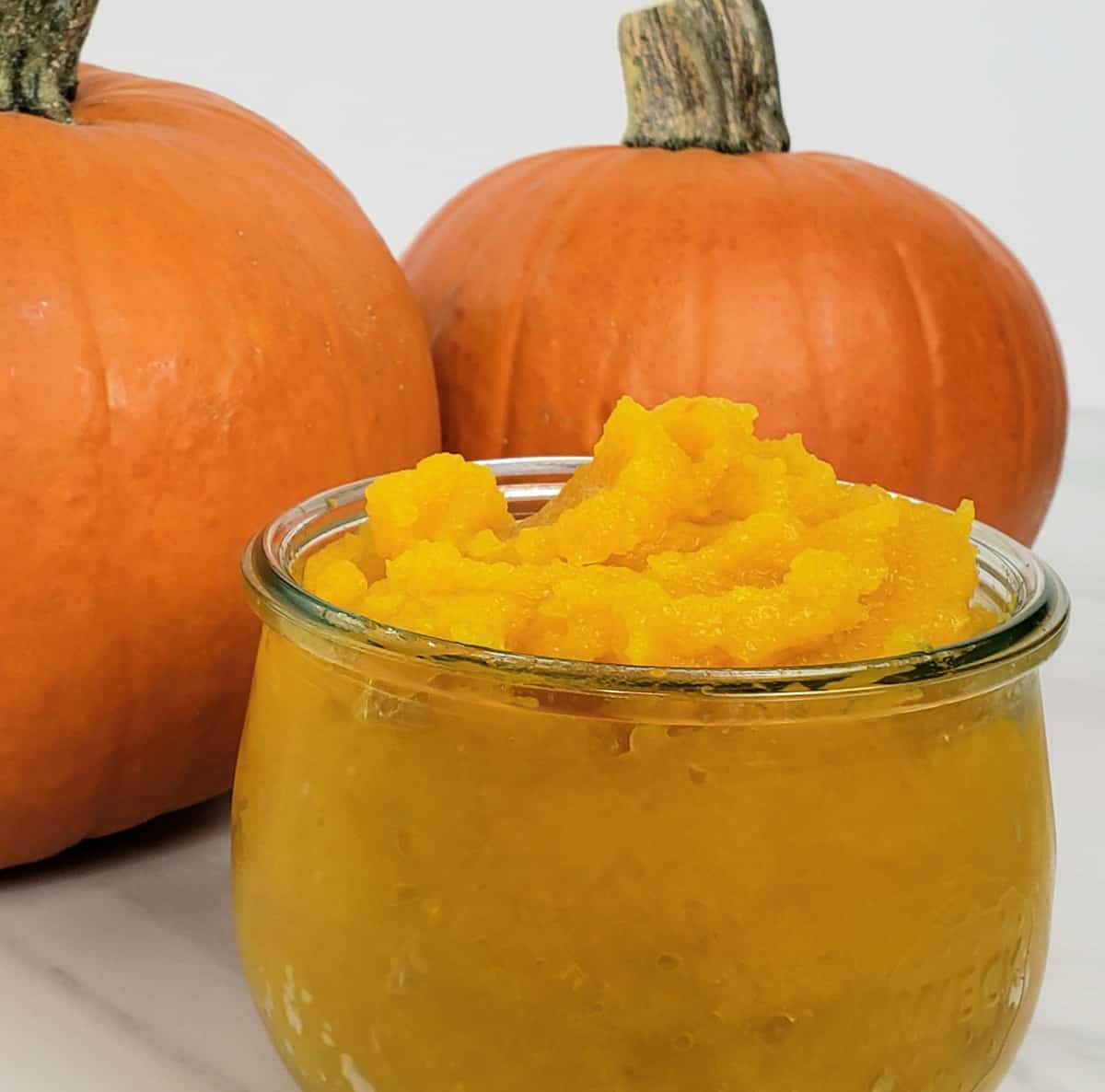 Don't throw out those pumpkin seeds!
Those pumpkin seeds are chalk full of protein, Omega-3 and Omega-6 fatty acids and a slew of good-for-you nutrients. Real Simple shares 8 recipes to make with roasted pumpkin seeds.
What can I make with pumpkin puree?
Serve it as a side dish in place of a baked sweet potato with a little butter...and maybe a little cinnamon sugar.
Any recipe that calls for canned pumpkin puree or butternut squash.
Baby food! Save money and make your own first foods. Be sure to use a pie pumpkin. Jack-o'-Lantern pumpkins are typically too coarse and stringy.
Is there a pumpkin shortage this year?
It's no secret this year has been a bit out of the ordinary for everyone. The aluminum shortage has affected the availability of canned soft drinks as well as other canned items. But did you know the reason for the empty pumpkin shelves right now may not be related to an aluminum or pumpkin shortage at all?
I did a little research when I started noticing there wasn't any canned pumpkin on the shelves...week after week.
No. There is not a shortage of pumpkins this year, the crop is just delayed. Yay! Raghela Scavuzzo, associate director of food systems development with the Illinois Farm Bureau, told Allrecipes, ".... the supply is absolutely normal".
What is not normal was the rain delay at the time of planting, which in turn caused a delay in harvest time.
So, don't despair! If you can wait a bit longer, canned pumpkin will soon return to the shelves for all autumn pumpkin-spice recipes to resume.
But! If you can't wait until then or you bought a pie pumpkin from a local market and want to make your own pumpkin puree, I've got you covered with step-by-step photos and easy-as-pie directions. (See what I did there?)
Other fall recipes you will love
Mandarin Orange Pumpkin Treats
Apple and Roasted Butternut Squash Salad
Honey Peanut Tassies | No Corn Syrup
Persimmon Spice Sheet Cake with Maple Frosting
Pan-Seared Pork Chops and Fried Cinnamon Apples
Let's be social!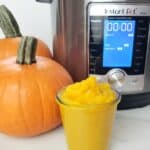 Print Recipe
How to Cook a Whole Pumpkin in an Instant Pot| Homemade Puree
It's easy to cook a whole pumpkin in an Instant Pot or pressure cooker! I'll show you step-by-step ... no mixer or blender needed.
Ingredients
1

2 to 3

pound pie pumpkin

1

cup

water
Instructions
Remove the stem from a 2 to 3 pound pie pumpkin with a sharp knife and place the pumpkin on the trivet in the Instant Pot insert pot.

Place the lid on the Instant Pot with the seal in place. Cook on Manual or Pressure Cook for 23 to 25 minutes. (Twenty three minutes for a 2 pound pumpkin; 25 minutes for a 3 pound pumpkin). It took 13 minutes to come up to pressure and start counting down.

Let the pressure naturally release (NR) after cooking 25 minutes. This took about 30 minutes.

Carefully remove the pumpkin from the Instant Pot using the trivet and pot holders to transfer it to a bowl or cutting board.

Using a large spoon cut away the pumpkin rind. It will be very soft and should just fall away.

Slice the pumpkin in half and gently remove the seeds and pulp. The pumpkin will be soft enough to simply mash with a fork or potato masher. Save the pumpkin seeds if you want to roast them.

I like to drain the pumpkin for about 15 minutes in a metal or plastic sieve to remove any liquid that might water out.

Yield: 2 1/4 cups for a 3 pound pumpkin
Notes
If you want to replace a 15-ounce can of pumpkin with your fresh pumpkin puree, measure 1 1/2 cups plus 1 1/2 tablespoons.
You can also weigh out 15 ounces on a kitchen scale.
Store your pumpkin puree in an airtight container in the fridge or freezer.
83 calories per cup
Nutrition