Shortcuts
The method I use to layer ingredients after placing the bottom tortilla in the skillet.
Rotisserie or leftover chicken
Pre-shredded cheese
Store bought bottled Buffalo wing sauce
Pro tip: Shredding chicken. Fastest way to shred a large amount of cooked chicken? Pull out your stand mixer and "mix" the chicken on medium speed. For a small amount of chicken, just pull it apart with two forks.
Ingredients
Scroll down to printable recipe for ingredient quantities.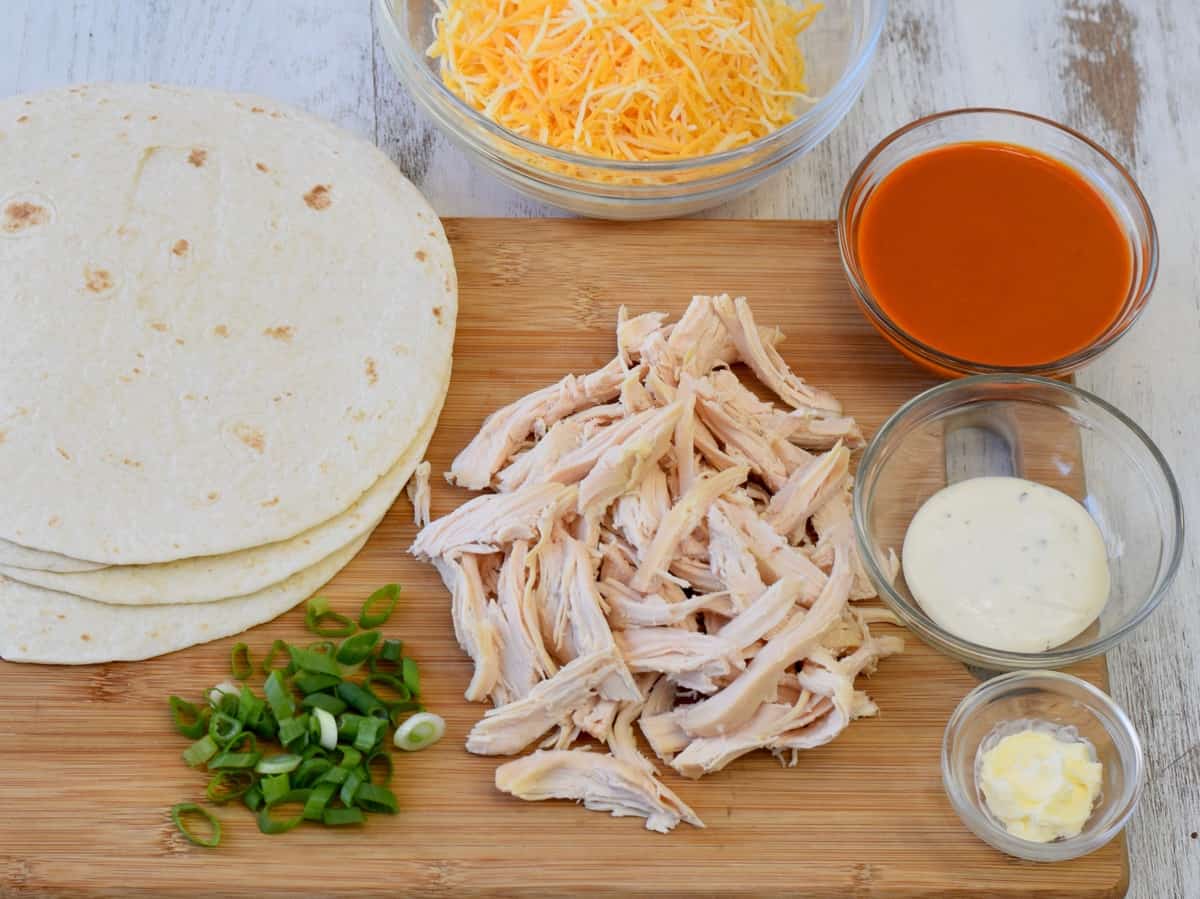 Tip: Adding the Ranch dressing to the Buffalo sauce is optional. It makes the sauce creamy and tames the heat of the sauce. If you like it bold and hot, leave it out!
Buffalo wing sauce
Ranch or blue cheese dressing (optional)
Shredded chicken
Flour tortillas
Softened butter
Shredded Colby Jack, Monterey Jack or Cheddar cheese
Green onions (optional)
When I have just a little leftover rotisserie chicken, this is one of my favorite ways to use it. Snack, lunch, appetizer or game day food.
How to make Buffalo Chicken Quesadillas in a skillet
My easy shortcut method means you layer the ingredients on the tortilla while the skillet is heating up instead of building them both first. It saves time and gives the pre-shredded chicken time to melt over a lower heat setting.
For a creamier Buffalo wing sauce, stir together wing sauce and Ranch dressing in a medium size bowl. Or, leave out the Ranch dressing for a more bold flavor. Add the green onions (optional) and shredded chicken.
Place a nonstick or cast iron skillet over medium to medium-low heat. Meanwhile, spread butter on one side of two tortillas and place one in the skillet, butter-side-down, as the skillet is heating up.
Then, quickly sprinkle 1/2 cup of cheese over the tortilla. Dollop 1 cup of the chicken mixture over the cheese and spread to the edges of the tortilla. Sprinkle another 1/2 cup of cheese over the chicken mixture and top with the other buttered tortilla, butter-side-up.
While the bottom tortilla is getting brown (about 1 to 2 minutes) and the cheese is starting to melt onto the bottom tortilla, spread butter on the remaining two tortillas.
When the bottom tortilla is golden brown, flip the quesadilla with a wide flat spatula.
Repeat procedure with remaining tortillas and chicken mixture.
Cut quesadillas into 4 triangles. If desired, you can drizzle with additional Buffalo and Ranch dressing. Sprinkle with green onions, if you like!
Pro tip: I like to place another spatula on top of the quesadilla as I'm flipping it with the bottom spatula to hold it altogether.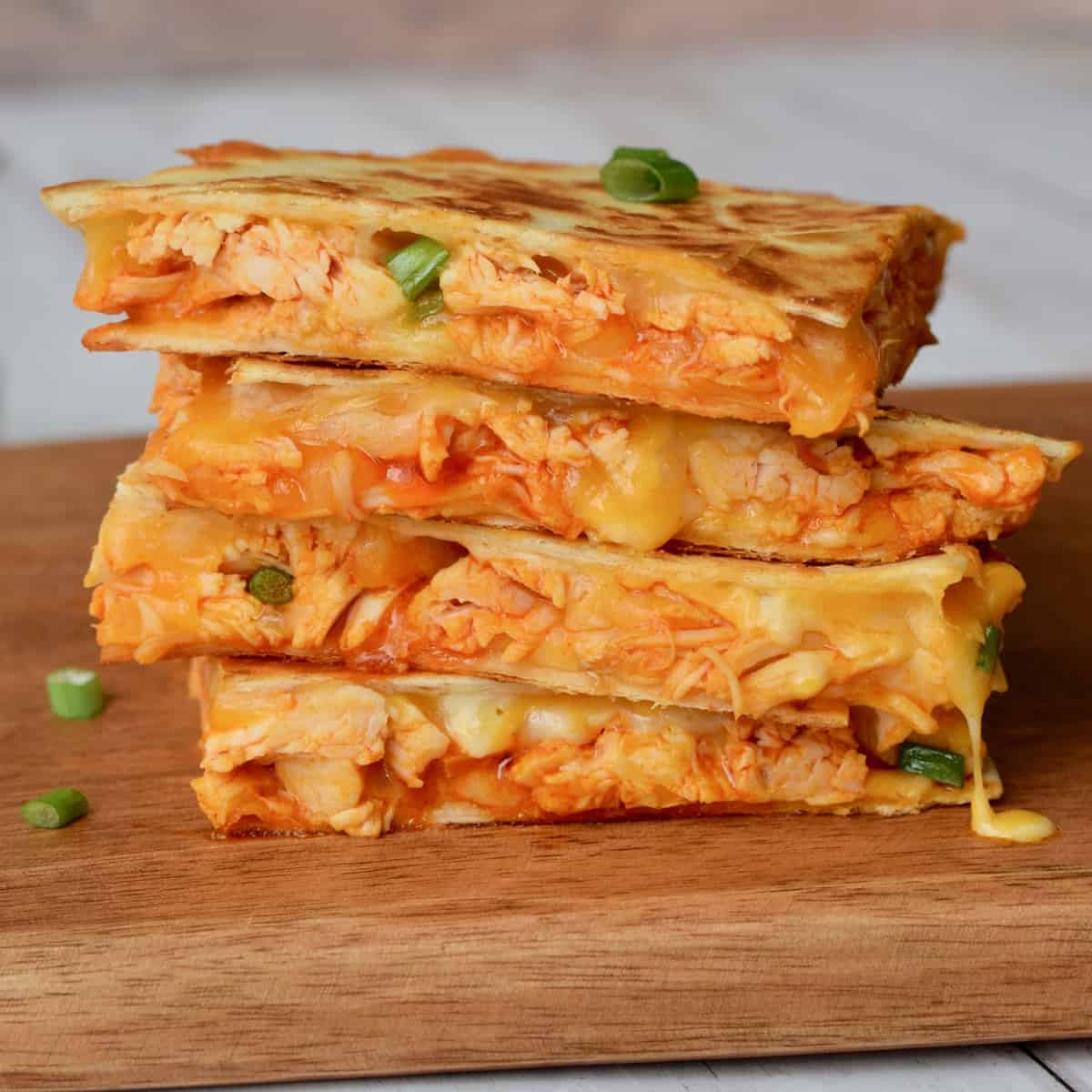 Substitutions & Variations
Chicken - I always say, "Use what you have". You can boil, broil, bake, air fry and skillet fry one large or 2 small chicken breast (these days they're huge) and that will give you about 2 cups of chicken.
Ranch dressing - Ranch dressing can come from the bottle or semi-homemade from the dry packet. Blue cheese dressing is a popular sauce served with anything "Buffalo".
Cheese- You can't go wrong with most flavors of shredded cheese here. I was surprised how easily the pre-shredded cheese melted. Yes, shredding your own cheese is ultimately the best way, but I was happy with this shortcut. Colby Jack, Monterey Jack, Cheddar, Mexican blend, Italian blend, Taco blend.
Use Buffalo Chicken Dip- If you have leftover Buffalo chicken dip or buy it from the store, you have another shortcut! Just use it in place of the chicken, Buffalo sauce, and Ranch dressing.
Healthy version- Looking to cut a few calories? Replace Buffalo sauce with hot sauce and fat-free Ranch dressing. Instead of softened butter on the tortillas, lightly spray olive oil into the skillet before adding the tortillas. Use low-fat cheese.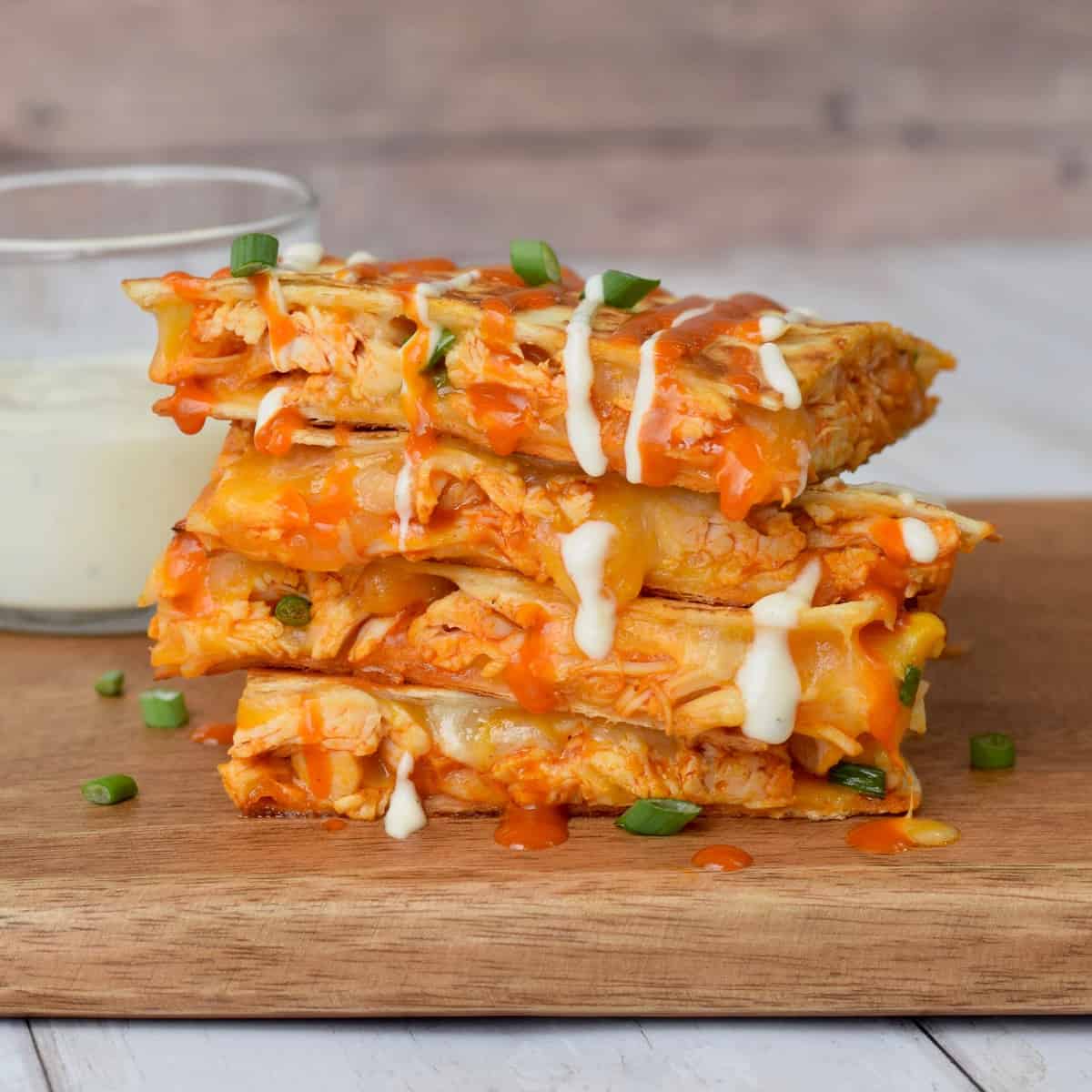 Helpful Information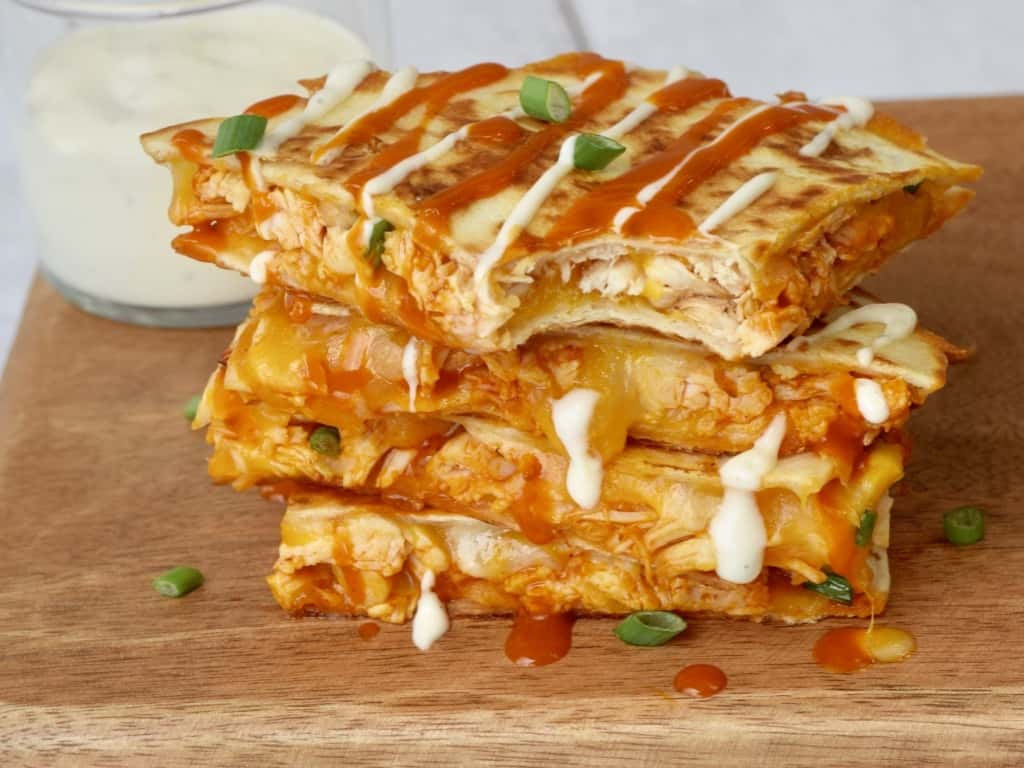 What to serve with Buffalo Chicken Quesadillas
Keeping with the Bufflalo wings theme, you can serve these cheesy quesadillas with carrot sticks and 2-inch ribs of celery. Here are some shortcut recipes to also serve with them.
Since Buffalo sauce packs the heat, serving them with something cool and soothing like a creamy dip or iced cold drinks is a good plan.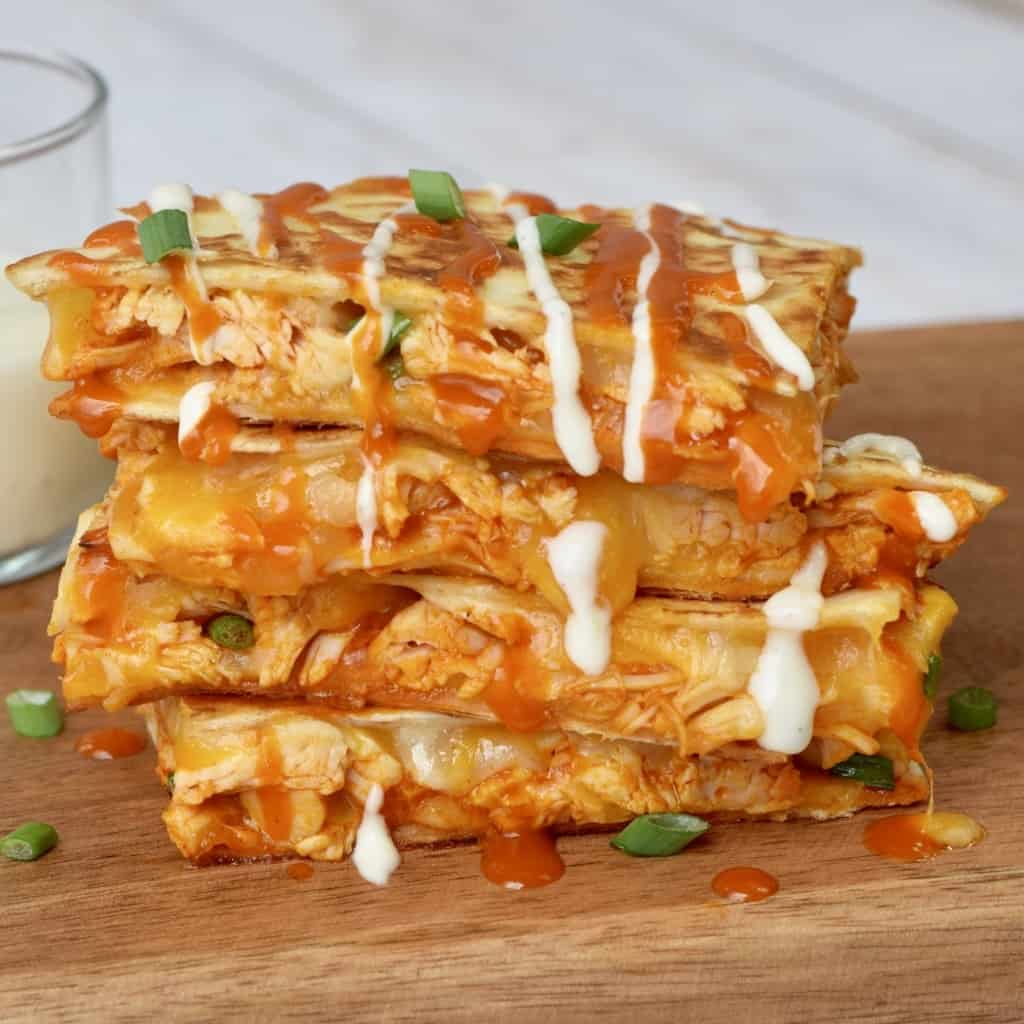 Storage
Quesadillas need to be stored in the refrigerator. They can be stored in an air tight container of zip top bag in the refrigerator for about 4 days. They can be frozen up to one month.
Follow me on Facebook, Instagram, Pinterest and YouTube. Be social and share, y'all! Don't forget to sign up with your email so you don't miss a single post on my Southern shortcut recipes!
If you make this recipe I'd love to see it! Tag me on social media with #gritsandgouda or @gritsandgouda. Leave a comment below the printable recipe if you have questions or tell me how you liked the recipe. Don't forget to give the recipe a rating of 5 stars if you love it!
Nutrition analysis on GritsAndGouda.com recipes are mostly calculated on an online nutrition calculator. I am not a dietitian and nutritional information is an estimate and can vary based on products used.