Chocolate Biscuit Strawberry Shortcakes is a decadent twist on a Southern classic dessert. Rich, dark chocolate homemade biscuits with layers of sweet strawberries and whipped cream is easy and is a great make ahead recipe. Mom would love this homemade dessert as a Mother's Day gift from her family.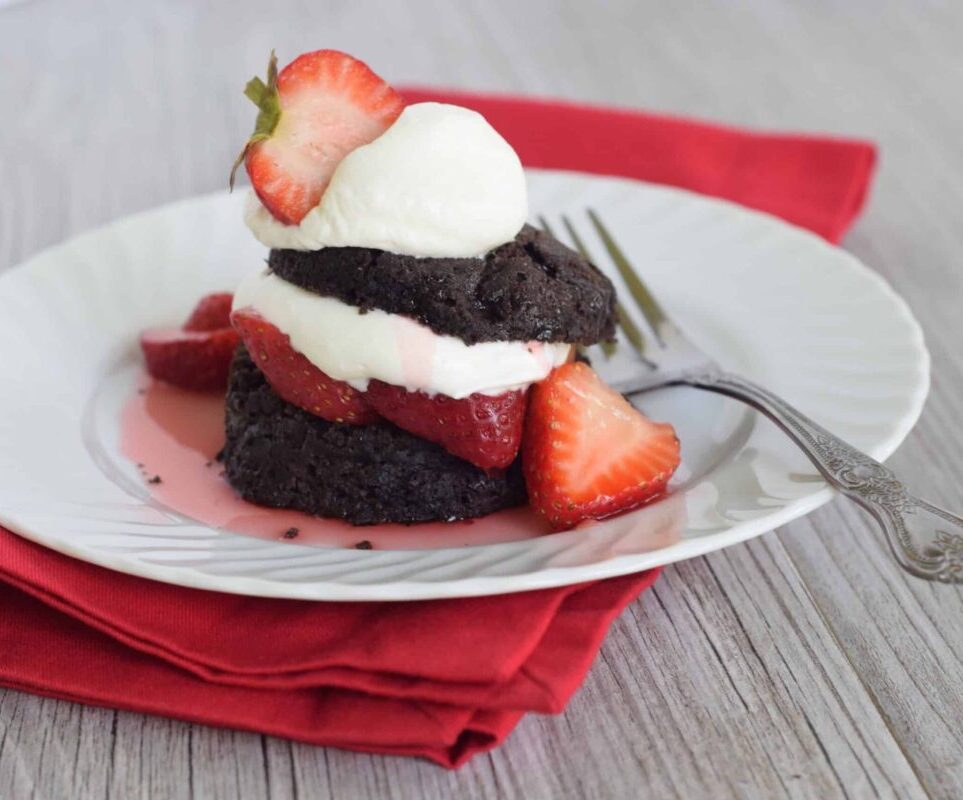 Biscuits, strawberry shortcake, and anything chocolate are all on my short list of favorite Southern recipes. This easy dessert recipe combines ALL THREE!
Bonus! You can make the biscuits and macerate (soak in sugar to create syrup) the strawberries the day before and just assemble the Chocolate Biscuit Strawberry Shortcakes right before serving.
What is the shortcut?
Since most of my recipes have shortcuts in them, I used self-rising flour (to save two ingredients) which has baking powder and a little salt added, so I used Dutch processed cocoa. I also love the intense color it gives the biscuits. Oreo cookies are made with a Dutch process cocoa to give you an idea of how dark some Dutch processed cocoas can be.
Use the food processor instead of using a pastry blender to cut in the butter and shortening. I love this method because it cuts the fat into just the right size with just a few pulses and many people don't own a pastry blender or even know what it looks like.
Gild the Lily:
Drizzle chocolate syrup or chocolate ganache over the shortcakes.
Unsweetened cocoa powder vs. Dutch process
Not all cocoa powders are the same. The two main varieties are natural unsweetened cocoa powder and Dutch process cocoa powder.
Serious Eats breaks down the differences in cocoa powders in detail in this article.
Natural unsweetened is the most common cocoa powder found on shelves of the average grocery store.
In a nutshell, natural cocoa is the most common and works well with baking soda because baking soda is neutral and needs added acidity. Dutch process cocoa has the acidity removed with an alkali (giving it that deep, rich, dark color).
It works well with baking powder because baking powder is basically baking soda with cream of tartar added for acidity.
What is the secret to tall flaky biscuits?
The key to tall, flaky biscuits is cutting the fat (butter and/or shortening in large enough pieces so they create air pockets when they melt in the oven.
Another key is to fold the dough, not knead it, which traps air in pockets and creates the flaky layers.
Lastly, using the right flour is key to making tender, flaky biscuits. Bread flour is higher in protein than all-purpose and self-rising flour.
What is self-rising flour?
Self-rising flour is all-purpose flour with baking powder and salt added. If you don't have self-rising flour, you can make your own with 1 1/2 teaspoons baking powder and 1/4 teaspoon salt added for every cup of all-purpose flour.
White Lily self-rising flour is my choice for biscuits and baking because it is a soft winter wheat (less protein) making it finer in texture and produces more light and airy biscuits.
Why are cocoa powders different colors?
I experimented with several types and brands of cocoas, flour, and leavening. I was amazed at the differences in color.
(Note: The one on the left was cut with a slightly smaller cookie cutter.)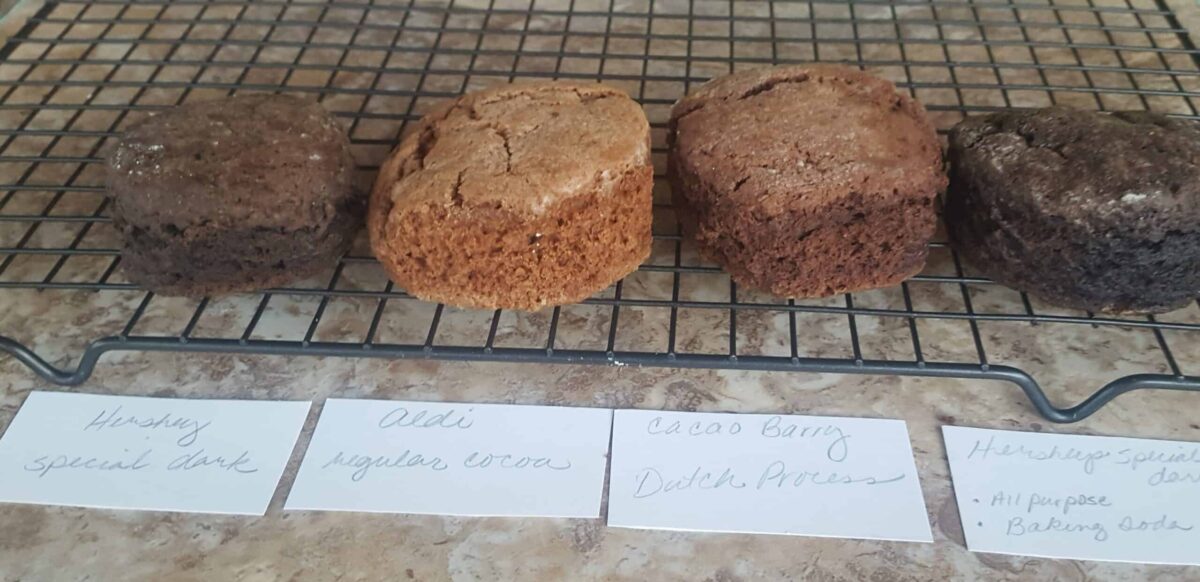 In the photo above, the biscuits are made with Hershey's Special Dark cocoa, a blend of natural and Dutch processed cocoas.
After reading Stella Parks' cookbook Bravetart, I ordered Cacao Barry Extra Brute (A higher fat Dutch processed cocoa) from Amazon because she used it in her Homemade Oreo Cookies.
The color difference in it and a regular unsweetened cocoa is like night and day (dark and light) although it did not produce the darkest biscuit.
I still preferred the results of the Hershey's Special Dark cocoa for these chocolate biscuits. It is a mixture of regular cocoa which gives them the most chocolate flavor and Dutch process cocoa that gives them the intense dark color, so it's the best of both worlds!
What if I don't have fresh strawberries?
If it's Winter where you are and strawberries are not at their peak, no worries! Slather my Strawberry Freezer Jam between the biscuit halves or use frozen strawberries.
Frozen, thawed strawberries will also work! Just stir in a couple of tablespoons of sugar if they are unsweetened.
No Waste Cooking:
Don't throw out those left over components of the shortcakes! Crumble any day-old chocolate biscuits in a glass bowl. Layer them with strawberries or Strawberry Freezer Jam, chocolate pudding, whipped cream, and chocolate sauce.
This makes an easy Chocolate Strawberry Trifle using leftovers.
More shortcut dessert recipes you will love
Nectarine Cinnamon Sugar Cobbler
Shortcut Chocolate Truffle Tart
Be sure to follow me on Facebook, Instagram, and Pinterest ! Don't miss a single new Southern shortcut recipe. Sign up here!
PIN FOR LATER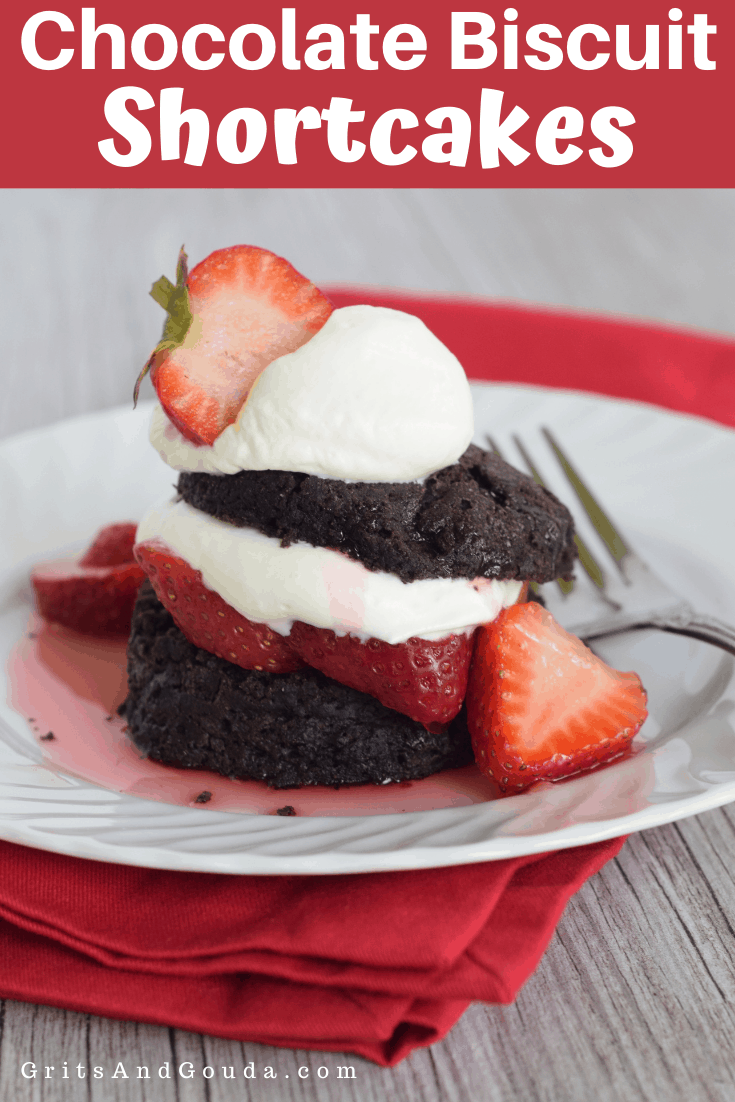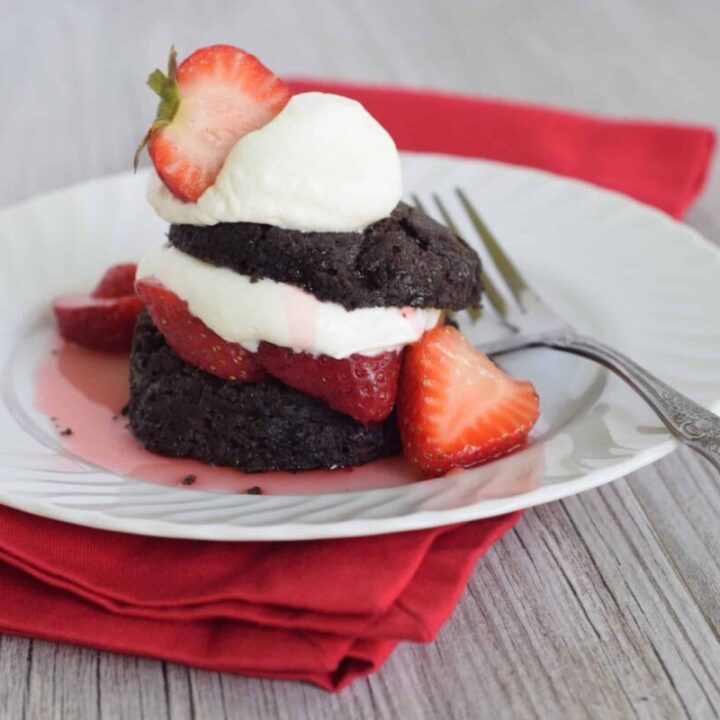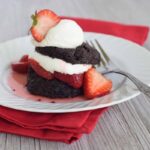 Print Recipe
Chocolate Biscuit Strawberry Shortcakes
Chocolate Biscuit Strawberry Shortcakes is a decadent twist on a Southern classic dessert. Rich, dark chocolate homemade biscuits with layers of sweet strawberries and whipped cream is easy and delicious.
Ingredients
Biscuits:
1 3/4

cups

self-rising flour

(I use White Lily)

1/3

cup

Hershey's Special Dark cocoa powder*

or unsweetened cocoa powder

1/4

cup

granulated sugar

1/4

cup

cold shortening or butter

cut into 6 pieces

1/4

cup

cold butter, salted or unsalted

not margarine, cut into 6 pieces

1/2

cup

buttermilk

plus 1 tablespoon

1

teaspoon

vanilla extract

2

tablespoons

melted butter
Shortcakes:
1

16-oz container fresh strawberries, hulled and sliced

2

tablespoons

sugar

11/2

cups

whipping cream

beaten with 2 tablespoons sugar or 3 cups Cool Whip or 1 (6.5 oz can) Reddi-Wip

9

fresh strawberry halves (optional)

for garnish
Instructions
Preheat oven to 425°. Add flour, cocoa, and sugar to the bowl of a food processor or medium size bowl. Add shortening and butter. If using the food processor, pulse 6 to 8 times or until until the shortening and butter pieces are the size of pencil erasers.

If using a mixing bowl, cut shortening and butter in with a pastry blender or two table knives until they are the size of pencil erasers.

Pour buttermilk and vanilla over dry ingredients in the bowl. If using the food processor, pour it through the food chute while pulsing just until dough starts to form a ball. Be careful not to pour to slowly or you will over mix the dough.

Stir dough in the mixing bowl just until it looks "shaggy". Use the extra 1 to 2 tablespoons buttermilk, if needed to get this look and feel.

The dough should not be wet like muffin batter but not as dry as a yeast bread dough.

Scrape dough out onto a floured work surface. With floured fingers, gently form the dough into a ball. Gently pat dough down to 1-inch thickness.

Pull one side over to the other side and gently press it slightly into the bottom half. Now pull the left side over to the right and press down. Repeat twice.

You are trapping air between the layers which will give you the best "lift" and mile high biscuits. Gently pat dough down to 1-inch thickness (about a 6"x7" rectangle).

Using a 2 1/2-inch biscuit cutter or circle cookie cutter, cut out 5 biscuits and place in an greased 8-inch cake pan or cast iron skillet. Press the remaining dough together to cut out the last biscuit. Brush with melted butter.

Bake at 425° for 11 or 12 minutes or until biscuits do not leave an indention when touched on the top. (Chocolate biscuits will not be golden or lightly browned.) Let cool completely in pan.

Actually, they are fabulous warm with strawberry jam at this point, but hold off if you're going to have any to make shortcakes!
Shortcakes:
Combine strawberries and 2 tablespoon sugar and let stand 10 minutes. This will create the strawberry "syrup" you will want for the shortcakes.

Slice chocolate biscuits in half horizontally and place bottom halves on serving plates. Spoon about 1/3 cup strawberries on bottom halves.

Dollop about 1/4 cup whipped cream on strawberries and place top halves of biscuits on top of whipped cream.

Dollop about 1 tablespoon whipped cream on top of biscuit; place a strawberry on top for garnish and drizzle with any remaining strawberry "syrup".
Notes
Tip: I store my shortening in the freezer for the best pie crusts and biscuits. Tip: Don't have buttermilk? No worries. Add 1 tablespoon white or apple cider vinegar per cup of milk and let it stand 5 minutes.
Tip: Biscuit dough should be slightly sticky before rolling out. Working with fingers lightly coated with flour or cocoa powder is better than adding more flour to the dough. *I used Hershey's Special Dark because I love the rich color it gives but regular cocoa is fine. It is a mix of regular and Dutch process cocoas.
Gild the Lily: Drizzle with chocolate syrup or melted hot fudge ice cream sauce.
Nutrition
Serving:
1
sixth
|
Calories:
567
kcal
Did you make this recipe?
If you love it, share it! Tag me on Instagram @gritsandgouda using #gritsandgouda Comment below before you go!