Sweet Tea Sangria "Skinny" Mocktail
If you are cutting back on wine and sugar this holiday season or just a teetotaler like me, go ahead and pull out those crystal wine glasses from the china cabinet! My Sweet Tea Sangria "Skinny" Mocktail is a gorgeous ruby color full of raspberries, cranberries, and pomegranate seeds (also called arils if you wanna sound fancy). It's a nonalcoholic party drink with less than 3 calories!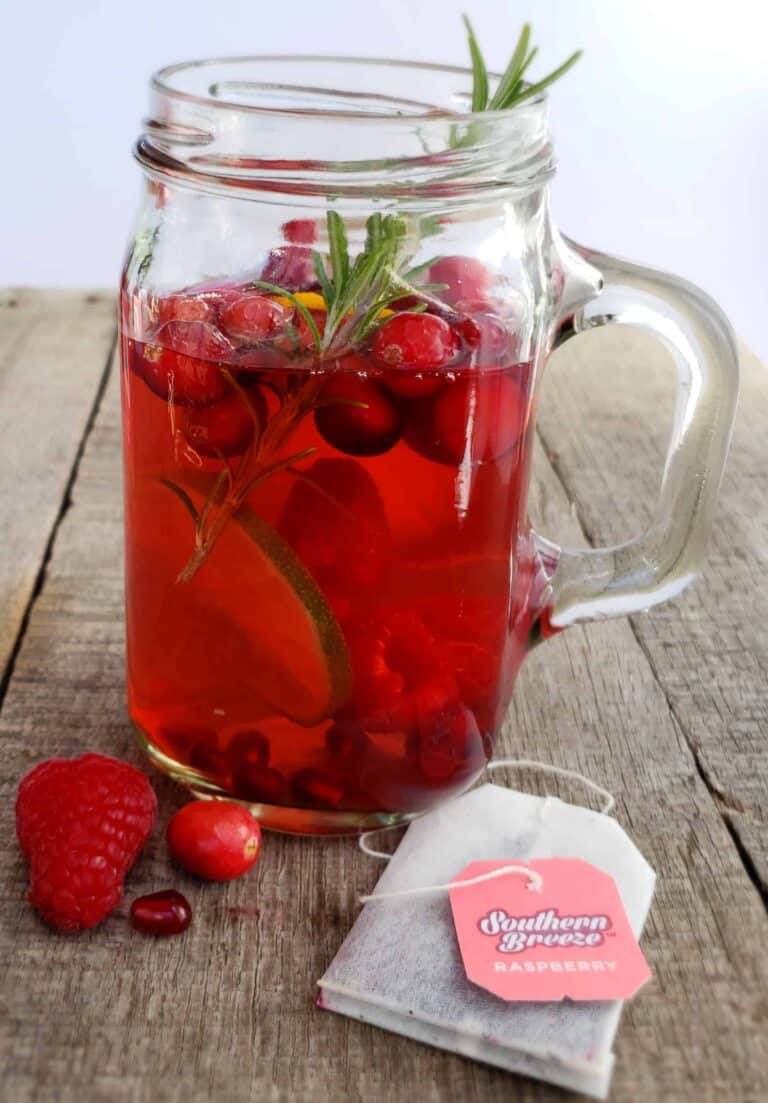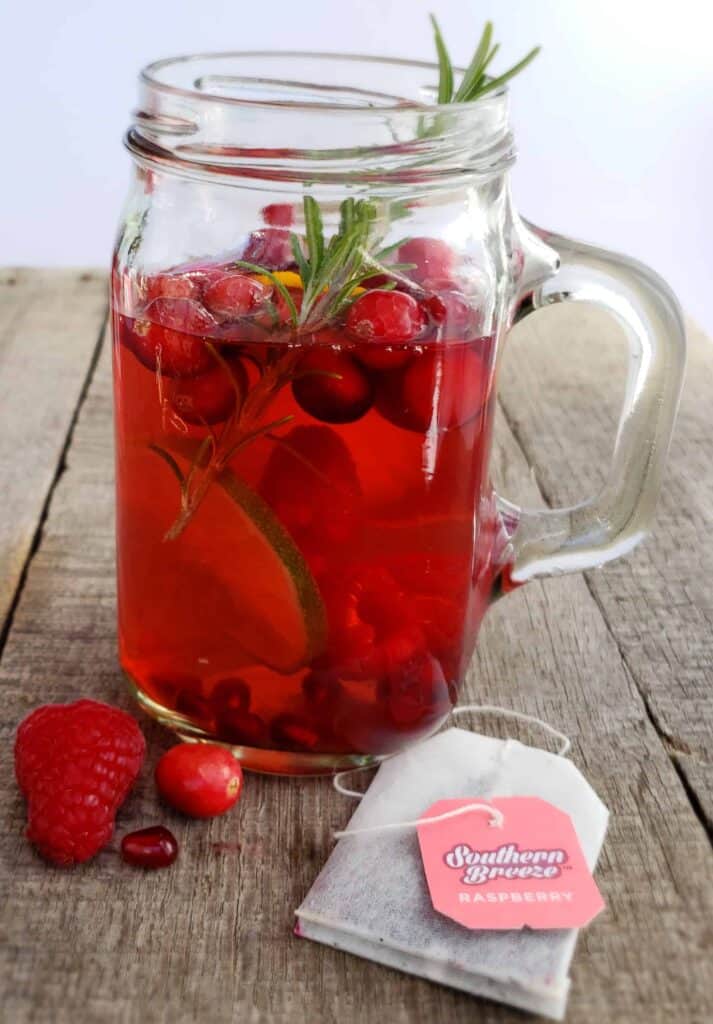 Thank you to Southern Breeze Sweet Tea for sponsoring this post. This post does contain affiliate links but as always, I only promote products and services I love and opinions are my own and I developed the recipe.
What is a mocktail? It sounds like cocktail for a reason. It is a nonalcoholic drink that mimics a cocktail with added fruit or soft drinks-in this case, sangria. Sangria is Spanish drink made with red wine, lemon juice or lemonade, sometimes spices, and always sliced or whole fruit. Sugar is also usually added to sangria to make it sweeter than just red wine. Mocktails were listed as one of the
A Southern mocktail is just what this Southern girl (who's also watching her calories) needs for an upcoming Christmas party. Like good conversation, it starts with sweet tea!
Millennials are drinking far less alcoholic drinks than their parents according to The Drinks Business and a multitude of other articles this year. People of all ages are choosing to be nondrinkers for many reasons including diet, overall health, religion, and cost of going out. Shape states that Google Trends indicates that searches for the term "benefits for quitting drinking" rose by about 70 percent in the last five years.
Here in the South, whether you drink cocktails or mocktails, we love to socialize and enjoy good ole hospitality during the holidays. I'm going to show you several ways to serve my Sweet Tea "Skinny" Mocktail and I just thought of another way-my grandmother's antique Fostoria punch bowl!
But before I go any further, let me tell you how you can get FREE SHIPPING on your 1st online order of Southern Breeze sweet iced tea because I know you will want to try this recipe during the holidays. Use promo code SOUTHERN BREEZE and click the image below to order. You can also purchase Southern Breeze at many Walmart stores.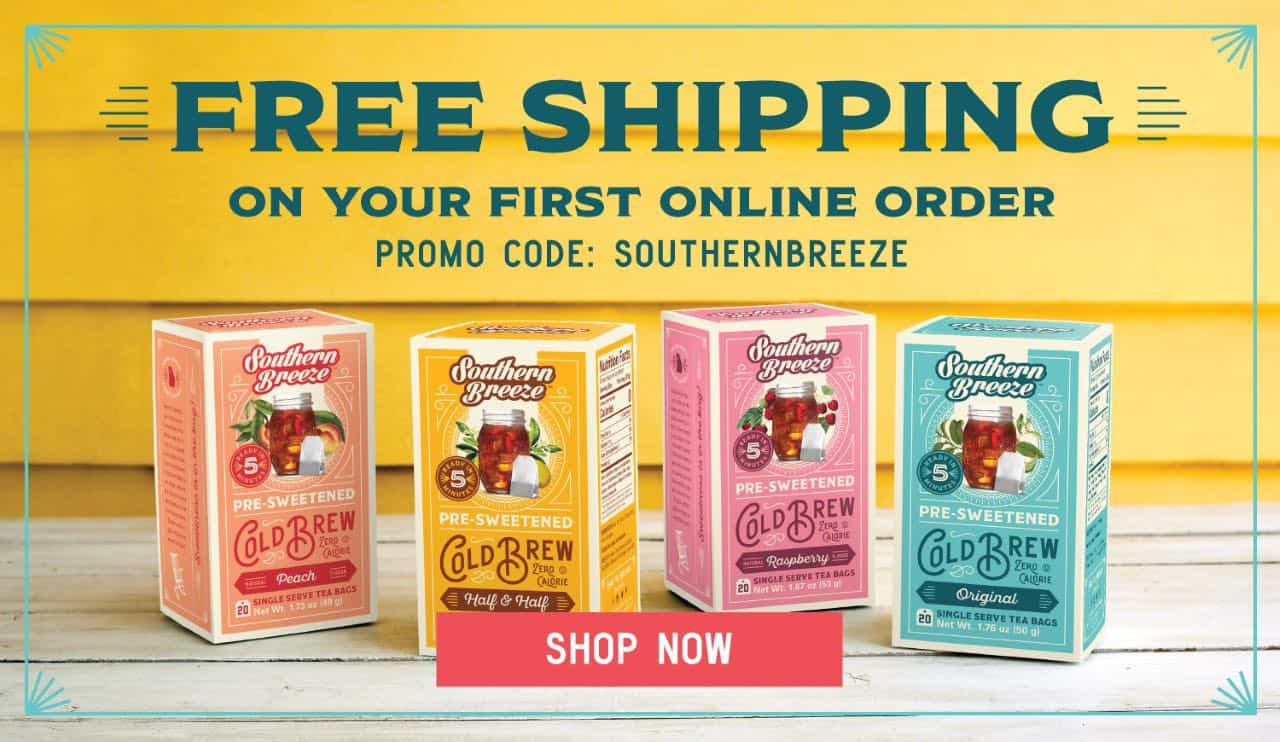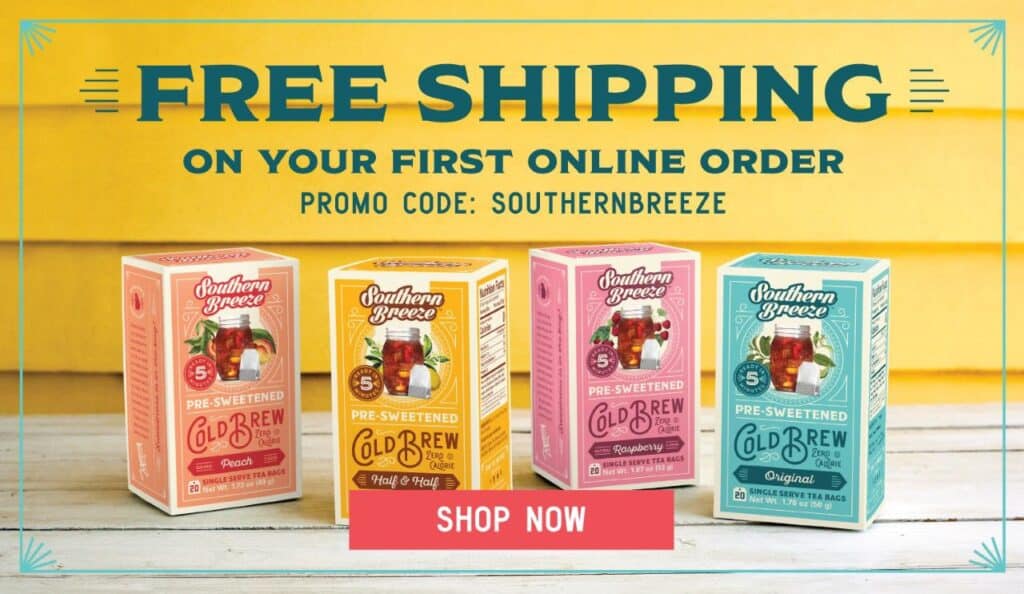 During the holidays, what this mom really needs is less stress and less guilt! Southern Breeze is calorie free and guilt free so it can be enjoyed glass after glass. At this time of year it gets a little crazy busy at my house and I'm sure it does for you, too. That's why I love these Southern Breeze cold brew single serve tea bags-I can take them on the go or enjoy them at home. I used four of the raspberry presweetened flavored bags to make Sweet Tea Sangria "Skinny" Mocktail.
Besides getting my sweet tea fix, one of my favorite things about this recipe-and sangria mocktails in general- is eating the fruit that has soaked up the sweet tea and fruit juice as I drink it! Eating the fruit adds a tad more calories, but it's worth it! The cranberry juice drink I used has 5 calories per cup. The recipe only uses 2 cups and the Southern Breeze sweet tea is zero calories. That makes this recipe less than 3 calories per servings-serves 4.
Now who's ready to join me for Sweet Tea Sangria "Skinny" Mocktails for Christmas and New Year's? I'll walk you through the step by step process using SouthernBreeze raspberry-flavored tea for this easy holiday recipe.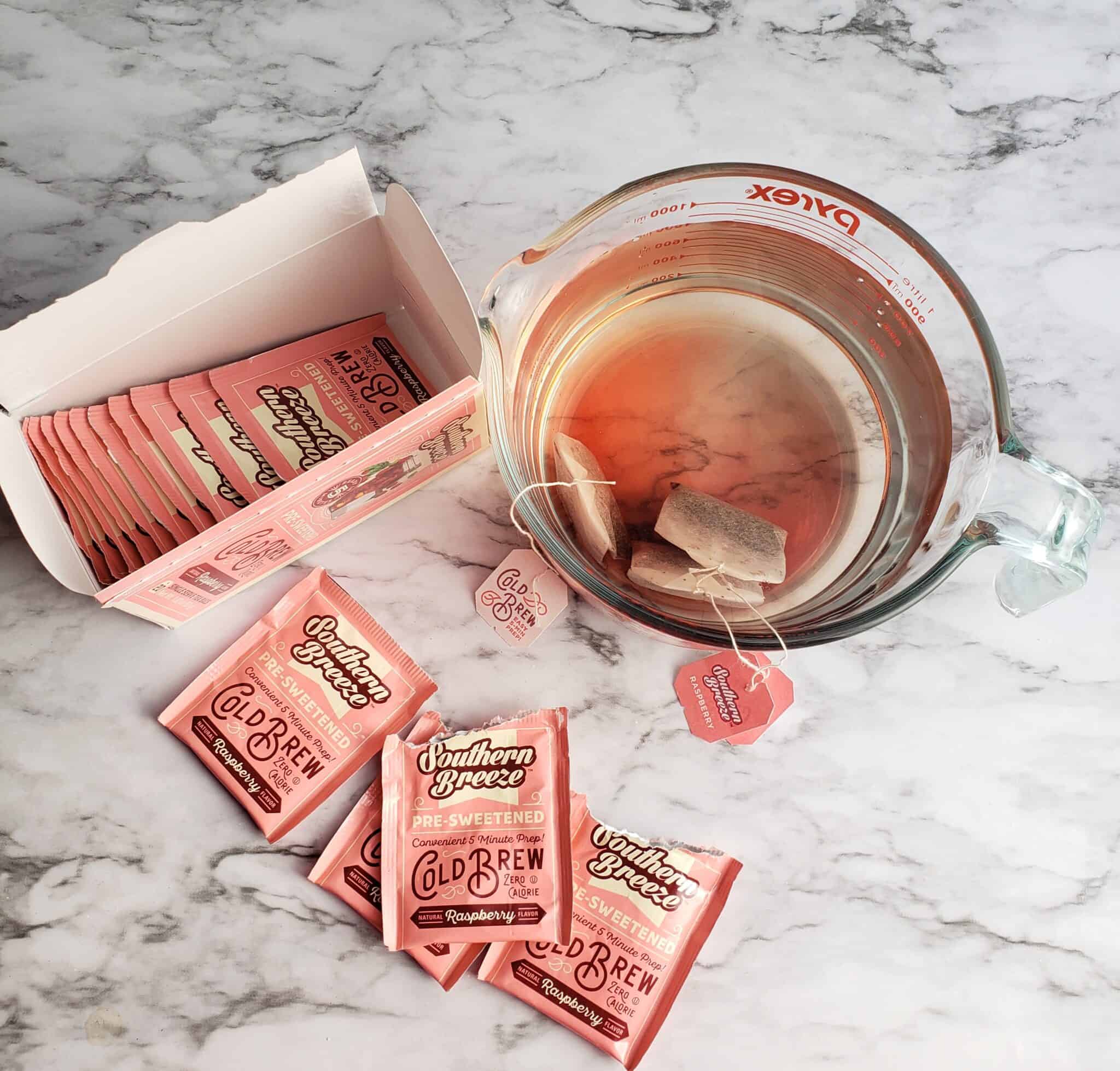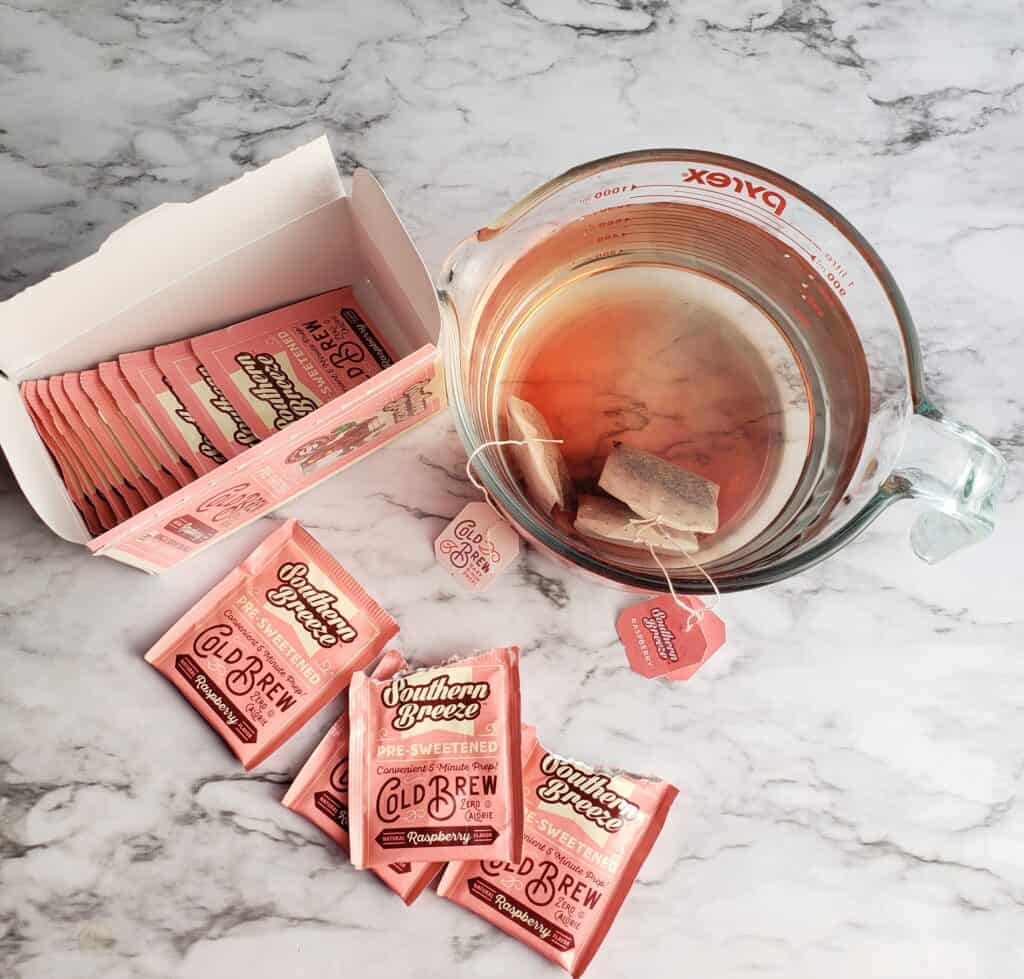 Steep 4 raspberry-flavored Southern Breeze presweetened tea bags in 4 cups of water for 6 minutes. For their individual glasses of sweet ice tea, it only takes 5 minutes, but I preferred it just a little stronger for the sangria. If you don't have a Walmart close by that sells them, all of the zero calorie Southern Breeze products (cold brew and family size tea bags) are available on:www.southernbreezesweettea.com/collections
Meanwhile, remove the seeds from the pomegranate, wash the raspberries and slice the orange and lime. I used raspberries, cranberries, pomegranate seeds, limes and oranges. You can use the more traditional lemons, if you like. Also, believe it or not, blackberries were on sale this week at a major grocery store for 98 cents! I see a blackberry cobbler in my near future, for sure! So, toss blackberries in your sangria if they are on sale.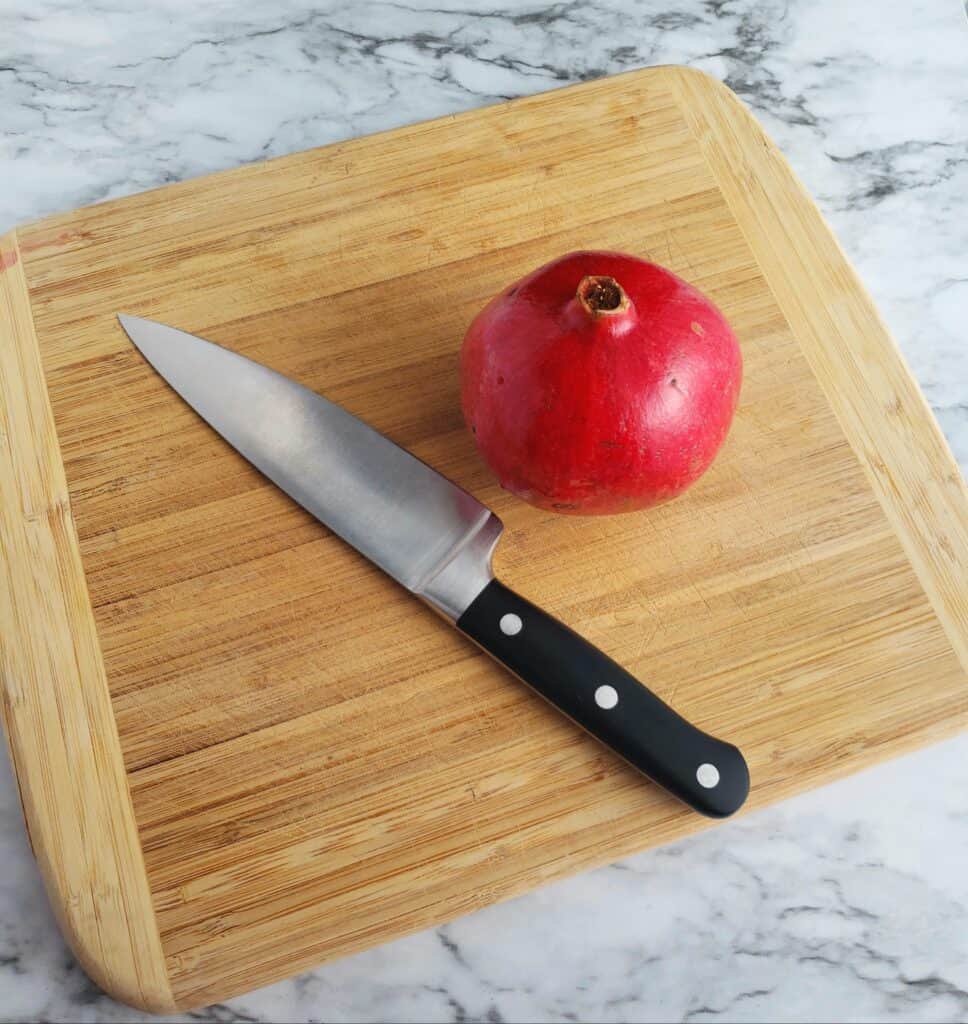 Tip of the day: How to remove pomegranate seeds easily. I learned this trick when I was a test kitchen professional in the Oxmoor House test kitchen (Southern Living, Cooking Light, etc. cookbook division-many years ago)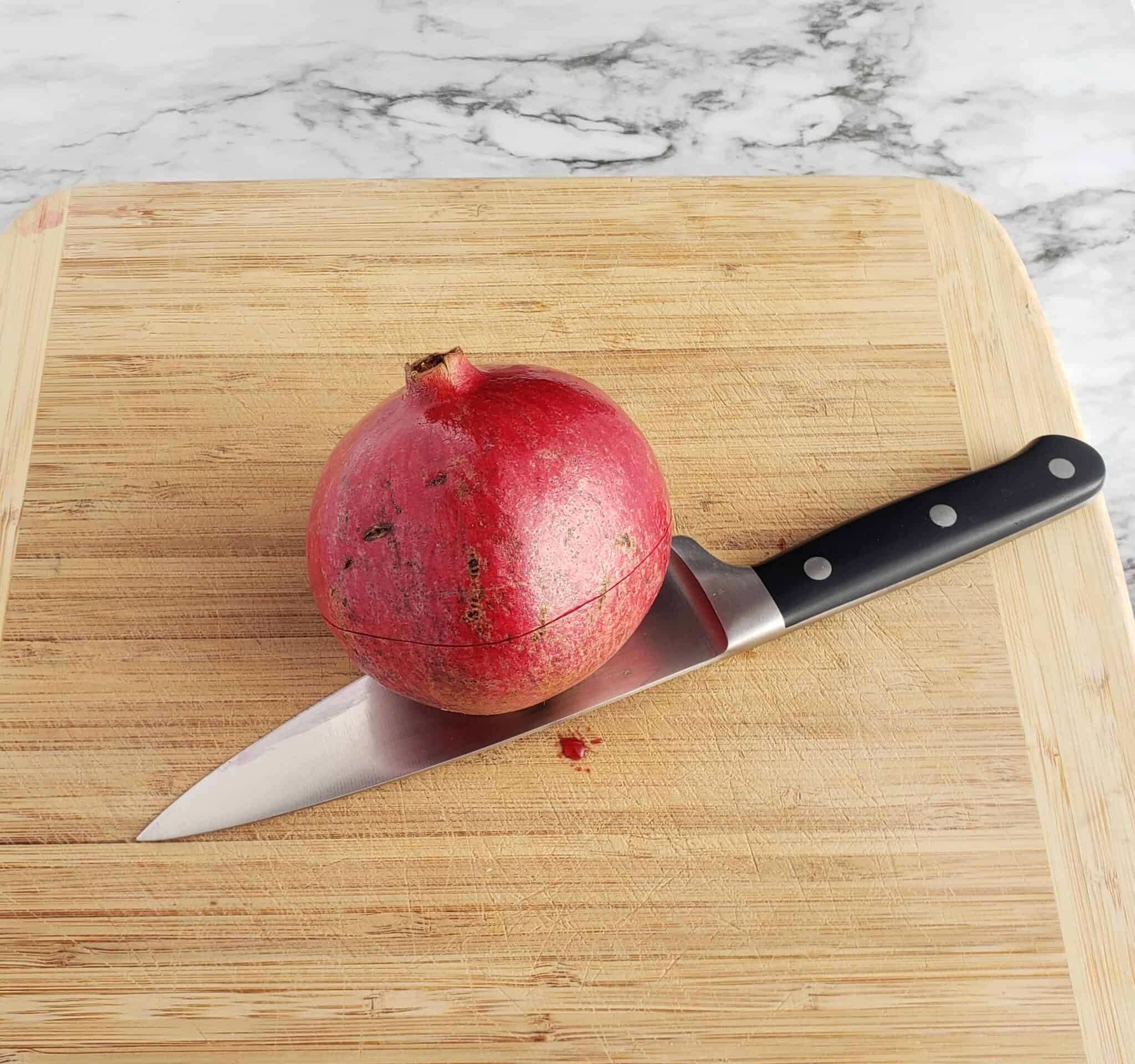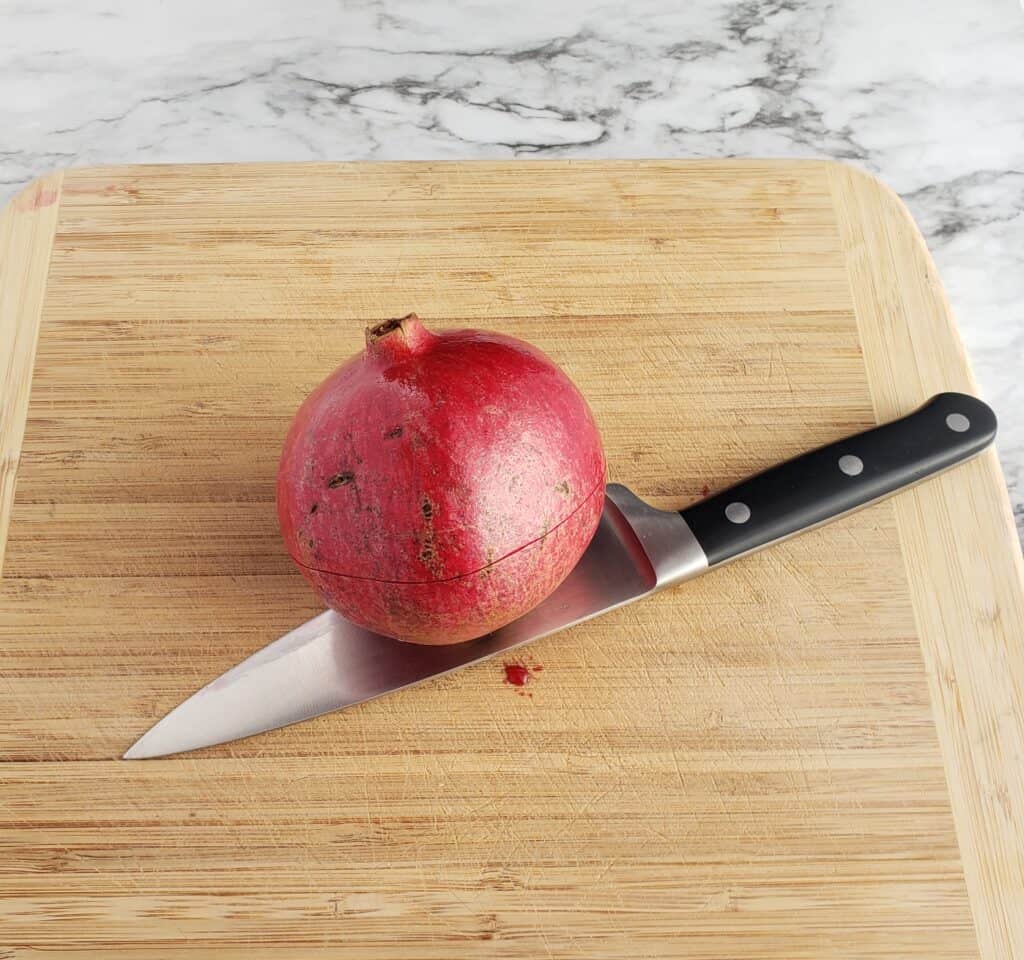 First score the pomegranate in half. This means slice it with a sharp knife "to but not through" about 1/4" into the skin.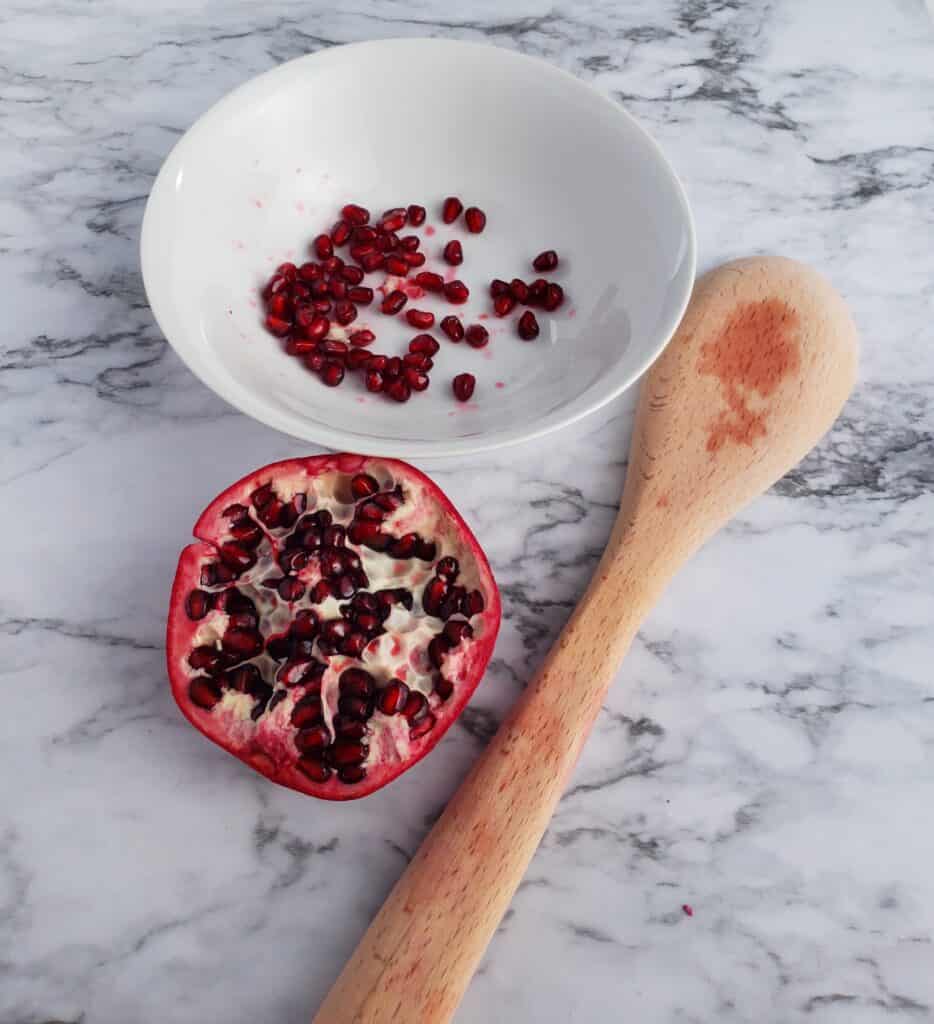 Using the back of a heavy wooden spoon, hit the skin side of one of the pomegranate halves hard and the seeds will fall into the bowl below it. Warning. The juice will spatter so I recommend doing this in the kitchen sink. You will have to slightly squeeze the skin to help loosen them as you go and eventually break it apart to get all of them but you will be surprised by how many will "fall" out. If you have kids, grab the aprons and let them have fun with it! Save the other half for another time.
You can also buy pomegranate seeds in a plastic container in the produce department but they will cost you about $4.50. This pomegranate was on sale for 69 cents!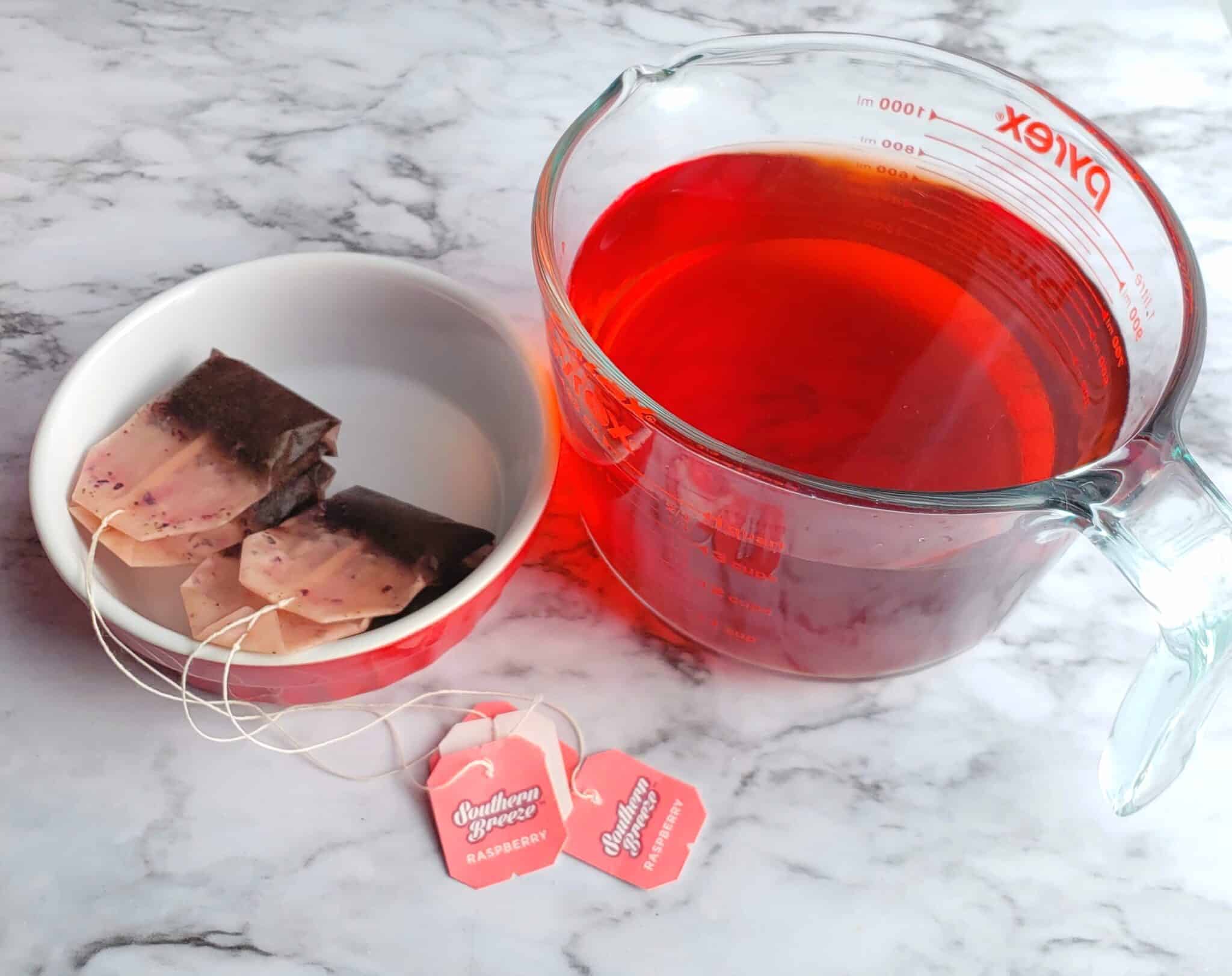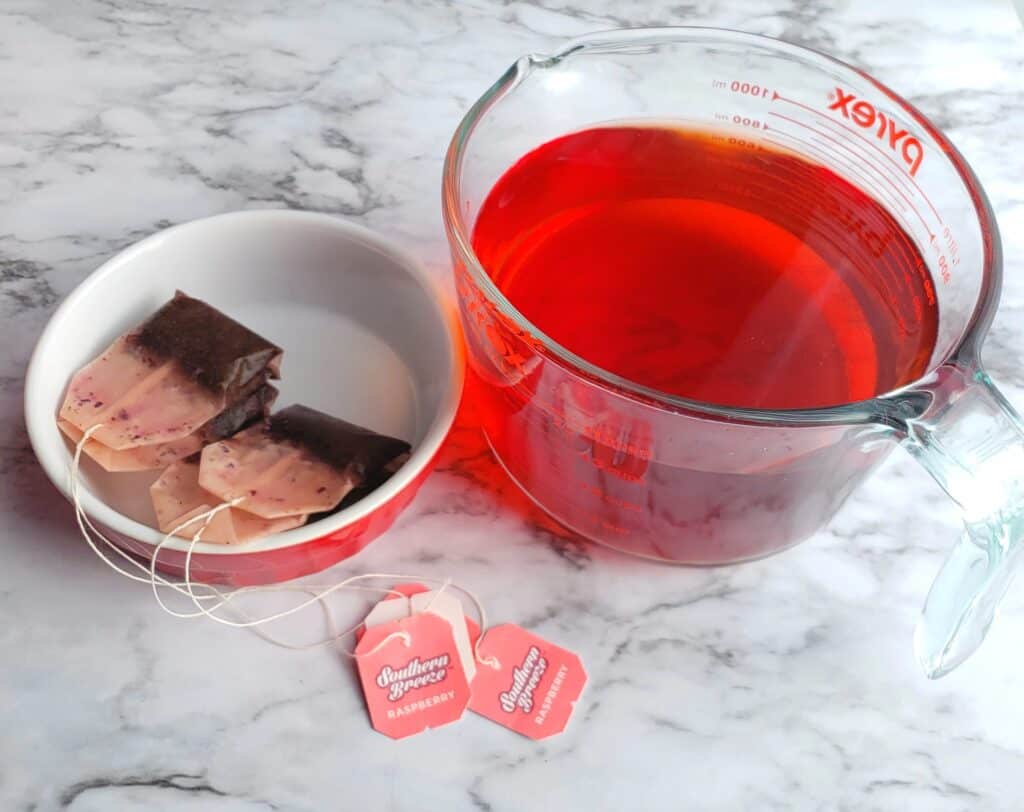 Remove the tea bags after 6 minutes. The color of the tea will be a gorgeous ruby red. Combine the tea and cranberry juice drink in a larger pitcher or container.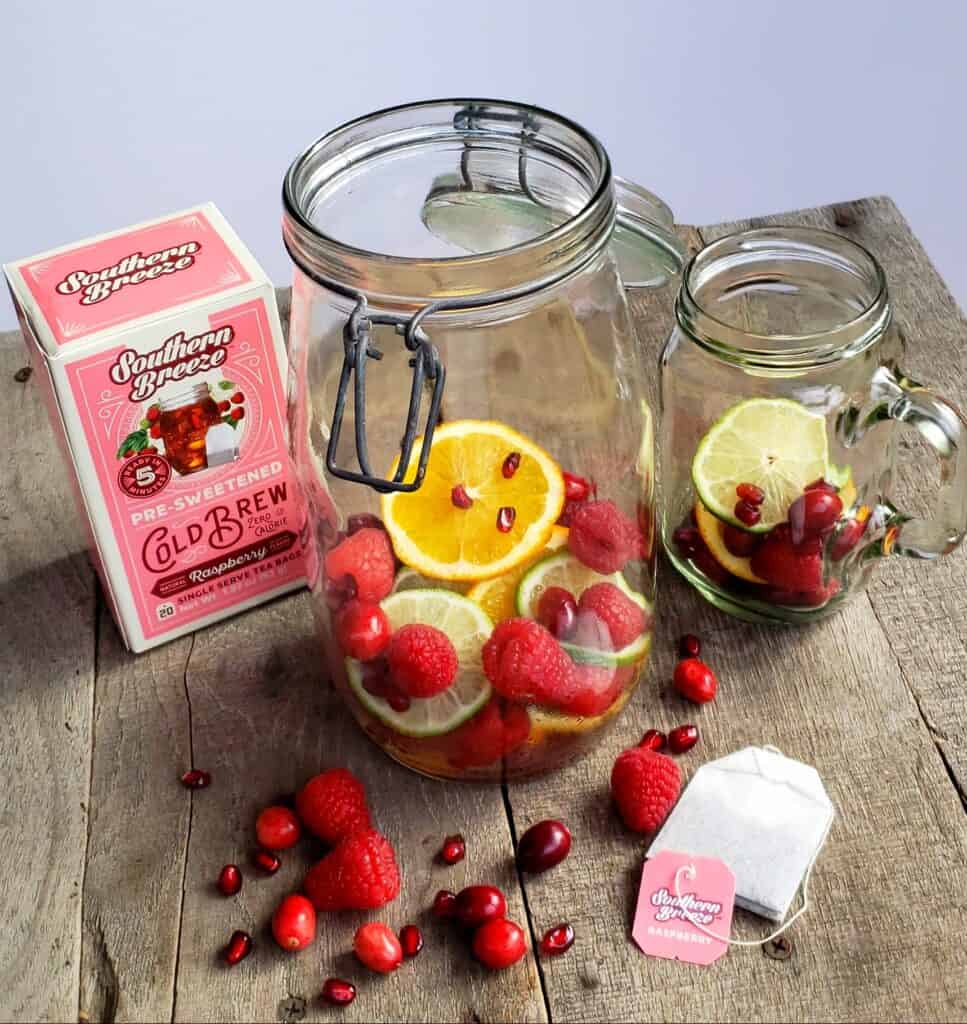 At this stage, you can make it by the glass or by the quart. Pour the tea and cranberry juice mixture over the fruit.
I collect old fruit jars (canning jars) of all sizes so I immediately reached for this half gallon jar with a clamp-style lid instead of a carafe or pitcher. Because Southern. This is a more causal look. If you want your own Southern Breeze Sweet Tea mason jar they are giving away free one in orders over $35 now until 12/10 or while supplies last! Only on www.southernbreezesweettea.com/collections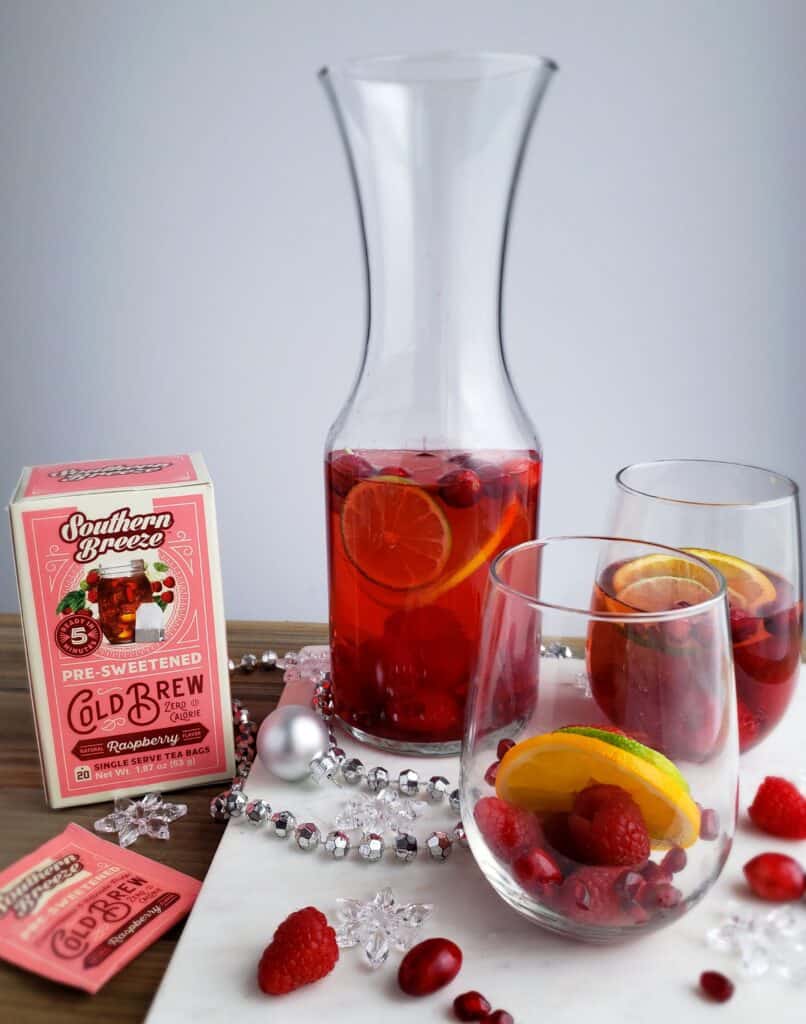 If you want to serve Sweet Tea Sangria "Skinny" Mocktail at a more formal soiree serve it in a carafe. A punch bowl full of fruit and this ruby red drink would be a show stopper for sure! Make sure the punch cups are large enough to fit the citrus slices in or cut them in half.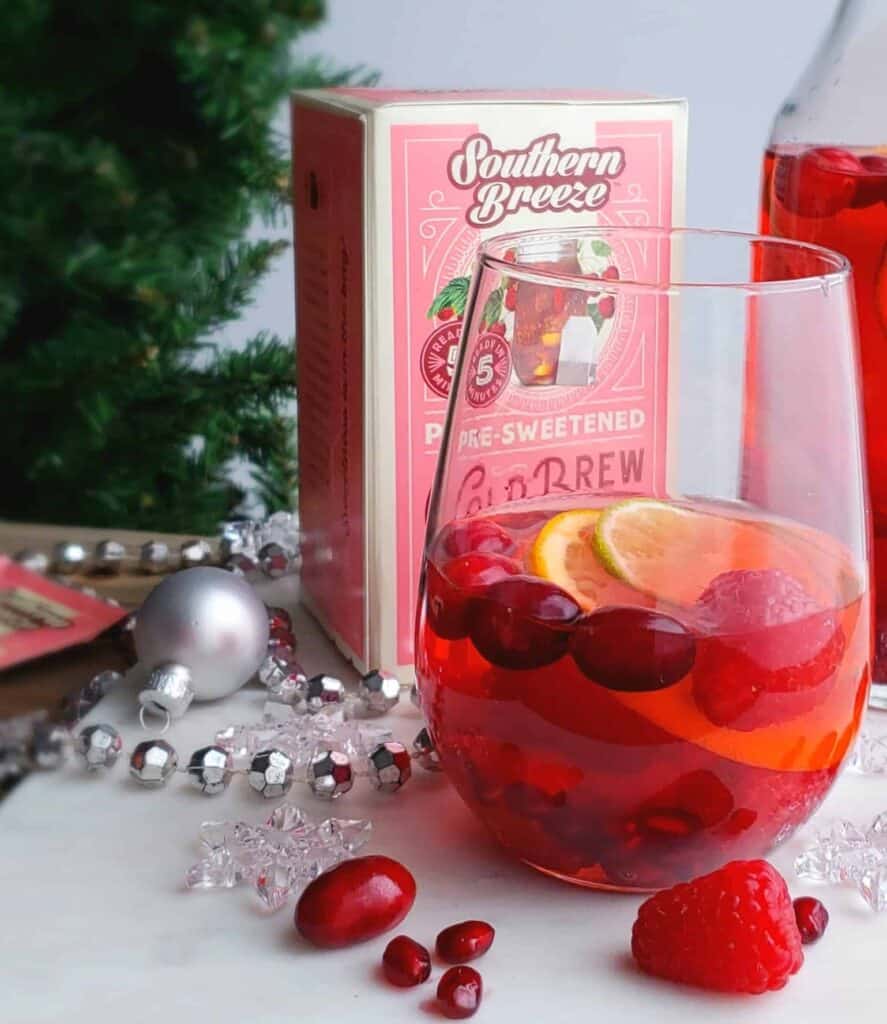 Serve Sweet Tea Sangria "Skinny" Mocktail at a Christmas tree trimming party. The whole family can enjoy this nonalcoholic holiday drink.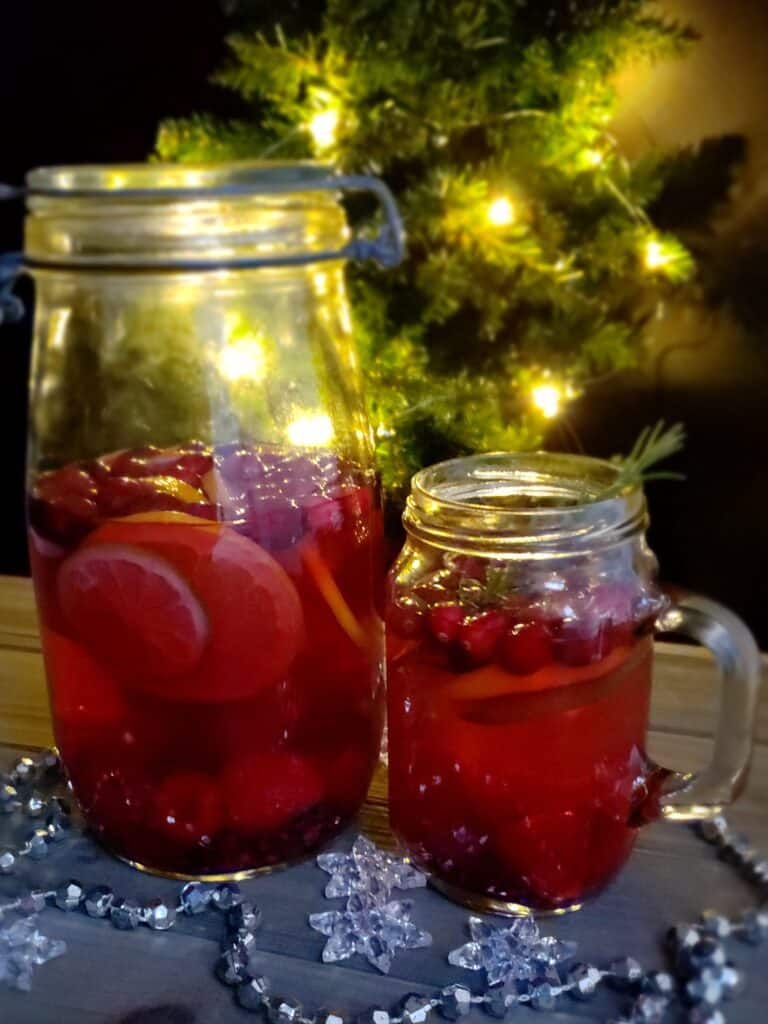 Already have your tree trimmed? Serve it at your New Years Eve party. I hope the new year will be one of the happiest ever for y'all.
Be sure to follow me on Facebook, Instagram, Pinterest and Twitter and don't leave before you send me your email address here so you don't miss a single post on my Southern shortcut recipes!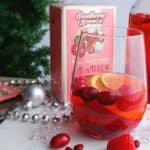 Print Recipe
Sweet Tea Sangria "Skinny" Mocktail
Sangria is a drink made with red wine, fruit, and sugar and sometimes lemon juice. Sweet Tea Sangria Mocktail is a nonalcholic version of sangria made with Southern Breeze presweetened zero calorie tea bags and 5 calorie cranberry juice, raspberries, cranberries, and pomegranate seeds.
Ingredients
4

cups

cold water

4

Southern Breeze raspberry-flavored presweetened tea bags

1

fresh pomegranate

(or 1/3 cup seeds)

1

small naval orange

1

lime

1

6 oz container raspberries

1

1/2 cup fresh cranberries

2

cups

5 calorie cranberry juice drink

4

fresh rosemary sprigs

(optional)
Instructions
Pour cold water over tea bags in a large measuring pitcher or bowl. Let the tea bags steep for 6 minutes. Discard the tea bags

Meanwhile, remove the pomegranate seeds by scoring the pomegranate skin in half and breaking it open. With seeds facing down, hit the back of the skin with the back of a wooden spoon and the seeds will fall into a bowl below. You will eventually have to break open the pomegranate half even more to get them all out.

Slice the orange and lime into thin slices. Wash the raspberries. Place the fruit in a pitcher or carafe or individual glasses.

Combine the tea and cranberry juice and pour over the fruit. Refrigerate the mixture at least one hour for the fruit to absorb the tea mixture and impart the fruit flavor into the tea mixture. Garnish with a fresh rosemary sprig, if you like.
Did you make this recipe?
If you love it, share it! Tag me on Instagram @gritsandgouda using #gritsandgouda Comment below before you go!