How to make Grilled Reuben Sandwiches from corned beef made in the Instant Pot. The best homemade Reuben and will rival a deli restaurant, made in a fraction of the time! Tender corned beef brisket piled high with layers of melty cheese, sauerkraut, and tangy dressing. Perfect for St. Patrick's Day or any day!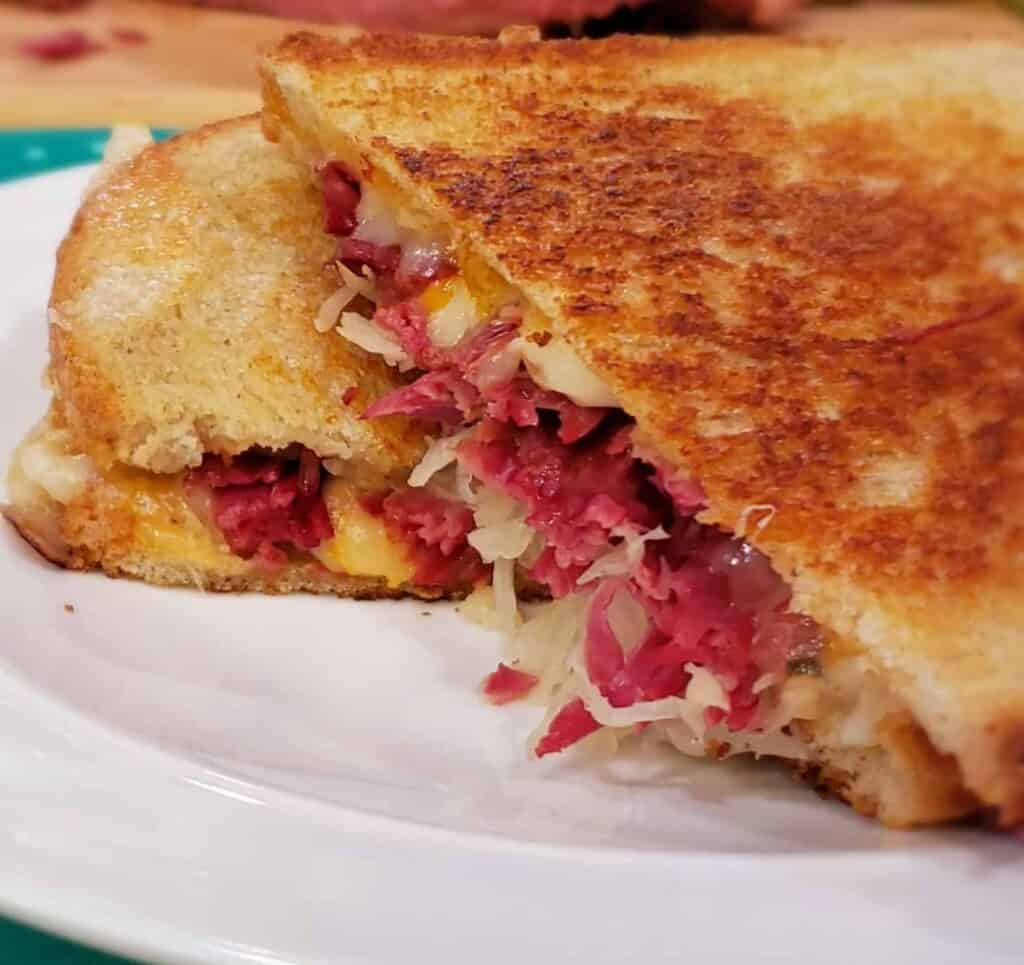 Reuben Sandwiches and Shrimp 'n Grits are the two dishes I consistently order where ever I go around the US. I've had a Reuben sandwich stacked so high with corned beef and kraut that I literally couldn't take a bite from top to bottom in one bite. Other times, a Reuben has left me wondering if they ran out of corned beef in the kitchen.
Like many things in life, the best Reubens are the ones that start in your own home/kitchen. I can add a little more cheese if I like, ...and I like..., a little less salad dressing and a little more kraut!
I prefer to cook it in a pan or griddle so the cheese is all melty and gooey. Custom made the way I like it.
What is corned beef?
Bottom line-it's beef brisket. The longer version: Corned beef is beef brisket preserved in a salt brine. No corn involved here. The salt brine was originally made with salt similar to rock salt and these were referred to as "corns" of salt. Spruce Eats gives us a more detailed description of how beef brisket becomes corned beef here.
If you love hash browns for breakfast, check out my Corned Beef and Roasted Potato Hash recipe.
How to make Instant Pot Corned Beef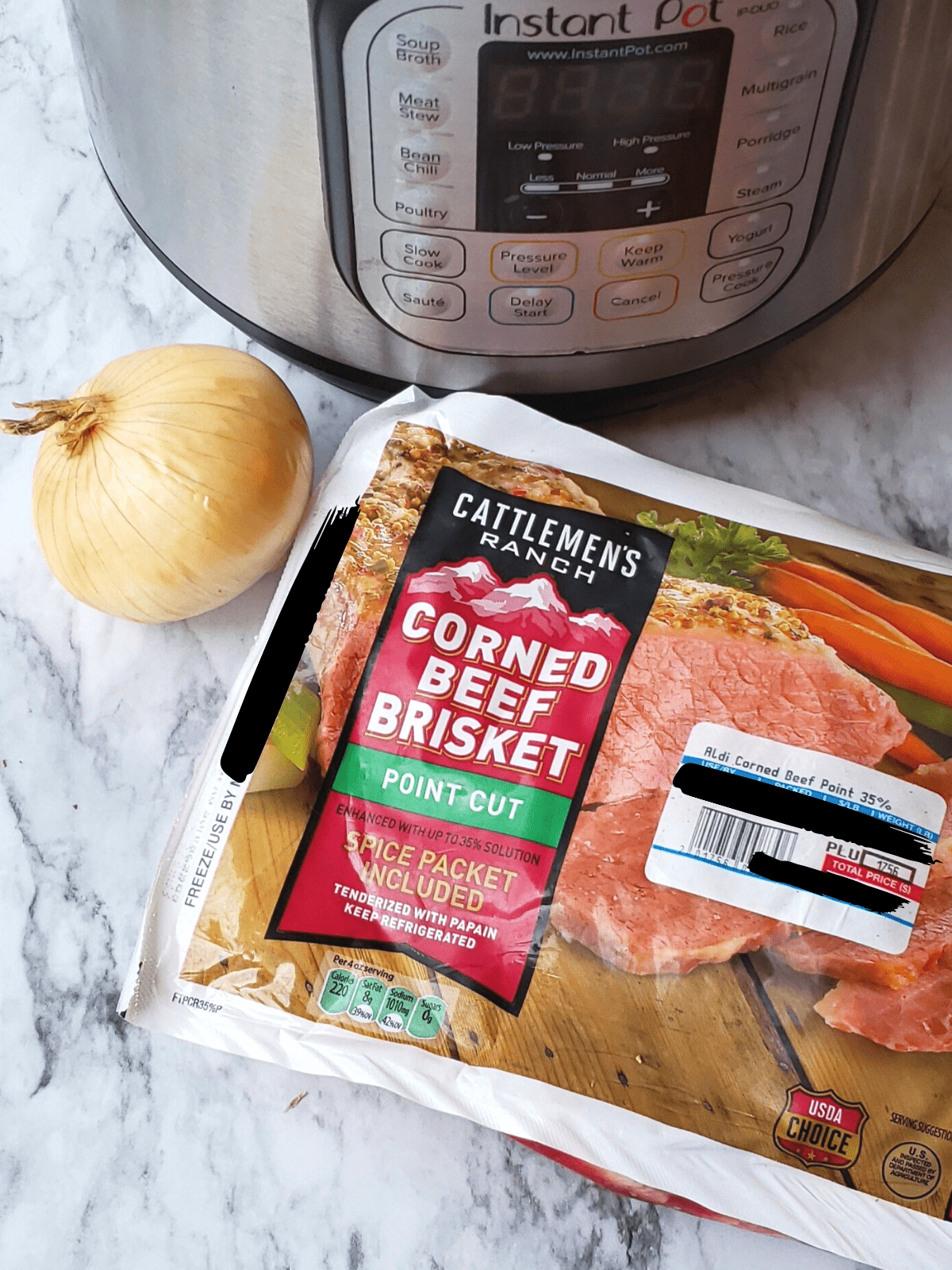 I bought this package of corned beef from Aldi on sale and put it in the freezer until I was ready to thaw and cook it. The seasoning packet is inside the package.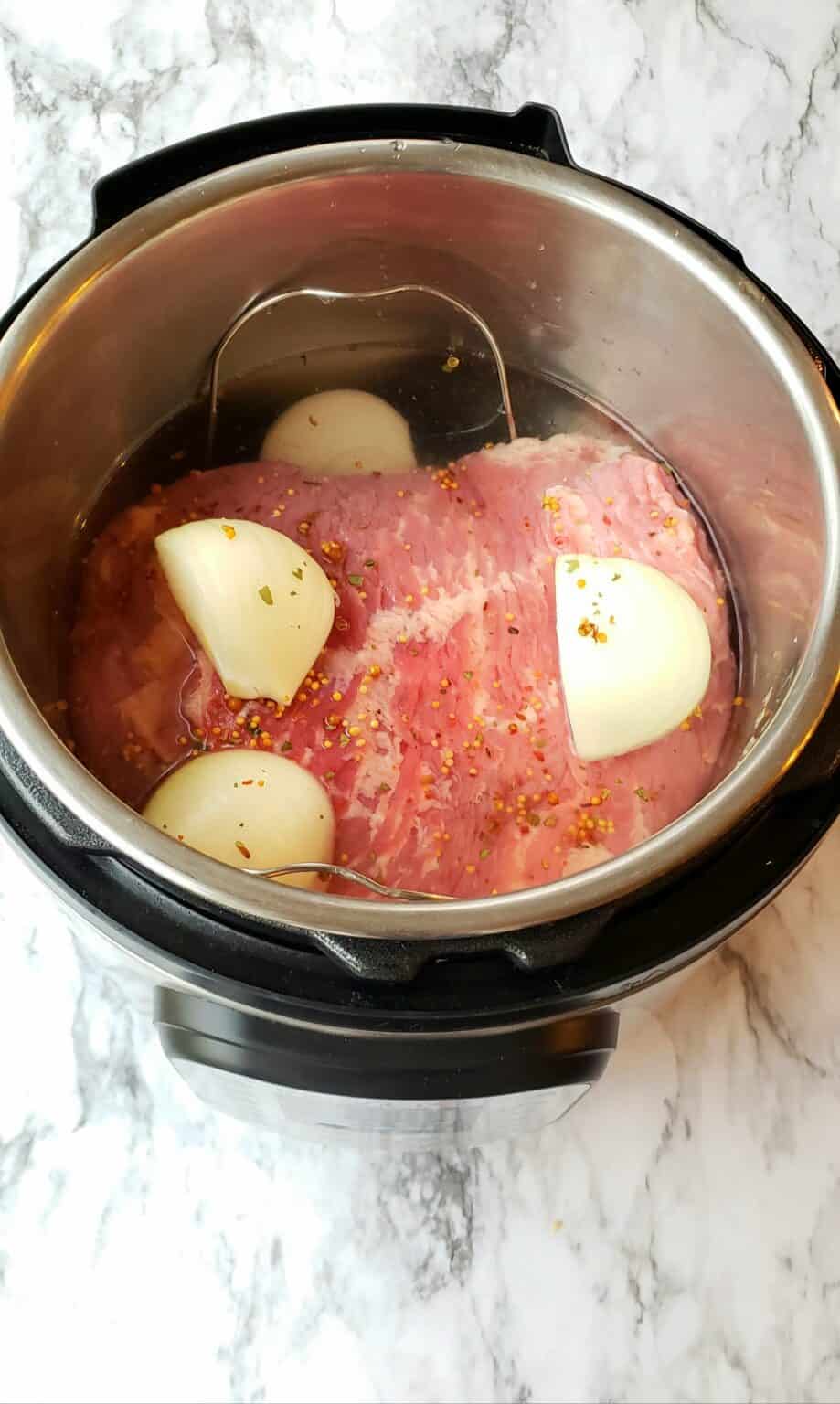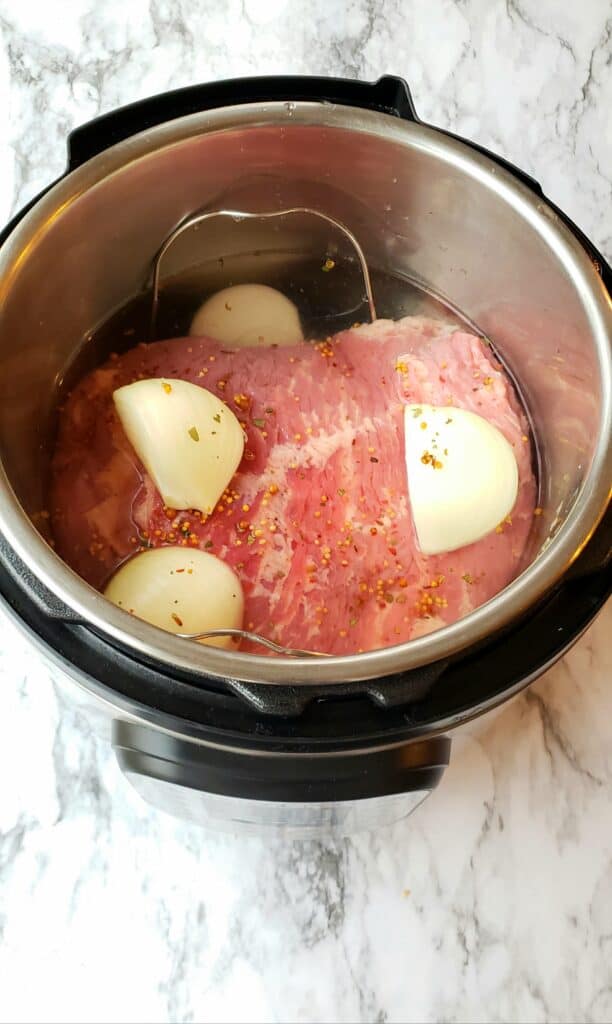 Drain and rinse the brisket and place it in a 6 quart Instant Pot with the trivet inside. The trivet helps you pull it up out of the hot liquid when its cooked.
Quarter one onion and place it on top and sprinkle with the seasoning packet and add enough water to barely cover the brisket.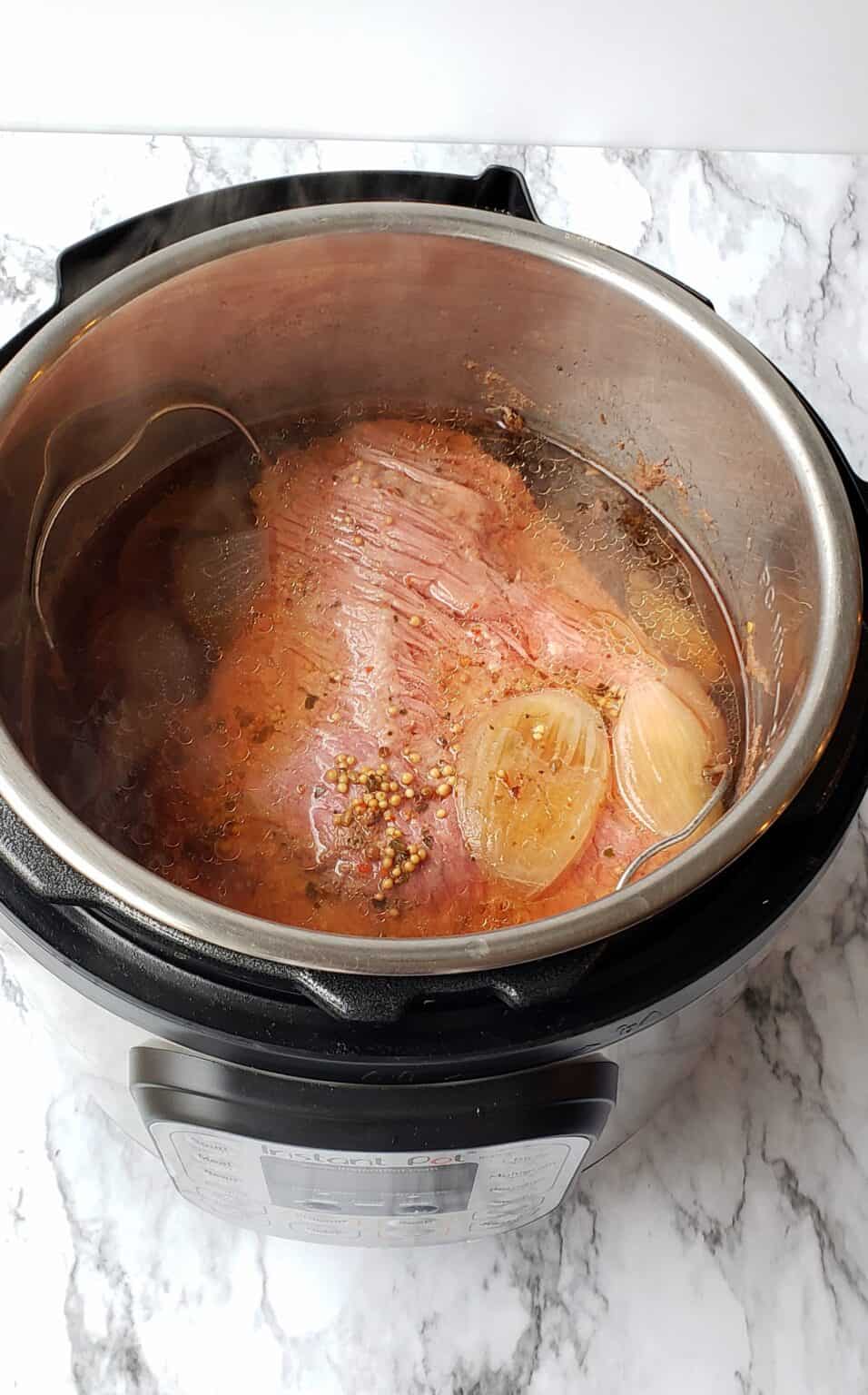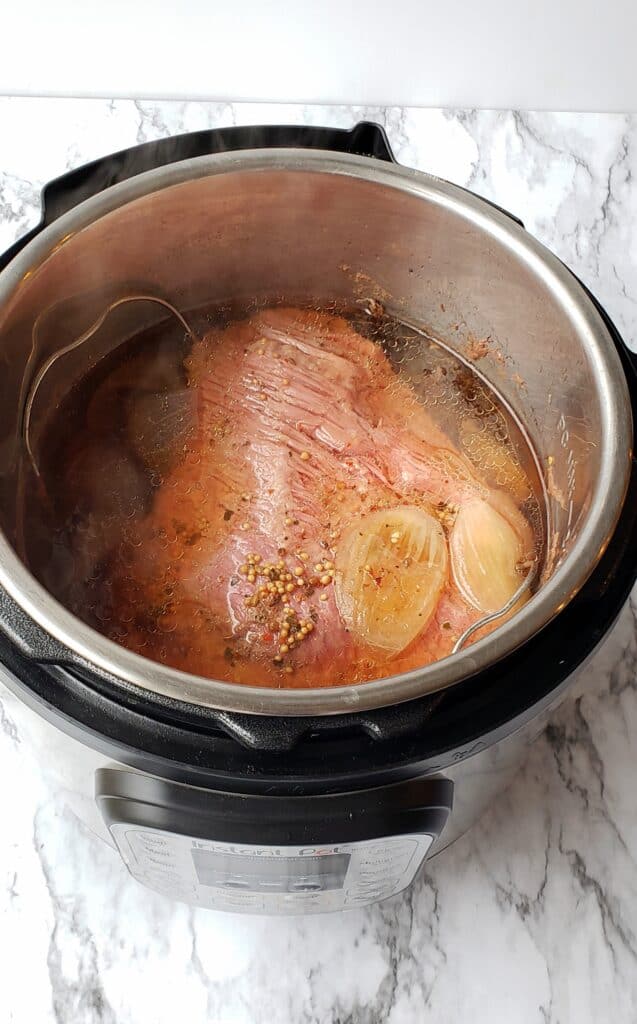 Seal the lid Seal the lid on the Instant Pot and cook on Manual or Pressure Cook for 1 hour and 40 minutes for a 4 pound corned beef. One hour and 30 minutes for a 3.5 pound brisket. Pull the trivet up and let the corned beef drain well.
What if I want to add cabbage, potatoes, and carrots?
To cook cabbage, small round red potatoes, and carrots at this point, just strain 2 cups of the corned beef cooking liquid to remove the seasonings. Add the 2 cups liquid back in the Instant Pot and cook on high pressure for about 5 minutes and quick release.
Cut the cabbage into quarters so it won't overcook and cut the potatoes in quarters if they are medium size. I like to peel and cut carrots into 2 inch pieces but baby carrots can be used to save time.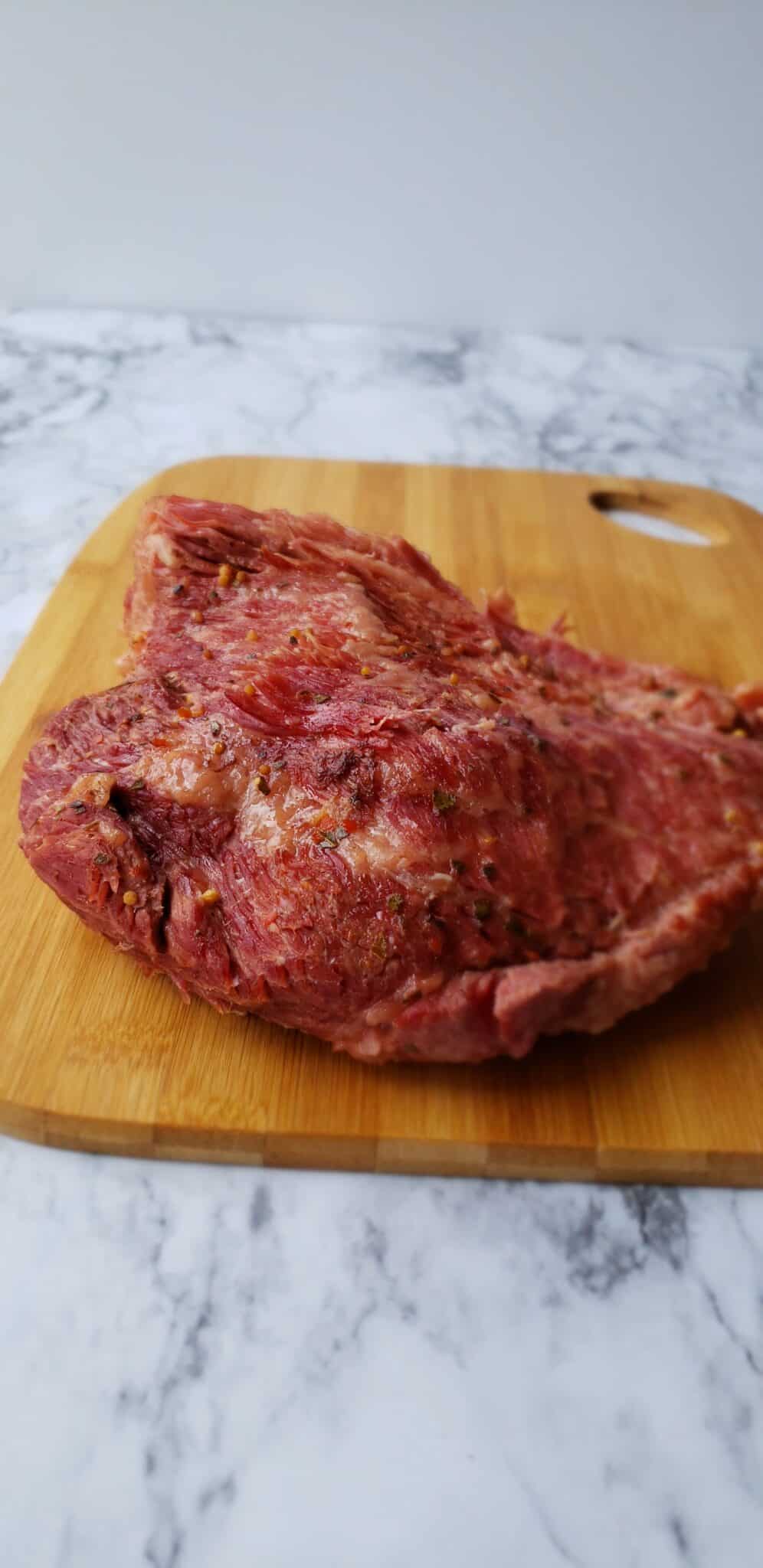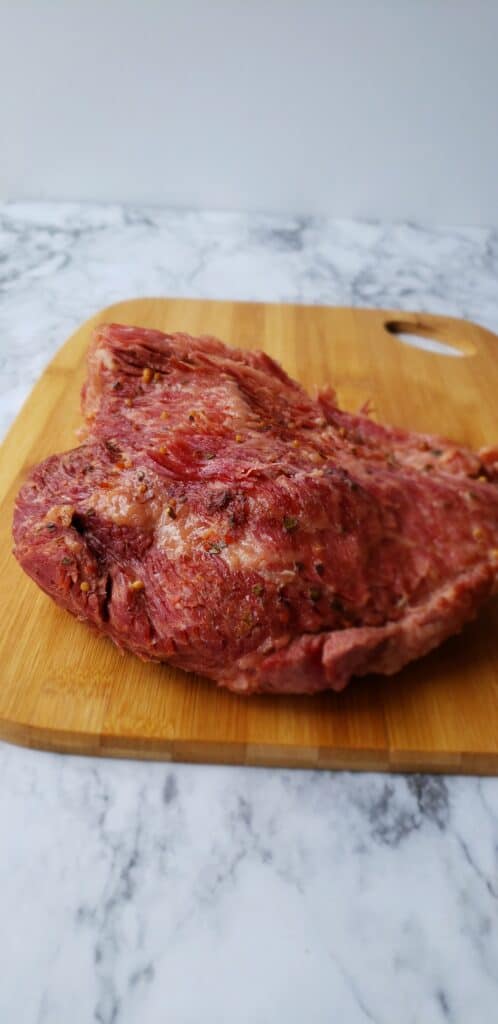 After draining, let the corned After draining, let the corned beef cool slightly on a cutting board.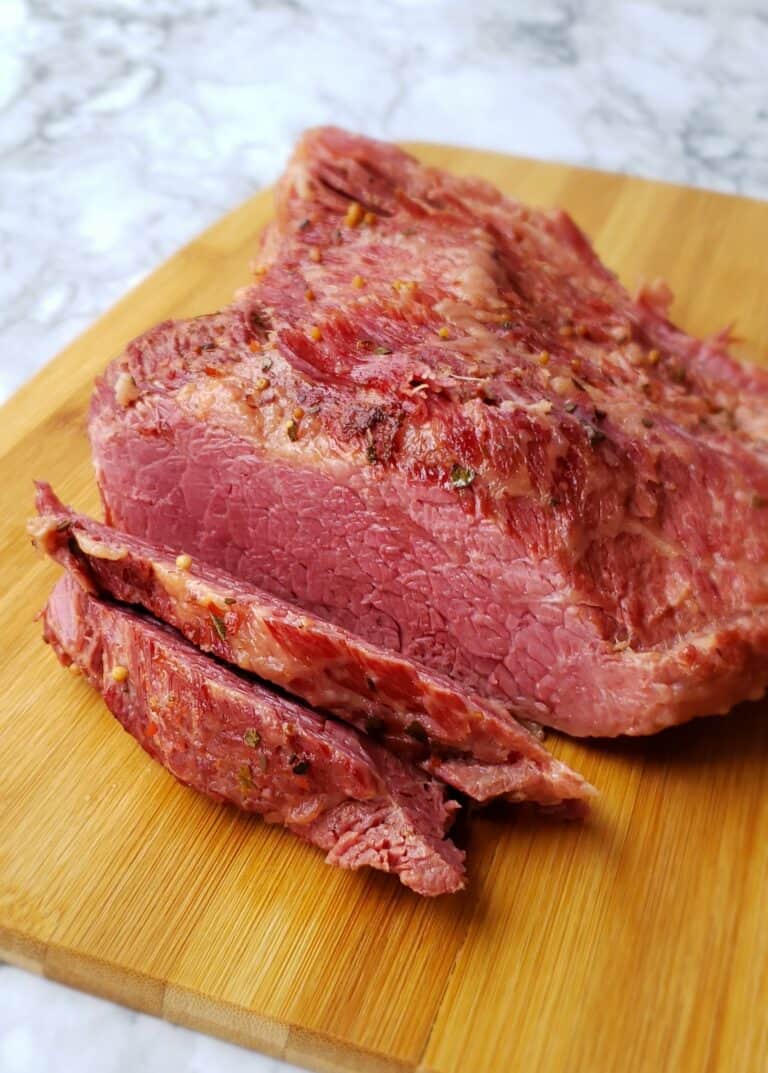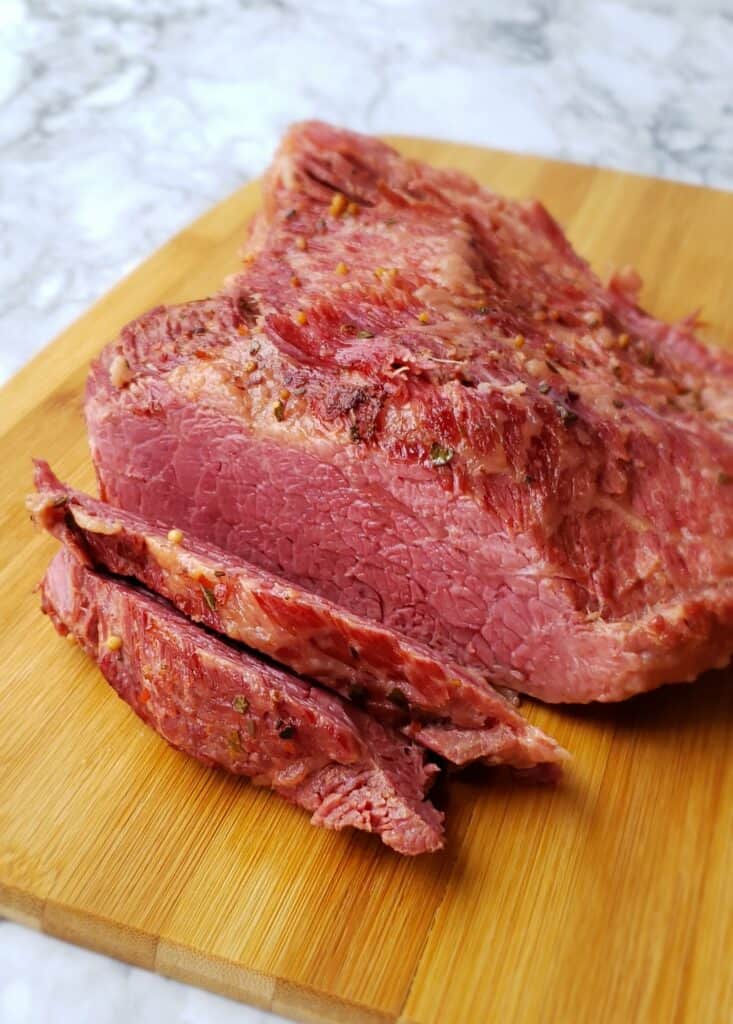 Slice the corned beef brisket diagonally against the grain. Otherwise, you will have long strings of meat.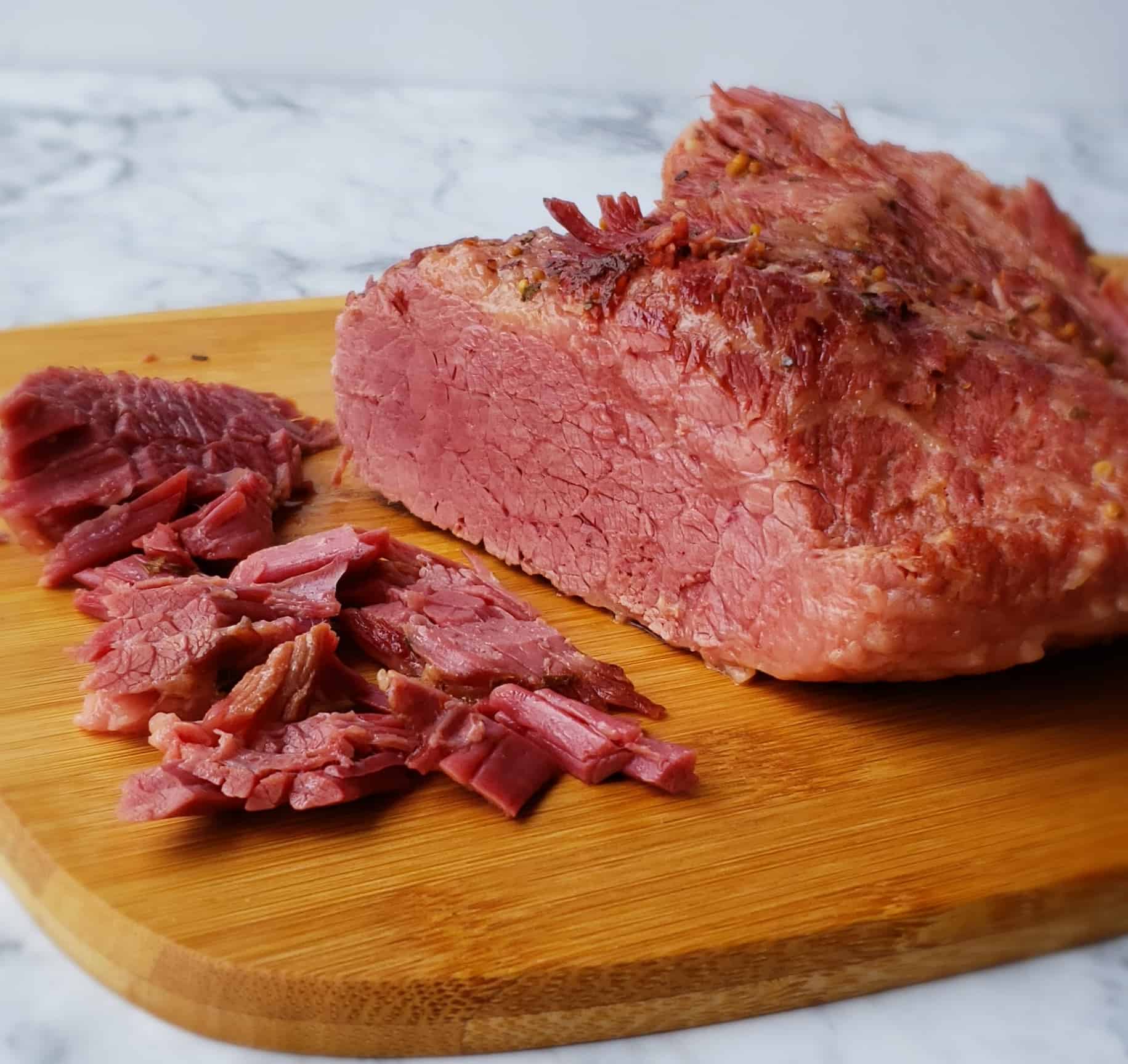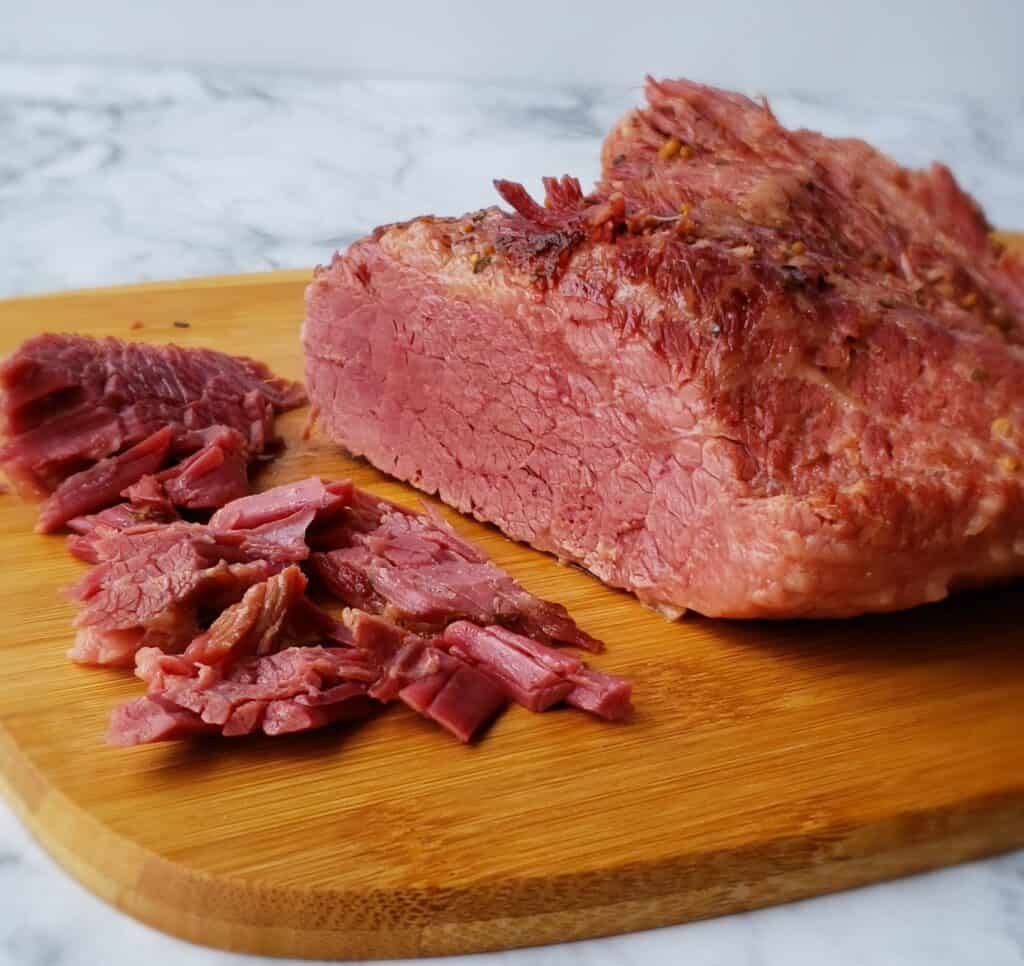 Slice the corned beef brisket diagonally against the grain. Otherwise, you will have long strings of meat. You can also shred the meat before or after slicing it by pulling it apart with two forks.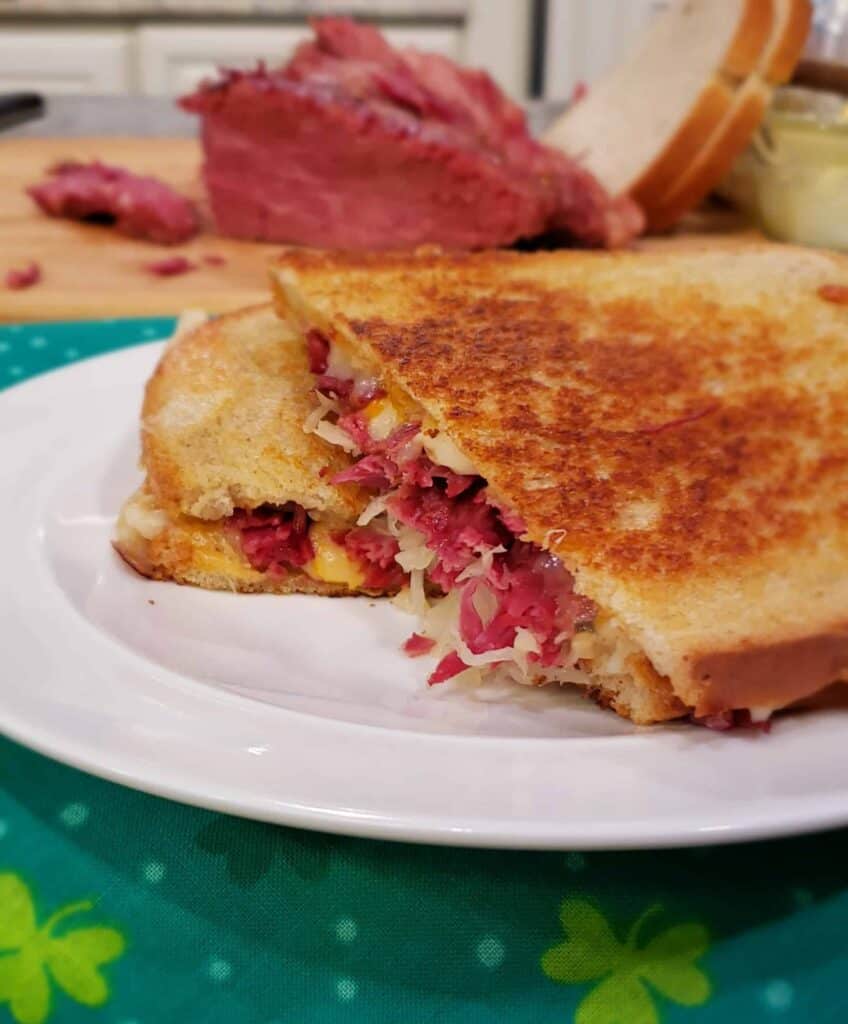 Building a Reuben Sandwich with Instant Pot Corned Beef is easy by layering it with shredded Swiss cheese and sauerkraut. Slather the inside of rye bread with Russian or Thousand Island Dressing.
If you don't have or like rye bread, any bread will do. I especially like marble rye bread. I like to cook mine on a griddle or skillet like a grilled cheese to melt the cheese. Just lightly spread butter on the outsides of the bread and cook it on medium heat in a nonstick skillet.
What is a Reuben Sandwich?
I am a sucker for food history. I often rattle off the history of what I make for dinner before I realize it. My kids usually roll their eyes and say, "Mom, don't tell us the history of it, we just wanna eat it!"
In short, there's a controversy behind who invented the Reuben Sandwich. One legend is that Patricia B. Taylor, daughter of Arnold Reuben (1883-1970), the founder of Reubens Restaurant and Delicatessen, claims that her father made the first Reuben Sandwich in 1914 for a down-on-her-luck actress.
Another claim to the famous sandwich is that Reuben Kulakofsky (1873-1960), a wholesale grocer in Omaha, Nebraska created the Reuben Sandwich. Kulakofsky belonged to a weekly poker group whose members apparently enjoyed fixing their own sandwiches every bit as much as they enjoyed playing poker. One of the players, Charles Schimmel, owner of the Blackstone Hotel in Omaha, put the Reuben Sandwich on the hotel menu.
If you'd like to read about a couple more "beefy" claims to the Reuben sandwich invention, go here. What's Cooking America lays it all out for us.
Can I cook corned beef brisket in the slow cooker?
Yes. Just add corned beef, onion seasoning from packet and 2 cups of water in a large slow cooker or Crockpot. Cook on low for 8 to 9 hours or high for 4 to 5 hours or until the meat is tender.
Watch the video
Watch me make Grilled Reuben Sandwiches with Instant Pot Corned Beef on WBRC Fox 6's Good Day Alabama here or click on the image below.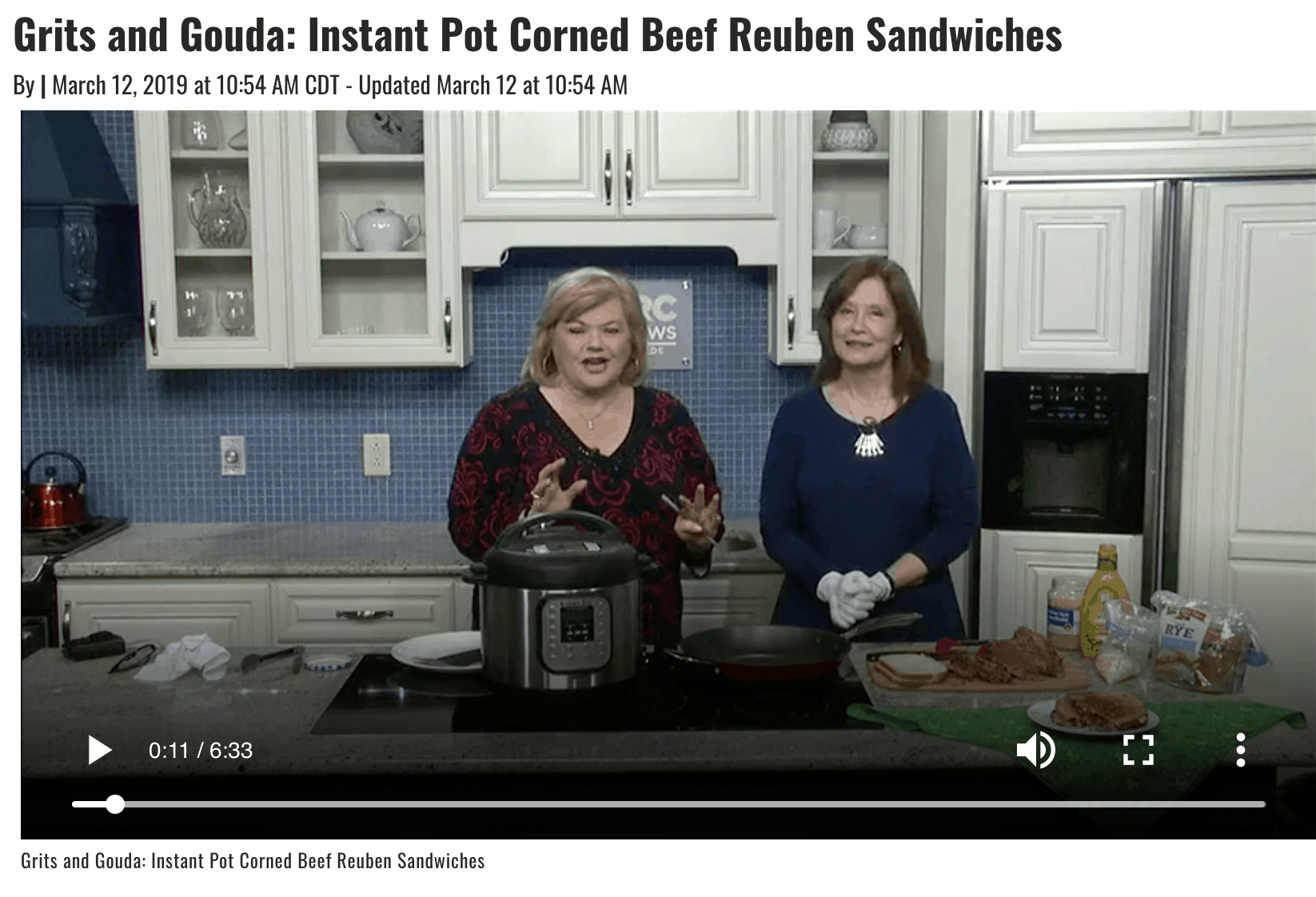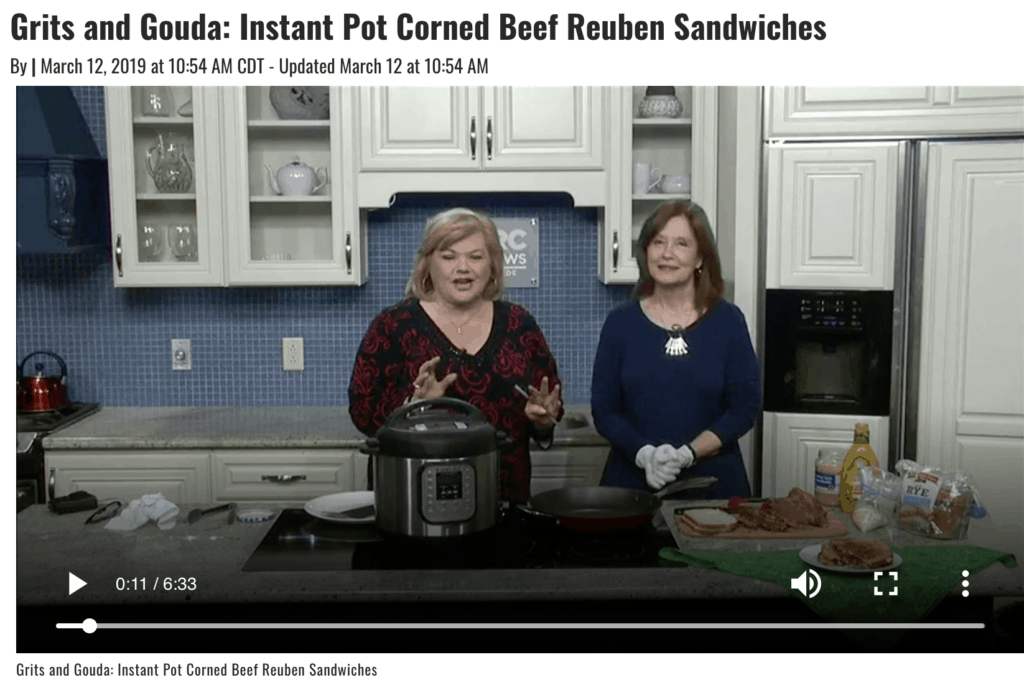 If you liked my Corned Beef made in the Instant Pot, here more of my recipes made in the Instant Pot.
What is the best Instant Pot to use for this recipe?
I own two of the 6 quart Instant Pots below (Duo and Ultra). Any 6 or 8 quart model will work.
Follow me on Facebook, Instagram, Pinterest and YouTube. Be social and share, y'all! Don't forget to sign up with your email so you don't miss a single post on my Southern shortcut recipes!
If you make this recipe I'd love to see it! Tag me on social media with #gritsandgouda or @gritsandgouda. Leave a comment below the printable recipe if you have questions or tell me how you liked the recipe. Don't forget to give the recipe a rating of 5 stars if you love it!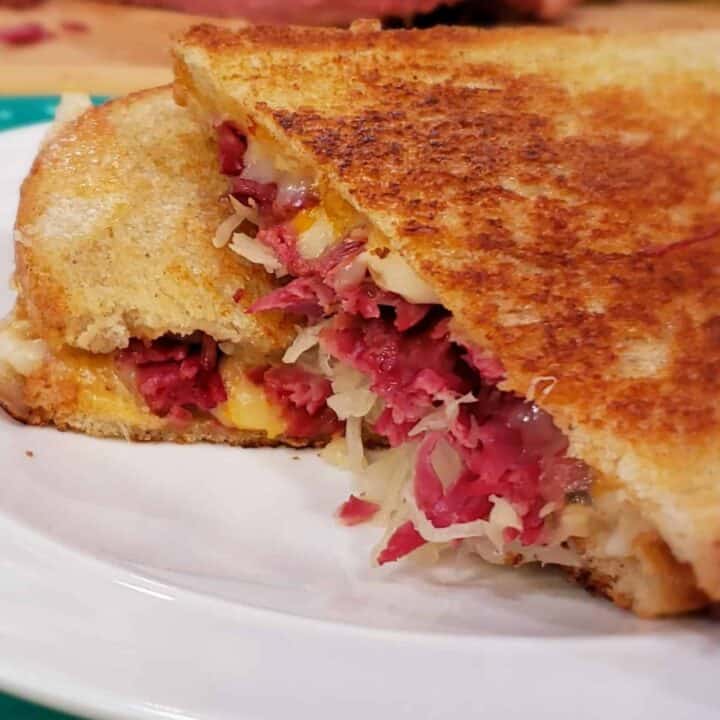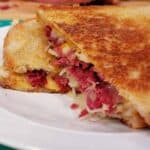 Print Recipe
Grilled Reuben Sandwiches (with Instant Pot Corned Beef)
Homemade Grilled Reuben Sandwiches made with Instant Pot Corned Beef. Layers of Swiss cheese and sauerkraut for St. Patricks Day!
Ingredients
3.5 to 4

pounds

corned beef brisket (flat or point)

rinsed and drained

Seasoning packet from corned beef brisket package

1

medium onion

quartered

Water

(about 3 cups)

8

large slices

rye or hearty white bread

1/3

cup

softened butter

1/2

cup

Thousand Island or Russian Salad Dressing

1

cup

sauerkraut

(or cabbage slaw)

2

cups

shredded Swiss cheese
Instructions
Drain and rinse the corned beef well.

Place the corned beef on the trivet inside a 6-quart Instant Pot and add the seasonings and onion.

Pour in just enough water to come half way up the brisket-that's all that's necessary and probably could get by with less.

Put the lid on the Instant Pot and seal the valve.

Set the Instant Pot to manual (high) pressure for 1.5 hours. For a 4 pound brisket, cook 1 hour 40 minutes.

Allow the pot to release naturally for 15 minutes after cooking, then quick release. Remove the brisket to a cutting board and let cool to the touch.

Cut the brisket across the grain into slices or shred it.
Grilled Reuben Sandwiches:
Spread the salad dressing evenly on both sides of the bread slices. Add 3 ounces of sliced or shredded corned beef, 1/4 cup sauerkraut, and 1/2 cup cheese on 4 slices.

Heat a nonstick skillet or griddle until hot

Spread softened butter on the top pieces of bread and place that side down in the pan.

Now, spread the remaining butter evenly on the other side of the sandwich bread which will now be on the top.

Cook 2 minutes or until the bread is lightly browned. Turn gently with a spatula and cook 1 to 2 minutes on the other side until lightly browned and the cheese is melted.

Cook in batches if using a skillet.
Notes
Calories are based on 3 ounces cooked corned beef.
How to cook corned beef in the slow cooker:Just add corned beef, onion seasoning from packet and 2 cups of water in a large slow cooker or Crockpot. Cook on low for 8 to 9 hours or high for 4 to 5 hours or until the meat is tender.
Nutrition
Serving:
1
sandwich
|
Calories:
649
kcal
Did you make this recipe?
If you love it, share it! Tag me on Instagram @gritsandgouda using #gritsandgouda Comment below before you go!
Nutrition analysis on GritsAndGouda.com recipes are mostly calculated on an online nutrition calculator. I am not a dietitian and nutritional information is an estimate and can vary based on products used.