No fancy ingredients in these decadent soft and chewy Double Chocolate Pudding Cookies. There's a secret ingredient that makes them irresistibly soft and chewy! A hint is in the title!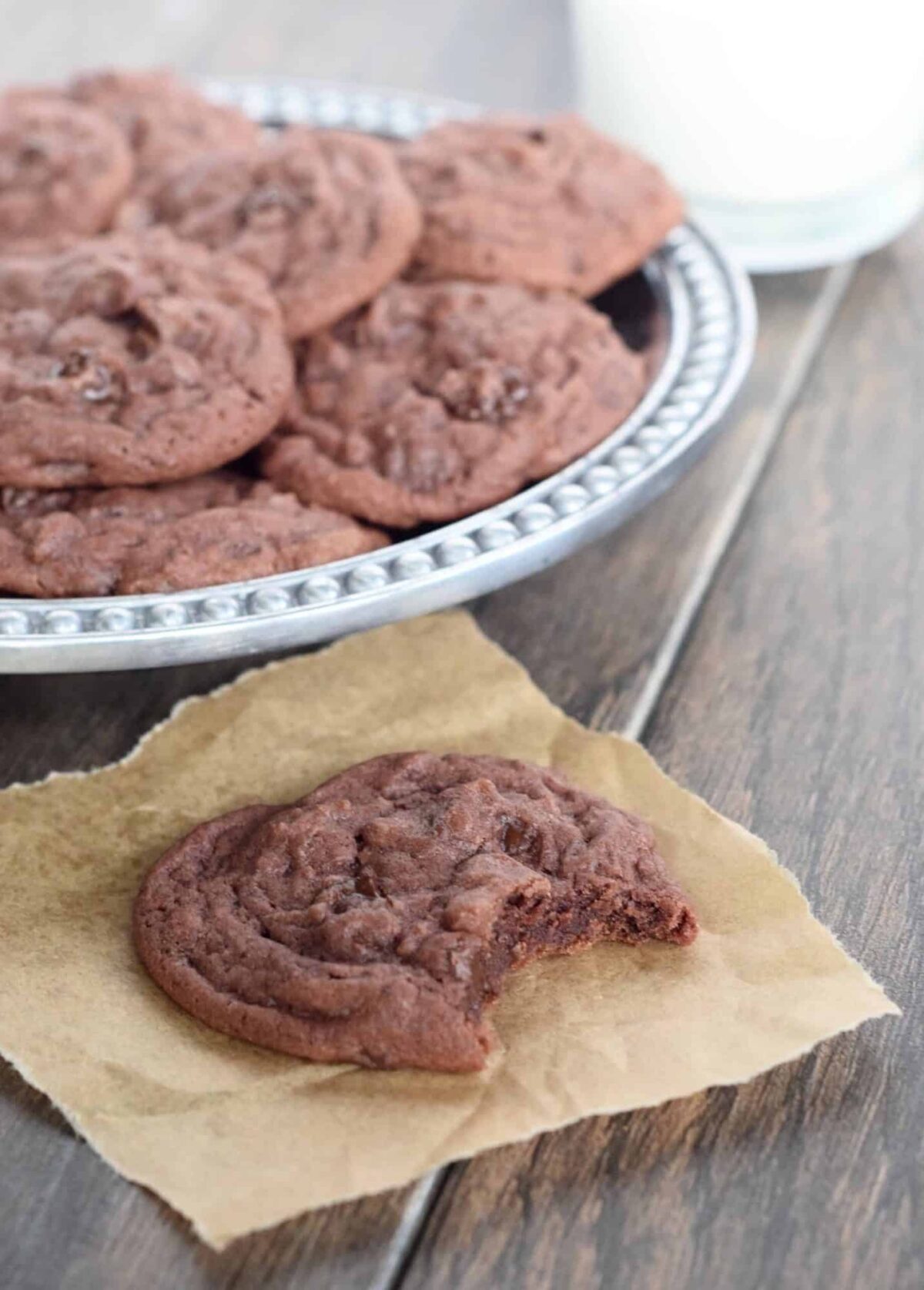 Soft. Chewy. Rich chocolate cookie and chock full of chocolate chips!
No fancy or expensive ingredients in these irresistible cookies but they will become a favorite with you and your friends so be sure to keep the ingredients on hand when you get a craving for them!
What's the secret ingredient?
Instant pudding mix is the key to the soft and chewy texture. Don't ask me why. I'm not sure about the science or mystery behind it. I just know it works!
If you want to make soft and chewy regular chocolate chip cookies, just use vanilla-flavored pudding mix. Be sure to check and make sure it is instant pudding mix and not "cook n serve".
What's the shortcut?
To soften butter quickly, microwave the sticks in the wrapper 8 seconds at HIGH. Turn the sticks twice to the opposite sides and microwave an additional 8 seconds. You'll have perfectly softened butter.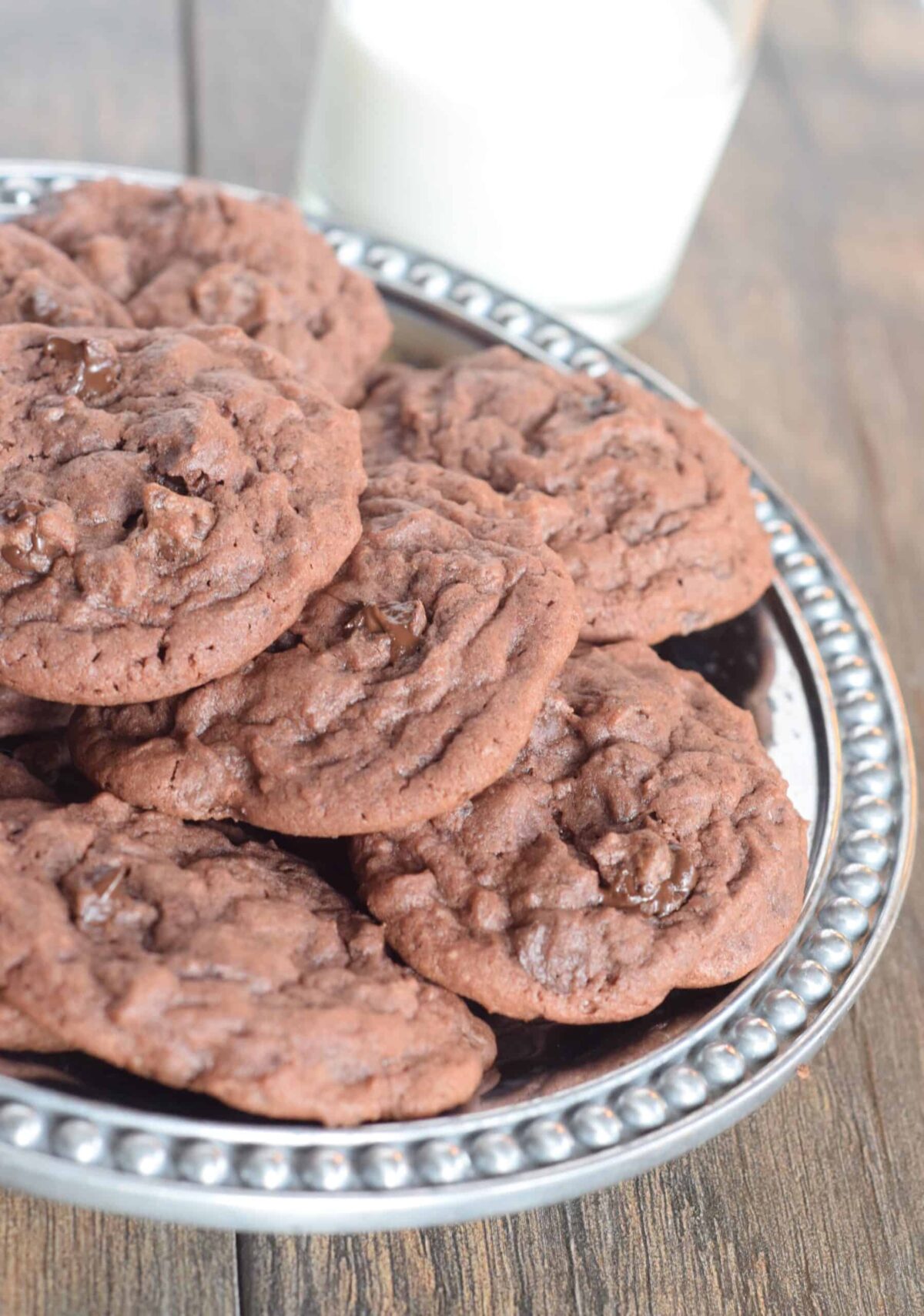 Don't be tempted to bake them until they are firm in the center. They will firm up when they sit on the baking sheets and on the cooling rack.
Perfect for a Christmas cookie swap
Put these easy chocolate-chocolate chip cookies on your must-make Christmas cookie list! Everyone at your cookie swap will be asking you for the recipe. It's up to you if you want to share the secret ingredient or not! Score at your next tailgate party with a batch of these in tow.
My favorite cookie spatula
One of my favorite tools in the kitchen is this very thin, flexible cookie spatula. It is stainless steel but it is so thin and flexible, it gets under the cookie while still warm and tender to transfer over to the wire rack. It is also fantastic for lifting cheese straw wafers and super thin cookies like Florentines.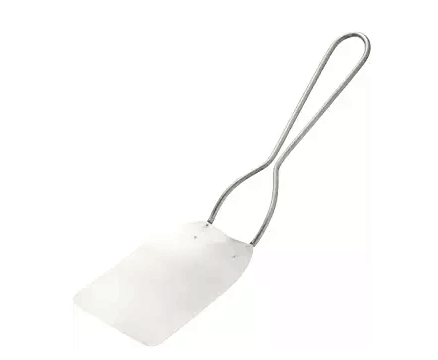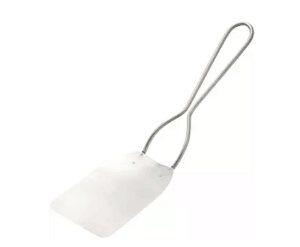 I had one in the Oxmoor House text kitchen over 30 years ago and mine at home is almost that old and looks brand new...and not from lack of use, let me tell ya.
For quick and easy chocolate chip cookies, use instant vanilla pudding. There's something about the instant pudding that keeps these cookies soft and chewy for days.
Try my Coffee and Dark Chocolate Chip Cookies and Sugardoodles if you love cookies as much as I do!
Be sure to follow me on Facebook, Instagram, Pinterest and Twitter and don't leave before you send me your email address here so you don't miss a single post on my Southern shortcut recipes!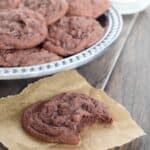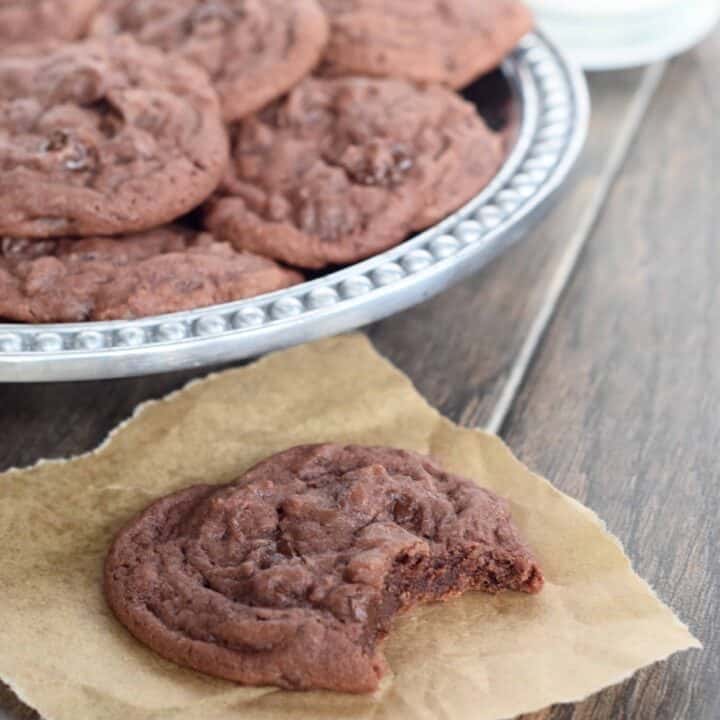 Print Recipe
Soft Chewy Double Chocolate Pudding Cookies
No fancy ingredients in these decadent soft and chewy Double Chocolate Chocolate Chip cookies. There's a secret ingredient, though!
Ingredients
1

cup

butter

softened

1/2

cup

granulated sugar

1/2

cup

light brown sugar

2

large eggs

1

teaspoon

vanilla extract

1

3.9-oz package instant chocolate pudding (I used Jell-O brand)

2 1/4

cups

all-purpose flour

1

teaspoon

baking soda

1

12-oz package semi-sweet chocolate chips
Instructions
Preheat oven to 350°. Beat butter and sugars in a large mixing bowl at medium-high speed 2 minutes with an electric mixer. Set a timer; you are beating in air to create a fluffy texture. Add eggs, one at a time, beating well after each addition. Add vanilla and beat just until combined. Add pudding mix and beat just until combined. Let stand 2 minutes. Don't skip this step.

Combine flour and baking soda in a bowl or large plate and add to the mixing bowl; beat just until flour is incorporated. Stir in chocolate chips.

Spoon cookie dough onto a lightly greased baking sheet or a baking sheet lined with parchment paper. I like to use a very small ice cream scoop so I get the same amount of dough every time and it makes perfectly round scoops. Bake 9 minutes at 350°. The center will still be slightly doughy but the cookies will firm up when cooled. If you over bake these cookies, they will lose their soft, and chewy texture. Let cookies cool 2 minutes on the baking sheet then transfer to cooling racks to cool completely…..if you can wait that long. If you can wait until they are cool, you are a stronger person than I am!
Nutrition
Did you make this recipe?
If you love it, share it! Tag me on Instagram @gritsandgouda using #gritsandgouda Comment below before you go!
PIN FOR LATER