Who's ready for bonfires and camping trips? Make these Campfire S'Mores Cupcakes from scratch with Marshmallow Frosting or the quick & easy shortcut version.
I made these for my son's Eagle Scout court of honor but they are perfect for tailgating, birthday parties, or even a non-scary Halloween party. Either way, they will be a hit for both kids and adults!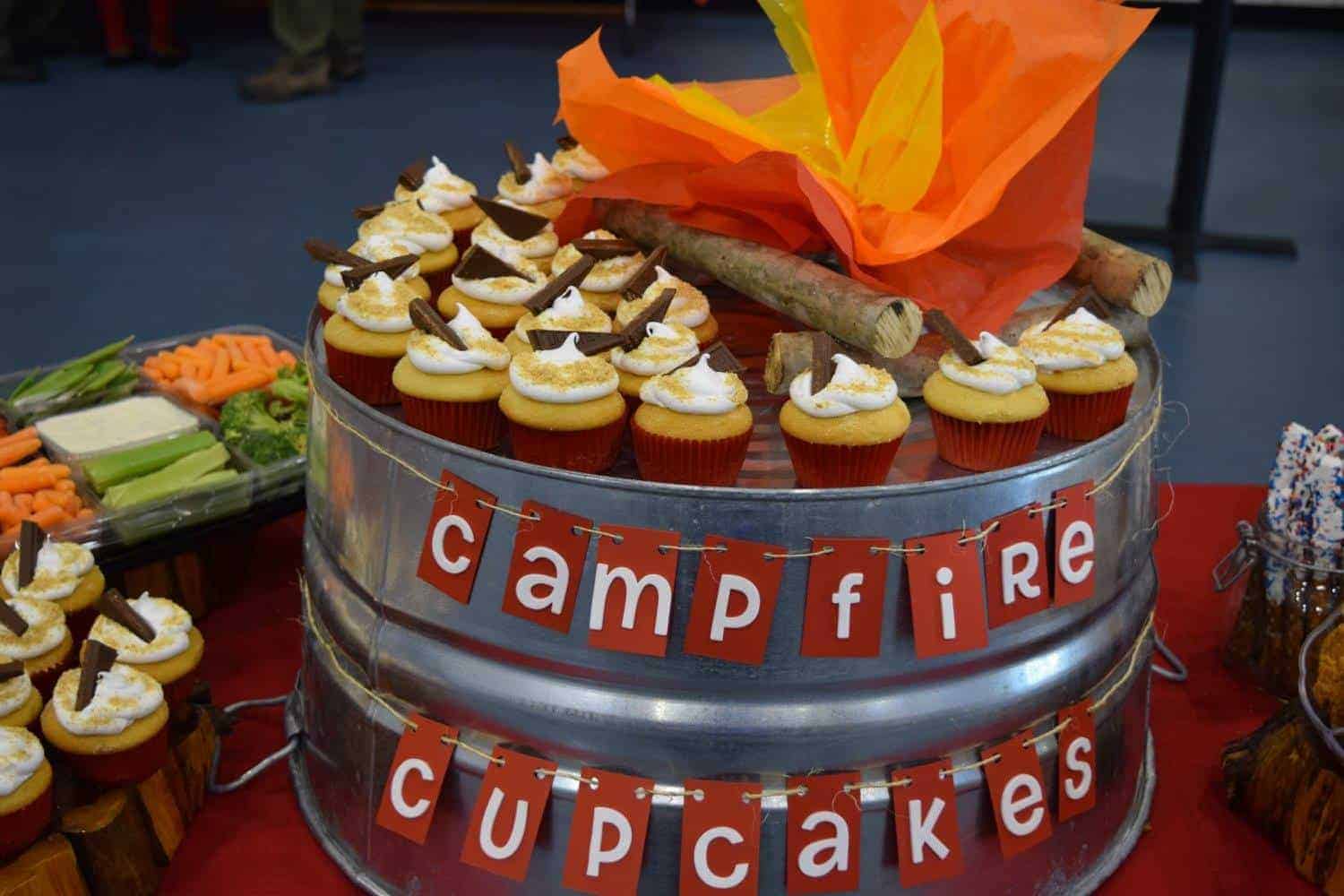 How to assemble the S'Mores Cupcake Display
Use foam stick-on letters from Hobby Lobby for the words Campfire Cupcakes and a hole punch to cut out the holes to run the string through.
The fun part of the whole centerpiece was the fake fire! I super-glued some sapling trees my son cut down with his machete (he's quite the outdoorsman!) but gathering twigs will work.
Gather up one sheet of red, orange, and yellow tissue paper and wrapped the end up in a rubber band and stick it down in the "campfire".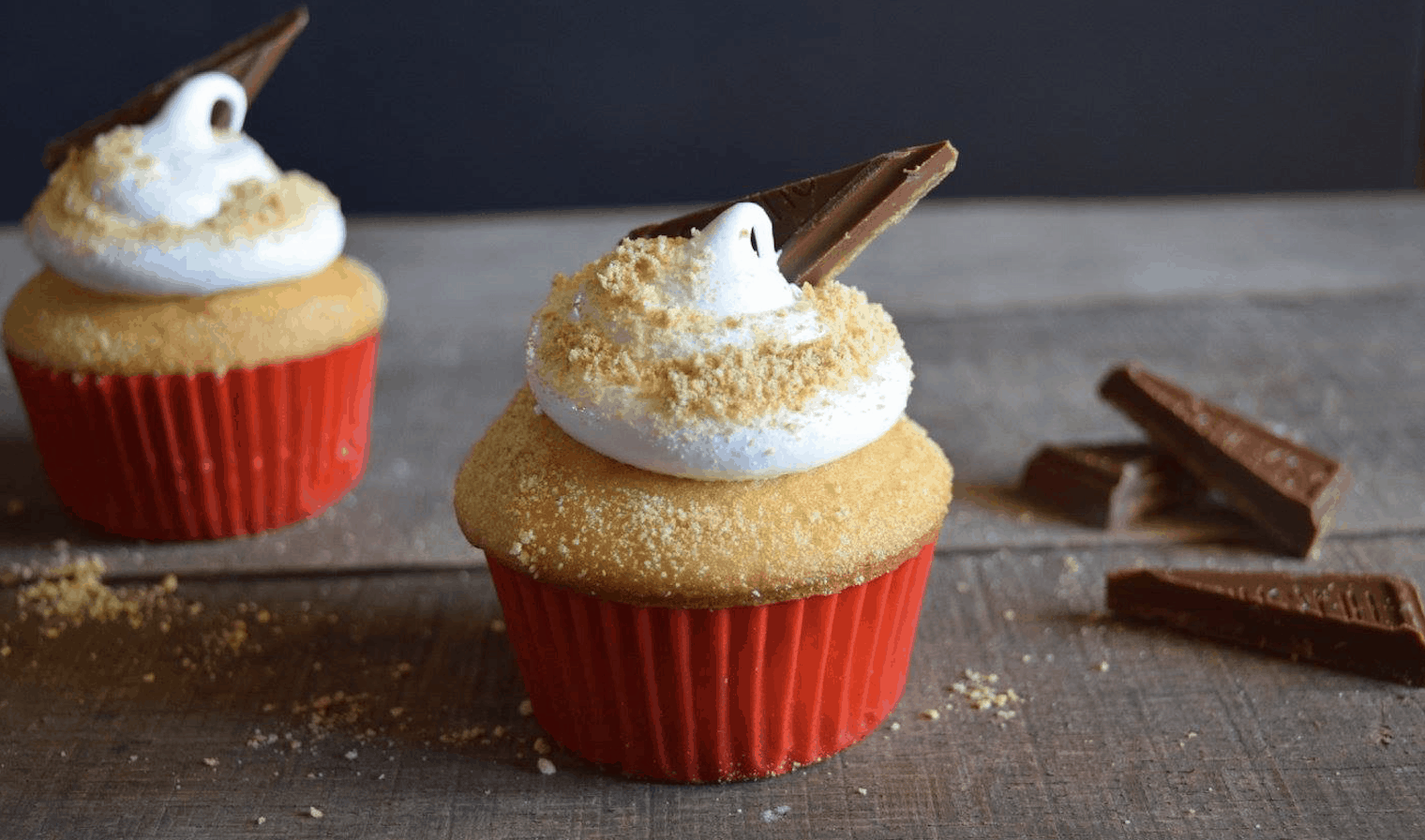 I'm all about shortcut recipes (and I included a shortcut version) but this was a very special occasion so I went all out and made homemade marshmallow frosting.
I wanted marshmallows for the official s'mores effect and marshmallow creme in a tub is a sticky mess so I made the Homemade Marshmallow Frosting. You may know it as Seven Minute Frosting your Grandmother made and put on one of her three layer coconut cakes like this one from Julia's Simply Southern.
So this is one of those "worth the effort" recipes unless you make the shortcut version.
What's the shortcut?
For a similar look without making the homemade cake and frosting, simply use a vanilla or butter cake mix and a tub of vanilla frosting. It's that easy!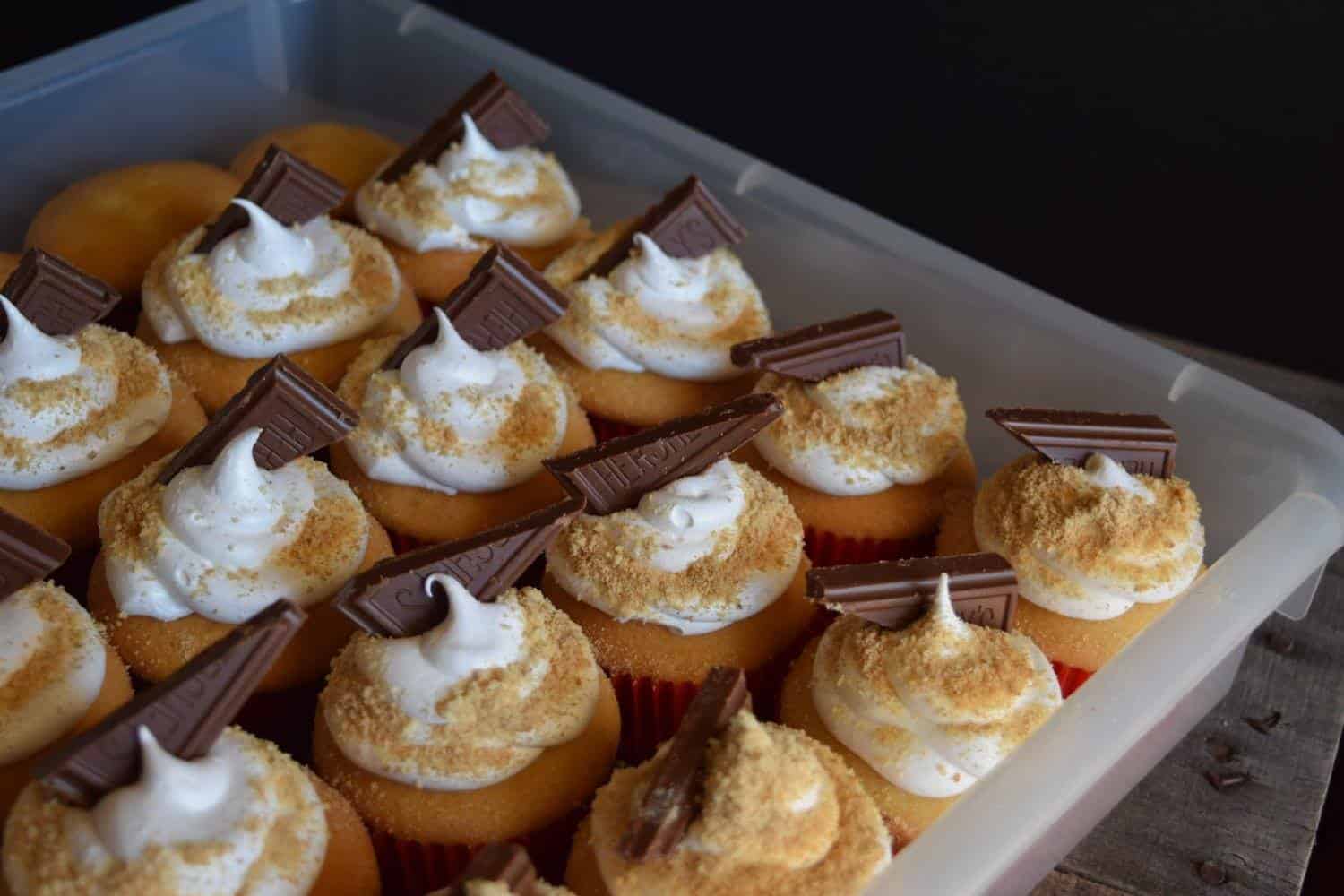 How to transport S'Mores Cupcakes
I transported the S'Mores Cupcakes with Homemade Marshmallow Frosting to the ceremony in this plastic container. The lid wouldn't quite close and I didn't want to smoosh the frosting so I loosely covered them with aluminum foil.
Special cupcake carriers are available at even the Dollar Tree. Ask your friends if they have a few you can borrow.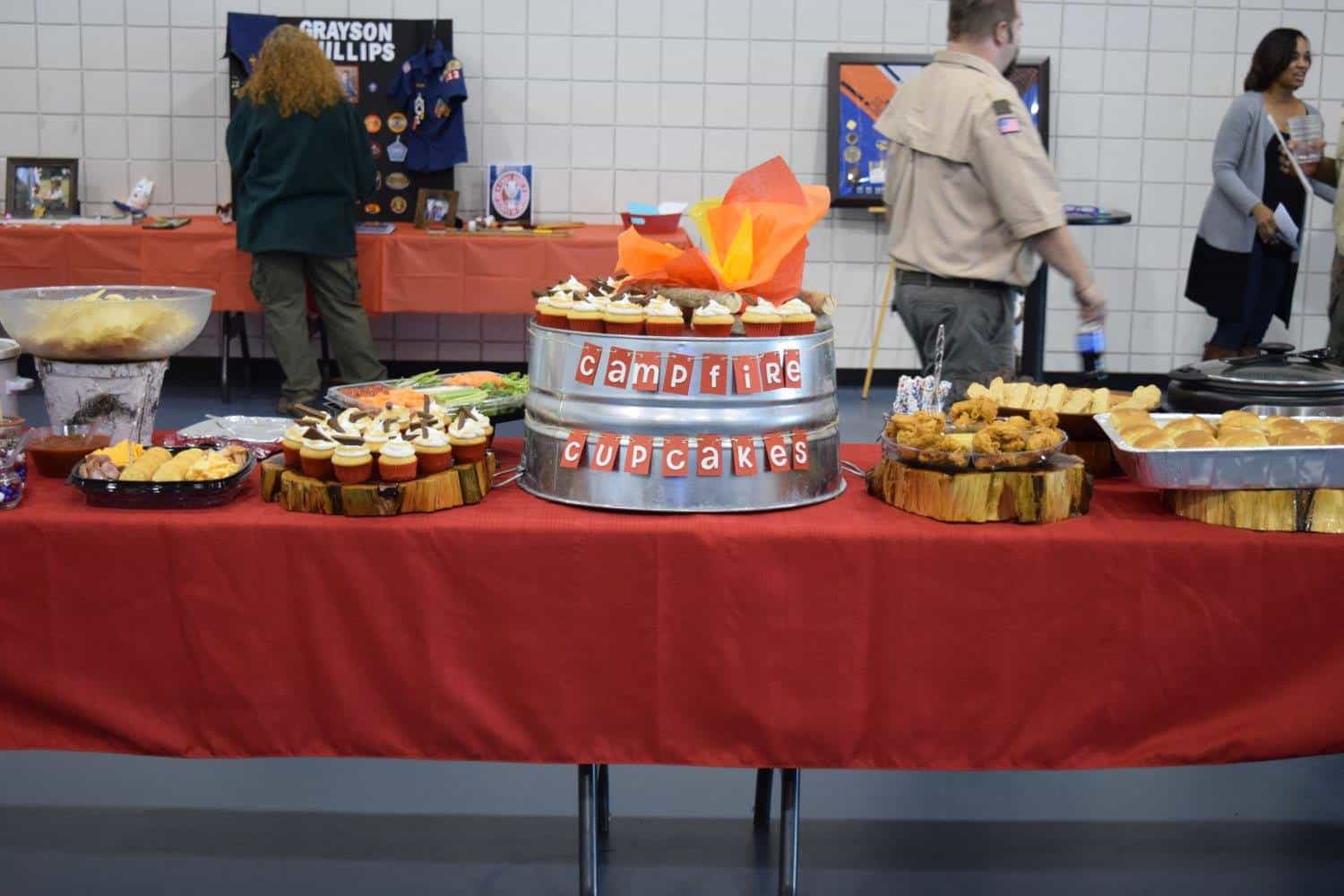 My dear friend, Patti and her husband, made the gorgeous cedar cuts of wood on the reception table. They added an "outdoorsy" look and let me display more of the S'Mores Cupcakes. We found the large metal tub in the recesses of our basement. lol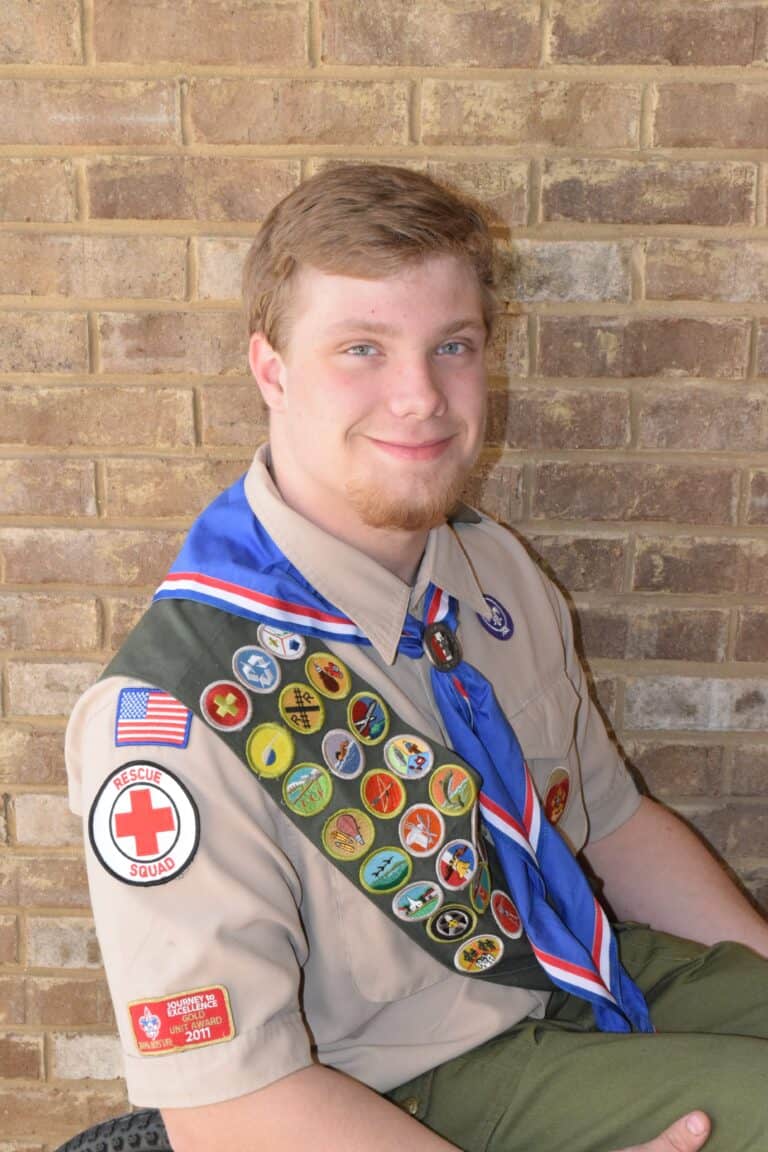 Grayson looked mighty handsome in his Eagle Scout kerchief (he hates that term but it's better than scarf, right?). This sash represents a lot of hard work, too-many-camping-trips-to number, countless skills learned, friendships for life, honor and integrity gained.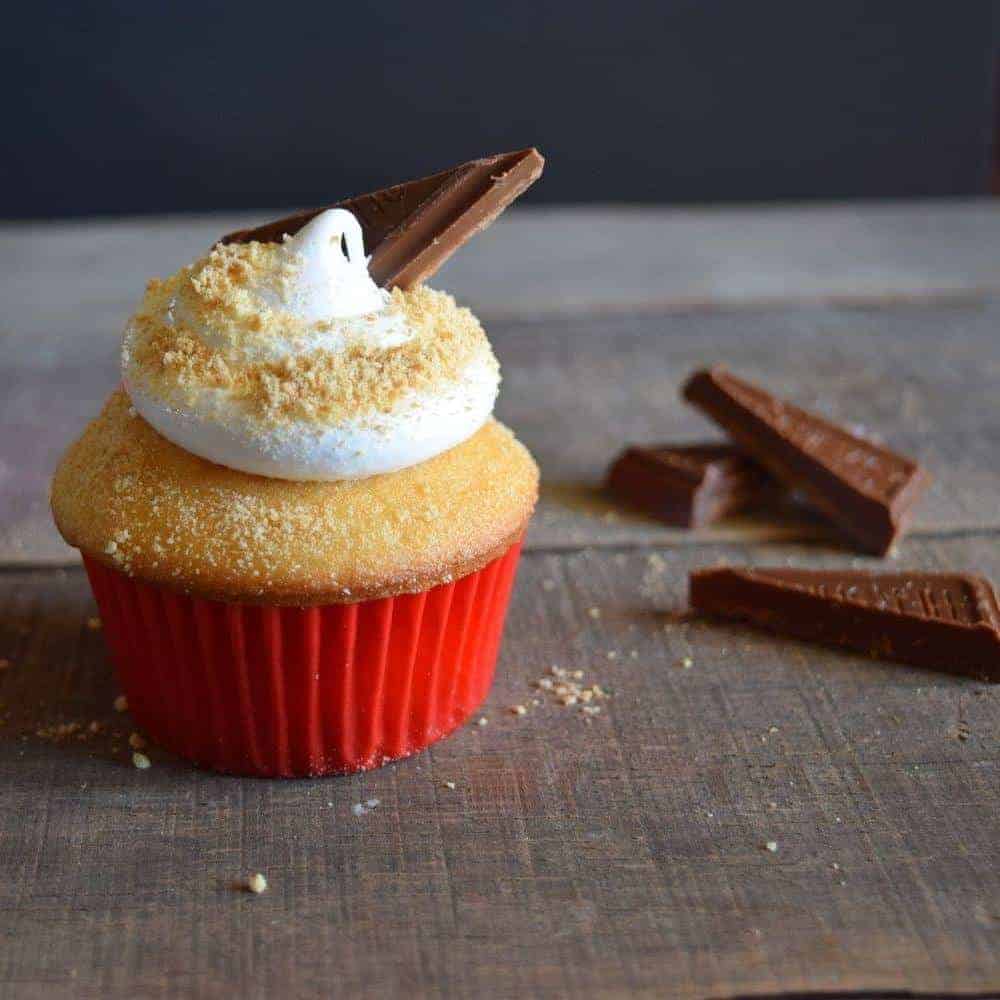 Follow me on Facebook, Instagram, Pinterest and YouTube. Be social and share, y'all! Don't forget to sign up with your email so you don't miss a single post on my Southern shortcut recipes!
If you make this recipe I'd love to see it! Tag me on social media with #gritsandgouda or @gritsandgouda. Leave a comment below the printable recipe if you have questions or tell me how you liked the recipe. Don't forget to give the recipe a rating of 5 stars if you love it!
PIN IT FOR LATER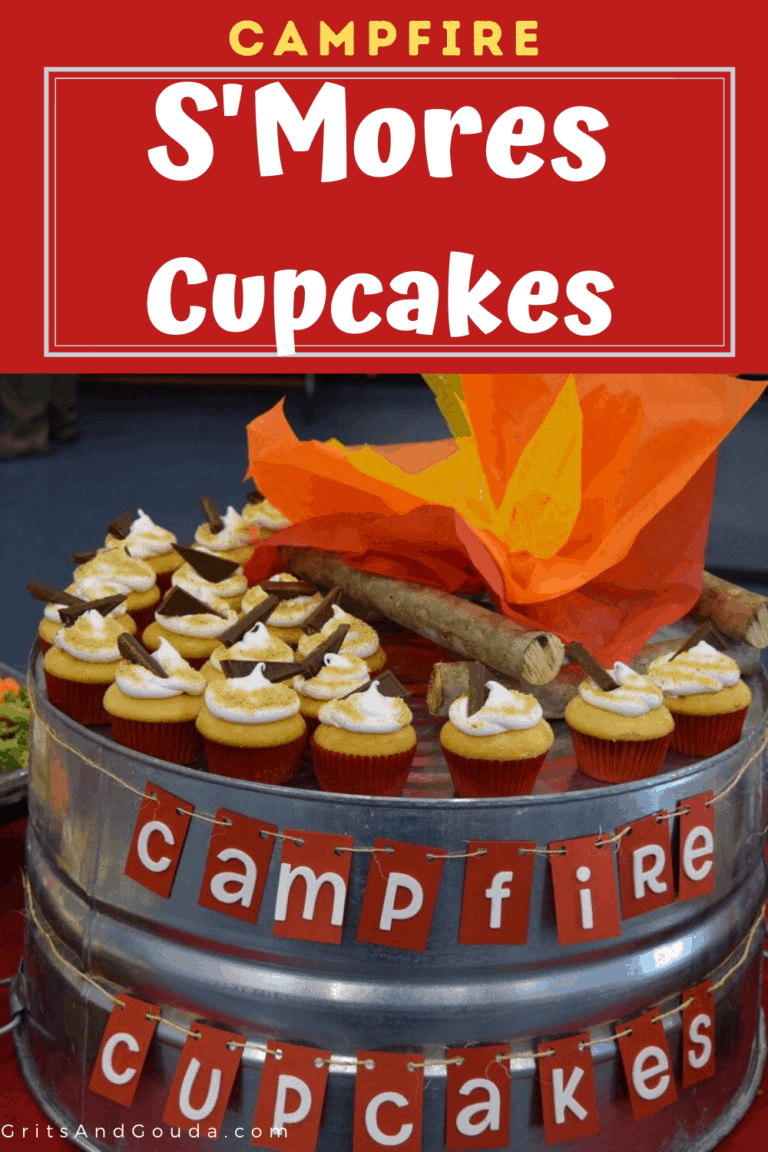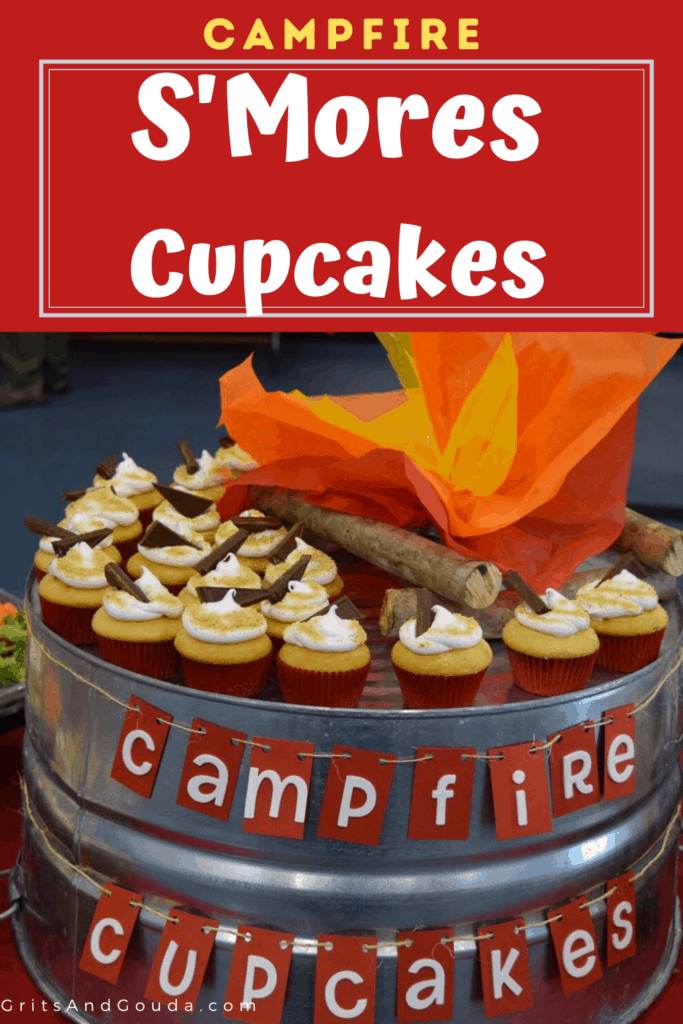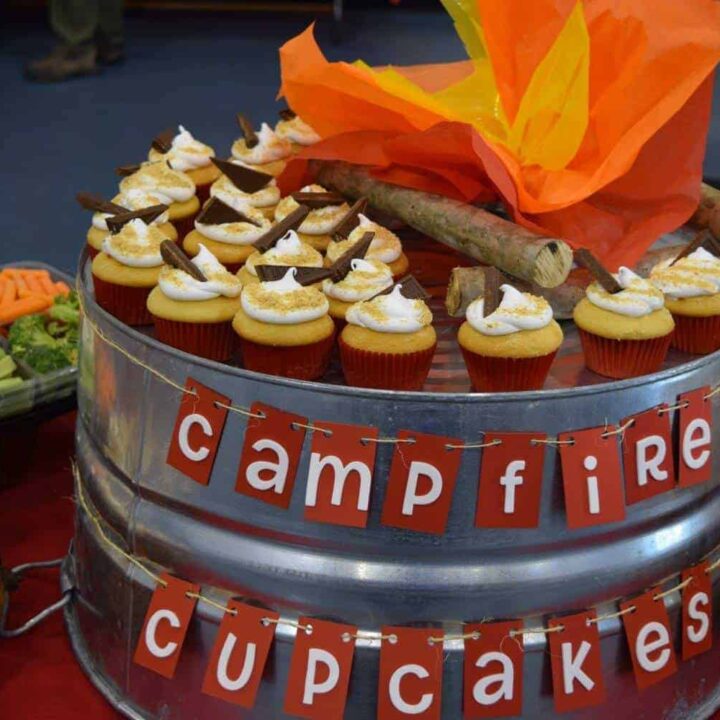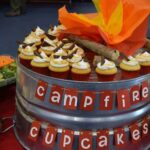 Print Recipe
Campfire S'Mores Cupcakes with Homemade Marshmallow Frosting | With Shortcut Version
A marshmallow doesn't have to be square! Pipe homemade marshmallow frosting on these quick-mix cupcakes and top with a piece of Hershey's chocolate bar for the best S'mores cupcakes. As a shortcut, just purchase store bought vanilla frosting from a tub instead of the homemade frosting and use a butter cake mix.
Ingredients
2 1/2

cups

all-purpose flour

2

cups

sugar

1 1/2

teaspoons

baking powder

1

teaspoon

baking soda

3/4

teaspoon

salt

3

large

eggs

1/2

cup

vegetable oil

3/4

cup whole

milk

1/2

cup

sour cream

2

teaspoons

vanilla extract

1/4

cup

graham cracker crumbs

1

(7 oz)

bar Hershey's milk chocolate bar
Marshmallow Frosting
1 1/2

cups

sugar

2

large

egg whites

lightly beaten

1/3

cup

water

2

tablespoons

light corn syrup

1

teaspoon

vanilla extract
Instructions
Preheat oven to 350°. Place 24 red paper liners in muffin pans. Place 24 paper liners (I used red) in muffin pans.

Stir together flour sugar, baking powder, baking soda, and salt in a bowl.Place eggs in the bowl of an electric mixer and beat 20 seconds or just until lightly beaten. Gradually add oil, milk, sour cream, and vanilla beating after each addition just until incorporated.

Add dry ingredients to egg mixture and beat on medium low speed until smooth. Pour the batter into paper liners about two-thirds full. Bake at 350° for 14 to 15 minutes or until toothpick inserted in center comes out clean. Let cool in the pans 2 minutes, then cool completely on wire racks.

Break the chocolate bar into small rectangles using the lines on the chocolate bar. Cut the rectangles in half diagonally on a cutting board.
Prepare Marshmallow Frosting
Stir together 1 1/2 cups sugar, egg whites, 1/3 cup water and corn syrup in a medium-size metal bowl or heat-proof glass bowl. Beat the mixture at low speed of a hand mixer until combined.

Pour enough tap water in the bottom of a medium-size saucepan. You have just created a double boiler. If you have one, you can use it but I like the bowl method because the rounded bottom is easier for the beaters to reach all the mixture.

Beat at high speed of the hand mixer 7 minutes. Set a timer. Make sure your heat is on medium-low. You don't want the water bubbling up and getting moisture in the meringue. Beat the egg whites until stiff peaks form.

Remove the pan from the heat and add vanilla, then beat just until the vanilla is blended. Spread or pipe immediately because it will start to set up quickly.
Decorate Cupcakes
Spoon marshmallow frosting into a piping bag fitted with a large round decorating tip or spoon about 2 tablespoons onto the cupcakes and swirl with the back of the spoon.

Sprinkle the graham cracker crumbs generously onto the frosting immediately and press a chocolate bar triangle into the top of the frosting.
Notes
Shortcut: Make the cupcakes with a yellow or butter cake mix according to package direction and use a tub of whipped vanilla frosting.
Nutrition
Serving:
1
cupcake
|
Calories:
279
kcal
Did you make this recipe?
If you love it, share it! Tag me on Instagram @gritsandgouda using #gritsandgouda Comment below before you go!
Nutrition analysis on GritsAndGouda.com recipes are mostly calculated on an online nutrition calculator. I am not a dietitian and nutritional information is an estimate and can vary based on products used.