Easy to follow how-to guide for your 6 quart 7-in-1 Instant Pot for beginners. From opening the box to putting your first recipe on the table, I've got you covered! Includes step by step pictures and videos.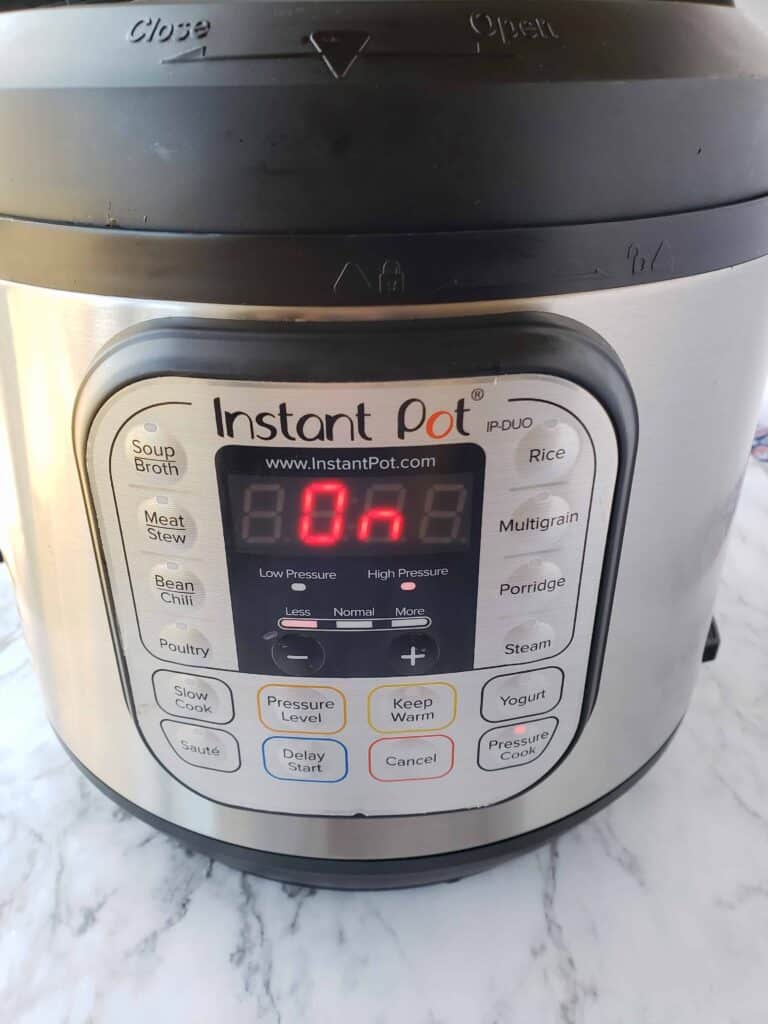 Did you receive an Instant Pot multi-use cooker for Christmas, Mothers Day, Fathers Day or birthday present and it's still in the box because you don't know how to start? I'm going to show you in this Intro to the 7-in-1 Instant Pot post how to do everything from opening the box to putting dinner on the table!
I'll be honest, I was not "all in" a few years ago when I first heard about the Instant Pot. I am not a huge gadget girl and thought "Why do I want another appliance when I already have 2 slow cookers and a small pressure cooker?".
Several years ago, one of my favorite coupon-clipping/deals blogger, Southern Savers, had an irresistible Amazon Prime deal on the 3-quart Instant Pot Duo Mini and I couldn't resist getting one. I was skeptical when I opened the box but was determined to find out what all the hype was about and have my own opinion pro or con.
I was hooked after making "boiled eggs" as my first attempt using the Instant Pot. The shells literally rolled off the eggs!
I love to have boiled eggs on hand in the fridge as a protein snack or chopped up on my salads but HATE to wrestle with them when the shell won't come off easily. I cook 10 at a time on the steamer rack using the instructions from Cooking With Curls here.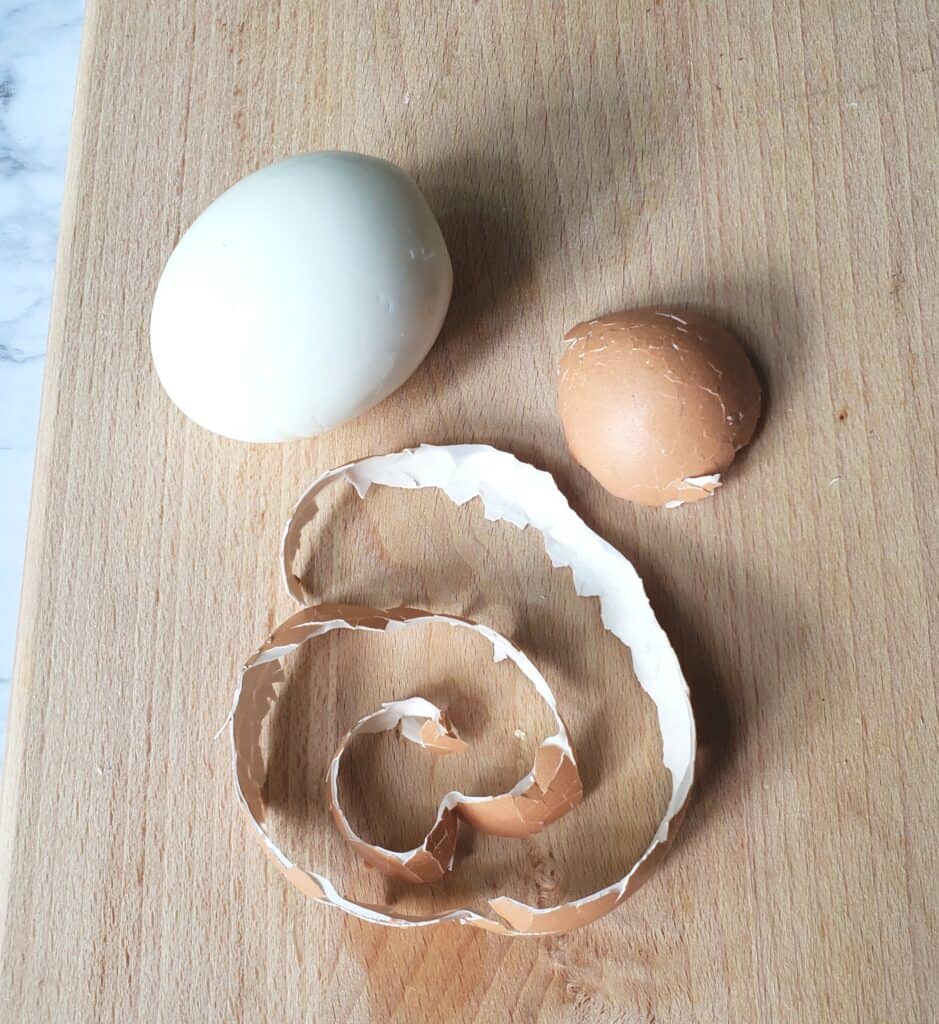 A few weeks later, I owned TWO Instant Pots and use them every week and often at the same time.
My second one was the 6-quart Duo 7-in-1 Multi Use pressure cooker. Now, I use the 3 quart Duo Instant Pot for rice, hard cooked eggs, and small meals.
I use the 6-quart Duo Instant Pot for ribs, roasts, Turkey Breast and Gravy, my Chocolate Peanut Butter Swirl Cheesecake, and larger meals.
My third one (Yes, I now have three!) is a 6 quart Ultra 10-in-1 Multi Use Programmable Instant Pot. My 2 favorite features on this model:
It shows you the progress on the coming up to pressure as well as natural release. This is shown on the digital screen in real time.
You don't have to remember to move the pressure valve over to "sealing" from "venting". It automatically seals. You just push a button on top for quick or natural release.
What is an Instant Pot?
Instant Pot is a programmed smart cooker that has preset cooking times for different food ingredients and cooking methods. It also remembers your most recent settings per cooking program.
The Instant Pot 7-in1 Multi Use Programmable Cooker is a pressure cooker, slow cooker, yogurt maker, rice cooker, saute, steamer, and warmer with 14 smart programs (preset times for specific foods like stew).
What's inside the box?
Equipment: Instant Pot base, lid, stainless steel insert (pot), condensation collector, steam rack, sealing ring, rice paddle soup spoon, and measuring cup.
Helpful information: manual, recipe book, quick reference guide (might be within recipe book)- I use the cooking time table in the back of the recipe book ALL the time. Keep it handy.
Equipment and Parts
Watch this video for detailed overview of the Instant Pot 7-in-1 Duo equipment works.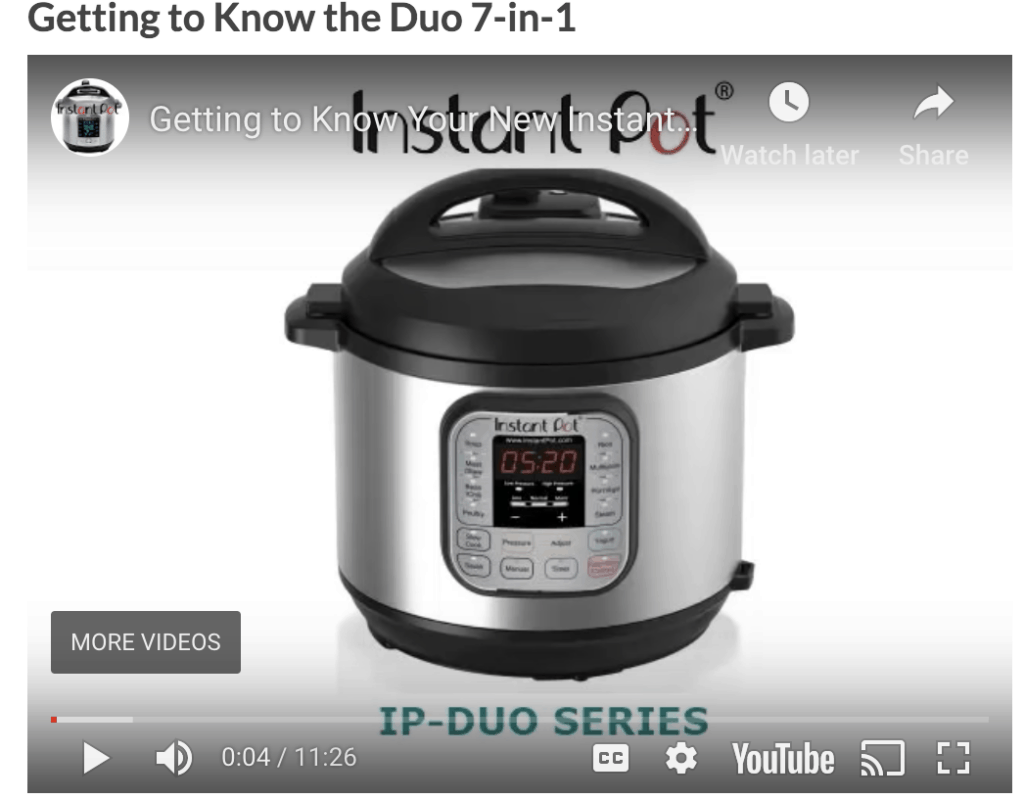 3 Things to do before using for the first time
Wash the silicone ring with soapy water and fit it tightly into the lid. The video above shows you how to do this.
Install the condensation collector on the outside of the Instant Pot. (See above video)
Attach power cord at the base. Be sure it is pressed in firmly. If not, it will not turn on....speaking from experience!
Go for a test run
Don't skip this step. Not only does it "steam clean" your pot, it gets you familiar with the basic process. It will give also give you confidence knowing there is just water in the pot on your first time.
Make sure the silicone ring is installed in the lid and secure.
Check to be sure the power plug is pushed in the base.
Place the stainless steel insert (pot) inside the base. Make sure nothing is hiding between the insert and the heating element. See Take away No. 8 below.
Add 3 cups of water to the insert.
After aligning the marks on the lid and base, turn clockwise to secure the lid. Be sure the steam release handle is turned to "sealing" and not "venting".
Press the Steam button, then the +/- button to reach 2 minutes. After 10 seconds the Steam program will begin. It will take a few minutes to come up to pressure, then you will see 2 appear. It will count down to 0 then say OFF.
If you do nothing, the pressure will release naturally (NR). Or you can carefully and with face not overlooking the pot, turn the steam release handle to "venting".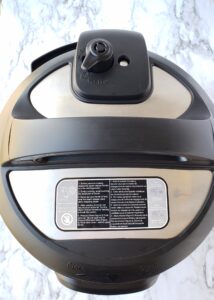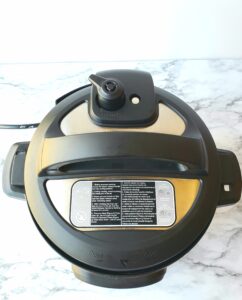 Pressure release handle on "venting" and "sealing".
Top 10 Tips for Instant Pot Beginners
Make sure the silicone ring is installed before placing the lid on the base and fitted correctly. If steam is escaping from the bottom of the lid, you probably forgot to put the ring in the lid.
The silicone ring retains the smell of what you cooked last-even after cleaning in the dishwasher sometimes. You might want to consider buying an extra silicone ring so you have one for savory dishes and one for sweet recipes like Chocolate Peanut Butter Swirl Cheesecake.
Be sure the cord is securely pushed into the base. I love the fact that the cord comes apart from the base because it fits into my small cabinet when removed. But, when I first started using the Instant Pot, a couple of times I failed to push it in far enough and couldn't figure out why it was not powering up.
If you have cabinets directly above your countertops or you are cooking something that may splatter like tomato sauce, loosely drape a kitchen towel over the pressure release valve. I don't lay it down on it, just hover it over until most of the steam releases.
Many recipes do not include the time to come up to pressure before the cook time begins. Add 10 to 15 minutes to your overall time for the Instant Pot to come up to pressure.
Many recipes do not include the pressure release time. If a recipe calls for natural release (NR) (not touching it until the float valve drops), it could take 15 minutes. Quick release (QR) only takes about 1 minute at the most once you turn the pressure valve. Make sure to read the recipe carefully and plan ahead for time.
If you don't have at least 1 cup of liquid in the insert (pot), you may get an alert message on the screen that says "BURN". This does not mean the Instant Pot is going to burn up. It is a built-in burn protection mechanism if it detects a high temperature at the bottom of the inner pot. You want at least 1 cup of liquid so your food won't burn/scorch because if it doesn't contain enough liquid to pressurize the inside of the pot. The liquid does not have to be water. It can be broth, milk, or juice.
Before adding the insert (pot) to the base, check to make sure nothing is hiding between the heating element and the insert. Confession: Once I smelled something burning in my kitchen and couldn't find the source. It smelled like plastic burning and seemed to be coming from the Instant Pot. I cancelled what I was cooking and did a QR (quick release). Sure enough, the condensation collector from my 3 quart Instant Pot somehow got stored in the 6 quart base. I didn't look before placing the insert. I let it cool down and peeled it off. Lesson learned.
I use a wooden spoon to turn the steam release handle to venting for a Quick Release on the Duo model. Never turn it with your face close to the steam release handle. The pressure is released immediately and forcefully. The Ultra model is as simple as pushing a button. Do not release the pressure directly under cabinets.
This sounds crazy but long grain white rice cooks with an equal amount of water NOT 1:2 ratio you are used to on the stovetop. For every 1 cup of rice, just 1 cup of water or broth is needed. Now, I will say, I personally prefer adding 2 additional tablespoons of liquid for every 1 cup of water.
Benefits of an Instant Pot over other appliances
The saute function of the Instant Pot can be used to thicken drippings from a roast or turkey breast immediately. Even the HIGH function of a typical slow cooker takes longer to boil.
Fix it and forget it. Even though it may take 15 minutes to bring up to pressure a dish that starts with dry pasta, you don't have to use a colander to drain pasta or even come back to the kitchen to add more ingredients. And it still cooks the one dish meal much quicker than a slow cooker.
I often forget to thaw chicken ahead of time so being able to cook frozen chicken breasts straight from the freezer rocks!
Egg shells literally roll off hard cooked eggs. That alone is worth it! Peeling boiled eggs. The 3 Quart Duo Mini is perfect to cook up to one dozen eggs.
You can take it on vacation with you! If you own a camper, the Instant Pot is a must!
It takes the guess work out of how to cook rice so it is perfectly cooked and not sticky or mushy.
Sooooooo many more!
Watch How-To Use the Instant Pot Video
Click on the image below for a more in-depth video on how to use your new Instant Pot.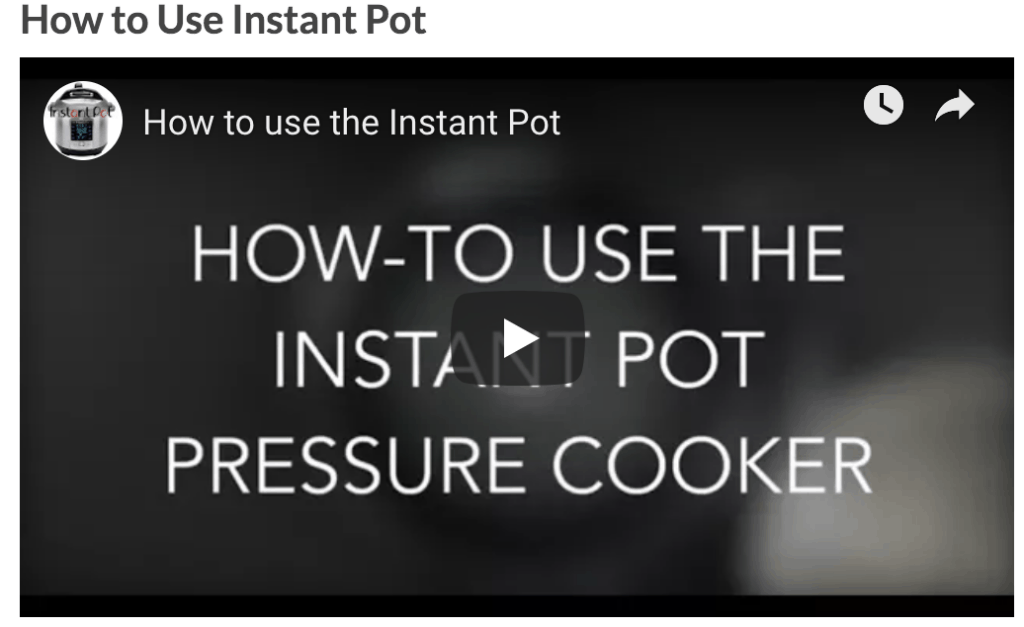 Which one should I start with?
I hope I given you the confidence to open your Instant Pot box and conquer dinner tonight! If you don't have one yet, maybe start with the 3 quart Duo or 6 quart Duo.
Don't hesitate to leave a comment to ask me a question below or on Facebook.
Some of my tried and true Instant Pot recipes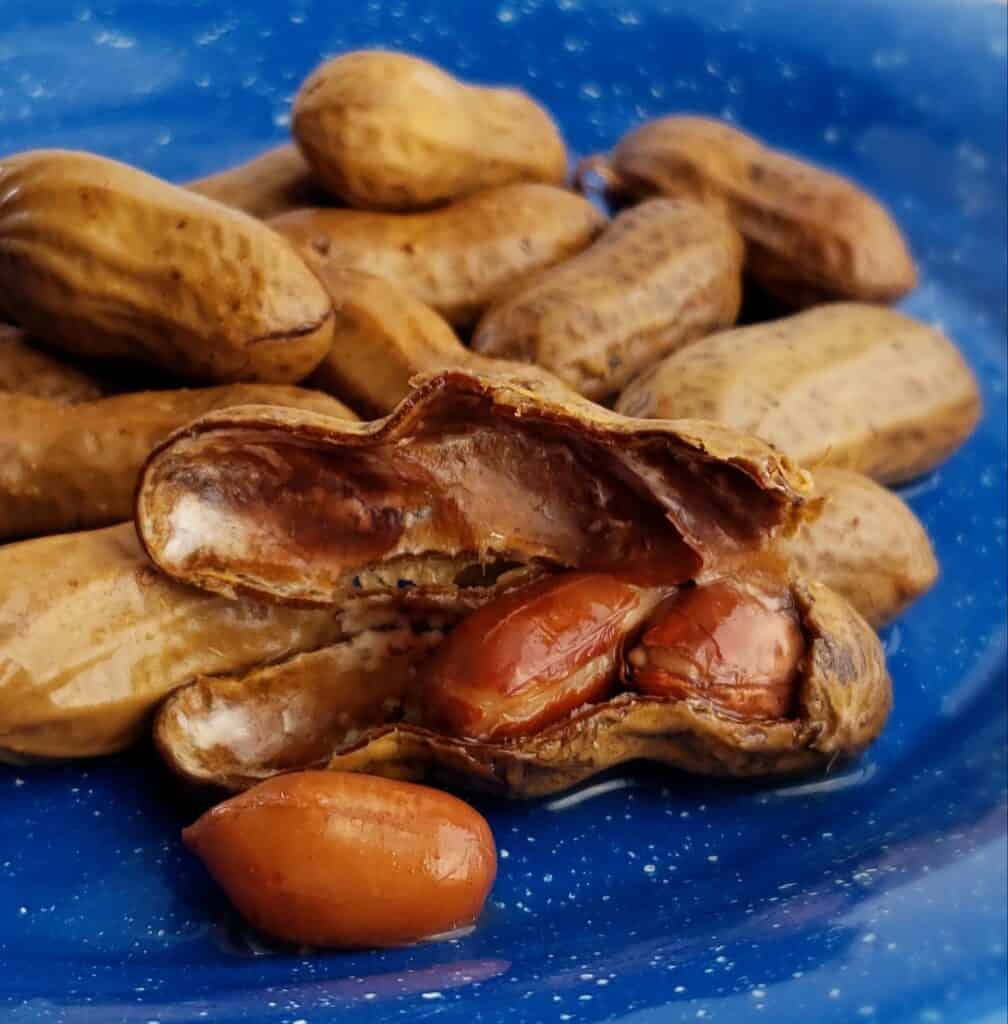 Items I love that do not come in the Instant Pot box.
Extra insert (inner pot) NONSTICK to cook more than one recipe for same meal without transferring to another dish. Plastic tight-fitting lid for inner pot. Silicone foldable trivet to place hot insert on when it comes right out of the base. Glass lid for Instant Pot when using the slow cooker function.
What is the best Instant Pot to buy?
It depends on your needs. There are many new models out since I got my 6-quart 7-in-1. If you have a baby and want to sterilize bottles, then the 6-quart 10-in1 Duo Plus is perfect. If you have a large family, the 8 quart 7-in-1 Duo80 is right for you. If you are single or an empty nester or just want to use it to make perfect rice and boiled eggs, the 3-quart Duo Mini.

Follow me on Facebook, Instagram, and Pinterest. Be social and share, y'all! Don't forget to sign up with your email so you don't miss a single post on my Southern shortcut recipes!
Pin It!