Easy Shepherds Pie is a delicious way to use up your leftovers or "hold overs" for a simple weeknight meal. It's also comfort food and a great way to add lots of vegetables to your meal all in one dish.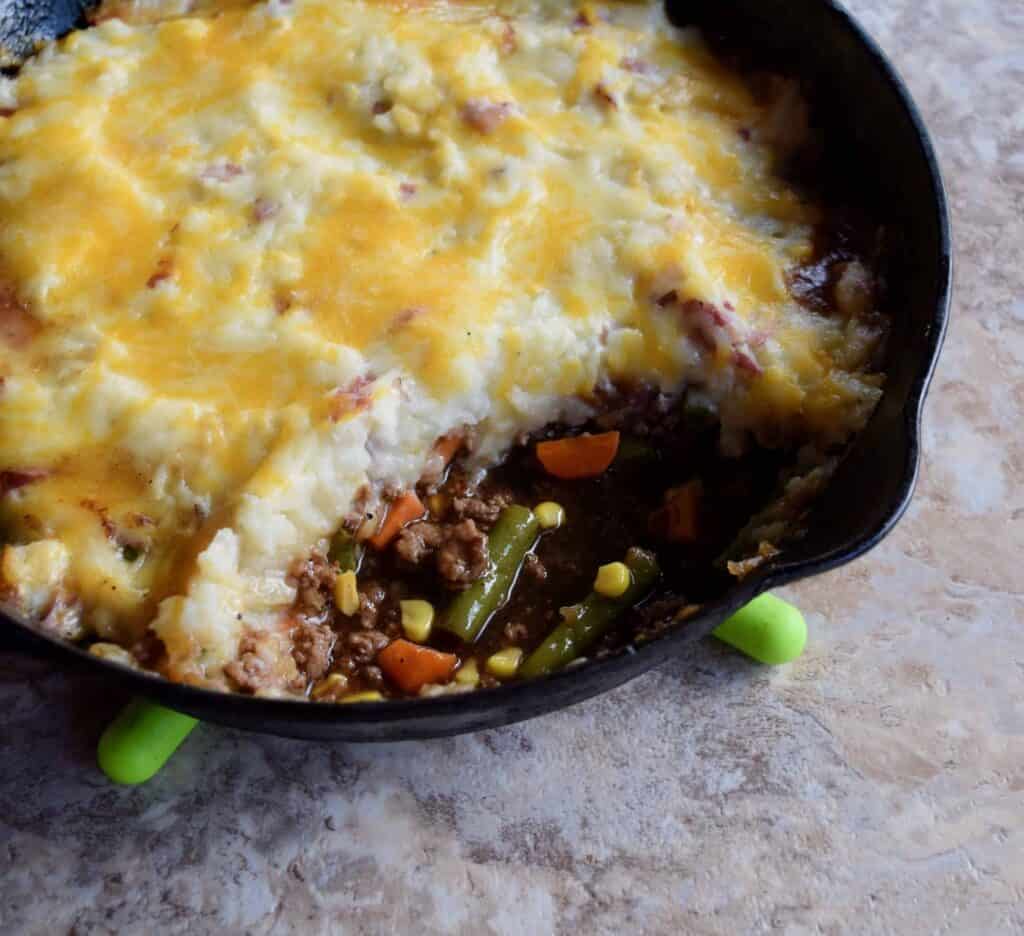 Easy Shepherds Pie is perfect for a weeknight meal or right after a holiday because you can make it with leftovers! After cooking Thanksgiving or Easter dinner for days, then eat turkey or ham for days, you probably want something different.
Can I make it if I don't have leftover vegetables?
Yes. If you don't have leftover mashed potatoes, make them from scratch on the stovetop or Instant Pot or buy the box of mashed potato flakes. No leftover veggies? Just use frozen, thawed or canned mixed veggies.
My Shepherds Pie uses four vegetables held over from a big meal: roasted carrots, steamed green beans, sauteed corn off the cob, and garlic mashed potatoes with the red skins still on.
If you're looking for a change from holiday ham, the ground beef and gravy in shepherds pie is a perfect flavor change up.
Substitutions and Add-Ins
This dish is incredibly versatile. If your family had English peas in the pantry instead of green beans, use peas.
If your family didn't have corn or ate all of it, open a can of corn.
If you don't have green beans, carrots, OR corn and you're making this in the middle of the summer, no worries! Buy a package of frozen peas and carrots or soup mix and you're good to go. And of course, you can use fresh cooked vegetables from the garden.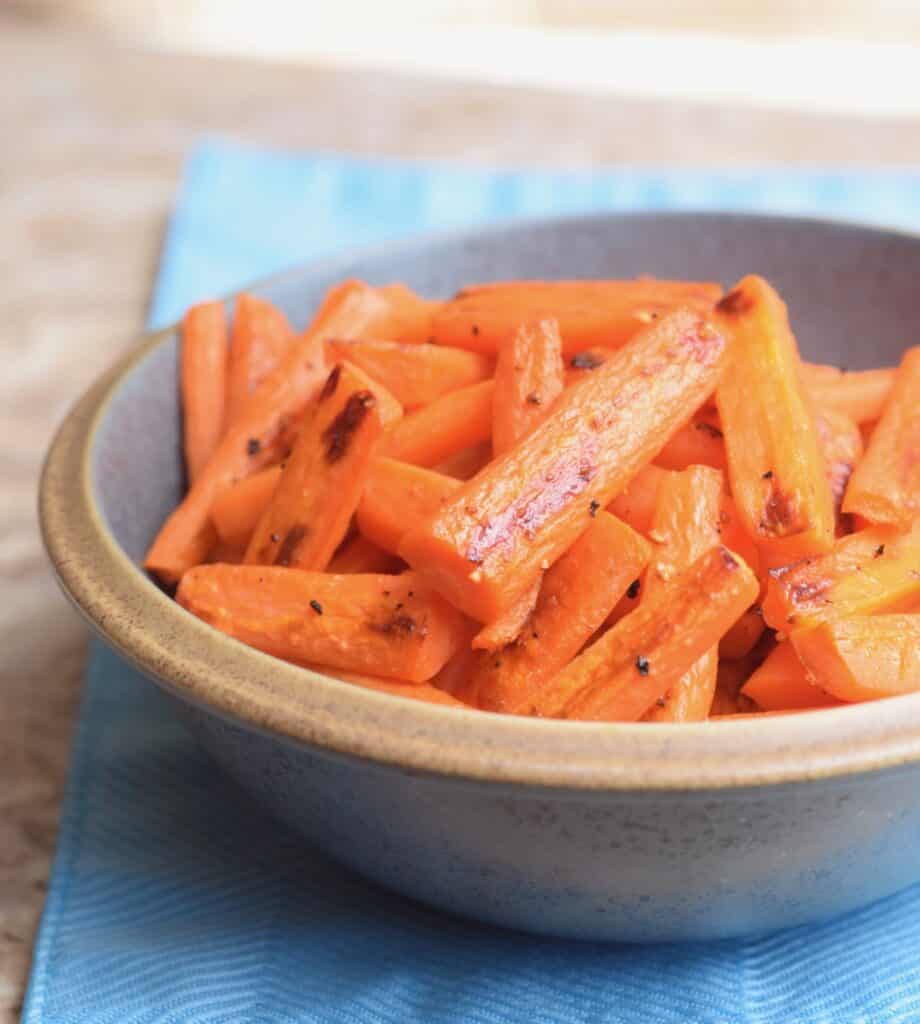 How to roast your own carrots
Roasting carrots is my absolute favorite way to cook carrots. Carrots are cheap, sweet, and flavorful.
If you aren't using leftover carrots, scrape 1 pound bag of carrots and toss in 2 tablespoons olive oil. Sprinkle with salt and pepper in a large roasting pan at 425F degrees for 15 minutes-don't stir even once.
I "hold over" 3/4 cup of them to make my Shepherds Pie and serve the rest of them for dinner another night.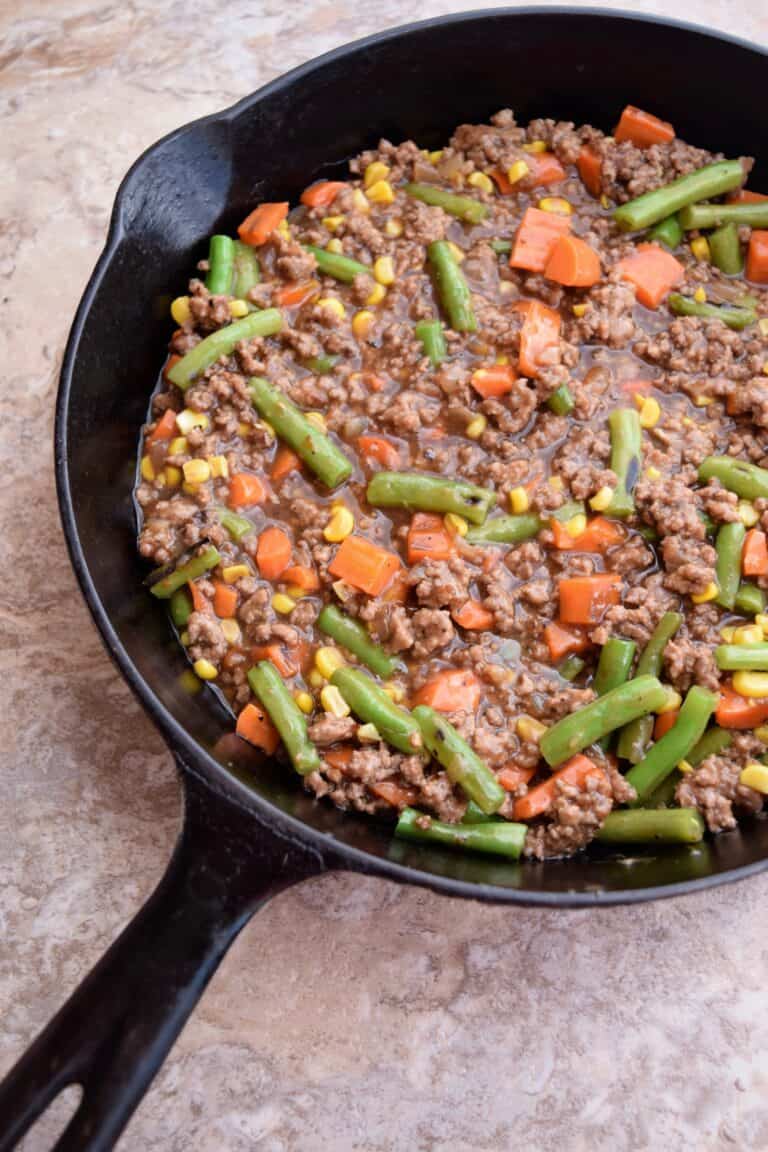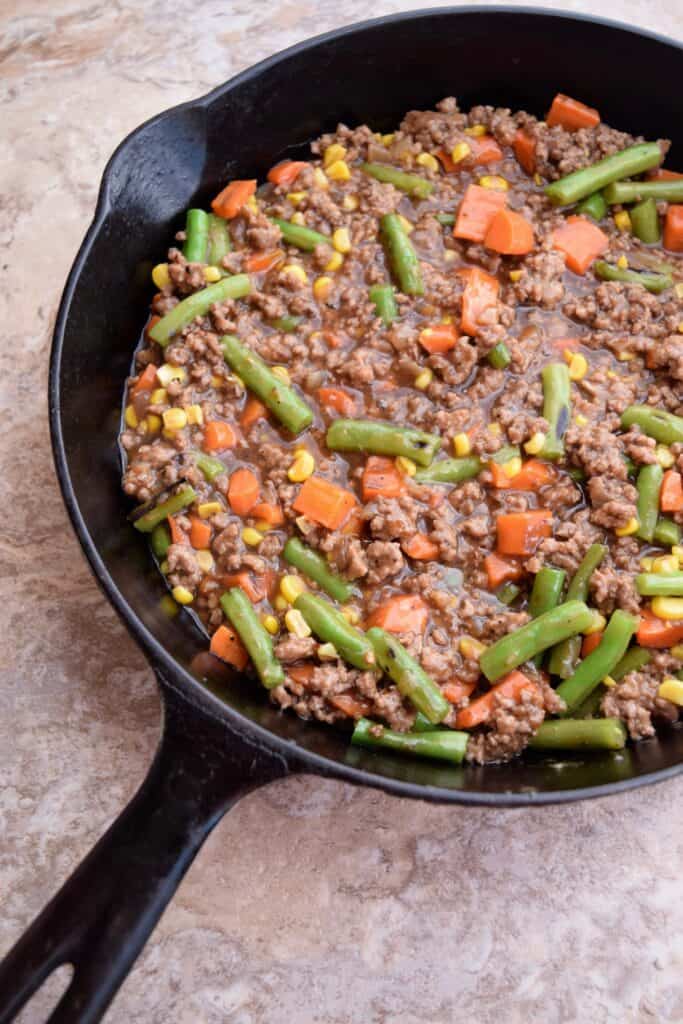 Can I make this one dish dinner with ground venison?
Absolutely! Venison is a very lean meat and can be substituted any time a recipe calls for ground chuck or ground round. You can also make it with ground turkey and chicken.
What's the shortcut?
You know I have to have a shortcut in here somewhere. Well, using up leftovers is a shortcut in itself but the gravy I used is a super quick shortcut. I'm normally not a fan of the gravy mixes or bottles of gravy.
Typically, I don't like the artificial taste in the bottles and dry package mixes. It's really not hard to make gravy when you have the bits of a roast in the pan with pan juices.
Browning ground chuck in the skillet, doesn't give you anything like that to work with, so I tried McCormicks Simply Better Beef Gravy. The fact that it is non GMO, has no MSG, and no artificial flavors got my attention. Not too shabby!
Can I make my own brown gravy?
If you are die hard homemade on everything, then you can always make a slurry of 4 teaspoons cornstarch and 1 tablespoon water and bring 1 1/2 cups packaged beef stock to a boil, then stir in the slurry. You will have the same amount of gravy but not as much flavor.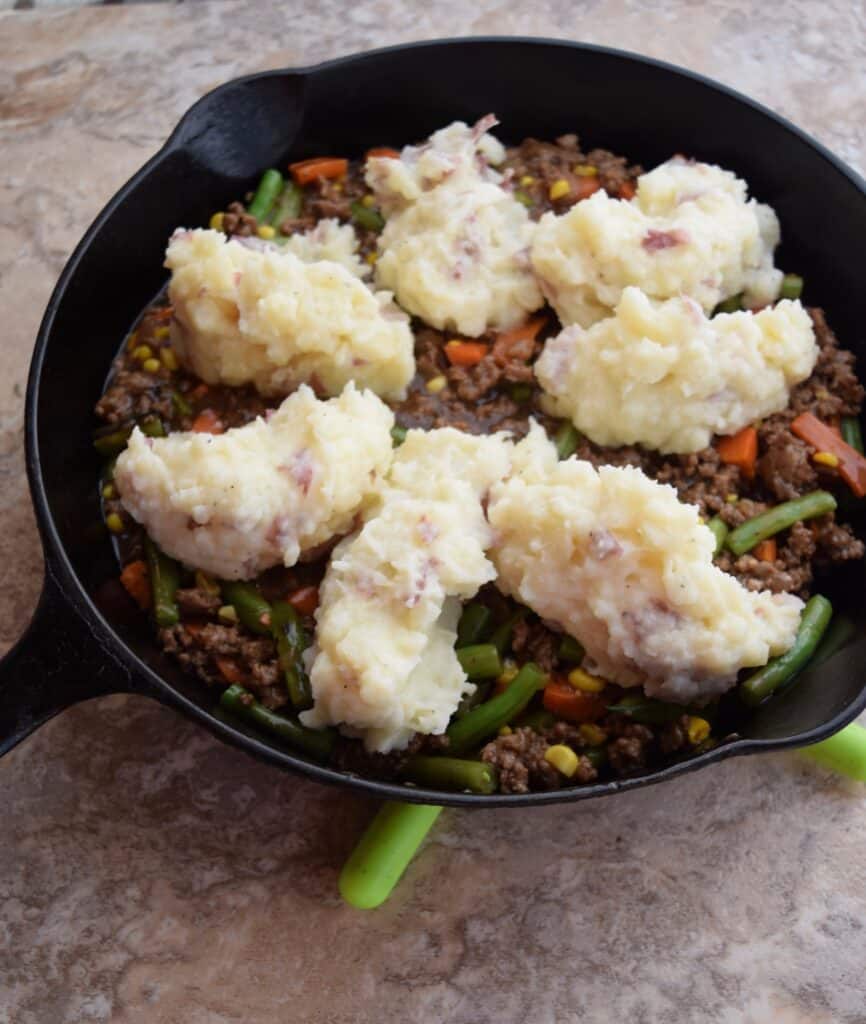 What kind of potato should I use?
When I make mashed potatoes, I used red potatoes and leave on the skin.
Yes, there are lumps in my mashed potatoes and we like it that way! Idaho potatoes will work just fine, too.
I add a little garlic powder to them and lots of butter and I could just be happy with a bowl of mashed potatoes for dinner.
Stir in half the cheese to the mashed potatoes before dolloping onto meat mixture.
Pro Tip:
It helps to spread the mashed potatoes easily on the meat and vegetable mixture if you dollop first, then spread. If you dump them all in the middle and try to spread it out, the mixture tends to move with the potatoes.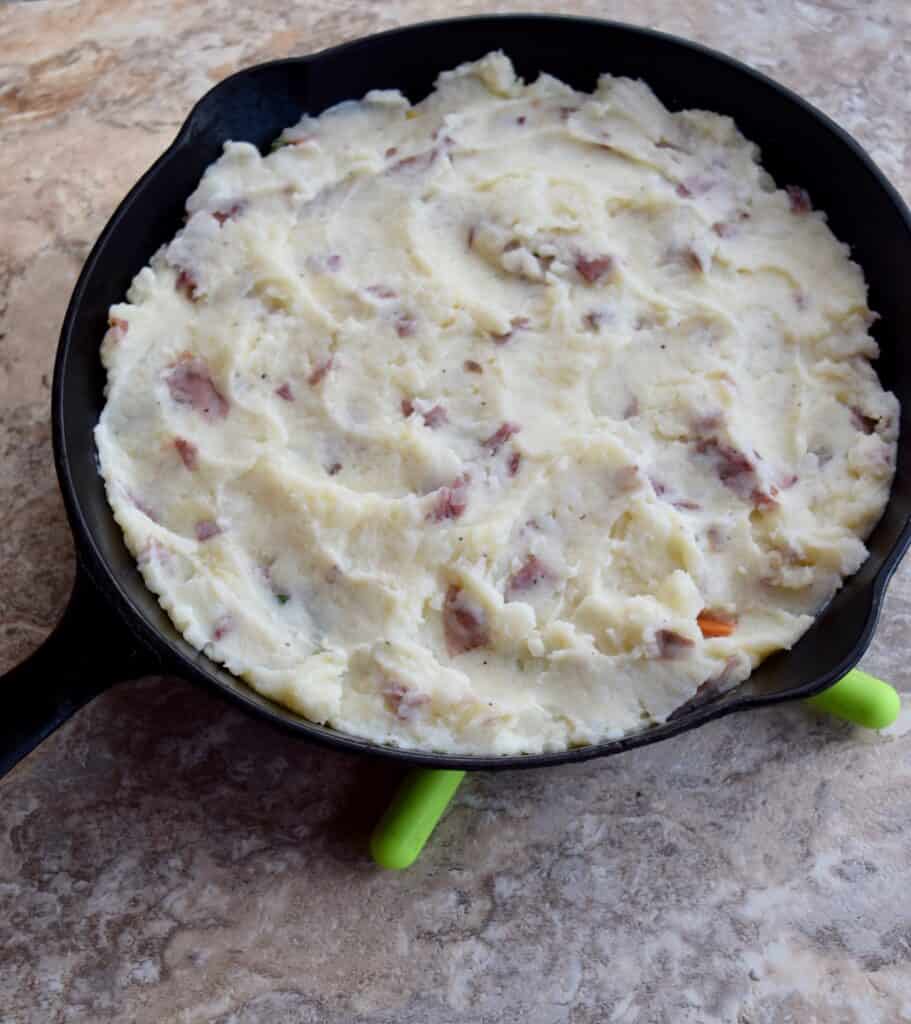 See those green things poking out from the skillet? Those are genius gadgets! They are foldable silicone trivets. I have several of them and use them all the time.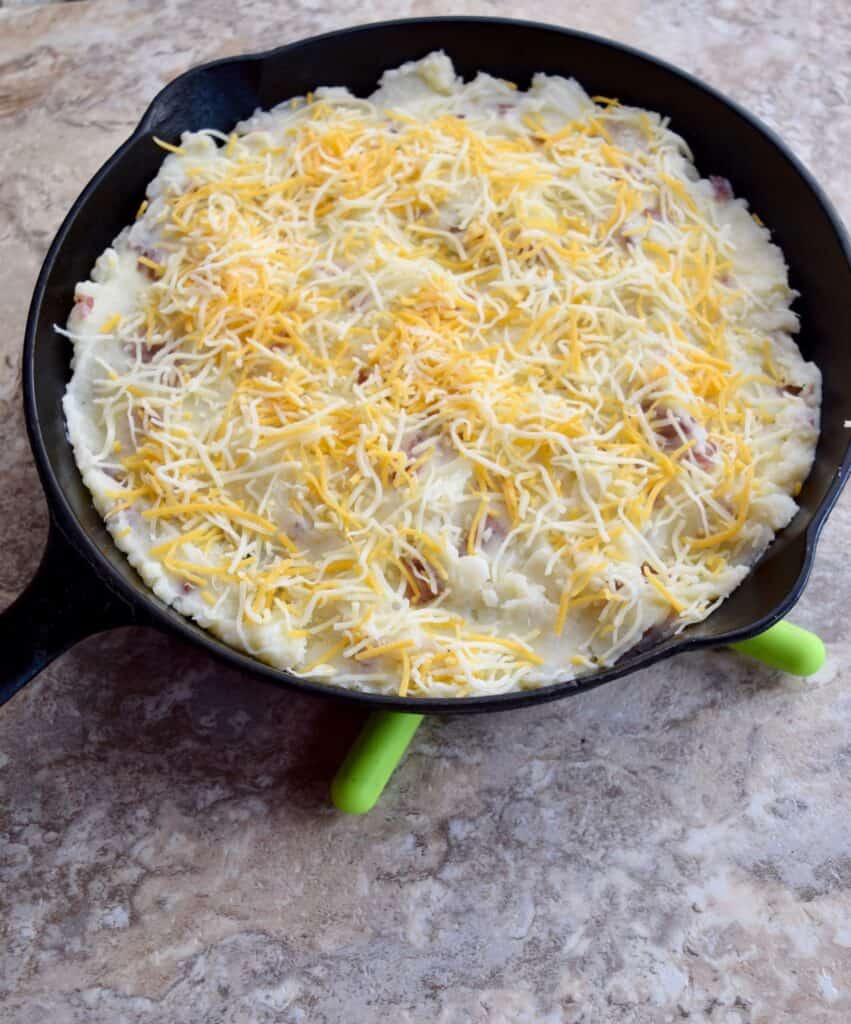 Cheese! Glorious cheese! This isn't a must, but cheese and potatoes are a perfect pair...so...yah...cheese on top, too!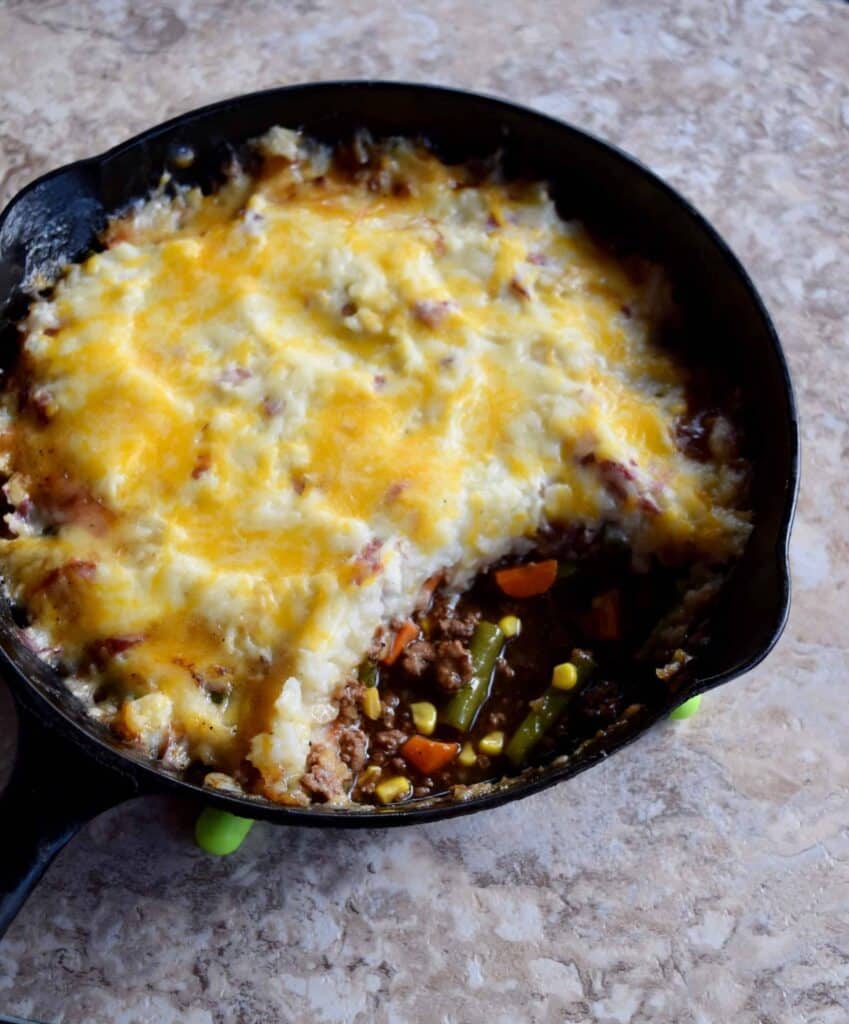 What is Shepherd's Pie?
Shepherds Pie, also called Cottage Pie, is comfort food. Technically, the original Shepherd's Pie used lamb, not beef.
It's a delicious way to use up your leftovers ...or "hold overs". It's also a great way to add lots of veggies to your meal all in one pot if you are looking for something a little more "meat and potatoes-type" one dish meal.
I love how the gravy bubbles up all around the edges of the skillet, too.
Why use a cast iron skillet?
I'm Southern, so I have a cast iron skillet in every size, right! Another reason I used a cast iron skillet for this dish is I'm a sucker for any dish where I can brown the meat and then bake it in the same skillet.
BUT! You aren't limited to a skillet. A ceramic casserole dish, a 13x9 glass baking dish or even using individual casseroles or large ramekins are perfect for Shepherds pie.
If the casserole dish is shallow, place it on a baking sheet in case the gravy bubbles up and over.
How can I store my leftovers?
I have a huge stash of the small, flat Betty Crocker plastic containers from the Dollar Tree that I always put hold overs in and send in lunches with my husband to work and my son to school.
If you have more hold overs than you can eat put them in these containers, label them, and freeze them. In 3 weeks, you will be hungry for them again!
I also love my FoodSaver. We buy meat in the family size packs and freeze them in these vacuum-sealed packages. It's amazing how long food lasts in the freezer when it is vacuum sealed.
If you make this recipe I'd love to see it! Tag me on social media with #gritsandgouda or @gritsandgouda. Leave a comment below the printable recipe if you have questions or tell me how you liked the recipe. Don't forget to give the recipe a rating of 5 stars if you love it!
Follow me on Facebook, Instagram, Pinterest and YouTube. Be social and share, y'all! Don't forget to sign up with your email so you don't miss a single post on my Southern shortcut recipes!
Other recipes you can make with leftovers
Corned Beef and Roasted Potato Hash
Parmesan Artichoke Chicken Salad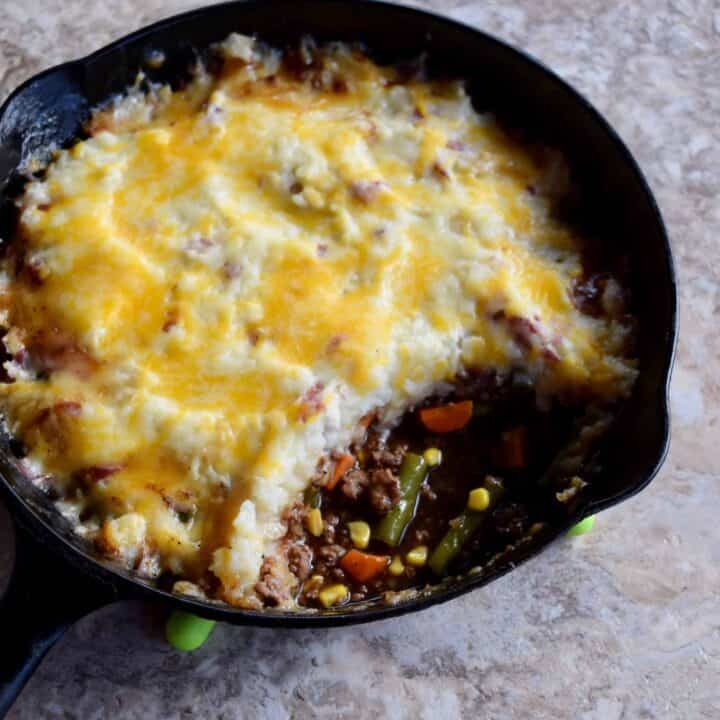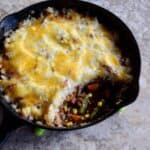 Print Recipe
Easy Shepherds Pie | Made with Leftovers
Make this Easy Shepherds Pie with left over vegetables from Easter, Thanksgiving, or Christmas dinner or if you are just having a bumper crop of summer vegetables on a summer weeknight!
Ingredients
1

pound

ground chuck

(turkey or venison)

3/4

cup

chopped onion

1/2

teaspoon

salt

1/4

teaspoon

ground black pepper

3/4

cup

roughly chopped cooked carrot

3/4

cup

1-inch pieces cooked green beans

or English peas

1/2

cup

corn kernels

1

12 oz package

Simply Better Beef Gravy

McCormick

3

cups

cooked mashed potatoes

3/4

cup

preshredded Cheddar, Colby Jack or other cheese, divided

(3-oz)
Instructions
Preheat oven to 375F degrees.

Cook ground chuck, onion, salt and pepper together in a large (10- to 12-inch) cast iron or oven-proof skillet 12 minutes, stirring often, until browned.

Drain in a colander and return to the skillet.

Add carrots, green beans, corn, and gravy to the skillet and stir well. If you are not using an oven proof skillet, transfer meat mixture into a casserole or baking dish.

Stir together mashed potatoes and half the cheese. Dollop the mashed potatoes over the meat mixture.

If your mashed potatoes are cold, warm them in the microwave. Spread the mashed potatoes to the edge of the skillet or casserole dish.

Sprinkle the remaining half of cheese over the potatoes. Bake at 375F degrees for 25 minutes or until gravy is bubbly around the edges.
Notes
This recipe is incredibly versatile. If you don't have any left over vegetables, you can buy frozen peas and carrots or frozen vegetable soup mixture.
Ground turkey or venison can be substituted for ground chuck.
If you prefer a homemade gravy, in a pinch, you can thicken 1 1/2 cups beef stock with a slurry of 4 teaspoons cornstarch and 1 tablespoon water.
If your mashed potatoes are coming straight from the fridge, you will need to warm them up in the microwave to make them spreadable.
Nutrition
Did you make this recipe?
If you love it, share it! Tag me on Instagram @gritsandgouda using #gritsandgouda Comment below before you go!