This easy shortcut version of Tomato and Bread Soup is the ideal pantry recipe made from shelf-stable ingredients. The bread magically thickens the soup without adding cream, so it's dairy-free! Add a simple grilled cheese sandwich and this will bring back childhood memories for sure.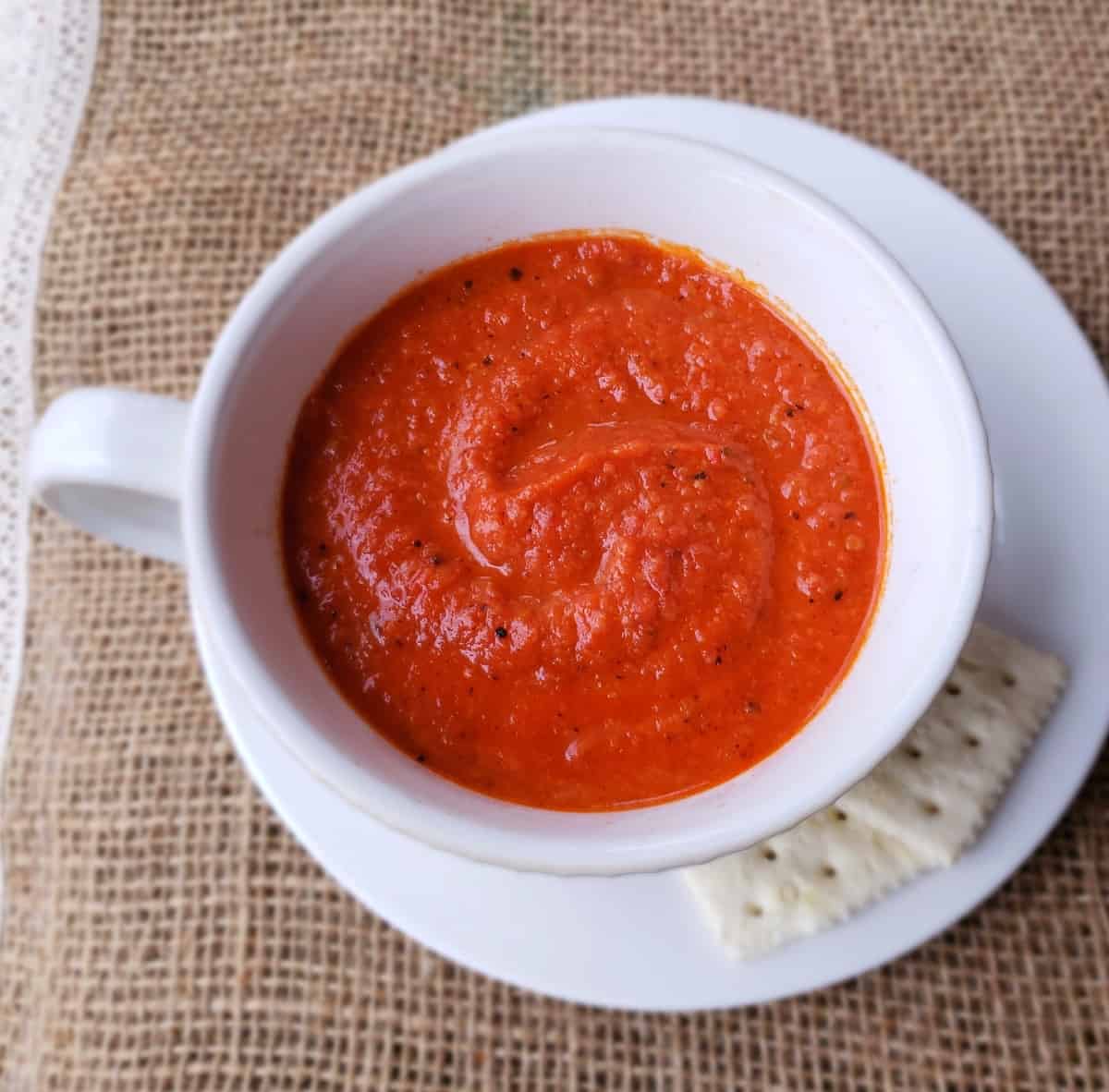 I know what you're thinking...my Southern Grandma did NOT put white bread in her soup-crushed up crackers or cornbread, maybe. It may sound crazy at first, it did to me, too.
Last week, I was craving a grilled cheese sandwich. I did not grow up eating tomato soup with my grilled cheese sandwich but I know it is an iconic combination like biscuits and jam or cornbread and vegetable soup.
My husband did grow up eating this soup and sandwich combo.
He said he vividly remembers always eating it at a babysitters house. She would make the sandwich with the "shiny cheese" (cheese food), individually wrapped and 2 pieces of white bread.
Then, she would open a can of tomato soup and heat it up. I know this is a childhood memory for many Southerners...and across the nation, actually.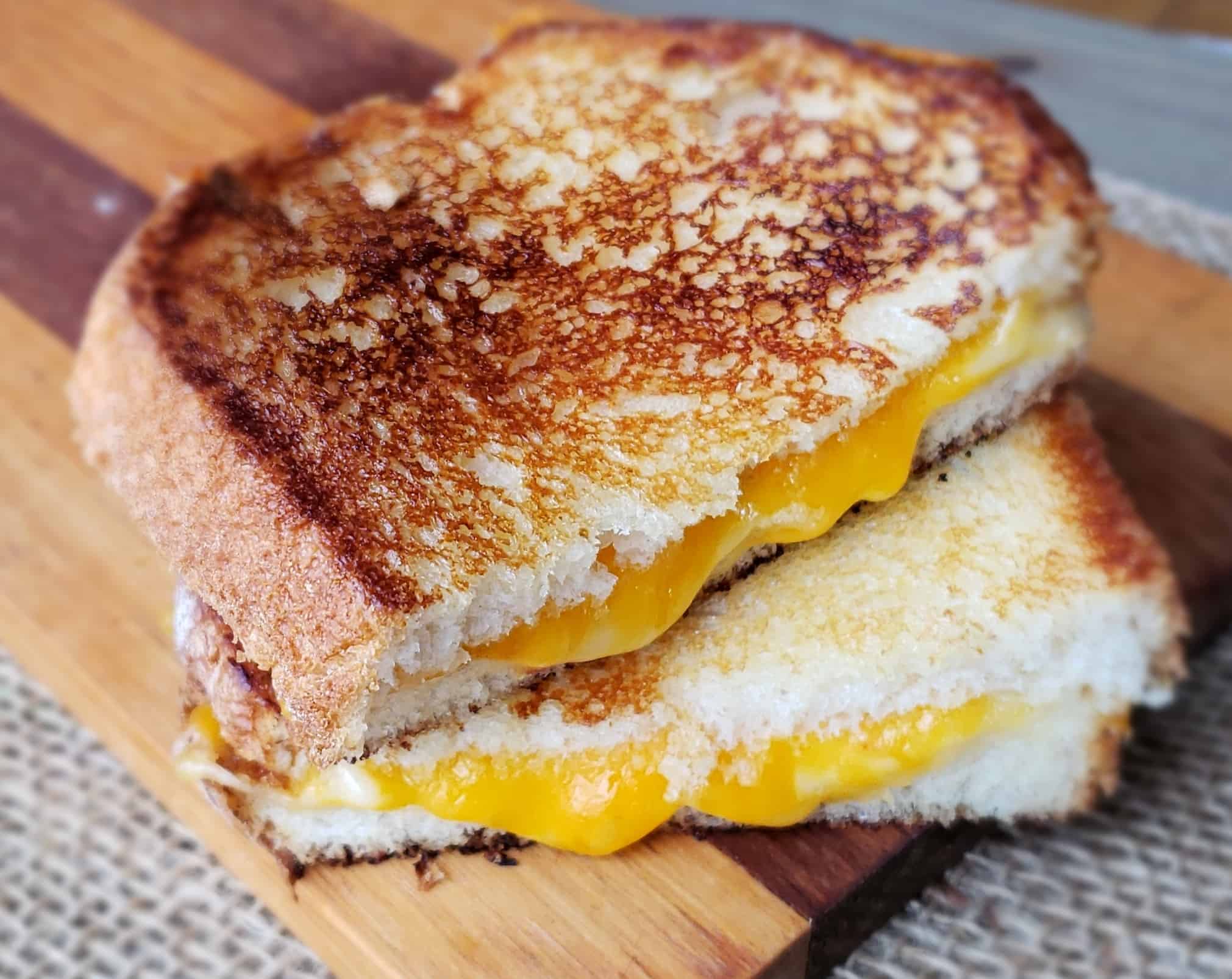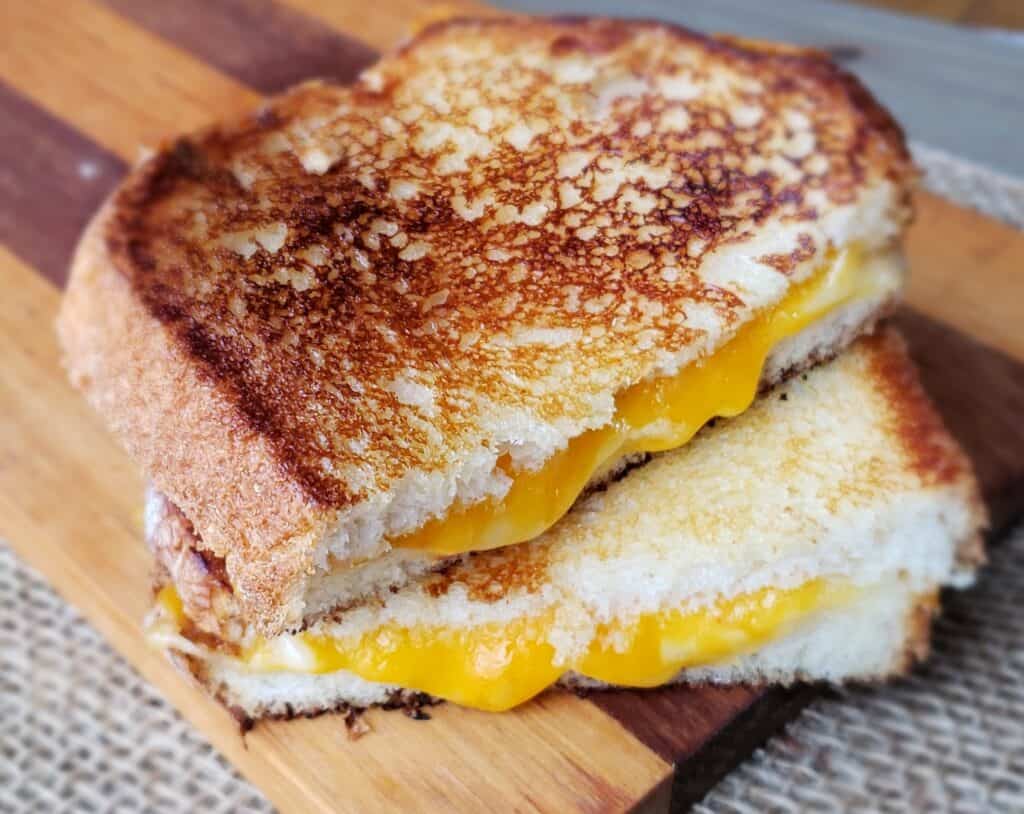 How to make a grilled cheese sandwich
Just a note on my grilled cheese sandwich.
Don't skimp on the cheese! I shredded my own Colby Jack and Monterey Jack Cheese. Here's my step by step recipe for Easy Grilled Cheese Sandwich. I show you a shortcut in the method to make them quicker!
That's it! That's the recipe! Pre-shredded cheese won't come close to giving you this fabulous, melty cheese ooze.
Back to the soup-but I must confess, I'm still looking at the cheese ooze, too. Yum!
Does this soup taste like canned tomato soup?
No. Although this shortcut version of tomato soup does use cans of tomatoes, it's nothing like can of tomato soup Scott ate as a child. (And that's a good thing!)
It starts with 2 cans of fire-roasted tomatoes with garlic but you can choose your own flavored canned tomatoes or go with plain, diced.
Right here, you're ahead of the game with flavor.
Can I roast fresh tomatoes for this soup?
If it happens to be summer when you are reading this, absolutely roast about 4 large tomatoes, cut in half crosswise, with 4 cloves of garlic on a sheet pan at 450 degrees for 20 minutes.
Let them cool, then puree them in a blender or food processor. Add salt to taste.
Y'all ever find yourself standing in front of the cabinets looking at cans of foodstuffs and not knowing how to make dinner with what you already have? Well, that's how this recipe was born.
What cuts the acidic flavor of canned tomatoes?
Just pureeing the cans of tomatoes seemed a bit thin and acidic. I knew to add a bit of brown sugar to cut the acid so I did that.
Add a little extra virgin olive oil to give it the mouthfeel of slowly simmered marinara sauce. I added a 1/4 teaspoon of dried basil because basil and tomatoes are inseparable and ALWAYS go together.
If I had fresh basil, I would have chosen it. It was still a little thin and lacked the viscosity I was looking for but I didn't have any cream in the fridge to add.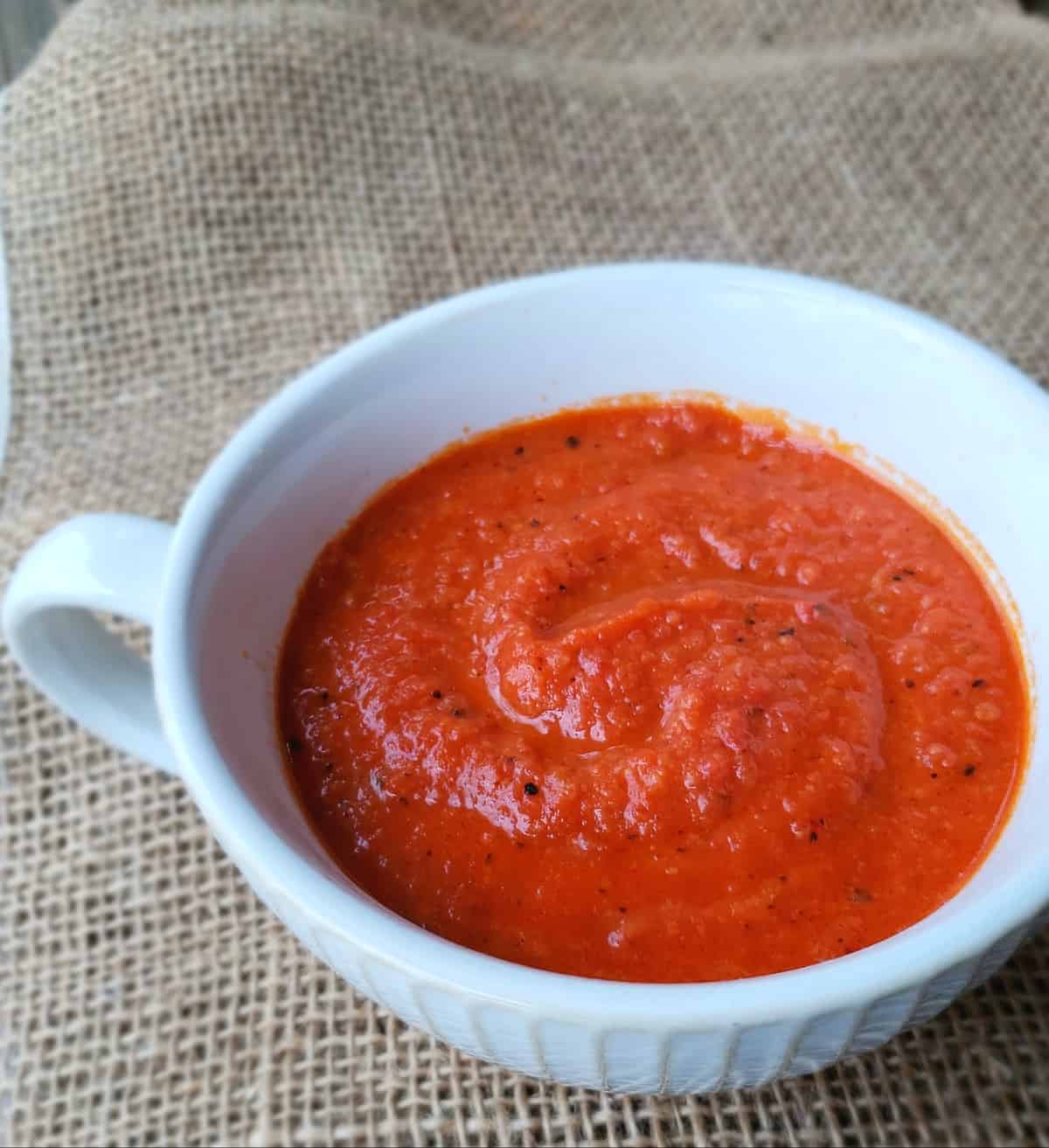 Why add bread to tomato soup?
So, I started looking up tomato soup recipes and saw that Tomato and Bread Soup was a real thing-not just dunking the bread from the grilled cheese in the soup.
This easy tomato soup, also called Pappa al Pomodoro, is made with cans of fire-roasted tomatoes and thickened with stale bread.
Pappa al Pomodoro is a Tuscan Tomato and Bread Soup. Pappa means puree and Pomodor means tomato. Stale or day old bread was added to roasted tomatoes that were pureed to thicken it without cream. So I added a slice of bread and used my immersion blender to incorporate it. It was a little thick so I added the chicken broth-which added flavor and let it simmer 10 minutes.
I LOVED it! If I'd known about this soup growing up, I would absolutely have made tomato soup to go with my grilled cheese sandwich and I'm pretty sure Scott's babysitter would have liked it too-and so would Scott.
This simple, tomato soup is perfect for a cold Winter Day when you don't have fresh tomatoes to roast.
I hope you try this shortcut soup the next time you are craving a grilled cheese sandwich and let me know how you like it in the comments below.
Pin for Later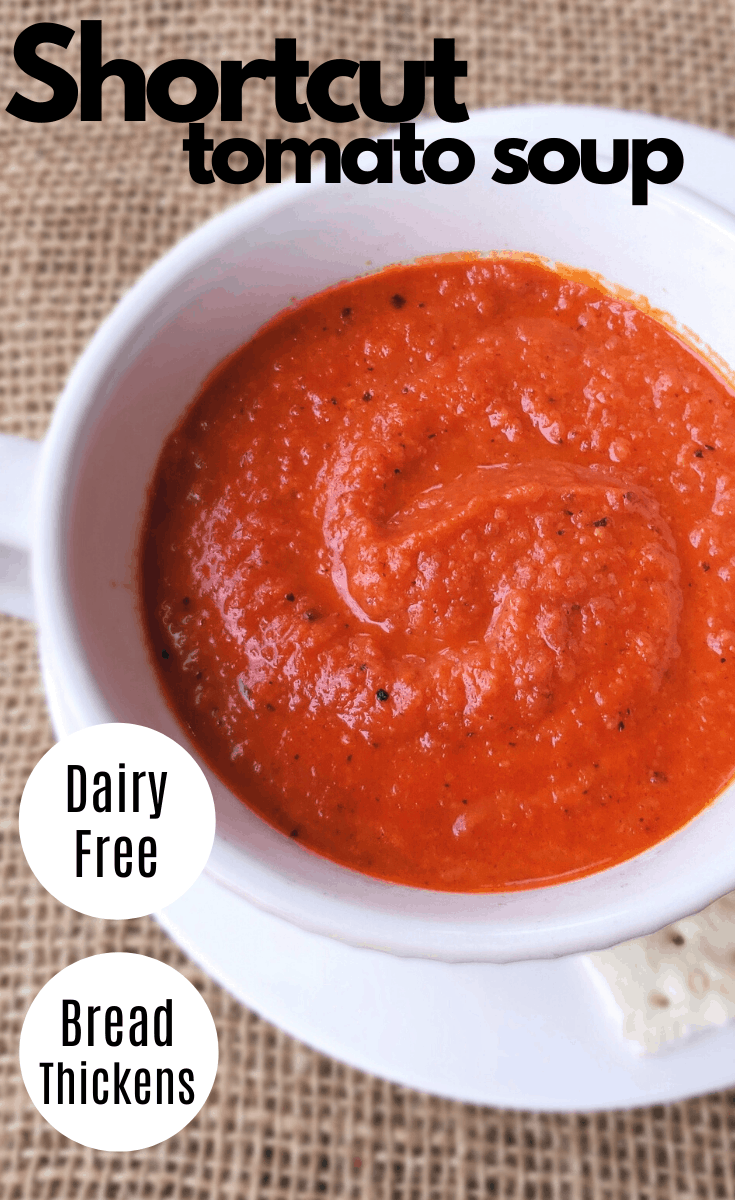 Other shortcut soups you will love
Instant Pot Collard Greens Soup,
Shortcut White Bean and Chicken Chili.
And of course, all Southern soups go well with cornbread. Try my
Vidalia Onion Cornbread with Caramelized Onion Fans
For more Southern shortcut recipes be sure to follow me on Facebook, Instagram, Pinterest and Twitter and don't leave before you send me your email address here so you don't miss a single post!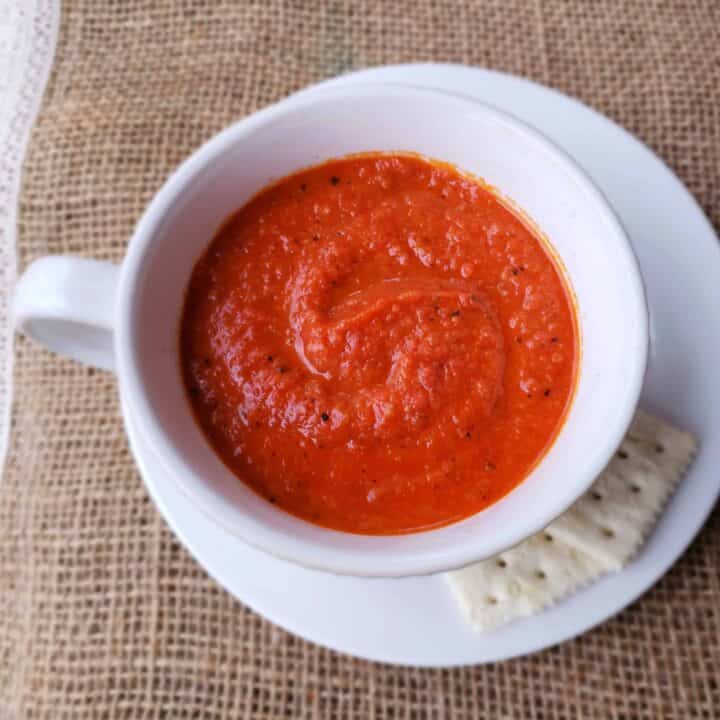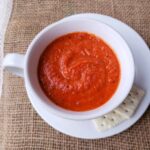 Print Recipe
Shortcut Tomato and Bread Soup
The bread thickens the tomato mixture. It is an Tuscan soup called Pappa al Pomodoro- I've just made a shortcut version with canned tomatoes. You can substitute one can of diced tomatoes with herbs for one can of fire roasted and eliminate the dried basil so you don't have to add an extra ingredient.
Ingredients
2

14.5 oz cans fire roasted diced tomatoes with garlic, undrained

1

teaspoon

brown sugar

1/4

teaspoon

dried basil or 2 teaspoons chopped fresh basil

1

tablespoon

extra virgin olive oil

1

slice

thick Italian or country-style bread

crusts removed (about ½ cup pieces of bread)

1

cup

chicken broth or stock
Instructions
In a blender, process the tomatoes until pureed. Or, in a large saucepan, use an immersion blender to puree the tomatoes. Add the brown sugar, basil, and oil and process until smooth.

Tear the slice of bread into several pieces and add it to the tomato mixture.

If you don't have thick slices, just use two slices of thin bread. Process until the bread is blended.

Slowly add the chicken broth and simmer the mixture in the large saucepan 10 minutes.

It will not be smooth perfectly smooth but it will be perfectly yummy.
Notes
Note: It is best after standing for 30 minutes to an hour, but I have been able to wait that long, yet!
You might be able to eliminate an ingredient if you can find fire-roasted tomatoes with basil already it the tomatoes.
Get creative with different flavors of canned, diced tomatoes. Some already contain olive oil and herbs, saving you an ingredient or two.
Nutrition
Did you make this recipe?
If you love it, share it! Tag me on Instagram @gritsandgouda using #gritsandgouda Comment below before you go!