Turkey Shepherds Pie is a delicious way to serve all your Thanksgiving, Christmas and Easter leftovers in one skillet. Turkey, mashed potatoes, gravy, green beans, peas, corn and carrots go in this cheesy one-dish dinner. It's a cross between a Shepherds Pie and a Chicken Pot Pie.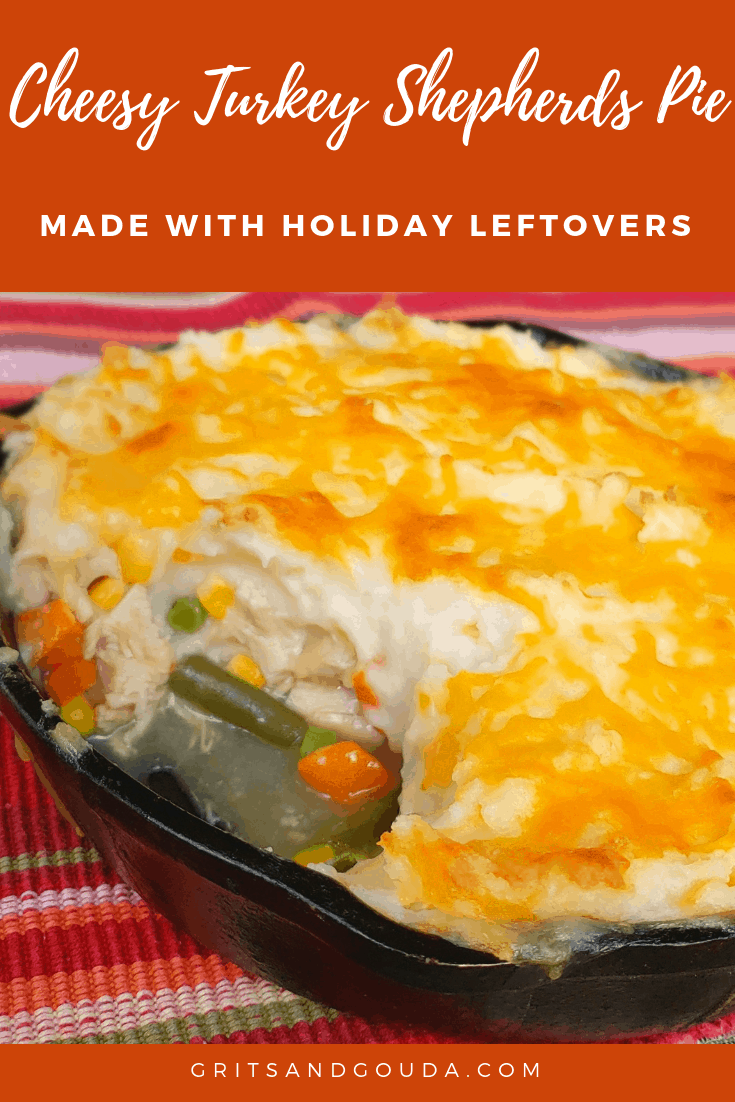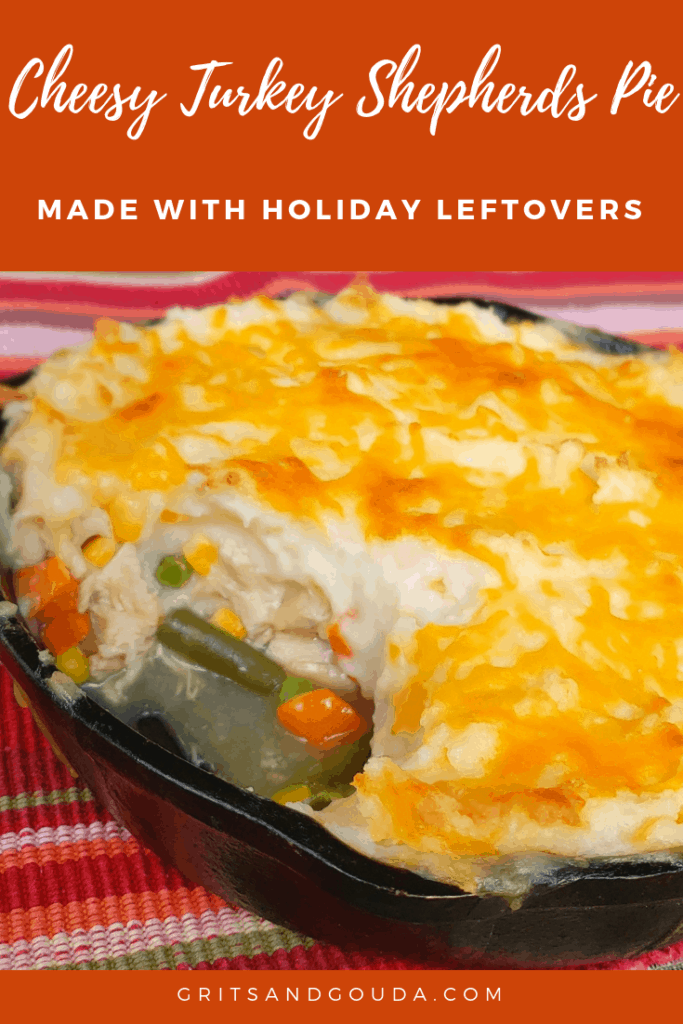 What is Shepherds Pie?
Shepherd's Pie is typically made with ground lamb or beef and veggies smothered with a thick layer of mashed potatoes.
In fancy versions, the mashed potatoes are piped onto the meat mixture in decorative dollops. Cheesy Turkey Shepherds Pie is made with Thanksgiving or Christmas leftovers (or "hold-overs" sounds like you planned it that way).
Shepherd's Pie is one of my favorite one-dish comfort foods. The other favorite is chicken pot pie. Combining these two faves is how I got the idea to make Cheesy Turkey Shepherd's Pie.
Instead of covering the turkey and veggies with a crust (that I would have to make), like a chicken pot pie, mounding up leftover or "held over" mashed potatoes from Thanksgiving and sprinkling with cheese sounded yummy to me-and easy.
The "sauce" in my Cheesy Turkey Shepherd's Pie is simply the leftover turkey gravy and the veggies are leftover peas or corn or carrots or green beans-or a combination of whatever is leftover!
After spending two days in the kitchen cooking for Thanksgiving, I'm ready for some family time. Making Cheesy Turkey Shepherd's Pie is as easy as pulling out the leftovers and mixing and layering them in a skillet and baking it. It comes out of the oven a new creation, not the same ol' turkey and dressing you've eaten the last three meals and you didn't have to get out of your pajamas to go to the grocery store.
What if I want to make Cheesy Turkey Shepherds Pie and don't have leftover turkey and vegetables?
Now, let's say you know you always run out of mashed potatoes and gravy or your family doesn't serve veggies except for the green bean casserole or it's July and no turkey in sight. Here are a few substitutions you can make.
If you ate all the gravy and vegetables at Thanksgiving, you can substitute chicken or turkey gravy and frozen vegetables. I don't recommend just any gravy-I can't stand the flavor of most gravy in jars or powdered package but.
McCormicks is gluten free, no MSG and no artificial flavors. I use the beef gravy in my regular Shepherd's Pie recipe. If it's July and no turkey is in sight substitute rotisserie chicken.
How to make Cheesy Turkey Shepherds Pie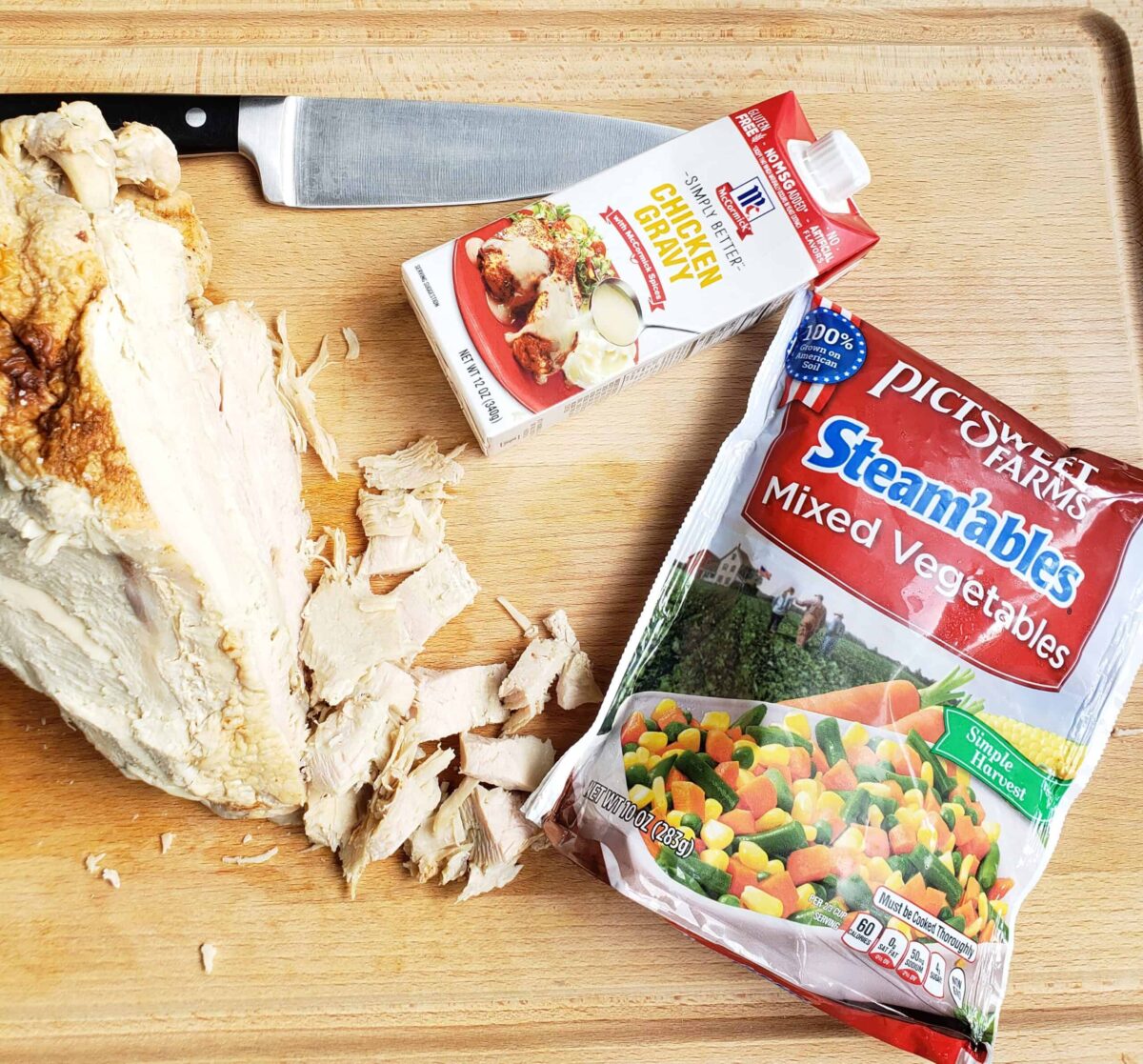 If you don't have enough leftover mashed potatoes and your potato bin (if you have a potato bin) is empty, there's no shame in using a good quality package of instant potatoes in this situation. Remember, if you are making this right after Thanksgiving, you are giving yourself a break from cooking.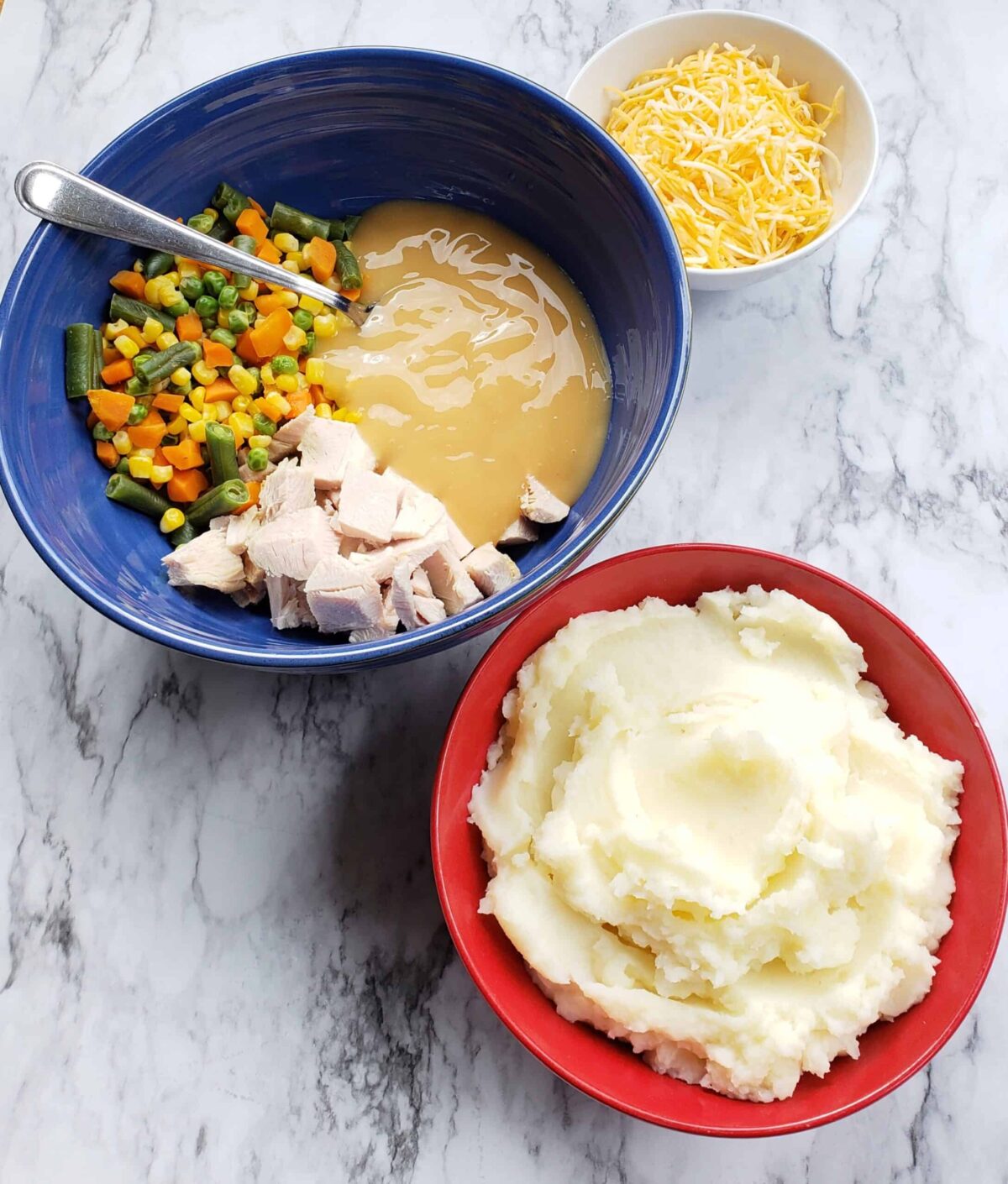 If you know you always run out of mashed potatoes, go ahead and take advantage of the BOGO's on Ore Ida's frozen or Bob Evans refrigerated mashed potatoes the week before when you are shopping for the rest of your holiday meal. I'm a big fan of using coupons and using the ibotta app, too.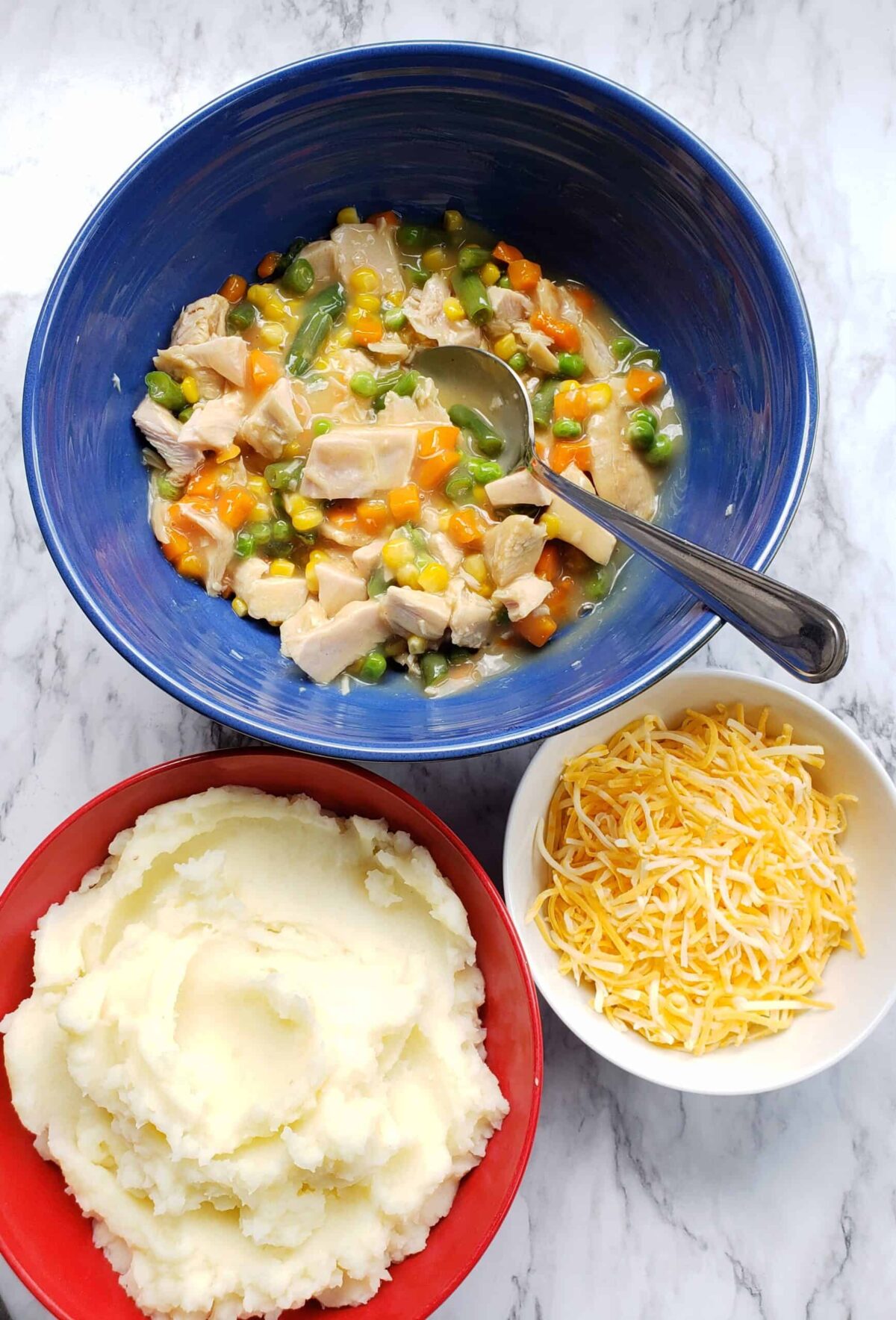 Combine the chopped turkey or rotisserie chicken, vegetables and gravy in a bowl. Combine 1/2 cup of the cheese to the mashed potatoes. Hold back the rest to sprinkle on top.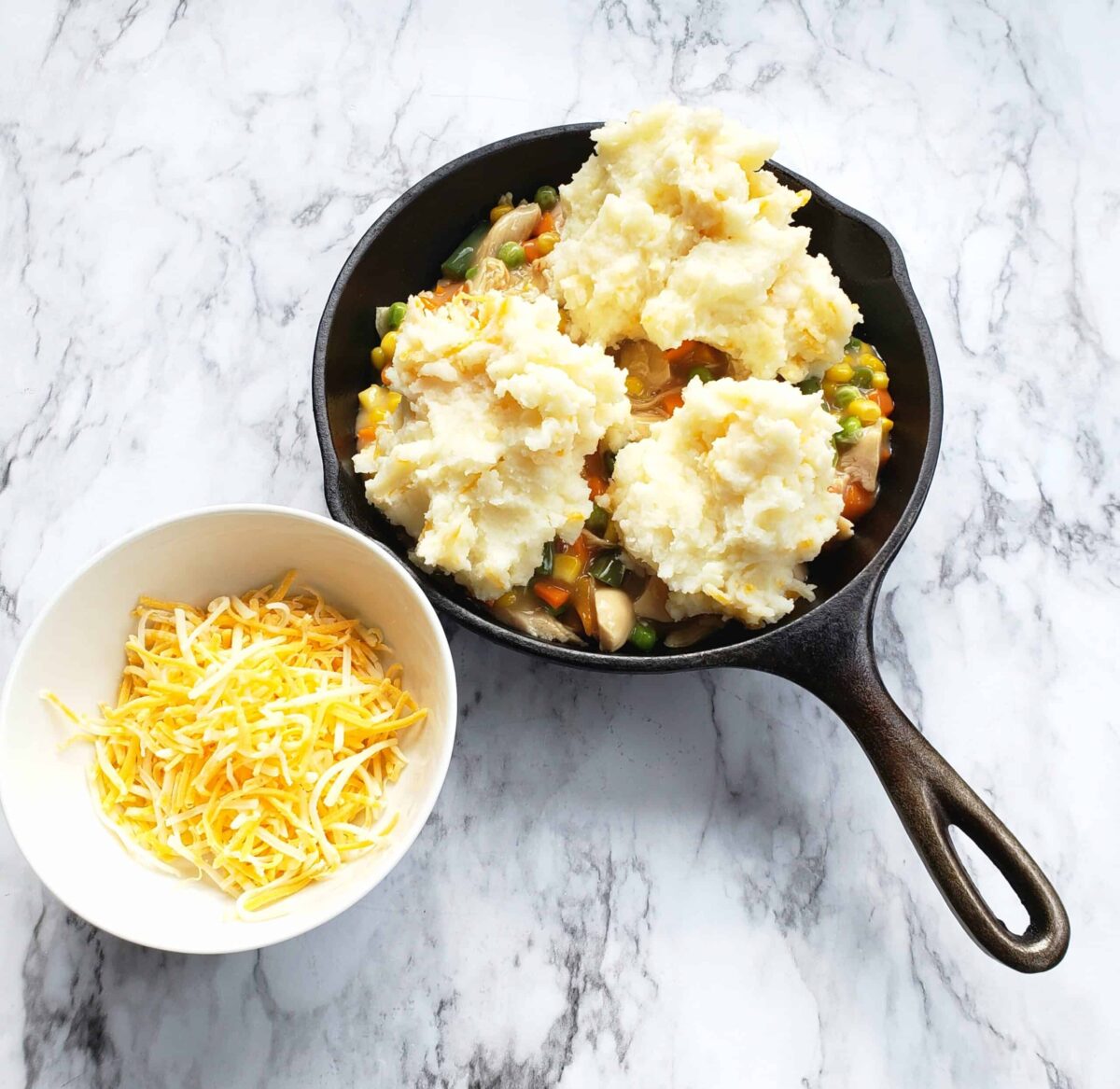 Dollop the mashed potatoes on top of the vegetables and gravy mixture in a cast iron skillet or casserole dish. This makes it easier to spread the potatoes to the edges instead of plopping it all in the center which might make the veggie mixture "tsunami" up the sides of the skillet.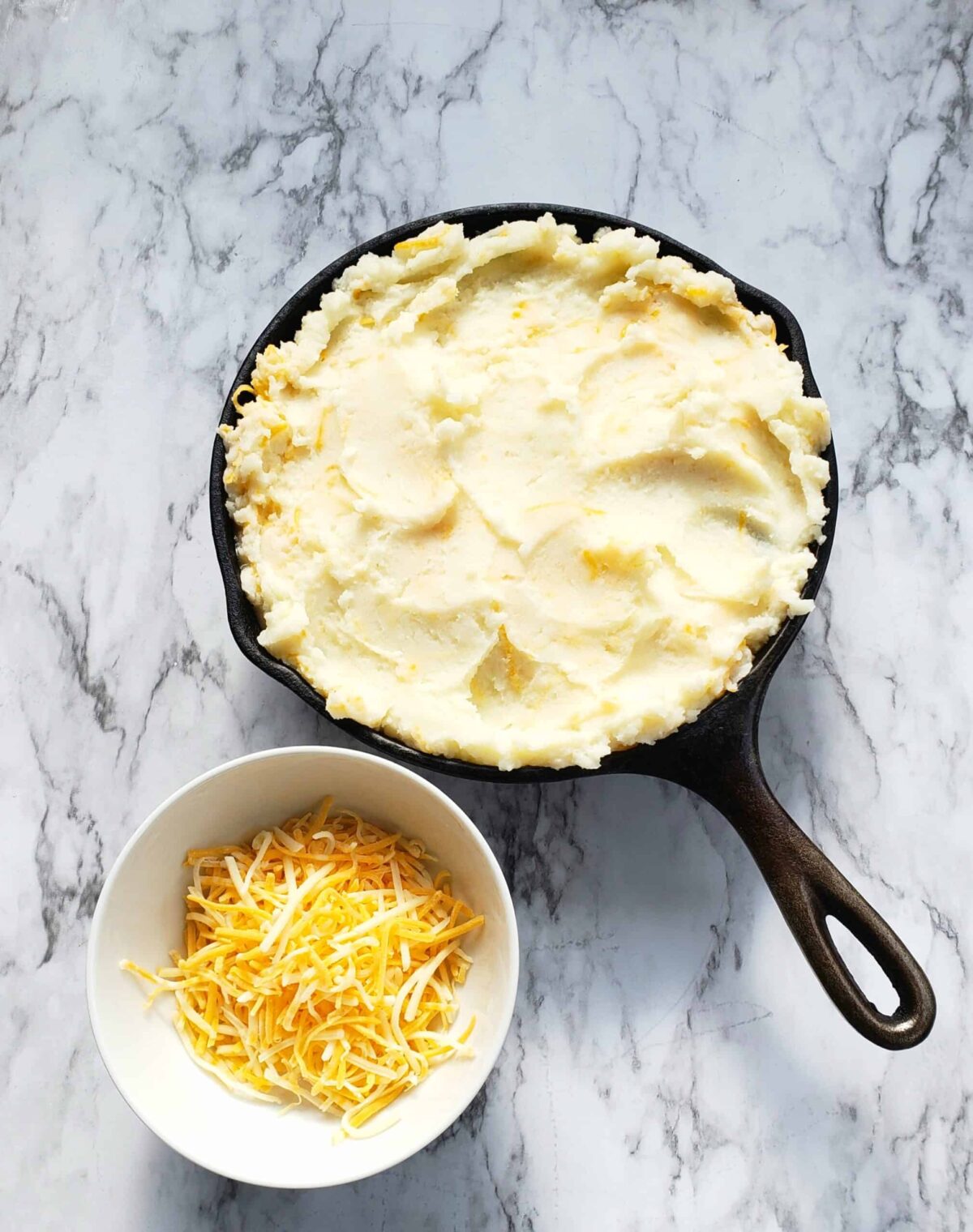 Spread the mashed potatoes all the way to the edges of the skillet to help prevent the gravy from bubbling over the sides.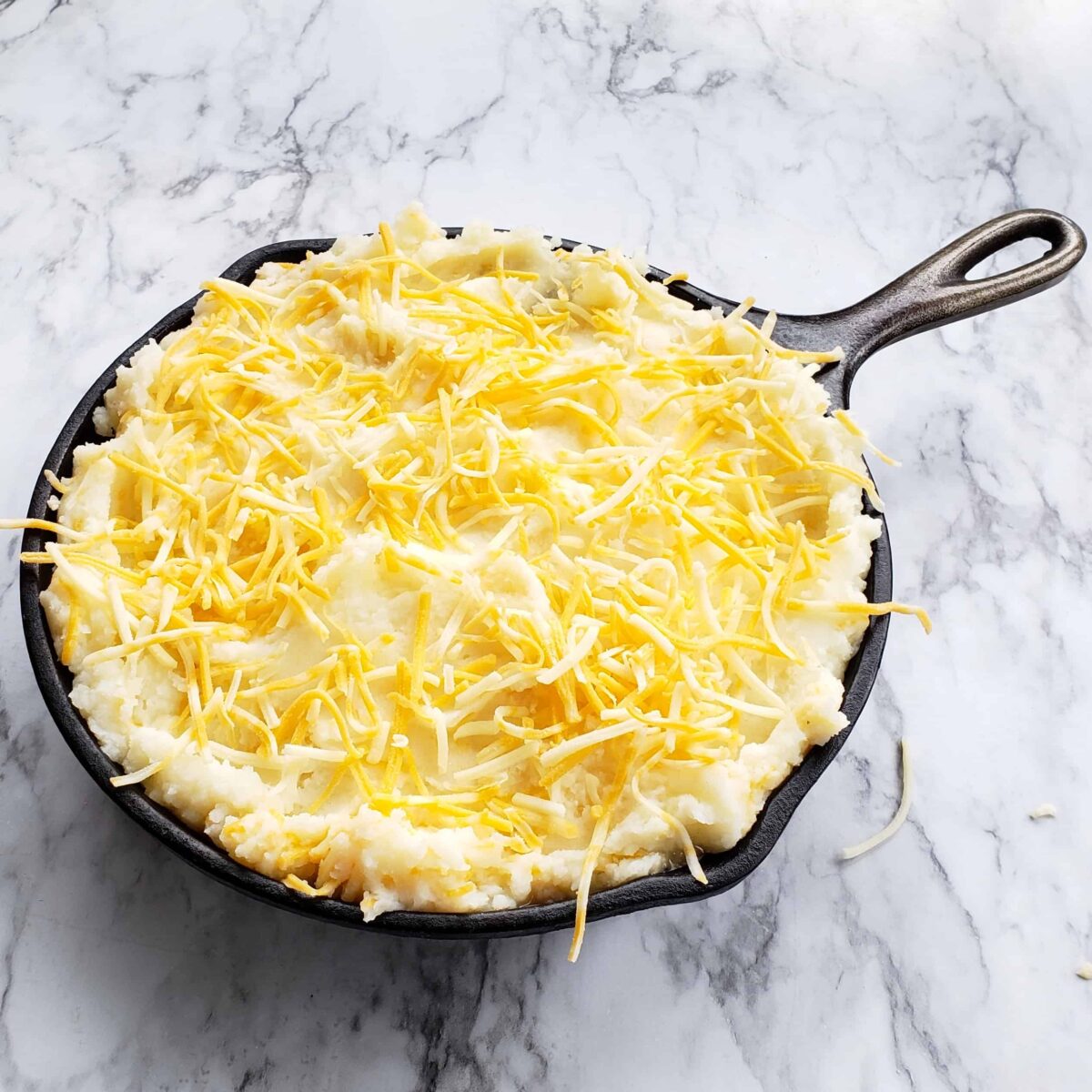 Sprinkling Colby Jack cheese on the mashed potatoes not only tastes good but it looks good because those potatoes are pretty white. In my Shepherds Pie recipe, I used mashed red potatoes and left the skins on which gives it a nice color contrast-and adds fiber!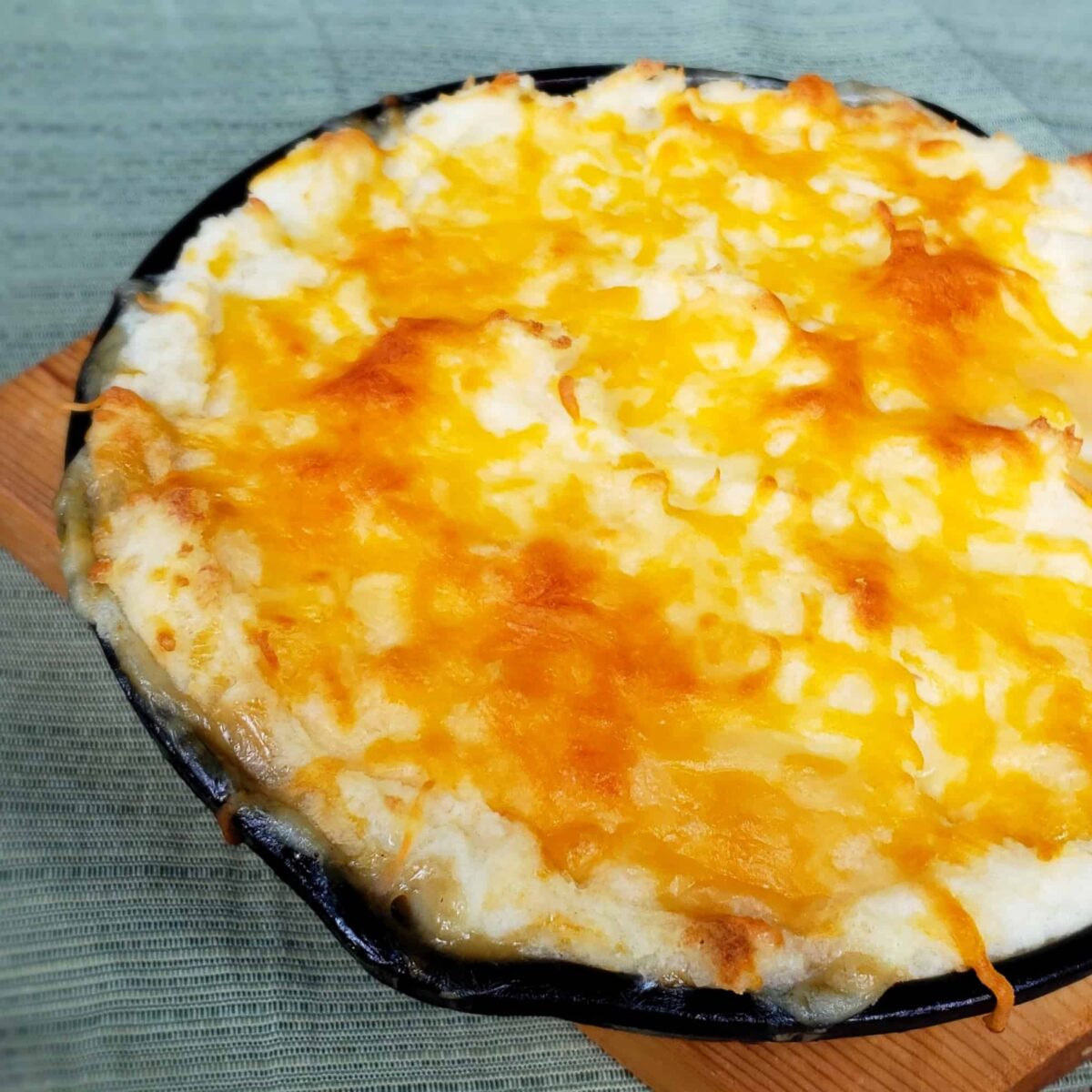 Colby Jack cheese is my favorite cheese to keep on hand. I like the flavor of the Colby and the easy melting ability of the Monterey Jack. Bake the Cheesy Turkey Shepherds Pie 25 minutes or until the cheese is melted and slightly browned and the mixture starts to bubble around the edges.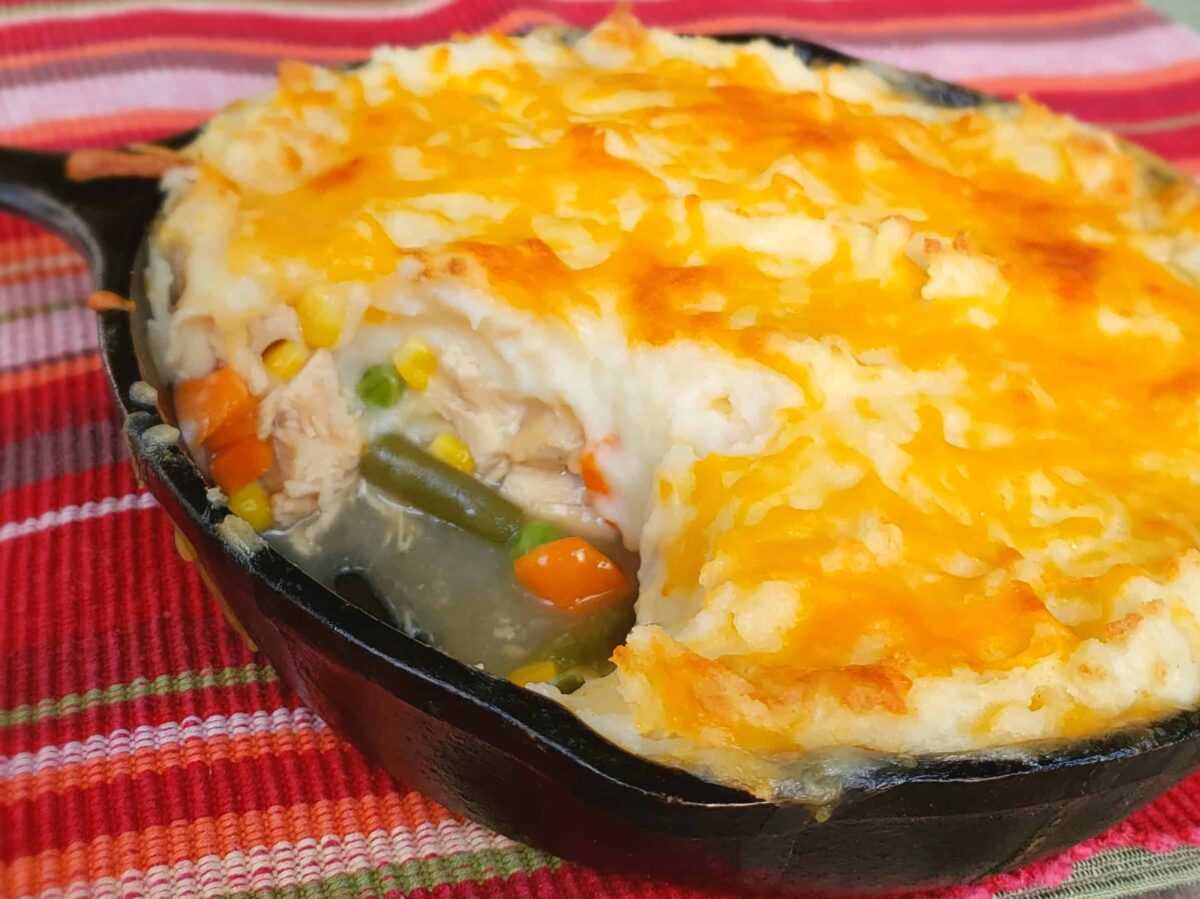 You can't get more "shortcut" than using what you already have on hand in your fridge and pantry. Don't get hung up on which vegetables to use. I like to roast carrots and parsnips together and I'd throw those in, too. Other possibilities are English peas, lima beans, black beans, broccoli, and butternut squash.
I'd love to hear from you if you make this or any of my recipes for Thanksgiving or Christmas this year. Leave a comment below, tag me on social media, and Pin this recipe on Pinterest.
Other Thanksgiving and Christmas recipes you will love
Candied Roasted Sweet Potatoes, Cranberry Apple Jalapeno Salsa (instead of traditional cranberry sauce), and Cornbread Dressings Cups.
Be sure to follow me on Facebook, Instagram, Pinterest and Twitter and don't leave before you send me your email address here so you don't miss a single post on my Southern shortcut recipes!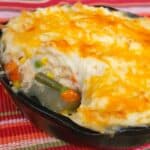 Print Recipe
Turkey Shepherds Pie
Perfect use of Thanksgiving leftover turkey, mashed potatoes, corn, green beans, and gravy.
Ingredients
2

cups

coarsely chopped turkey breast

1 1/4

cups

turkey gravy or 1

12-oz carton turkey or chicken gravy (McCormick)

1

cup

cooked green beans or peas

1/2

cup

corn kernels

1/2

cup

cooked chopped carrots

optional

1/4

teaspoon

salt

1/8

teaspoon

ground pepper

1

cup

shredded Cheddar cheese or Colby Jack

divided

2 1/2

cups

mashed potatoes

heated for spreading
Instructions
Preheat oven to 350°. In a large bowl, stir together turkey, gravy, green beans, corn, carrots, salt and pepper. Spoon mixture into a 8-inch cast iron skillet or a 1 1/2 quart casserole dish coated with cooking spray.

Stir 1/2 cup cheese into mashed potatoes. Dollop mashed potatoes over turkey mixture, then spread them to the edges of pan; sprinkle with remaining cheese. Bake for 25 minutes or until gravy is bubbly around edges.
Notes
Shortcut: If you don't have left over peas and carrots, use 1 1/2 cups (10-oz) pkg mixed vegetables.
Did you make this recipe?
If you love it, share it! Tag me on Instagram @gritsandgouda using #gritsandgouda Comment below before you go!