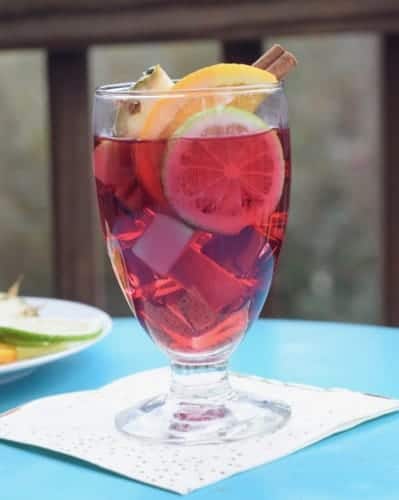 The tannins in cranberry juice in this Cranberry Sangria Mocktail mimic the tannins in red wine without the alcohol. Sangria is a Spanish fruit punch made with red wine and lots of fresh fruit. Mocktails are also kid-friendly so everyone can enjoy sipping and munching on fruit together!
Mocktails, non-alcoholic cocktails will be finding their way to more parties and soirée's in 2018 than in the past. According to BuzzFeed.com it's never been easier to avoid alcohol thanks to a surge of artisanal and creative nonalcoholic concoctions. From mock sangria and mojitos to Moscow mules and spritzers, the options are endless.
Studies are showing that Generation Z (ages 12 to 22) are less likely to drink alcohol than Millennials. Inside Sources says this statistic is at best only an approximation of what future purchasing trends will look like. Ummm yeah, since most of Gen Z'ers are still under 18!
Of course, there are other reasons mocktails are an upward trend in 2018. Many of the healthy lifestyle diets such as Paleo and Keto strictly omit alcohol.
To print the recipe click on the link below.