What is your apron story?
If aprons could talk, what stories would they tell? Serious chef aprons, frilly Sunday dinner aprons, cherry-stained work apron, grilling aprons sporting team spirit, Grandma aprons with embroidered yellow daisies, or maybe just a kitchen towel neatly tucked into the waistline of a pair of jeans.
Everyone who dons an apron has a story to tell about their own personal food history or adventures. Who taught you to cook? What or who inspired you to cook? Do you have a memorable cooking experience? Where did you get your apron?
Snap a picture of you wearing your apron and email it to me on Facebook along with your story. I'll watch for them! I may share it on my blog!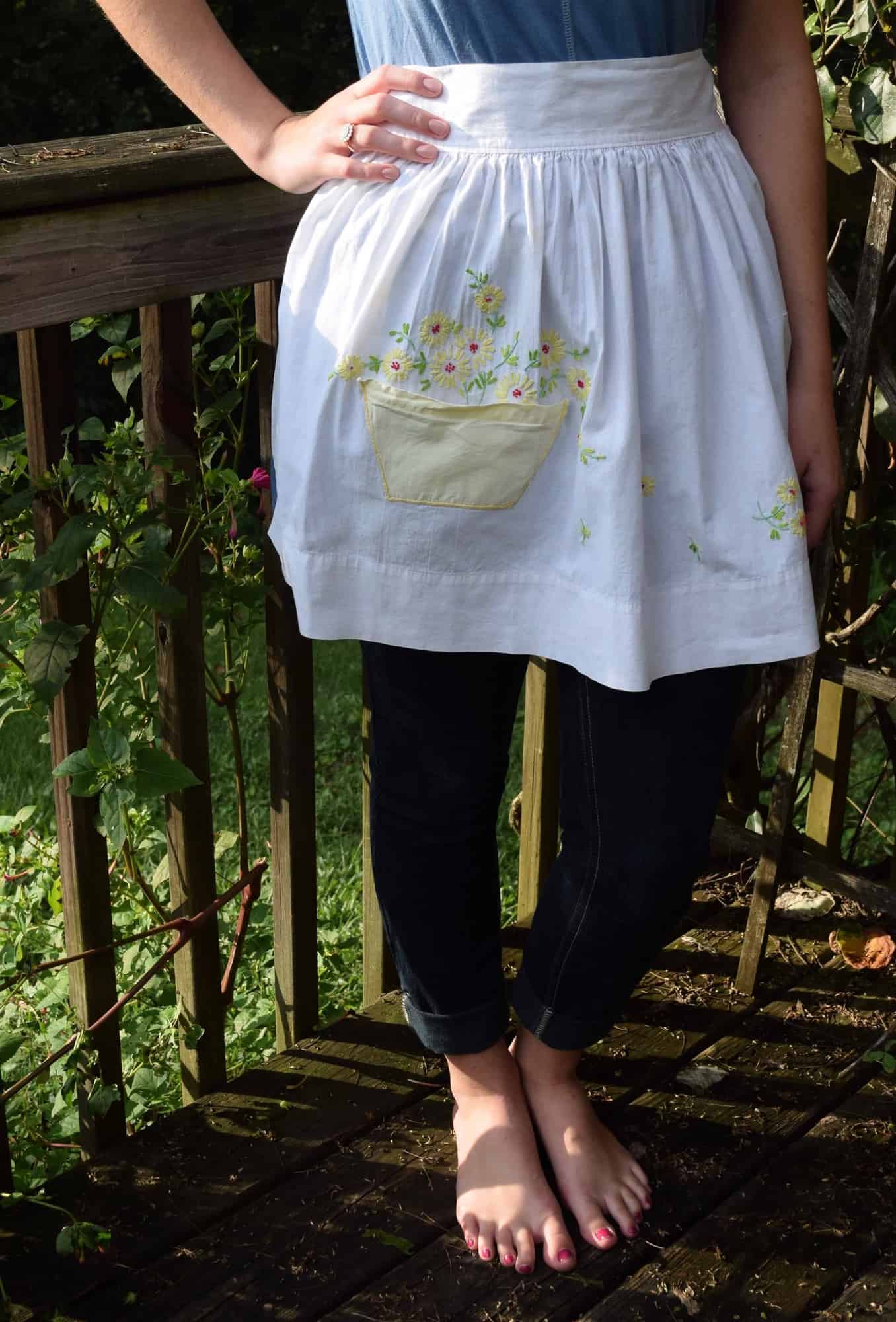 I love to collect vintage aprons. I bought the white one in the picture above with a yellow basket full of embroidered daisies at an estate sale in Evening Shade, Arkansas. My daughter and I had traveled back to my hometown to celebrate my mom's birthday by spending the morning at yard sales and, of course, taking her out to lunch! When I saw this very old, yet sunny and happy apron draped over a shelf of books, I wondered how many biscuits had the apron's owner made wearing it? How many pieces of apple pie had she cut and shared with family? Did she embroider the daisies as a child and lay the crisp, new apron in her hope chest for later on when she would marry? Did her mother teach her to sew like mine had taught me? I happily paid the small price of one dollar handwritten on the tag and brought it back to Alabama with me. I proudly wore the daisy apron to the Time Inc Food Studio recently while testing some older Southern Living recipes and couldn't help but wonder if the original owner of this apron had prepared some of the same recipes in her kitchen in Evening Shade, Arkansas many years ago.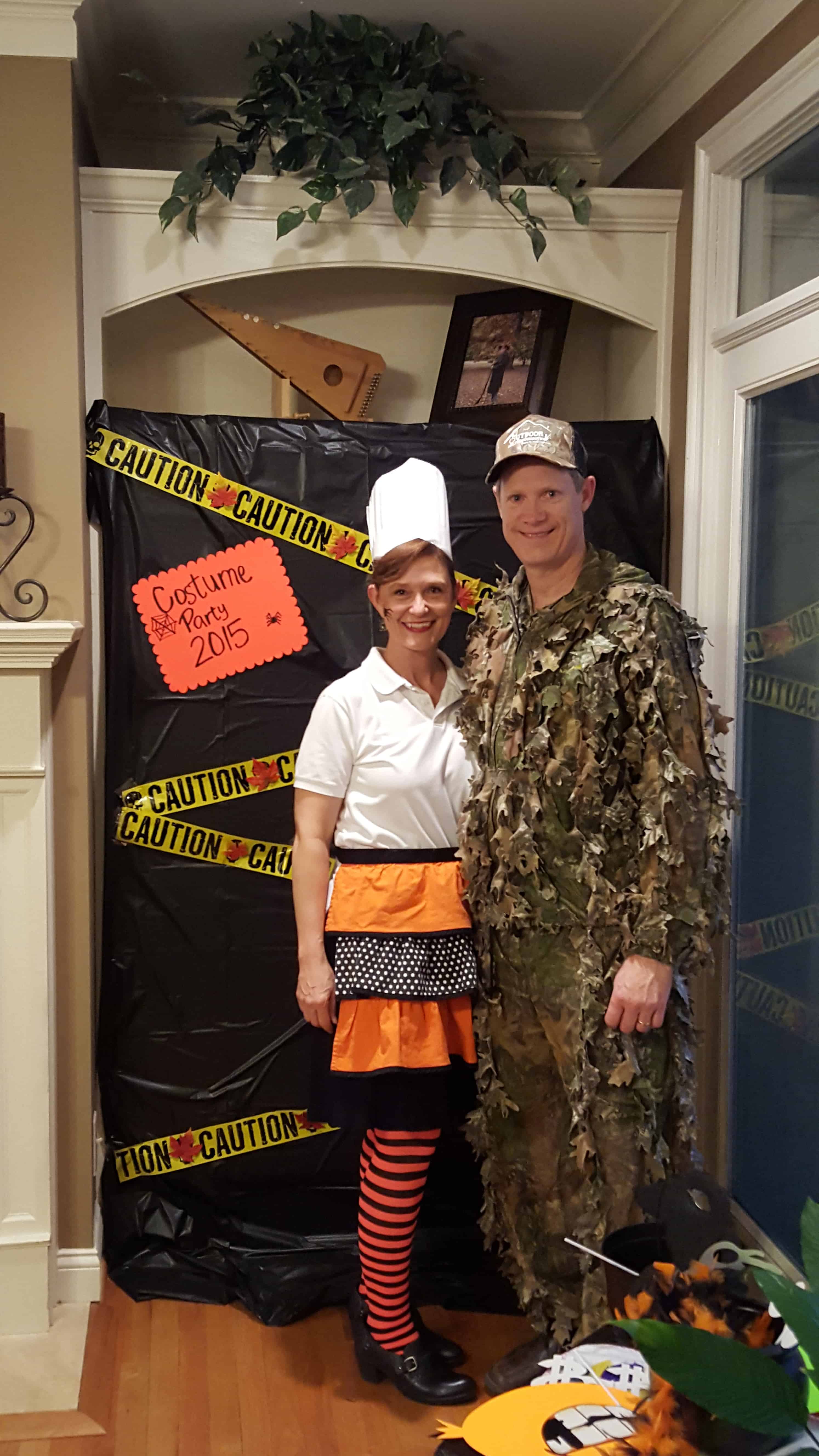 For many years, Scott and I hosted a Halloween costume party at our house for the youth group. The only rule was no oozing blood or scary costumes. In 2015, I was a crazy chef and Scott was a turkey hunter. Both costumes fit us perfectly...in more ways than one. It was really just an excuse to wear this fun, three ruffle apron!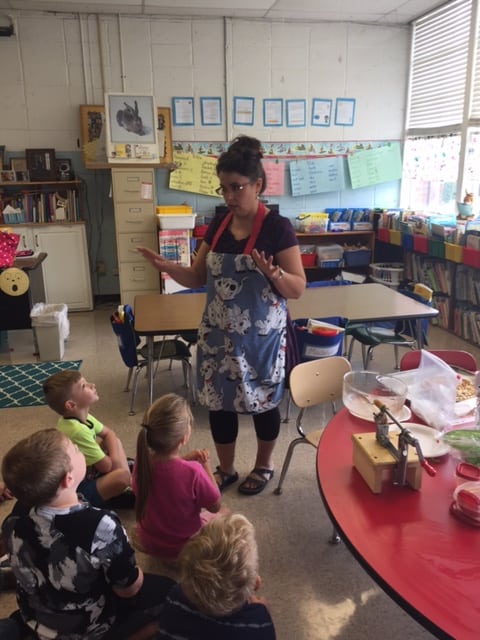 Hi! I'm Jodie from Dora, Al! I'm wearing an apron my sister whipped up from some scraps she had on hand- she's super crafty! I learned to cook
from my mom and dad over the phone after I was married. We always had a huge garden growing up and I wanted to feed my family like I was fed growing up. My favorite thing to bake is chocolate chip cookies. Yum! Here I am in my classroom at school - today we made apple pie! I was blessed to teach each of my three children in kindergarten.
I love that Jodie is teaching this kindergarten students to make apple pie! kp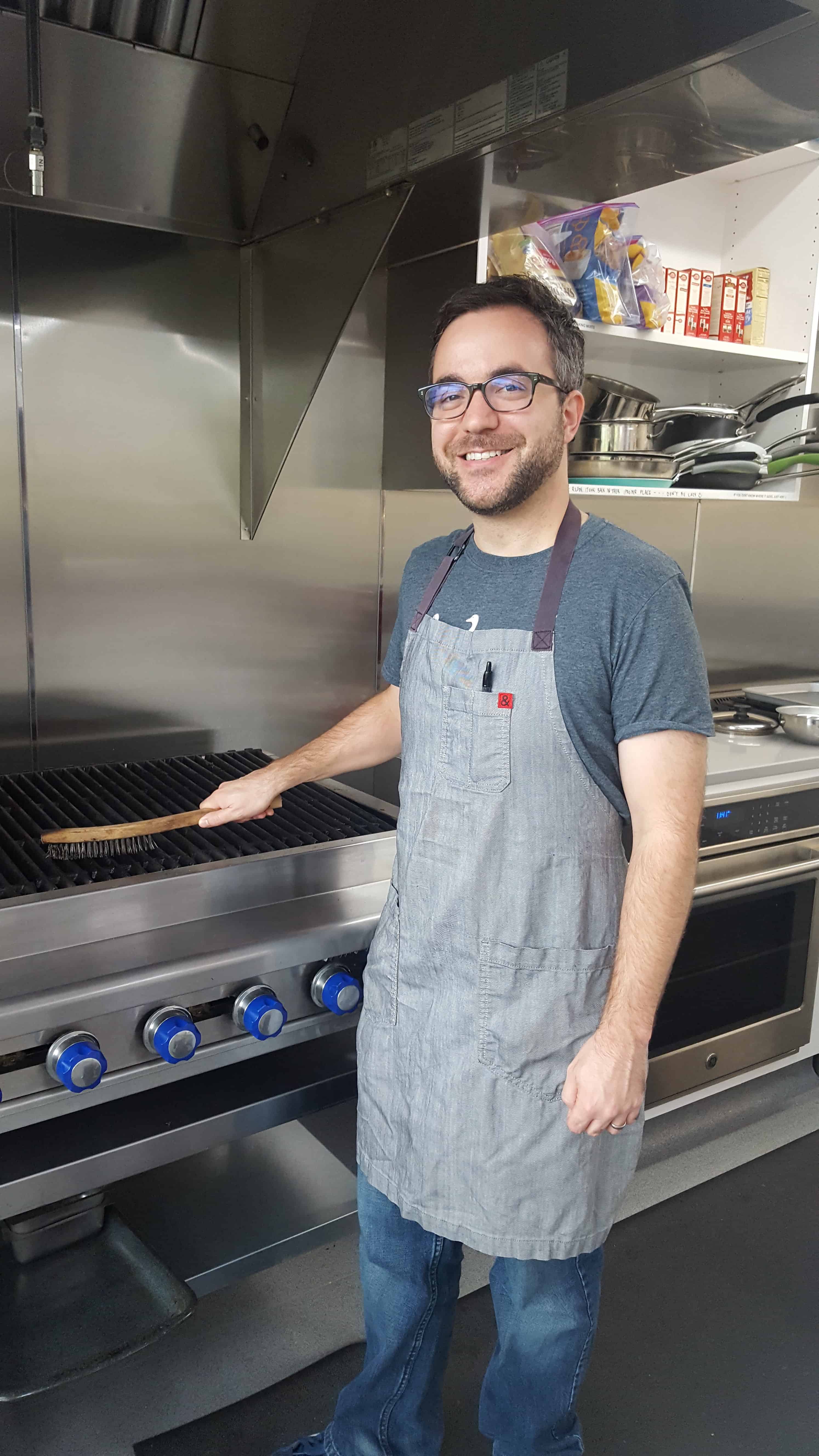 My name is Adam Dolge. I'm from Tully, NY and now live in Birmingham, Alabama where I am a test kitchen professional at Time Inc Food Studios (TIFS). Although I am a classically trained chef from the Culinary Institute of America, my mentor, the late Brian Shore, first taught me to cook professionally. I started in his restaurant as a 14-year-old dishwasher and worked my way up to working the line. After the passing of my mentor, I was inspired to go to culinary school. I also watched my mom and Italian Grandma cook in their kitchen. One of my most memorable food experiences was the trip to France with mom and dad when I was very young. I'm wearing one of the aprons from TIFS where on any given day I'm testing 4 to 6 recipes a day for brands such as People magazine, Cooking Light, Health, Southern Living, Oxmoor House cookbooks, and more.
Adam, I know your mentor as well as your mom and Grandma would be/are proud of the talented chef you've become! kp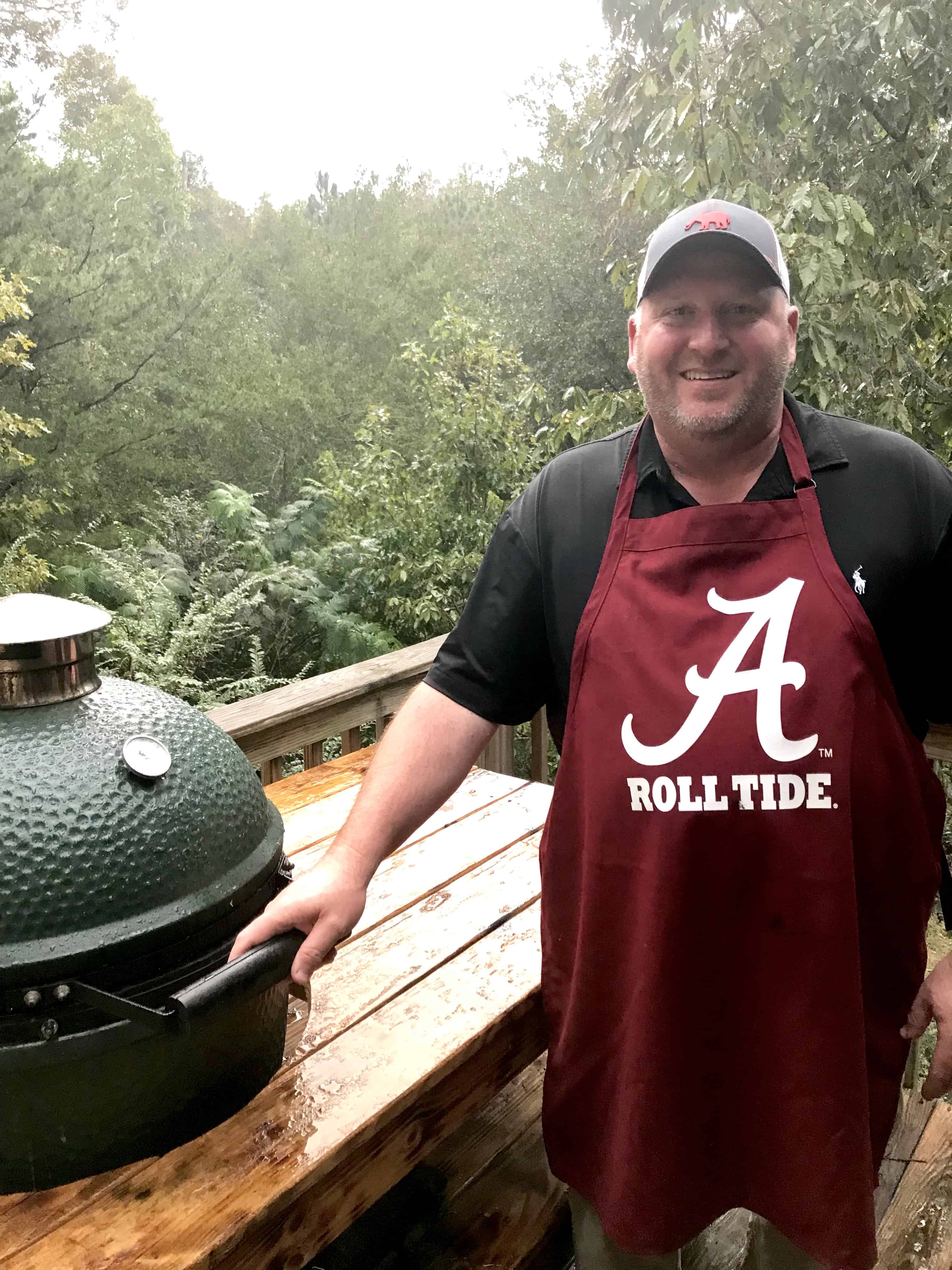 I'm Robbie Medley from Hayden, Alabama. I'm married to my high school sweet heart for 23 years. We have 4 children. Two are grown and we home school (the two still at home)and we have a grand baby due any day. I am a facilities supply advisor at Veritiv and love the Birmingham area. How did you learn to cook? Although my mom and grandmother cooked every day, I was never interested in cooking until I got married. I love to cook, especially if involves the Big Green Egg. I have learned many tricks of the trade and have become the local grill master. Who inspired you to cook? Expensive Food inspired me. I just believed I could replicate, or even make better foods, that I love. Any special cooking story you would like to share? My "butt" is famous and is requested often among family and friends. Any special cooking story you would like to share? My "butt" is famous and is requested often among family and friends. Where did you get your apron? A friend and fellow Big Green Egg griller.
Robbie, thank you for sharing your apron story with me. Count me in as one of your friends requesting the grilled chicken! kp PS....Roll Tide!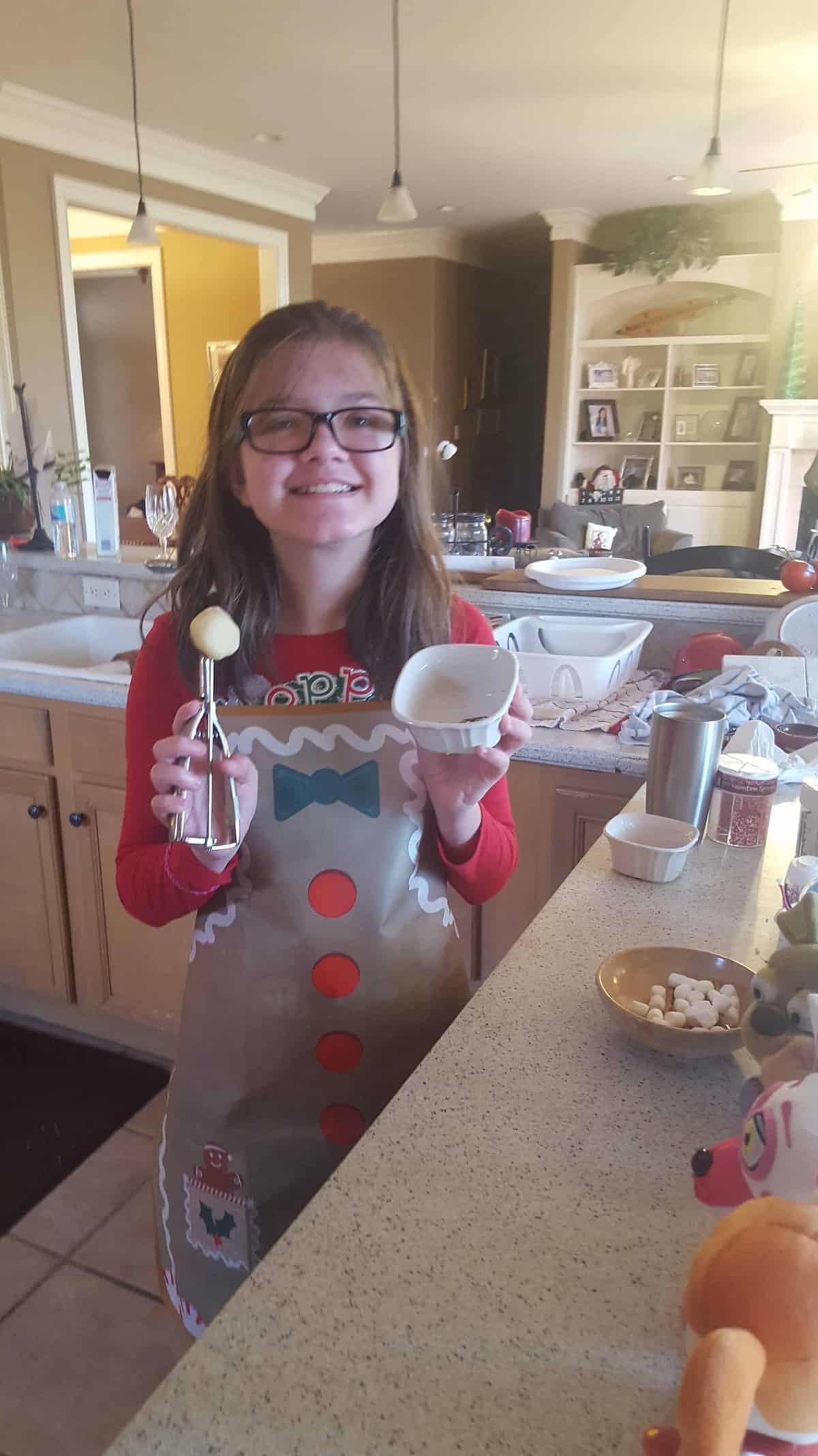 This entry of Apron Stories is about my sweet friends in my Sunday school class. The story behind this adorable gingerbread apron my student is wearing is the story of laughing, giggling, sometimes loudly whooping and hollaring children having a special time where they are the star of the show and it's ok to be silly! Every year for as long as I can remember, I have invited my Sunday school class at Christmastime to my house to make Christmas cookies, make a craft, and play games. This year, we made Cookie Pops and Slime!
These young chefs are still learning the basics in the kitchen and I bought these gingerbread aprons from the Dollar Tree, but they are now expert makers of cookie pops and slime and have some pretty cool stories to tell their families and friends about their kitchen adventures at Miss Kathleen's Sunday school Christmas party. I want to encourage you to don a holiday apron and bake cookies with some kids this Christmas-whether they are your own, kids from your church, or foster kids. They will treasure the memories made far more than the apron itself.