It's healthy. It's real food not processed. I can eat this for breakfast, lunch, and/or dinner. I love it that much. It changes slightly each time I make it because I really do make this about every other week with whatever little tidbits of fresh veggies, olives, cheese, etc. I have leftover from the week's menu.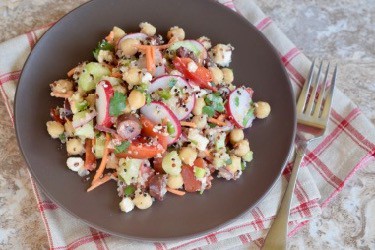 I keep dried quinoa and a can of garbanzo beans (you may call them chick peas if you like) just for this recipe. Whenever they go on sale, I stock up because I know exactly in what I'll use them. My husband, Scott, has warmed up to this dish and will eat everything but the radishes. More for me!
If there is one or two ingredients in my version here that you don't love, just leave it out or substitute what you do like. Here are some suggestions: Cannelinni beans or black beans for garbanzo beans, red onion for green onions, goat cheese for feta cheese, green olives for Kalamata olives, grape tomatoes for red bell pepper.
Sometimes I chop up kale or spinach to get in my greens. If I have just one grilled chicken breast, I'll slice it up and throw it in but it's already packed with protein from the garbanzo beans and quinoa.
I'd love to see what you create with your version of Clean Out the Fridge Quinoa Salad!
Click the link below to print the recipe.