Parmesan Artichoke Chicken Salad is loaded with the flavors of a Parmesan Artichoke dip! It's perfect for using leftover Thanksgiving turkey, too. Spread it on a cracker or pile it on a croissant. It's absolutely one of my favorite Southern shortcut recipes. Read on to discover the shortcut.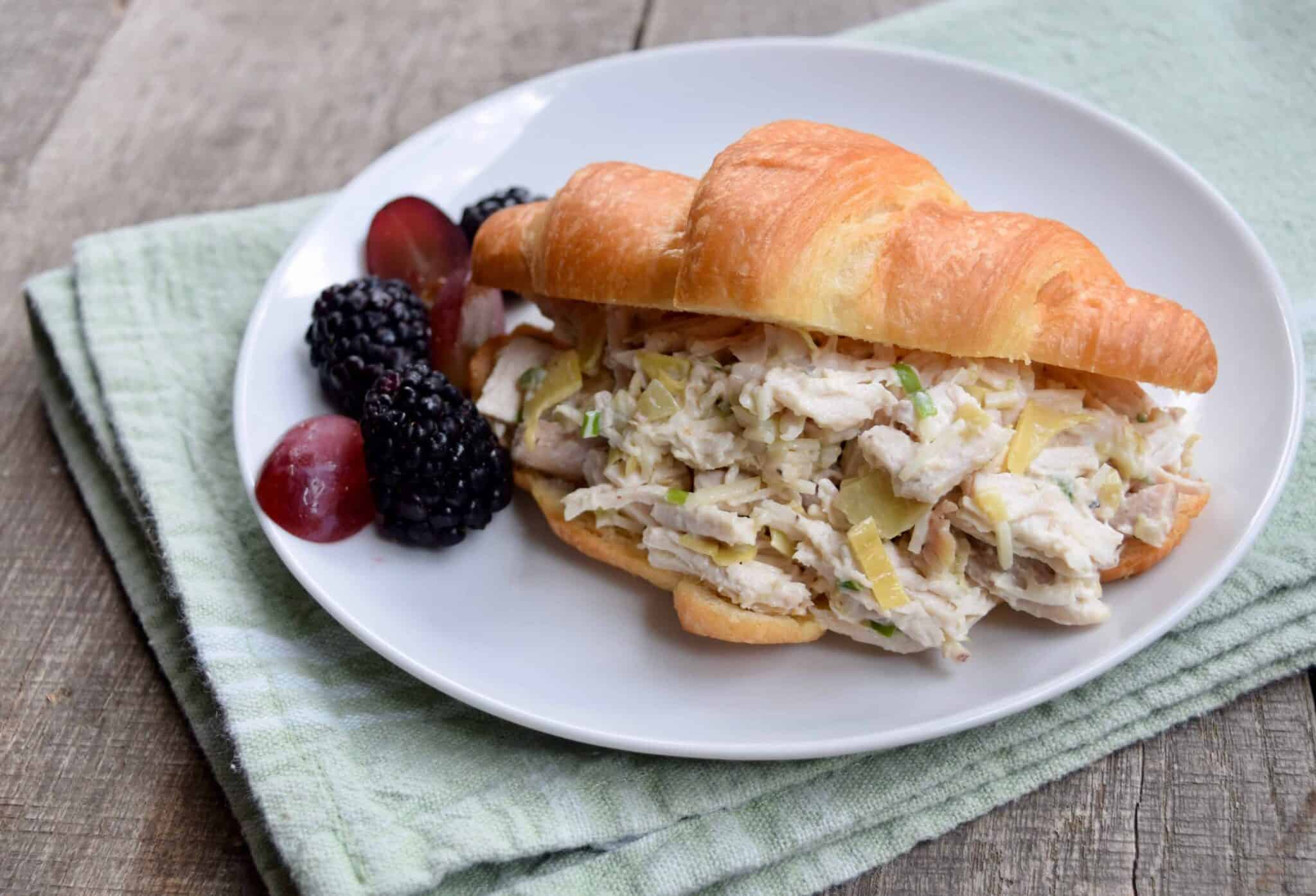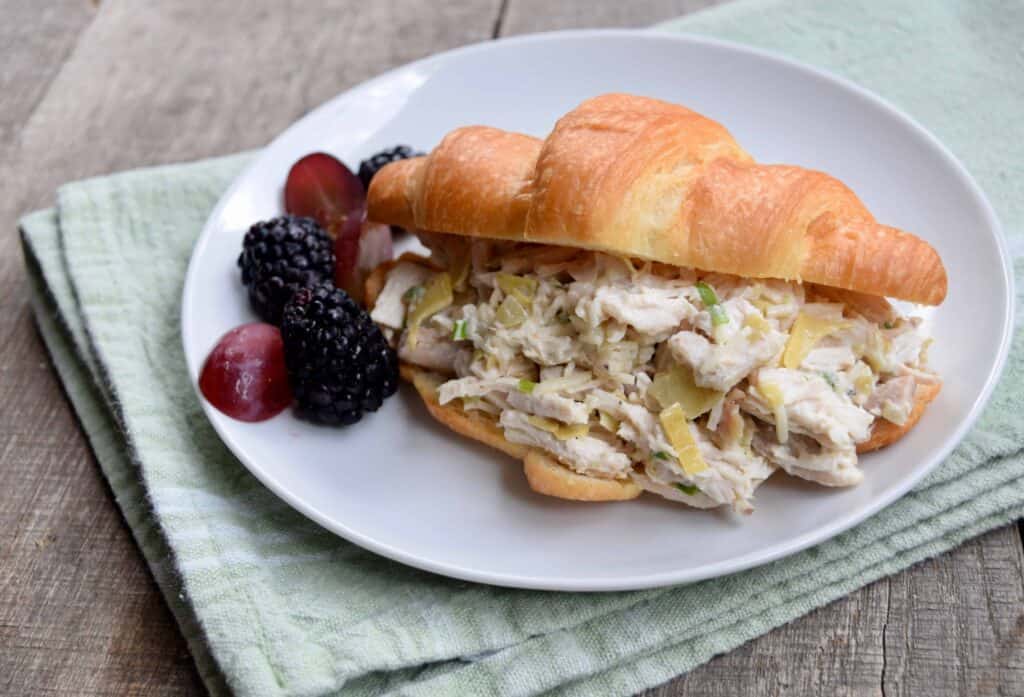 Are all chicken salads the same?
All chicken salads are the same right? Wrong. Some are plain and some are fancy. Most people have a preference and feel strongly about it either way.
There are so many ways to make it with so many flavor add-ins. And people in the South feel strongly about what they like and don't like about their favorite chicken salad!
All white meat versus a mixture? Chopped vs. shredded chicken? Celery or no celery? Grapes, nuts, or even pickles and boiled egg? That's why restaurants like Chicken Salad Chick are so popular.
As a test kitchen professional for over two decades at Oxmoor House (cookbook publisher for Southern Living, Cooking Light, Coastal Living and other brands), I've eaten a lot of chicken salad!
Why is this your favorite chicken salad?
When I decided to work as a freelance food stylist, I also started a catering company called The Occasional Gourmet. The name came from the fact that I just wanted to cater occasionally.
My husband, Scott, is a mortgage banker so I was always catering open houses for his real estate agents and bringing them goodies. I ended up catering business lunches and receptions in the Gardendale, AL area for 13 years!
Parmesan-Artichoke Chicken Salad was one of my most requested recipes and it was so easy to make ahead. The flavors remind me of one of my favorite party dips Artichoke Dip because it also has artichokes, mayonnaise and Parmesan cheese in it and sometimes green onion.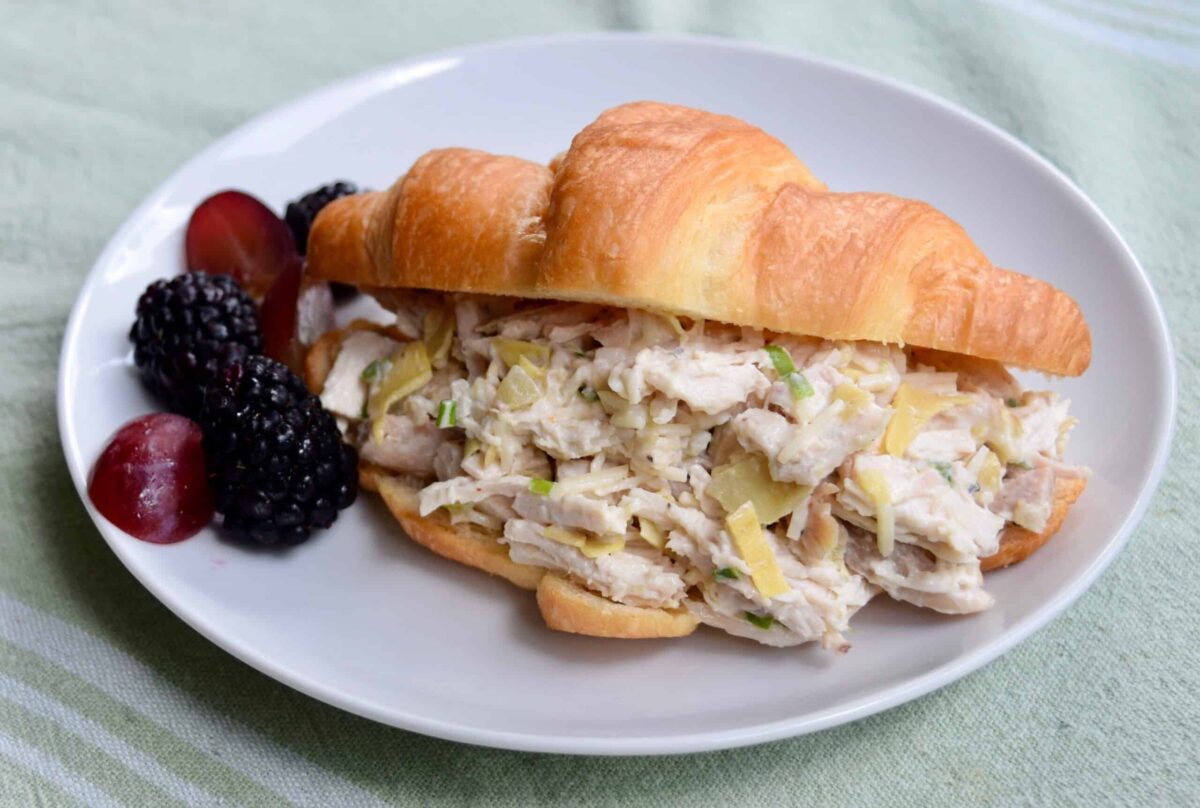 It is a combination of several recipes I've made over the years. I love celery, especially with a big ol' scoop of peanut butter! But, I am not a fan of celery in my chicken salad-so you won't find any in this chicken salad recipe.
What is the shortcut?
Most of my recipes have shortcuts in them. The shortcut in Parmesan Artichoke Chicken Salad is rotisserie chicken! I use both white and dark meat for the best flavor. I buy my rotisserie chicken only at Sam's Wholesale or Costco because I can get a whopping 5 cups of shredded chicken from one bird!
This recipe is easily modified using 4 cups shredded leftover turkey from Thanksgiving or Christmas dinner. If you are watching your calories, you can use all white meat.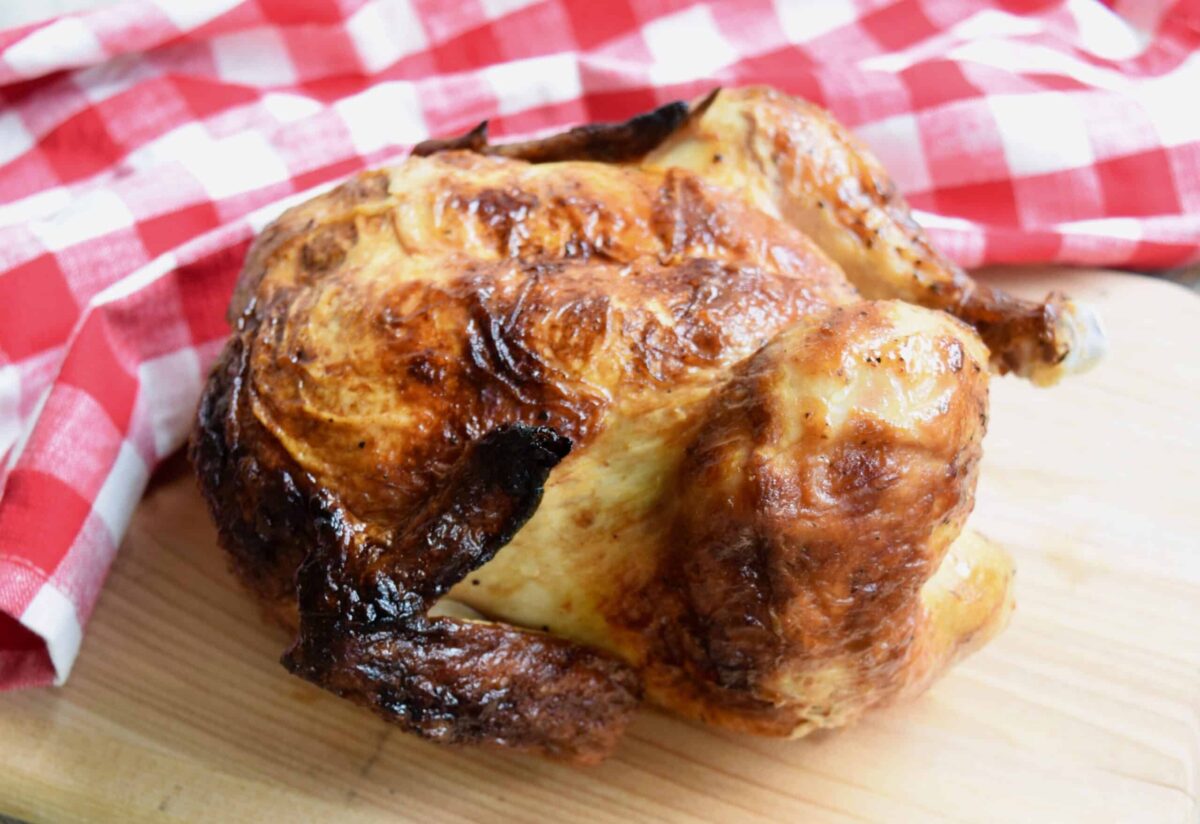 How to make Parmesan Artichoke Chicken Salad
I shred my chicken with two forks. I might even throw it in the food processor and give it a few pulses if I want to serve chicken salad with crackers. This makes the chicken pieces smaller than chopping or shredding and clings to a cracker better like a spread. Just don't pulverize it or you have chicken dip!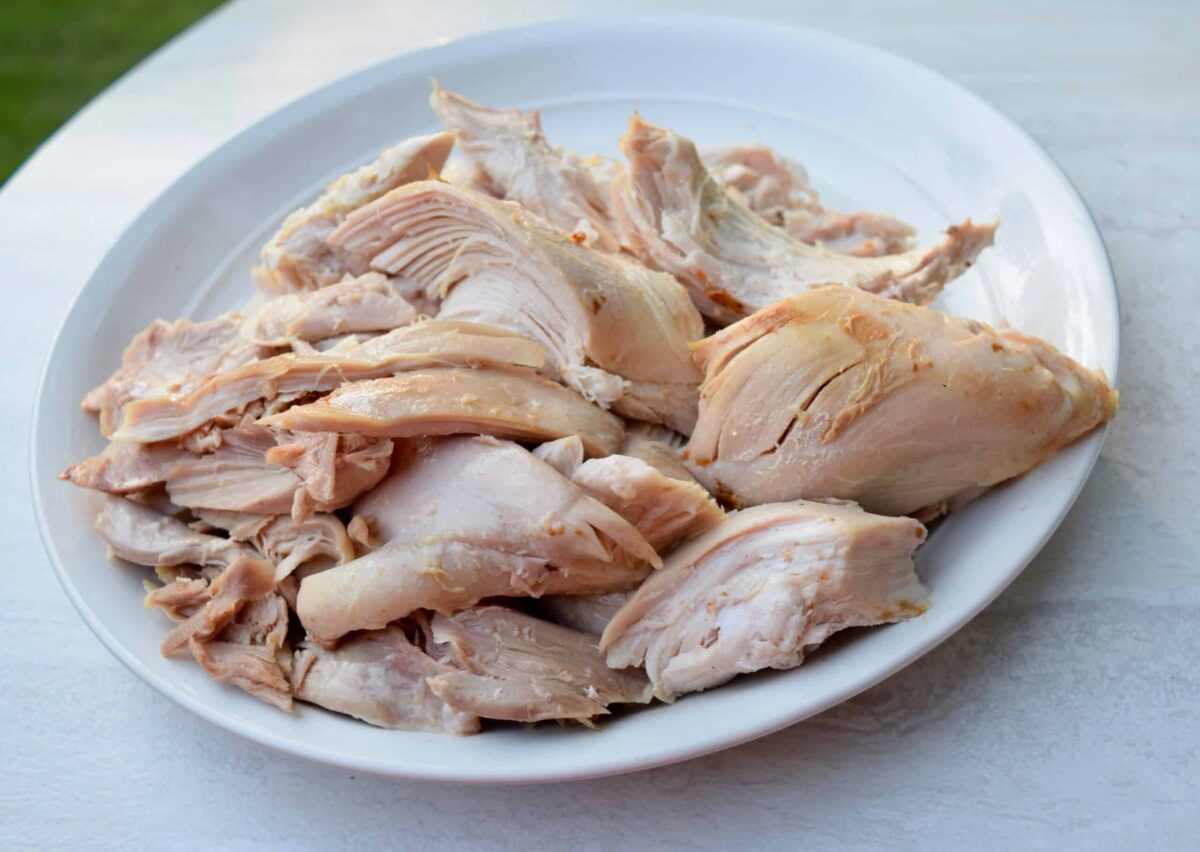 Cut the larger pieces in half before shredding with two forks. This could easily be a plate of leftover turkey from the holidays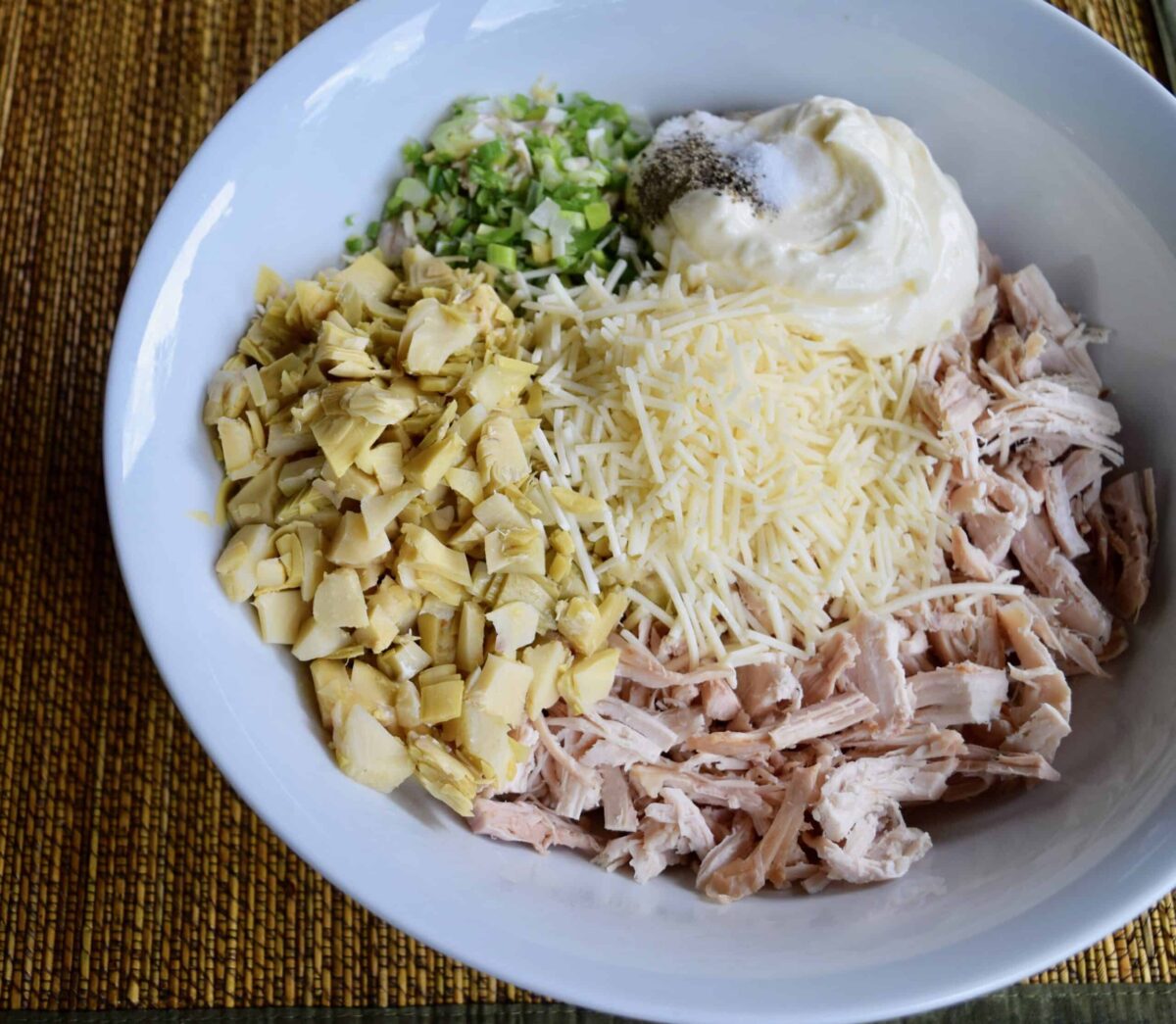 Green onions are one of my favorite ingredients in this chicken salad. It is perfect with the Parmesan cheese and artichokes but not everyone loves it. I would always ask my catering customers if they preferred their chicken salad with or without it.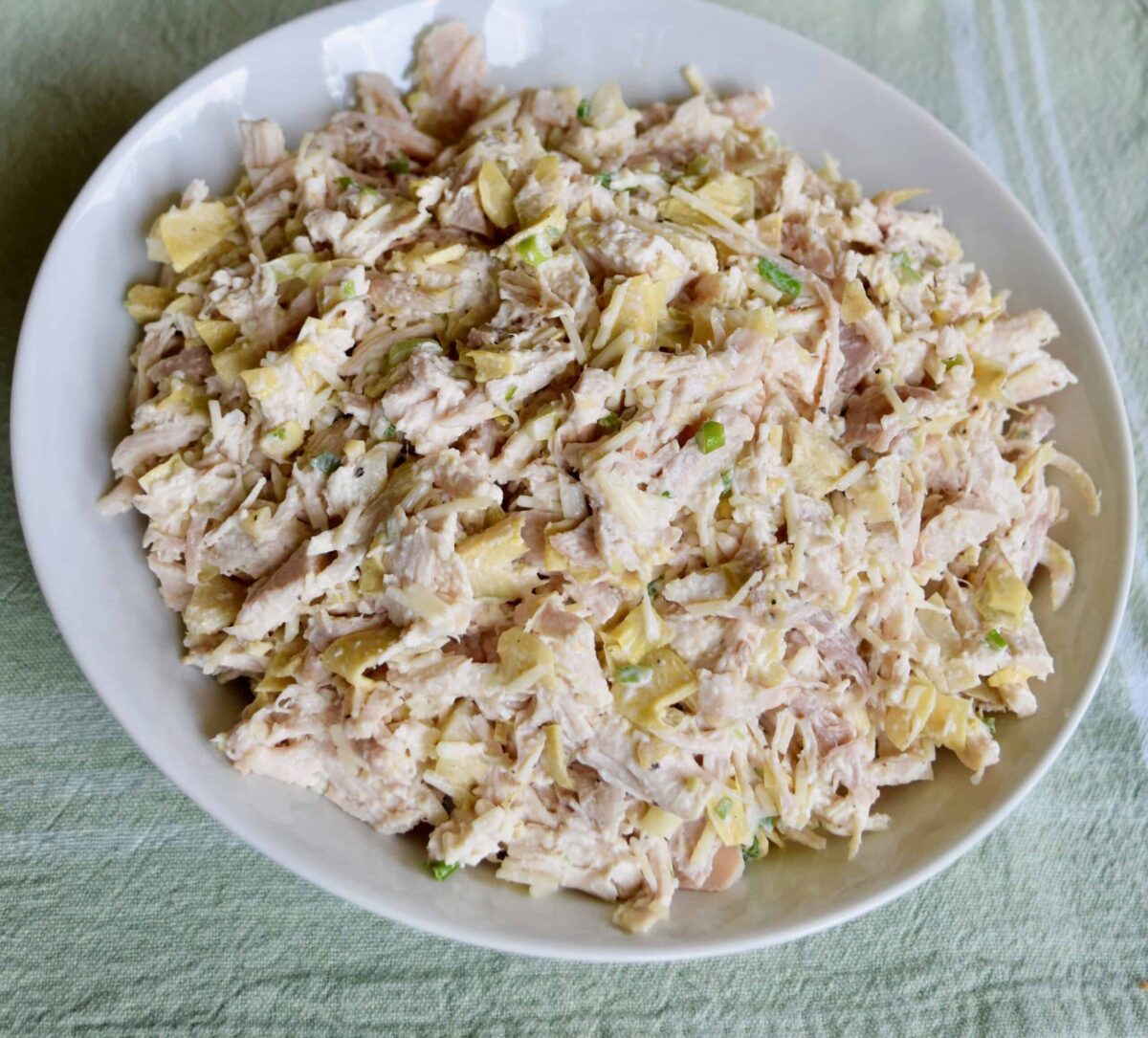 How much mayonnaise to us is another personal preference. I use 1 cup mayonnaise because it is always just a little less creamy the next day and I always made it the day before when catering because the flavors blend and develop better overnight so I start with a little more on the front end. If you prefer it a little less creamy, start with 3/4 cup and add a little more as you stir.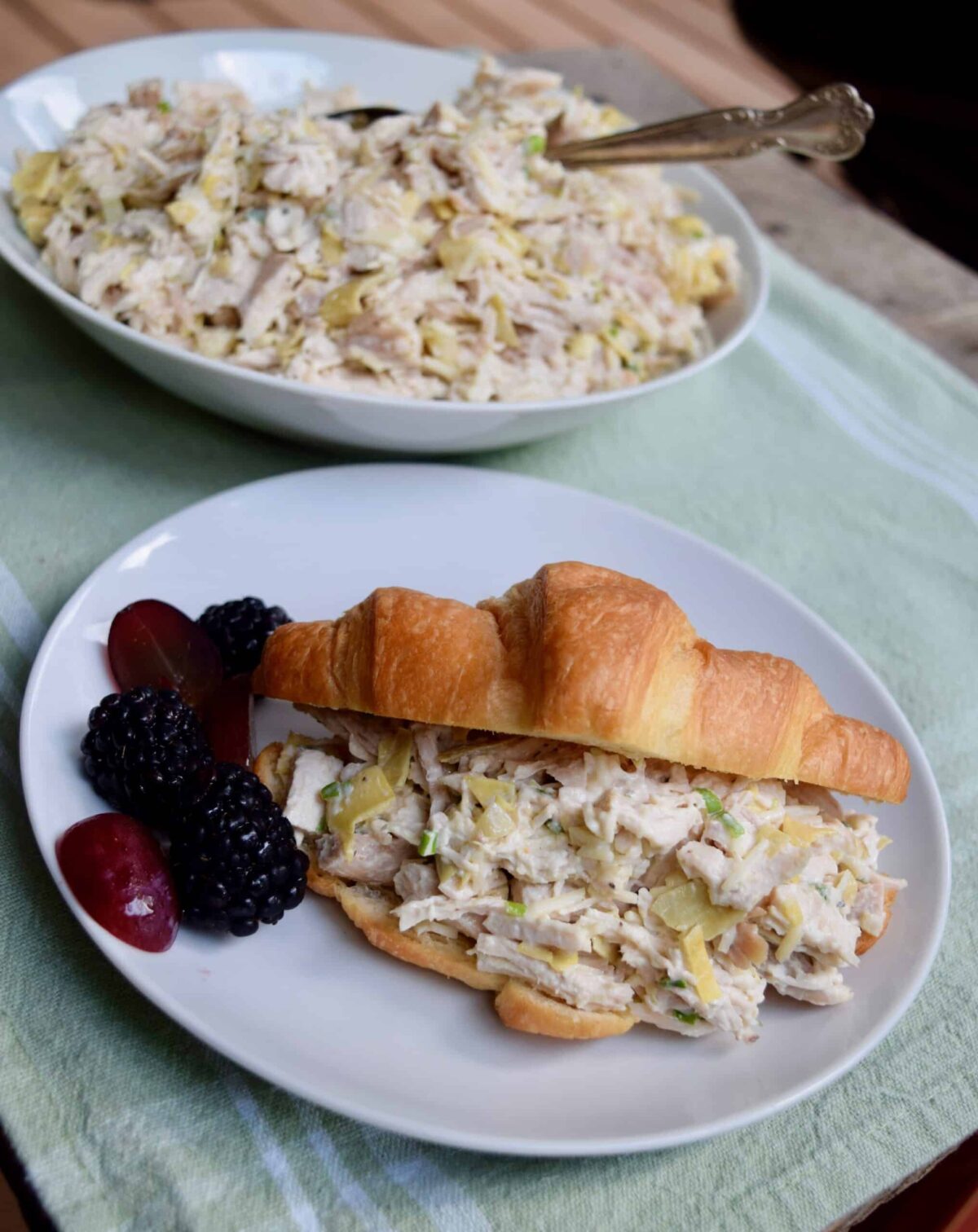 Again, there are so many add-ins you can stir in the basic recipe of chicken, mayo, salt and pepper- pecans, almonds, apples, dried cranberries, raisins, capers, mustard, garlic, Vidalia onions, and even BBQ sauce!
Be sure to follow me on Facebook, Instagram, Pinterest and Twitter . Don't leave before you send me your email address here so you don't miss a single post on my Southern shortcut recipes!
Here's my recipe for Parmesan-Artichoke Chicken Salad. Make it just like it is or add/omit the add-ins that suits you and make your own favorite chicken salad!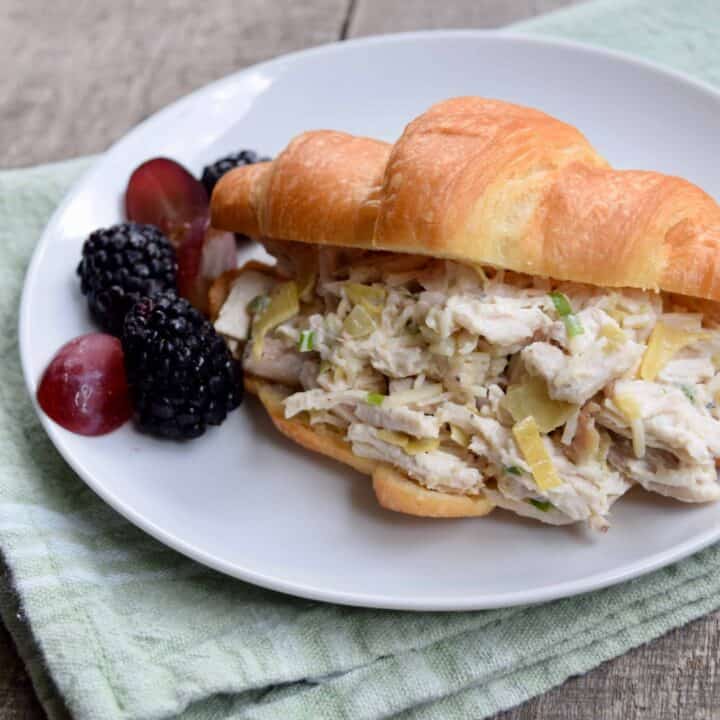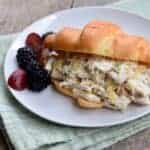 Print Recipe
Parmesan-Artichoke Chicken Salad
This was one of my most popular items on my catering menu when I owned my catering business called The Occasional Gourmet. The flavors blend and develop best when chilled a few hours or overnight. Perfect for Thanksgiving turkey leftovers, too!
Ingredients
1

large rotisserie chicken

(4 cups cooked chicken or turkey)

1

(14-oz)

can quartered artichokes, drained and chopped

1

cup

mayonnaise

2/3

cup

shredded Parmesan cheese

1/4

cup

finely chopped green onions

(about 2 green onions)

1/4

teaspoon

salt

1/8

teaspoon

ground black pepper
Instructions
Remove all the skin and bones from the chicken and throw it away. (Secretly, I love the skin so I have to eat a few bites before tossing). Cut the larger pieces of chicken in half so when you shred it, it won't be long and stringy.

Place chicken on a cutting board and shred it by pulling the pieces apart with two forks. Place the shredded chicken in a large bowl. Add the artichokes, mayonnaise, Parmesan cheese, salt and pepper. (If you prefer chicken salad on the less creamy side, hold out some of the mayonnaise and add a little at a time after thoroughly stirring.). Stir all ingredients well. Cover and refrigerate at least 2 hours for flavors to blend.
Notes
If you don't have time to remove the meat from the chicken while still warm, microwave it for 1 minute on HIGH. Rotisserie chicken is much easier to remove from the bones when it's warm.
I use gloves. Personally, I love to dive in and consider it a challenge to see just how much chicken I can pick from the bones, but I still use latex gloves so my hands are easily cleaned when I am finished.
Nutrition
Serving:
0.5
cup
|
Calories:
183
kcal
Did you make this recipe?
If you love it, share it! Tag me on Instagram @gritsandgouda using #gritsandgouda Comment below before you go!