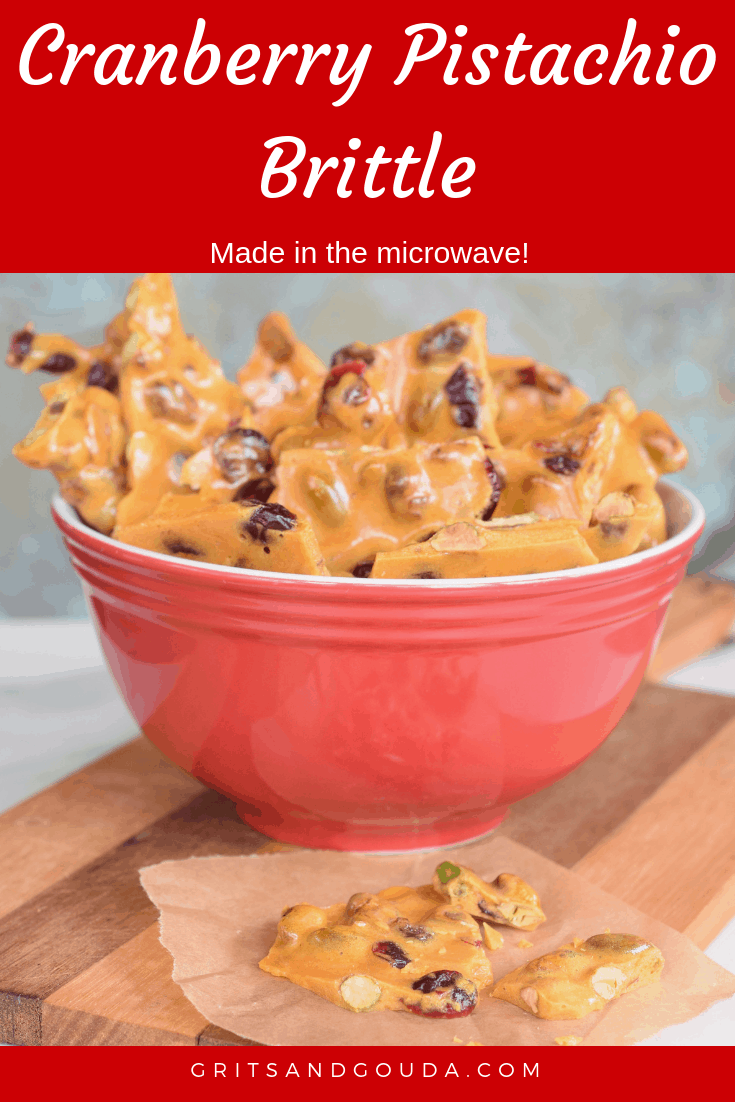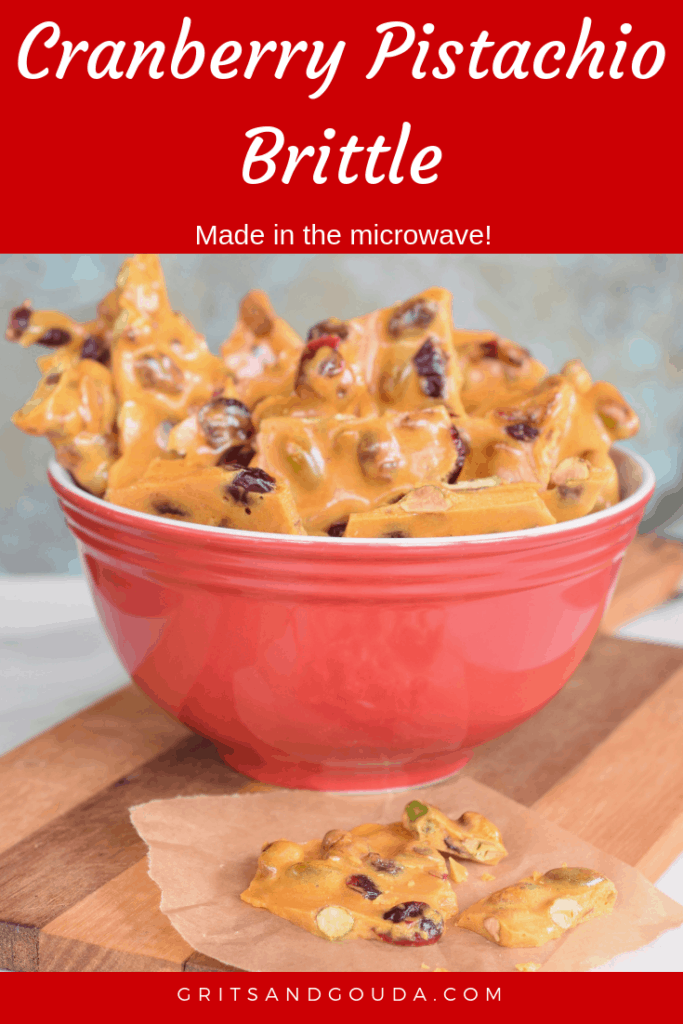 Microwave Cranberry Pistachio Brittle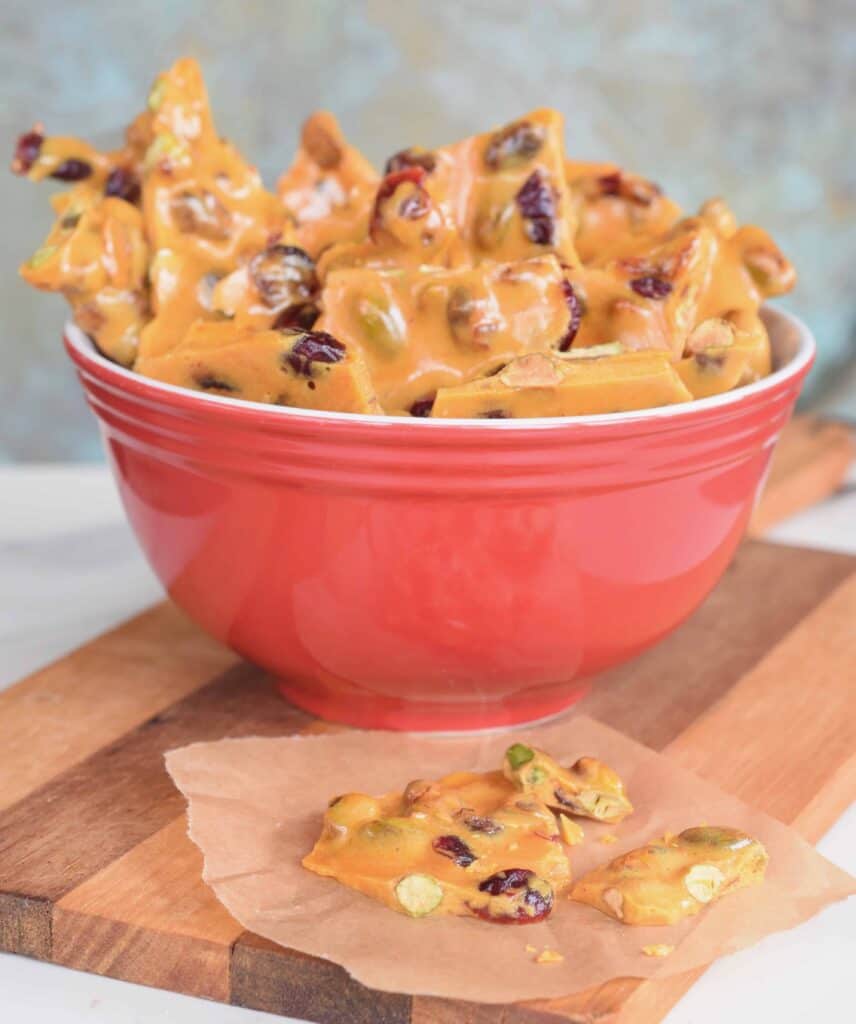 A follow up post to the basic Microwave Peanut Brittle recipe that doesn't require a candy thermometer! I'm addicted to the sweet and salt, crunchy-chewy texture the pistachios and cranberries give this brittle.
For step by step instructions to the microwave brittle technique click here for the Microwave Peanut Brittle how-to photos using a 4-quart microwave safe glass bowl.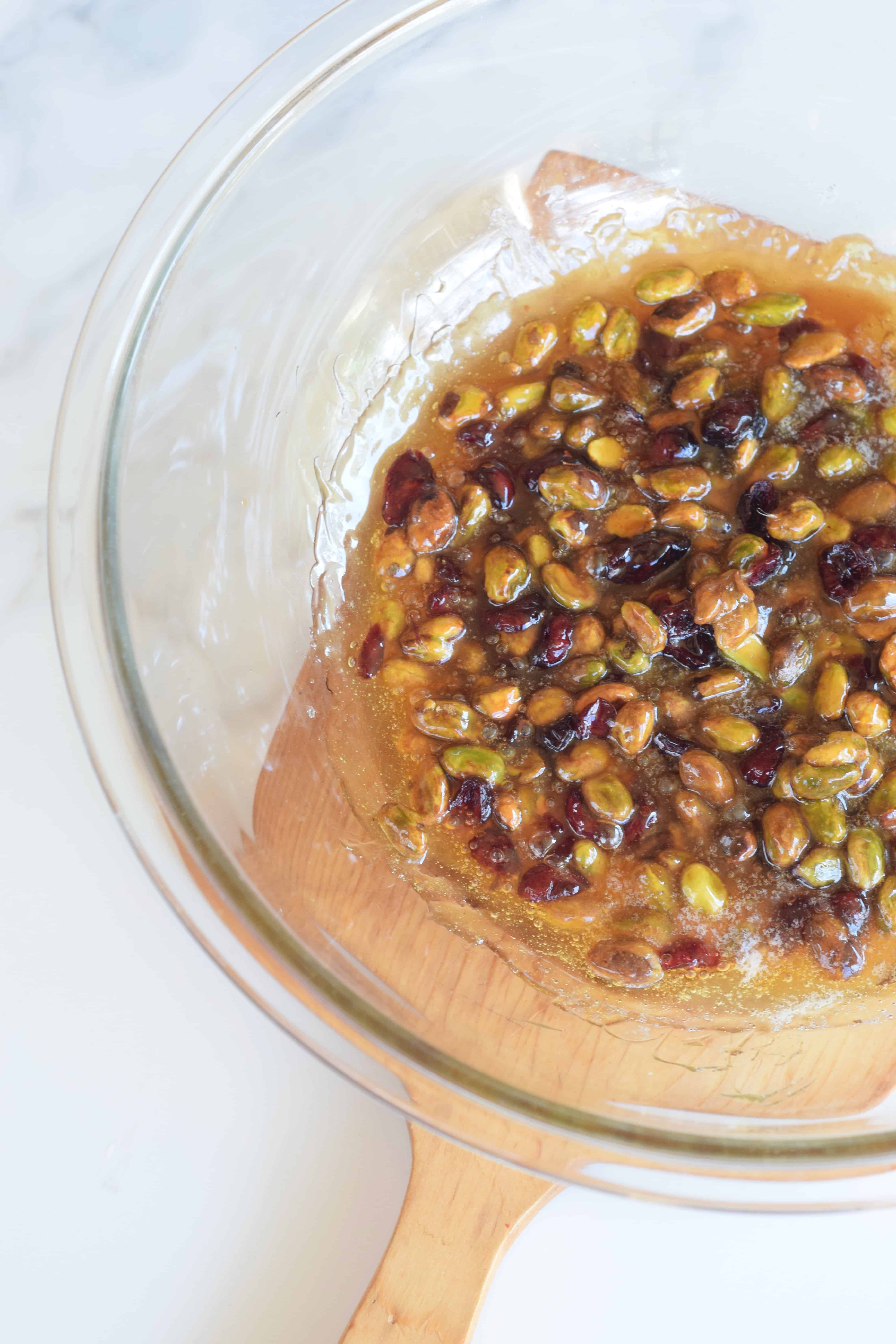 This is what the mixture looks like right after adding the nuts and cranberries. The color of the candy mixture should be light golden. Be sure to place the bowl on a heat-proof silicone trivet, folded towel or cutting board using potholders because the bowl gets hot!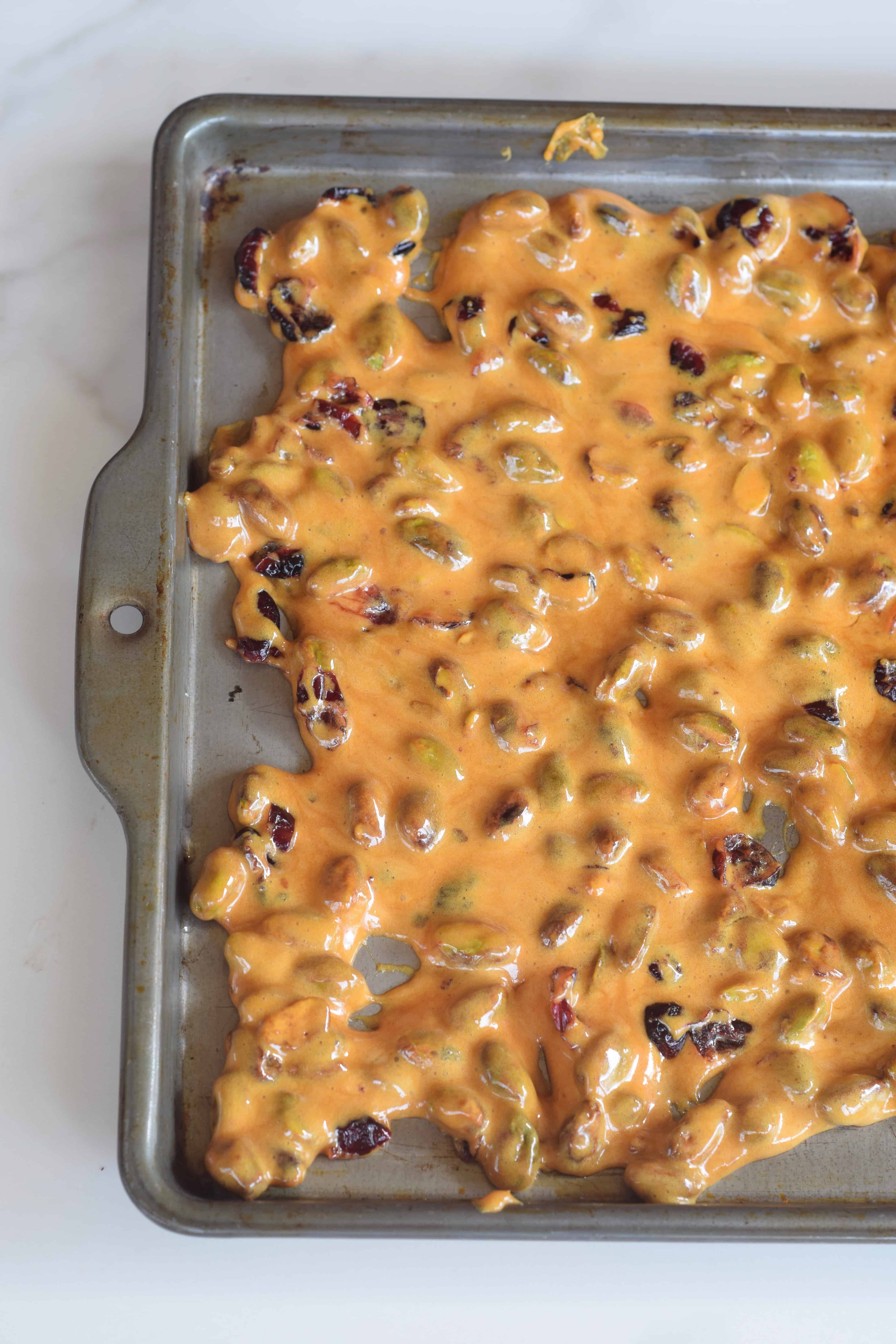 I like to have two forks ready to pull/scrape the mixture to the edges of the pan. To me, it works better than traditional buttered spoons.
Be sure to follow me on Facebook, Instagram, Pinterest and Twitter and don't leave before you send me your email address here so you don't miss a single post on my Southern shortcut recipes!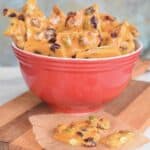 Print Recipe
Microwave Cranberry Pistachio Brittle
Don't have a candy thermometer? No worries. You won't need one for this newfashioned, old-fashioned brittle. My microwave wattage is 1100. If you have the same wattage, you will get the same results by simply using the timer on the microwave. I'm addicted to this crunchy-chewy texture the pistachios and cranberries give this brittle.
Prep Time3 mins
Cook Time13 mins
Total Time16 mins
Servings: 12
Ingredients
1 cup granulated sugar
1/2 cup light corn syrup
1 tablespoon water
1 6-oz package shelled Wonderful pistachios (one heaping cup)
1/2 cup dried cranberries
1 tablespoon butter
1 tsp. vanilla extract
1 tsp. baking soda
Instructions
Lightly butter a baking sheet and have two forks ready to spread the hot mixture.Stir together sugar, corn syrup and water, in a microwave-safe 3-quart glass, mixing bowl. I use a Pyrex bowl I've had for 20+ years. Cover tightly with heavy-duty plastic wrap.

Microwave (1100 watts) on HIGH for 3 minutes to wash down any crystals from sides of bowl. Remove bowl from microwave using potholders and place on a silicone trivet, folded towel or cutting board. Carefully release one edge of plastic wrap from the bowl to release steam

Carefully uncover bowl, removing plastic wrap away from you to avoid steam.Microwave, uncovered, 5 minutes and 5 seconds or until you see golden color cover the bottom of mixture (This will be hard crack stage 300˚ if you were using a candy thermometer).

Remove bowl from microwave and place on folded towel or cutting board. Stir in pistachios, cranberries, butter, and vanilla. Microwave 25 seconds more because it cools down when adding these ingredients.Remove bowl from microwave with potholders. Quickly stir in baking soda.

Immediately hot pour mixture onto the buttered baking sheet, spreading to edges of pan with two forks. Let cool completely and break into pieces. Store in an airtight container.
Notes
Tip: If your hot brittle mixture doesn't spread well just pop the pan in a 350 degree oven for 2 minutes and it should warm the sugar mixture just enough to help pull it from the middle to the sides to make it thinner. Warning! The oven must already be preheated or the mixture will set up. I only do this when I am teaching someone how to do it and I think I might not be able to work as quickly. Good tip if you are new at this.