GritsAndGouda.com Holiday Cooking Show 2021
Updated 9/1/21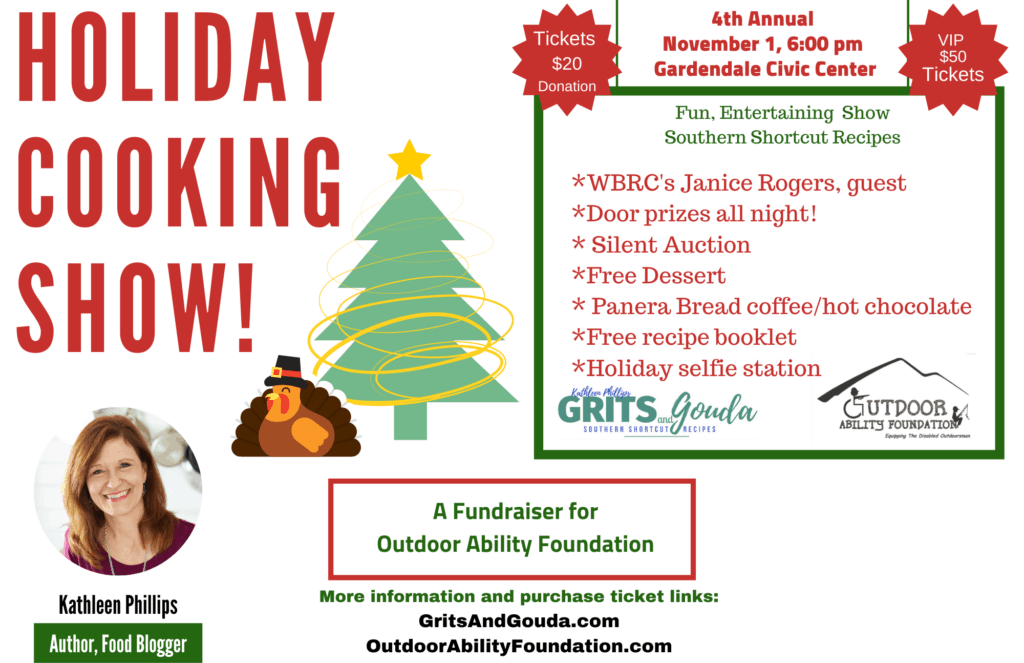 Be a Sponsor or Donate Items
Download the sponsor and donation form. Deadline October 1, 2021
Silent Auction
Silent Auction items coming soon!
FAQ:
4th Annual GritsAndGouda.com Holiday Cooking Show, November 1, 2021 6:00 pm (CST) Gardendale Alabama Civic Center
This event is a major fundraiser Outdoor Ability Foundation. OAF equips the young disabled outdoorsmen (and women) with adaptive equipment such as the "tank-style" outdoor wheelchairs. Their focus is kids and young adults.
WBRC (Fox 6) Good Day Alabama anchor, Janice Rogers, will be Kathleen's guest on stage this year!
Interactive and entertaining Holiday Cooking Show presented by food blogger and cookbook author, Kathleen Phillips and her "Squad". Just pay online and a confirmation will be emailed directly to your inbox.
Tickets are a $20 donation that goes straight to Outdoor Ability Foundation. Limited VIP tickets are $50 and include front row seats and 2 free silent auction tickets to put towards chance to win items of your choice.
Thanksgiving and Christmas Recipes: Get ready for holiday Southern shortcut recipes! Kathleen has been testing recipes you will want to make for your friends and family this season. She makes it look easy because it is! All recipes have at least one shortcut in them to help you spend less time in the kitchen and more time celebrating the season.
Our theme this year is "When you can't go home to eat, you eat to go home." The menu will focus on comfort food and foods that remind us of family traditions.
Free Cookbooklet: All guests will receive a program that contains all show recipes. All recipes are brand new and not even on the blog, yet!
Door prizes! We have lots of fabulous door prizes you can win if you catch Kathleen saying, "Gild the Lily"! If you've been to a past show, you know exactly what we're talking about and how fun it can be! Other door prizes will also be given out throughout the show.
Silent Auction: You will be able to purchase silent auction "tickets" online up until the show ends. We will physically place these tickets with your name on them in the bucket by the items you request. Tickets are $5 each, 3 for $10, and $8 for $20. For example, if you buy 8 tickets for $20, you can request 3 tickets for a chance to win XYZ, 3 tickets for ABC, and the remaining 2 tickets for GHI item. We will draw for the winners after the show and will announce the winners after the show and announce all winners on OutdoorAbilityFoundation.com. You do not have to be present to participate in the silent auction. Silent auction items will be on display at the show and silent auction tickets can be purchased and placed in the buckets in front of the items for drawing at end of show. Last call for purchasing online silent auction tickets is October 31. Last call for purchasing silent auction items at the show is at show intermission.
Free dessert will be served at show intermission.
TICKETS GO ON SALE October 1 right here!
For specific questions about the Holiday Cooking Show email Kathleen at [email protected] .
If you cannot or do not want to pay online, email Kathleen for other arrangements.