Making 2 dreams come true November 1, 2018: First, my dream of teaching people to cook in a cooking show setting where the atmosphere is fun and lighthearted with lots of laughter, good food, and door prizes. Second, and most importantly, 2 young disabled outsdoormen's dreams of being able to navigate the rough terrain of the woods while hunting and muddy river banks while fishing will come true.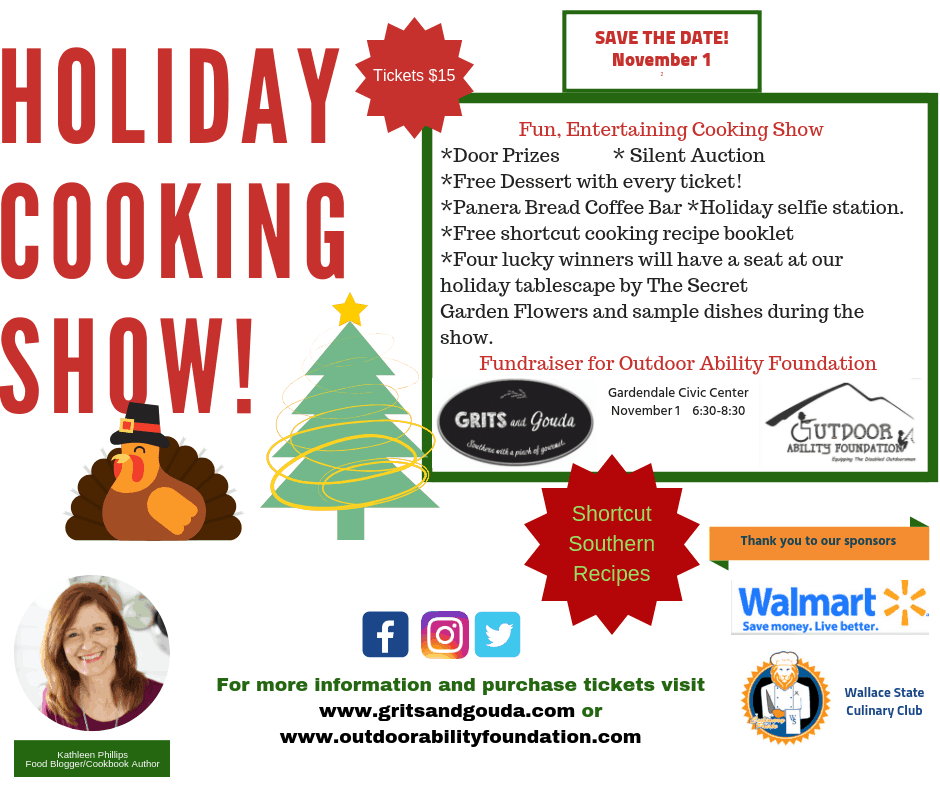 Quick story. My dream job when I was in college was to travel the Southeast states as one of the Southern Living Cooking School presenters. I helped backstage for 3 years in a row in Little Rock, Arkansas filling trays with measuring spoons, chopped pecans, mixing bowls, and whatever else was needed for each recipe to be taken out to the recipe presenter.
I loved everything about it. The excitement in the air as ladies filed into the huge auditorium looking through their goody bags from the sponsors. Pouring over the professional-looking recipe booklet to see what recipes were trending allover the South. The beautiful ladies with microphone headsets strapped on so they could whip up delicious dish hands-free while sharing helpful tips (we didn't know to call them "hacks" back then). Their positive, uplifting voices seem to empower women of all ages to get in the kitchen and learn something new or maybe just a new, quicker way of cooking a traditional recipe they've made for years. They seemed so glamorous...and oh, the places they must go and see as they traveled. I was from a very small town and I wanted to travel and see the world....or at least the Southeast. lol
I'd been a 4-H member since I was 8 years old (technically you couldn't be a member until 9 but since my brother and sister were competing in public speaking and demonstrations, Mom started me off early with a craft demonstration). I competed in method demonstrations from age 9 to 18, mostly in Breads and Dress Review (cooking and sewing). I was comfortable in front of a crowd and loved to teach people how to cook-if they really wanted to learn.
I actually interviewed for a position as one of those esteemed, traveling cooking school presenters in 1987 when the cooking school "came to town" in Little Rock my senior year at University of Central Arkansas. I didn't get the job and, of course, I was disappointed.
The old saying "When God shuts one door, he opens another"-sometimes better than you hoped for- is so true. Back in Birmingham. Alabama, my resume was passed on to Oxmoor House, the cookbook division of Southern Living and Cooking Light. Margaret Agnew, Oxmoor House Senior Foods Editor at the time, called me out of the blue one day while I was working in catering and food service in Little Rock and asked me if I would like to interview for a test kitchen professional position in Birmingham, Alabama. I said "Yes!", got the job, moved to Alabama where I didn't know a soul and my adventure began!
I have since traveled to England, South America, Jamaica, Mexico, Venice, Germany, Austria.....and all throughout the Southeast states.
On November 1, 2018, I will be living out my dream of being a cooking show presenter, teaching people shortcut Southern recipes and empowering women....and men...to get in the kitchen and learn something new while raising money for OAF, my husband and son's nonprofit.
I can't say too much about the other dream coming true that night because it's a surprise to the recipient(s)! I can tell you about Outdoor Ability Foundation. OAF is a 501 c 3 nonprofit started by my husband, Scott and my son, Grayson in 2014. They raise money to provide grants to disabled kids and young adults that demonstrate a passion for the outdoors. They have presented 7 Action Trackchairs . The recipients are from Alabama, Mississippi, and North Carolina.
Our son was born with spina bifida. As a Boy Scout, and now Eagle Scout, he has experienced the outdoors by camping, hiking and swimming since first grade. Summer camp was quite a challenge in his manual wheelchair. As an avid hunter and fisherman, the challenge was greater as he couldn't get his chair over even small limbs in the woods while deer hunting. Scott often carried him on his back to the hunting spot, then went back to get his wheelchair.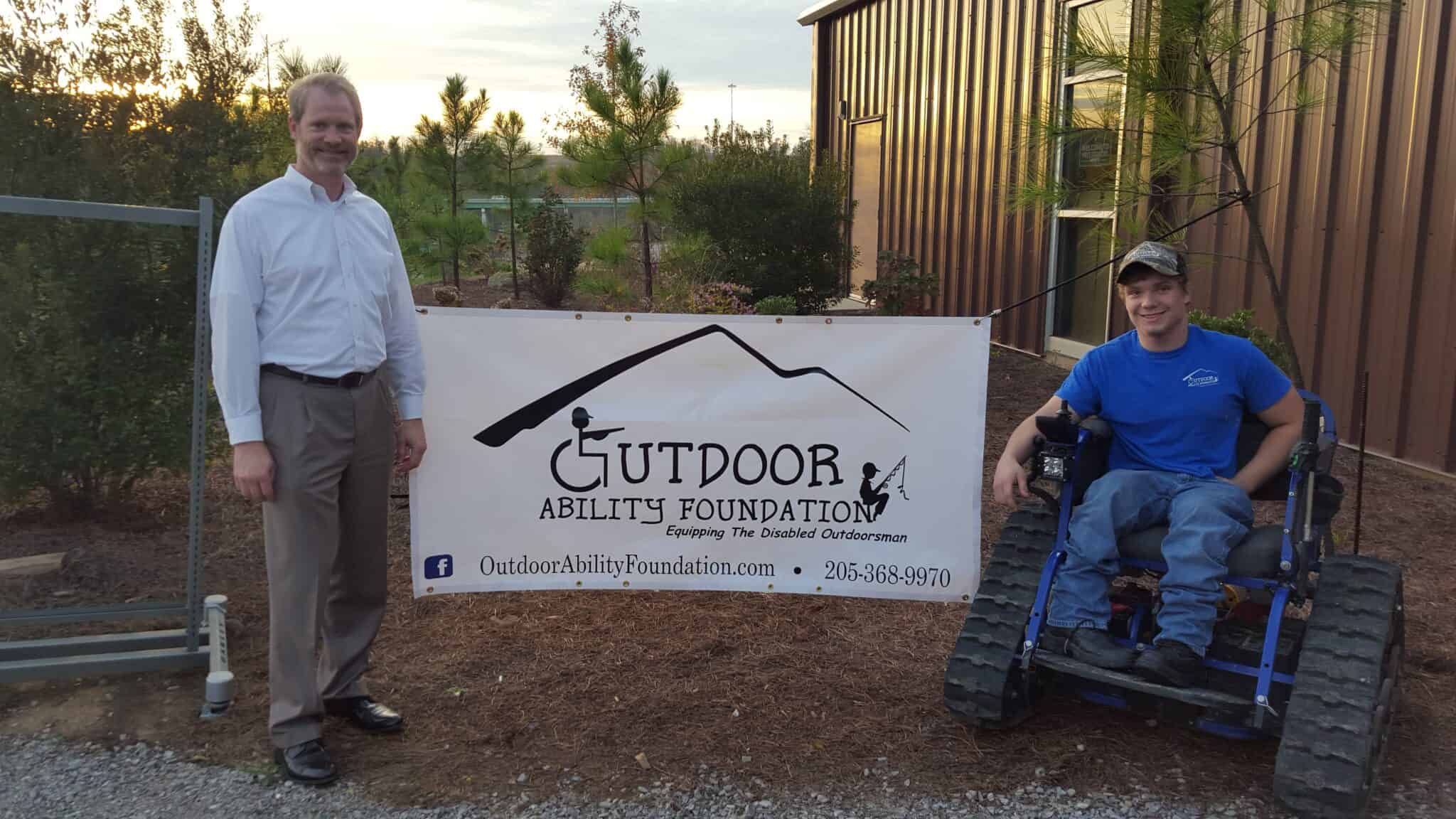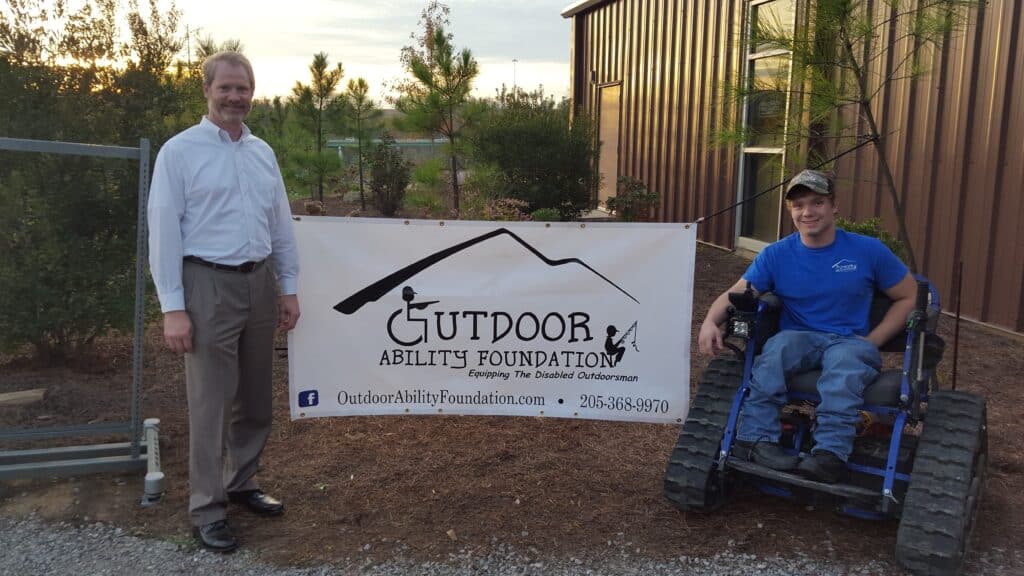 We raised money to buy Grayson an Action Trackchair (he calls it The Tank). They start at about $11,000. In the tank, Grayson could easily roll right over logs in the woods, wheel right up to the ocean shore, and go "mudding" on the river banks without getting stuck.
Once he experienced this new independence and freedom, he and Scott wanted to help other kids do the same. Below are pics of four of them.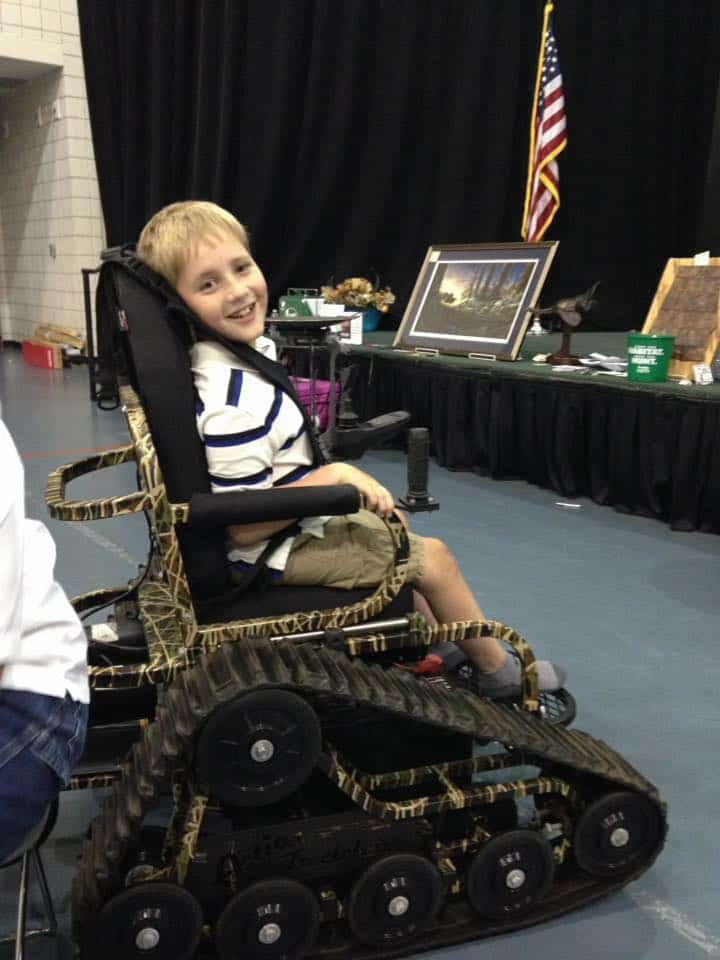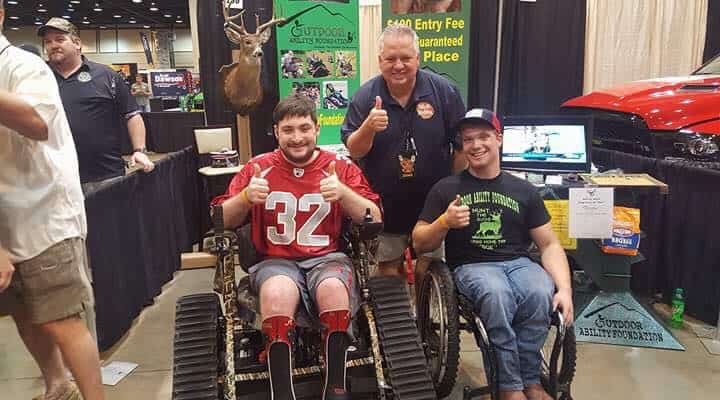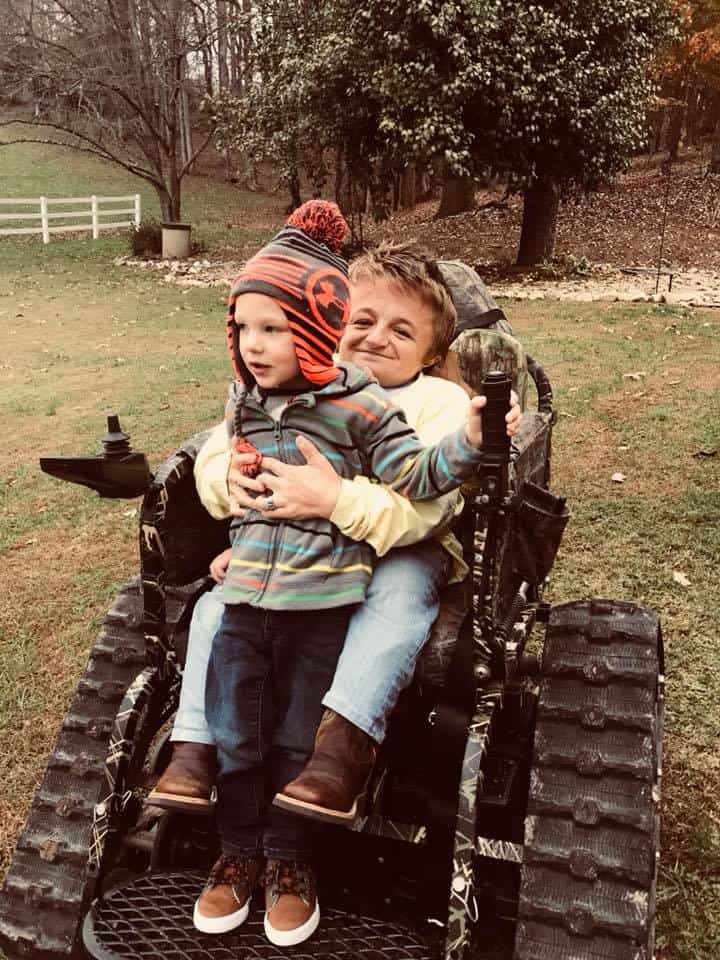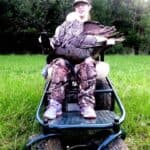 We have a "Squad" of friends helping us with this Holiday Cooking Show and want to thank them for all the time they have put into it. We have a few tickets left if you live in the Gardendale, Alabama area. You can purchase tickets on my Cooking Shows page or on their website at OutdoorAbilityFoundation.com You can also learn more about them on my Community Page.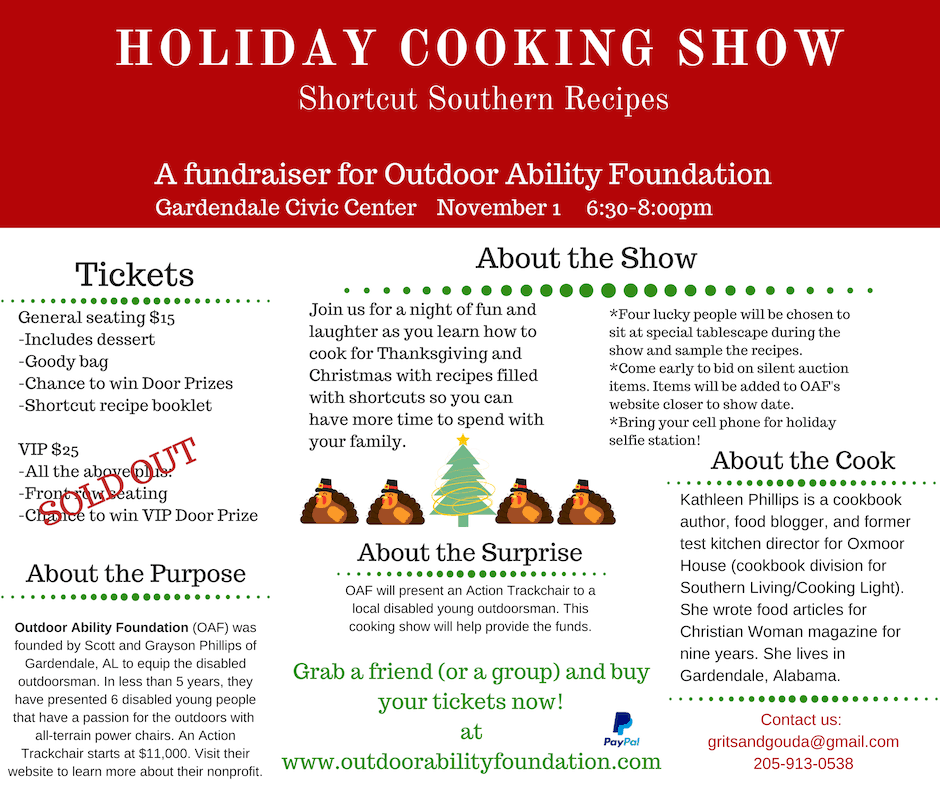 Dreams do come true!