Join me for my 3rd Annual Holiday Cooking Show, November 5, 2020...from your home anywhere in the world! Southern shortcut holiday recipe demos, silent auction, and DOOR PRIZES online! Host a socially distanced Watch Party!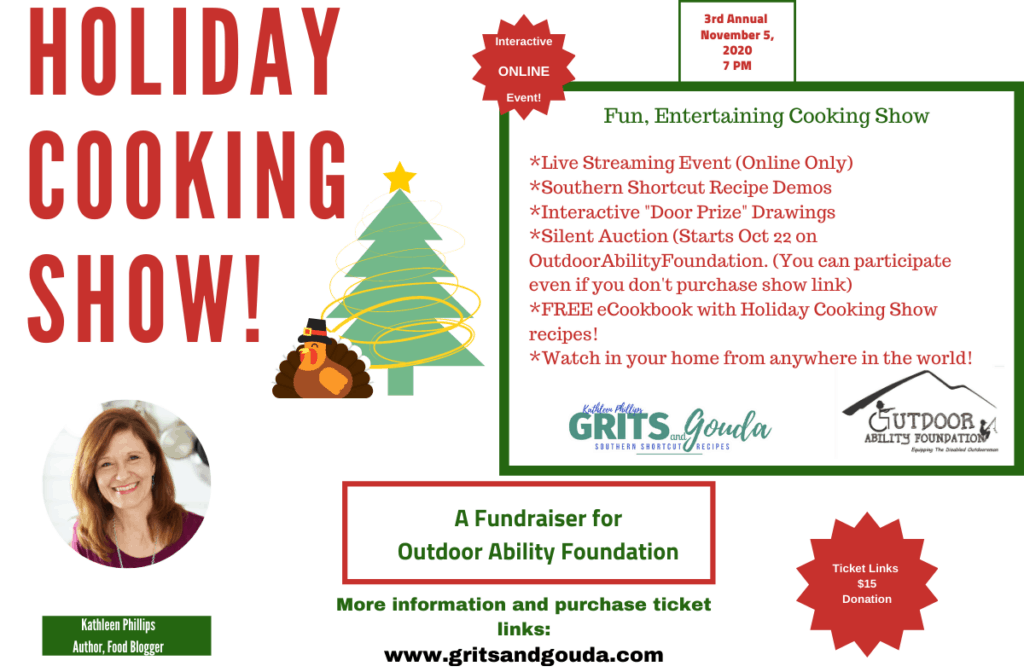 If you've attended our first two Holiday Cooking Shows, you know it's fun and entertaining with lots of laughs. This year, due to social distancing guidelines, we decided to host it online! Get your ticket links here: Holiday Cooking Show
First, the Holiday Cooking Show is a fundraiser for my husband and son's nonprofit, Outdoor Ability Foundation. You can read more about it here on their website or on my Community Page but their mission is to equip the kids and young adults with disabilities with adaptive equipment to enjoy the outdoors. They have presented 12 Action Trackchairs or outdoor power wheelchairs like the one below. The retail value starts at about $10,000.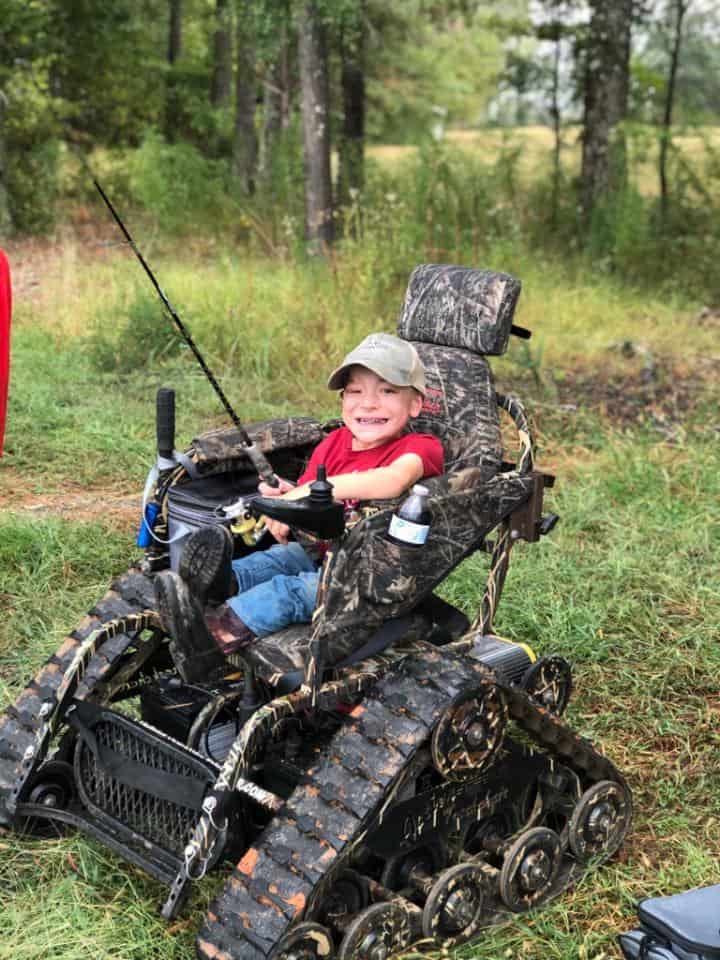 The first two years the Holiday Cooking Show was held at the Gardendale Civic Center. We had a large silent auction, gave away TONS of awesome door prizes throughout the show, and served Panera Bread coffee and homemade dessert during intermission. The second year, we added vendors for shopping!
Since our audience doubled the second year, we expected that again in 2020 (which is exciting!) so we decided to keep everyone safe and produce the 3rd Annual Holiday Cooking Show LIVE from my food blogging kitchen, webinar style, with my Squad that you've come to love!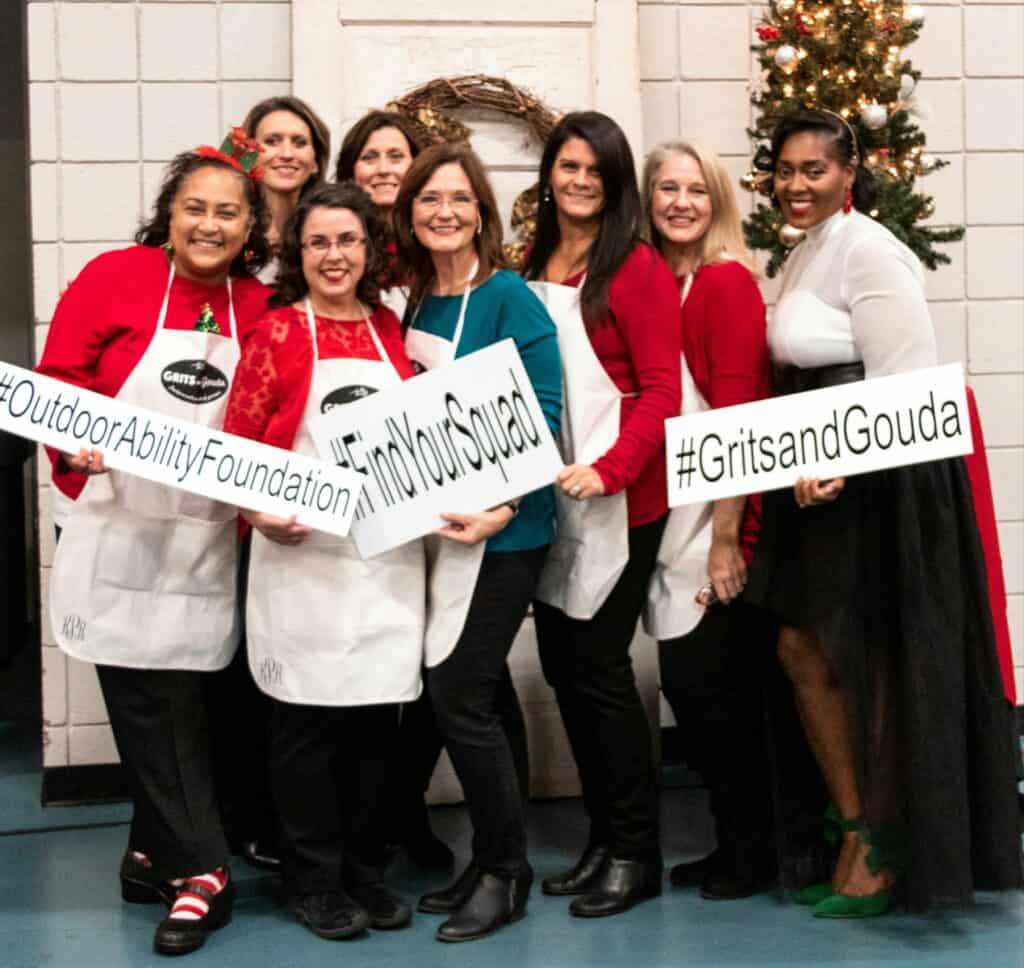 You will STILL be able to win those famous door prizes! You will be able to answer questions in the chat and if you are not local, we will mail them to you! (United States only).
We have worked hard to gather fantastic Silent Auction items! Silent Auction is going on NOW and you can participate in these drawings even if you don't purchase a cooking show link.
What is in the Silent Auction?
$100 Amazon gift cards from Webb Payroll Services (3 Winners)
Handcrafted Damascus Knife by D. R. Hottinger ($350 value)
$100 Panera Bread-Gardendale Gift Certificates (2 Winners)
Ninja Foodi pressure cooker that crisps ($160 value) + Ninja Foodi Cookbook ($18) (Disclaimer: I used this pressure cooker when food styling the cover of the companion cookbook so it is a demo model. You can say you own the very Ninja Foodi that's pictured on the cover of this cookbook.
$100 Gift Certificate to Gardendale Mercantile from Valley Bank
Handcrafted Geometric Shapes Wooden Cutting Board by Kenneth Royal ($140 value)
Ninja Air Fryer ($99 value)
Gift Set: Tuscan Herb Olive Oil, 18 Yr Aged Balsamic Vinegar from Modena, Italy, Aromatic Herbal Seasoning Salt and 2 Self-Closing Pour Spouts from Simply Infused Olive Oil Shop ($50 value) (2 Winners)
1 Year FREE subscription to Shipt ($99 value)
How do I participate in the Silent Auction?
Get all the details including pictures of the items over at OutdoorAbilityFoundation.com. The silent auction is going on NOW!
Will there be live cooking demonstrations?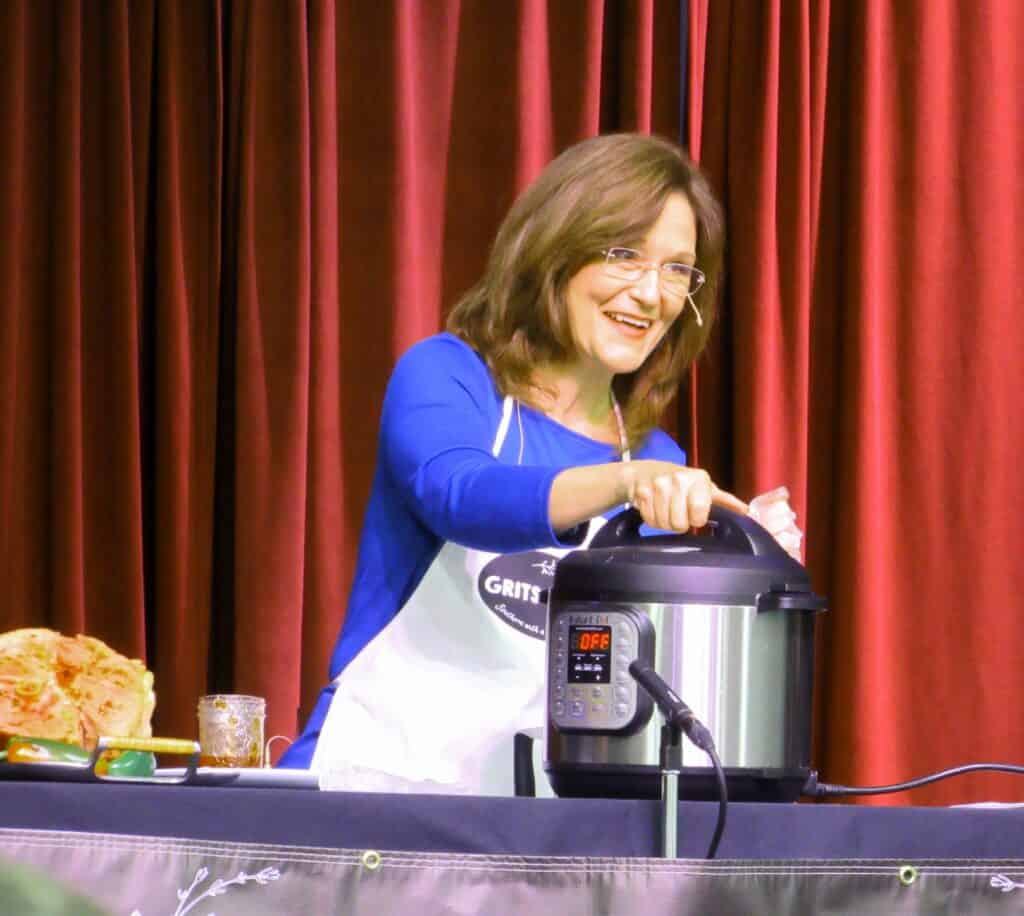 Absolutely! I'll be showing you how to make Southern shortcut HOLIDAY recipes. Want to know how to make candy in the microwave without a candy thermometer?
I'll tell you the latest trend that follows charcuterie boards!
I didn't leave out pumpkin spice in my easy peasy dessert.
Since this year has been anything but traditional, my holiday main dish is also a little nontraditional!
Free eCookbook
Everyone that purchases a $15 ticket link to join the show will receive a downloadable FREE color eCookbook of the recipes I will prepare on the show!
Will there still be door prizes?
Yasss! We will draw names from the emails linked to your show ticket after every recipe..... and..... If you catch me saying "Gild the Lily" during a recipe, instead of yelling it out like at our in-person shows, you can type it into the chat forum. The first one to type it in gets a door prize!
What are some of your door prizes?
Y'all! We have some super nice prizes for you this year!
I am going to make you join the show to hear them all but here's a sneak pic of some adorable Christmas kitchen towels donated by Village Pharmacy.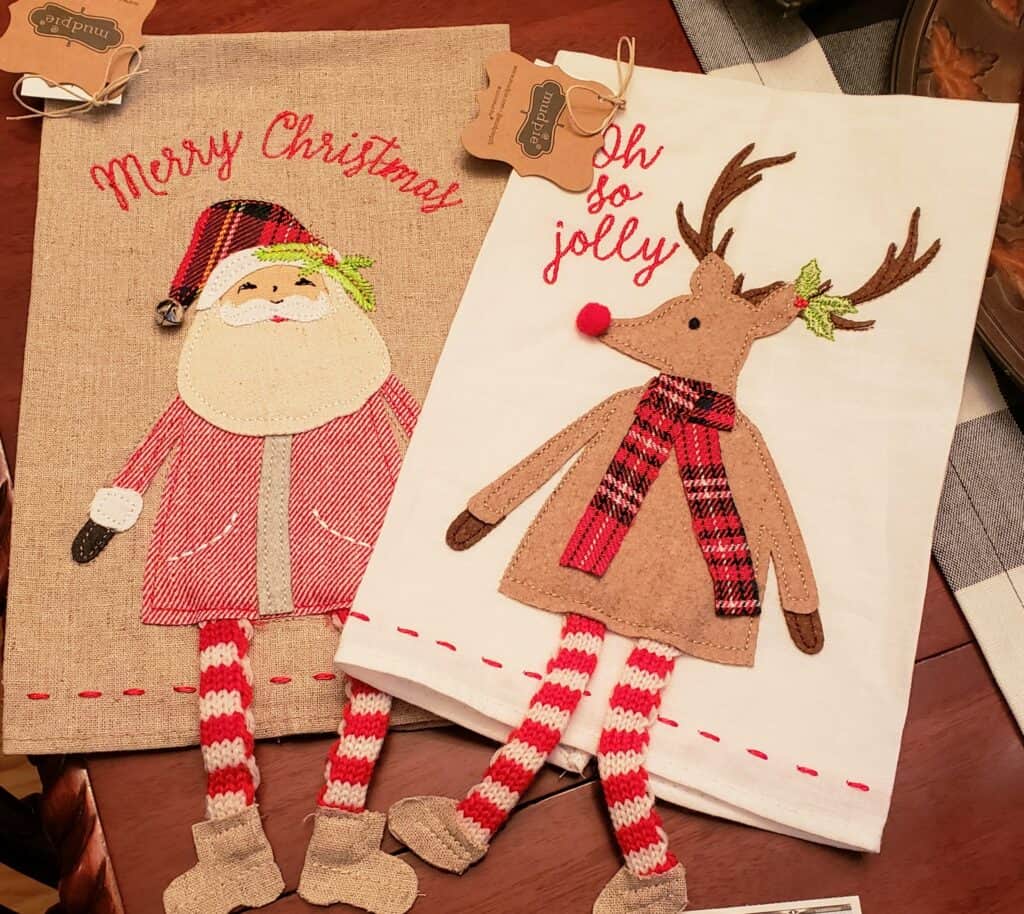 How do I get my door prize?
If you are local, we will deliver it to you. If you are outside of the Birmingham area, we will mail it to you. (United States only)
Watch my interview on WBRC Fox 6
Click on the image below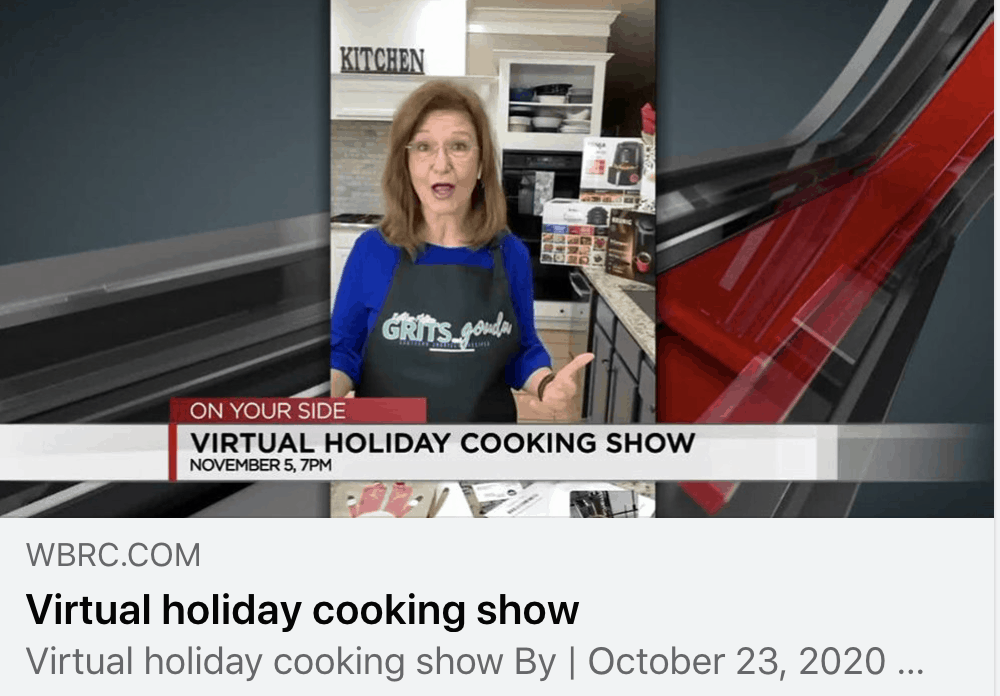 If I can't watch the entire show, can I watch it later?
If you purchase a show ticket link and join the show but cannot finish it live, there will be a replay available via the same email link so you can watch it any time.
You have to watch the show live to get door prizes but you can participate in the silent auction the week before the show until the end of the live show.
How much are the live show links?
We kept the show price at a low $15 donation to Outdoor Ability Foundation.
Can I still donate to OAF if I can't join the online event?
Yes! Please and thank you! Here's a direct link to Outdoor Ability Foundation's donation page on their website.
For more information
I have an FAQ with more details on my Holiday Cooking Show page.